&nbsp
A blank canvas with lots of ideas and creativity along with subtle harmony in the palette defines this project. This modern workplace deals with sales & services to healthcare institutions. The client required an enthusiastic and joyful working space for his clients & co-workers. Overall Palette used in space is eye pleasing subtle and earthy along with playful geometry. Geometry adds drama to the entire space.
Enthusiastic and Joyful Modern Workplace Design | Studio Imagine
Visit: Studio Imagine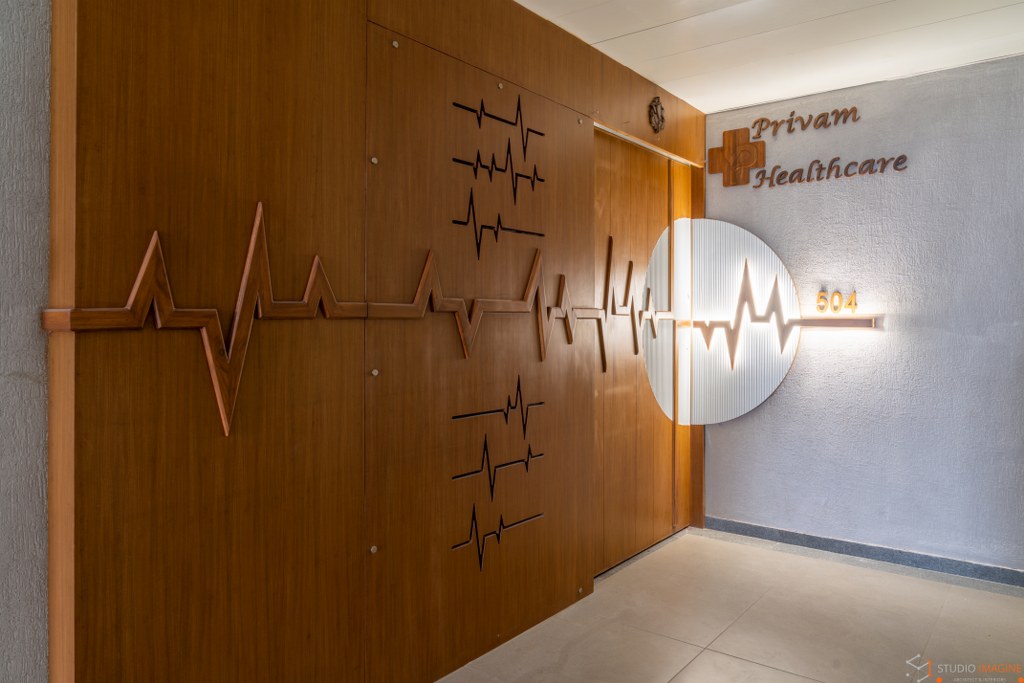 The designer has created pragmatic zones within the space. This forms functional spaces that work jointly to induce a functional flow in the office. The minimalism sewn into the workplace's construct allows each space to honor the brief while engaging playfully with elements of scale, light, and materials.
The entrance itself is welcoming. A combination of veneer, wood, concrete, geometry, and ambient lights creates drama. This preliminary space acknowledges the ingrained design inclination of the office.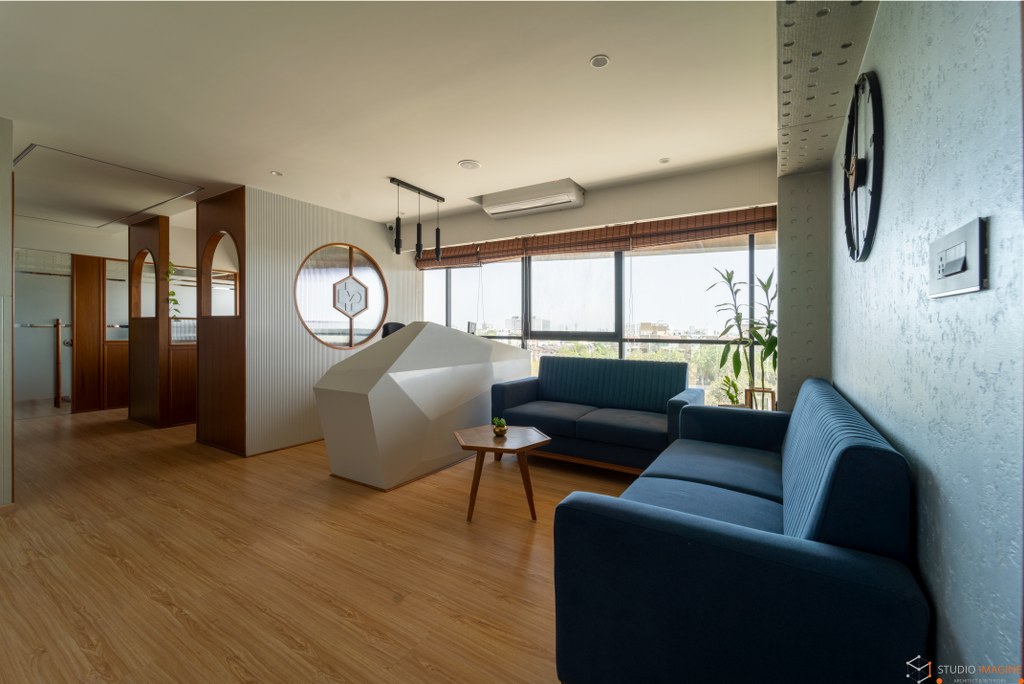 The entrance leads into the reception space that is framed by textures and soft subtle hues and geometric furniture pieces. 3-Dimension grey-body reception desk is coupled with a black linear cluster task light. Nature view through wide windows illuminates the space. Geometry plays a major role in creating drama.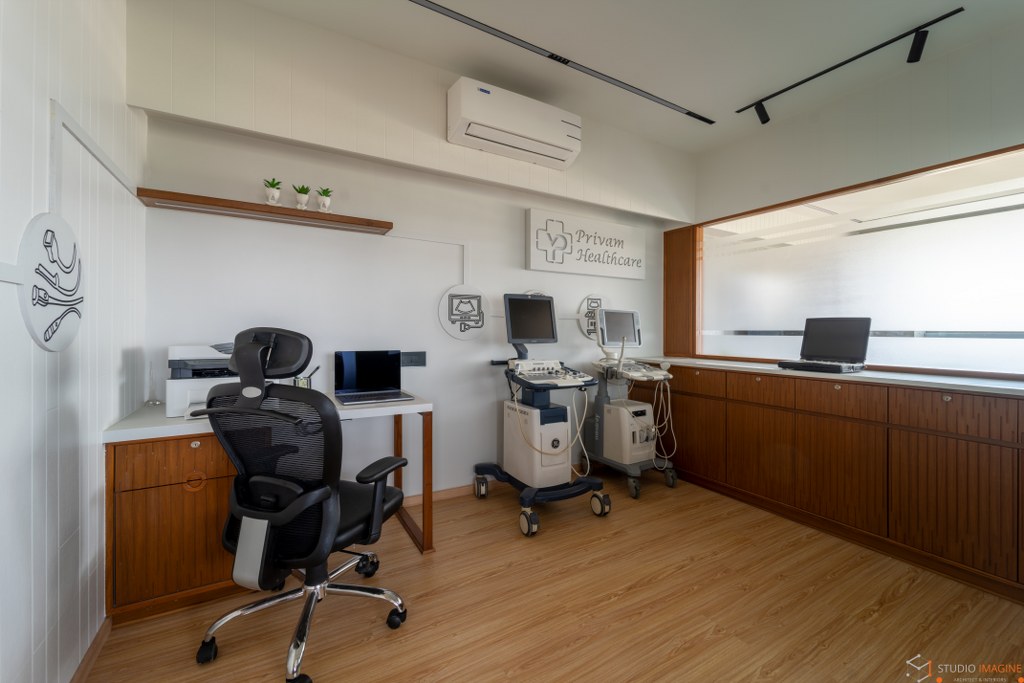 The display area talks more about branding line work. Soft texture and colors along with veneer add warmth in the space. Lighting plays a major role in enhancing products.
The custom partition for this office design filters in light into the main workspace, eliminating the need to utilize mechanical lighting until dusk.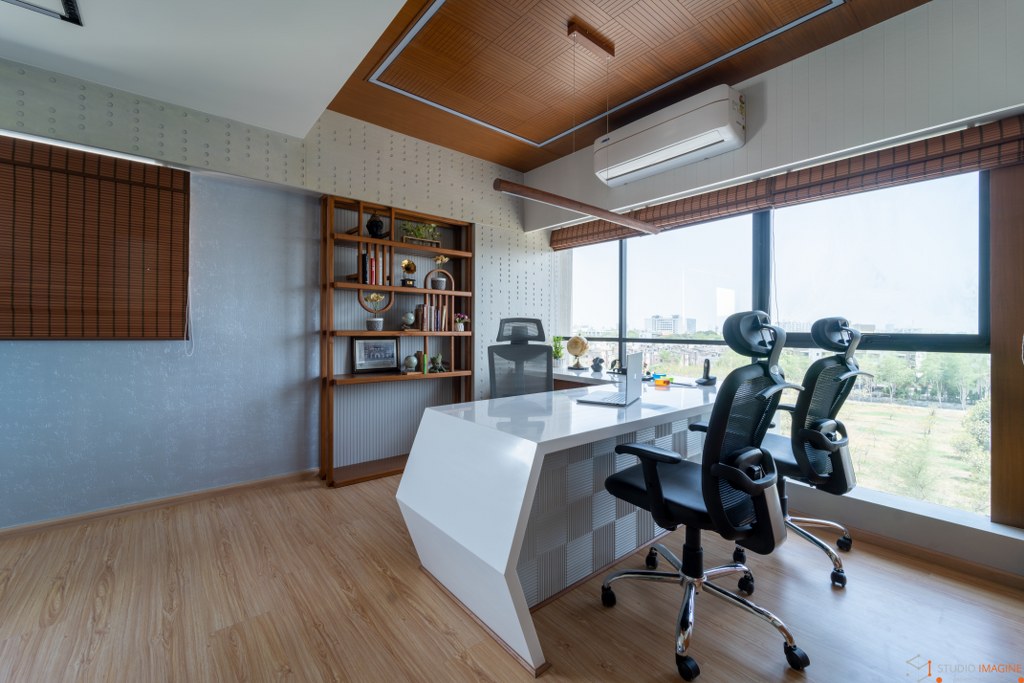 MD cabin is peppered with Corian work desks, soft blue accent sofa chairs, lounge sofa, and geometric open shelf backdrop embellished by indoor plants, certificates, and artifacts. and linear task lighting. Cabin witness the stretched-out scenic views through their ample windows that look into the surroundings.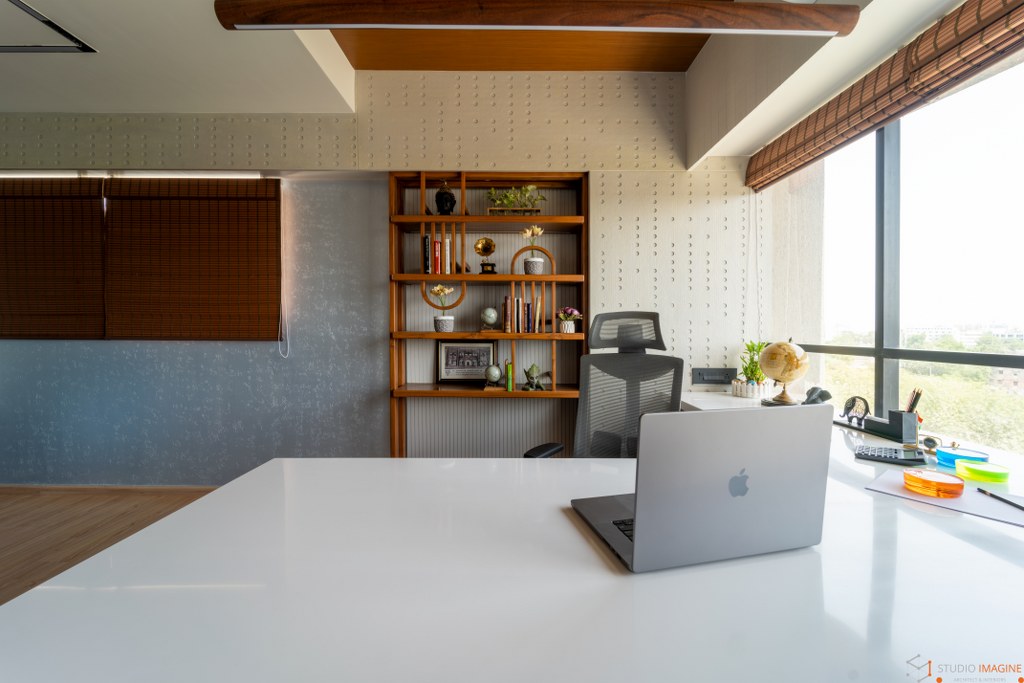 Customized furniture pieces for this project are close to our heart.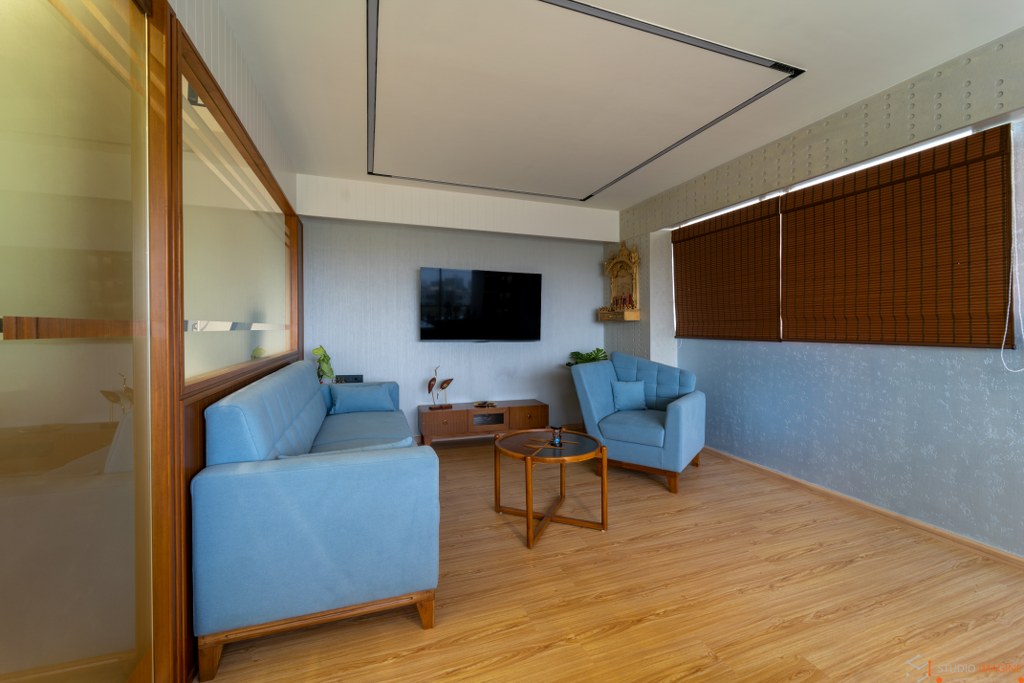 Abstract geometry and epoxy were used for the center table. Customized resin wall art and live planters are icing for this project.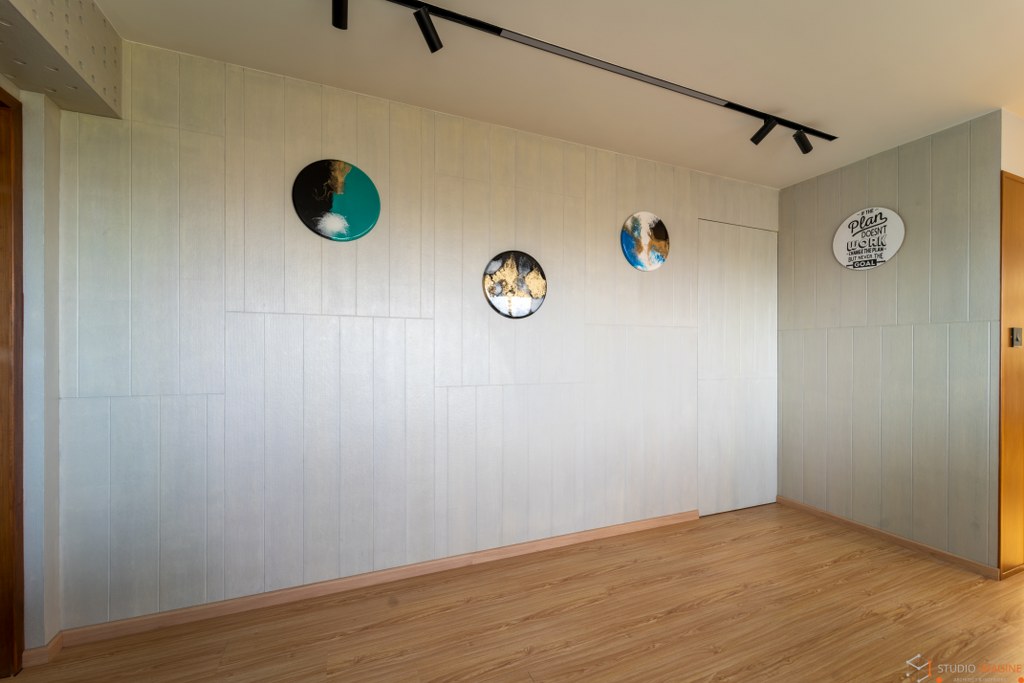 Fact File
Designed by: Studio Imagine
Project Type: Office interior Design
Project Name: Privam Health Care
Location: Vadodara, Gujarat
Year Built: 2022
Duration of project: 6 Months
Project Size: 750 Sq.ft
Project Cost Appx: 20 Lac
Principal Architect: Ajal Shah
Team Design Credits: Gulzar Shaikh
Photograph Courtesy: Trivedi Dron
Products & Materials: Finishes: Swastik Ply & Veneer | Lighting: Reflection lights, Kesha lights | Paint: Dulux , Asian Paints PU paint | Hardware: Hettich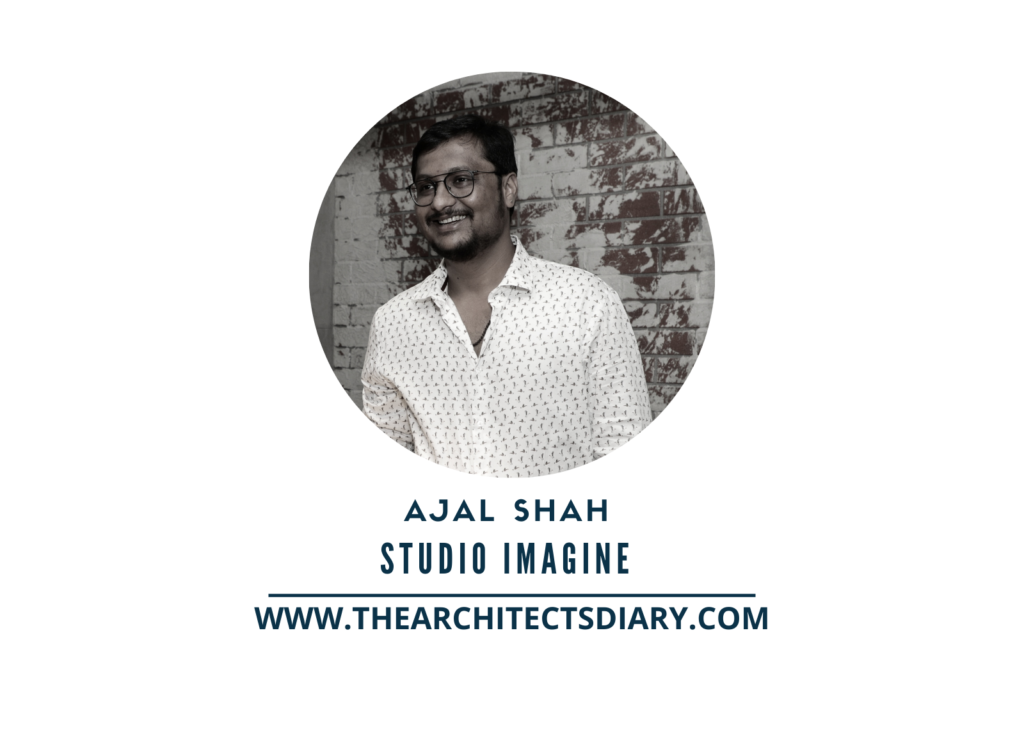 Firm's Website Link: Studio Imagine
Firm's Instagram Link: Studio Imagine
Firm's Facebook Link: Studio Imagine
For Similar Project>>>Apartment Interiors Enriched With Bespoke Accentuating Elements