&nbsp
ELEMENTS OF PATTERNS – APPARTMENT INTERIORS | STUDIO 4
Studio 4 was a brave initiative taken up by two upcoming designers, Sagar Shah and Husain Cinemawala in 2011.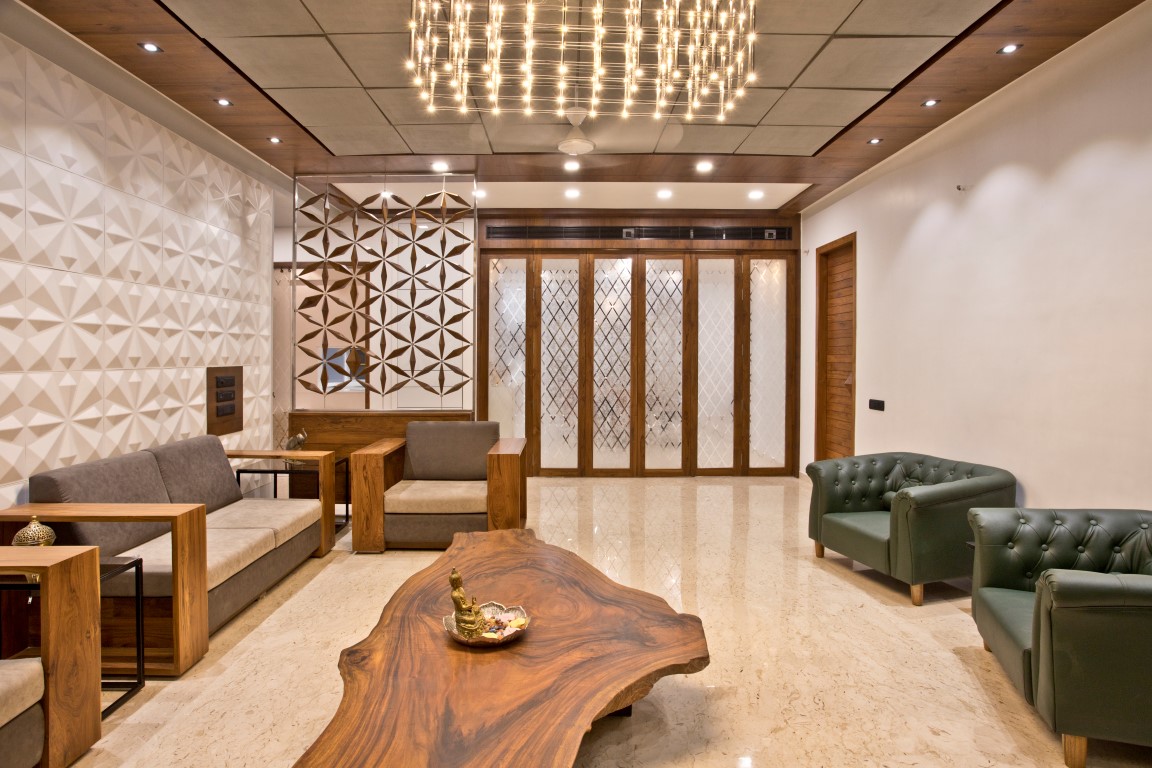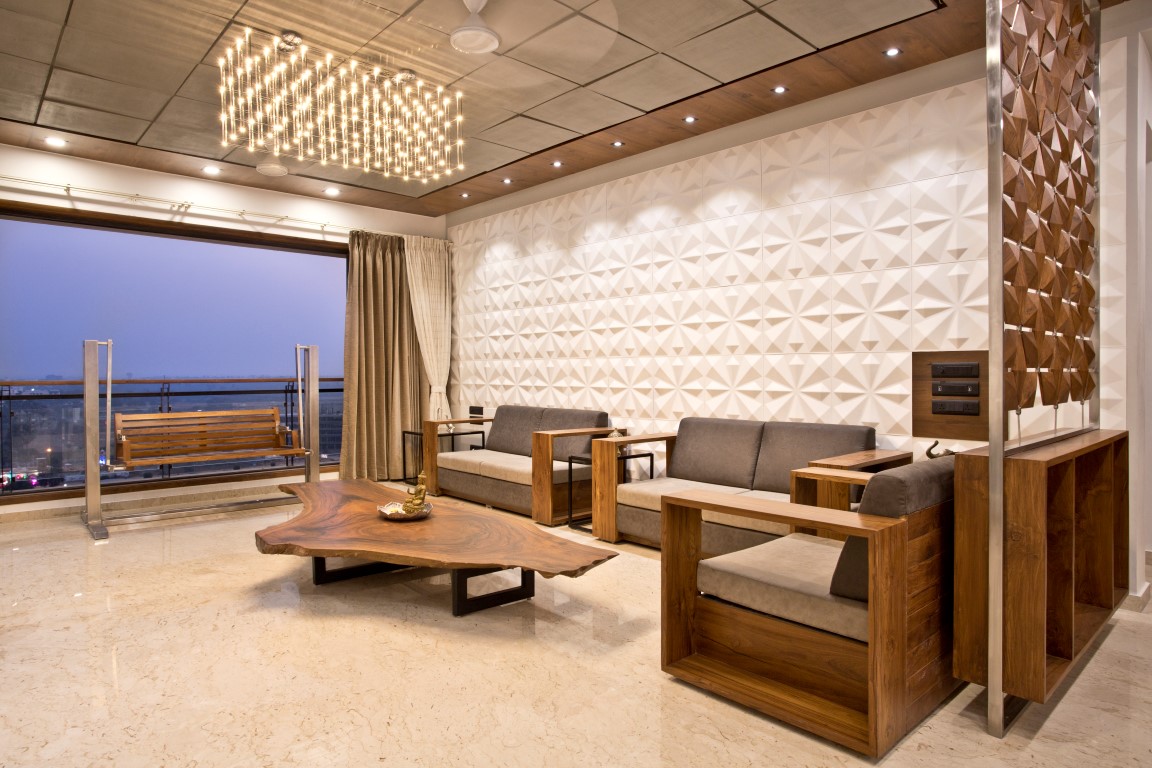 In this, 4200sqft apartment interiors located in the developing area of Surat, we have tried to reflect the versatile personality of the client who is a renowned business man who loves to travel and runs a riding Club and still has strong roots, famous for its,textile industry. He himself had a lot of creative and brilliant ideas for his house, with which he wished to, leave a lasting impression on his guests, along with retaining the homely warm feeling for the house. Our language of patterns takes inspiration from the basic shape of diamond and with slight modification is seen in various forms all over the house. The ceiling, walls, partitions, furniture elements, etc. have a flow of shapes and patterns which gives it a unique identity.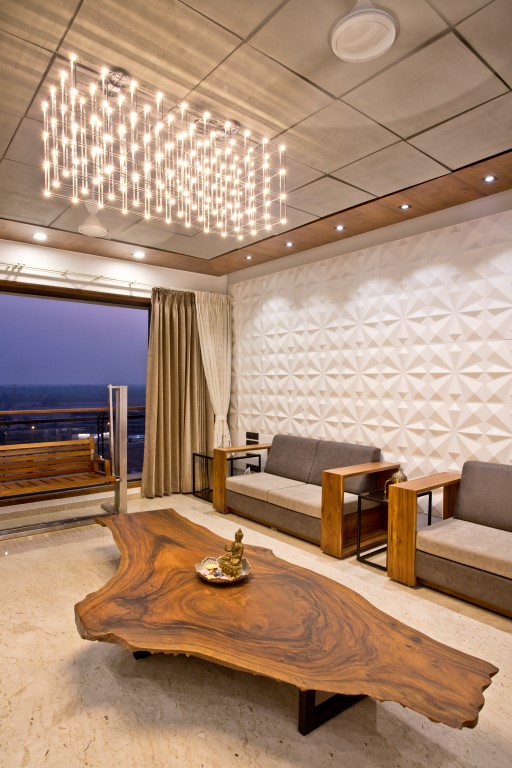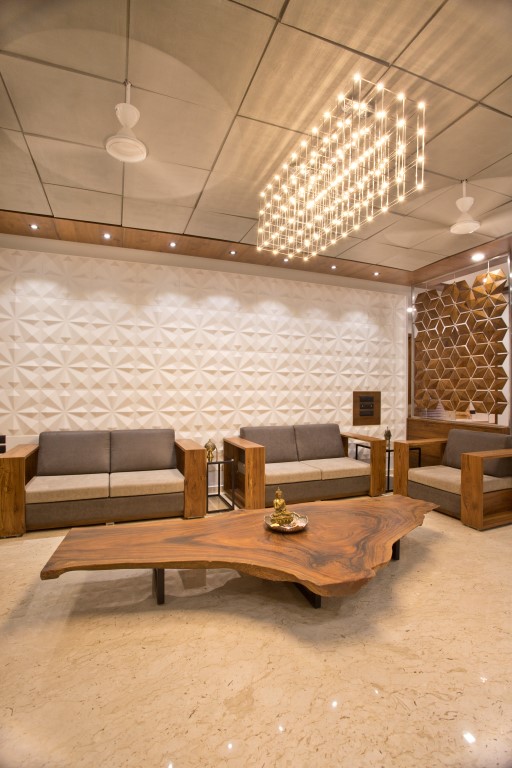 The Spaces have that immaculate quality to them, with simple and elegant furniture with just intricate patterns embellishing them. At the entrance there is a feature wooden screen wall that acts as a privacy screen to the Living from the entrance foyer.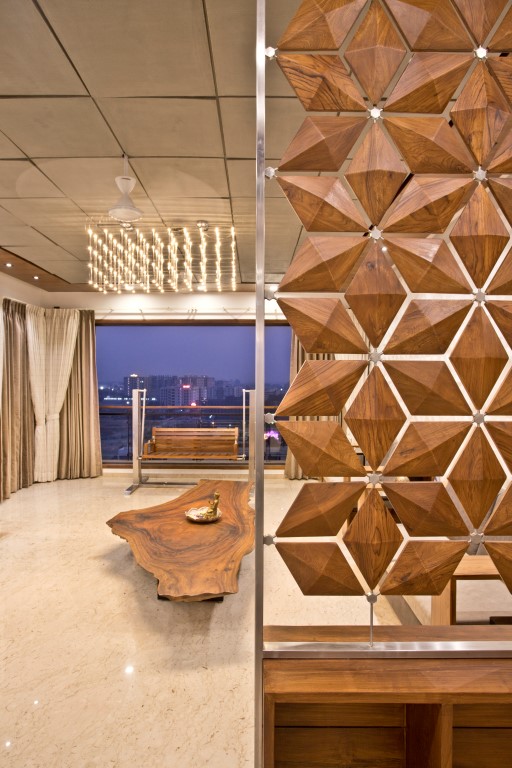 Living Area:
In the Living room a sense of warmth is generated by the wooden ceiling surrounding the undulating false ceiling which gives an interesting touch to the space.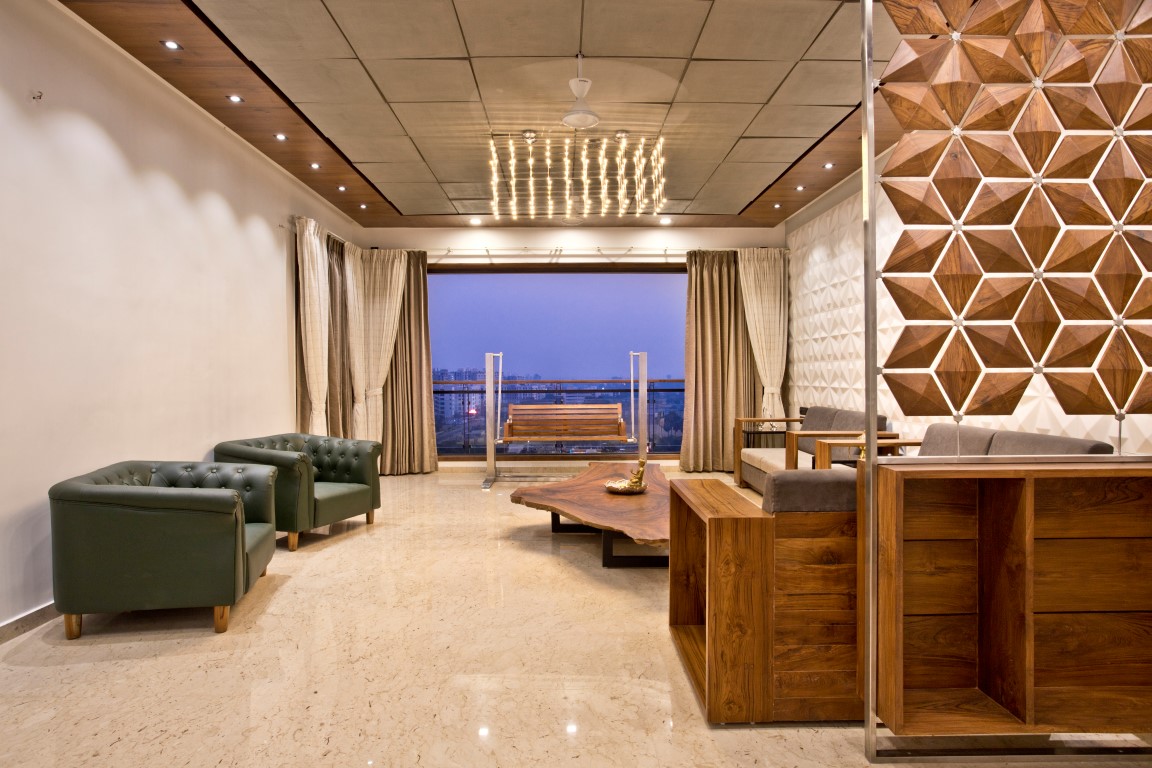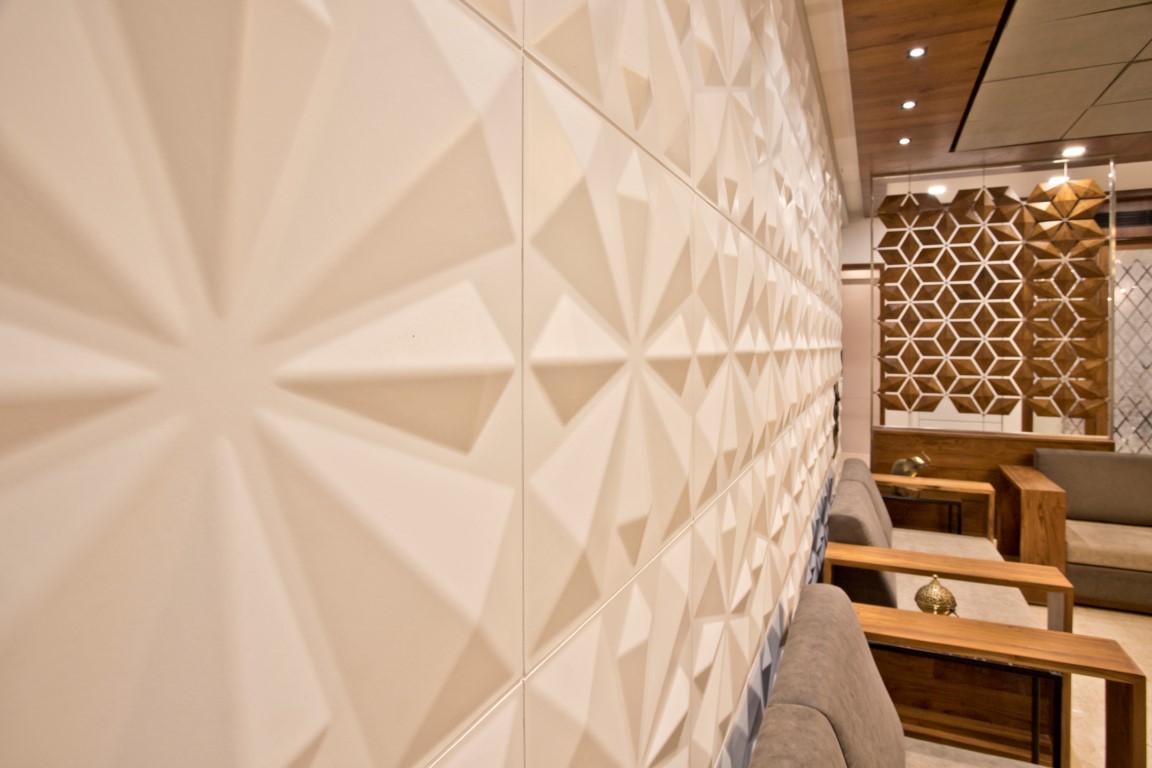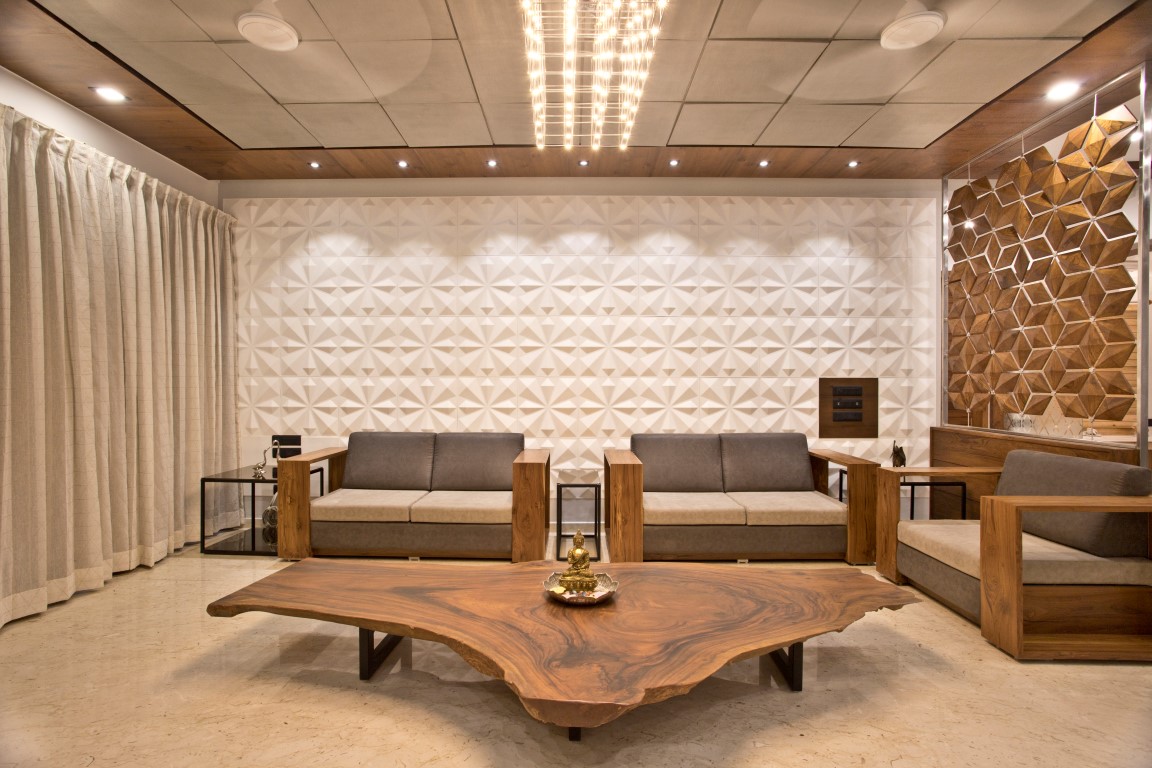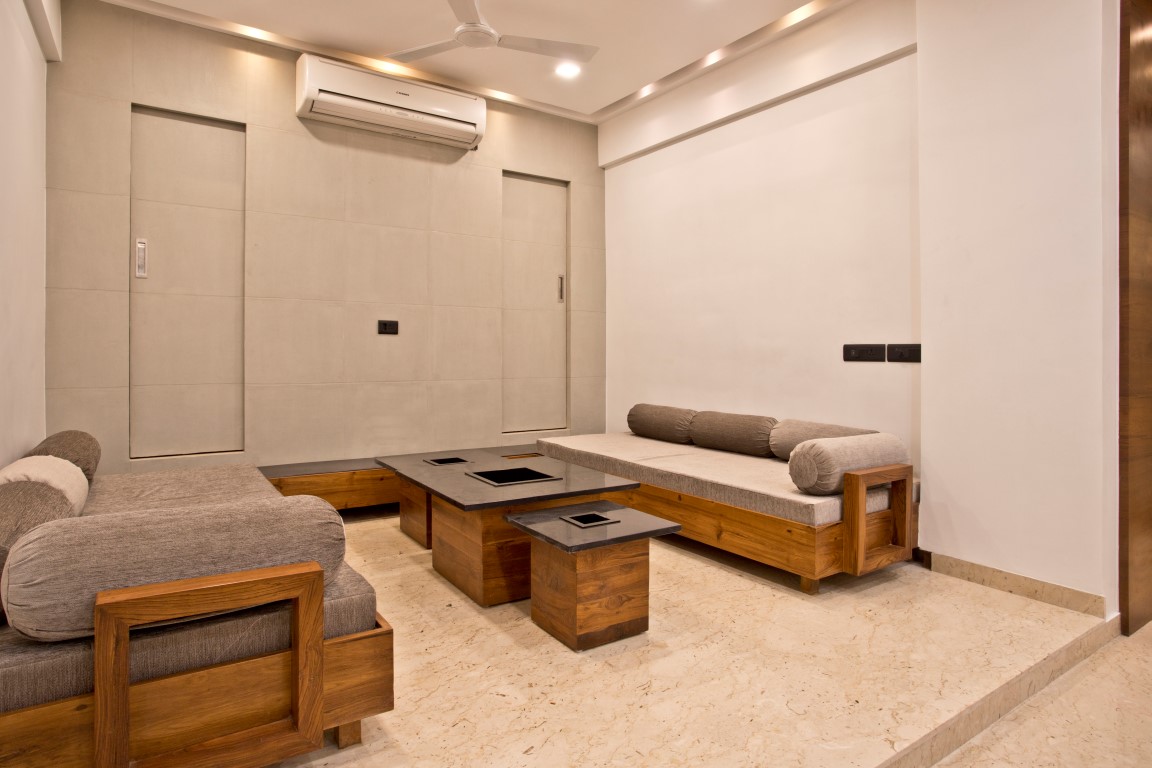 An elaborate oak Wood top centre table lies in between the seating; the white coloured patterned wall, which, in some way, reflects everything happening in the room and makes the room more docile.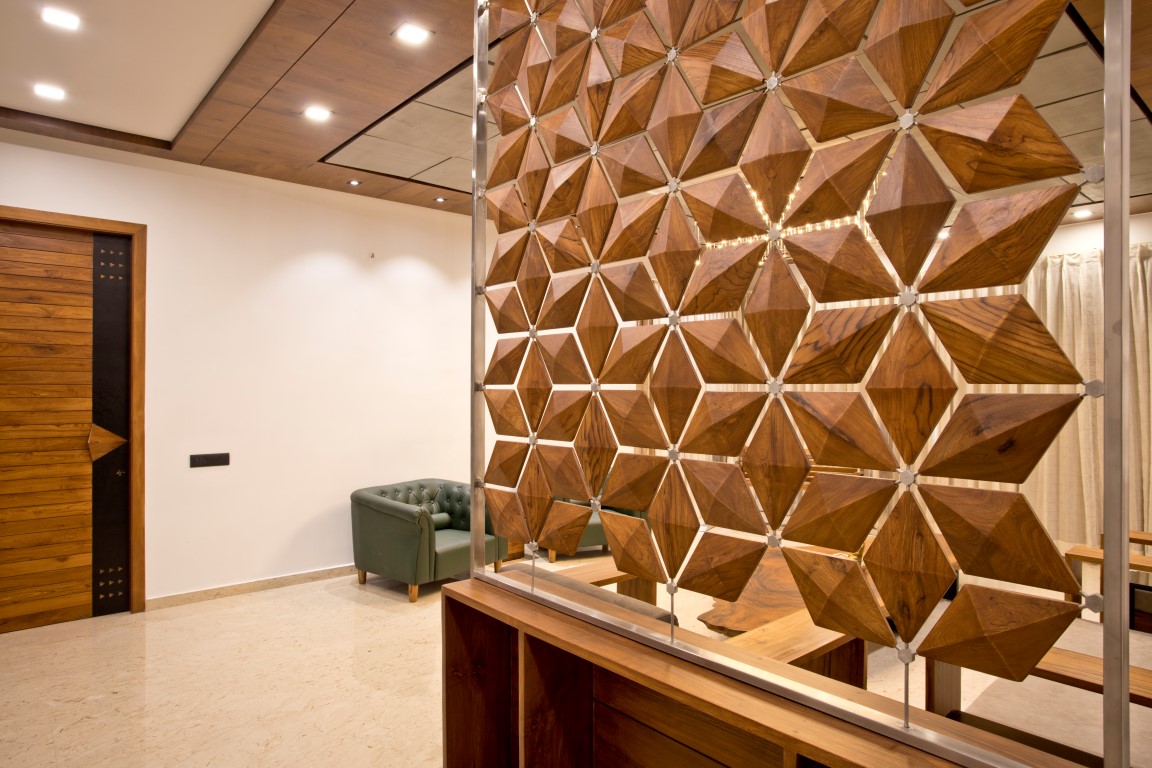 Dining Area:
An Illusion of a bigger space is created by having mirror finished cabinets as a credenza besides an Oak table top. A Contemporary brass light illuminates the dining area. The dining area overlooks over to the kitchen.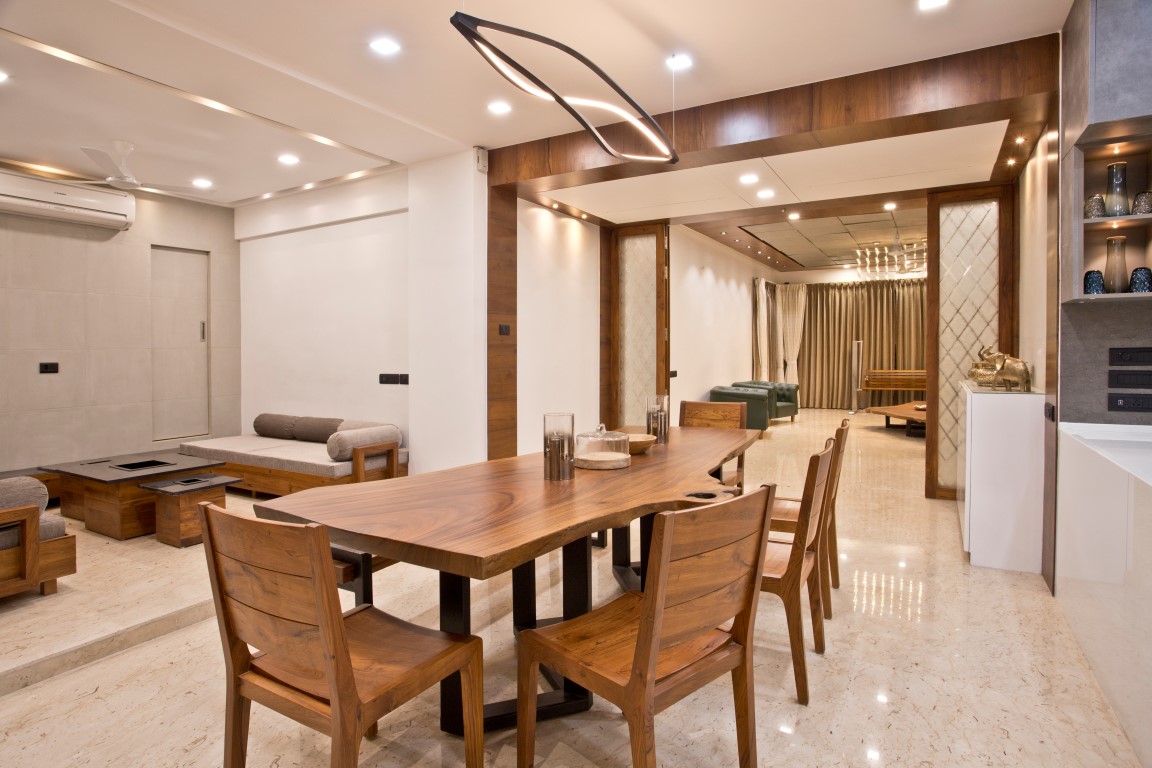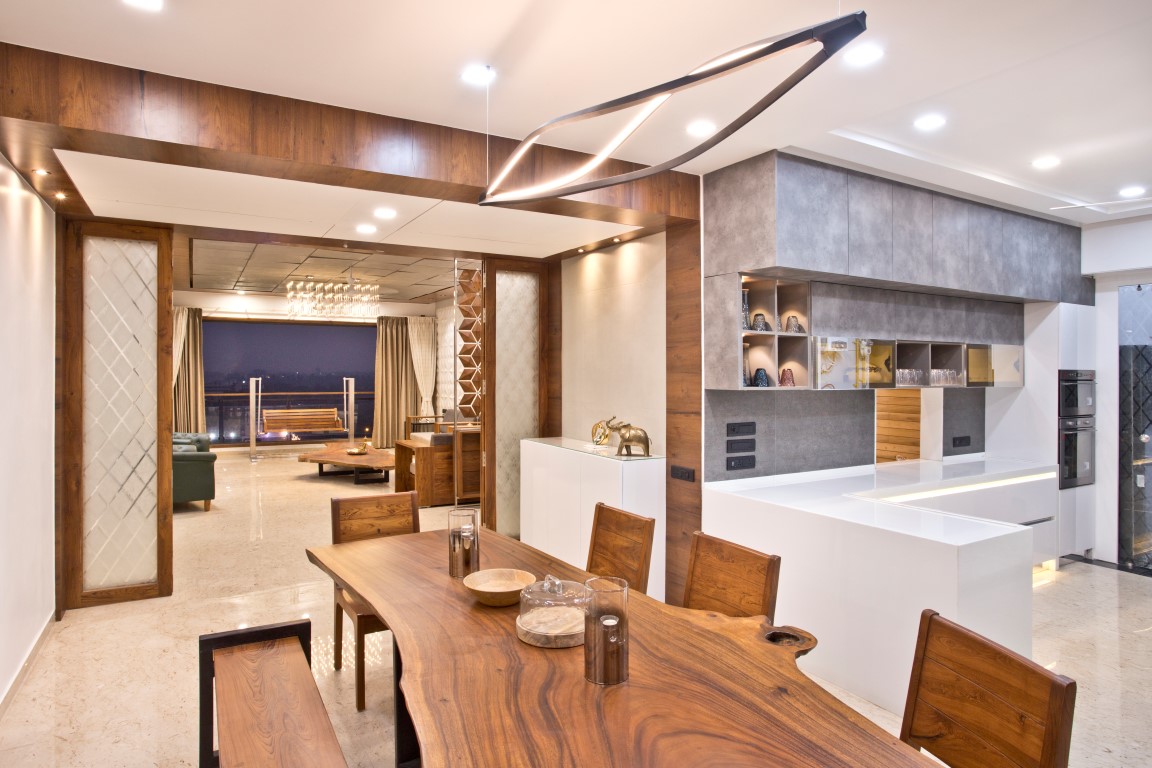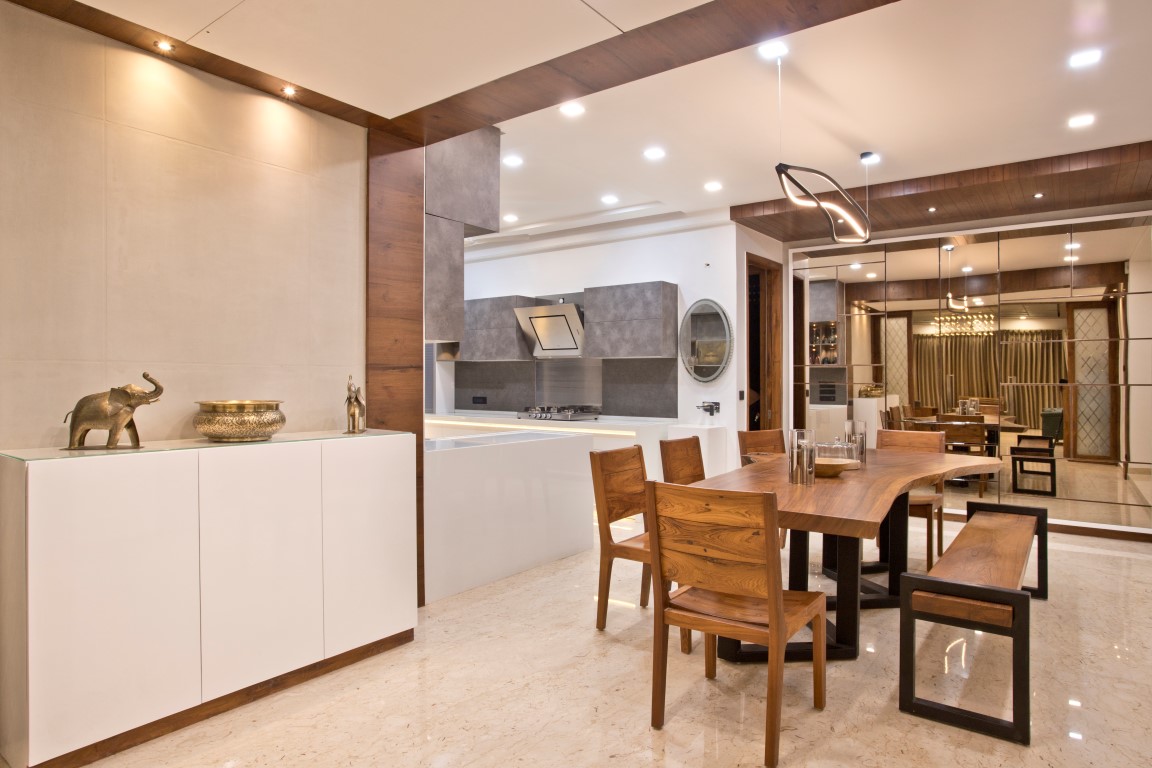 Kitchen:
The Grey cabinets in the Modular kitchen (KITCHEN'S GURU-Surat) give the pristine white a pop of colour and make it a bit warm in turn doing justice to the neutral colour theme of the house.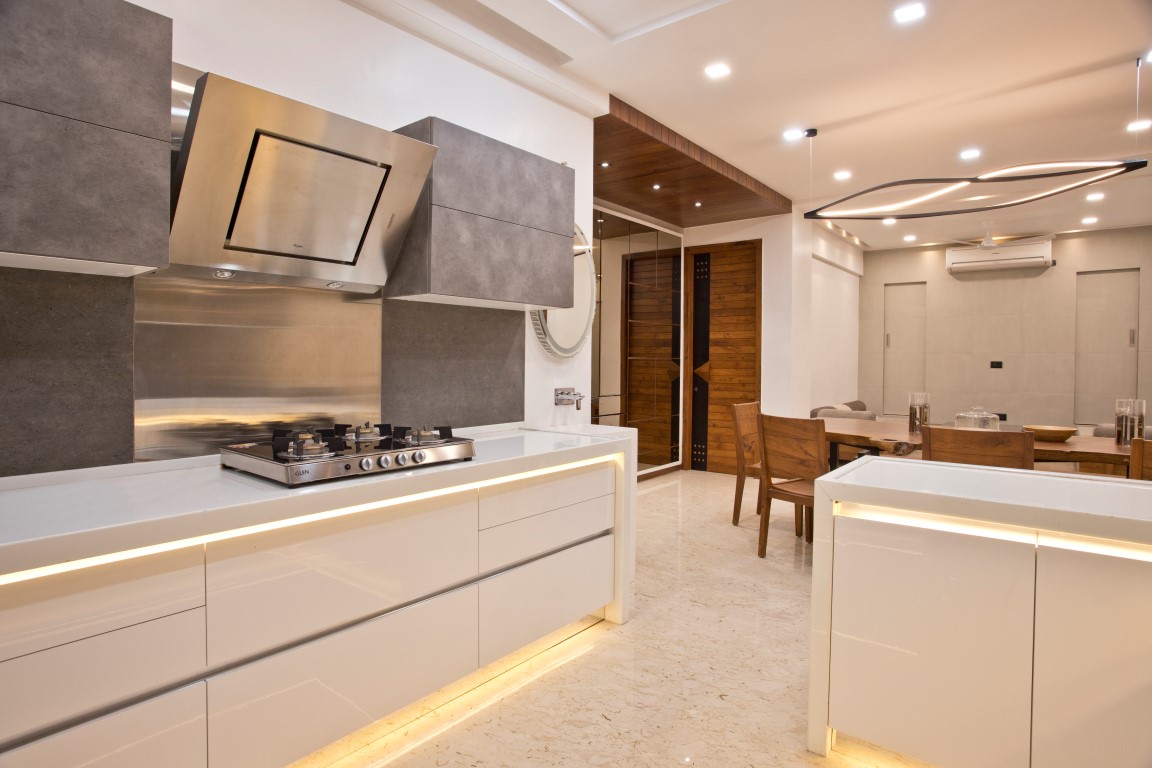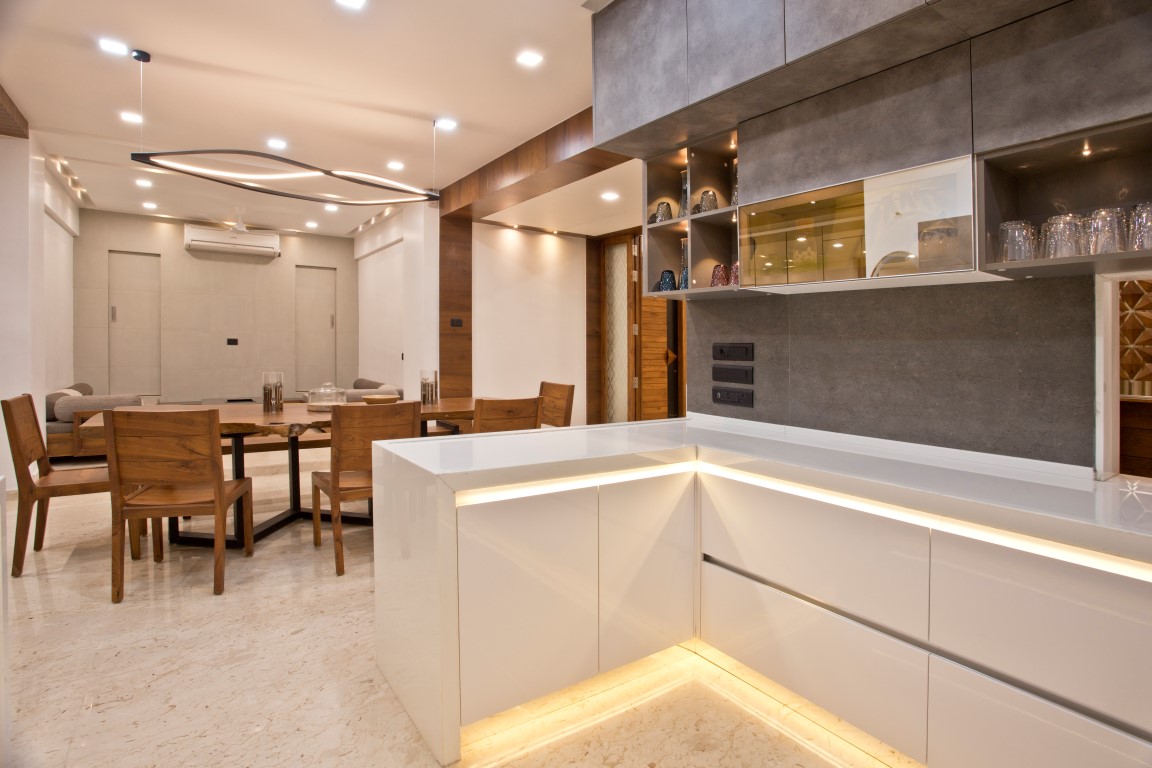 Master Bedroom:
The Master bedroom has an elegant yet simple wooden bed with customised wall art (Mr. Jabir Khureshi founder of Brains Creative unit – Surat) besides the bed showcasing the personality of the client and his love for riding.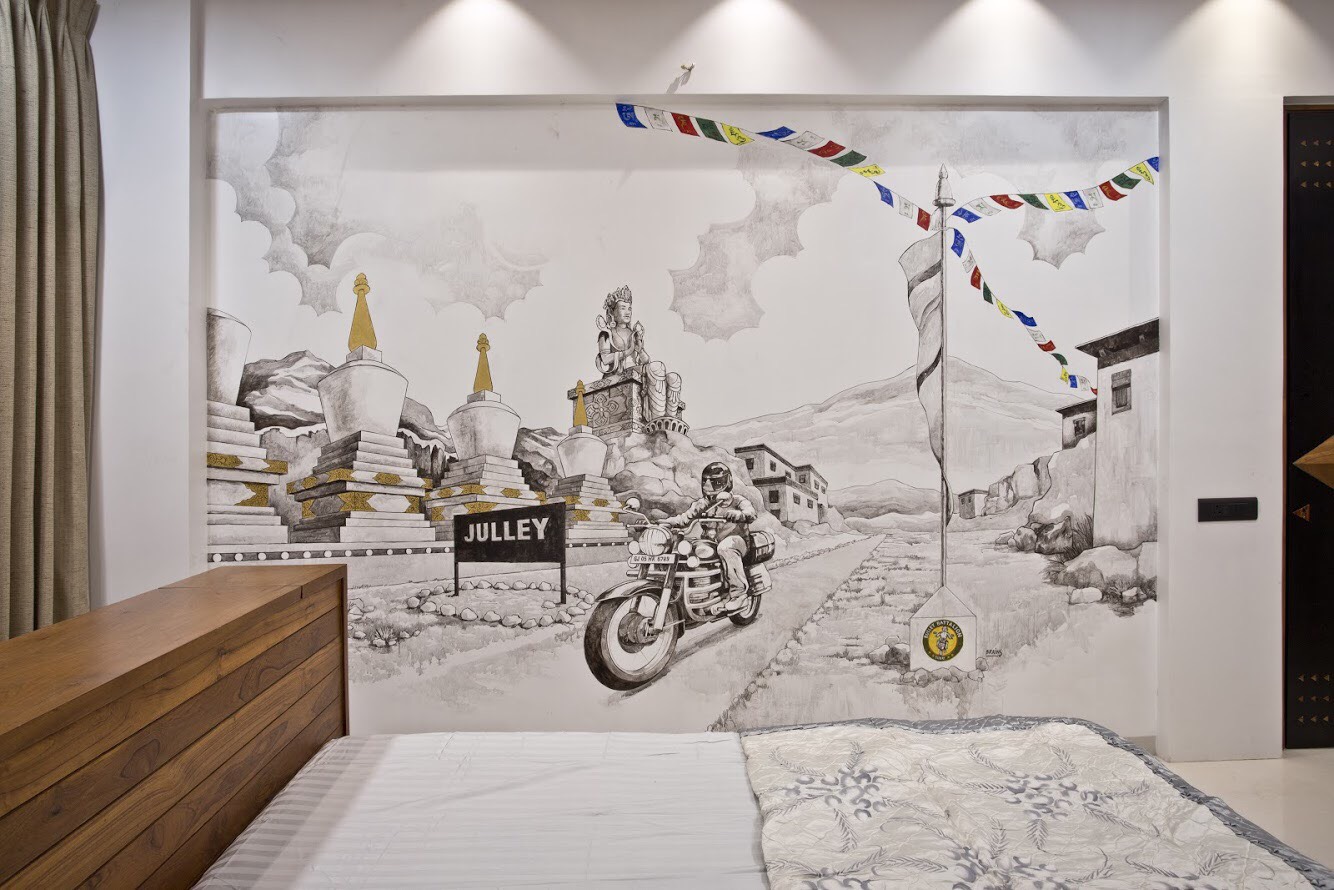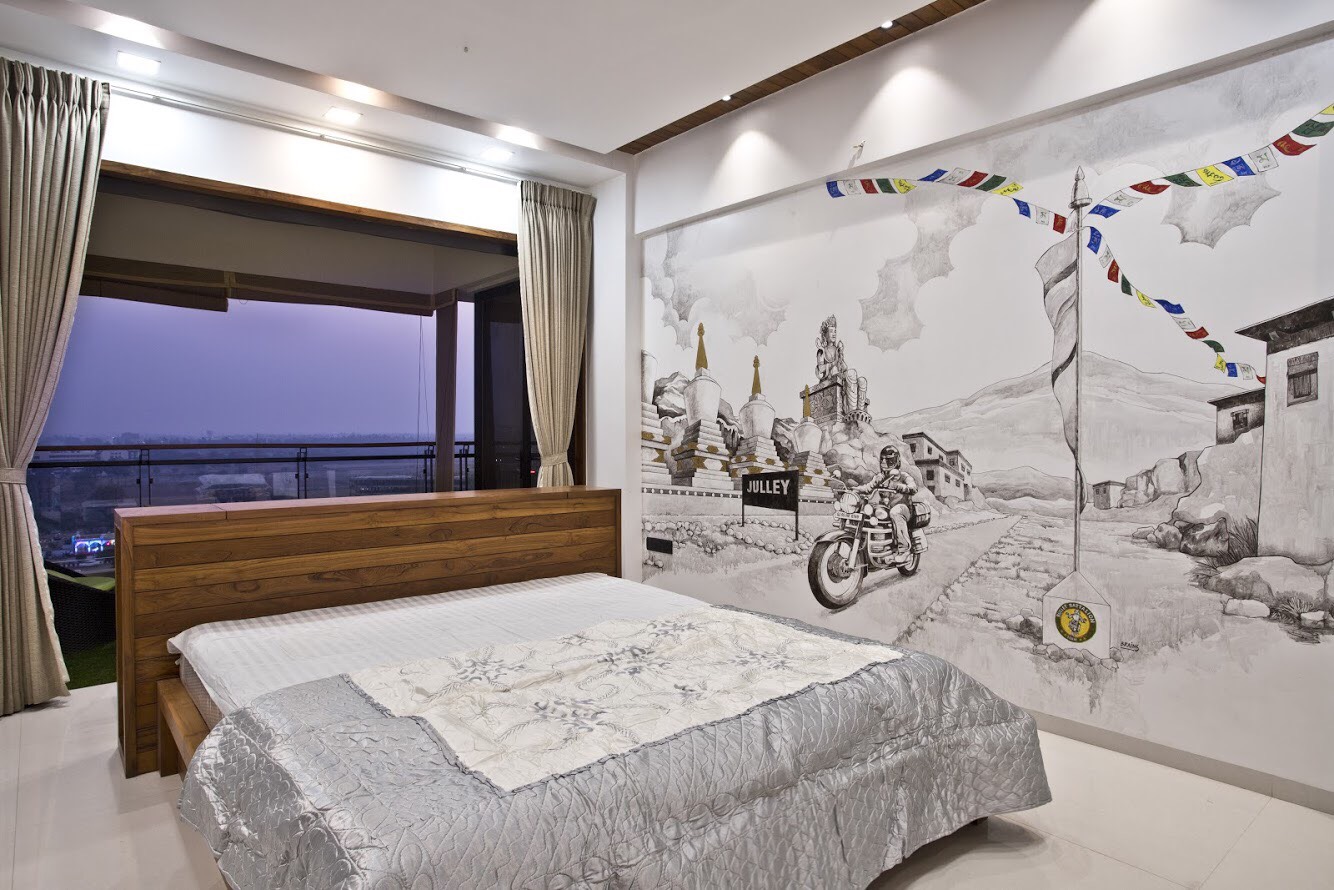 Children's room.
Now, for this space we have wavered a bit from the overall theme of the house keeping in mind the residents of this room. We have exposed Ceilings and the Cabling for the lights is done in such a manner that it becomes a pattern in itself. The Pop of yellow in the flooring and the open shelves gives a pop of colour to the room, and a dedicated shelving system for his collectibles is added in the centre.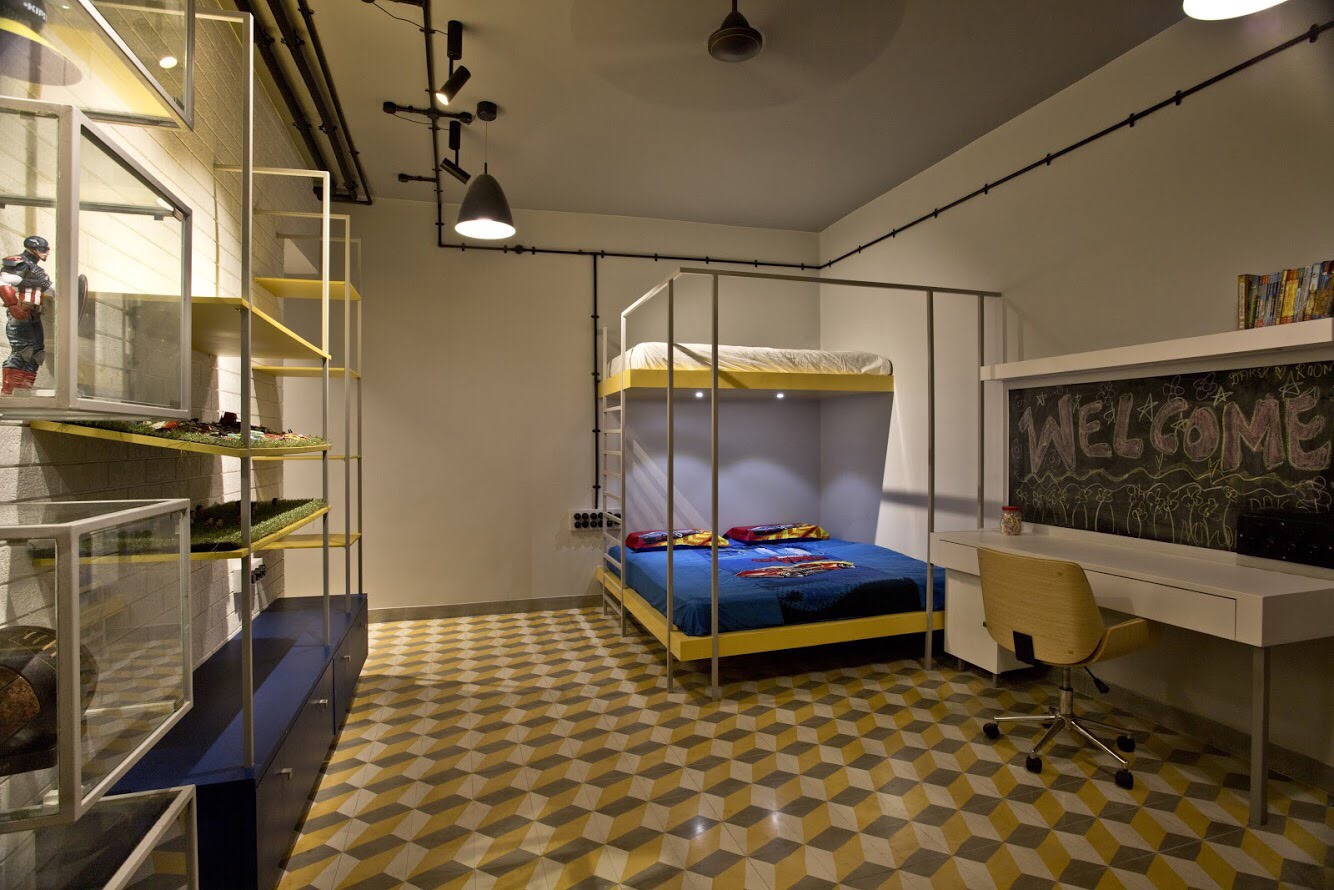 FACT FILE:
Design firm: Studio 4-Architecture and Interior designer
Principal designers: Sagar Shah and Husain Cinemawala
Project Type: Apartment Interiors (4.5 BHK)
Location: Surat
Size : 4200sqft