The idea of using a fireplace glasshas gained massive popularity over the last few years, and there are multiple reasons for this sudden upsurge. Clearly, aesthetics and safety are two of the leading reasons for its widespread use and applications in the home. These transparent fireplace doors are perfect for homes with young kids and pets and also add a touch of class and sophistication to the fireplace. However, that's not all, these exceptional glass doors do also have multiple other advantageous aspects including energy efficiency.
According to Claudia Chandler (assistant executive director of the California Energy Commission), a generic open-masonry fireplace wastes 85% of the produced heat through the chimney. This loss of heat energy not only spoils the indoor temperature but also piles up extra units on your electricity bills. The wastage of heat energy results in the inefficient performance of the fireplace and greater energy is required to make them run efficiently. This distorts the entire energy balance and homeowners often end up using additional heating units to keep the temperature from dropping down.
What makes fireplace glass highly energy efficient?
There is no doubt about the potential of the fireplace glass and the role it plays in augmenting the energy efficiency of the fireplace. However, it isn't always clear how these glass doors augment energy efficiency and are they really worth it? To understand this, it is important to know the leading cause of heat energy loss in the fireplaces. A fireplace loses the maximum of its energy through a chimney that ultimately results in negative efficiency.
This negative efficiency implies that more heat energy is required to warm up the fireplace and make them attain the required energy levels. Even during operation, only 15% of the heat energy is effectively utilized and the remaining energy is wasted through the chimney. When the fireplace is turned off and then later turned on again, there is no residual heat energy left in the fireplace and it needs to build the energy level back from scratch.
This happens because there is no restrictive barrier stopping the energy escape and that's where a fireplace glasscomes in handy. These glasses trap the heat energy inside and help it regain the required efficiency with ease.
Types of glass used in a fireplace?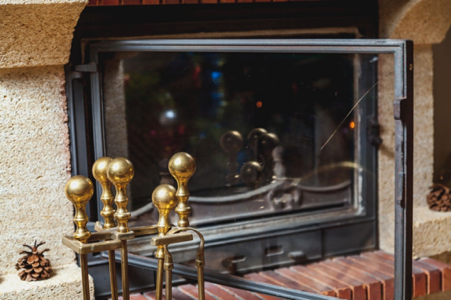 When it comes to selecting the perfect glass for a fireplace door, homeowners get to select from multiple amazing glass options. This selection majorly depends upon the homeowners' budget and their unique needs & requirements. Furthermore, it is also essential to keep in mind the original glass type when looking for alternatives and replacements. The following are some of the common types of glass used in a fireplace.
Neoceram Fireplace Glass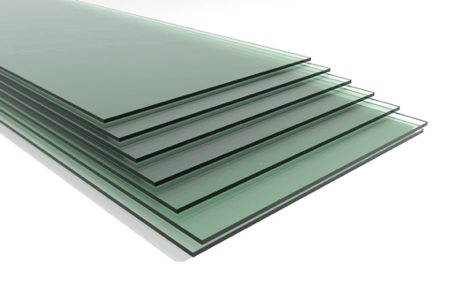 As the name suggests, the Neoceram glass is composed of a ceramic and is commonly referred to as glass due to its transparency. Its ceramic nature accounts for its exceptional thermal resistance and thermal shock resistance properties. These glasses can sustain heat energy up to 1472 Degrees and are often the best choice for electric & coal-burning heaters and also commonly used as a fireplace glass.
The Neoceram is generally available in 3/16 inches thickness and can also be customized and cut-to-size per the unique homeowners' needs. Their versatility along with amazing thermal resistance properties and clean & transparent look makes them an exceptional choice for extremely hot places inside the house.
Pyroceram Fireplace Glass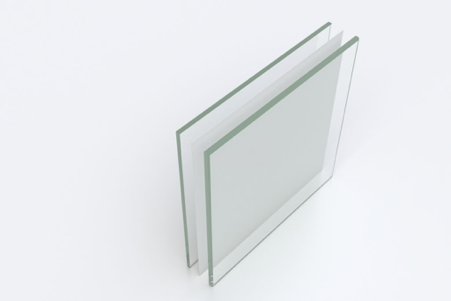 This is another popular heat-resistant glass and greatly resembles the first type in terms of overall characteristics. Also made with a transparent ceramic, this type of glass is widely available in 1/8" thickness and is mainly renowned for its thermal shock resistance. This characteristic implies that these glasses won't shatter or break when suddenly exposed to cold water when extremely hot. That's the reason why Pyroceram is perfect for ovens, boilers, and even fireplaces.
Robax Fireplace Glass
Robax glass is another exceptional glass type capable of enduring extremely high temperatures. These glasses are also highly customizable and can be cut to any given shape and size as desired by the homeowner. In addition to the common heat resistance characteristics, Robax is most commonly known for its low thermal expansion. This accounts for greater durability as this glass doesn't deform easily and loses its place.
Tempered Fireplace Glass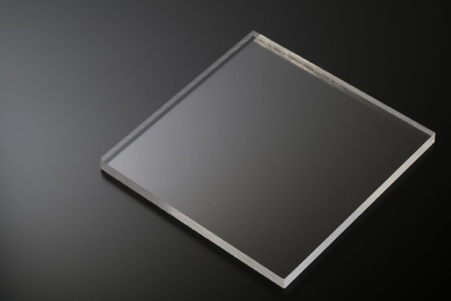 Last but certainly not the least, tempered fireplace glass is the most common and economical glass type for a fireplace. These glasses are commonly referred to as toughened glass and underwent numerous thermal and chemical treatments to gain the required strength. Tempered glass is extensively used around the home and can be found in shower doors, mobile phone screens, tables, windows, and fireplaces. Besides high strength, this glass type is also renowned for its augmented safety features. These glasses won't shatter into sharp dangerous shards of glass and rather shatter into harmless spherical pieces on breakage.
Which glass is more efficient for a fireplace?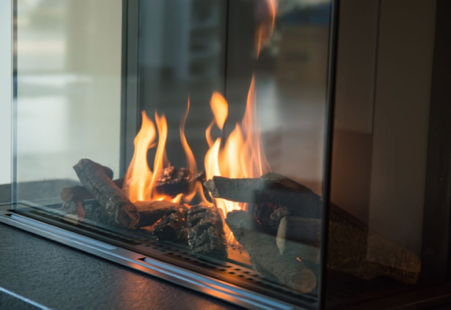 All the above glass types have their pros and cons and can successfully endure seriously high temperatures. However, based on cost, safety, and durability, tempered glass surely beats the rest is often considered as the ideal glass for a fireplace. This glass type may not have extremely high thermal resistance as the ceramic counterparts but certainly have sufficient endurance to sustain heat energy from a burning fireplace.
As the fireplaces are generally used with an open door, the lower thermal resistance of tempered glass never any concern and its cost and safety aspect make it totally worth it.
How much you can save on electricity bills by installing fireplace glass doors?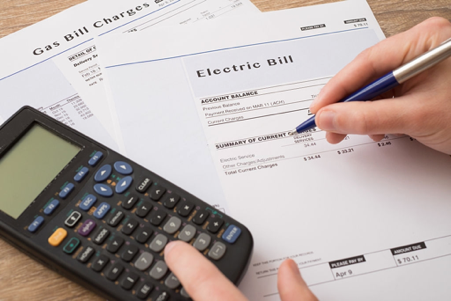 Fireplace glassdoors successfully trap the heat energy inside a fireplace and can almost double the efficiency of the fireplace. This seal and restrictive barrier also save up a great deal of electricity by making the fireplace work more efficiently. This energy-saving feature and augmented energy efficiency make these doors totally worth a buy.