&nbsp
This residential project gets its name 'The Stacked Abode' through its vertically imposed and staggered volumes. The house is envisaged as a large monolith with staggered masses that prop out at different levels and dictate the contemporary outlook of the house, which is further translated to the interior spaces through its subtle yet elegant material palette.
Contemporary Outlook Dictated by Elegance and Sophistication | Studio Brick by Brick
Visit: Studio Brick by Brick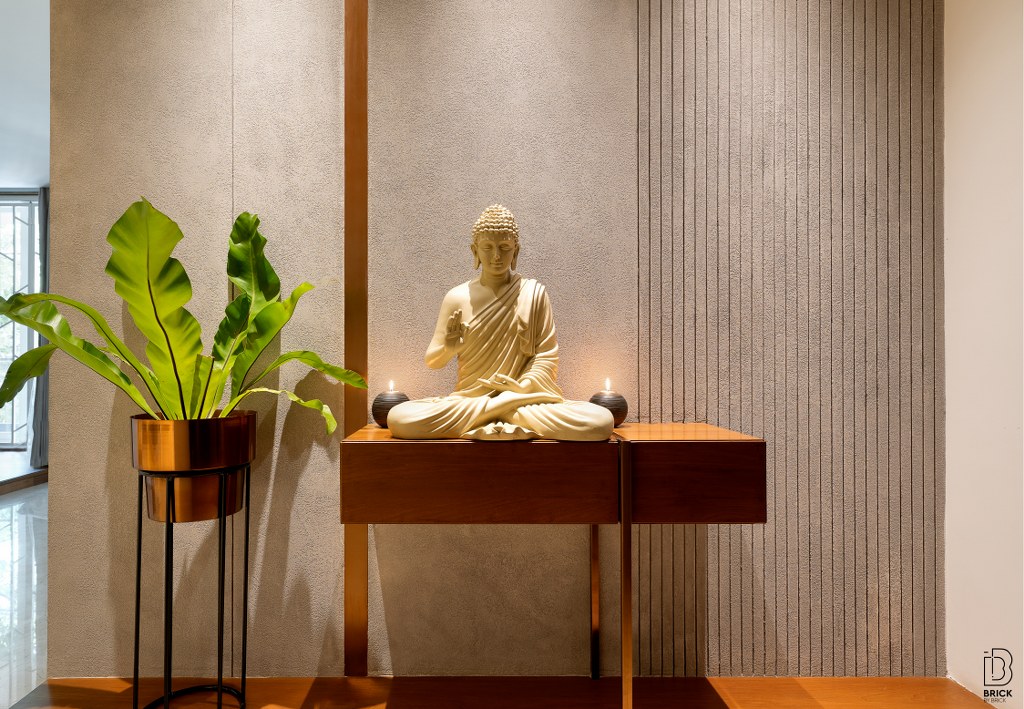 This abode is prefaced by a voguish foyer space. The small yet predominant space of the home is adorned by mellow greys that lay low as the bold brass tones stand out. The Buddha figurine and the chic planter add warmth to the space.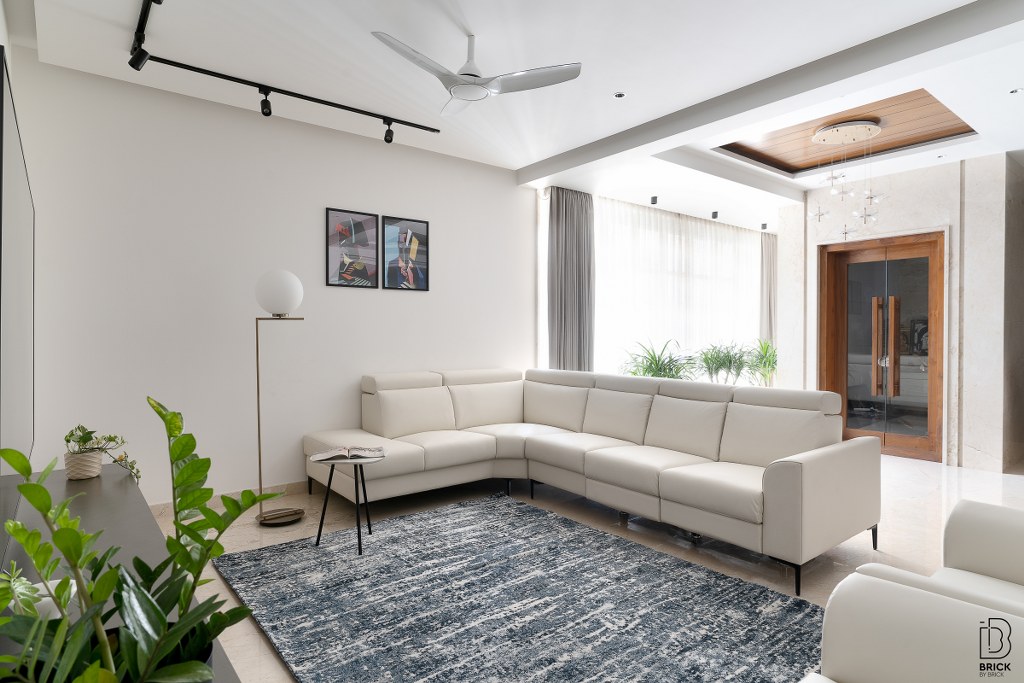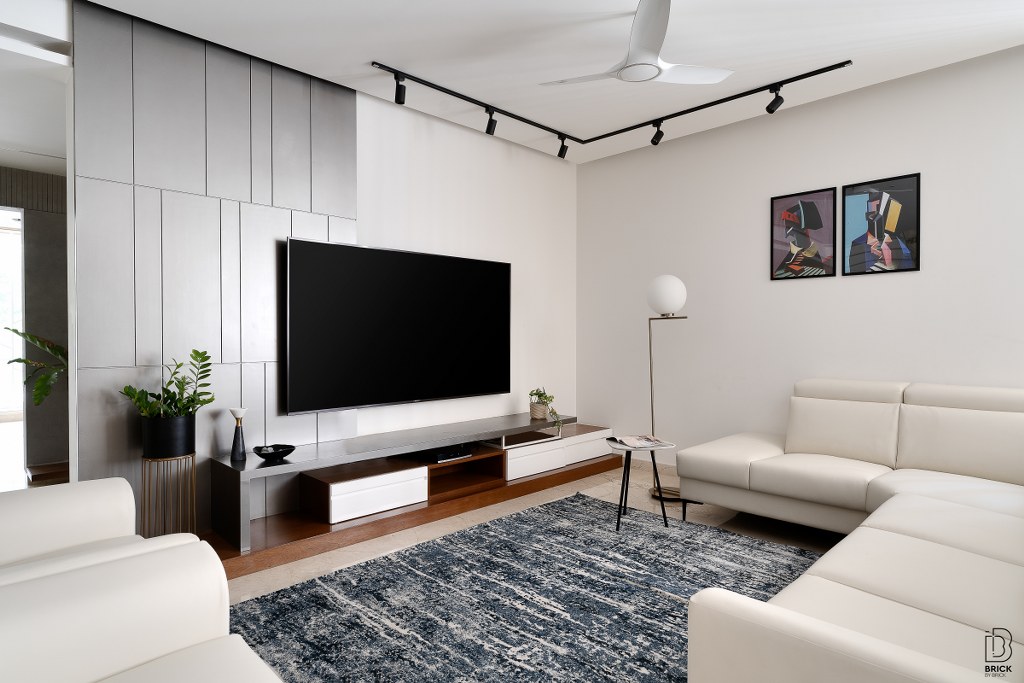 The informal living area acts as an archetypal backdrop against which all activities of the family unravel. The neutral tones lead by plain sailing forms and textures sing a harmony of contemporary. The north light elegantly bathes this space adding emphasis to minute details of the design.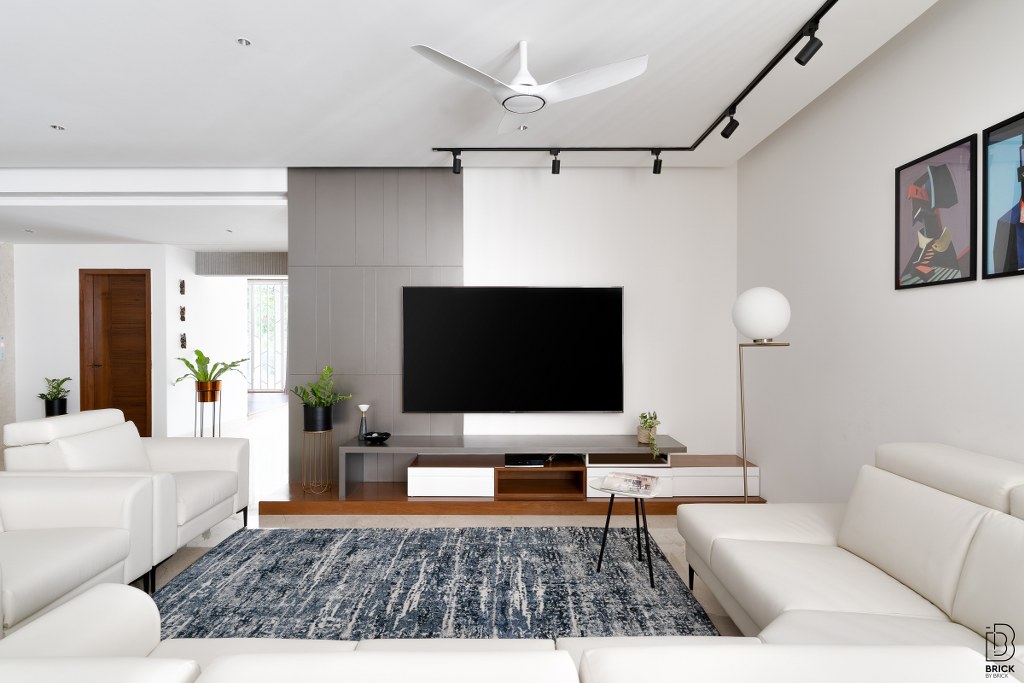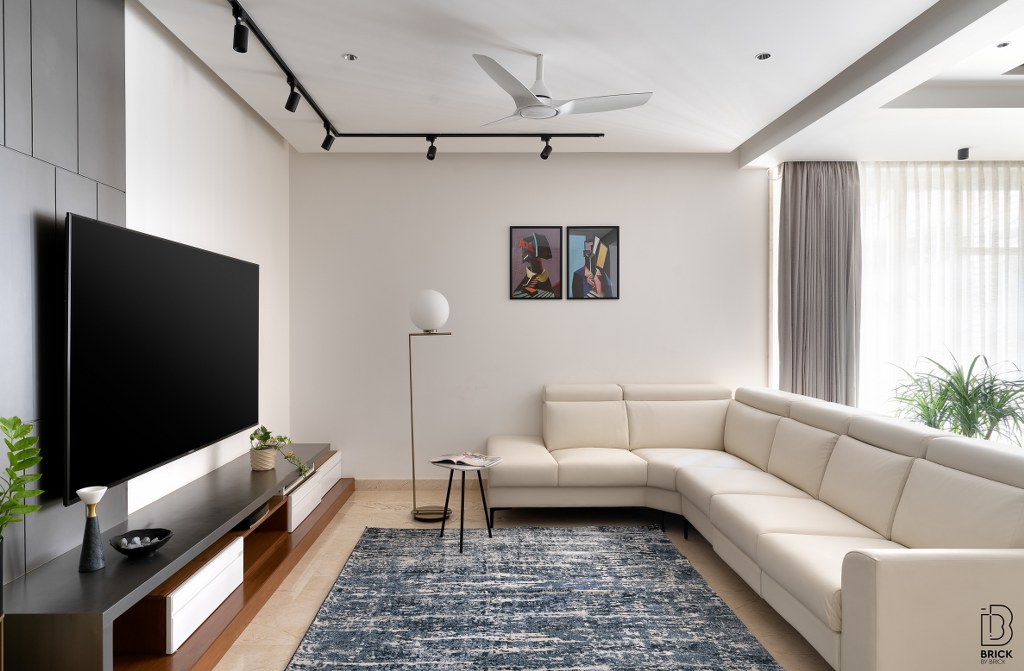 This frame of the home comes together with simple forms that are complemented with subtle neutral tones. The marble used has a unique persona that brings out the character of the space while it weaves together the different mood boards of the home together. The circular forms of the lighting fixture, the accent mirror as well as the vase add a fresh quirk to the rectilinear forms of the space.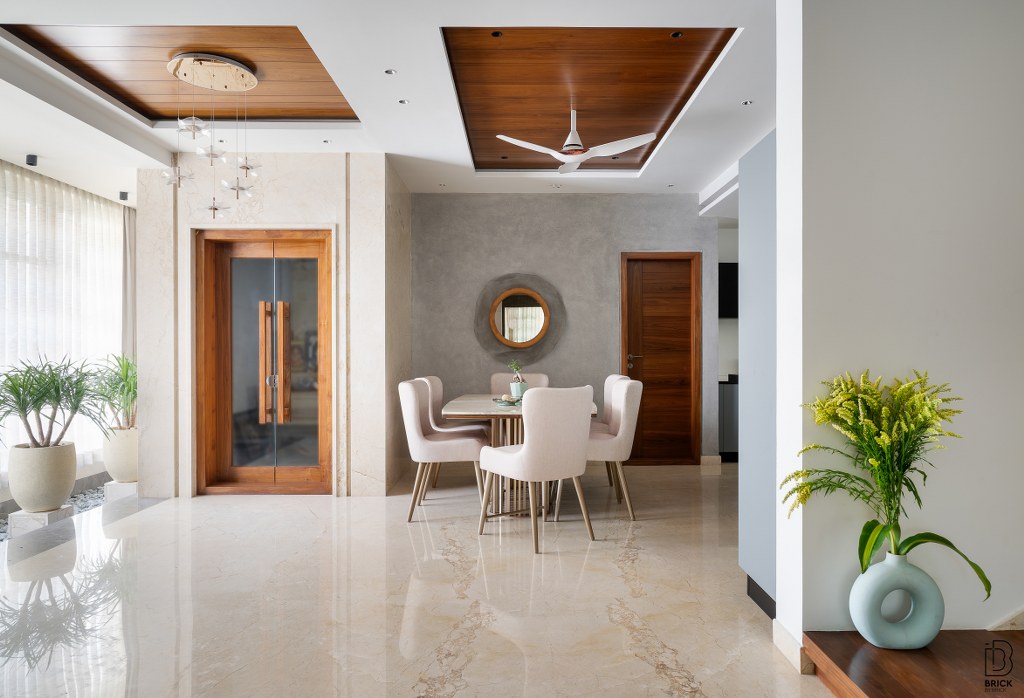 In accordance with the contemporary design of the home, a modular kitchen was chosen for the interiors. The bright light spills into the kitchen which has a simple color palette of greys, and in turn brings out the sophistication of the modern kitchen.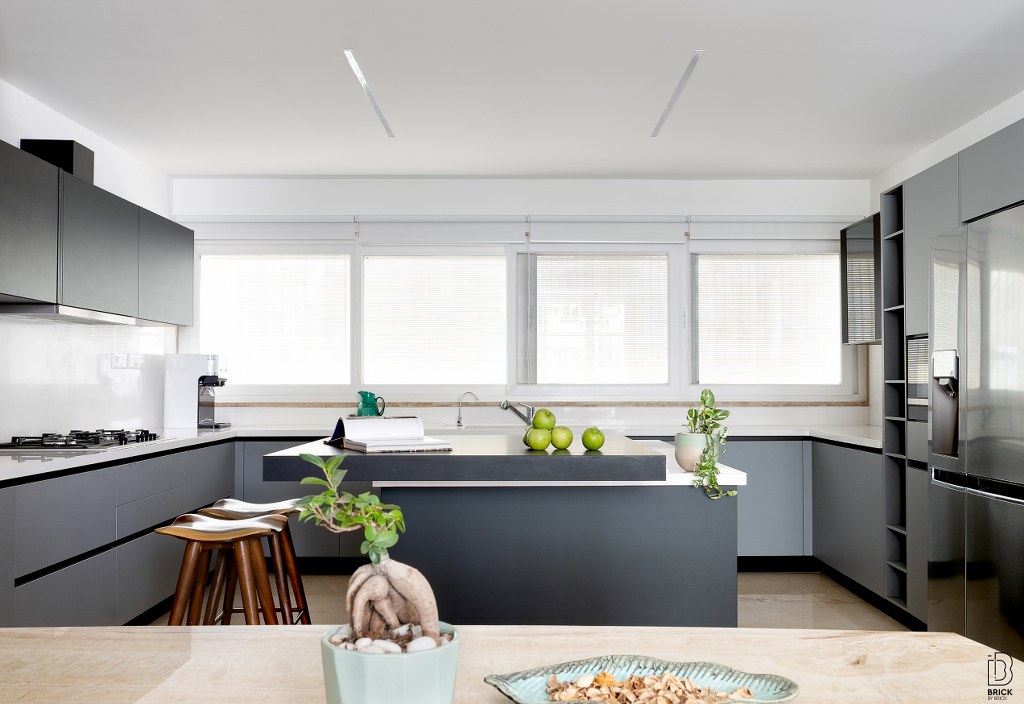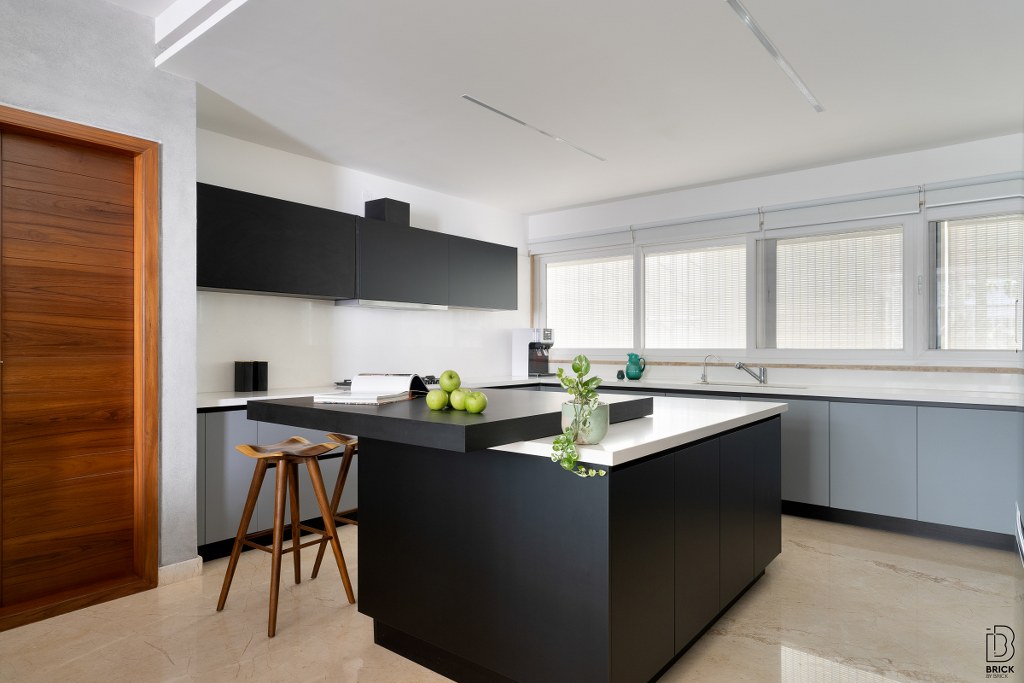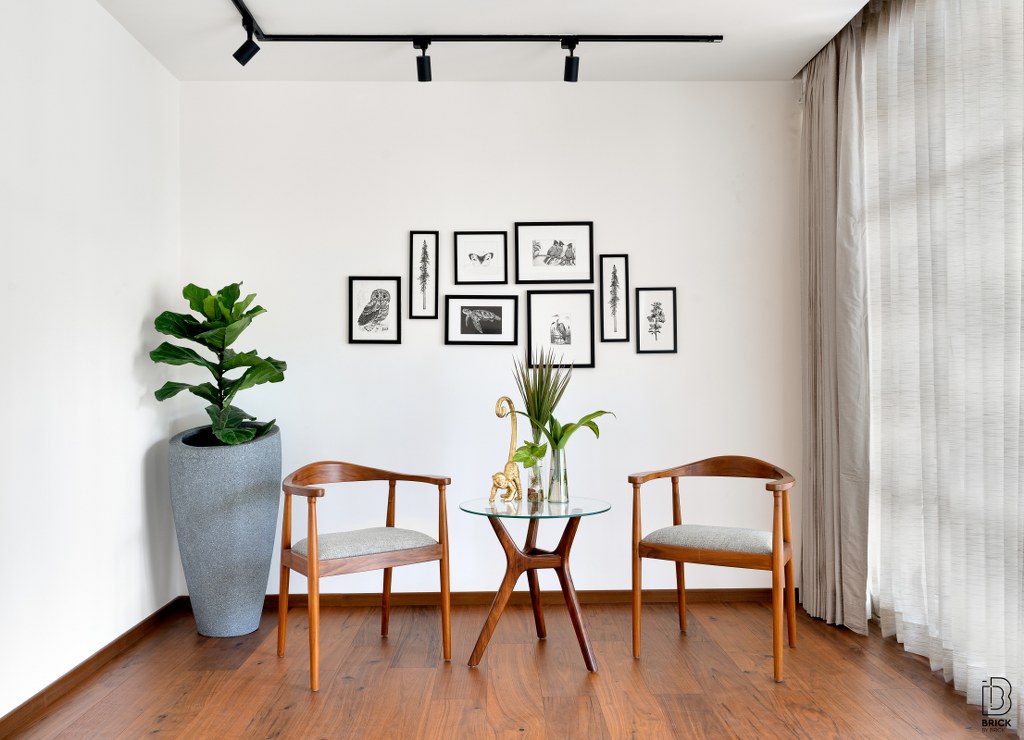 The Stairwell is inspired by the form of a leaf so it is rightfully placed amidst the landscape of the court. It is lit up from the lower level so that the patterns of the leaf are reflected to all the above floors through the cutout.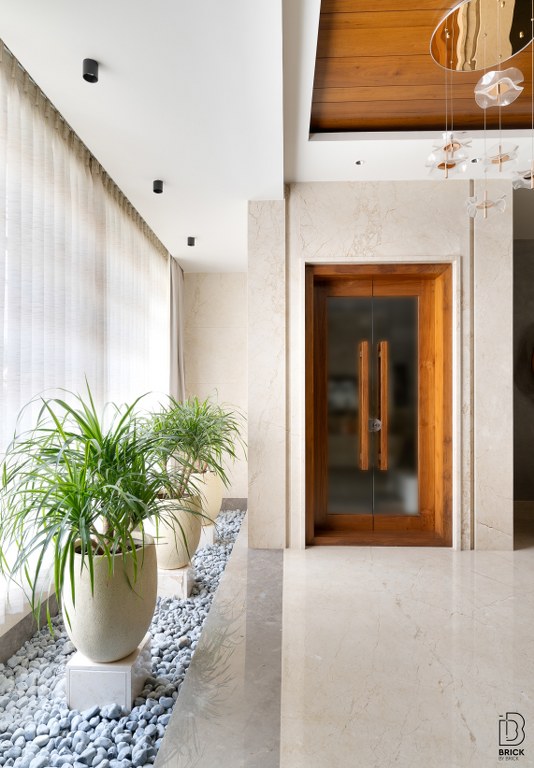 The user is lead to a common area on the first floor which has a defined reading area. This space is visually demarcated by the wooden flooring and a bold statement is made by the yellow accent chair that sits with its head high. Rectilinear forms make the space, while small kinks are added to it using tiny planters and art.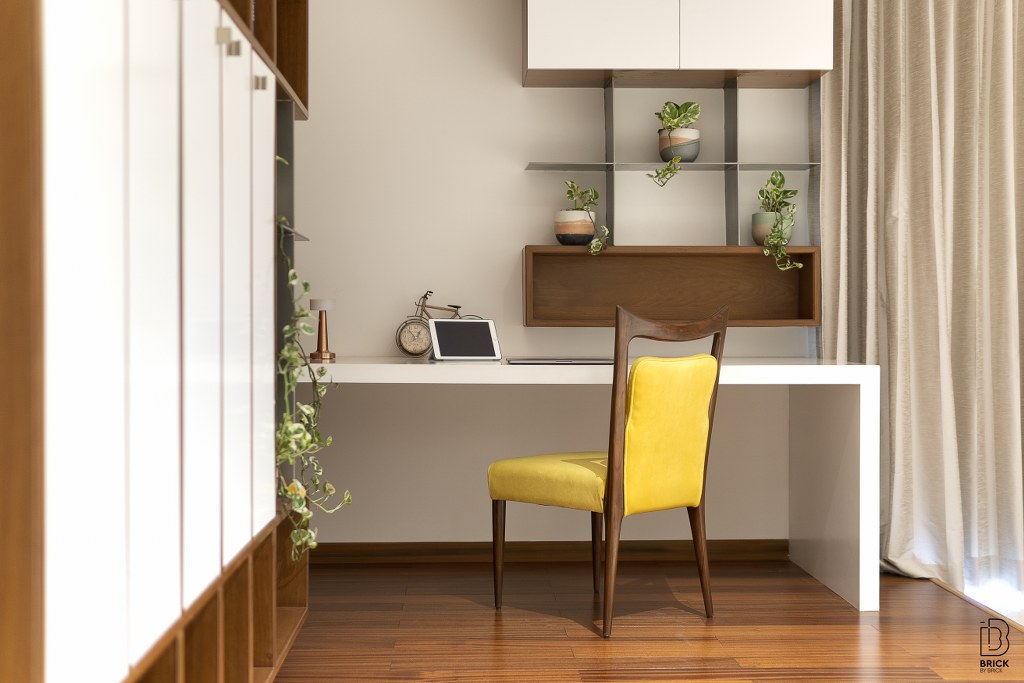 This nature-inspired space is adorned by rustic sooty tones keeping in mind the users of the space. The cozy space is adorned by undemanding pieces of furniture that do not take away from the aesthetic. To break the monotony of the space, pops of bright blues are used in the art forms as well as the curios.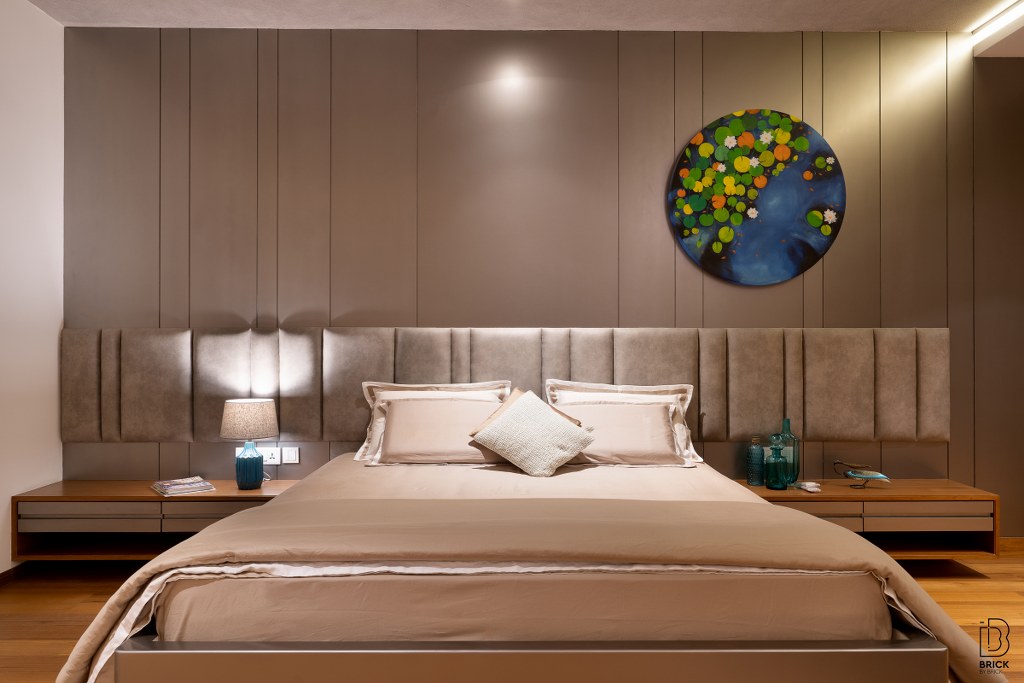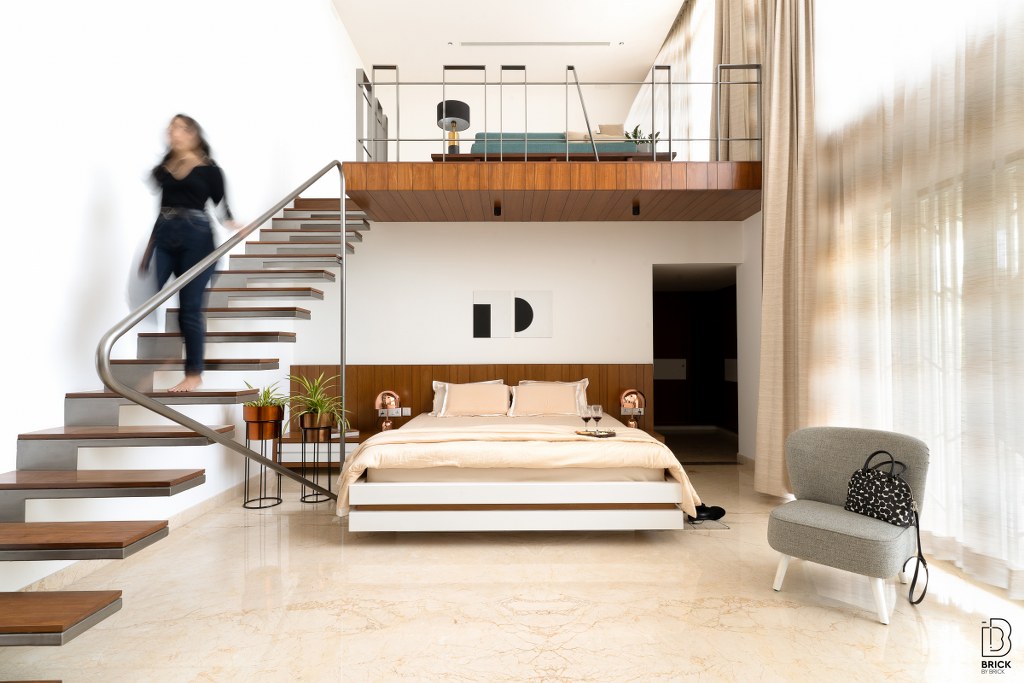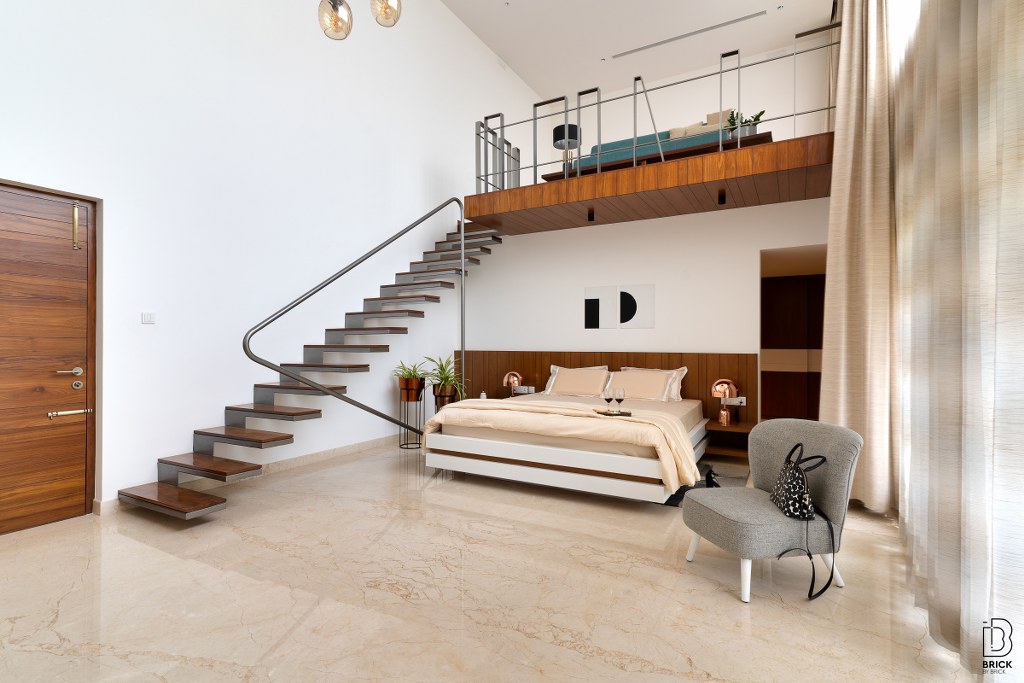 This space was conceptualized around the client's daily routine of morning coffee, hence it rightfully overlooks the lush green park. The bright morning light brings out the clean lines and enhances this frame on the whole. The lofty fiddle fig anchors the space as the deck inherits its sense of depth from the wooden texture.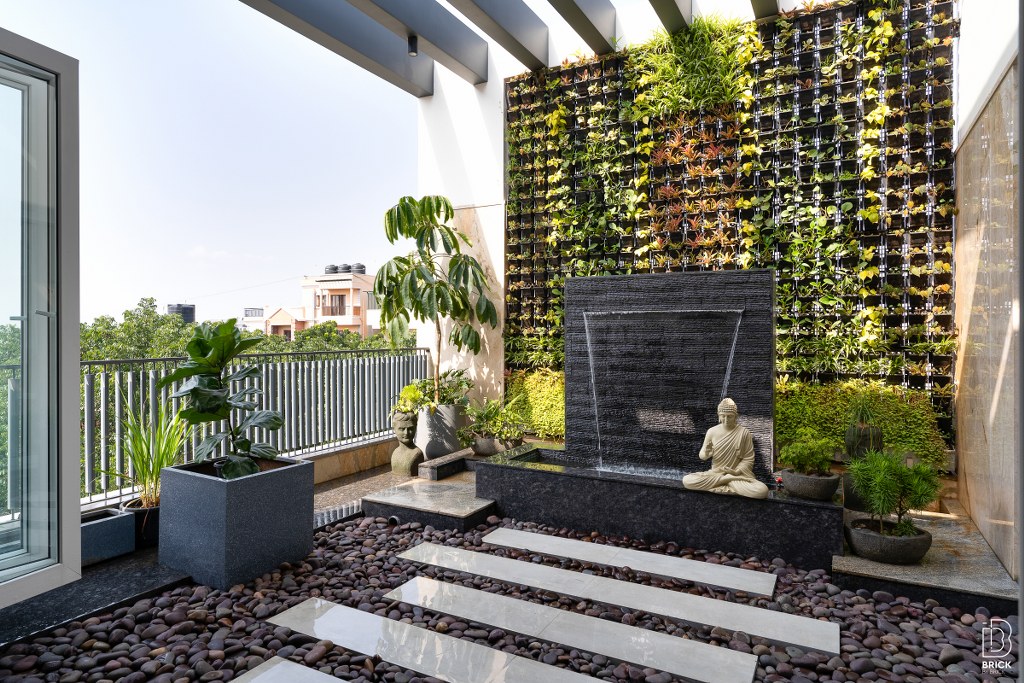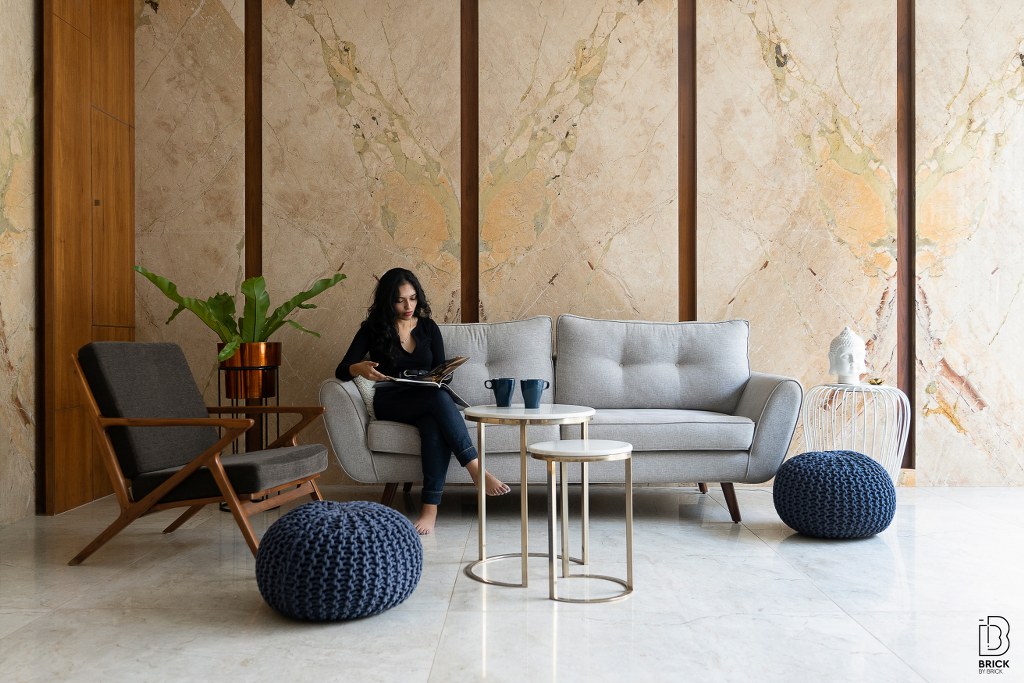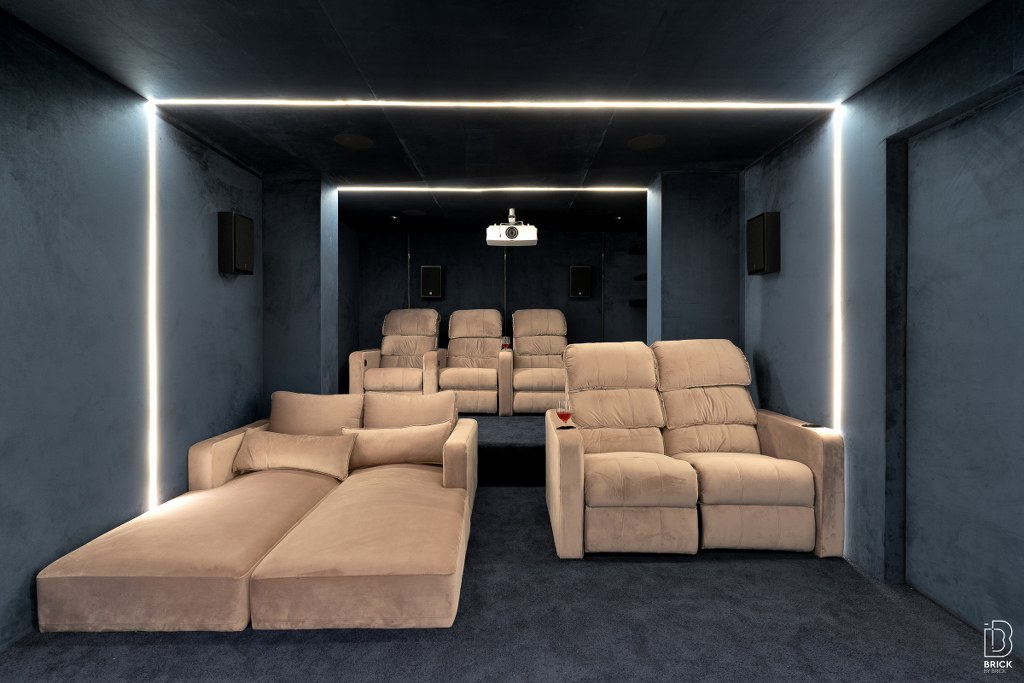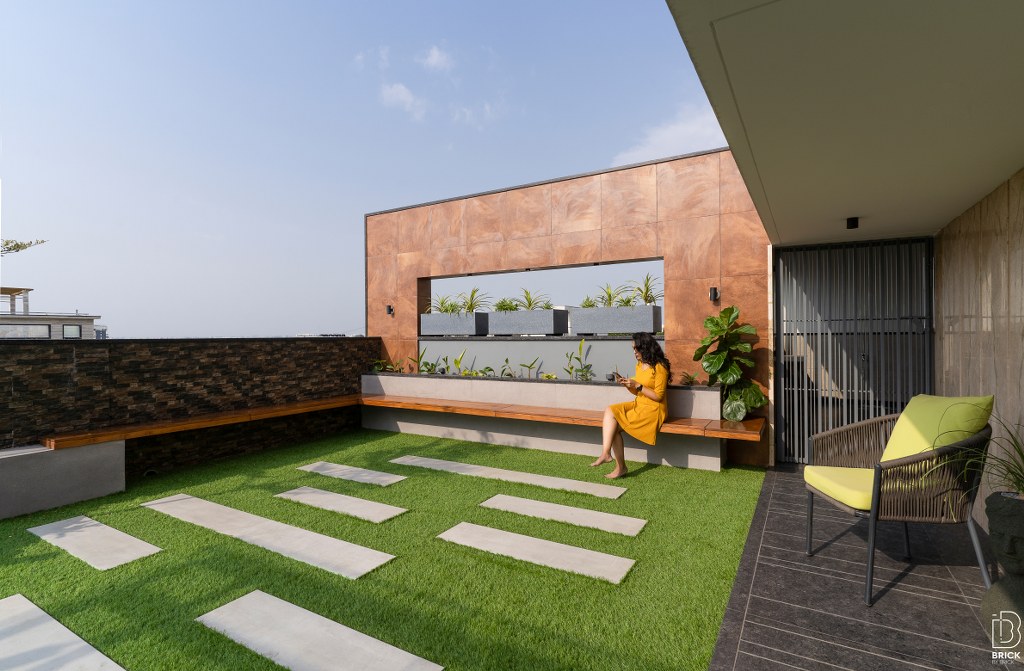 Fact File
Designed by: Studio Brick by Brick
Project Type: Residence Interior Design
Project Name: Stacked Abode
Location: Bangalore, Karnataka
Year Built: 2022
Duration of project: 2 Years
Plot Area: 2400 Sq.ft
Built up: 8,000 Sq.ft
Project Size: 9,300 Sq.ft
Project Cost Appx: 5 Cr
Principal Architect: Naren Sagar & Prerana Pavan
Team Design Credits: Basavesh Sajjan
Photograph Courtesy: Phosart Studio
Consultants for the Project :
Civil: Varun associates
Products & Materials: Wallcovering / Cladding: Travertine Marble, Archi concrete | Construction Materials: Concrete block, Cement, Steel | Lighting: White teak, Prism lights, Prakash lights | Doors and Partitions: Teak wood | Sanitary ware: Toto, Hans Grohe | Facade Systems: Marble, Fundermax, glass | Windows: UPVC | Furniture: Magari, Curio casa, East furniture | Flooring: Marble, wood, tiles | Kitchen: Poliform kitchen | Paint: Asian paints | Artefacts: Curio Casa, Studio palasa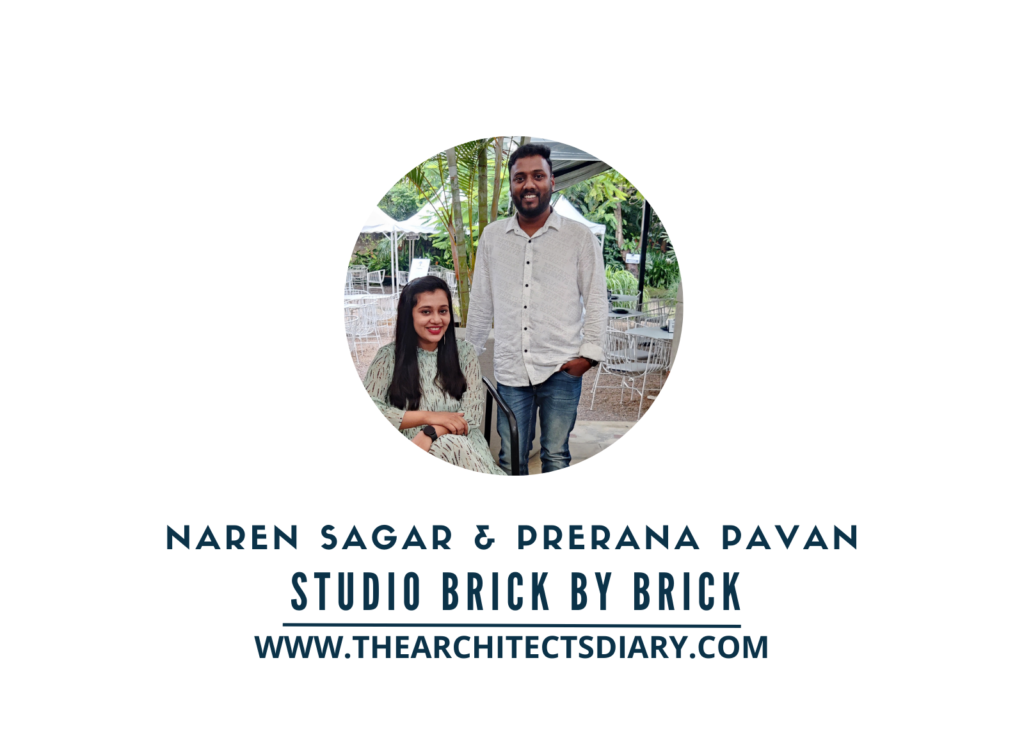 Firm's Instagram Link: Studio Brick by Brick
For Similar Project>>>Experience Luxurious Healing at this Ayurveda Clinic in Ahmedabad