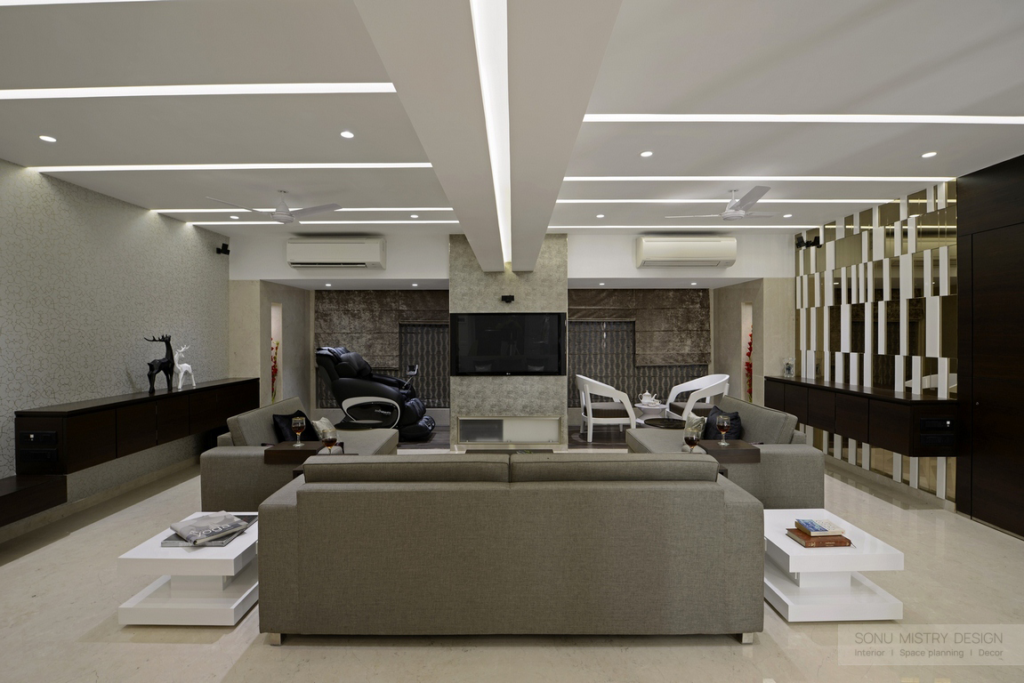 Classy and Elegant, Contemporary Residence | Sonu Mistry Design
Visit : Sonu Mistry Design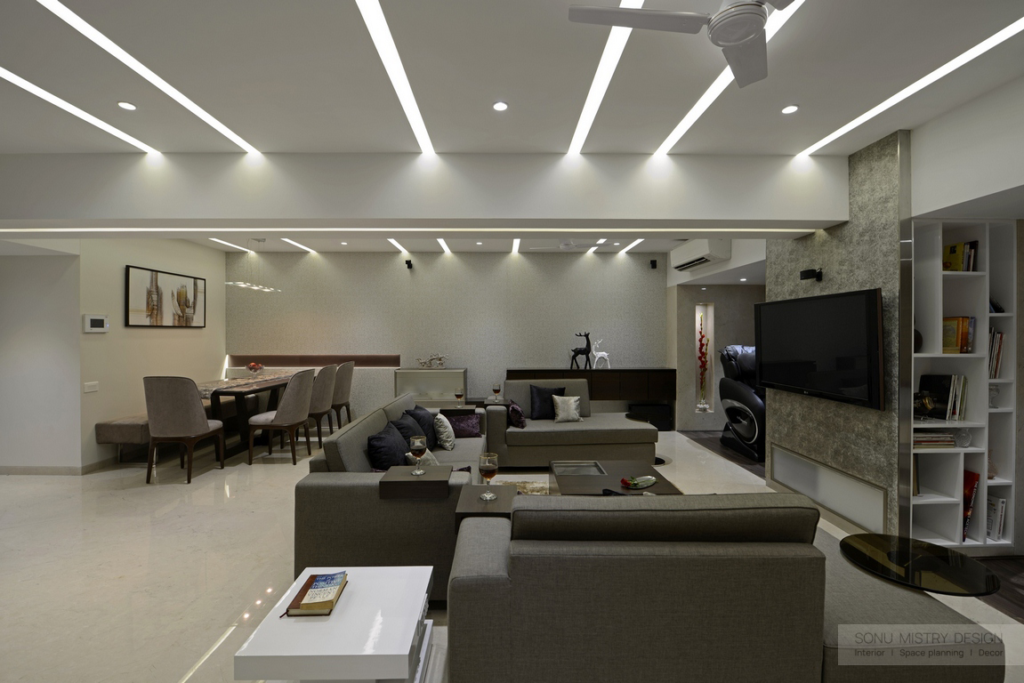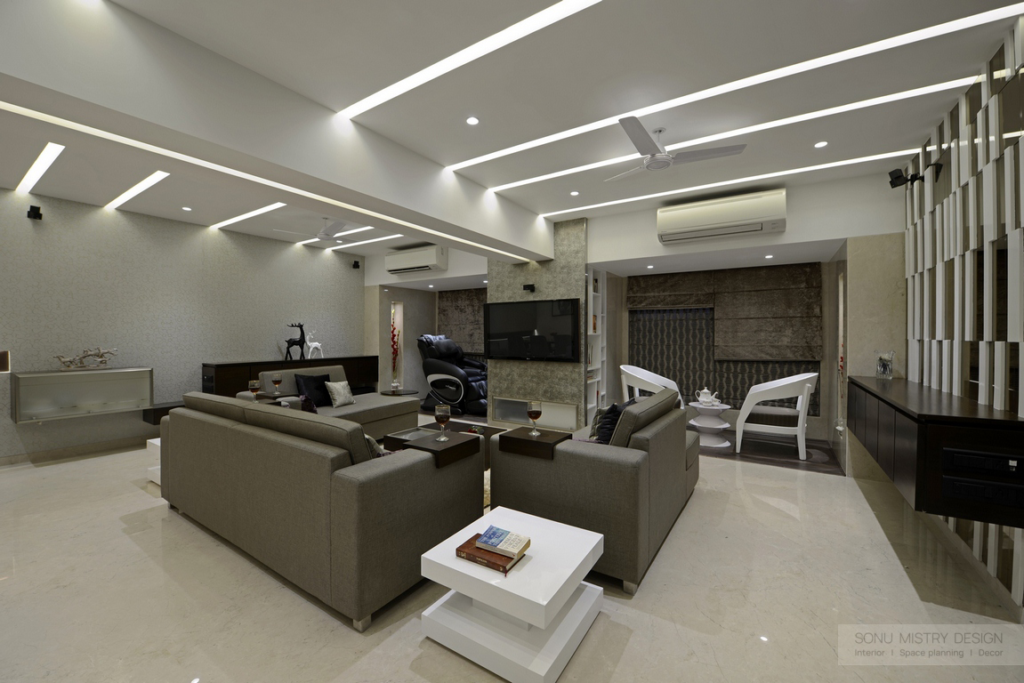 This is the residence for Family of four in Mumbai. They wanted their house to be Classy and elegant, have the look and feel of a contemporary house. Based on the Clients understanding and requirements a look and feel was presented. The Living room is well defined with an elegant sofa with very suave color furnishing on it. The centralized position of the sofa makes it a focal point in this space. Thus the sofa seating has been placed in centre of living area taking advantage of square shaped area.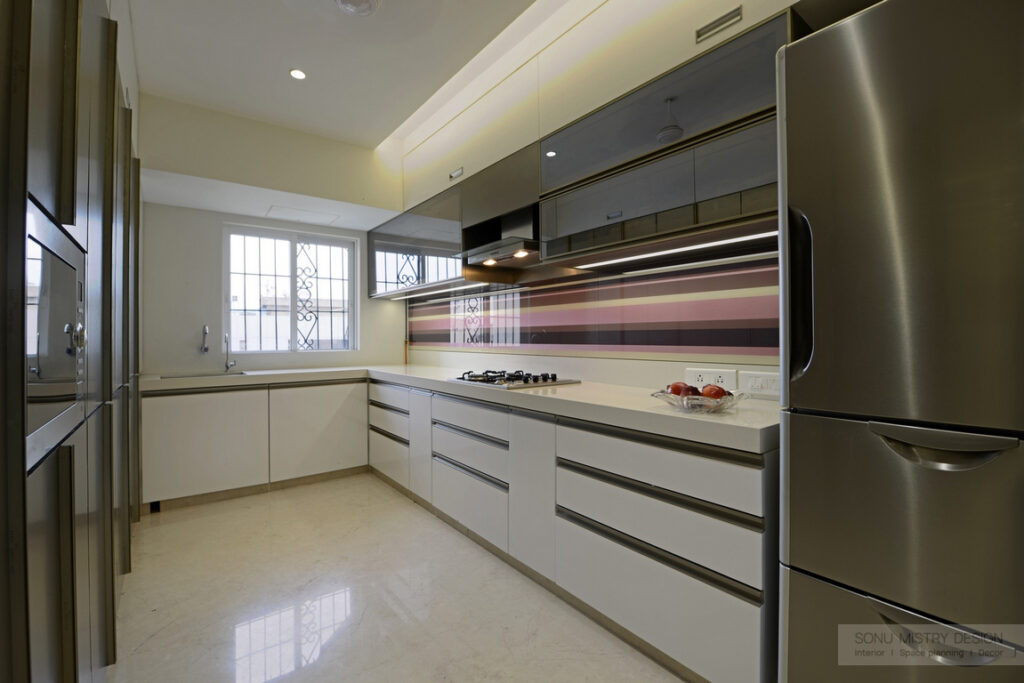 The centre beam is balanced with adding dummy beam with led slitSleek cutout in random barcode pattern is made on ceiling Abstract copper mirror pattern is the main Highlight in Living area Just away from here is a small exclusive coffee table made on site, finished with PU.Niche in marble with light for artefact adds color in area Abstract library near window is in white duco flushed with wall, flooring in laminated wooden flooring They wanted kitchen to be white and fluid which blended with the living area, so special care was taken to deliver this result .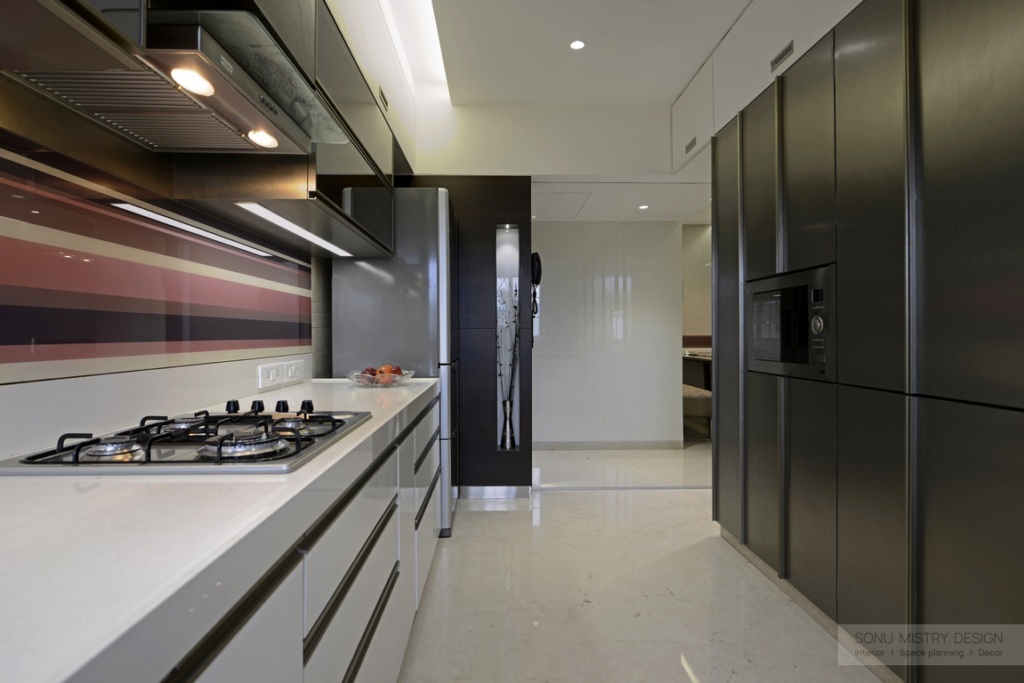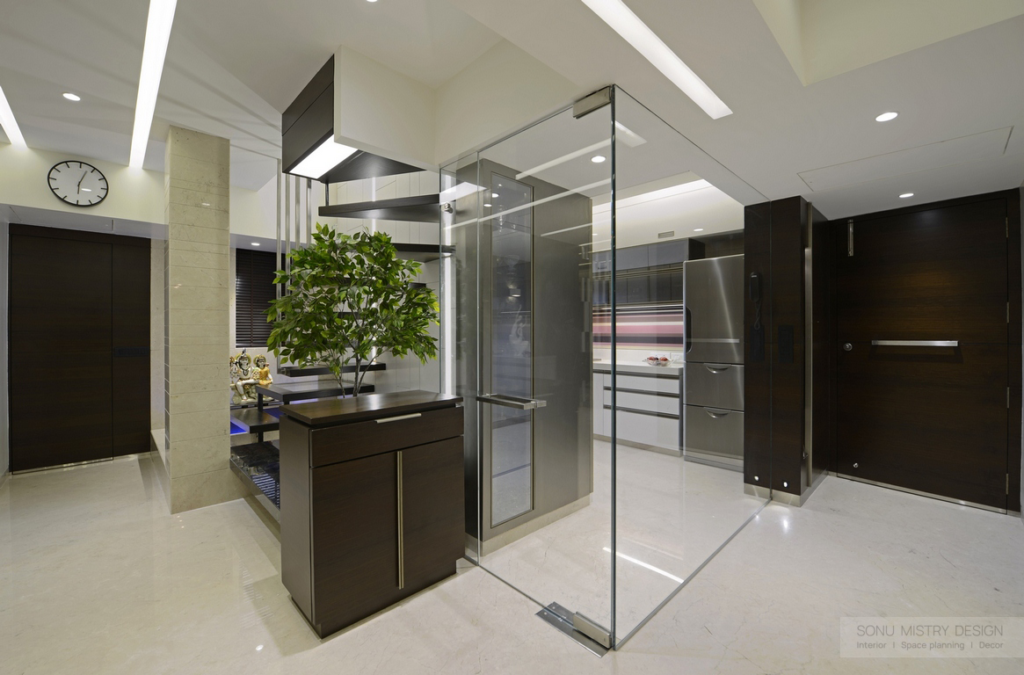 The kitchen is like glass cube which stands out giving a minimalistic look and feel. The Kitchen counter top is sin Quartz and Shutters below in PU finish with aluminium handle give a modular look Back splash is highlighted with Stripes pattern in Back painted Glass cube with glass door is made instead of wall to make area look more spacious and open giving contemporary look, with service station in front of kitchen. The Storage is finished in SS Laminate which also integrates the built-in microwave. The Main door is finished with veneer with customized Horizontal handle.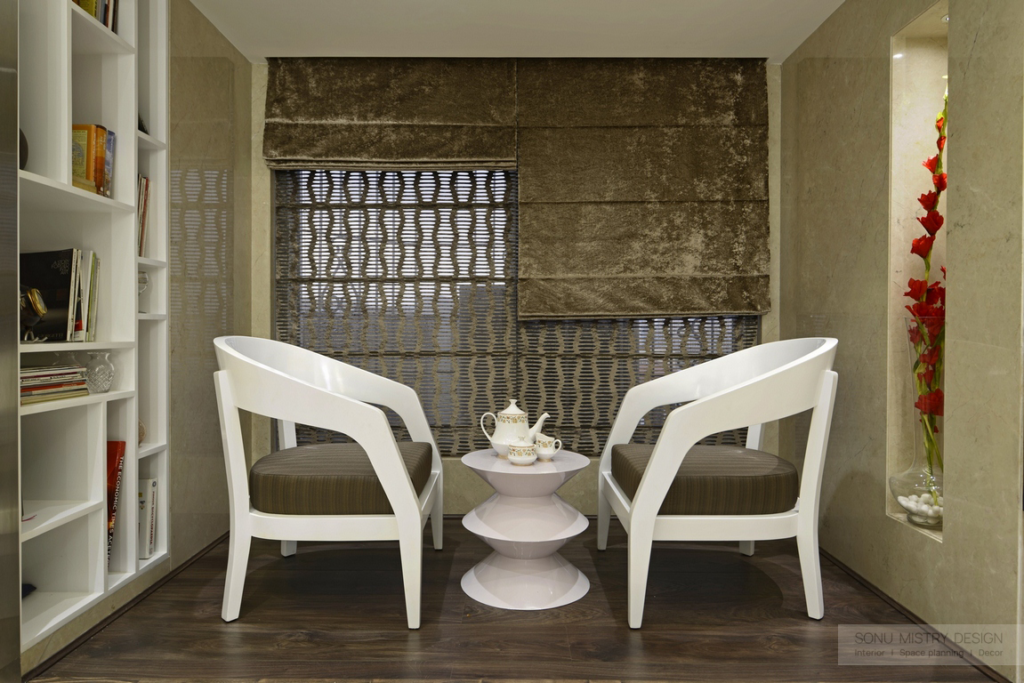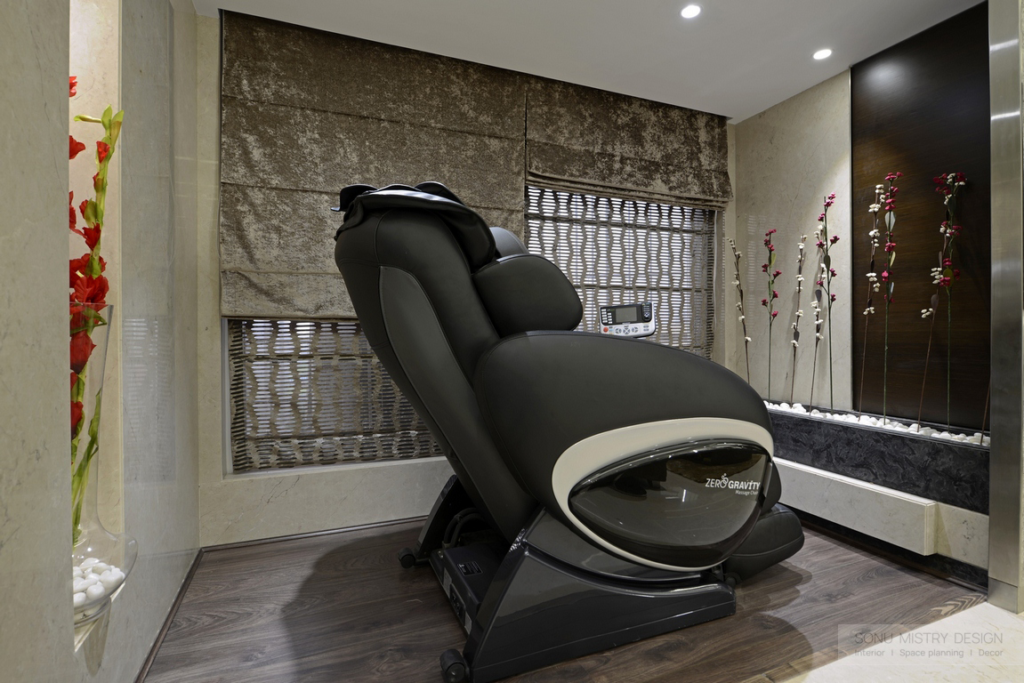 Adjoining here is the cozy dining area with a dining table with colored glass top Slit on wall with led lights adds warmth to the space with Hanging light above completed the dining corner The bedroom stands out because of the natural silk wallpaper placed behind bed back wall. An elegant bed in Corian is placed on a raised engineered wooden flooring with storage inside.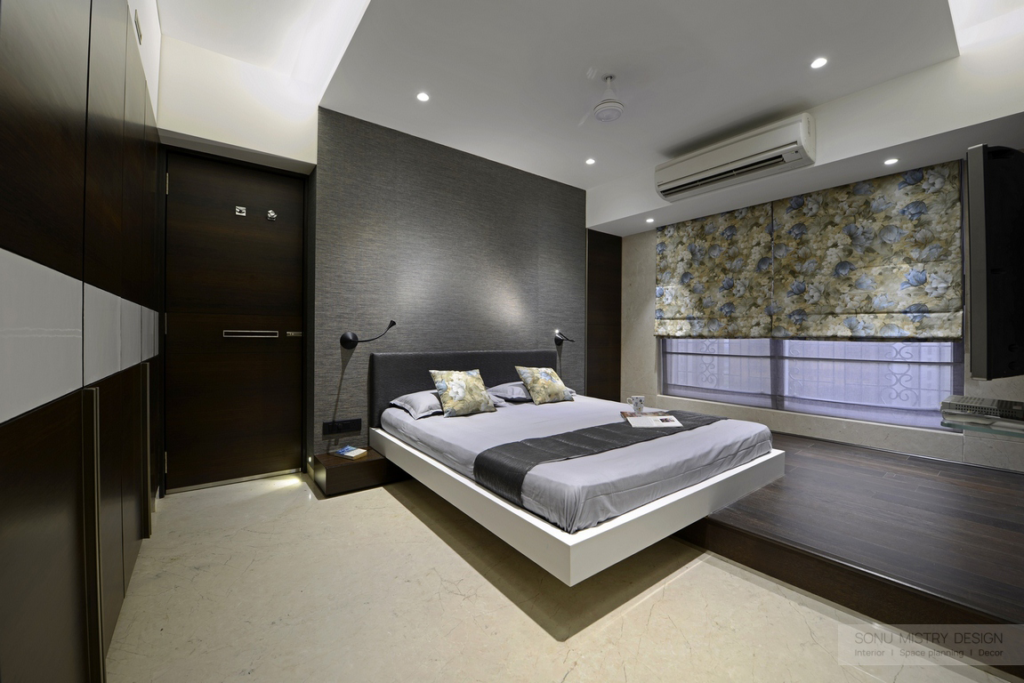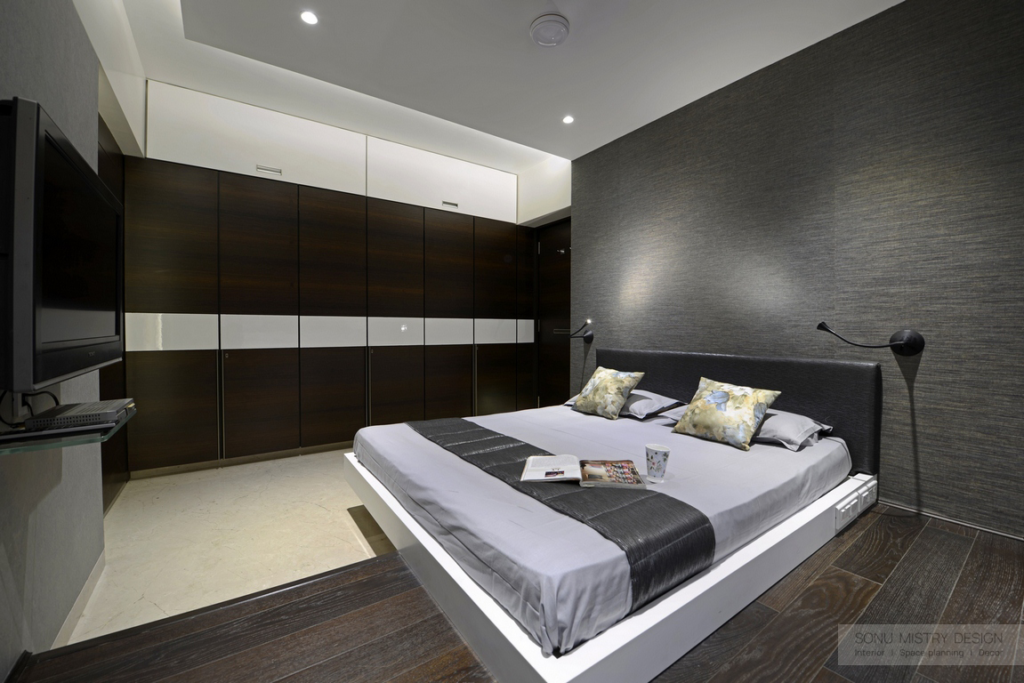 Reading lights mounted on wall as they have a hobby of reading. Long wardrobe in three divisions with stroage above finished with Veneer gives a contemporary look. Roman Curtains are very chic. Storage is provided on both sides on window with shutters finished in Veneer The Master Bathroom is in Bronze Armani Italian marble which continues inside Shower Area as well. The Walls are finished with Crema Bellisimo. Basin is made in Corian.
FACT FILE :
Designed by : Sonu Mistry Design
Project Type : APARTMENT INTERIORS
Project Name : D RESIDENCE
Year Built : 2013
Area : 1000 sq.ft
Principal Architect : Sonu Mistry
Photograph Courtesy : Prashant Bhat
Products and Materials : Veneer : Smoked Oak | Sanitaryware : Artize , Jaquar | Windows : Domal | Flooring : Italian Marble | Kitchen : Quartz | Paint : Asian Paints | Wallpaper : European | Flooring : Pergo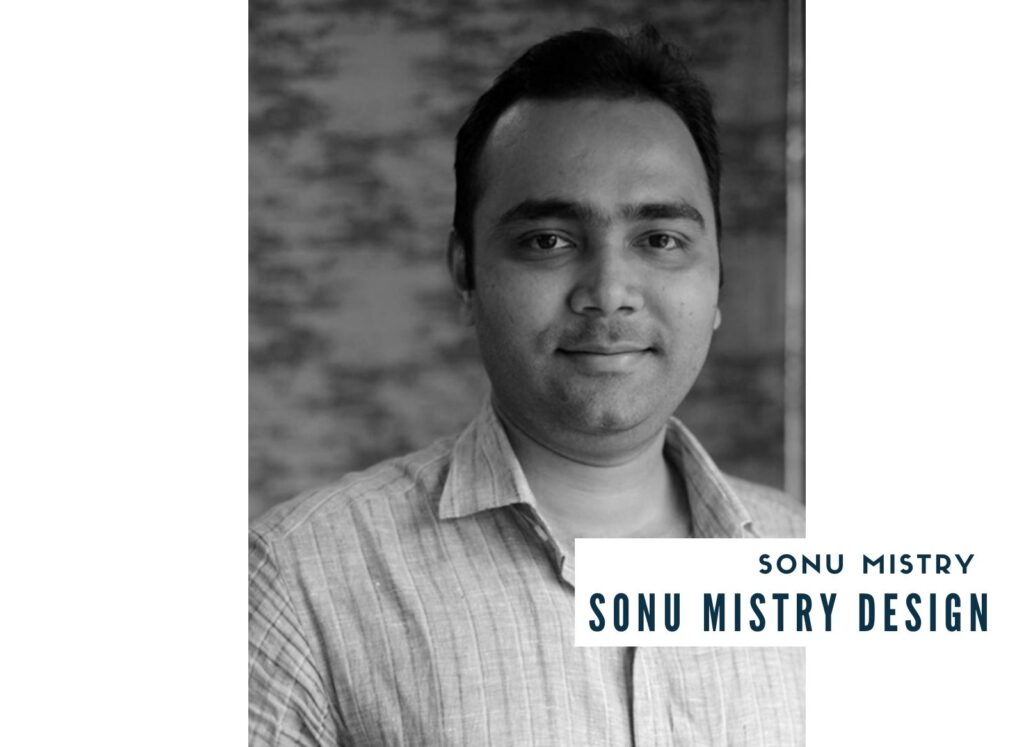 Firm's Website Link : Sonu Mistry Design
Firm's Instagram Link : Sonu Mistry Design
Firm's Facebook Link : Sonu Mistry Design
Disclaimer: No TAD editor is involved in the curation of this content.