Cafe Battalion, Ahmedabad | The Grid Architects
Cafe Battalion is a food court currently Ahmedabad's hottest food courts. Its large, clean, well-designed environment based on a refreshingly different theme of 'respecting the Indian Army' is as much a draw as its quality-driven, eclectic food outlets.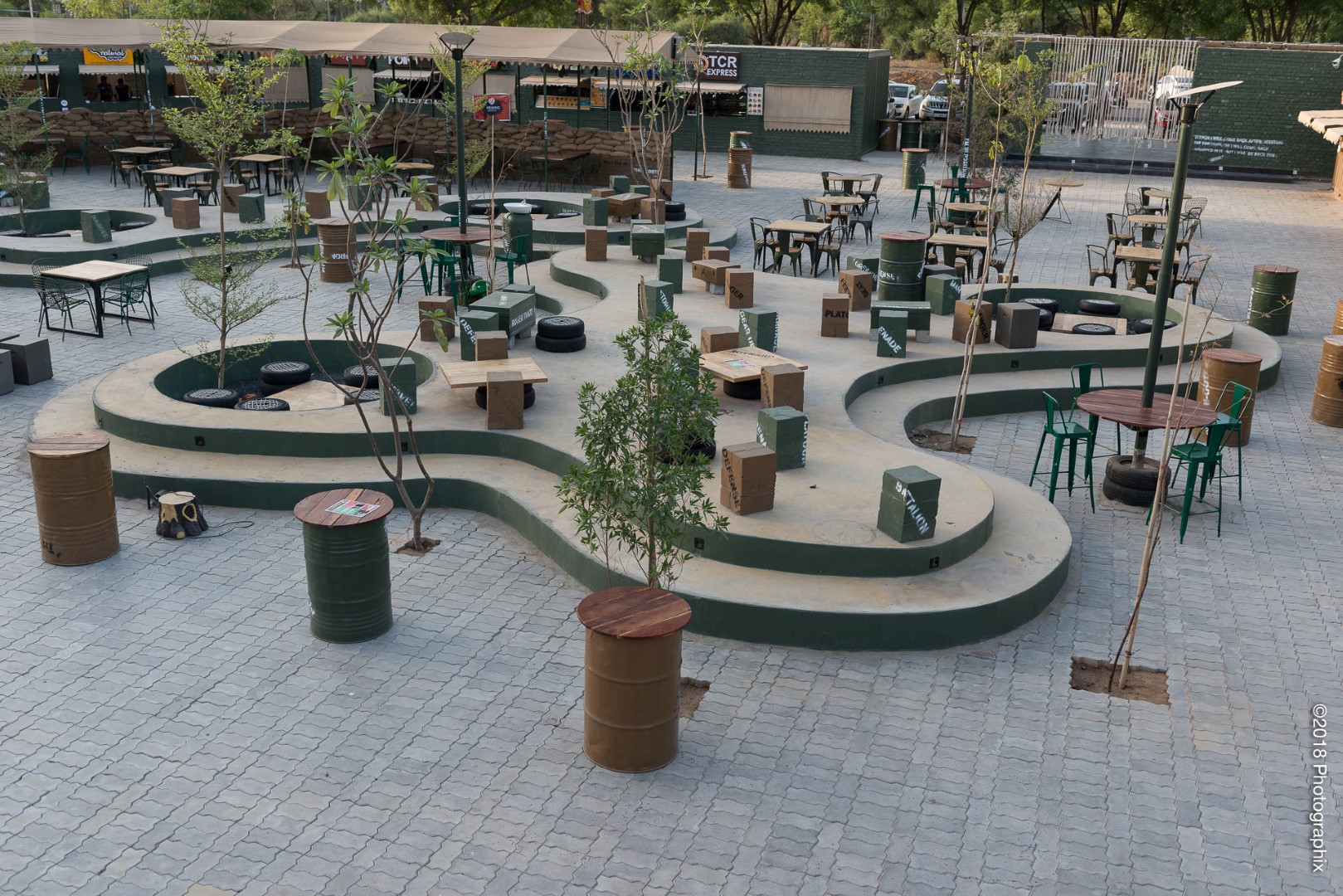 The story of putting it together is a triumph of quick, innovative design thinking over constraints posed by time and budget. Together, the limitations directed the architect's thought processes to a 'semi-permanent' aesthetic involving elements that were relatively fast (but not necessarily easy) to put together, leaning towards recycling, reprocessing and reclaiming. Thus, the ideology was derived from the time frame, budget, and natural materials. Ergo, also the idea of local labour and local materials. Moreover, explorations centred around local sustainable materials had to be done with a quick presence of mind and decisions had to be made on site.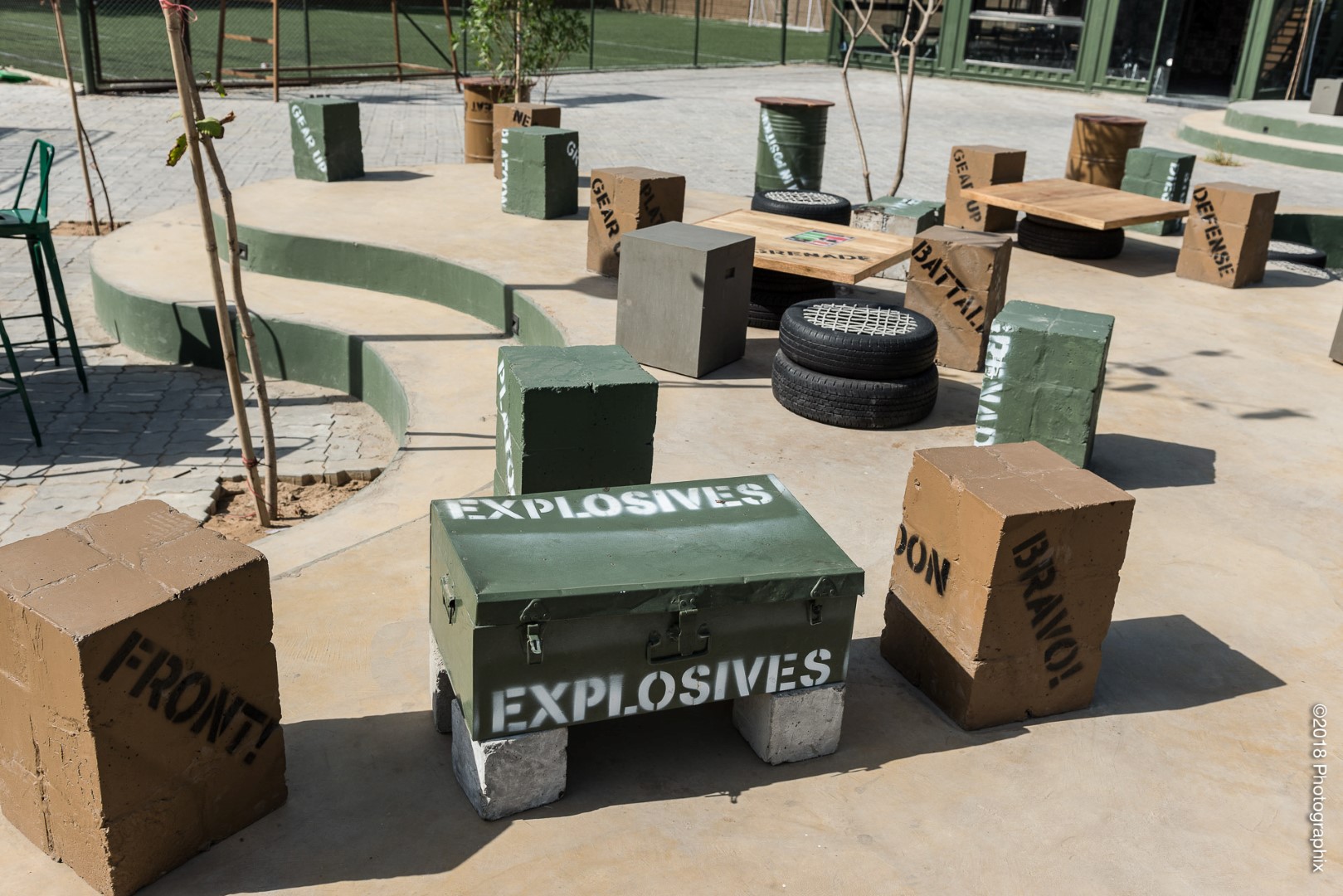 The challenge was to infuse a 'difference' into recycled materials that were 'normal' and familiar — and, most importantly, use them such that they reflected the theme and would be comfortable and appealing to a diverse cross-section of people.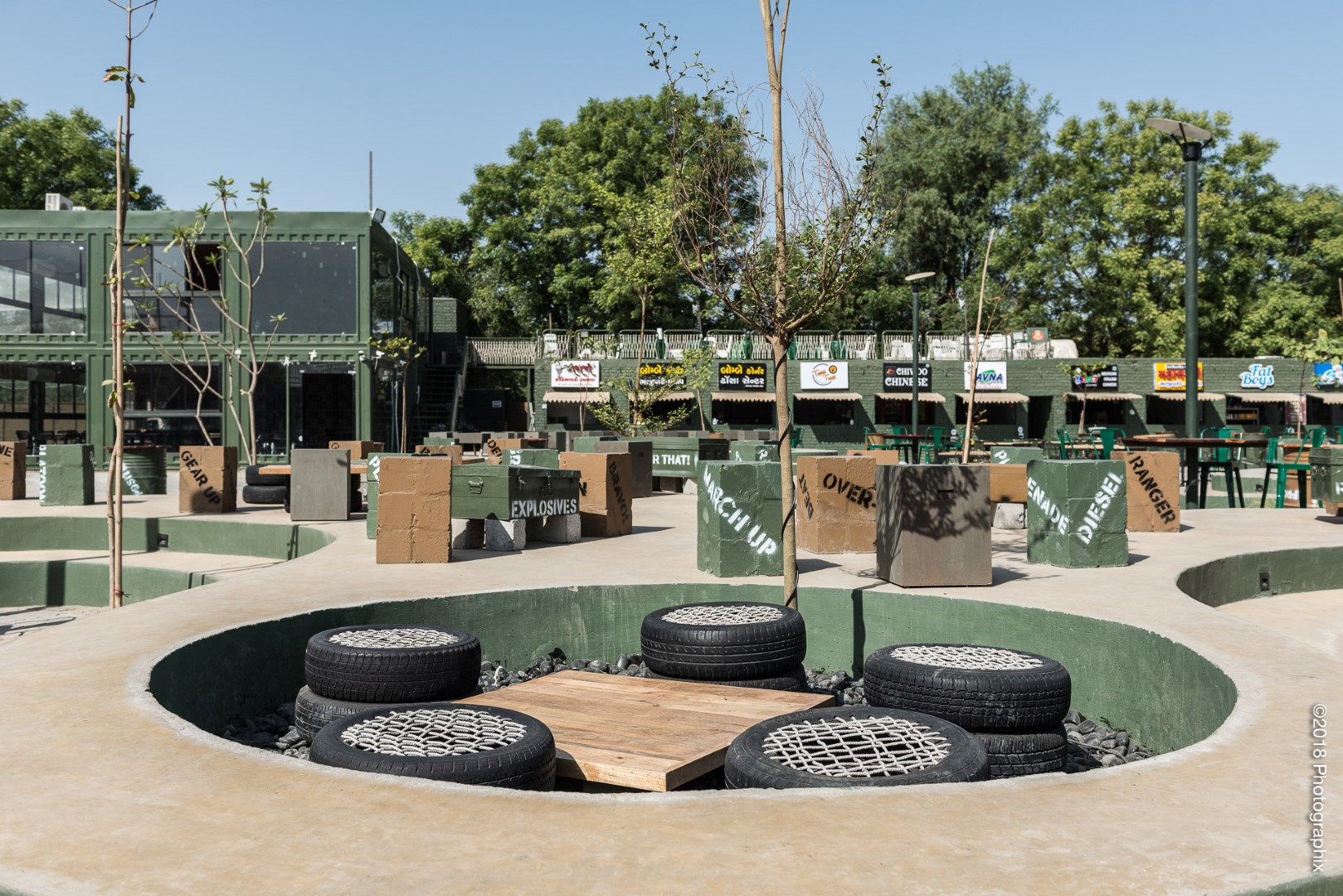 The master planning of the complete site — comprising covered and open seating, football court, AC seating, washrooms, and canvas canopies — was developed keeping the functions in mind. The outlets were arranged around the periphery, leaving a large congregational court at the centre. The height and size of the outlets were designed so that both, the vendor and his customer enjoyed an overall view. The entry was resolved as an eye-catching space, with the help of a faux battle tank; small, made-to-scale helmets; a large bell that can be rung to communicate satisfaction; and a roped canopy that is evocative of military boot camp paraphernalia.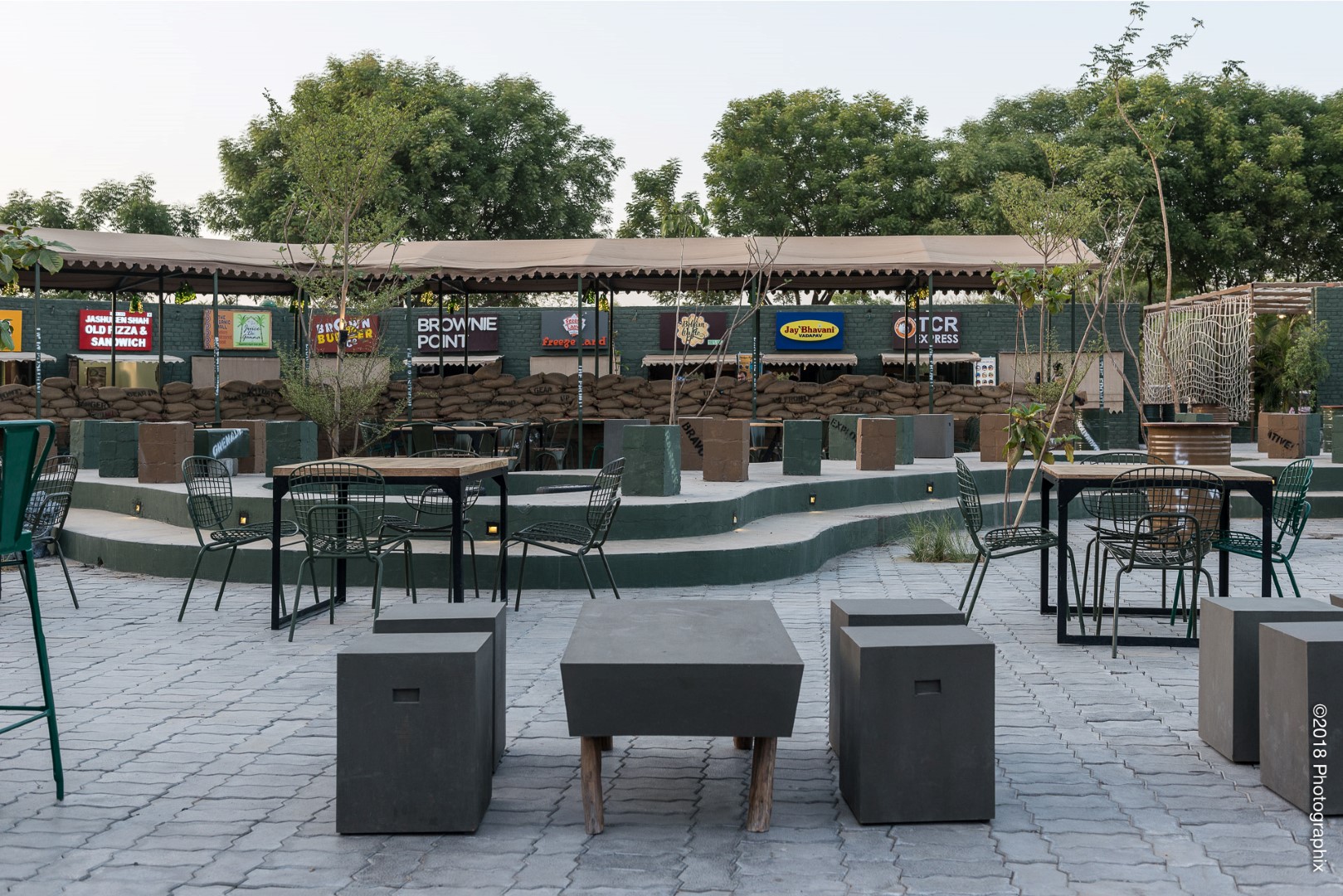 The services— washrooms and entry and exit for raw materials— were planned strategically. A football court was designed to the rear of the site, abutting which was positioned an air-conditioned seating area (usable around the year) to give it privacy. The central court was developed using organic forms and multifarious seating types to prevent tedium from creeping into the experience for the repeat customer: high, low, even scooped out of the ground; bar-stool type; cuboid seating featuring waste RCC… all adding to the 'fun' element that was so integral to a space of this nature.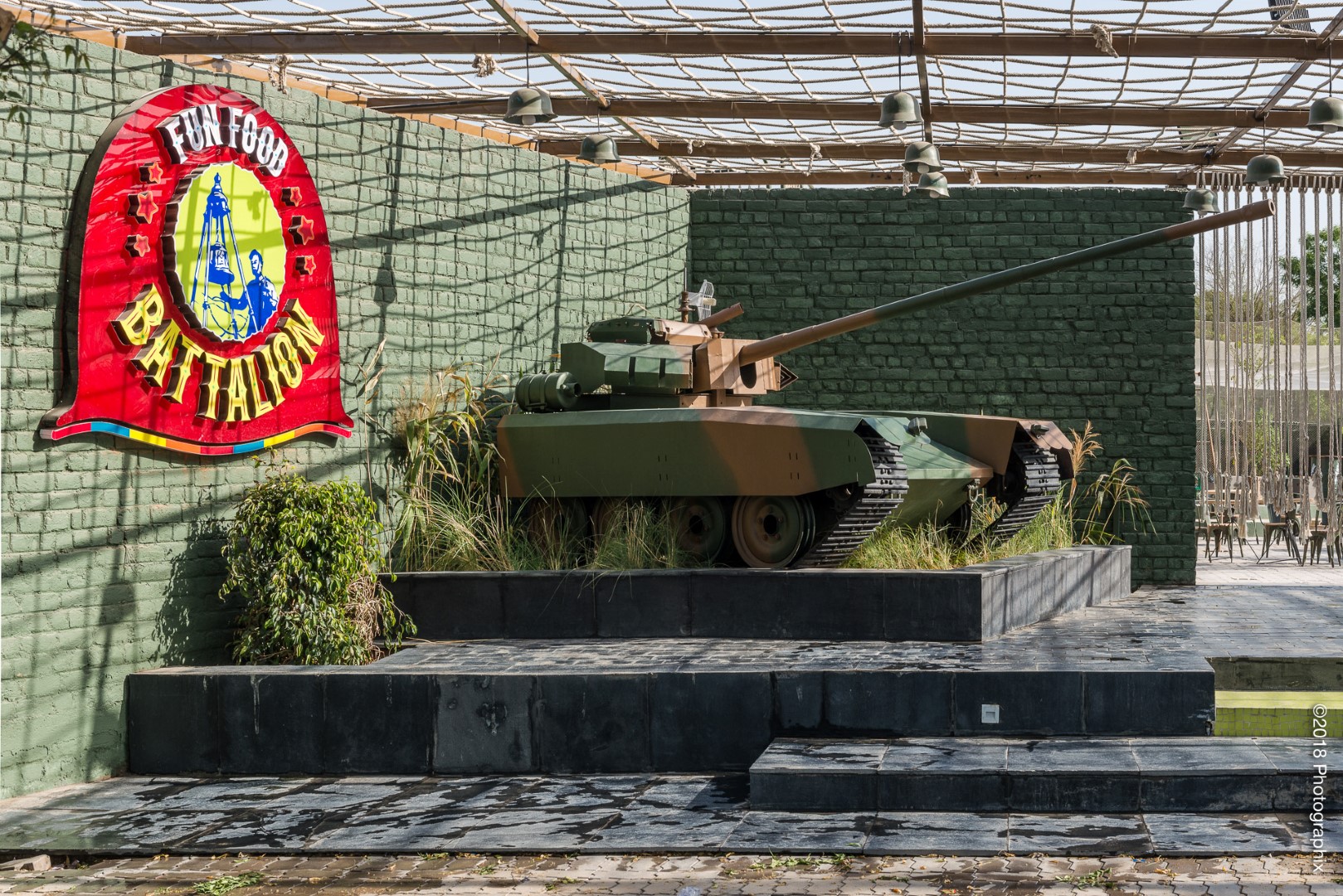 One part of the large expanse of the central court is segregated/shielded somewhat from view for privacy with the help of sandbags. While the seating features several designs of tables, catering to group sizes, the important part to note is that they can be joined to make a large table for family gatherings. Along with furniture — which is external grade — other elements such as light poles were suitably designed to meet the extreme climate — summer, rains, winter.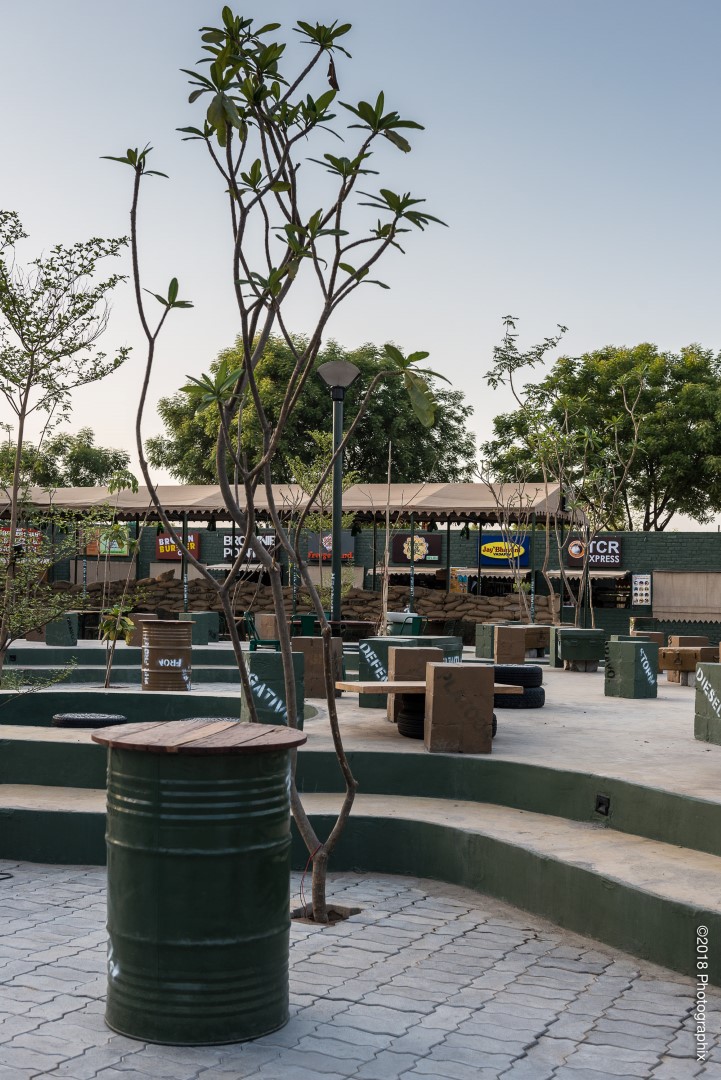 Colours — army green and khaki — naturally, played a big role in reinforcing the concept, and the architect was careful to maintain a deliberated balance, not too overwhelming, not too insipid. Visual imagery also included words and phrases linked to the defense forces; these, too, were spontaneous inclusions.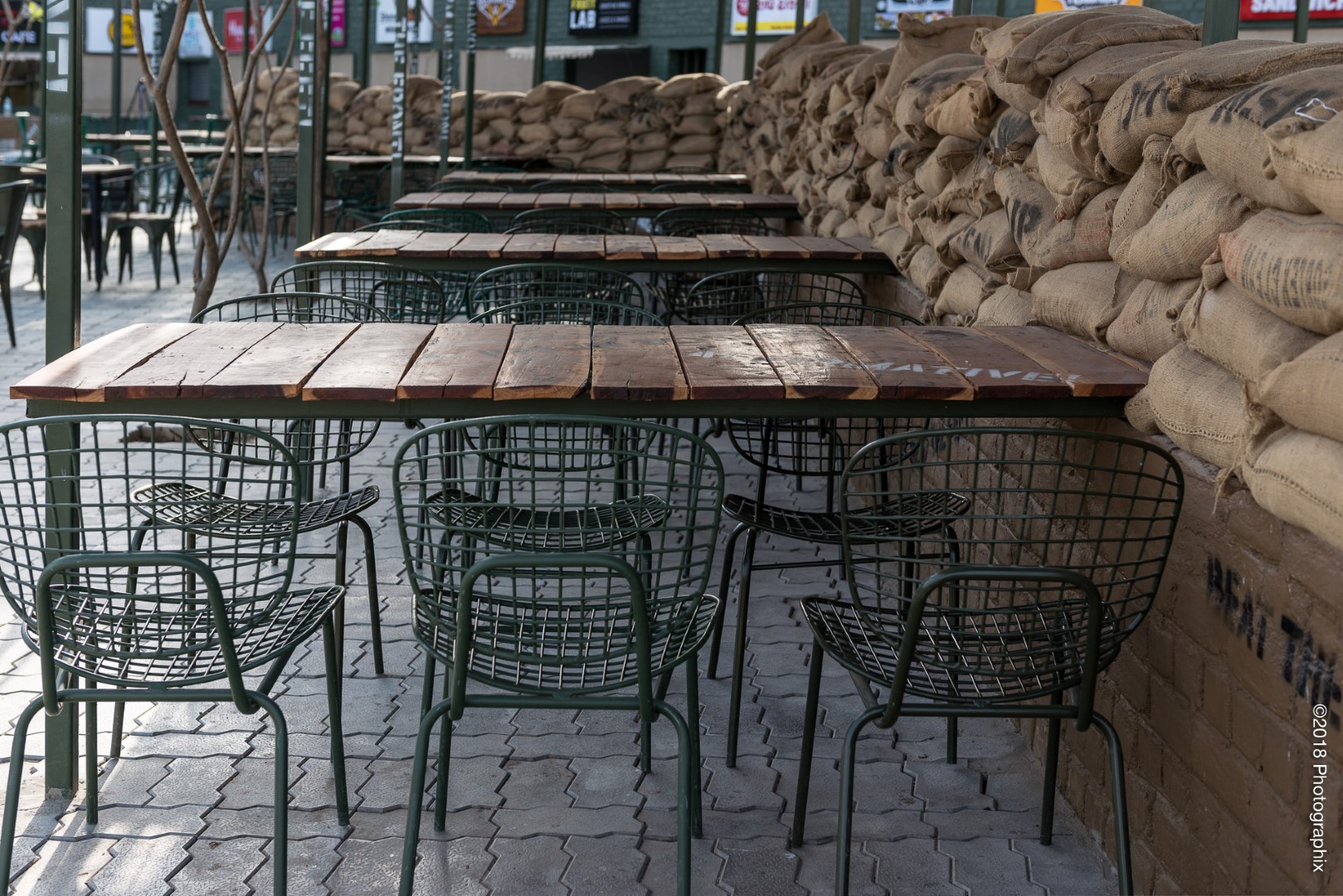 The landscape was planned to suit the organic seating and climate so that over a period of time the trees would give respite from the region's harsh summers. While the climatic conditions of Ahmedabad allow an open food court to function till late in the evening (as seen in the case of Manek Chowk, a plaza in the old city that turns into a food court, come dusk), strategies were devised to 'extend' the operation hours by creating a mix of open, covered and AC seating encouraging the place to function in all climates along with sports facility.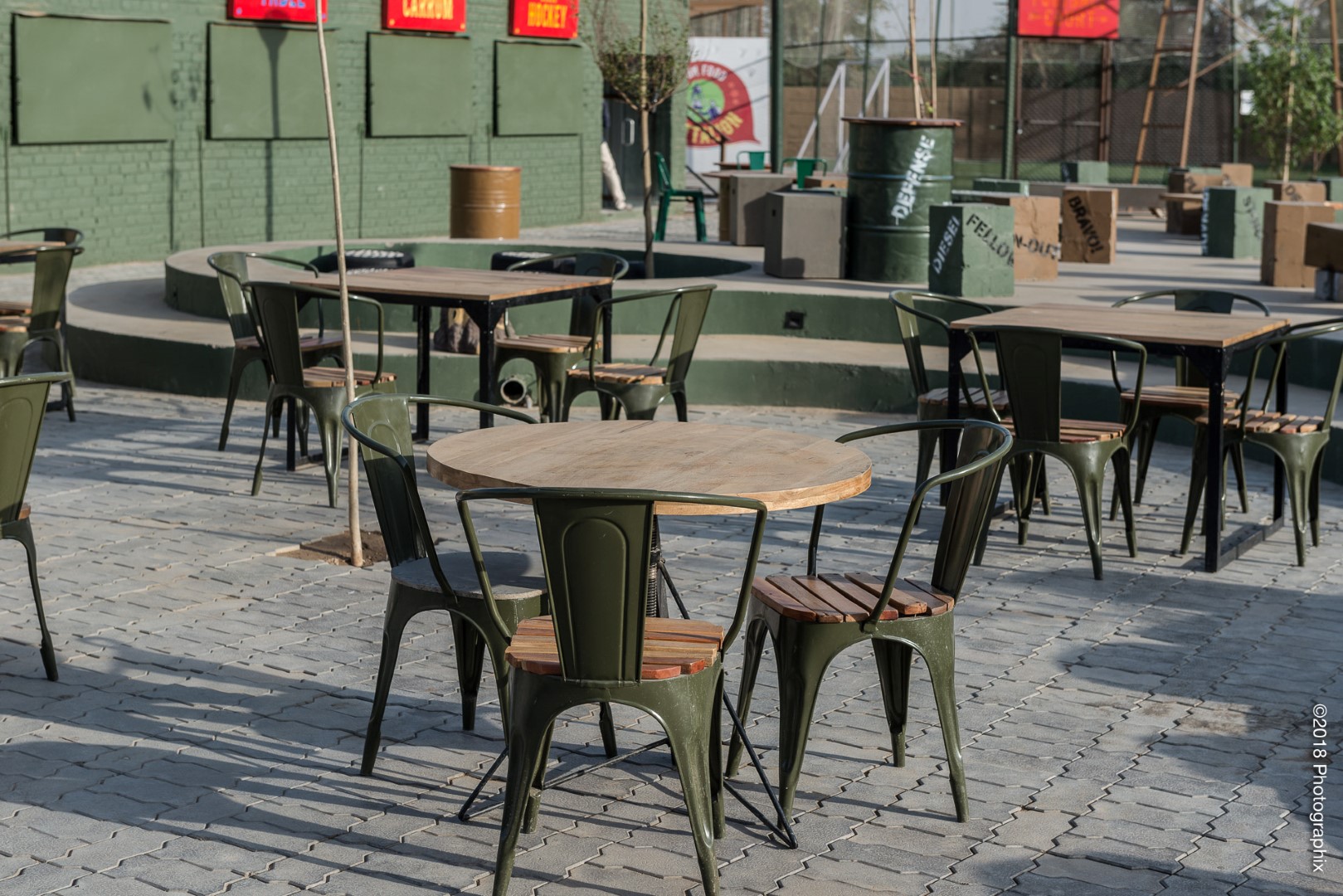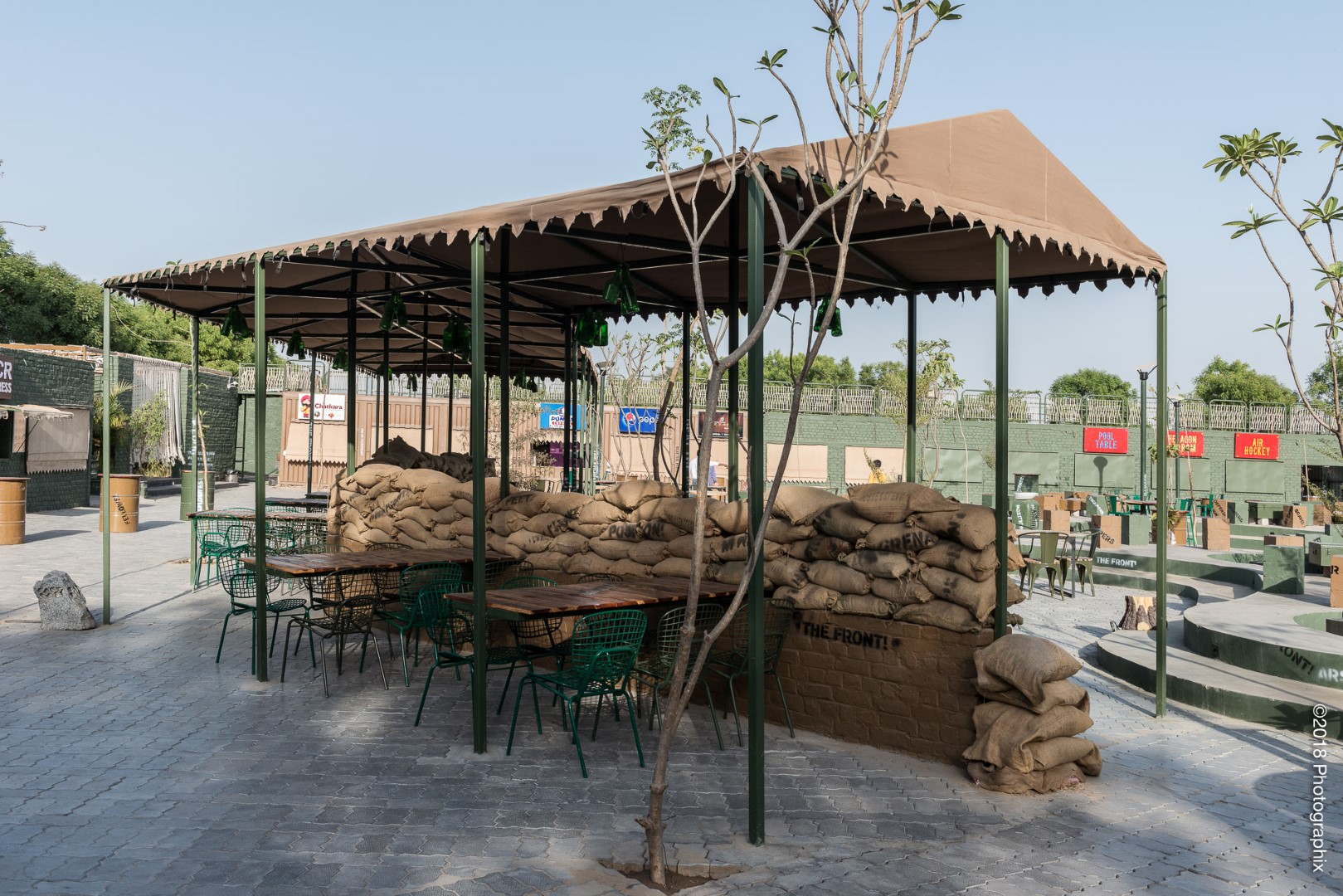 While there was a large amount of improvisation and a completely hand's on approach to design, nothing was left unplanned. The design team spent entire days on site, strategically planning so that every material on site was used and reused. Every day came with a new challenge — which was resolved mutual discussions and brainstorming. The architect says that designing Cafe Battalion was like putting together a jigsaw puzzle, and every corner resolved gave immense pleasure and excitement. Each change was exciting. Every step added to the design and added value to the project and overall ambiance. It enticed the design team to do more, and explore creative avenues/paths less traveled.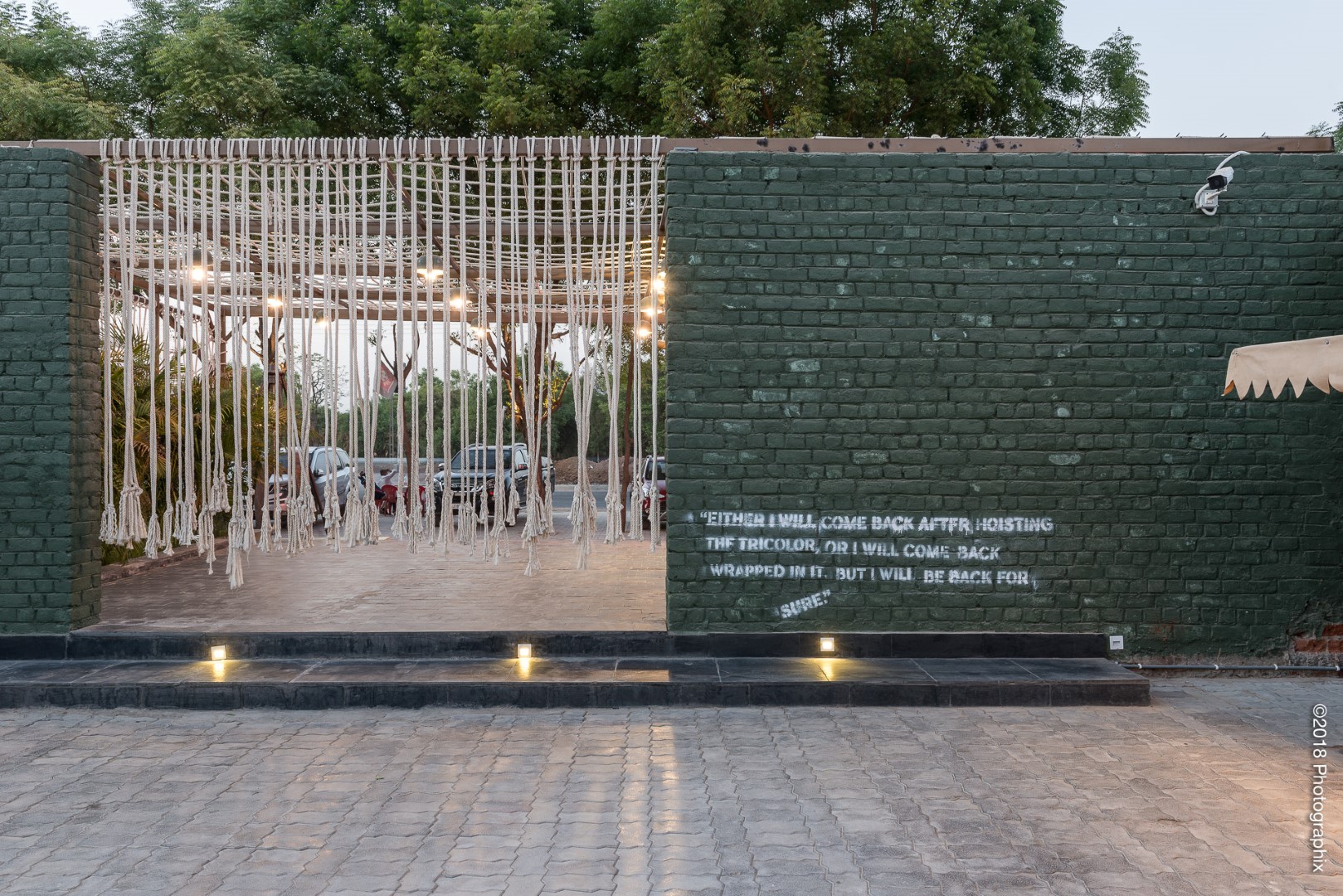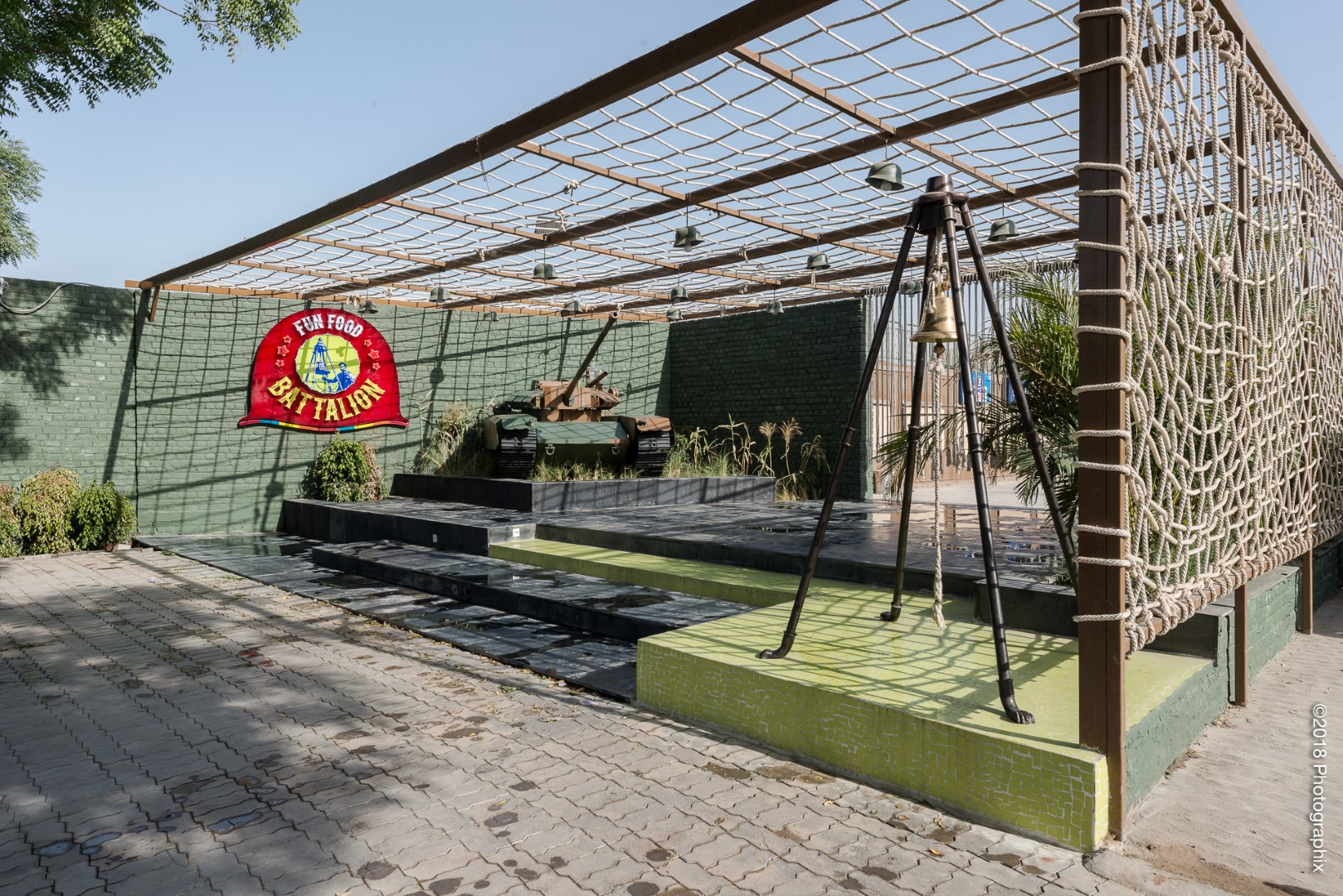 Green points, in a nutshell
Labour was locally sourced. All material used in recycled and reclaimed. Recycled drums used as tables. Waste concrete testing cubes put together as seating. Reclaimed tyres woven with recycled rope used as seating. Metal trunks recycled and repainted, used as tables. Sandbags used as a divider. Wherever word is used for table-tops, it is reclaimed. Eco-friendly raw paint finishes. Recycled military nets and ropes. LED lights incorporated throughout. Metal and wood tables use recycled wood and MS. Landscape planned using local species. Lighting is deliberately kept low to minimise electrical consumption. The 'tank' at the entrance was made with scrap metal. The air-conditioned section is kept to a minimum and semi-open areas, covered with canvas, have been incorporated to encourage people to eat outdoors. The air-conditioned section itself is a recycled container.
Fact File :
Project: Cafe Battalion
Location: Ahmedabad, SG Highway, Gujarat
Area: 3710.88 sq mts
Design firm: The Grid Architects
Photographer: Phxindia