&nbsp
bungalow interior Design | DETales
MarutiNanadan Villa 2 | Ahmedabad 
 From Designers: SnehalChaniyara&UrviChaniyara the youthful duo was on the look-out for a designer who could understand their outlook when it came to designing & remodeling their almost 10 year old bungalow. A relative put them in touch with the young design firm DE Tales- design Stories, helmed by Interior Designer NIDHI SHAH.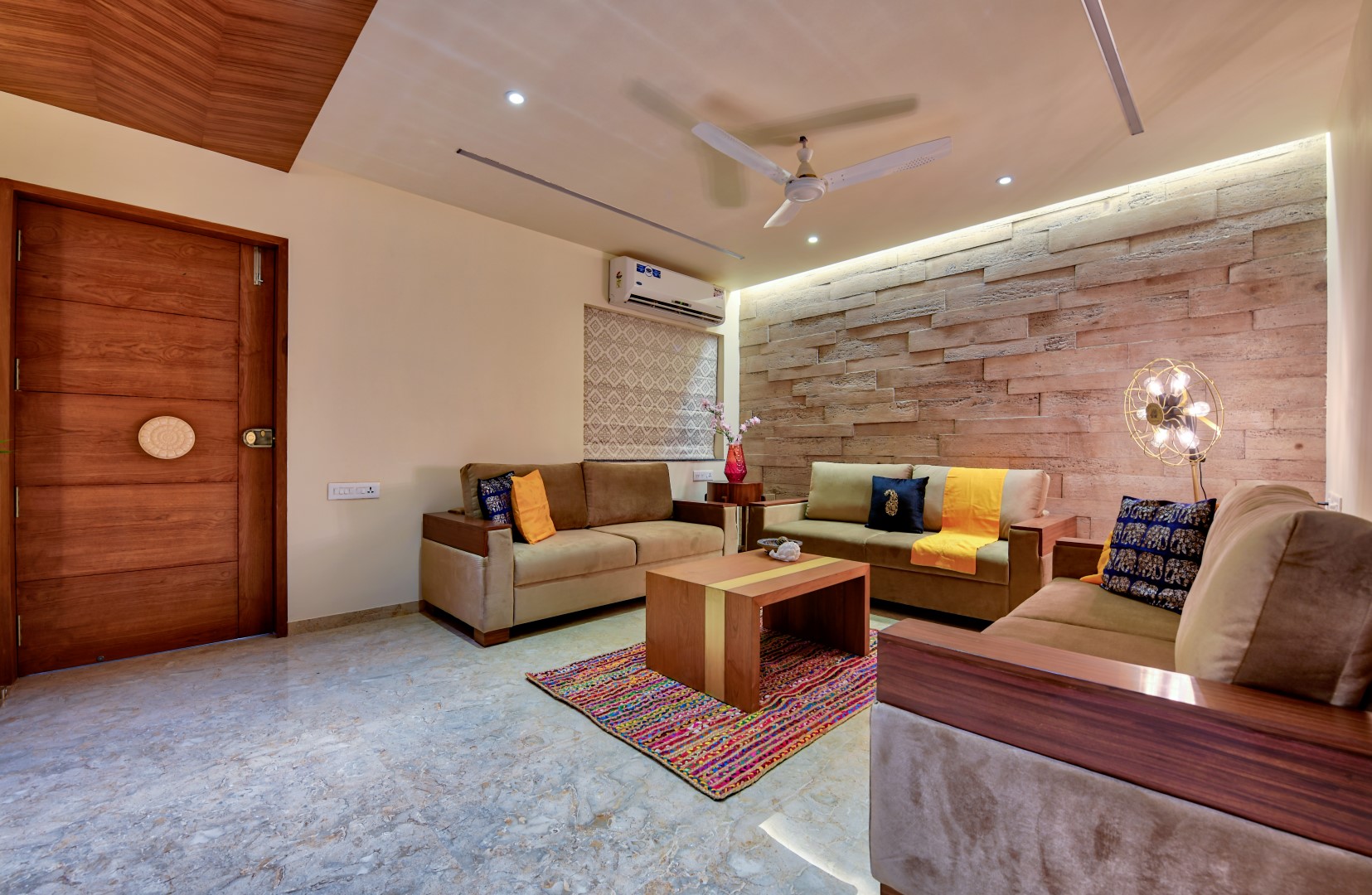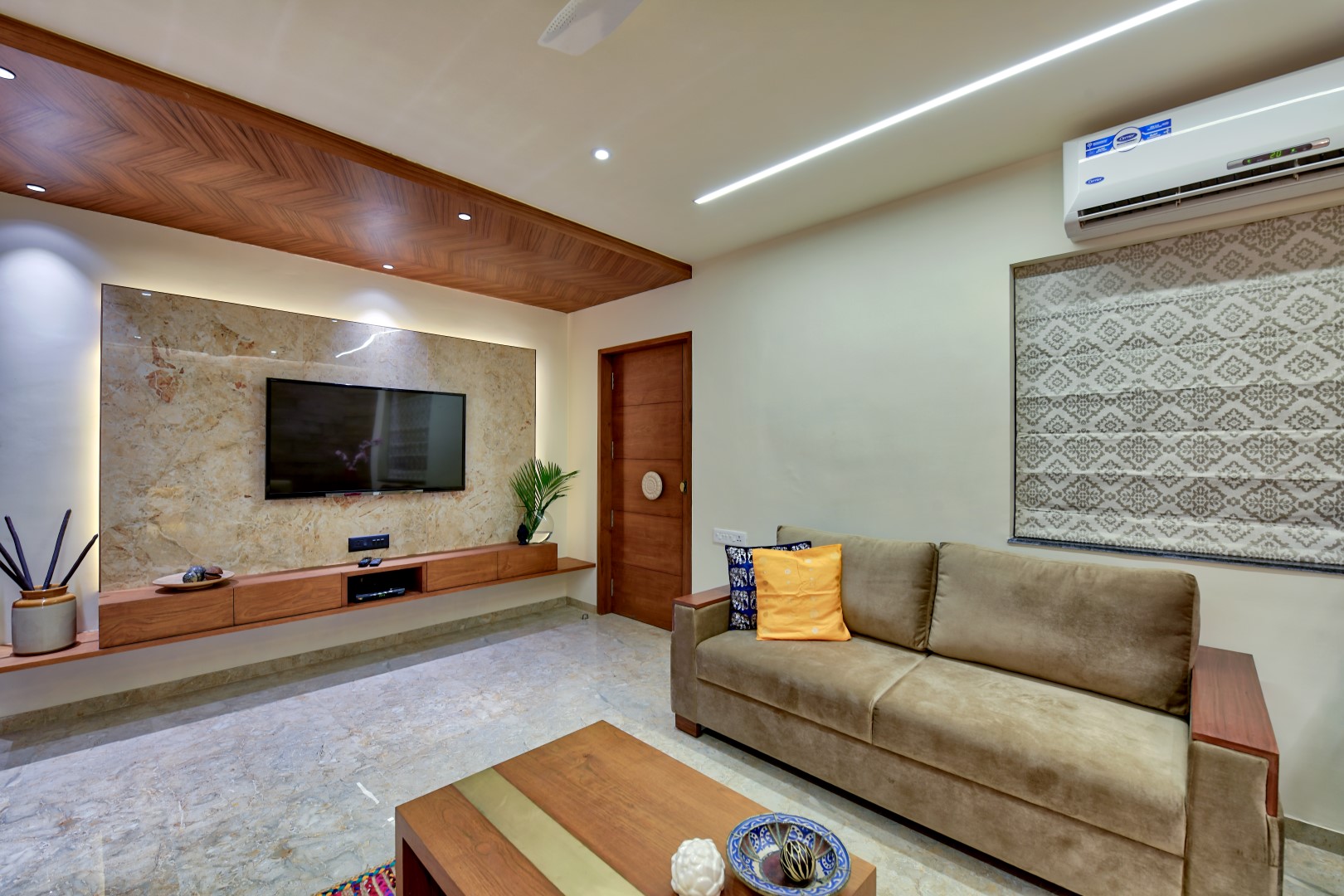 before I met them, they had already seen my previous works and were on the same page with me as far as the design outlook was concerned. Hence, I was bestowed complete creative freedom. Their brief started with this 2 mains, Urvi wanted to be an active participant in the design process of her home and Snehal wanted a warm, cozy and vibrant home, so their family could come back to each day.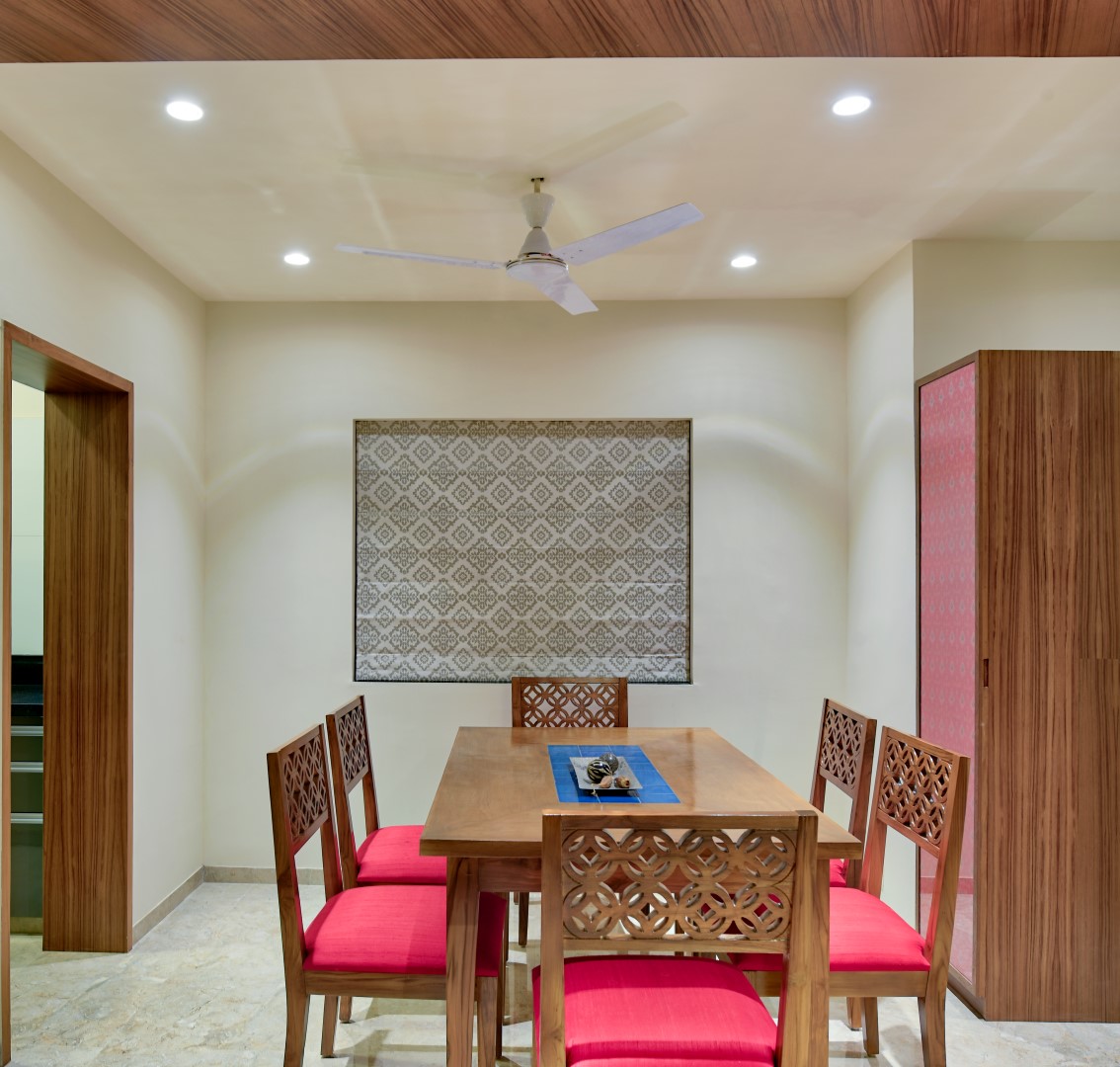 This was an interesting brief for the designer who aspires to create a practice with a strong essence of contemporary ethos, keeping the end users in mind.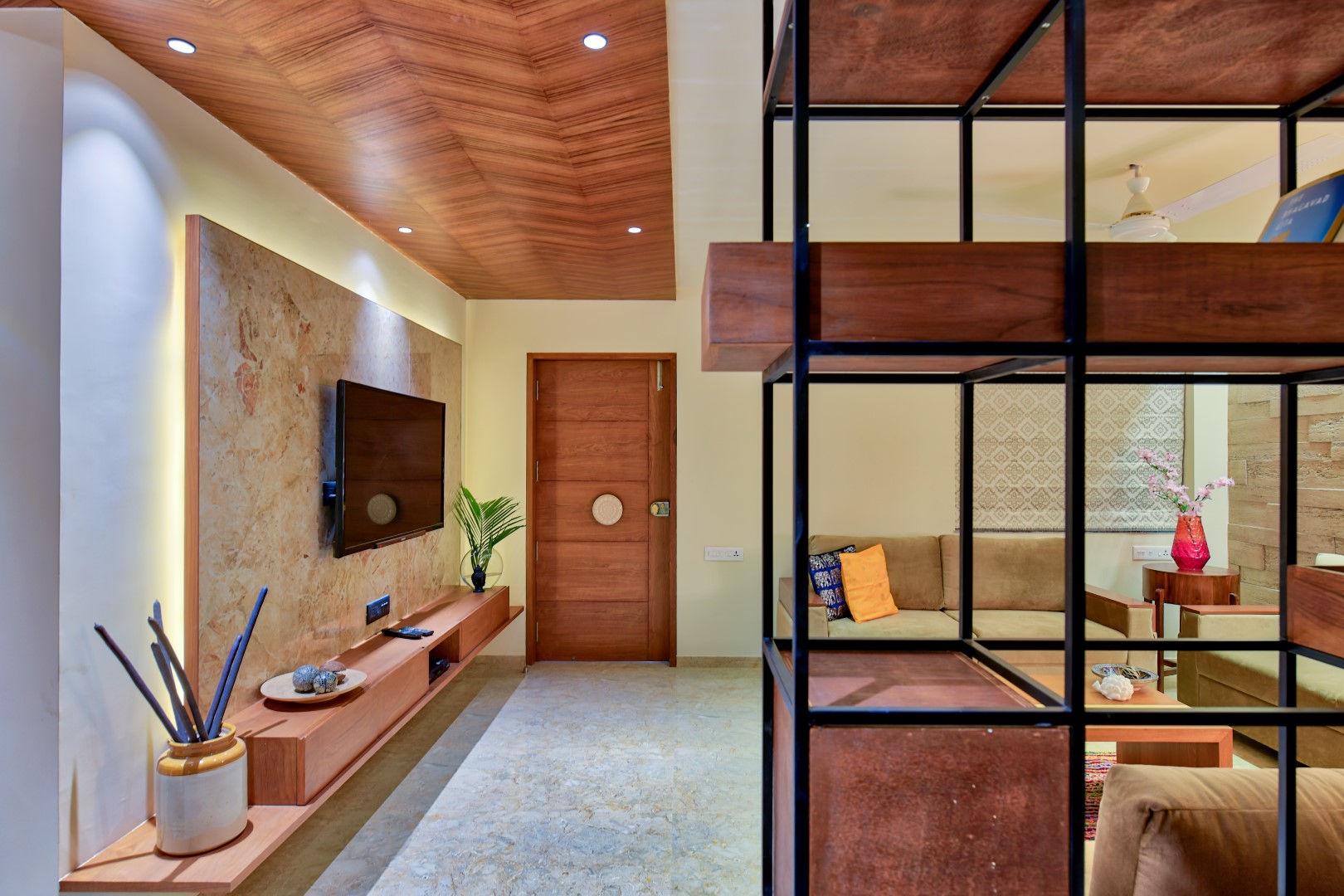 Since the bungalow was in habituated by the duo, their parents & their 6 years old little munchkin,I decided to convert the 4 bedroom bungalow into spacious 3 bedroom space , as they wanted to have Master bedroom with private living room cum home theatre.
A home becomes a home when it reflects the occupant's personality and is customized to their specific need. The home of chaniyaras, who are warm people with a strong love for Indian culture & art is designed with a welcoming appeal, where as one walks through the various rooms, the warmth and elegance of a contemporary Indian theme abounds.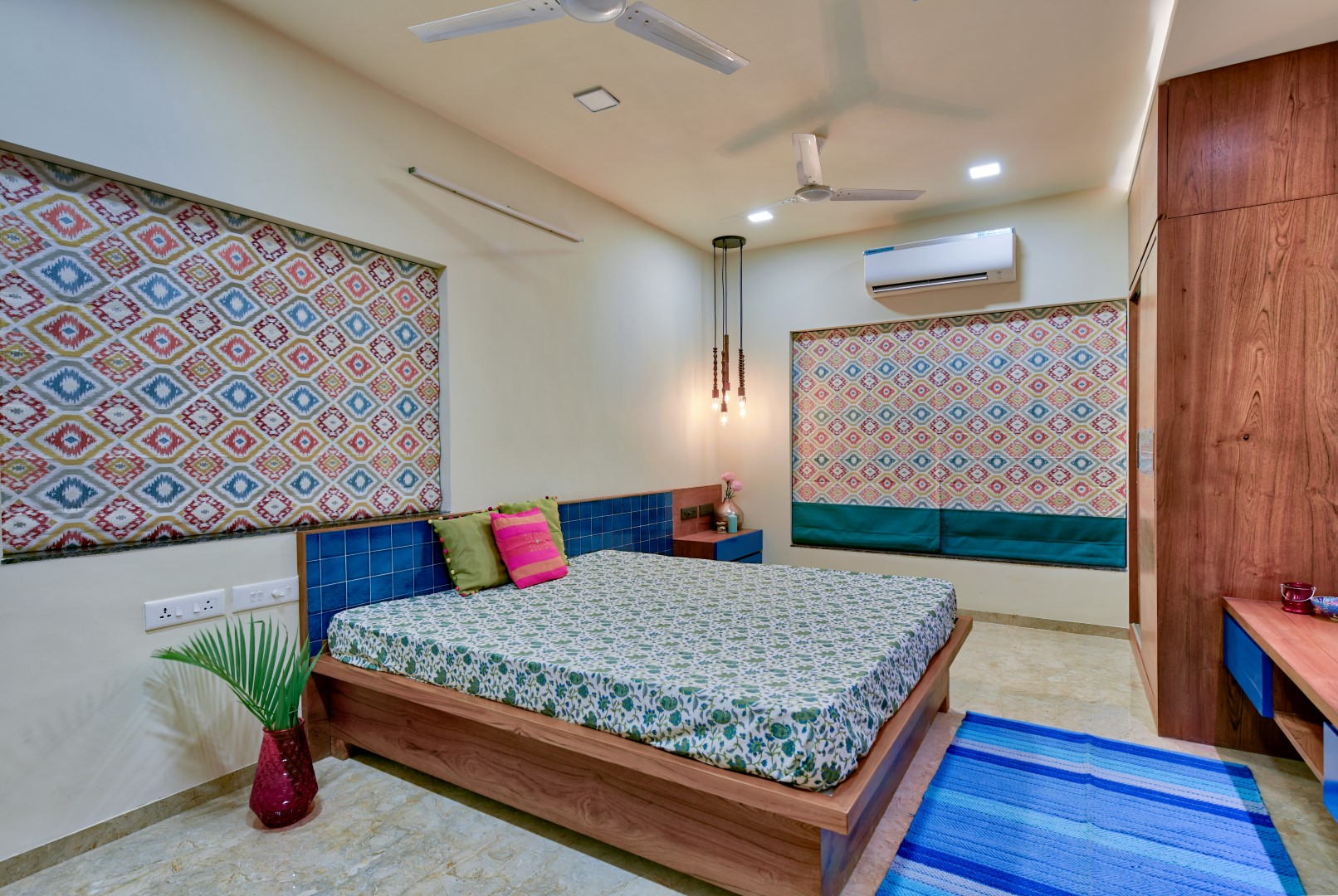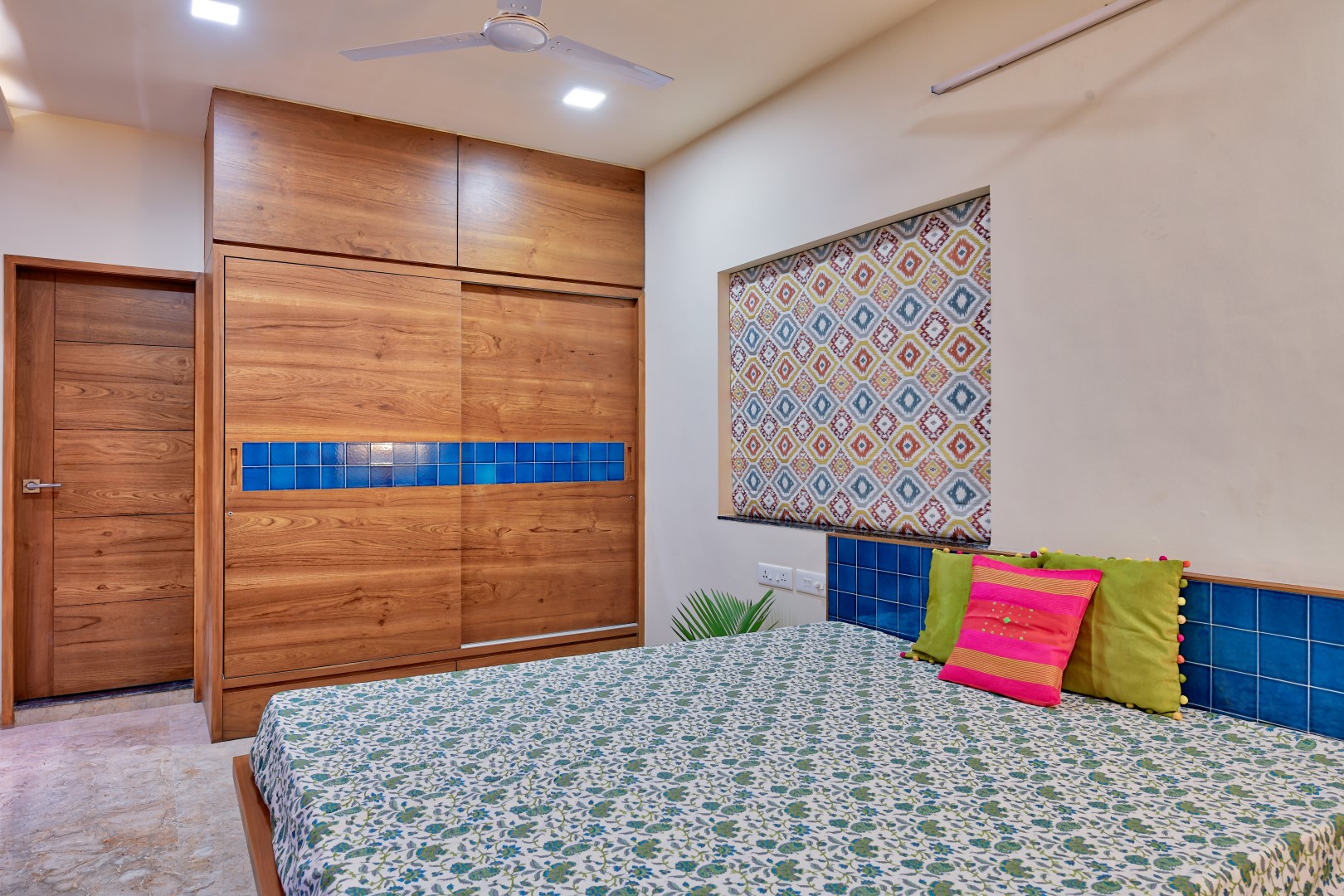 The Ground floor layout accommodates entrance verandah, living room,diningroom,Kitchen, Pooja room, Store room & guest room.The First floor is spaced out with lavish Master bedroom with natural view from balcony and that most appreciated cozy living room. The second room is parent's room which is gracefully designed after utilizing Balcony space in bedroom.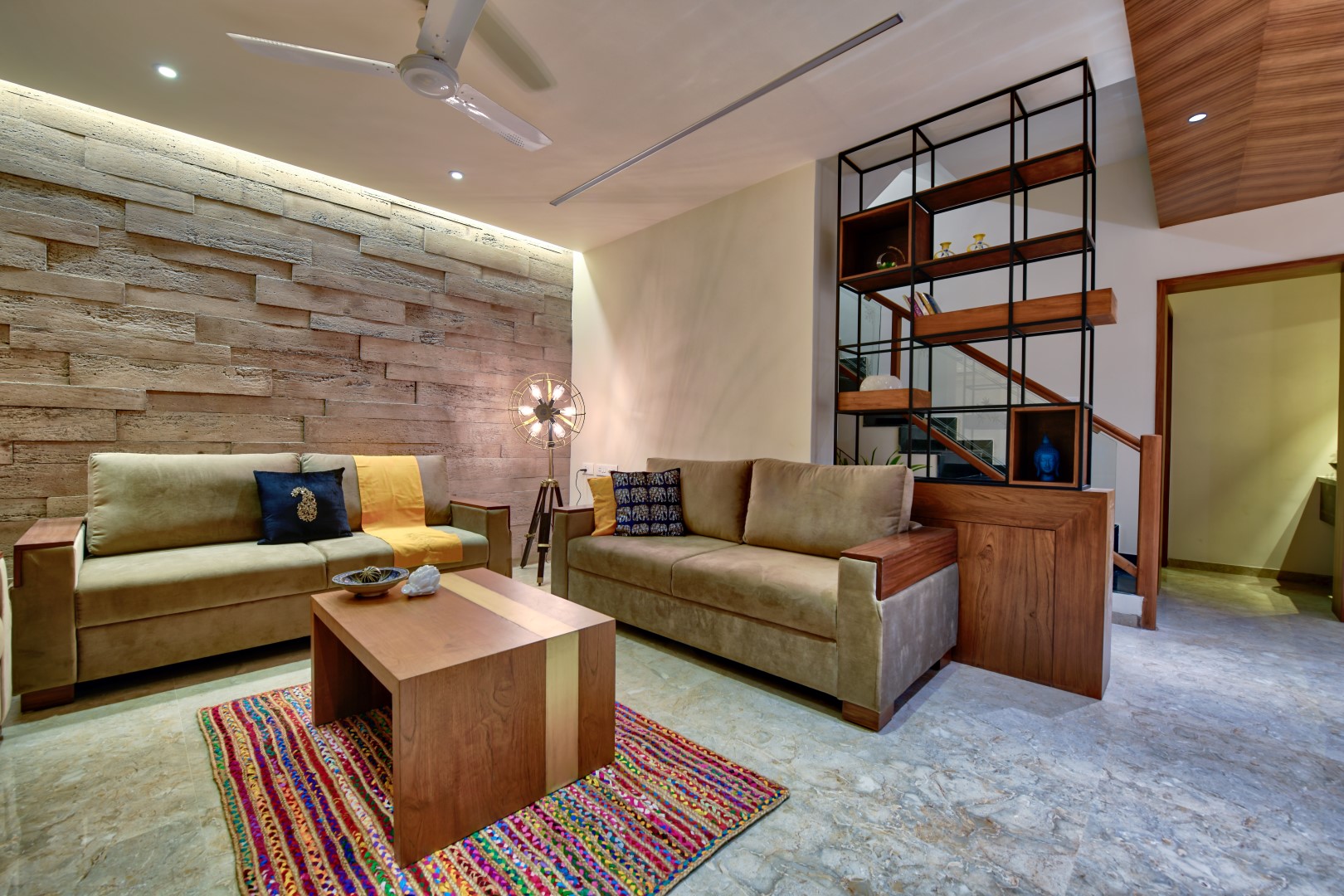 The Spacious, light filled living room is the first area you encounter as you enter through that wooden main door, the ceiling cladded in wood with subtle lighting is the beginning of a design element that binds all the space of groundfloor.
The Living roomhighlights the customized options created for the family's Lifestyle. In keeping with the contemporary Indian Look, an earthy color palette has been maintained with beige sofas, wooden tables and stone flexes' mocha wall. Splashes of color have been brought through throw cushions & floor rug. That metal boxy partitions add visual dynamics of the space.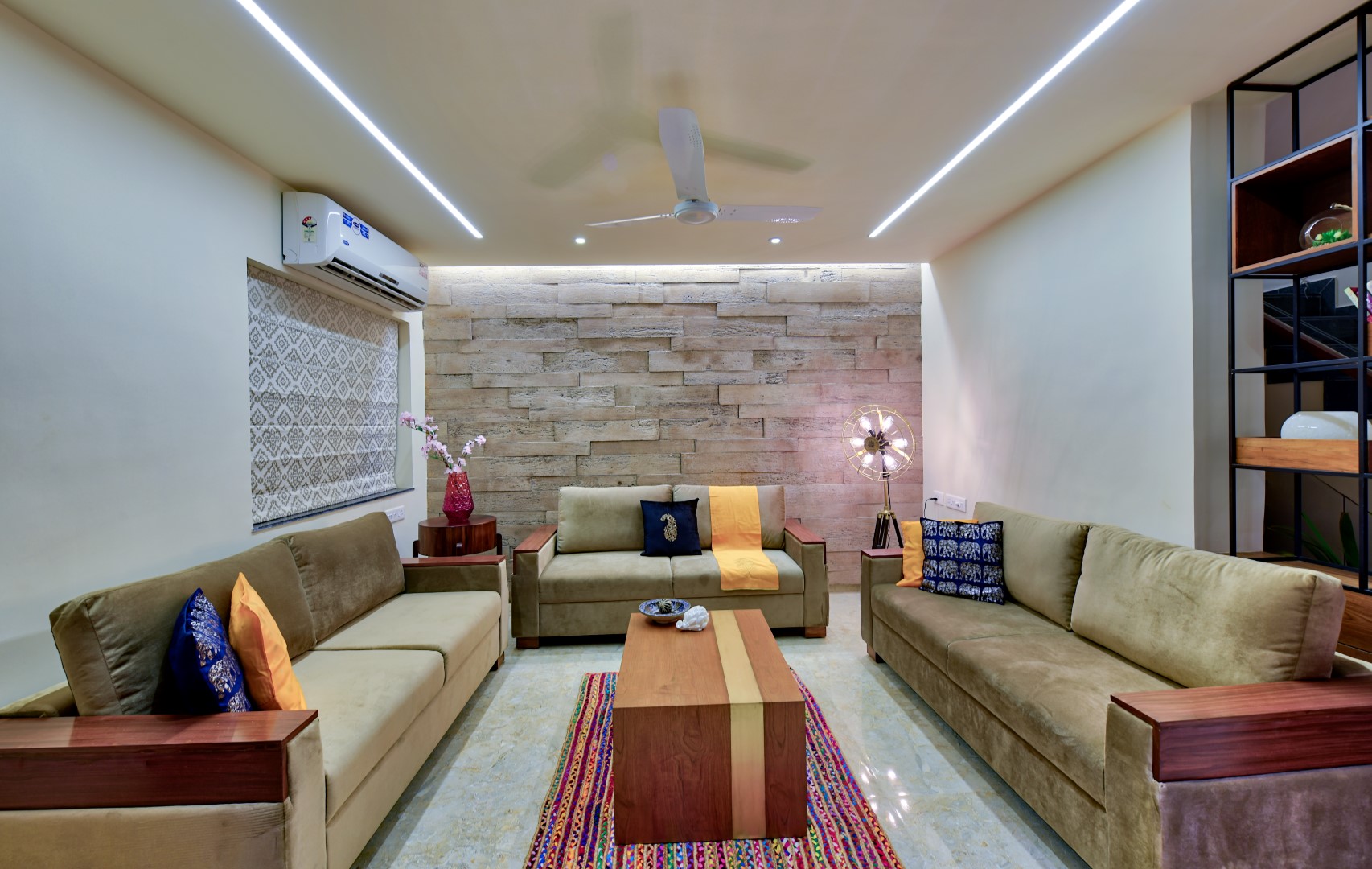 The dinning area that houses teak wood table for six has ample space. The curtained window backdrop ensures that natural light floods in the dinning area while bright red raw silk chairs & silkpatola fabric on the shutter of crockery unit gives a touch of elegance to space.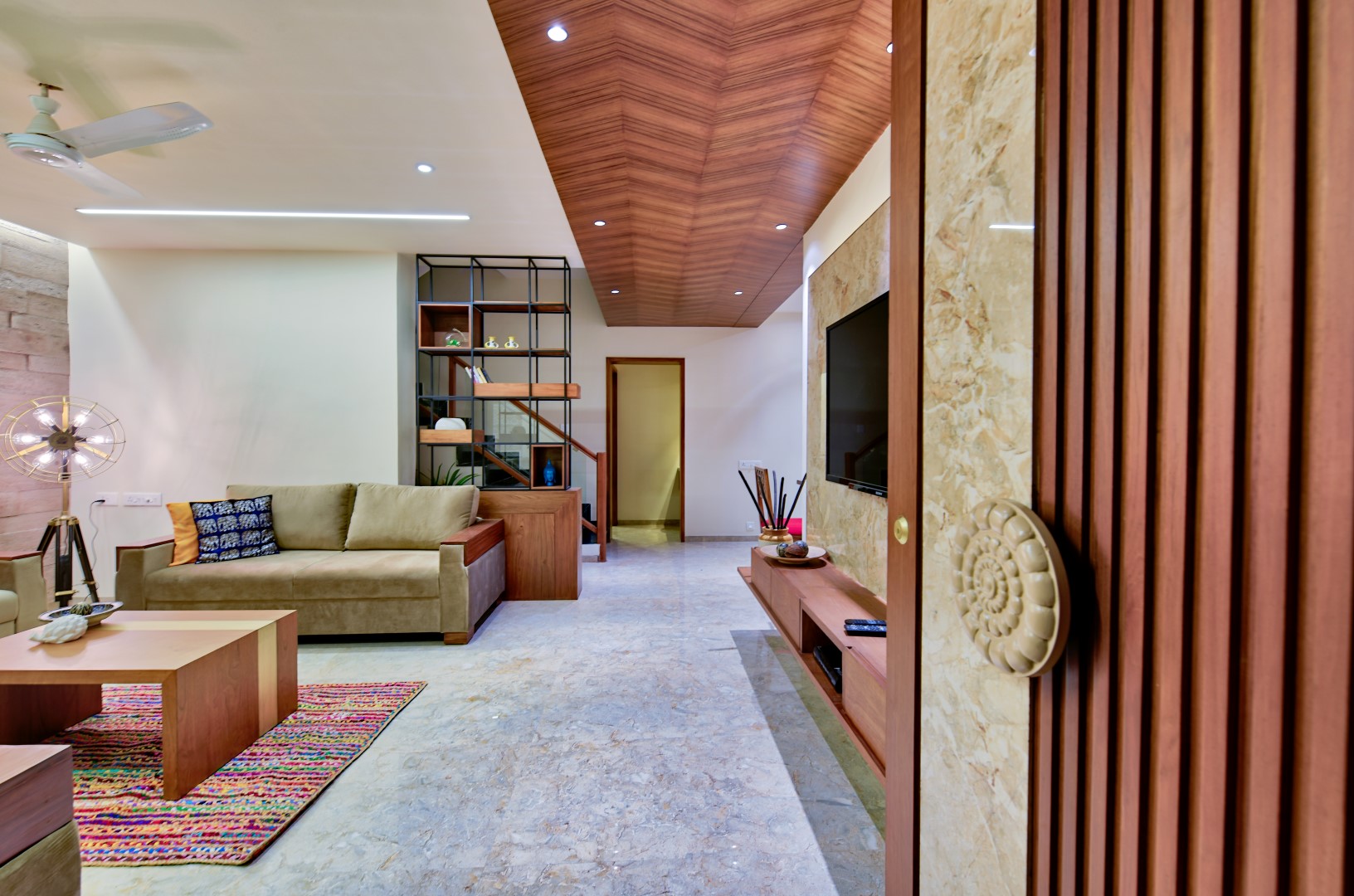 At the rear of the bungalows is the kitchen and guest cum kid room. Acknowledging the functionality of the kitchen. We fixed back painted glass on cabinets and main platform dado. Intricate beautiful blue tiles on service platform adds classiness to the space, drawers were done in easy to clean and maintain P.U finished high gloss laminates.The guest cum kid room is designed with a cornered super cozy &convenient queen sized bed with yellow colored bold P.U finish laminated wardrobes.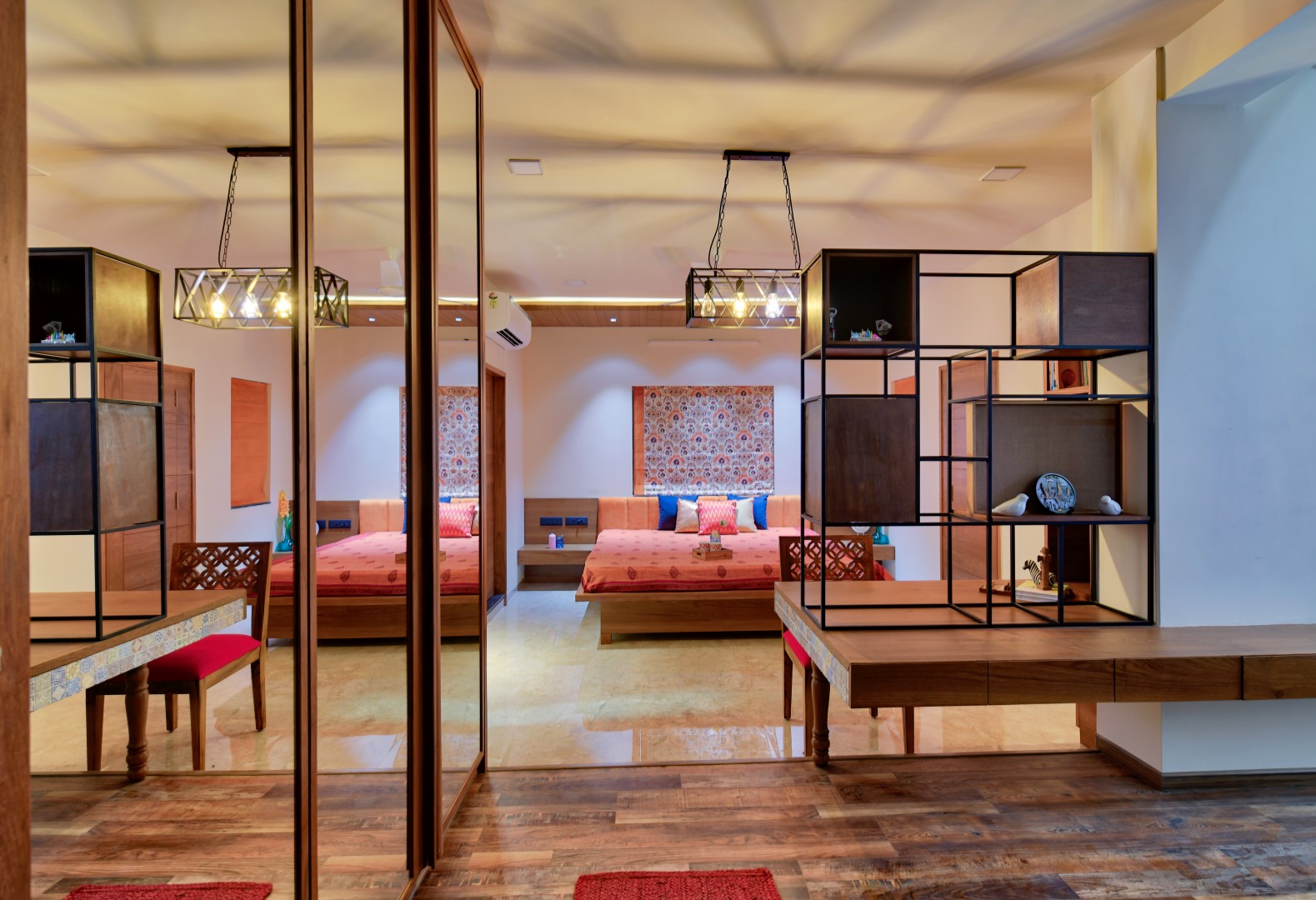 First floor bedrooms are simple with a predominant palette of wood and beige finishes with little splash of colors. The parent's room includes a bed & wardrobe finished in teak veneer & blue handmade tiles. Beautiful wooden intricated hanging lights is beautifying that corner with reflection of light.The design accurately reflects the parent's choice and personality.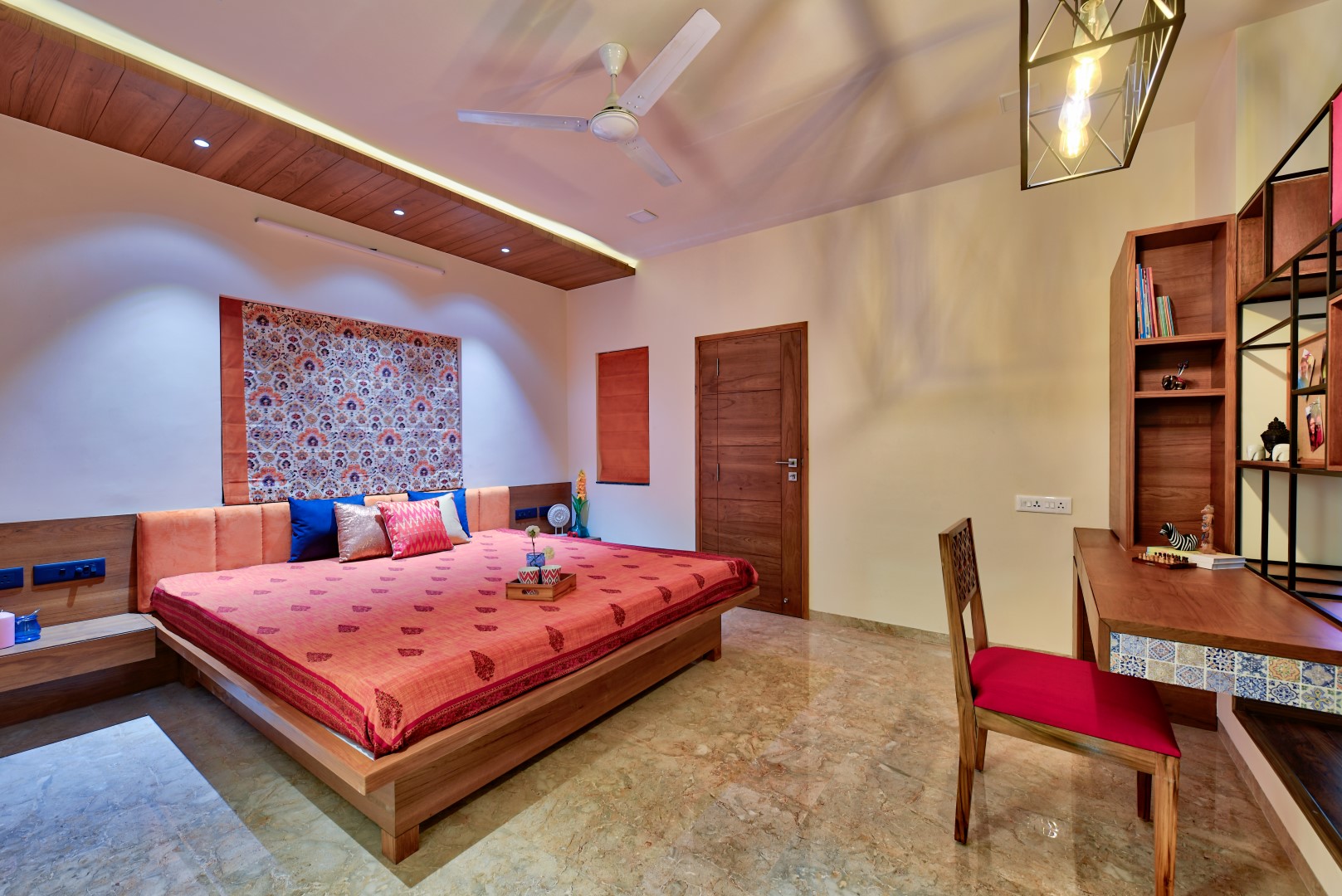 The master bedroom is gracefully designed in natural teak veneer with mirror finished cupboard to add depth to the living room. Terrazzo wall and blue sofa adds to the aesthetics of the room.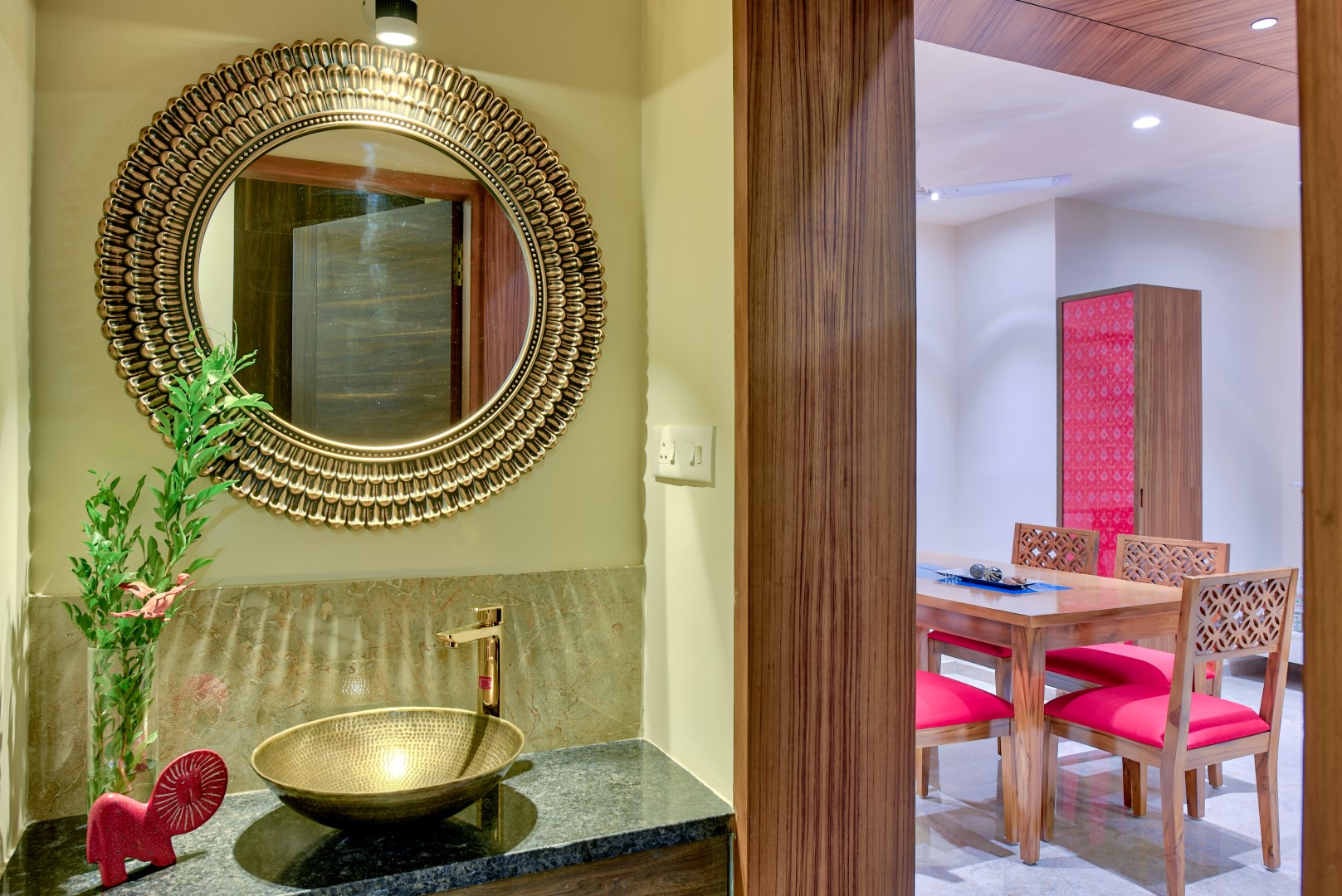 I not only made sure that the house did justice to the personalities and preferences of the client but also showcased my sensibilities.On a parting note, we are happy to tell that the client's enthusiastic appreciation of our work has been landed us with more homes to work from their close relatives.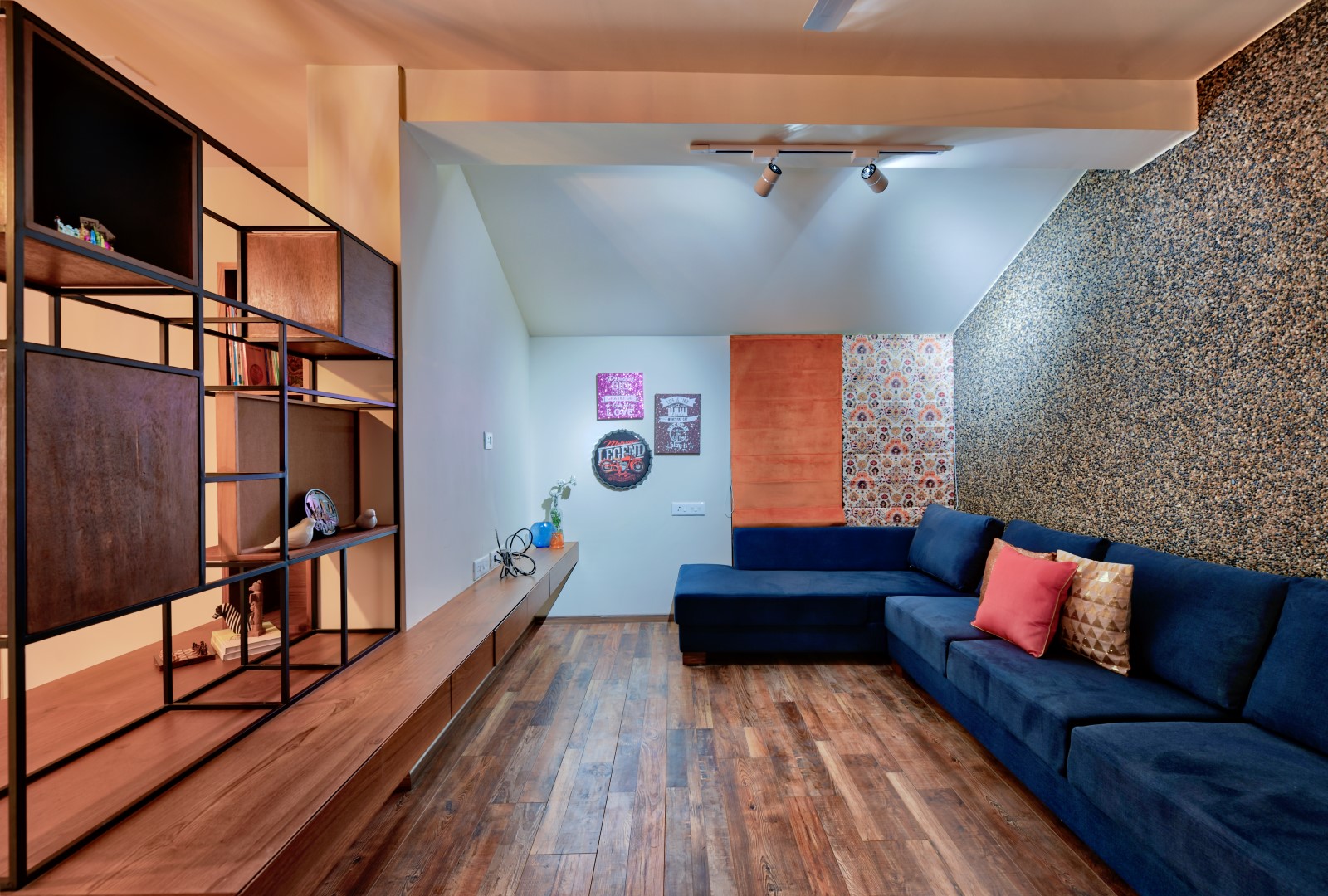 Site name – MarutiNanadan Villa 2, Bopal, Ahmedabad
Interior Designer – Nidhi Shah
Firm Name – DeTales – Design Stories By Nidhi Shah
Client name – Snehal Chaniyara
Photography – Palak Jhaveri photography