This 1400 sq.ft office design set amidst a group of restaurants namely vintage vibes, nosh, and drift, had to represent the business that it addresses. To make it a little dramatic as it represents a hospitality and entertainment building we experimented with the forms and color palette.
Bold yet Playful Ambiance for this Office Design in Ahmedabad | P&S Associates
Visit: P&S Associates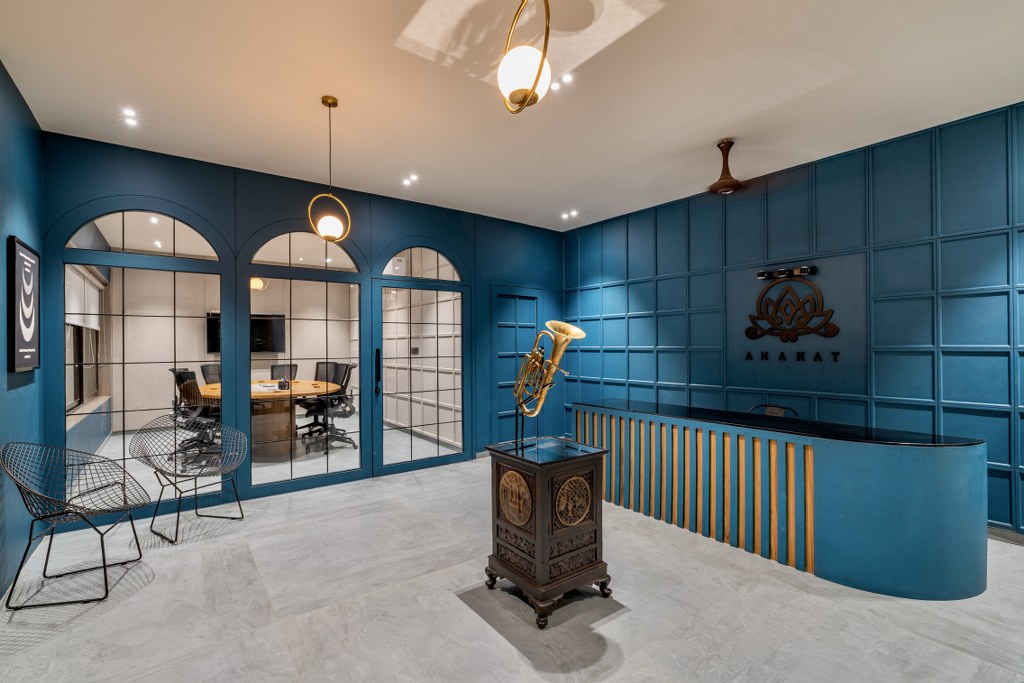 The asymmetrical geometrical entrance and the blue arches in the waiting area create a kind of strong language at the entrance which is intriguing as one enters. The antique trumpet placed on a carved pedestal is symbolic of the ambience and purpose of the building.
Moreover, as per the brief of the clients being ardent superhero fans, it helped us to create enough drama in the main office. The custom-made silhouettes of superhero wall vinyls inset in the fluted grey arches serves as the backdrop of the cabin.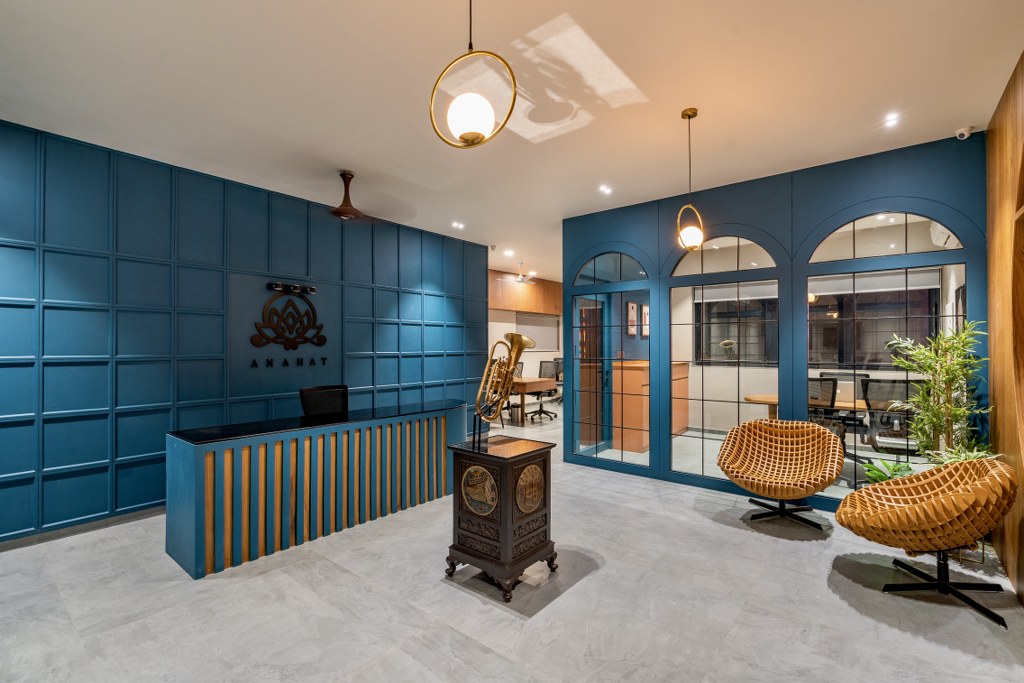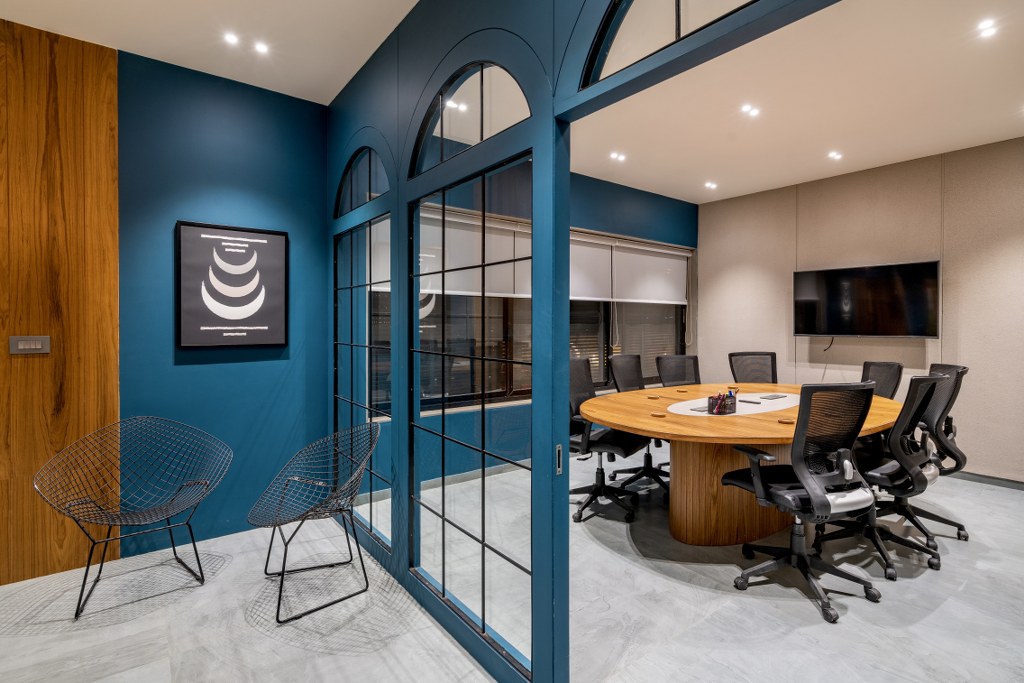 Placing all the collectibles of superheroes over the years was also a challenge so as to not portray as overdone as well as do justice to the pieces collected and to the attached storytelling to it. The windows overlook the drift cafe which has a language of the New York street cafés with graffiti and lives music.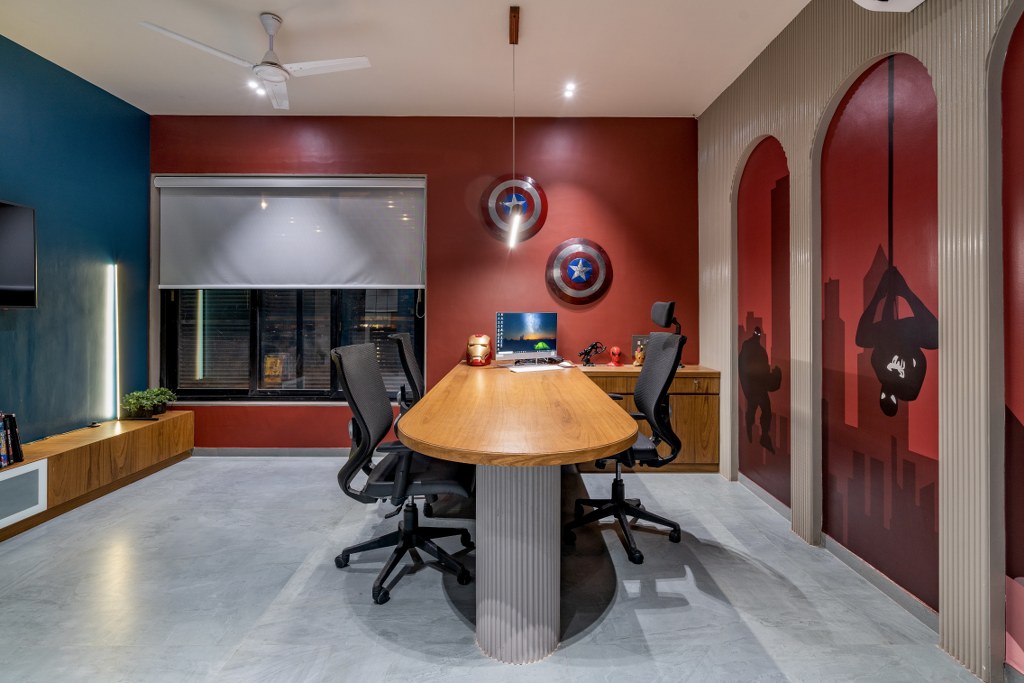 Hence these arched fabricated louvered windows which act as the backdrop of the cafe also give a filtered light into the main office and the conference room. A combination of blue, grey wood and wine comprises the palette and gives the perfect amount of color splash to the ambiance.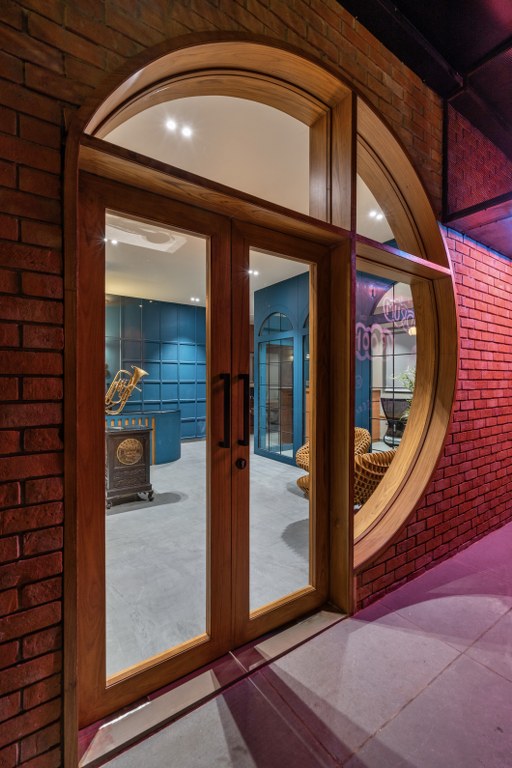 Fact File
Designed by: P&S Associates
Project Type: Office Interior Design
Project Name: Anahat Office
Location: Ahmedabad, Gujarat
Year Built: 2021
Duration of project: 4 months
Plot Area: 5000 Sq.yd
Built up: 14000 Sqft
Project Size: 1400 Sq.ft
Project Cost Appx: 40 Lac
Principal Architect: Palna Shah & Sachi Shah
Photograph Courtesy: Inclined studio
Consultants for the Project :
Landscape Architects: Creosora
MEP & HVAC Consultants: Ensol
Structure Engineers: Achal Parikh
Lighting dealer: Comfy Automation
Acoustics Consultants: Interior Kraft
Products & Materials: Wallcovering / Cladding: Interior kraft | Construction Materials: Exposed bricks,Wood, Veneers, Acoustic panels, Metal louvers, Glass | Doors and Partitions: Panel door and Glass | Sanitary ware: Jaquar | Facade Systems: Exposed brick, Glass, Aluminium windows, Metal louvers | Windows: Aluminium sections, Metal louvers | Furniture: Wooden, Metal mesh, Ergonomic chairs | Flooring: Cement finish tiles | Paint: PU finish, Duco finish, Mono coat polish and wall paint | Artefacts: Antiques and Collectibles
Firm's Website Link: P&S.Associates
Firm's Instagram Link:  P&S.Associates
For Similar Projects >>CLASSIC ELEMENTS COMING TOGETHER IN THIS MODERN DESIGN HOUSE