Bold and Warm House Interiors | Meraki Creatives
'Meraki' is a Greek word which means 'doing something with soul, creativity, or love, when you put "something of yourself" into what you're doing. Meraki Creatives started its journey in the year 2017 with an ambition to create spaces that enhance residents' quality of life by giving a better use of space and design.The design philosophy of the firm represents passion to create a better living, based on aspirations of the clients which helps them to achieve home goals. Gunjan Mulchandani is the Creative head, Designer & Founder of the firm. Her aim is to capture the essence of space by understanding the requirements of users in-depth and designing with a purpose that acts as a source of inspiration.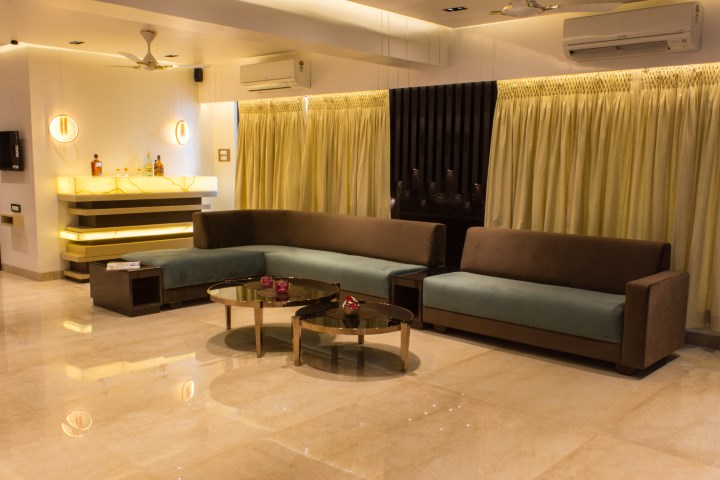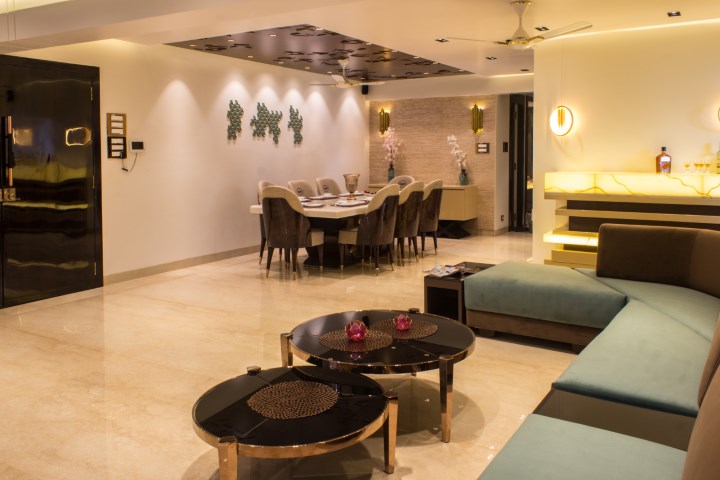 &nbsp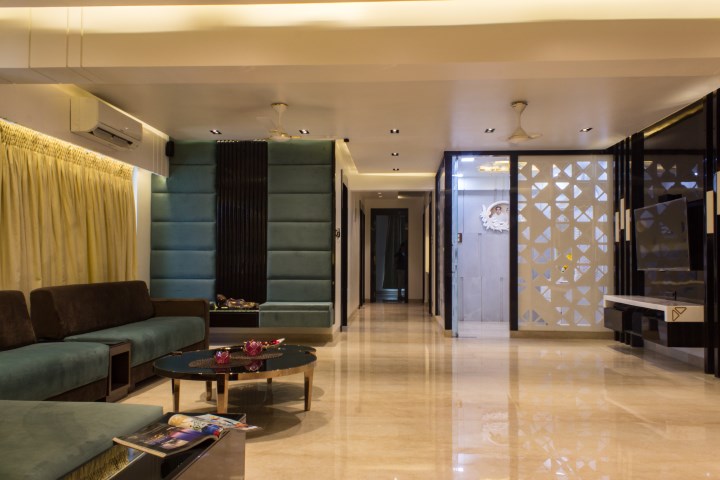 Understanding the value of space in a city like Mumbai designer had a lot to work upon. Exclusively designed and smart use of space make this project one of a kind.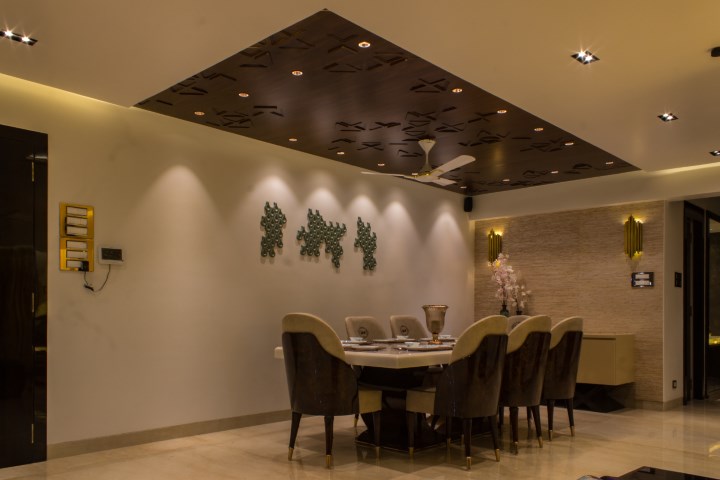 Designer thanked the client for giving freedom in design with soft touchy words like, "The client was extremely cooperative, Me being a designer had complete freedom to design the space without any interference. I started with an objective to design bold interiors creating a space that emits delightful vibes by keeping the interiors classy, elegant & yet luxurious.
While talking about the house designer described, My designing purpose was to use neutral & toned-down colors with a pop up of one vibrant color in a particular room along with minimalistic designs. The idea of minimalistic design made the entire space look airy & spacious at a time.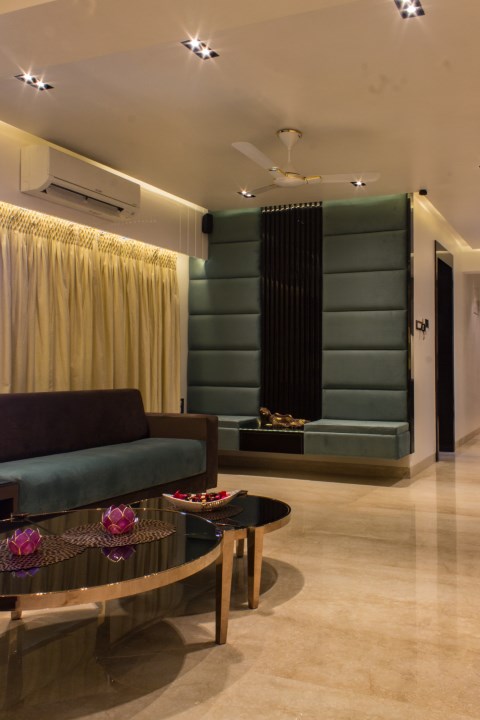 In the living room, there are light flooring and ceiling with dark furniture giving it a modern look with extra warmth. Apart from that the touch of golden color glorifies the space with a contemporary touch. The Green chaise sofa with microfibre gives space a more eclectic look. Living and dining area are in an open plan system with visual connection give it a feeling of larger space. The darker ceiling above the dining area embarks the space without boundary and enhancing the lighter shade of the dining table top and chairs. The bar table is wisely placed in between the living and dining area with a consideration usage from both the spaces. When looked from distance bar tale looks as if decorative piece finely crafted from wood and onyx. Hanging lamps above the bar table help in giving an extra splash of magic and warmth. Creamish-gold curtains are tailored in pelmet to give a clear and flowing visual to the living area.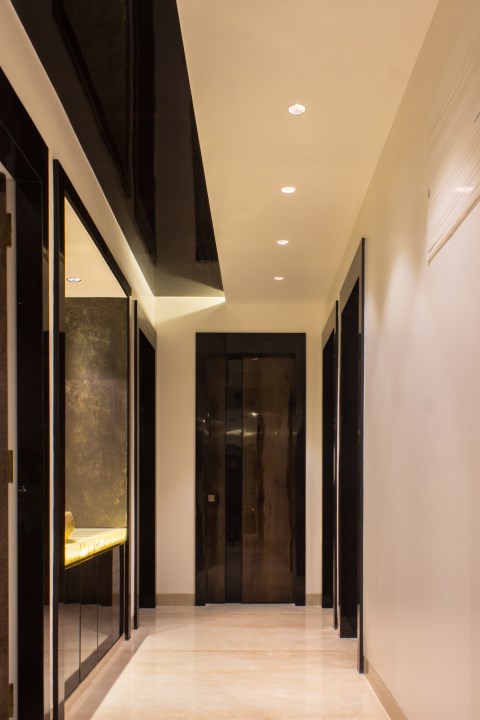 Basically, this house is divided into three major areas being the living area on the center and bedrooms and kitchen on sides. On the other side of living, mandir's jhaali wall is crafted with a triangular pattern. In order to create a visual symmetry, a designer crafted wall as a highlighter to give a balanced look.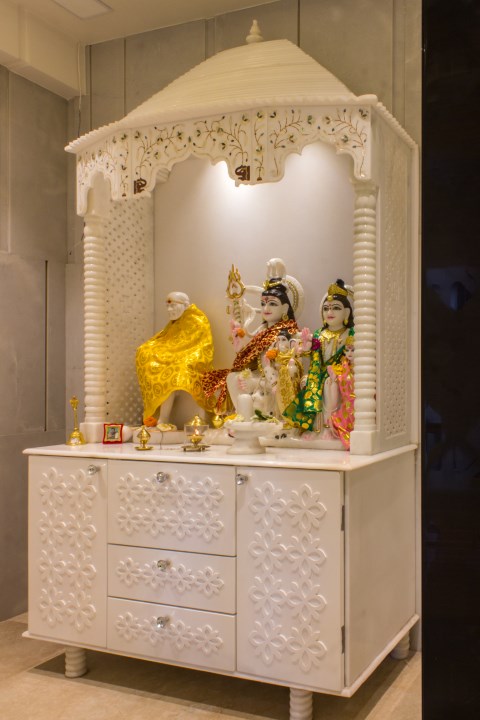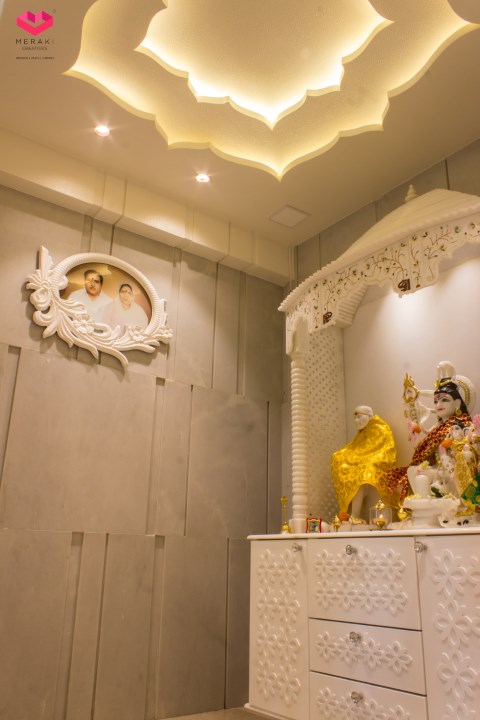 Inside the mandir room, there is exquisite mandir carved and crafted from marble. Inlay work with Mother Of Pearl pieces creating traditional patterns makes the mandir more beautiful and divine. Also, the false ceiling is shaped in traditional pattern giving the mandir more spiritual essence. This space is intentionally kept white to signify the place of religion and the importance of peace in one's home.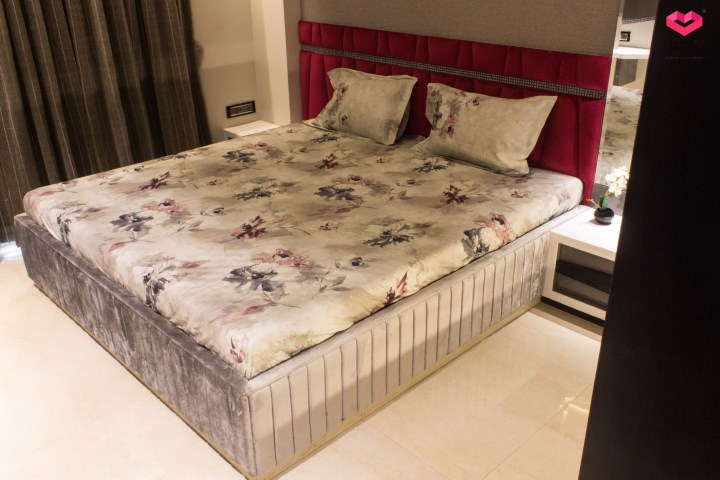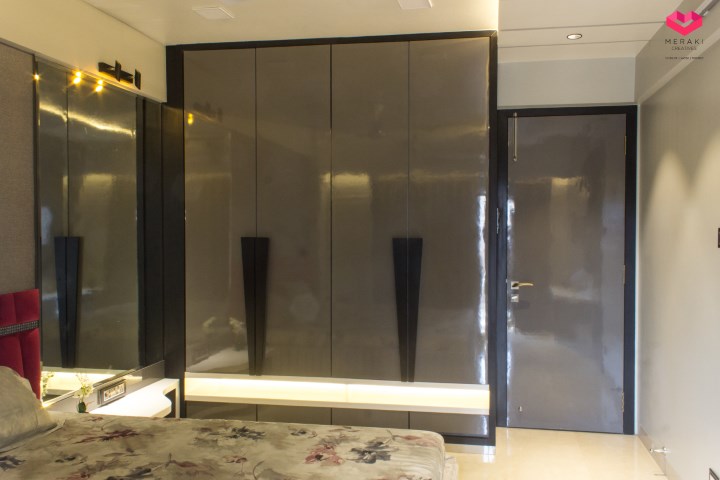 All the bedrooms are designed with different themes but yet keeping design minimal and giving the bedroom a sophisticated look. Commonly we see all back walls contain with headboard of fabric or leather and finely designed contrasting wall interiors. On the sides are floating side tables giving a bedroom a more spacious look. Lights are used differently as a piece of art from Finley chosen hanging lamps to wall lights and strip lights. All the rooms are beautiful and charming with extra warmth in the space.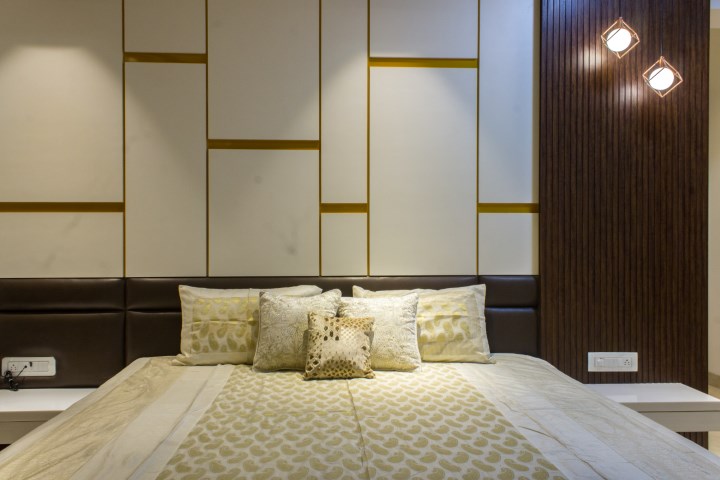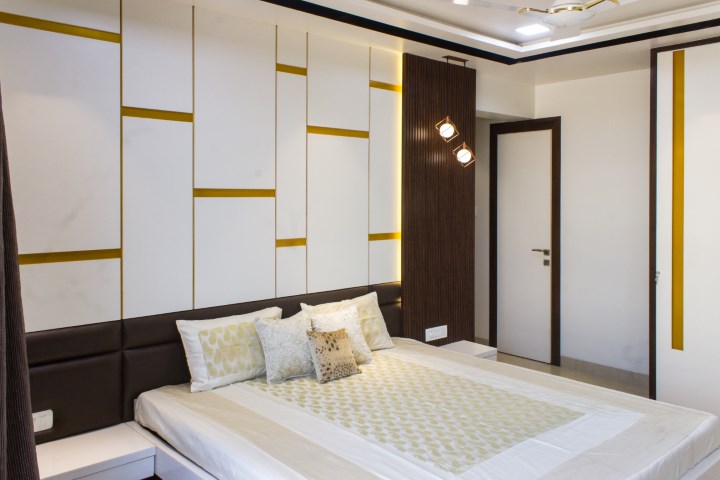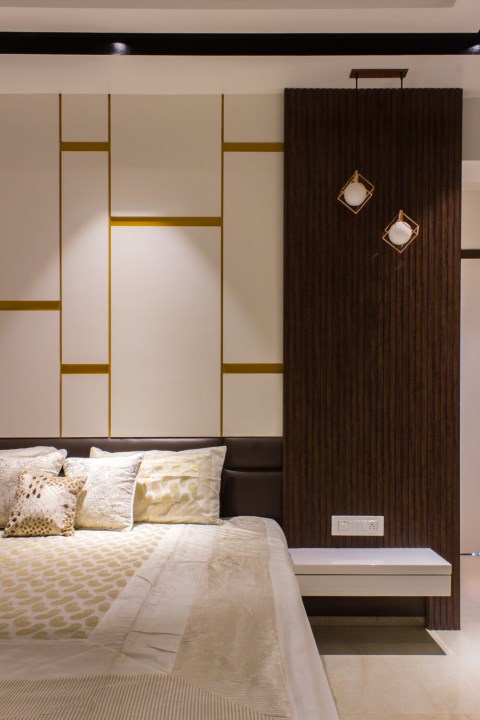 The room with green and mix of golden thread's upholstery headboard extended from wall to wall end with yellow side-tables and yellow hanging lights create a drama in the space. The simplicity of rooms with minimalistic looks and different themes tailored in the same pattern binds this house in its own style.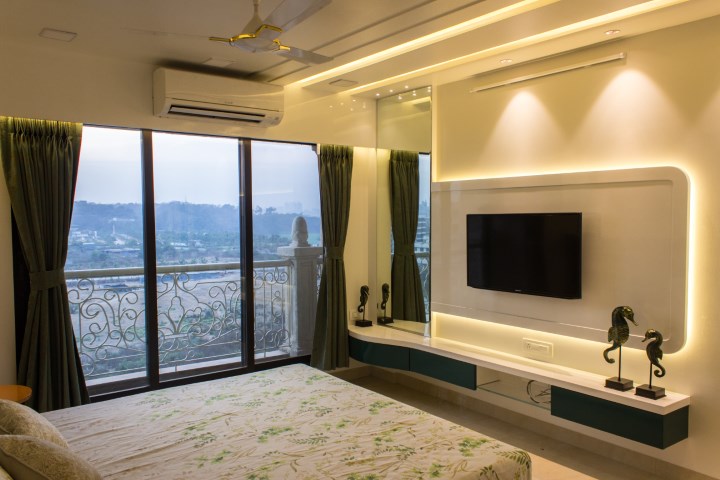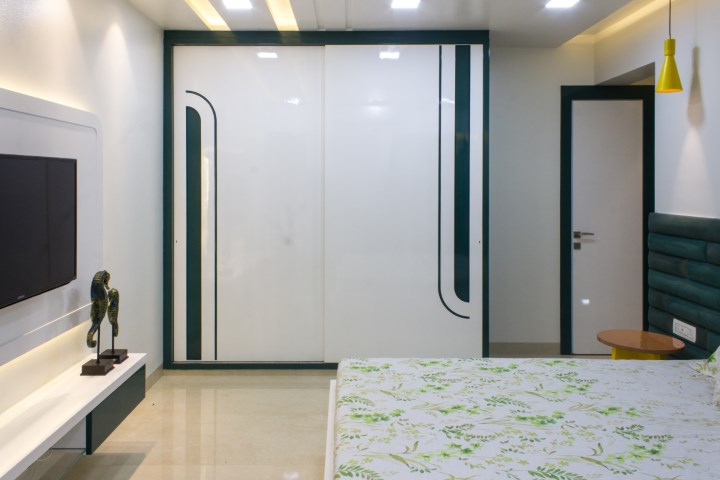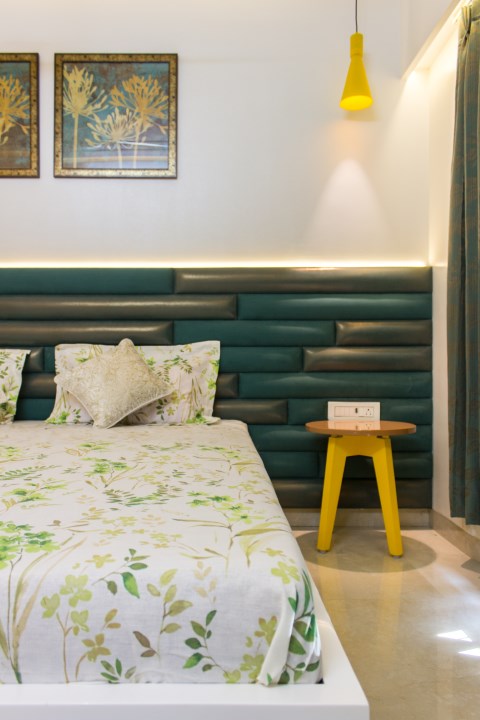 Range of colors which are used in different bedrooms such as yellow, green, black, wine, Shades of the brown, ivory, white, pink, etc give each room a distinctive feel and ambience. Bedroom interior personifies the user and its persona. Smartly chosen art pieces give it a more enchanting look.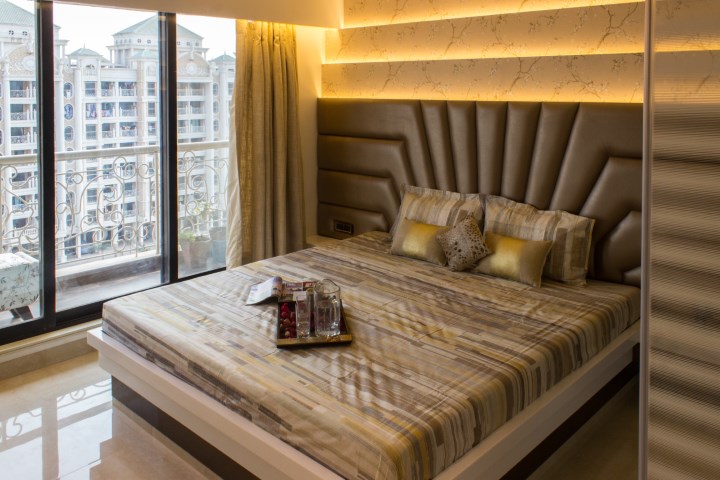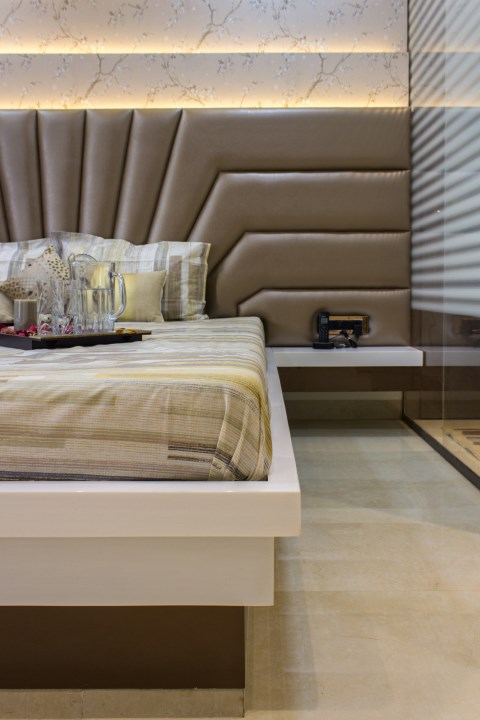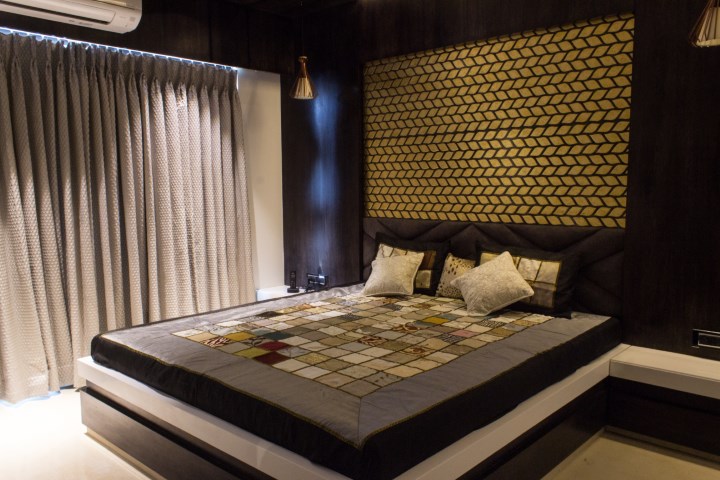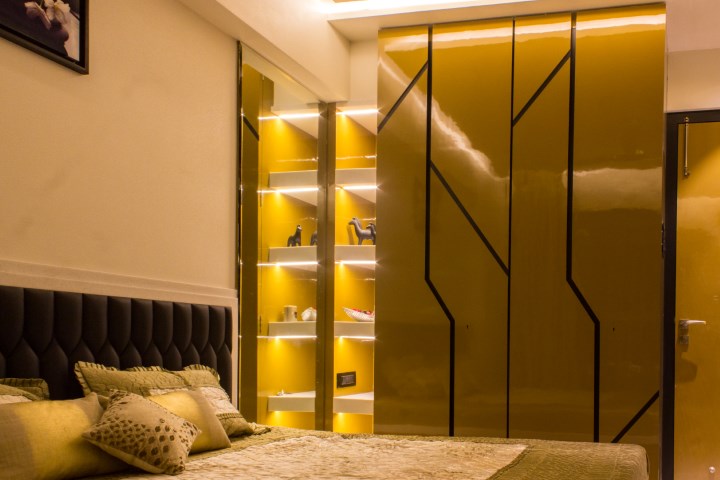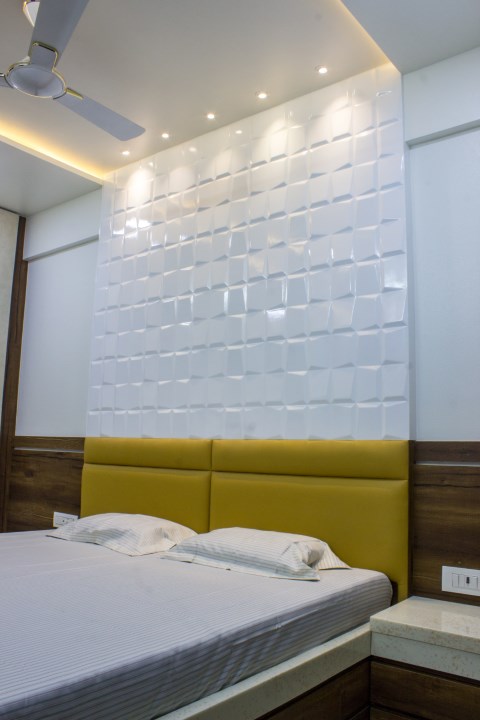 The kitchen area is designed by keeping in mind minimalism and fair use of spaces. Integration of services and space segregation give a classy look with ideal character. Shades from darker to lighter from floor to ceiling gives the kitchen a more airy look and yet emphasize on furniture cabinets. Cabinet drawers have attached self handles to give the kitchen a clutter-free look and binds in oneness.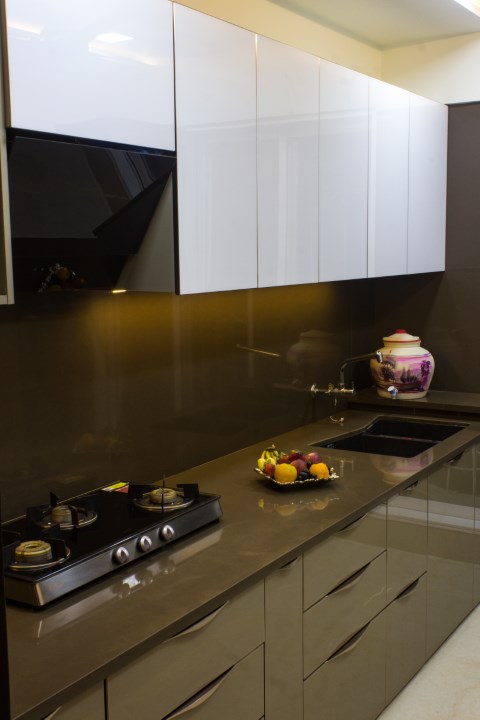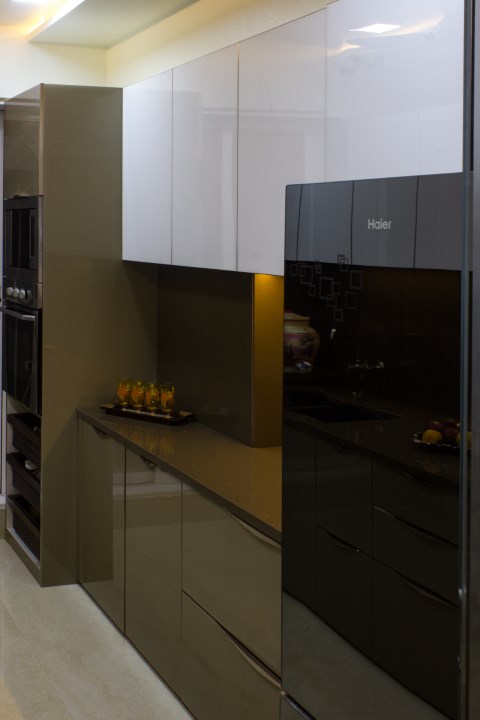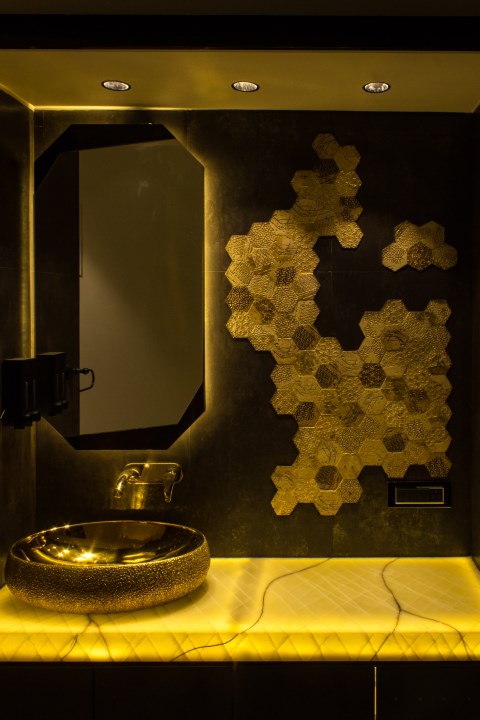 Fact File :
Architectural firm: Meraki Creatives
Project type : Apartment Interiors.
Principal Architect:Gunjan Mulchandani
content writer: Arjavi Patel