The best rattan garden furniture can be anything to anyone. Like other pieces of furniture, the ideal rattan pieces will depend on various factors, including your preferences and their purpose.
Fortunately, rattan furniture is as diverse as possible, coming in different shapes, colors, sizes, and designs. For instance, you can purchase a rattan bistro set, a dining set, a corner sofa set, cube sets, and many more depending on your needs.
Choose the most suitable rattan garden furniture as your worthy outdoor centerpiece, and you won't regret it. Here are some tips on how to get the perfect arrangement to wow your guests:
Evaluate Your Outdoor Space
Before imagining how you want your outdoor space to look like, start by analyzing the area. Check the shape and size, and consider the entire section. Determine whether there's enough shade, locate the doors and windows, and look at the other elements that can impact your decision to add a piece of garden furniture. Know what you should do to have an ideal patio and take it from there.
Select The Right Rattan Garden Furniture
Your choice of the ideal furniture to complete your outdoor design lies on factors that include the piece's style, purpose, and size as well as your preference. Check out some of the common options you'll encounter for rattan garden furniture: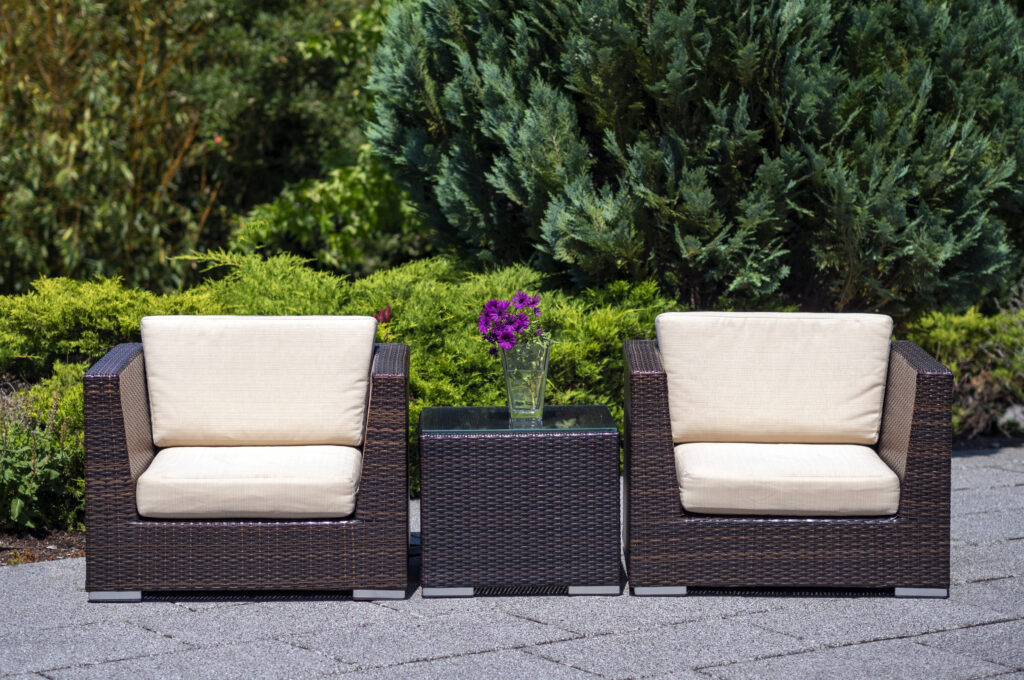 If you're working on a small garden space with the opportunity to lounge and relax whenever possible, www.gardencentreshopping.co.uk has a great two-seater range that fits the bill.
"Reclining Rattan Bistro Set from Garden Centre Shopping"
Whether you prefer a two-, four-, or six-seater to entertain your family members and guests, a rattan dining set can accommodate your meals at any time of the day.
If you want to extend your entertainment area outside, place a rattan sofa set in your garden for a change.
Love the sun? Place these by the poolside, and enjoy the summer heat after a refreshing dip.
Boxy rattan furniture sets are perfect for individuals who want to maximize space. What's more, they look neat yet durable and stylish, just like other rattan furnishings.
Choose A Focal Point
To figure out your garden's best centerpiece, consider following the rule of thirds in photography. This dictates that your focal point shouldn't necessarily be at the center of the entire outdoor space. Instead, it should be a bit farther on the left or right side, just off-center.
Stand within the appropriate distance from your garden. Standing either too close or too far from the ideal area may alter your perception of the rule of thirds.
As the term implies, this area will be the centerpiece of the entire space. Your identified focal point is the space where the rest of the rattan garden furniture and accessories will be placed.
Place A Piece Of Long Outdoor Furniture Across Your Focal Point
To ensure that your focal point remains the center of attraction, avoid placing a dramatic furniture piece in it. A good rule of thumb is to put an artistically designed, long rattan table across the focal point, to avoid creating a distraction. Add some rattan garden chairs, and you're good to go.
Choose Furniture Pieces That Fit Your Lifestyle
Every furniture piece you bring to the garden should serve a purpose and fit your lifestyle. For instance, if you love having guests for a barbecue and other celebrations, consider buying an outdoor dining set that can include as many chairs as possible.
For those who prefer to limit the number of guests to spend quality time with, feel free to set up some lounge chairs or the reclining range from Gardenfurnitureuk.co.uk. Those space-saving pieces are ideal for smaller areas that need a more intimate setting.
Facilitate Fluid Movements
This isn't about the design theme—it pertains to achieving the best flow of traffic among your guests. When envisioning the entire design for your garden, make sure that the furniture placements will facilitate fluid movements, especially along the entry and exit points.
Consider placing your rattan garden furniture in an arrangement that leads guests toward the main seating area. Take heed of this design principle whether you want an asymmetrical furniture arrangement or its opposite. Traditional furniture placements are often the core of symmetrical design, while asymmetrical furniture positioning reflects an unconventional outline.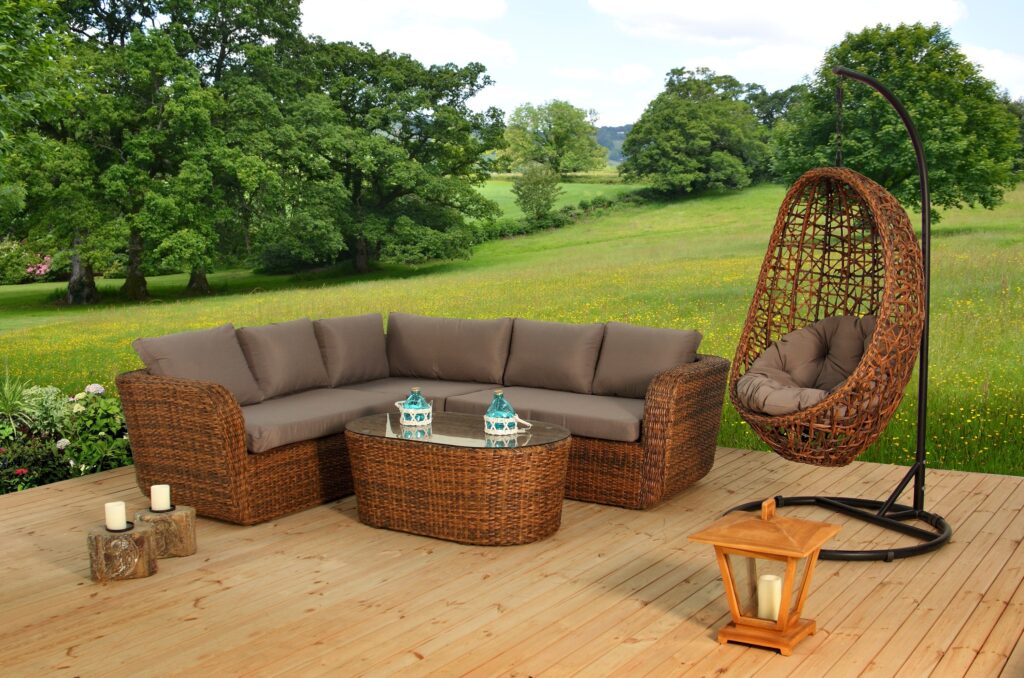 Make Interactions Easy
Besides making guests feel like they can freely move and ensuring that they're comfortable, you have to arrange your furniture in a way that it becomes easy to start a conversation. Place solo or two-seater rattan garden chairs close to each other so guests feel they're part of the group, but see to it that their positions don't impede movement.
Create Smaller Areas Within The Entire Space
If you have a vast, open area in your garden, the best way to make the most of it is to divide it into a few sections and think about how you can add more function to those smaller spaces. Please don't fall into the trap of placing a sofa set there and forgetting about it.
Your guests would surely prefer to do anything else other than sit on the couch. So consider placing pillows, books, a carpet, and a swing nearby.
Creating imaginary or actual separation lines can also help when you need to have an outdoor kitchen. If you're having your guests' children come over as well, having a fire pit or a kitchen can be a safety issue, so remind their parents to keep an eye on them. Nevertheless, do place the outdoor kitchen near your actual kitchen so it's easy to move between them.
Make Sure There Is Enough Shade
Design should be mixed with comfort when it comes to the best placements for your rattan garden furniture. Besides having side tables to hold drinks and other items, make sure to put some pieces of furniture in full shade as much as possible. You don't want your guests to get soaking wet when it rains or burn under the sun on hot days.
While most rattan garden furniture can be moved and rearranged, it pays to place them under the shade. Too much heat may damage and discolor your furniture pieces in the long run, reducing their life span.
The Bottom Line
Relatively affordable, eco-friendly, and long-lasting, rattan garden furniture sets are becoming one of the most preferred outdoor pieces by many homeowners.
There's no secret formula to finding the best rattan garden furniture. The choice will depend on the users' lifestyle, design preferences, and functional needs. Fortunately, with rattan's flexibility, you'll always be left with numerous excellent options.