&nbsp
Best Interior Door Options for Your Home
Are you replacing old interior doors? Each of the internal doors to your bedroom, bathroom, hallway, living room and other rooms make a huge statement. Choose Furniture especially the interior doors that will make a huge impression and match your needs.
A beautiful modern interior door is a necessity that adds to your home's style. Most doors might go unnoticed, but they can be used smartly to have a dramatic effect on the look of the room. Since most buy homes with installed doors, we often ignore them.
But every home needs good interior doors and a good amount of thought should be put into it. Check out the style, materials, and door swing when sorting through interior doors. The exterior door of your home sends a great first impression to your guests but then the interior doors need to live up to that impression and should be in harmony with the decor too.
Most of these doors are launched with different materials and a plethora of wood choices instead of most modern materials. One can opt for a window with stained or frosted glass.
Interior doors should capture your home's real sense of character. They can enhance the first impression or even transform it on some aesthetic level.
Tips for Choosing an Interior Door Style
Door Style: One should know different interior door styles including hinged panels, flush doors, bi-fold French doors, sliding doors, and other styles. The style of your door dictates your home's design at some level while giving your home a specific look and feel. The doors should blend in well with the overall size of a room since a massive door may overwhelm small rooms, making them quite ordinary in comparison.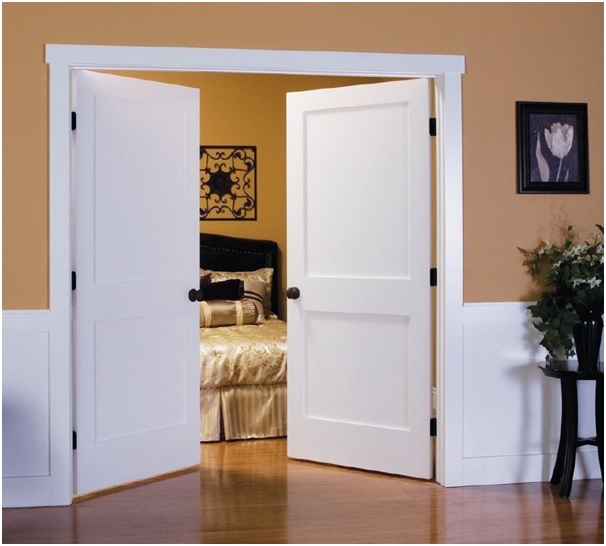 Door Swing: You can choose door swings when ordering doors. This will determine hinges and handles and the direction of door swings too. Depending on the handle, the door will open toward you or in the opposite direction, also indicating a right-handed or a left-handed resident. The door should not open into a living hall or corridor when considering the direction your door swings.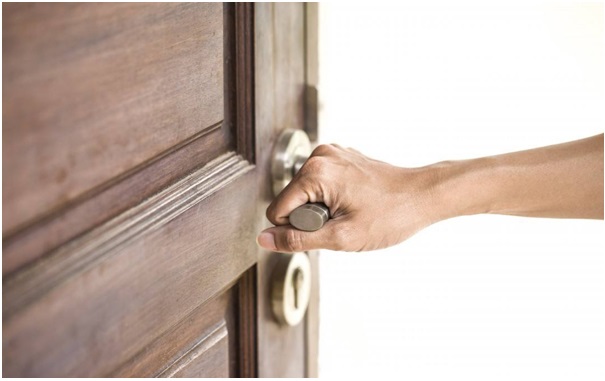 Door Framing: Framing a door can detract users from the value of expensive doors. Using tardy and cheap framing materials can often lead to a bad impression of your interior doors, and can even cost more. Make sure to follow instructions when framing interior doors especially when choosing the size as different countries have standard widths & height. Doors can be bought pre-hung or in the form of slabs too.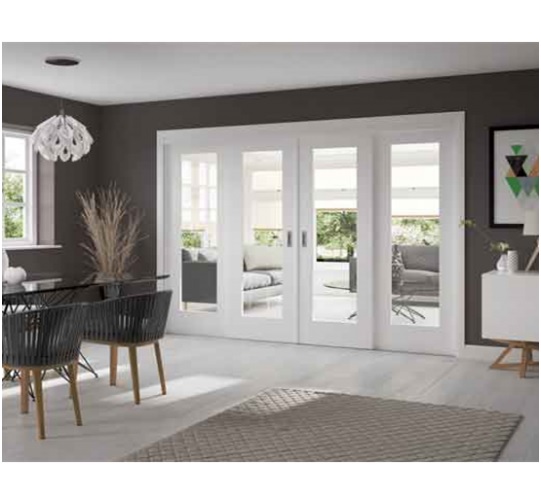 Door Sound Ratings: Interior doors are rated based on their sound transmission class, which measures sound loss through the door. Doors should block as much sound as possible but also depends on the door material being used. 25 is lower on STC scale, 40 is mediocre noise proofing while all measures over 60 indicate soundproof doors.
Best Interior Door Options
Panel Doors: Panel doors are the most popular interior doors in homes with square or rectangular patterns spread across one large panel, to eight or more panels. The patterns include tops and decorative finishes along with glass inserts. Selecting a door comes down to personal taste and choice. The three-panel mission doors, the five-panel equal doors, and the standard panel doors are the most popular trending interior panel doors.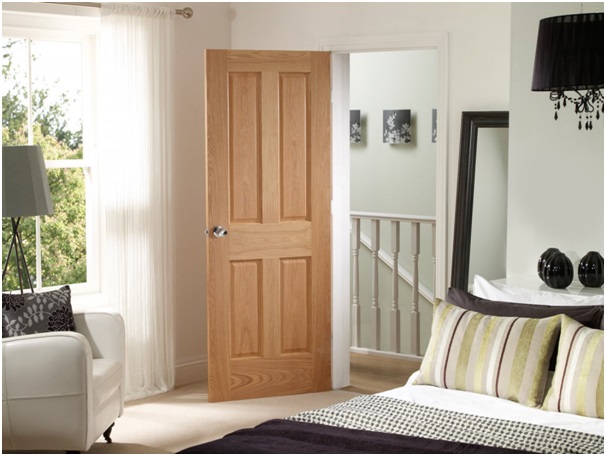 2.Flush Doors: Flush interior doors offer clean options with a completely flat design and is quite affordable too. Flush doors are simple yet it gives a vibe of modern interior doors with smooth surfaces on both sides and consists of plywood or MDF. Flush doors are minimalist in style and found in varied residential applications.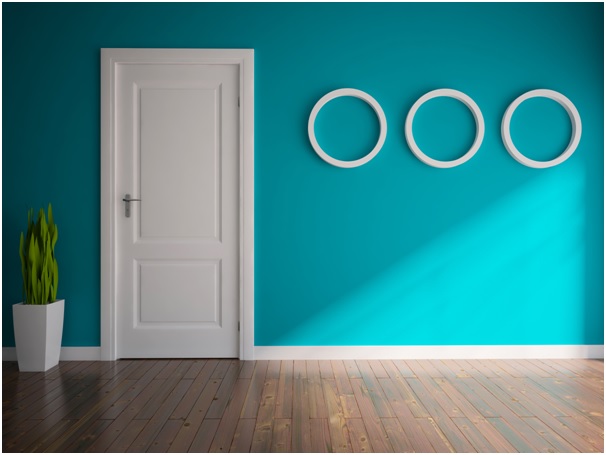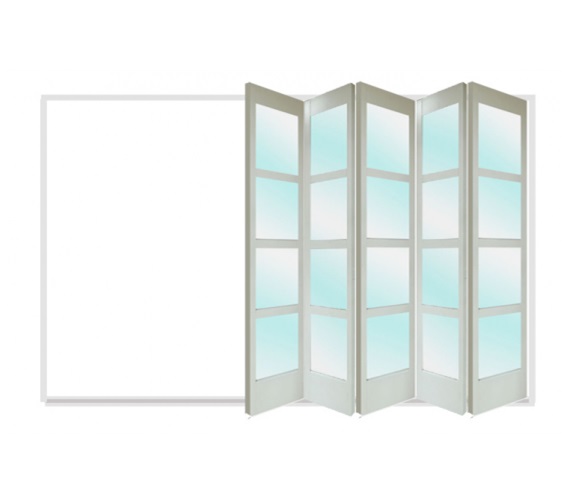 3.Sliding Doors: Sliding doors are mostly made of wood, glass or even feature mirrors. Many of the doors are used for closets and known to take up a minimal amount of space. Sliding doors are not common to use. They do not swing thus saving on valuable floor space but need space at the left or right of each door. While not extremely common, these doors provide a unique option for different rooms especially those consisting of French door openings. Sliding doors are usually made of glass, or wood, and can work as house dividers while blending with modern décor.
4.Pocket Doors: Pocket doors are used in different parts of the house and are quite space-saving in construction. Unlike the sliding doors, pocket doors can be slid into the wall itself, rather than the side. Pocket doors are nowadays popular.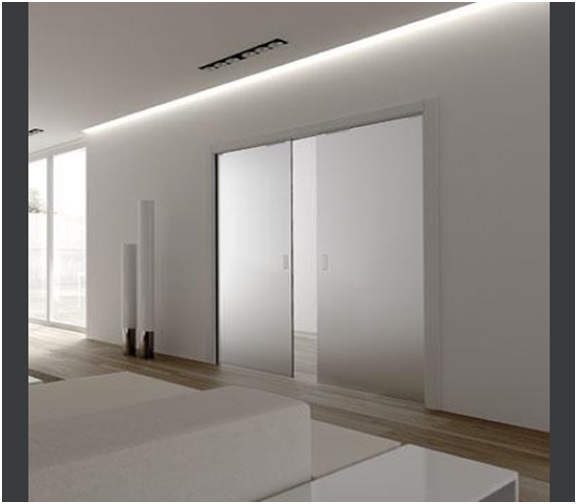 5.The Barn Doors: The Barn Door is popular owing to its rustic feel. Often salvaged, or built, the barn door includes a pocket less door and usually surface-mounted. The door includes custom specialty hardware and hence can be tailored as per the requirement. It does not sweep through usable floor area' and can be used in crowded spaces.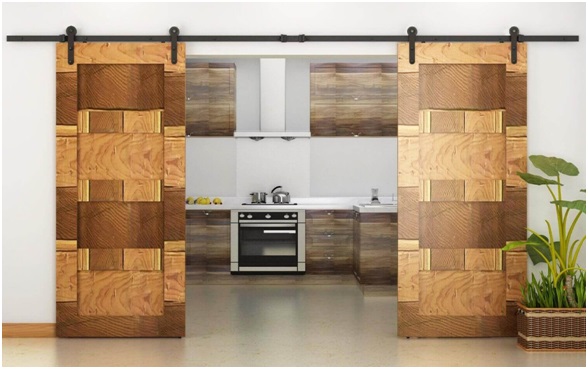 6.Folding Doors: Folding doors fold in different sides and are used in closets, laundry rooms, and small spaces. They are perfect for compact areas. Most folding doors consist of wood and used primarily for closets and as kitchen dividers.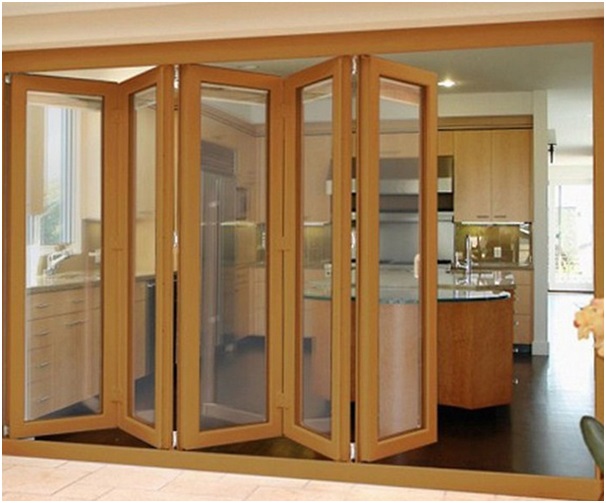 7.French Doors: French doors include frames of transparent panels, surrounded by translucent material or glass. These panels can be styled in different ways to maximize light in a room. French doors use a door configuration with two hinge-hung doors that swing towards one another. Glass inserts or decorative panels are used to add spice and glamour to your space. They are good for music rooms, living rooms, master bedrooms, and the like. It adds high style factor and imbue an airy feeling to the entryway, allowing the entry of more light to flow through internal space.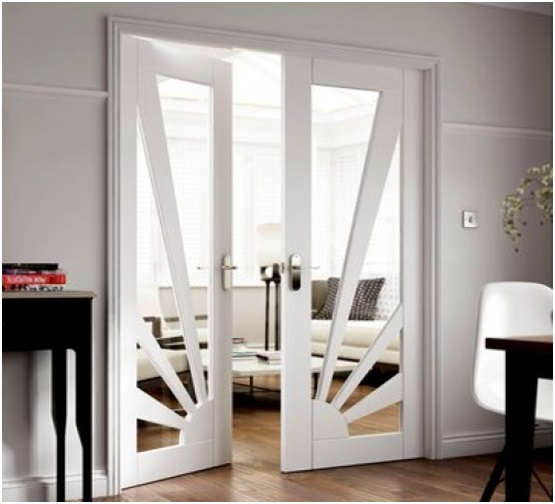 They are known for energy efficiency when built perfectly inclusive of ideal weather stripping, doorjambs, insulation, and the like to resist all types of materials in the door. One does have to ascertain the level of privacy shades that one would need for a home. Wooden shutters are recommended for privacy while one can utilize French doors better with an addition of sheer draperies or patterned shades that are drawn up and down as required.
8.Dutch Doors: Dutch doors are divided in half horizontally, allowing the top half to swing open and not the bottom half. You can install interior Dutch doors with loads of options with and without a window. One can choose a flat interior door or opt for doors with raised panels. Most of these doors are launched with different materials and a plethora of wood choices instead of most modern materials. One can opt for a window with stained or frosted glass.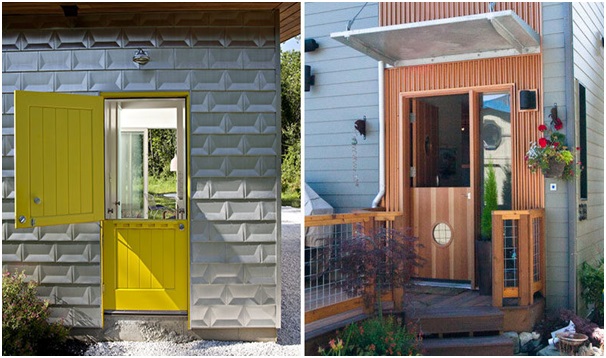 Best Interior Door Materials Available in the Market
Selecting a door material depends on taste and budget. We suggest visiting a local door shop to understand solid wood, solid core and hollow core doors before you make an order.
1.Solid Wood: Solid wood doors are incredibly popular internal doors UK and the wood used makes all the difference. Most soft woods, including maple, pine, etc are used on
exterior doors, but some prefer it on interiors if there is too much volatility in temperatures and humidity on the outside.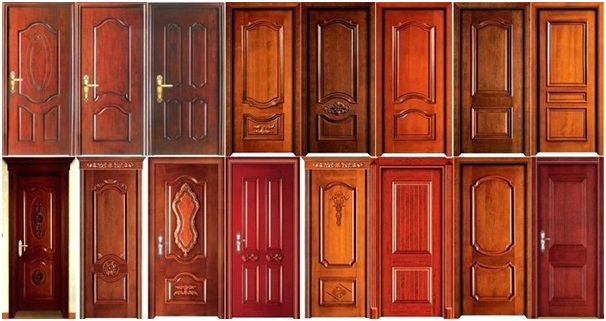 It is also avoidable to use solid wood doors for doors which protect wet areas like a bathroom, sauna or any other space. Solid wood doors do boast of weight and are extremely robust and sturdy, thus resisting cracks or chips, and usually have a brilliant aesthetic appeal. While generally, it is expensive, many buyers consider solid wood for its long-lasting composition. Solid wood interior doors also act as good sound barriers.
2.Solid-Core: Solid-core doors consist of plywood or composite exterior, full of the wood-fibber interior. Solid-core doors look like solid wood doors, maintaining the quality or 'expensive' look and feel. They also boast of good insulation features and acts as an effective sound barrier between rooms. But these doors can suffer from issues if extreme weather conditions are prevalent in a home. Additionally, these doors are less expensive in this regard compared to wooden doors.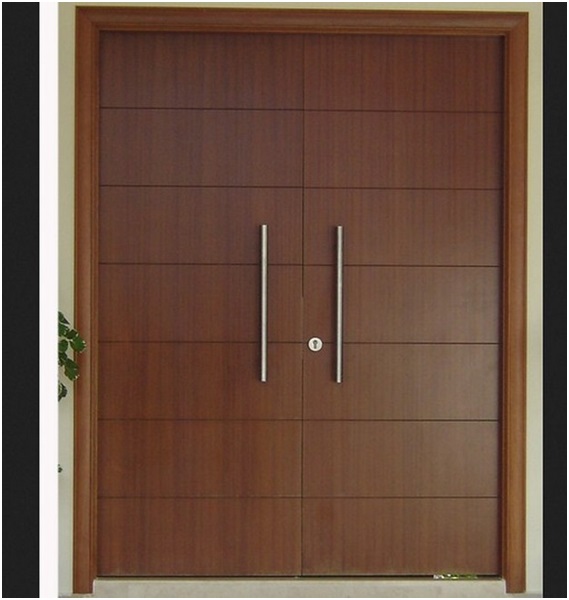 3.Hollow-Core: These are the least expensive doors and are constructed from wooden frames, plywood etc. and then filled with cardboard to maintain shape. While these doors are lighter and less expensive, hollow-core doors are not as durable compared to solid-core or wooden doors neither are they fire-resistant. The sound barrier is weak owing to the content within the door. These doors though can withstand heat and humidity changes and do not get warped by these conditions. These doors are hollow but certainly, offer the bang for the buck for those who cannot afford the pricey wooden or solid-core doors.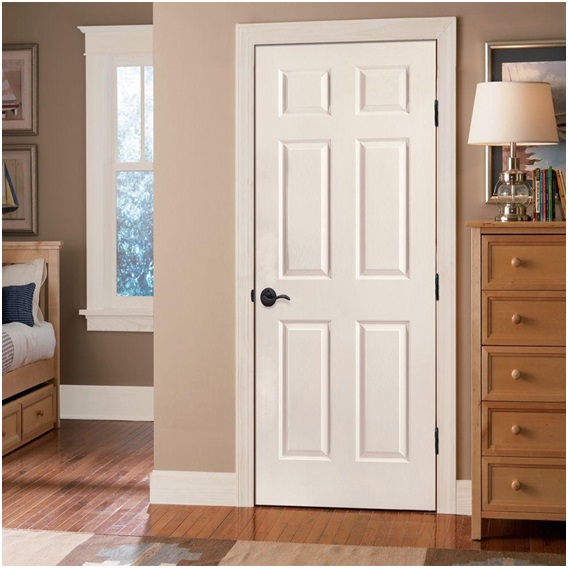 4.Metal & Glass: These doors are now quite prevalent in interior and exterior settings since they are endowed with a modern look and less content than a solid wood door. They are expensive than most wooden door models but less expensive than the rich wooden doors. Metal doors ensure the safety of any home and hence quite popular for interior doors. A metal door can also bear the weight of two locks, anchor systems, handy bolts, valves and other protection accessories that withstand intrusion or penetration.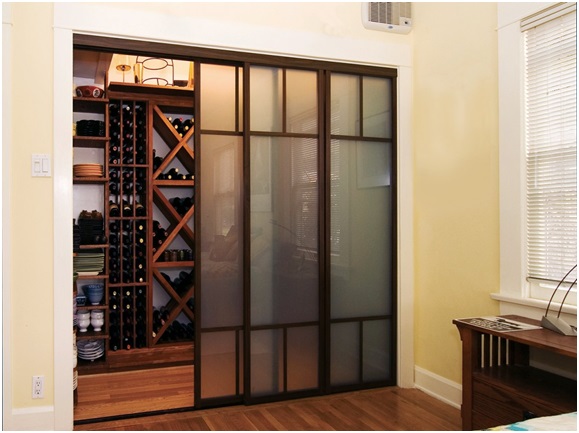 Metal doors are also available in many designs and patterns that even blend utility with beauty. Iron doors have been used as huge barricades especially in large homes where the security of a room is very important. Metal doors also have different price tags and depend on the quality of solid metal sheet being used. Do check the insulation of the door and the use of mineral wool, polystyrene, foam, and the like. High-quality steel sheets also should be without deformations and dents of any kind. Installation of metal doors needs to be performed by experts since they can ensure a high degree of protection too.
Top Quality Finishes for Your Interior Doors
Wood stain is extremely popular to finish new interior doors since it renders a warm, classic look that adds to the charm of living in bungalows and villas. Stains are quite often used for solid wood doors, with adequate wood grain and in a variety of colors. Depending on the material being selected, you can ask for recommendations on appropriate stains for specific materials.
A simple paint finish is an outstanding approach to add a dash of color and charm to interior doors and even to get them aligned with the harmony of your abode. Homeowners often paint their doors to mirror the contemporary feel or even in a traditional sense to match existing décor or wall colors. Many hollow-core doors are painted with a white base, which necessitates that owners also paint the interior doors with colors that are aligned with the overall décor of the house. Check with your door manufacturer and get the right finishing options based on your choice of door.
Interior doors should capture the home's character and further establish the first impression, visitors make about the home. Not many are aware of the art of choosing interior doors based on their décor.
For a classic design, one would fuse aesthetics and practicality with no-nonsense hinged doors and used in bedrooms, bathrooms, and kitchens. Hinged doors fit the classic interior theme since one can leverage several possibilities in the realm of old-world aesthetics, without being flashy or tacky in choices. The surrounding classic décor demands that these doors are outfitted with classic elements including grilles, glass patterns, and the like.
Sliding doors made of glass and vinyls are perfect for modern interior doors design temperament and they are ideal to set functional house dividers while keeping true to the fluid vibe of the environs.
Pocket doors use sliding track for movement and work like chameleons of door species enhancing modern design's flowing quality.
Bypass doors have a panel's mechanism in place that folds panels onto each other, usually evident in bedrooms and closets. Those with mirror finish are known for their stylish appearance that aligns with eclectic room themes and patterns.
Folding doors are ideal for compact areas too and typically used for closets including living room or kitchen dividers.
The barn door is a simple pocket less door, surface-mounted and employs custom specialty hardware to enhance the look and feel of the entire set.
The style of doors and settings is the key of home improvement. Although these are limited options, one can experiment with colors, decors, patterns, and textures to blend interior doors to give every homeowner an idea on how to mix and match interior doors with their chosen home style.
Choosing Doors from Emerald Doors
Step into a world of excellent doors where you can choose doors to your liking and your preference for best and cheap internal doors. Emerald Doors offers a plethora of timber doors that can elevate the character and class of any setting including a home, office or any other space. The company presents a number of stylish and trendy doors with several design features aligned with diverse structure and character.
What's more, the company deals with a lot of robust, durable and high-quality doors, which offers a blend of both function and style. Check out solid, glazed or molded doors collection that suits all types of abodes and budgets.
Emerald Doors ensures that you have perfect internal doors that suit all settings, tastes, and preferences. Also, all the doors can sport numerous styles and finishes, which can prove to be an enormous difference to the entire décor. If you prefer stylish oak internal doors you can get them carved in a contemporary setting. Or you can get one tailored internal door that blends in with a unique décor that demands numerous finishes and sizes.
Glazed internal doors, on the other hand, allow a lot of natural light and create space; and internal bifold doors are perfect for homes with large spaces. You can find different types of interior doors include a variety of contemporary doors, fire doors, and dividers based on your interior home plan. The company also provides size variations of doors beyond the standard door sizes too.
Some of the door sizes that are in demand are wardrobe doors and common internal door sizes that are prevalent in the UK. Emerald Doors also provides metric sized internal doors with huge door heights of 2040mm and thickness of a staggering 40mm.
Benefits of the Internal Doors from Emerald Doors:
Low costs involved in all internal and external doors with no compromise on quality
Great Noise Insulation Features within the acoustic range of internal doors with incessant noise reduction and seamless architectural lines.
Internal doors from the collection can include a large number of single or double doors with hinges or sliding mechanisms based on customer requirements.
They create internal bi-fold doors that act as great room dividers and work well in small spaces
We offer a number of latest designs to compliment the best interiors and decors.
The custom-made internal doors can feature glass and vinyl too, with the ability to suit your home décor in the best way possible.