&nbsp
Finding the right mirror for any room of your home is no easy task. Offering a way to extend your style, add light and make a space feel larger, mirrors have moved on from their original functional purpose to being a way to completely transform any room.
Finding a bathroom mirror for your home is the room where it matters the most. Functionality does need to take center stage in your decision, but you no longer need to sacrifice style for practicality. With many different shapes and designs, as well as advances in technology, your bathroom mirror can now serve multiple purposes, from being the only light source in your bathroom to being able to double as storage.
To get you on your way, let us show you some of our favorite bathroom mirrors at Luxe Mirrors.
Milan Metal Black Frame Bathroom Mirror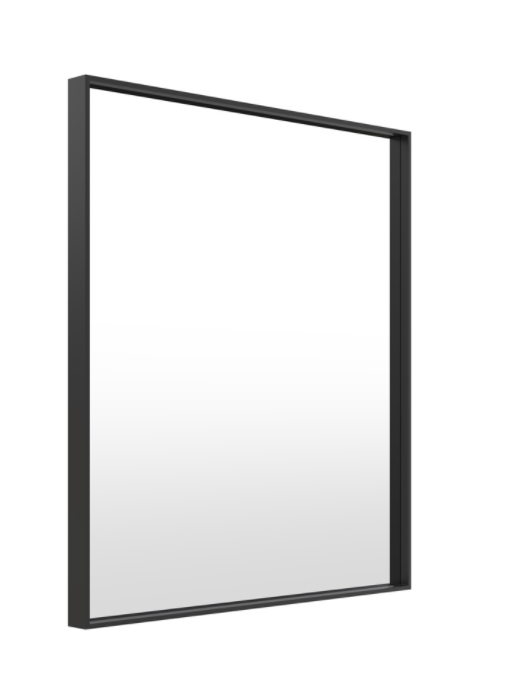 Available in one size – W750 x H900
When you picture a classic bathroom mirror, the Milan rectangle mirror is exactly what comes to mind. The sleek and clean-cut design can both stand out and blend into any space. Particularly at home in a modern minimalist styled bathroom, the black matte powder coat finish steel frame, that has been designed to last in the humid conditions of the bathroom, would be the perfect addition to bathrooms with black fixtures and fittings.
Able to be hung vertically or horizontally, a rectangular mirror generally has greater coverage than any other shape and this can be advantageous is capturing the natural light of your bathroom and making it feel larger than it is.
Also available in a curved corner design, the Milan Metal Black Mirror Range can be viewed here.
Classic Black Frame Round Mirror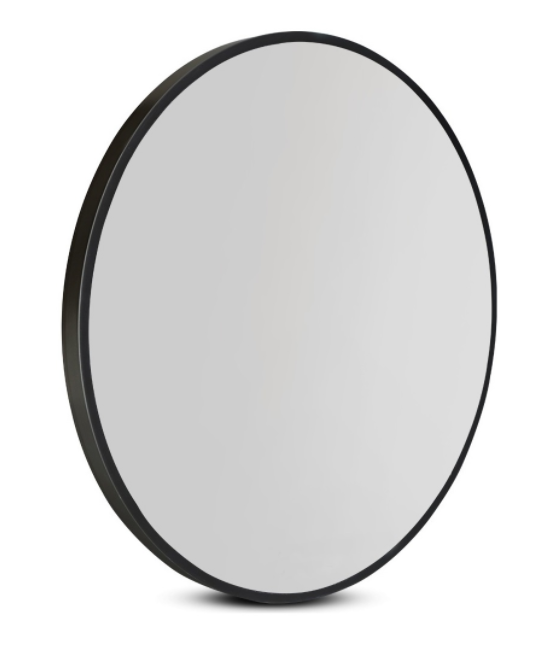 Available in 4 sizes – 50cm/60cm/70cm/80cm/90cm
If you're looking for a mirror that will never be out of style, the classic black frame round mirror is a great option.
With a thin wood frame, the design of this mirror is simple, creating an understated classic look, with the frame complimenting any space, rather than overwhelming it.
A round mirror has long been a favourite in bathrooms as it is not only practical but can draw the eye, making it a focal point of any room. In bathrooms that are more modern in design, a round mirror also creates a touch of softness to the space, while also maintaining the modernity. Conversely, a round mirror can also accentuate curved designs that can be present in your bathroom as well, making this shape mirror extremely versatile for any space.
Offering perfect clarity, the classic black frame round mirror has been made with second to none craftsmanship and silver-plating technology, making it a mirror that will stand the test of time.
Signature Susan Polished Bevel Edge Bathroom Mirror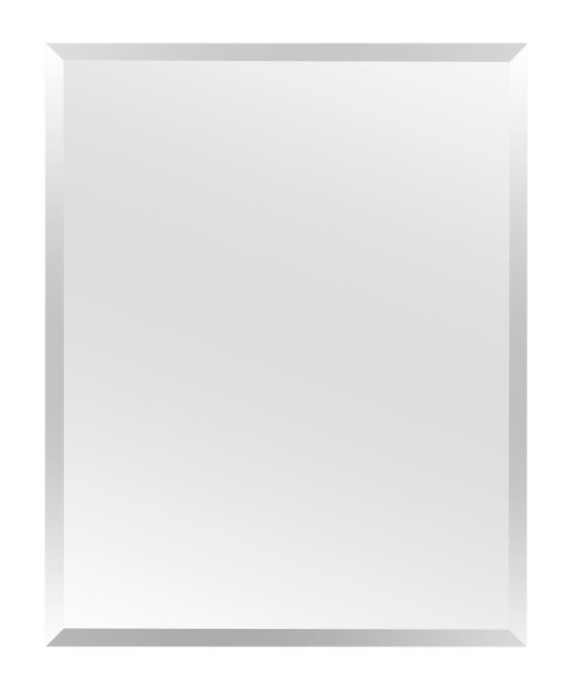 Available in 6 sizes – W600 x H750/ W600 x H900/ W750 x H750/ W900 x H750/ W1200 x H750/ W1500 x H750
If you're looking for a balance between a framed and frameless mirror, the Signature Susan Bevel Edge Bathroom Mirror may be exactly what you're after. The bevelled edges are a subtle way to make a statement, without the commitment that comes with choosing a frame colour and style. There is also an air of elegance that comes with a bevel edged mirror that is hard to replicate in other styles.
The Signature Susan mirror is made from 6mm Viridian silver, as well as copper-free Australian glass, and a vinyl backing which creates high quality polished mirror that would be at home in any bathroom. Able to be hung vertically or horizontally, depending on your space, the beveled edges add to that polished feel with a touch of sophistication.
Signature Tyler Polished Edge Round or Rectangle Bathroom Mirror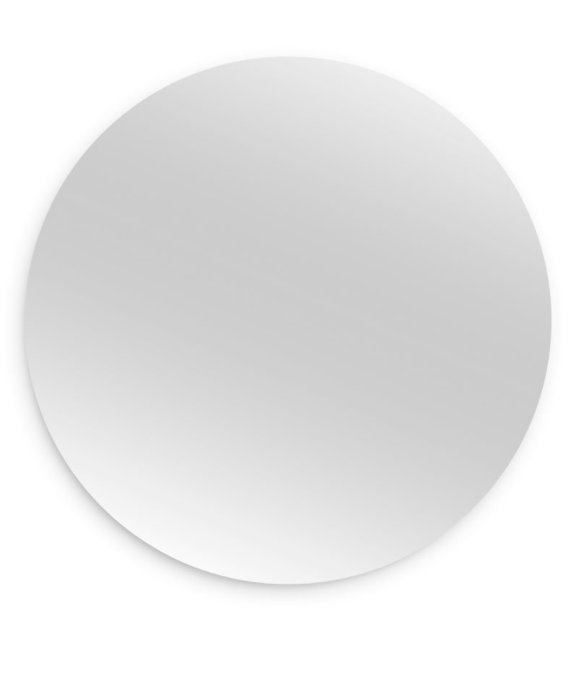 Available in 5 sizes – 400mm / 500mm / 600mm / 700mm / 800mm / 900mm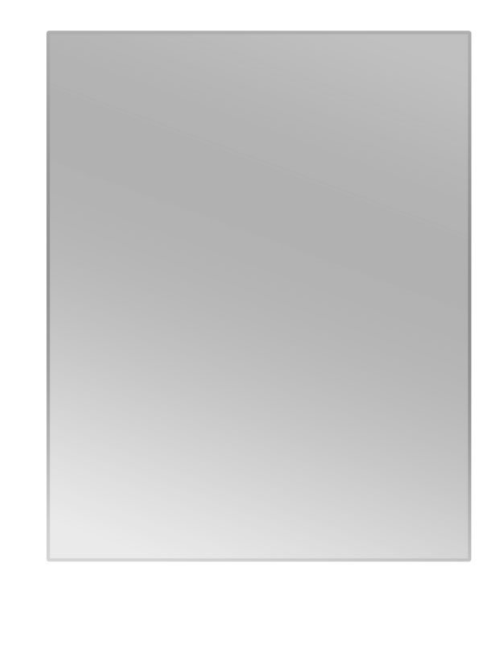 Available in 6 sizes – W1200 x 750H / W1500 x 750H / W600 x H600 / W600 x 750H / W750 x H750 / W900 x H750
Available in both round or rectangular shapes, the Signature Tyler Polished Edge bathroom mirror range is one that will work in any home, no matter your décor or aesthetic.
The polished edge of the Signature Tyler range provides a minimalistic feel to the mirror and depending on the design of your bathroom, this mirror could easily be the focal point with it's precision edges and simple design, or blend in well and compliment the décor of your bathroom.
Made using 6mm Viridian Silver, and premium quality copper free Australian glass, these mirrors are moisture and corrosion resistant, meaning that while they might look simple from afar, they are built to last.
Unlike a traditional framed mirror, the polished edge of this design provides an almost endless feel as it isn't cut off by a frame which can aid in capturing the light in your bathroom while also complimenting the aesthetic of any bathroom design.
Whether you opt for round or rectangular, the Signature Tyler Mirror will remain a classic and appealing option for your bathroom.
Round Single Door Cabinet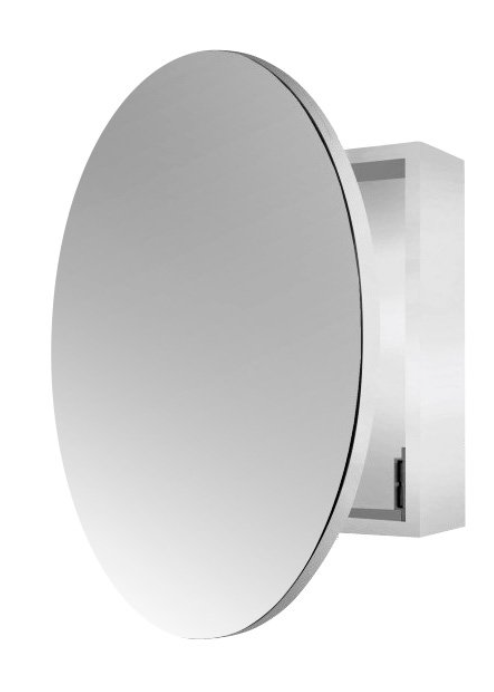 Available in one size – (Mirror) 60cm Diameter, (Cabinet) 40cm Width x 40cm Height
There is no faster way to start an argument than someone using all of the available storage space in the bathroom. The best way you can overcome this is by making your bathroom mirror serve double duty, just like the Round Single Door Cabinet Bathroom Mirror.
This mirror can solve all your small bathroom or lack of storage woes easily by not taking up too much space while also providing a concealed storage cabinet behind it. Made from laminated moisture resistant particle board, the cabinet is a great place to keep your personal items close by but out of sight. It also features an adjustable shelf to cater for whatever you wish to store in there.
The mirror itself is made from premium Australian materials and perfectly hides the cabinet behind it, and with a simple minimalistic design, this mirror is right at home in any bathroom, able to blend in easily. Its round shape can also be somewhat of a focal point in the right bathroom. So when you're short on space, a mirrored cabinet is the perfect option for your bathroom.
Rear Soft Glow LED Backlit Rectangle Bathroom Mirror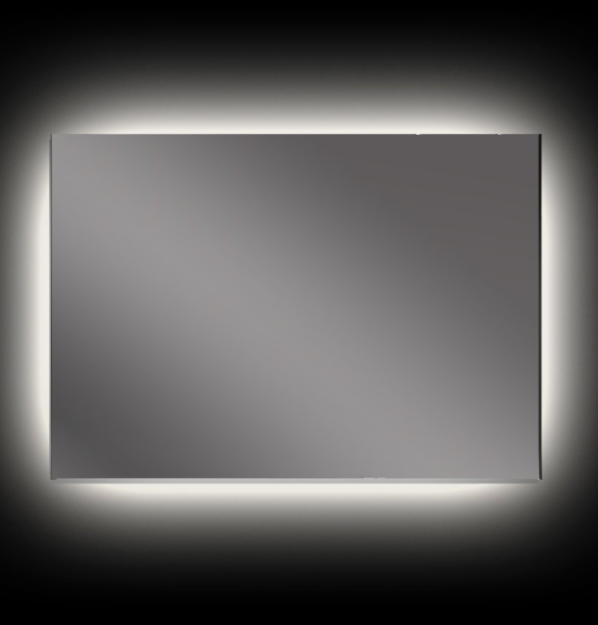 Available in 2 sizes – W900 x H700 / W1200 x H800
A backlit mirror is the perfect option for those bathrooms that don't have a lot of natural light. With LED lights enabling the backlit effect, this mirror is where practicality and design is at its best. With modern meeting traditional with the rectangular shape, the backlight compliments the mirror by providing a glow that not only enhances light but creates a halo like effect around the mirror, while the traditional rectangular shape is incredibly practical with a wider visual scope.
The frameless design of this mirror makes it one that can both blend in and stand out, and being backlit means that if your bathroom does suffer from a lack of natural light, your mirror will still be functional, and with different light settings available, you can use the backlights to enhance or create a mood for your bathroom.
A backlit mirror can also be the only source of light in your bathroom, and this works especially well in a smaller space, so you don't need to compromise on space to include light fittings.
Rear soft glow oval LED backlit mirror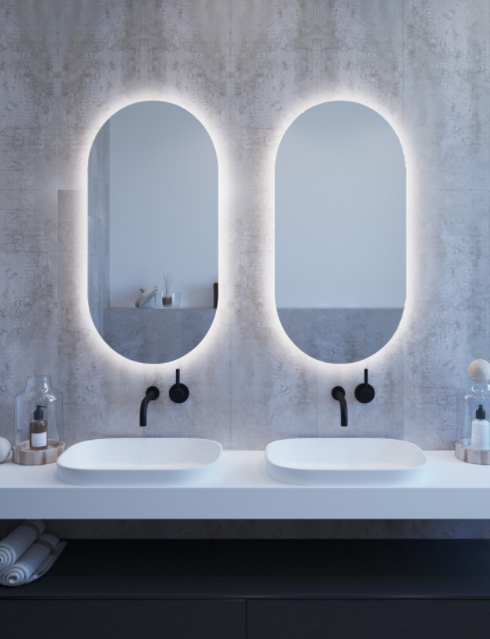 Available in one size – W500 x H1000
Made for the person who wants to add a modern touch and make the mirror the real focal point of their bathroom, the Rear Soft Glow Oval LED Backlit Mirror is the perfect option.
With a clean-cut and futuristic feel that a backlit mirror can provide, the curved and modern shape of this design is one that will stand out in any bathroom. A true mix of round and rectangular, the oval shape might stray slightly from the traditional but not too far.
Like all backlit mirrors, this mirror can be the only light source in your bathroom if you are short on space, or it can be used to enhance or create any mood of your space. The LED lighting also ensures that the energy use of these mirrors is low.
The rear soft glow oval led backlit mirror is also fitted with demister pads, which ensures that no matter how steamy your bathroom might get, the mirror will stay crystal clear and fog free.
With so many designs, shapes, and features available, choosing your next bathroom mirror can seem challenging. Let the team at Luxe Mirrors help you out with their guide to choosing a bathroom mirror. Full of expert tips and advice, they can help make the job a lot easier.