Apartment Interiors Giving Calm Vibes Along With Some Quirkiness | Hem & Associates
Visit : Hem & Associates
Design of this beautiful and airy 2100 sqft apartment perfectly reflects the personality of the client. Use of bold color pop ups in the drawing room is toned down to a cozy and warm family living space and finally calm neutral tones in bedrooms. All the furniture has been designed in modern style. The choice of colors gives it a very quirky look.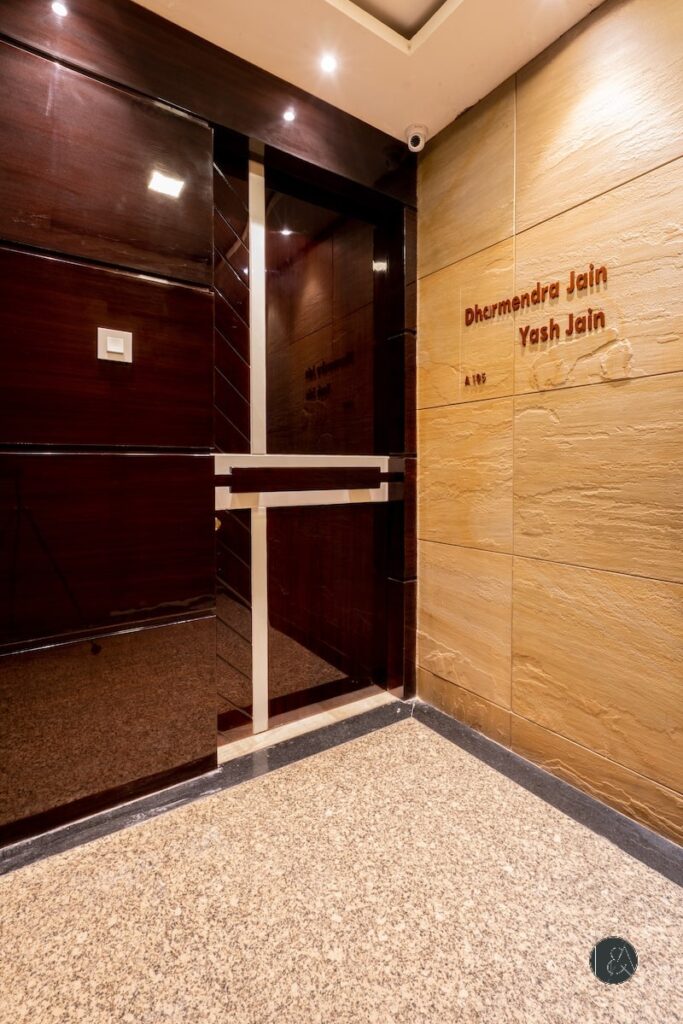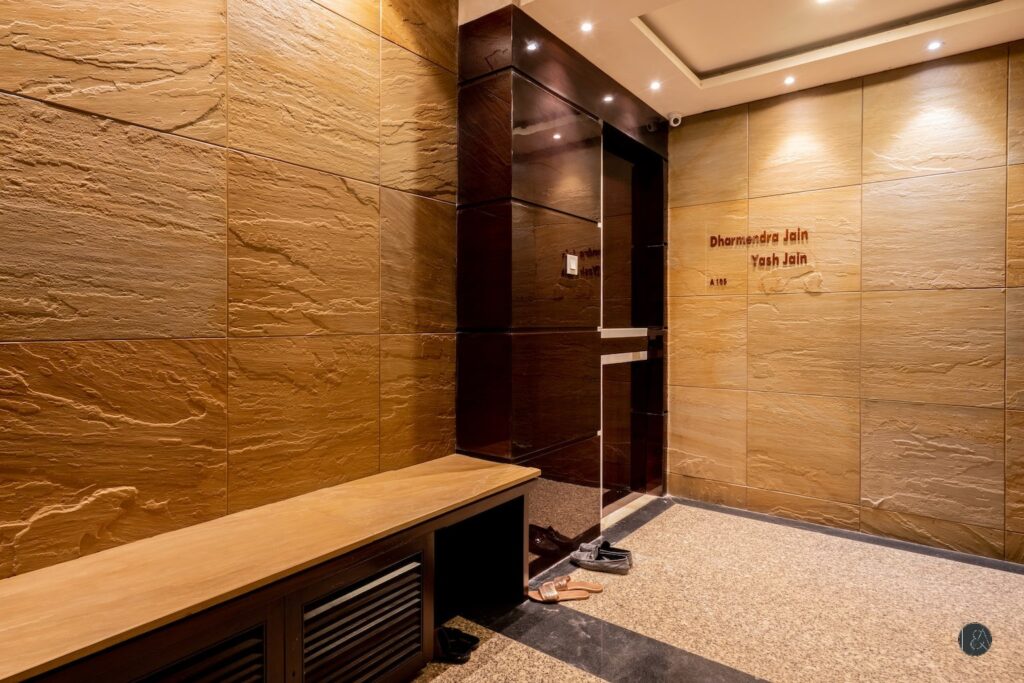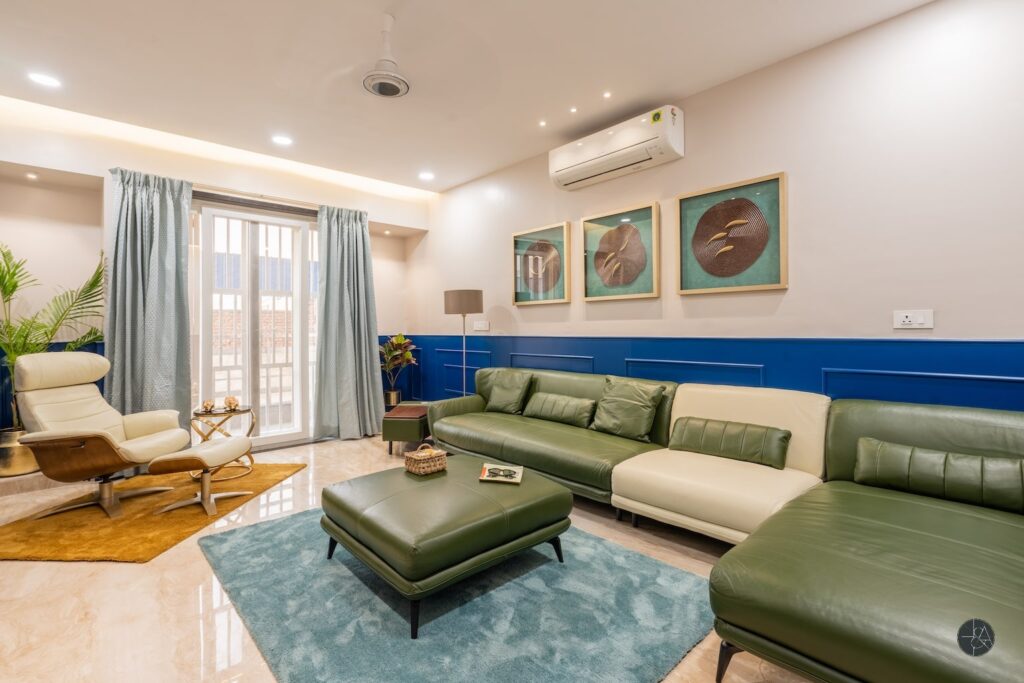 Lalitpur Yellow Sandstone acts as a perfect backdrop for the magnificent high gloss entrance door. In entrance foyer sits a calming brass Buddha over a custom-made turquoise console table contrasted by a navy-blue wall paneling. The unique and luxurious blue paneling is the common feature in the entrance, drawing room and living area for smooth visual transition between the spaces.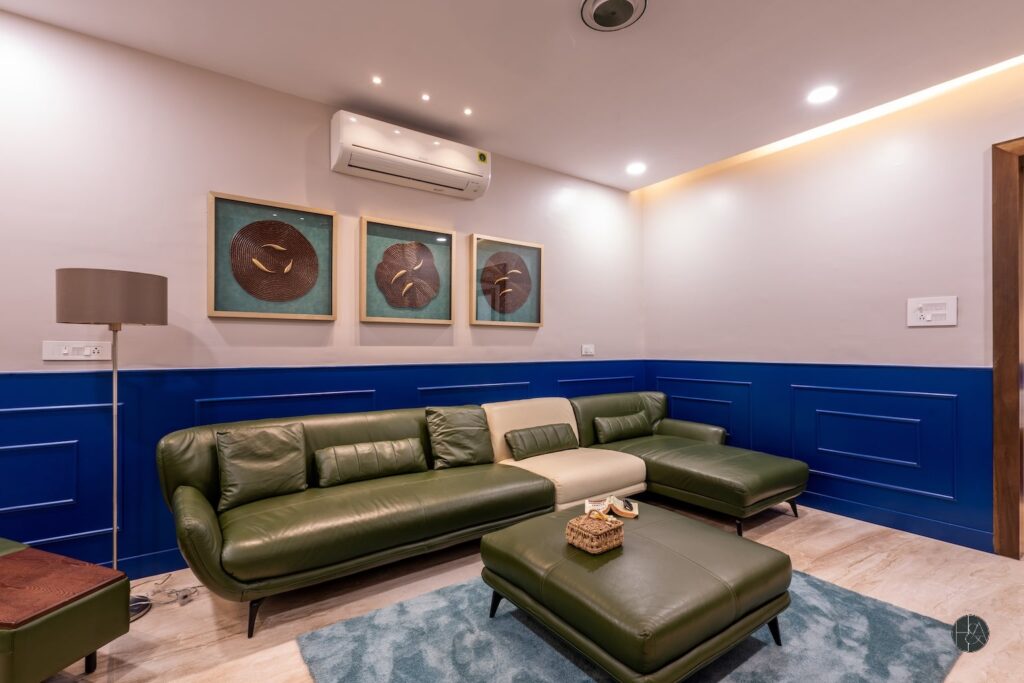 Kitchen has been kept all white to give it a very clean look. The green color tiles add depth to the space like a dream. The materials used here are White Nano Granite on Kitchen Top and 6mm White Acrylic laminate on the furniture.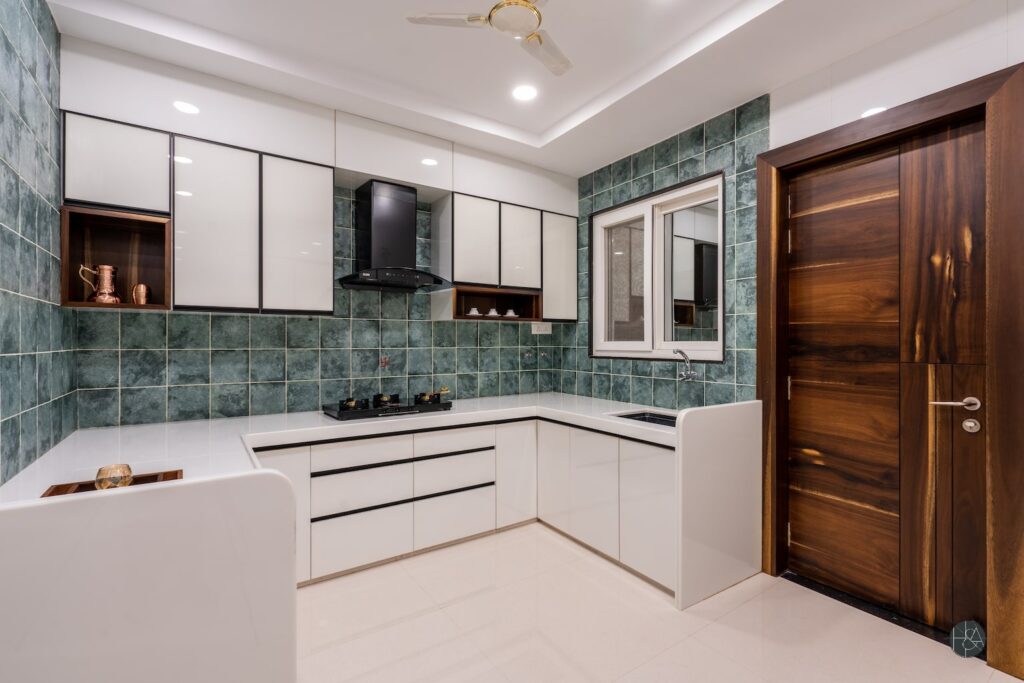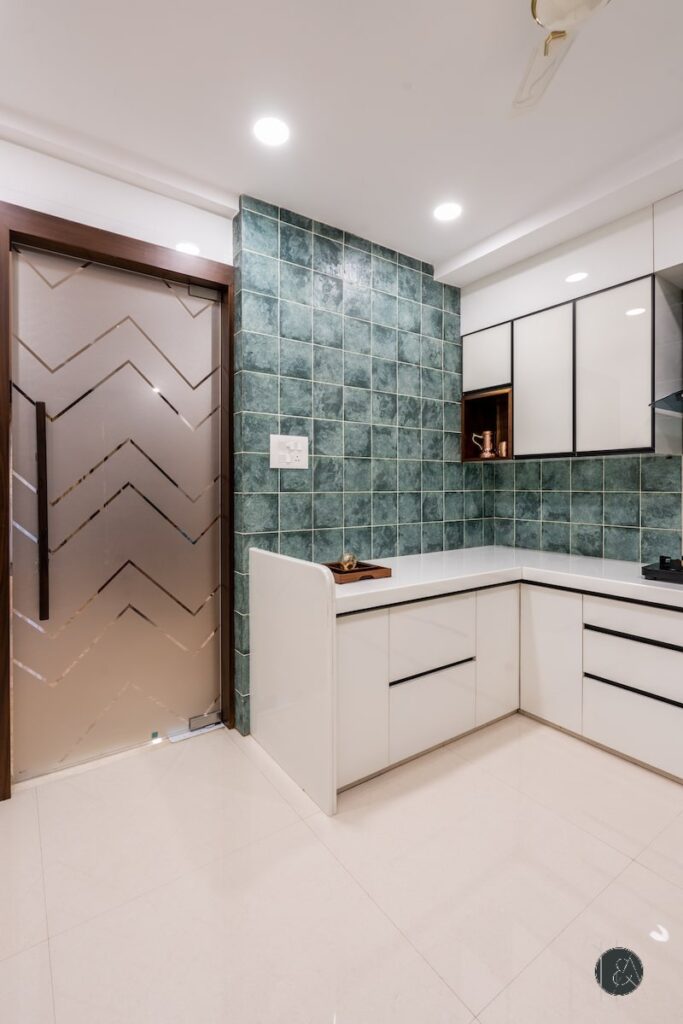 Today's time demands customisation in each and every corner so the designers took a mix and match approach. Designers curated furniture and accessories from the best stores in Central India, all perfectly fitting the client's requirement of comfort and uniqueness. The furniture successfully creates a perfectly modern and luxurious environment. The designers took customisation to next level by getting each and every piece of artwork done by local artist from Raipur. The resin dining table is custom made by a start-up in Nagpur. It perfectly complements the combination of walnut colored furniture and nano white tops.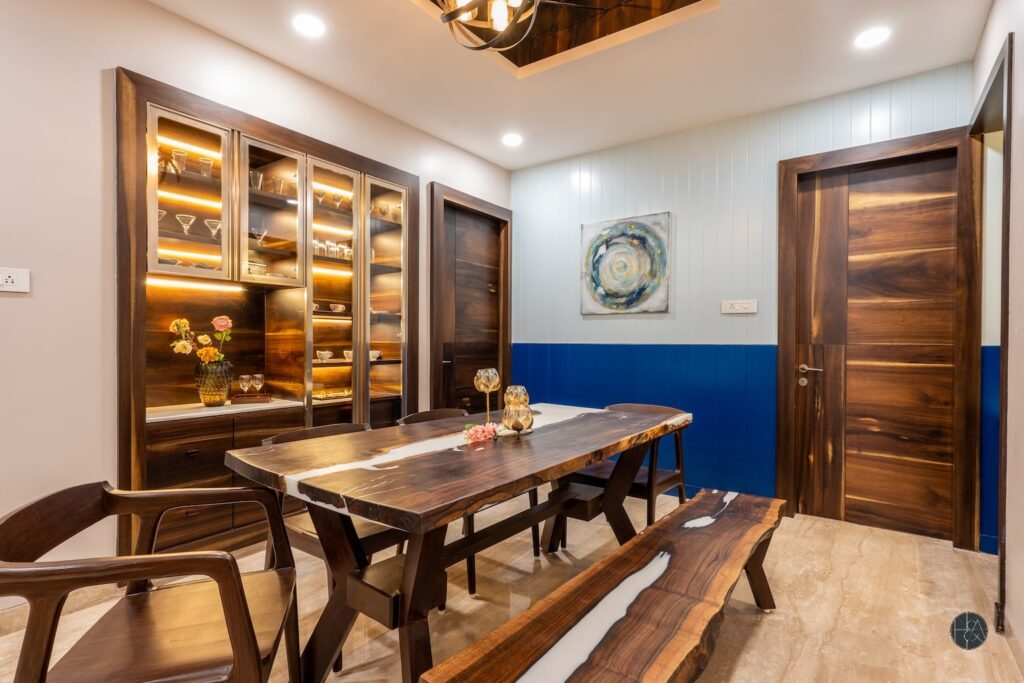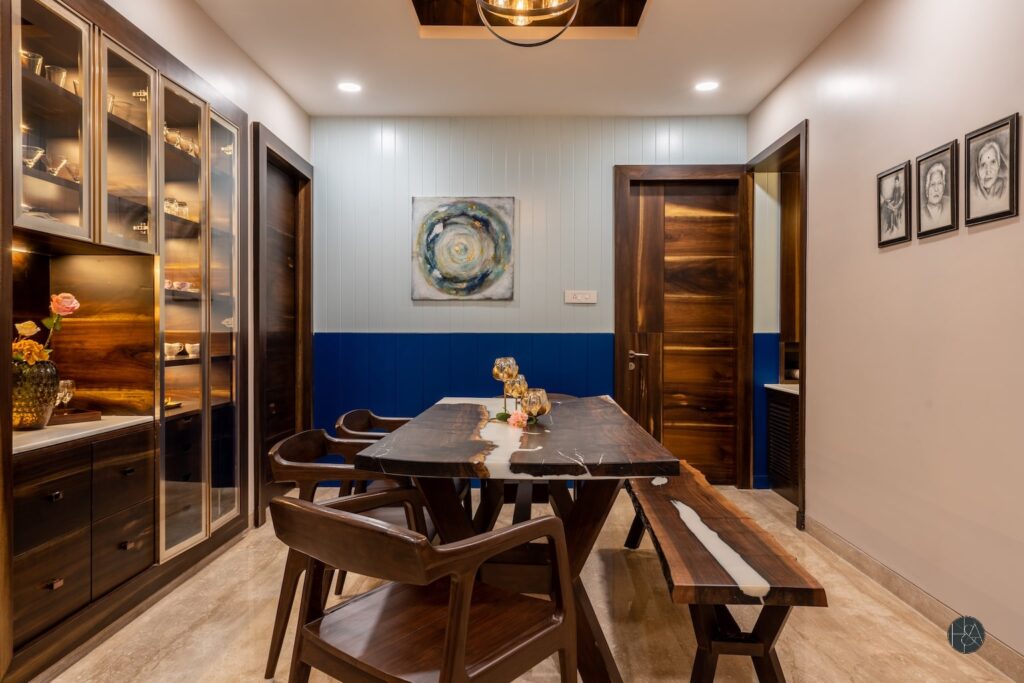 Pooja Area is carved out in north east corner of the living room, cladded with a marvelous sculpted sandstone curated from Jaipur.
All the individual bedrooms have been designed according to the personal taste of the end user.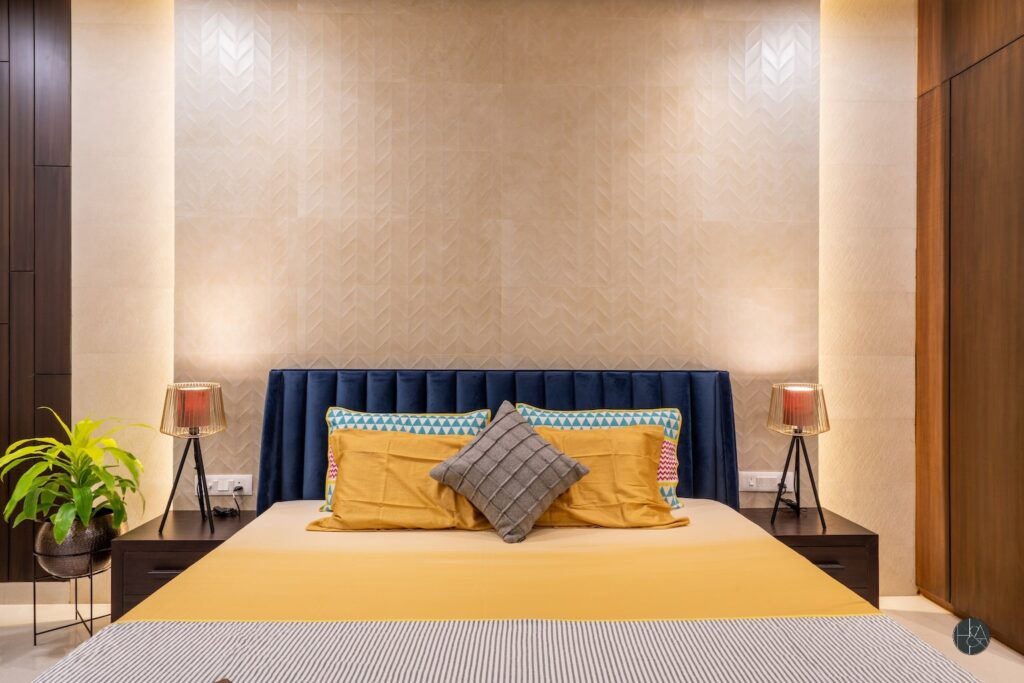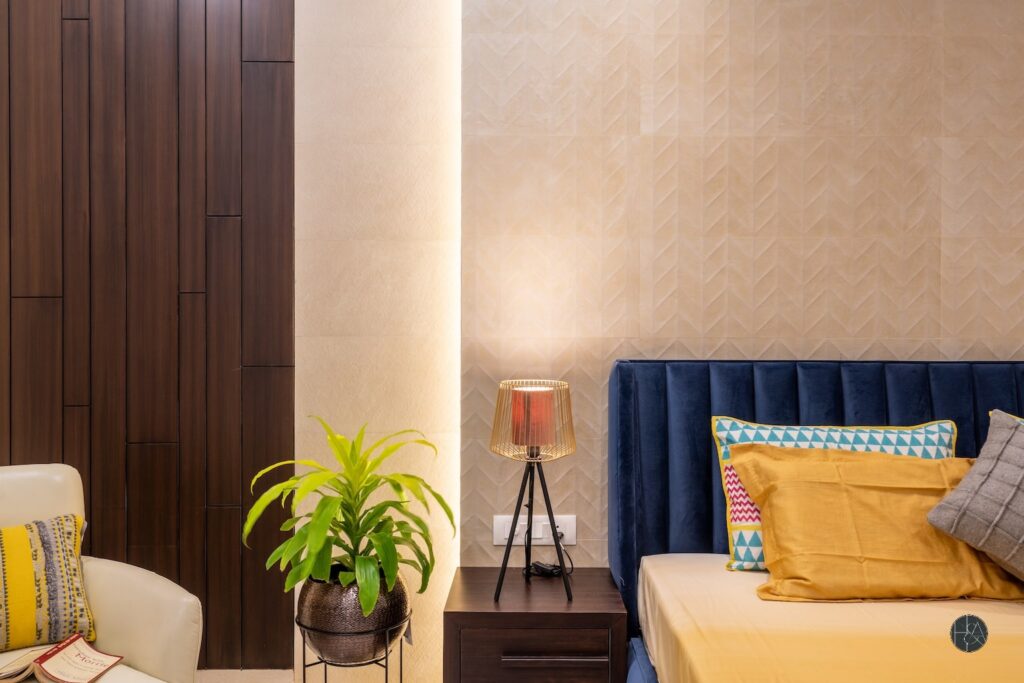 Master Bedroom is designed according to a very clear brief from the client to keep it as subtle as possible. The blue upholstery is the only color used in otherwise very neutral tone. Textured tiles have been used on the background of the bed to add some depth.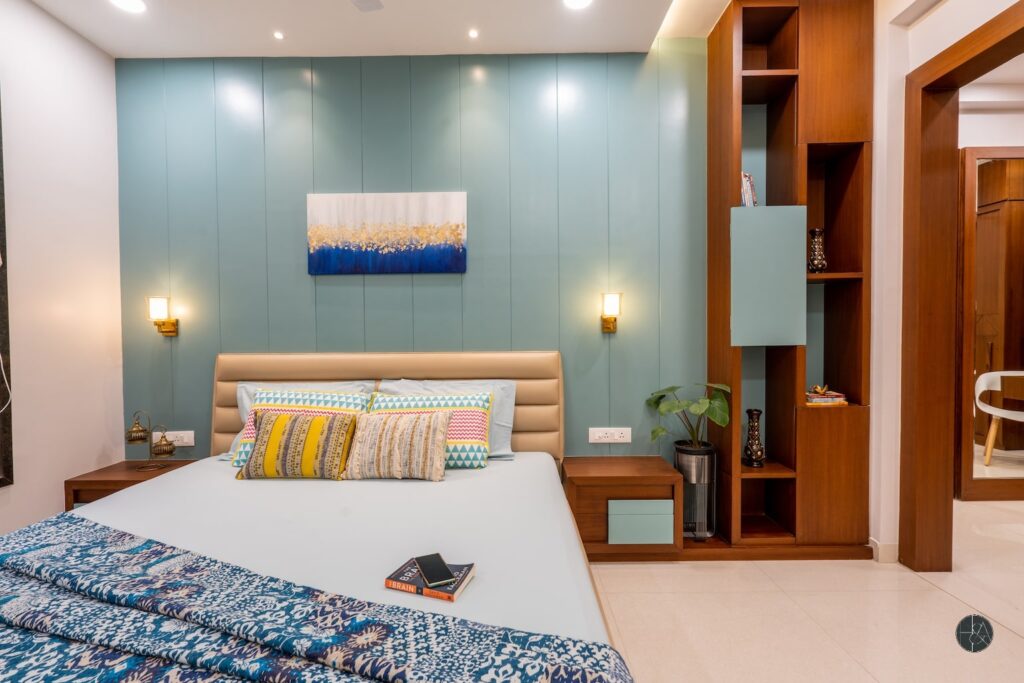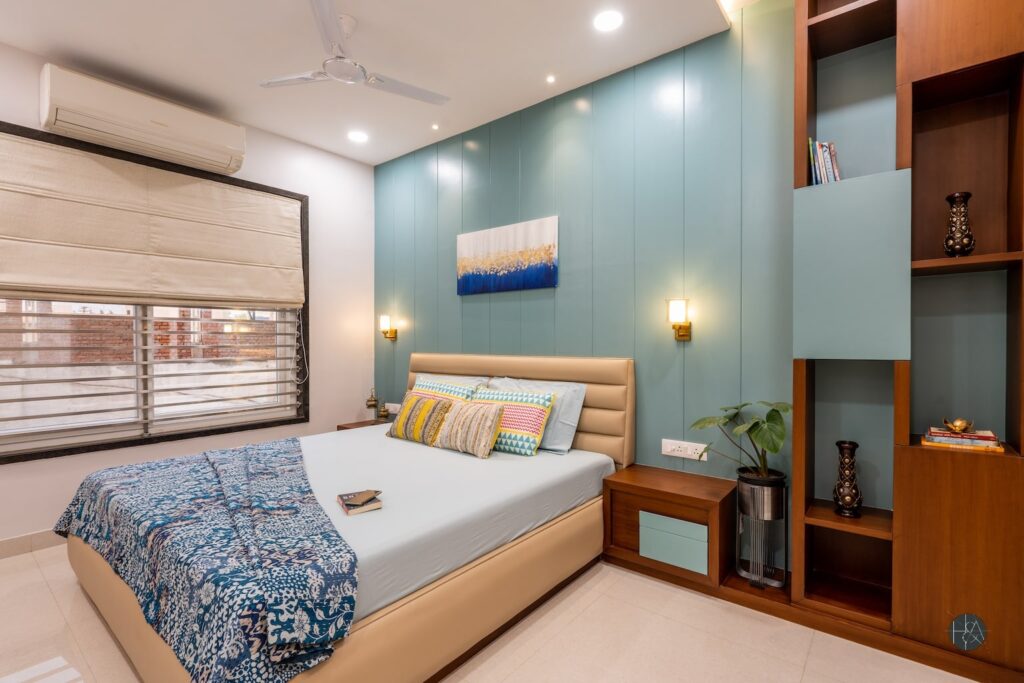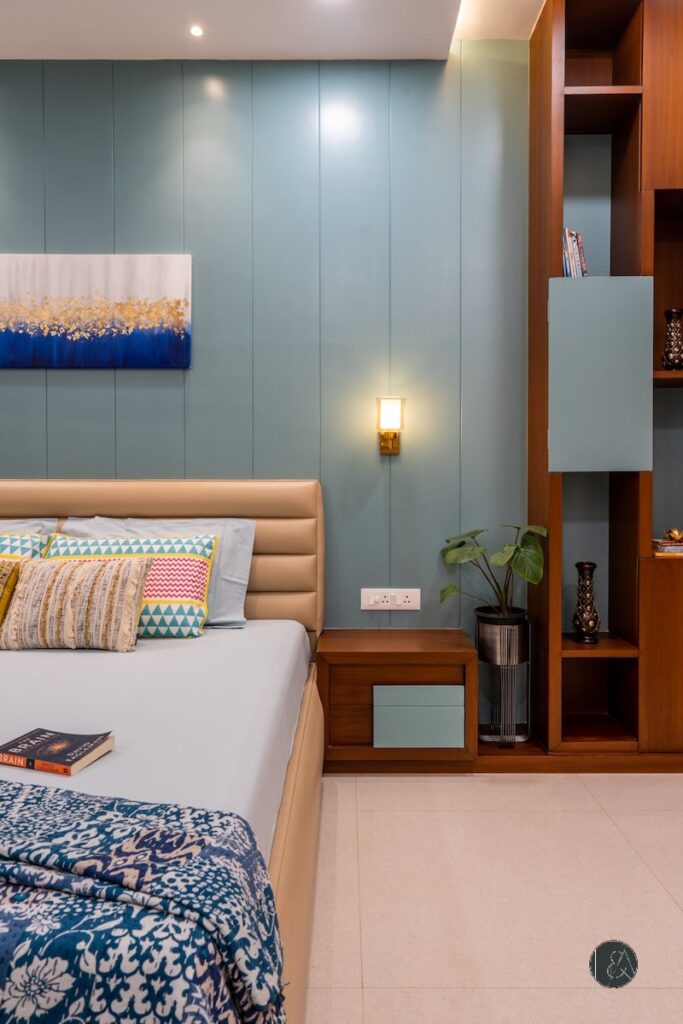 Son's bedroom uses turquoise blue linear panels as the background of the bed and drawer handles to give it a very modern and minimal vibe. The showcase sits perfectly besides the bed with mixture of wooden and turquoise colored shutters. The other part of the room incorporates a small study table and a low height sitting that can be used as make-shift bed for kids whenever needed.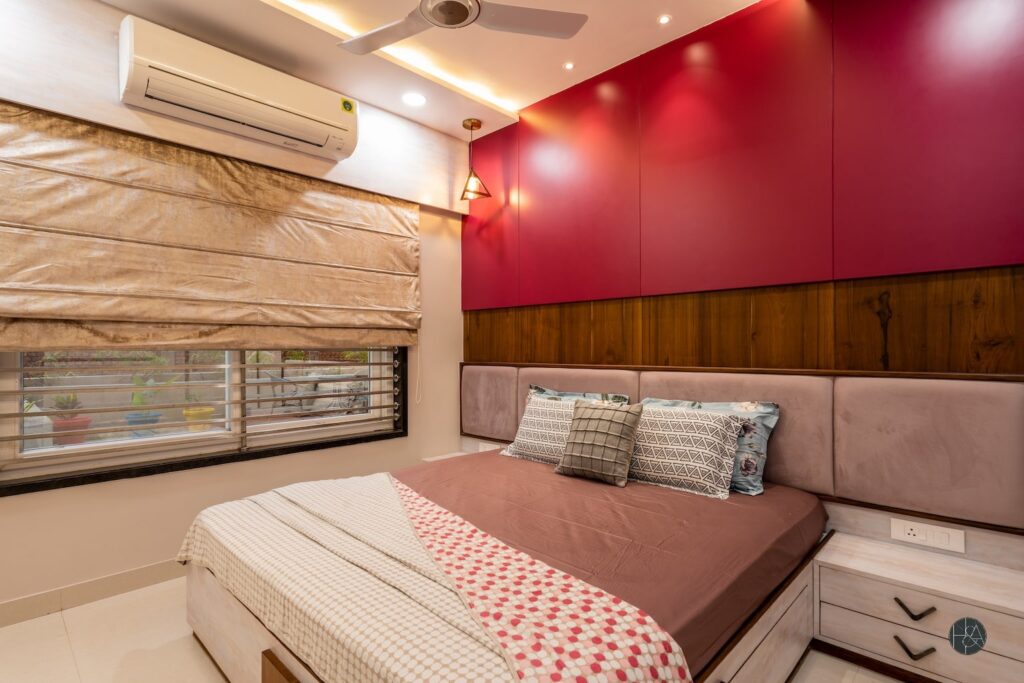 Daughter's bedroom has a very distinctive magenta colored bed back. The shelves amidst the wardrobe have also been finished with the same color. The theme flawlessly fulfills the design requirements of the user.
FACT FILE :
Designed by: Hem & Associates
Project Type: Apartment Interior
Project Name: Mehta House
Location: Raipur
Year built: 2021
Size: sq feet: 2100
Project Cost appx: 40 Lacs
Principal Architects: Prapan Jain & Divya Kochar
Photograph courtesy: Studio Anjor
Furnishings and Sofas : Lifestyle Raipur | Dining Table : Woodology  
Firm's Facebook Page : www.facebook.com/hemandassociates
Firm's Instagram Link : www.instagram.com/hemandassociates