Apartment Interior Exposing Bond Between Traditional Roots And Modern Minimalism | Arcon Associates
We recently completed the interiors for an apartment about 3600 sq.ft. Located in Pune. Our client Mr.Ravindra Katariya and Mangal Katariya wanted minimalistic interiors that would not only fulfill their functional needs but also satisfy the safety needs, social needs, self Esteem and self Actualization needs.
Visit: Arcon Associates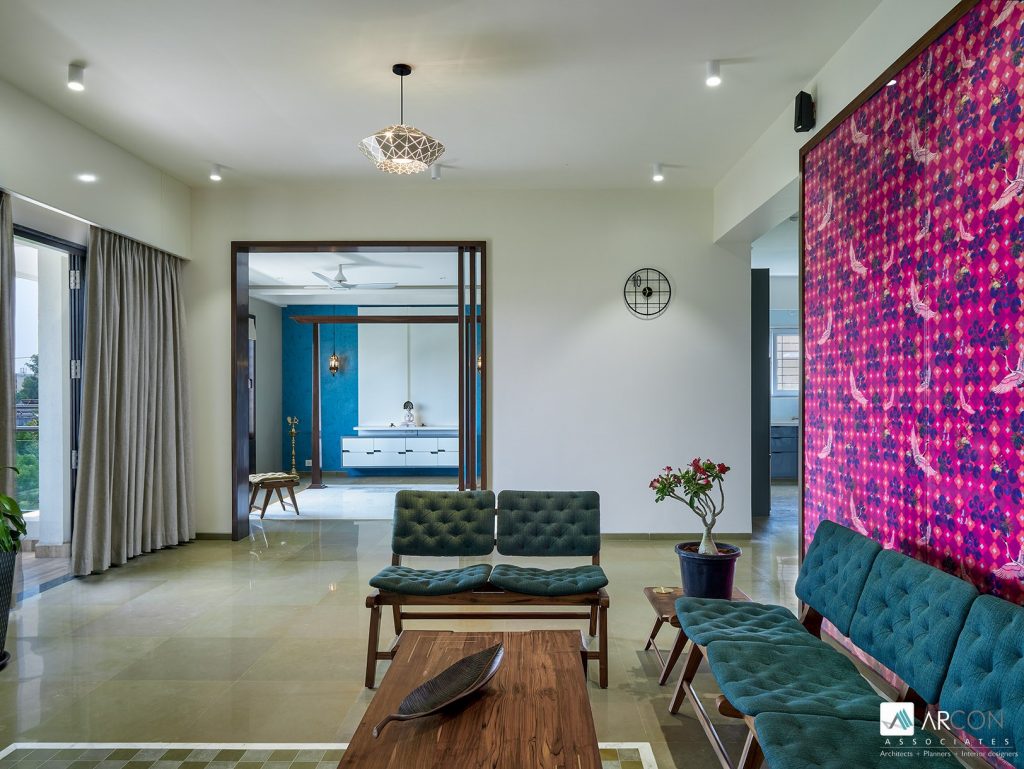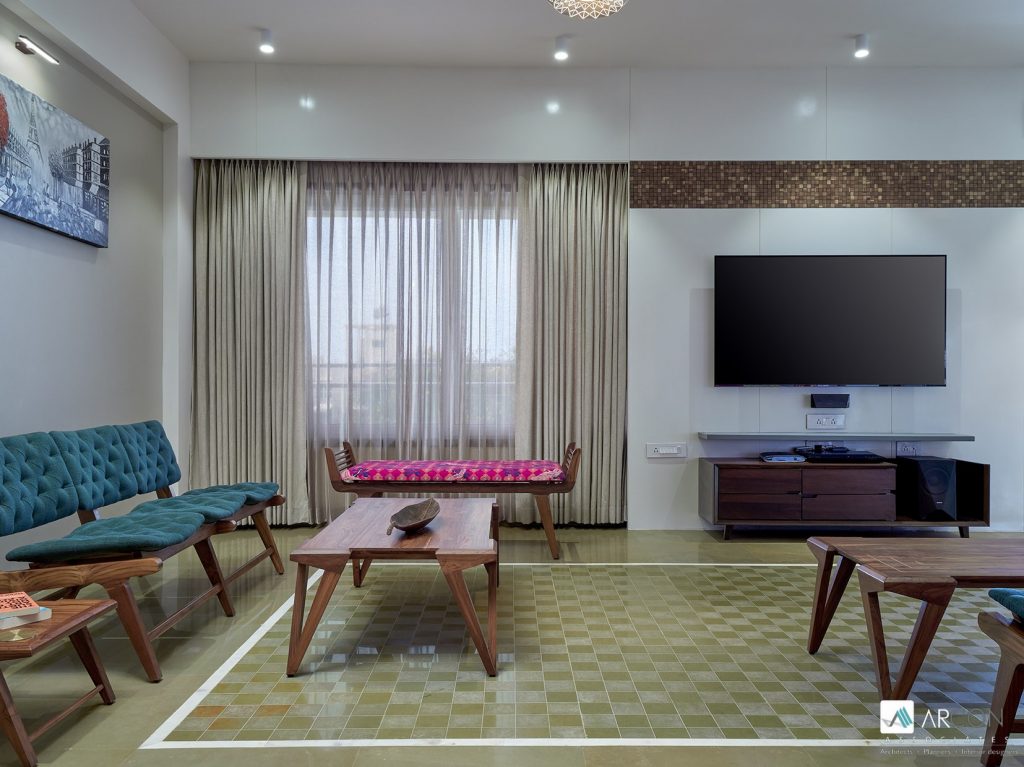 Continuous interaction with the client and understanding his interests , values, opinions, altitude and lifestyle helped evolve the Transitional Style. The design is a showcase of the bond between the traditional roots and the modern minimalistic lifestyle of the Clients. There's a sense of balance that's appealing and unexpected.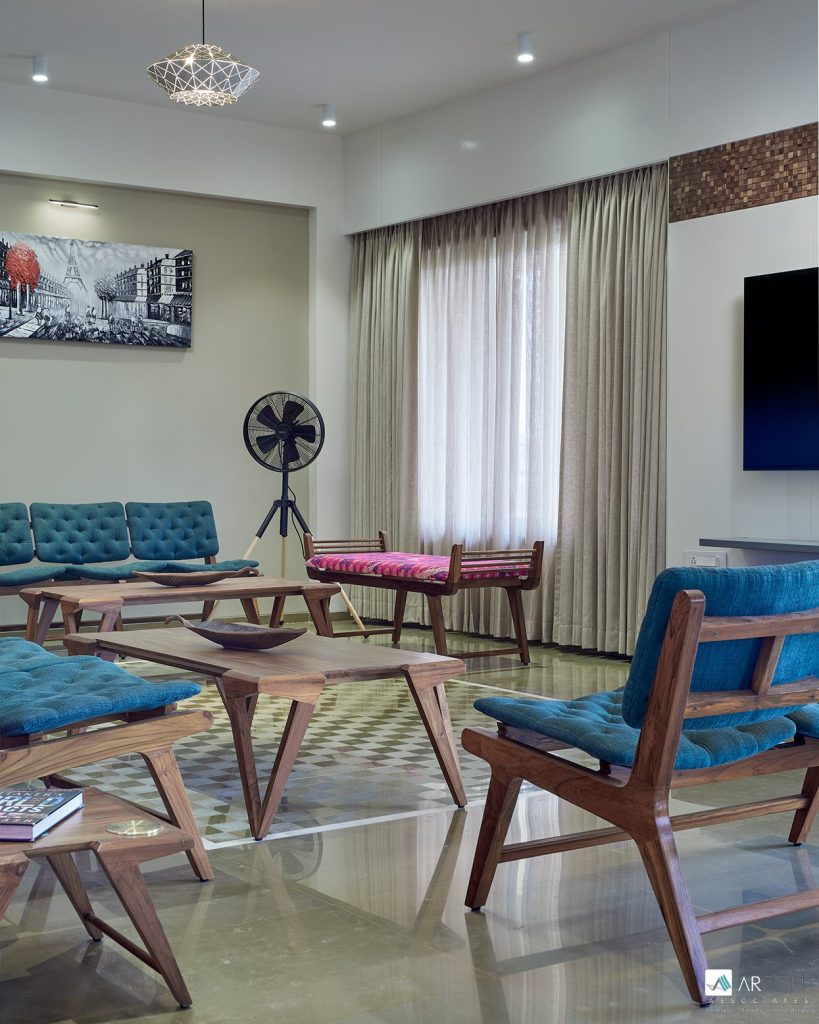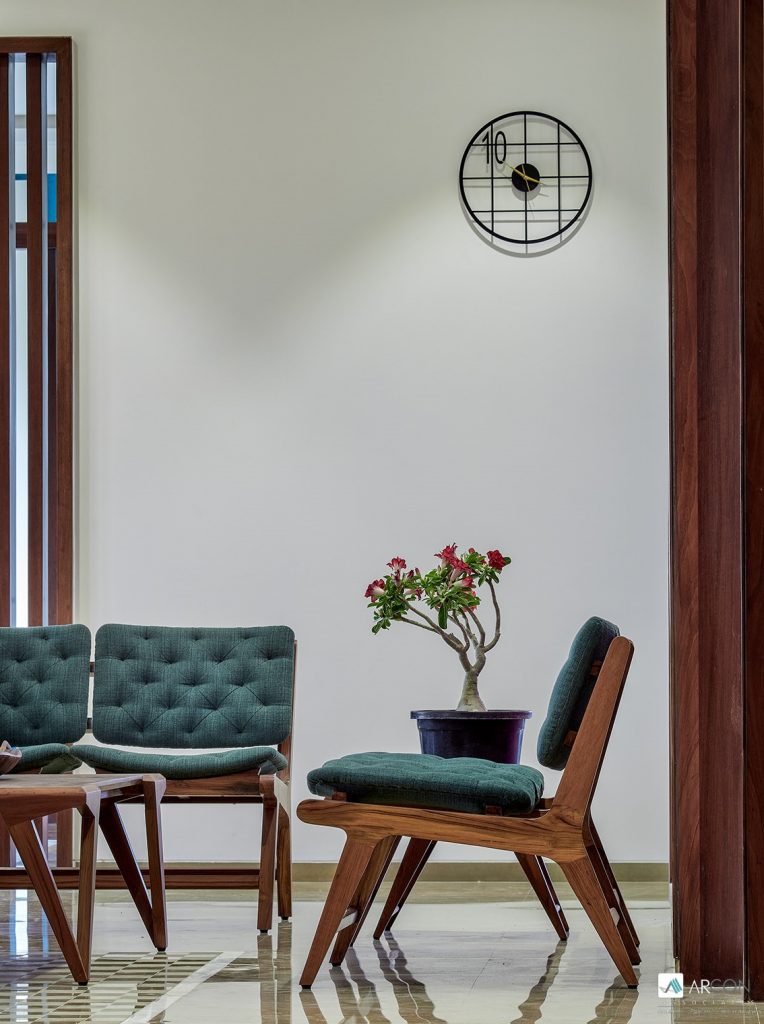 Maintaining the height by keeping the ceiling bare gives the feeling of grandeur. Use of simple track lighting in passages and cylindrical surface lighting enhances its volume. Use of natural yellow tandoor stone for flooring giving it a perfect vernacular Indian traditional wada touch. The Chequered Shahabad pattern in flooring is designed in a way to create an effect of carpet giving flooring a royal touch.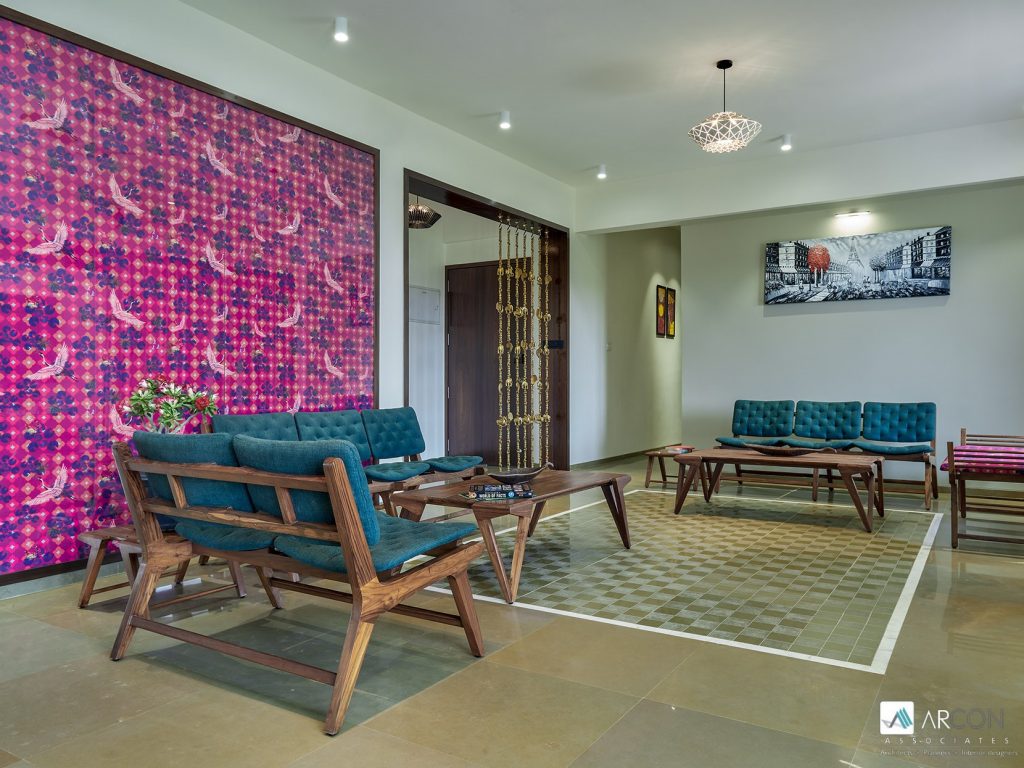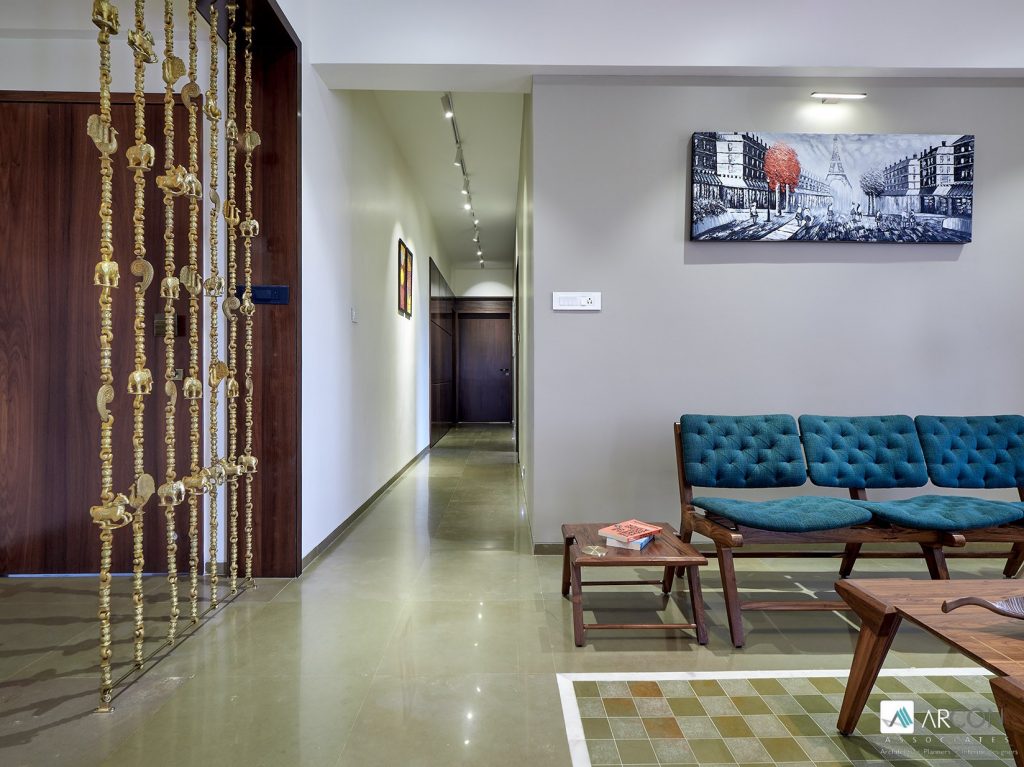 Elements in living room such as sleek sofa design; a small Diwan with a brass accent partitioning adds a perfect Indian look with a gig of a black and white painting giving it a feel of indo western culture. Use of Indian fusion style incorporating different texture such as wooden furniture, use of metal like brass and also bright upholstery with authentic indian artwork.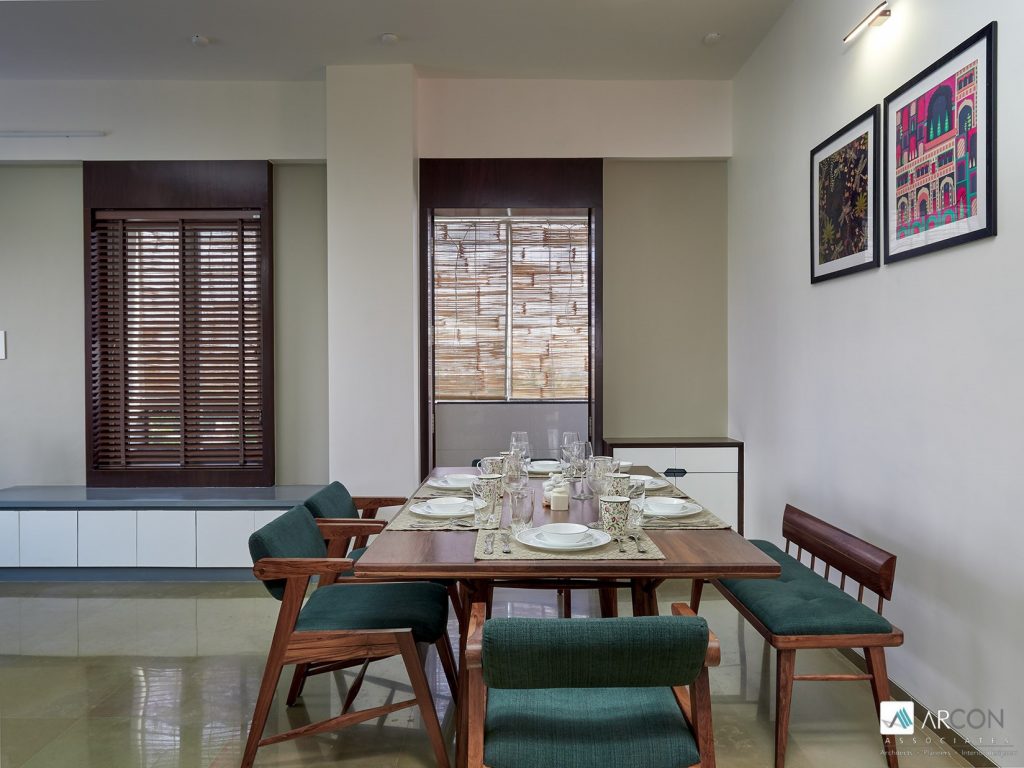 A place of worship within the house is a typical feature of Indian interior design. The design is as traditional as possible so use of marble inlay tile and wood.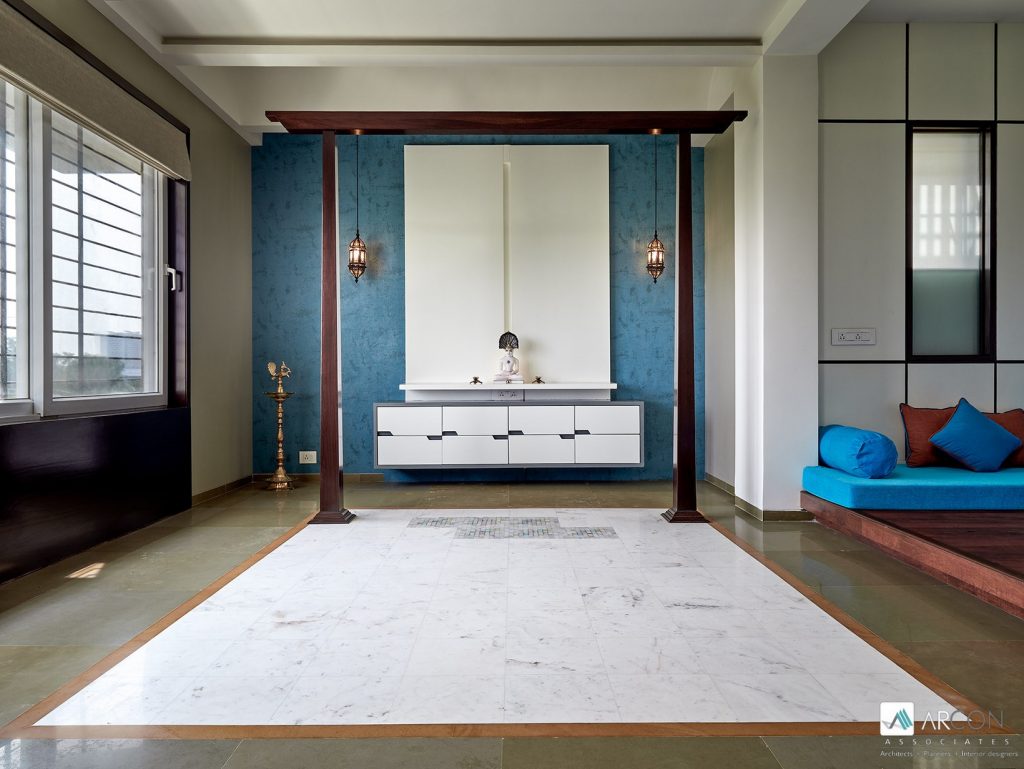 The Indian seating is a versatile informal space designed in a way that allows relaxed interactions. The low level seating with a bright color upholstery and wooden deck contrasting perfectly with the earthy wall paper texture making it the most beautiful focal point in the apartment.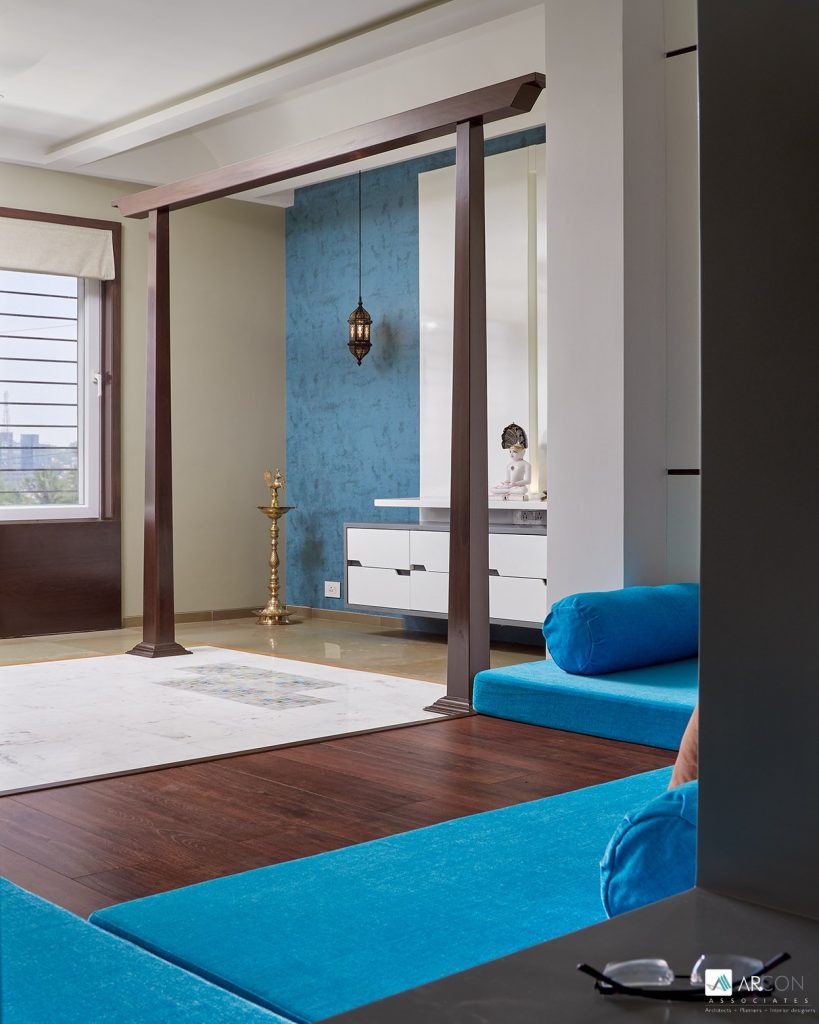 The master bedroom with vintage themed four-poster bed and a minty turquoise hue background panel perfectly complementing the white colour of the bed blending beautifully with yellow Jaisalmer stone.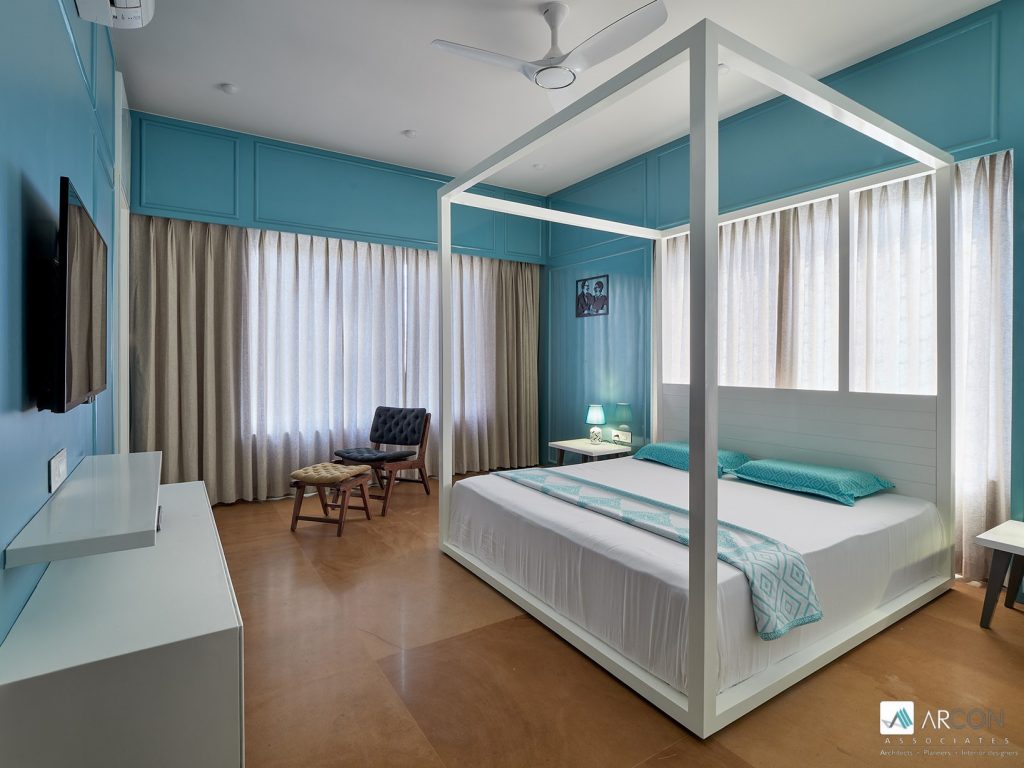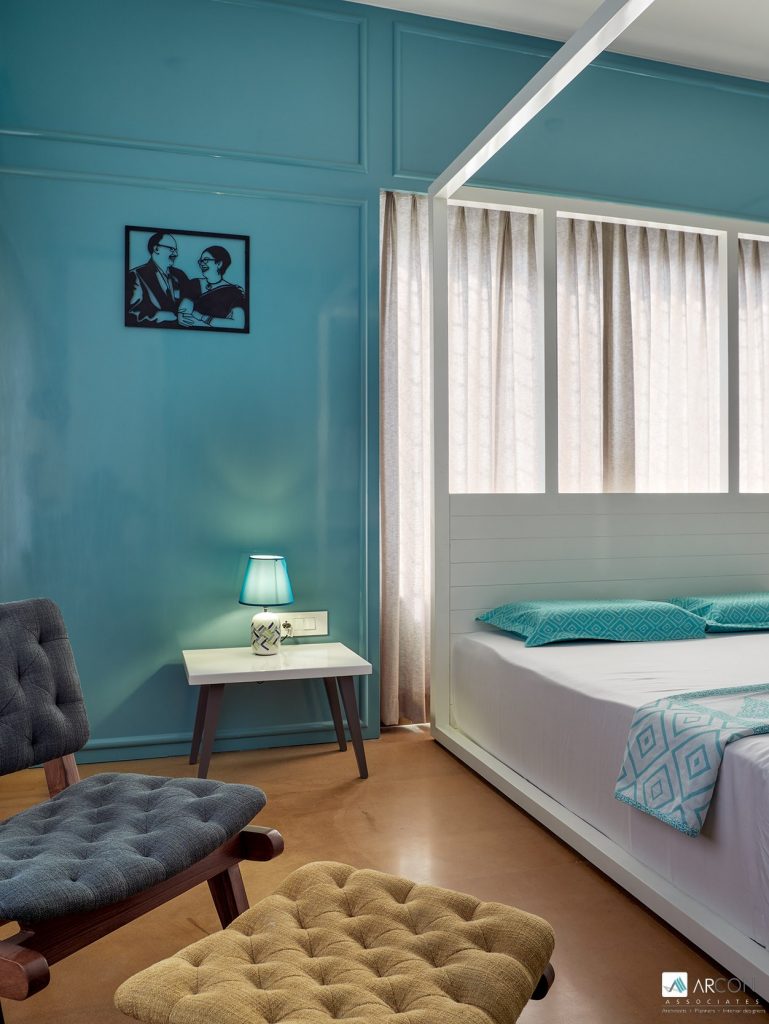 Daughters' room makes fantastic use of highly textured surfaces to breathe life into a relatively small space. Wood, exposed brick, and textiles come together to create a modern look with huge personality and an eclectic vibe.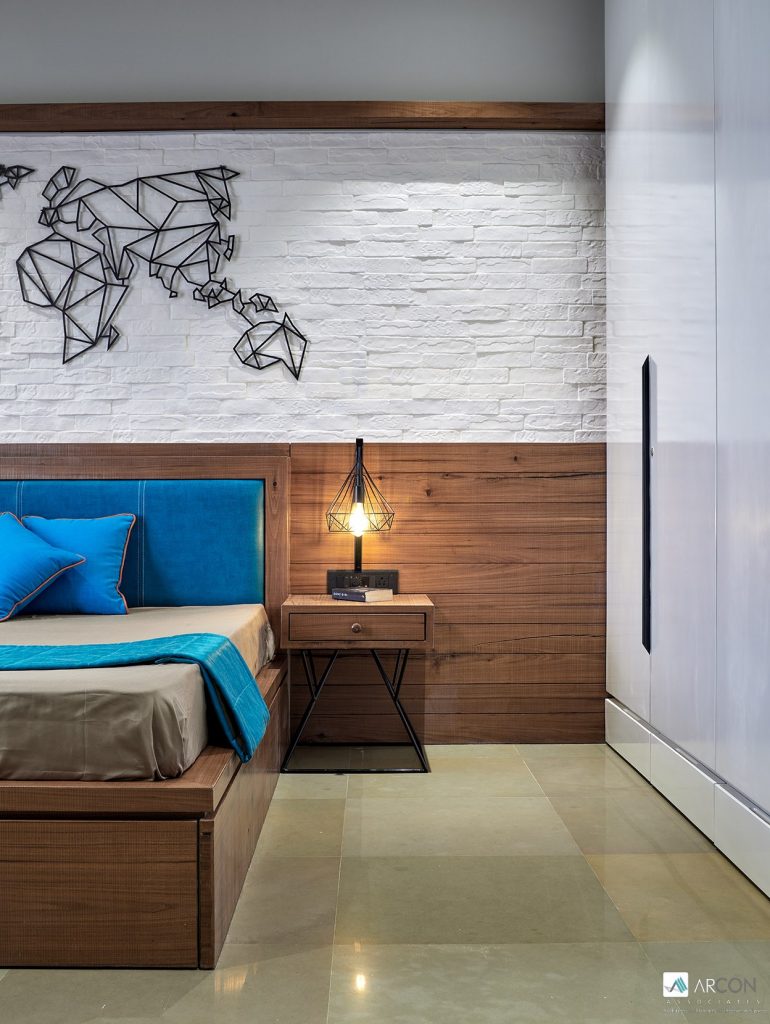 The mood takes priority in Sons' bedroom. Dark fabrics ensure the textural experience just as powerful as the visual one. Indirect lighting adds yet another layer of aesthetic complexity, casting complicated gradients across the silken dark walls.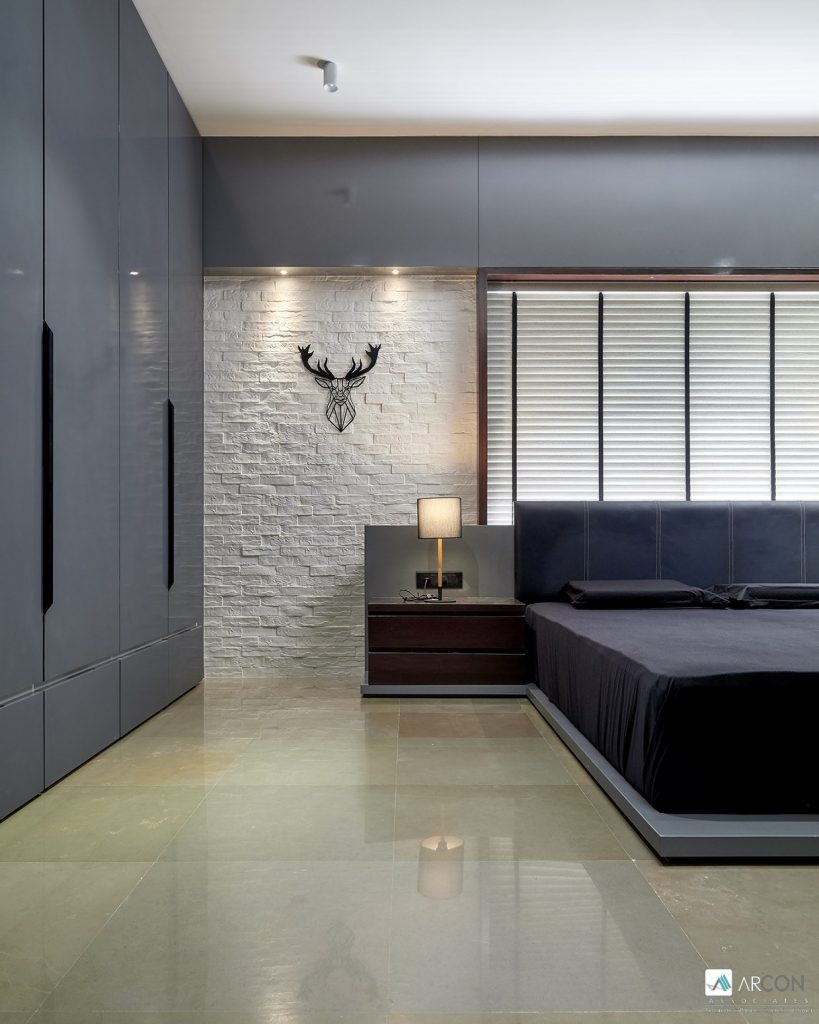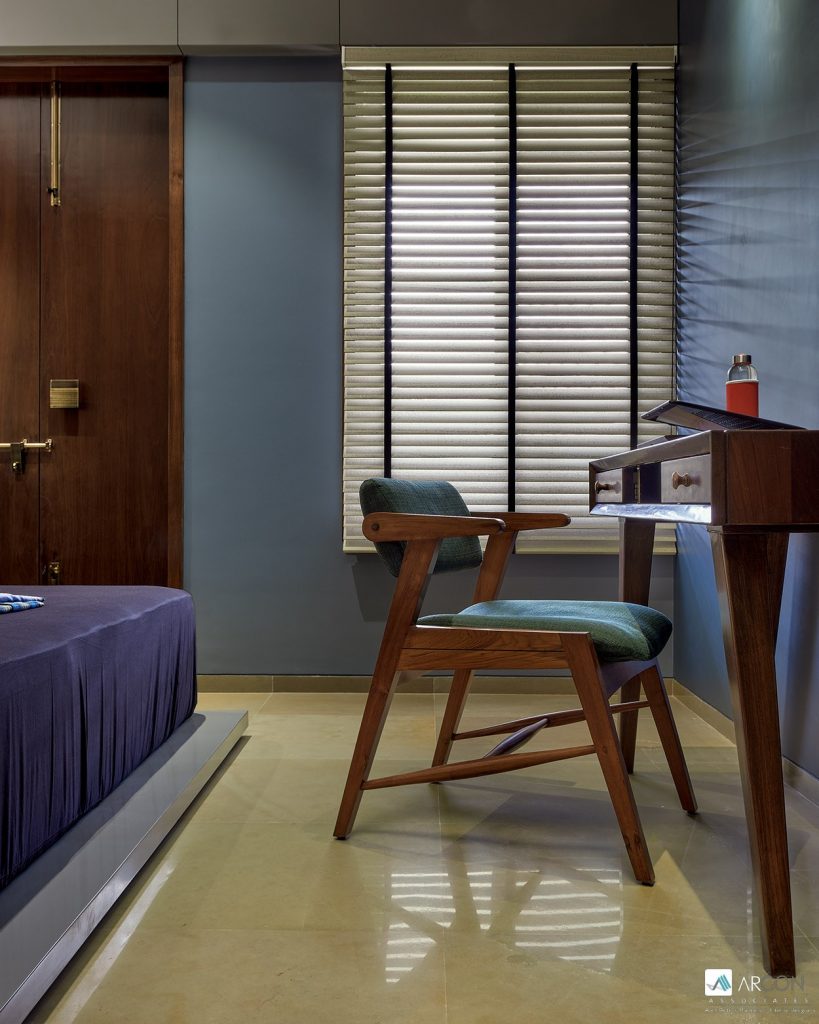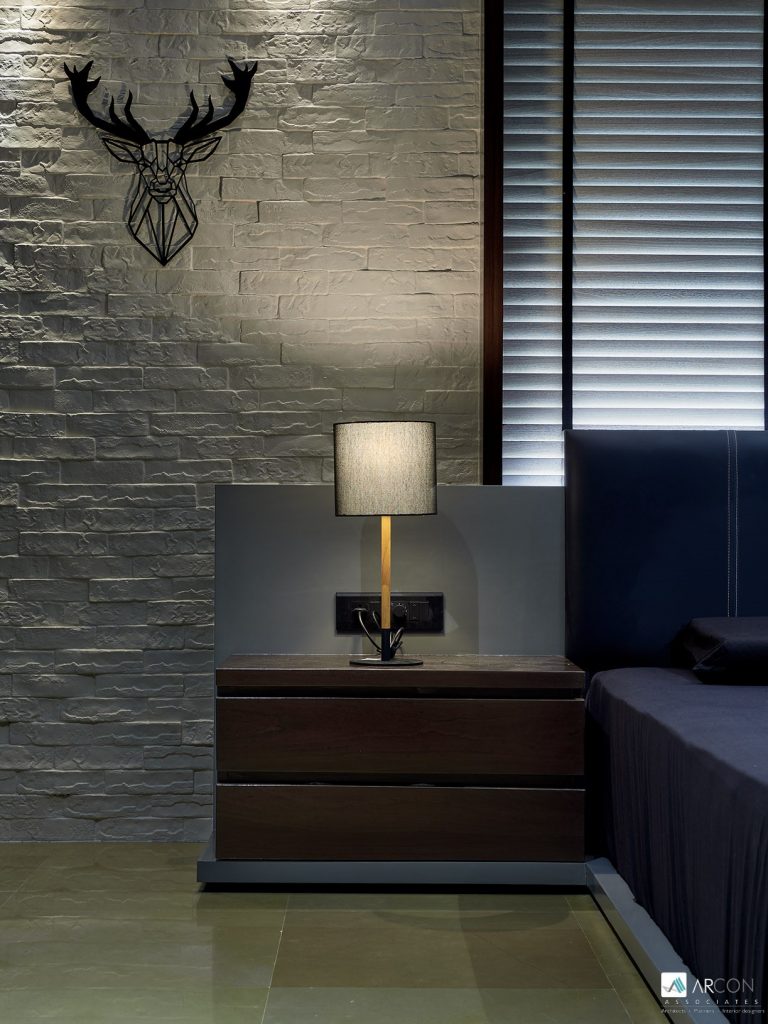 FACT FILE:
Firm: Arcon Associates
Project Type: Residential Apartment
Location: Pune
Area: 3600 sq.ft
Design Team- Ar. Jinesh Dhumawat, Ar. Preeti Khaire & Ar. Shekhar Nahar
Photography: Hemant Patil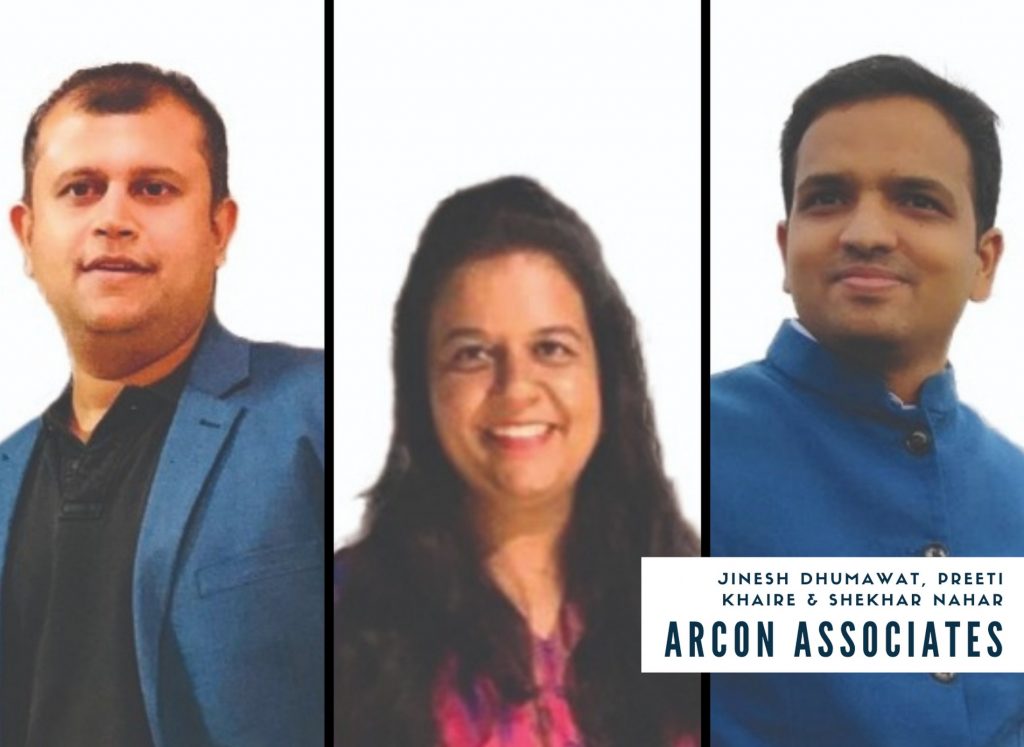 Facebook: https://www.facebook.com/ARCON-Associates
Instagram: https://www.instagram.com/studioarcon/