&nbsp
LIVING ROOM
Where calm and composure reside | Embodiment of quietude and stillness
The Living space imparts a stillness and tranquility that is warm and inviting. The handsome interiors of the room feel classic, yet current. The intention was to tend to favour a simple, uncluttered space with artistic flair. "These seemingly different points of view is not only a hallmark of my own design aesthetic but what I find to be most interesting and enduring. The homeowners sought to make their abode feel fresh and crisp as opposed to making an old home look brand new with a rich, layered colour palette and style." says Nehal
Traditional Apartment That Resides Embodiment Of Quietude And Stillness | Vedanth Design Studio
Visit : Vedanth Design Studio
We also felt furniture pieces should make a bold statement but at the same time be smooth, clean lines, without curves or decoration. "Each of the furniture pieces were custom crafted and detailed in a way that reflects the character of its surrounding space. The interplay of colours and textures from the botanical wall-art prints which the client collected over her travels to the tufted ikat rug from Imperial Knots lends an aesthetic that brings together the entire space cohesively. The (literally) center of attraction is a very exquisite center table with retro legs that draws your attention. So is the 3 seater rattan sofa from HW&Living. In the row, is the hand carved antique frame in wood from Purple Turtles and the sublime brass arched lamp from The White Teak Company. The little accent pieces like the cushions from Studio Covers and the vase from West Elm India tie the look together. We also like how the sublime fabric blinds from FabIndia add that subtle sophistication to the space.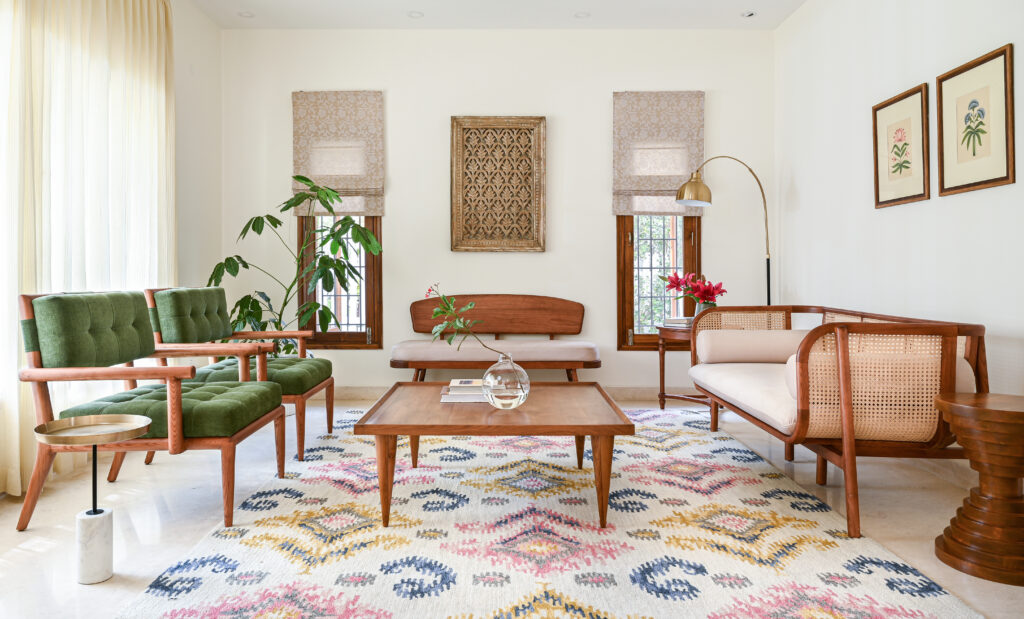 FAMILY ROOM
It is important to note that modern spaces can include a mashup of furniture styles like traditional and modern and two of those unexpected styles look amazing together, giving a rustic and neo-traditional vibe with colours used sparingly yet effectively. The clients who grew up in Chennai, were no stranger to the Chettinad theme. They loved the idea of having an antique teak pillar that is full of character and soaked in so much charm. The pillars were sourced from Geetanjali, Pondicherry. To exemplify these characteristics and to carry the traditional aesthetic further, you will also witness rich artisanal craftsmanship in the form of stunning antique wooden windows sourced from The Purple Turtles that adorn the wall behind the sofa.
Also spotted is the heirloom plantation chair aka the Planter's Chair, a low, easy chair with an inclined seat and arms that fold in and out. These arms extend out to form the leg rests. Rattan weave seating is comfortably contoured thereby making it extremely comfortable to sit in. The mastery of colours and texture, best of both furniture worlds evokes a contemporary version with traditional accents and minimal ornamentation.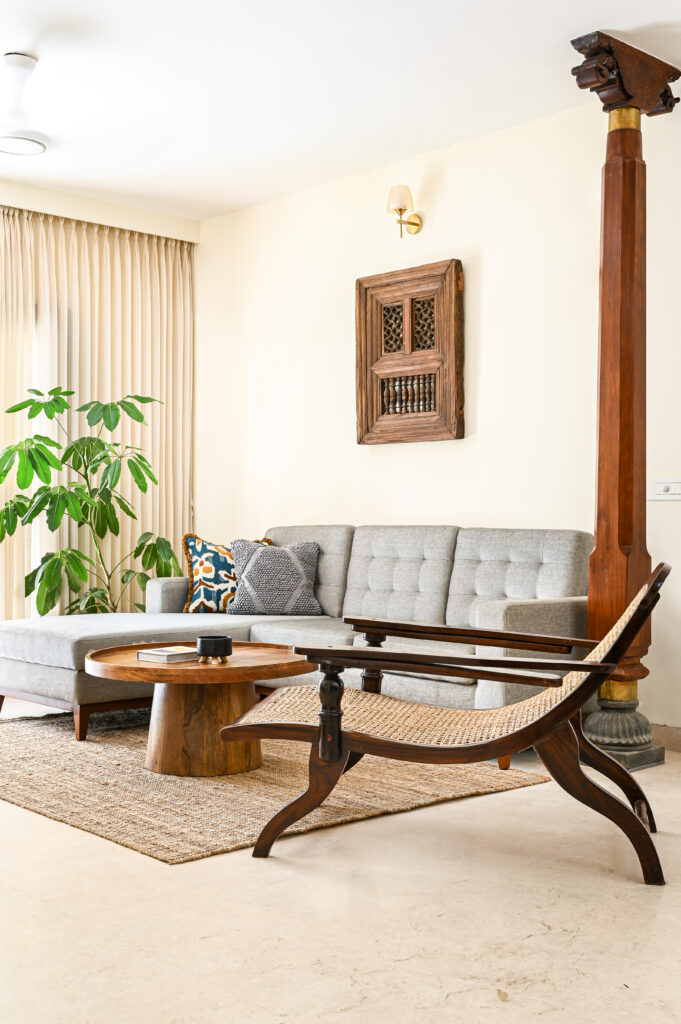 DINING ROOM
A niche is carved
The space in the Dining area has undergone a massive facelift. It had a rectangular dining table in there that made the dining room look small and too boxy. We thought a round table would balance the space out a little more, seamlessly combining curved surfaces and subtle linear patterns to evoke a light and airy feel. It has been decked up by a fluted round teak dining table by Lap & Dado lending a rich warm wooden colour palette in co-ordinance with the background. The table is flanked by classic rattan backed chairs that are sleek enough to fit in and around small spaces.
The visual interest is enhanced by Australian Honne rafters on the ceiling, adorned by glass pendant lights from The White Teak Company that provide both function and style. Rafters put up a charming traditional ambience and an added rustic charm and warmth. Also love how the subtropical evergreen plant, Draco from Make My Garden in the gorgeous sublime concrete planter from Beruru creates an impression by making the space more appealing and alive.
In many abodes, niches serve either a decorative or functional purpose. The niche make-over that started with a small cosmetic change, ended up on quite an amusing and pleasant note. The niche had existing modular cabinets which underwent a facelift with a look of teak veneer on them. And above them, we decided to have open shelves end to end. The client was convinced on how open shelves inside the niche would look and add a great aesthetic value. But boy! Do they also require timely attention and maintenance? Yes! Exposing the chaos/ clutter sometimes to the world is downright terrifying right? A big yes! After a point, when my client pondered a bit on the practicality of it and resisted the idea, I suggested we cover the open shelves that were already installed with rattan cabinet shutters, having a totally win-win and an advantageous situation. The client was in a happy place and we do believe it was the best decision that led to this neat, complete, well-balanced and contained look.
KITCHEN
The dining space to the main kitchen area was a result of thoughtful, intentional decor with a wide floor plan that says a lot with a little. The kitchen came with modular cabinets that were in great working condition. So we decided on giving it a facelift. Clean lines and simple design, with minimalism, flat-front cabinetry, sleek fixtures, and wood accents is the underlying theme of this kitchen. Simplicity and subtle sophistication.
Your attention is naturally drawn by the Heritage tiles on the flooring lending a bit of traditional interest to this space. I vividly remember how we spent hours looking for that perfect tile at Ceramique, Bangalore. Knew we wanted something unique, interesting and heritage. And then we saw what we have now and got the 'happywala feeling'! And that stuck for the rest of the project and remained our code word for all pieces/designs that got approved thereafter. Had to have the 'happywala feeling' J
And for the backsplash tiles… It's no surprise subway tiles are popular for kitchen backsplashes. They're easy to clean, low maintenance, endlessly versatile, and arguably the most timeless option no matter what environment they're in, subway tiles never seem to look dated. The tall unit was crafted and tailor-made from scratch to hold kitchen appliances. And so were the hardwood floating shelves that were provided alongside.
MASTER ROOM
Bedroom being our sanctuary after a long day of work, it's all about coming down to the basics without being too over the top. Just the main essentials along with our few things which spark joy. Anil and Ankita's bedroom is just that.
The first thing which catches your attention once you enter, is the beautiful four poster teak bed. It transports you to another era! The style of this gorgeous bed is married beautifully with the handsome Mid-century Modern bedside tables and a gorgeous dresser made all made of hardwood. This combination is so classic yet so chic and it perfectly reflects the vibe of our wonderful clients.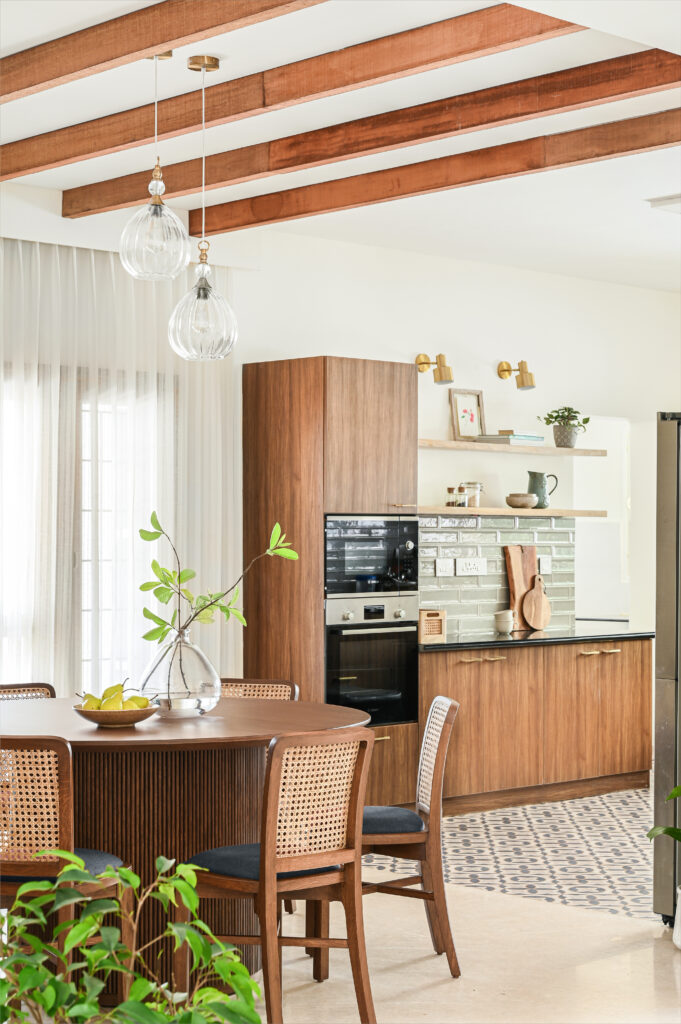 Nehal Shangavi, Founder and Principal Designer at Vedanth Design Studio in Bangalore, holds high regard for incredible clients Ankita and Anil, designing whose 4000 sq. ft., 2 storey villa was an easy victory.
The clients who come from diverse cultural backgrounds, spent most of their childhood growing up in Chennai. The influence stayed with them through the years and they wanted to incorporate that form of architecture in their home while also keeping it simple and clean. "Wood and brass are key to our aesthetic and we loved the way it has been woven through the house. Nehal helped us embrace our style while pushing us to experiment with clean, defined décor" shares Ankita.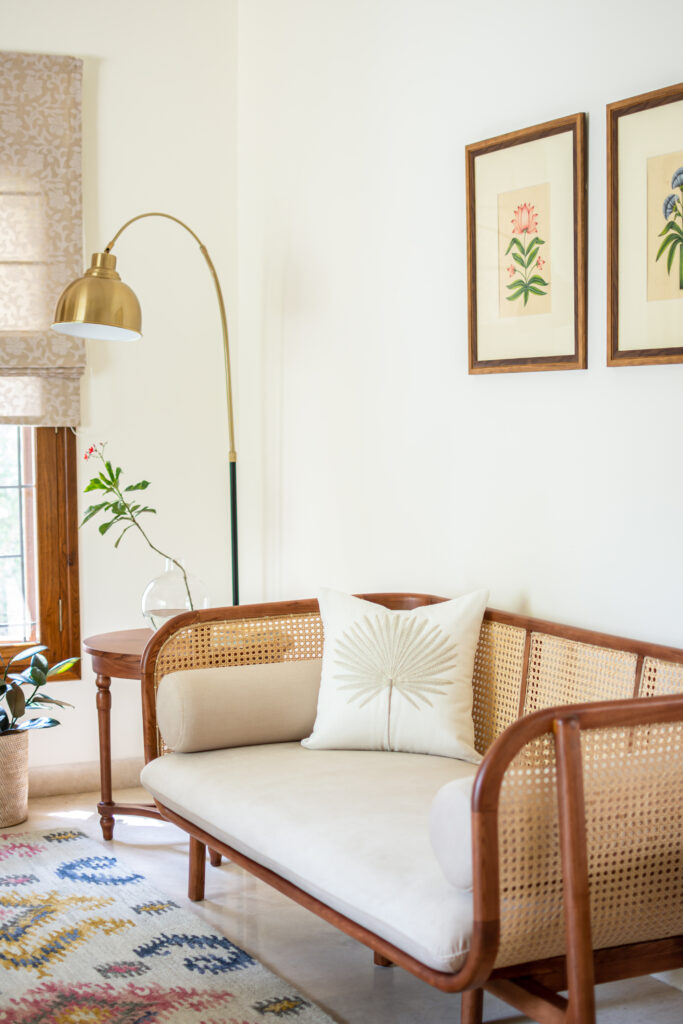 "They were looking forward to modernity with a traditional flair. They were looking for a blend of modernism that comes from the Mid-century style with hits of traditional Chettinad touches. Hence we pull together room ideas with neutral colors for a subdued functionality and combine them with natural material combinations like brass-wood and the client's antique decor accents collected over time."
"The minimal interiors, along muted and earthy colour schemes, were grounded on the concept that 'less is more.' Therefore, simplicity, subtle sophistication, and minimalist patterns, dictate this modernist home . Though contemporary design does hold a strong emphasis on it, there are a few defining characteristics that are influences of traditional Chettinad." adds Nehal.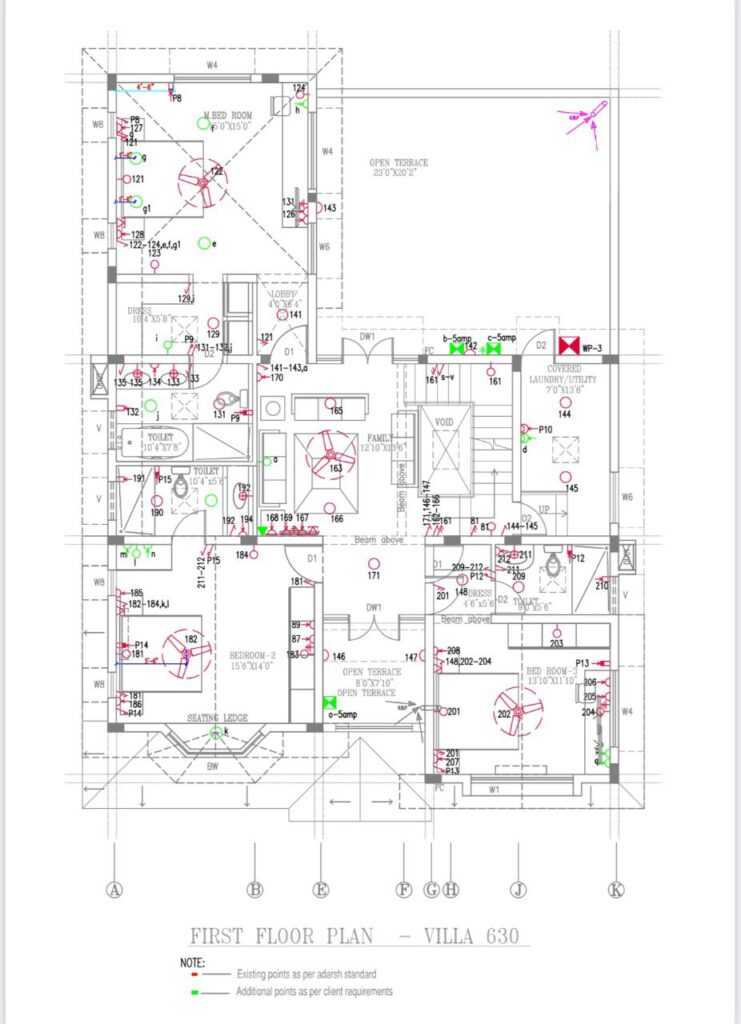 Fact File :
Design Firm : Vedanth Design Studio | Bangalore
Project Name : Wrapped in Warmth
Location : Adarsh Palm Retreat Villas, Bangalore
Principal Designer : Nehal Shanghavi
Design Story : Sudipta Basu & Nehal Shanghavi
Photographs : Nayan Soni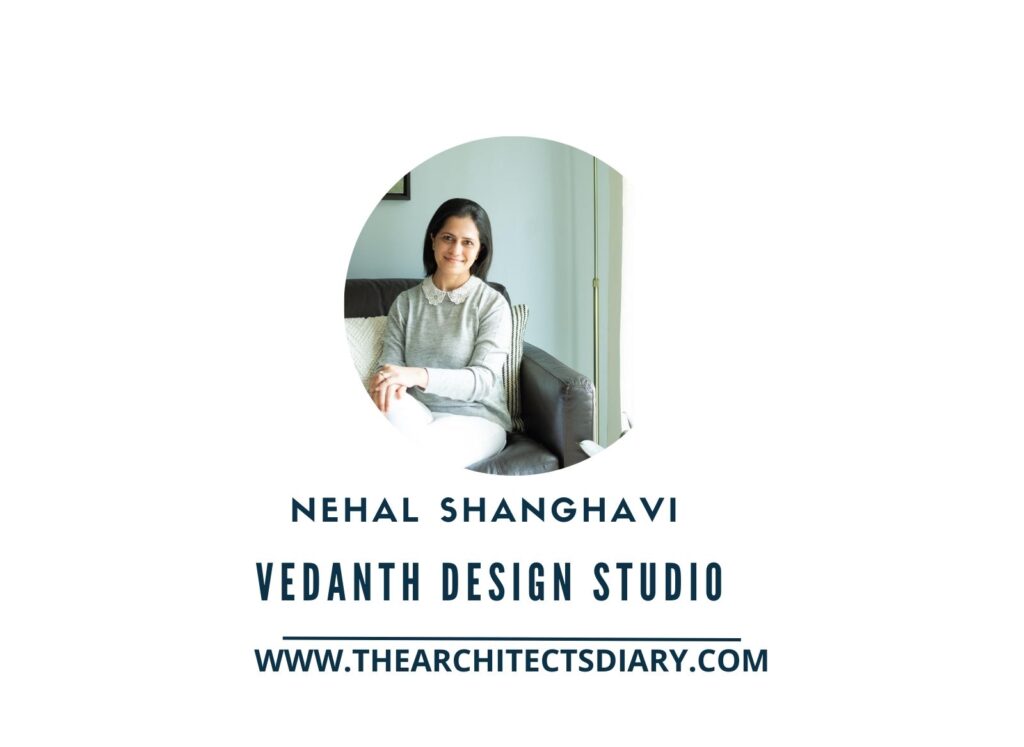 Firm's Instagram Profile : Vedanth Design Studio