An Orthopedic Clinic Interior | Prayog Design Studio
A black-painted wood structure separates spaces inside an office space designed for an Orthopedic Clinic. The aim is to create work areas that eliminate acoustic interference and allowed lighting control – both necessary because of the client's profession.
Visit: Prayog Design Studio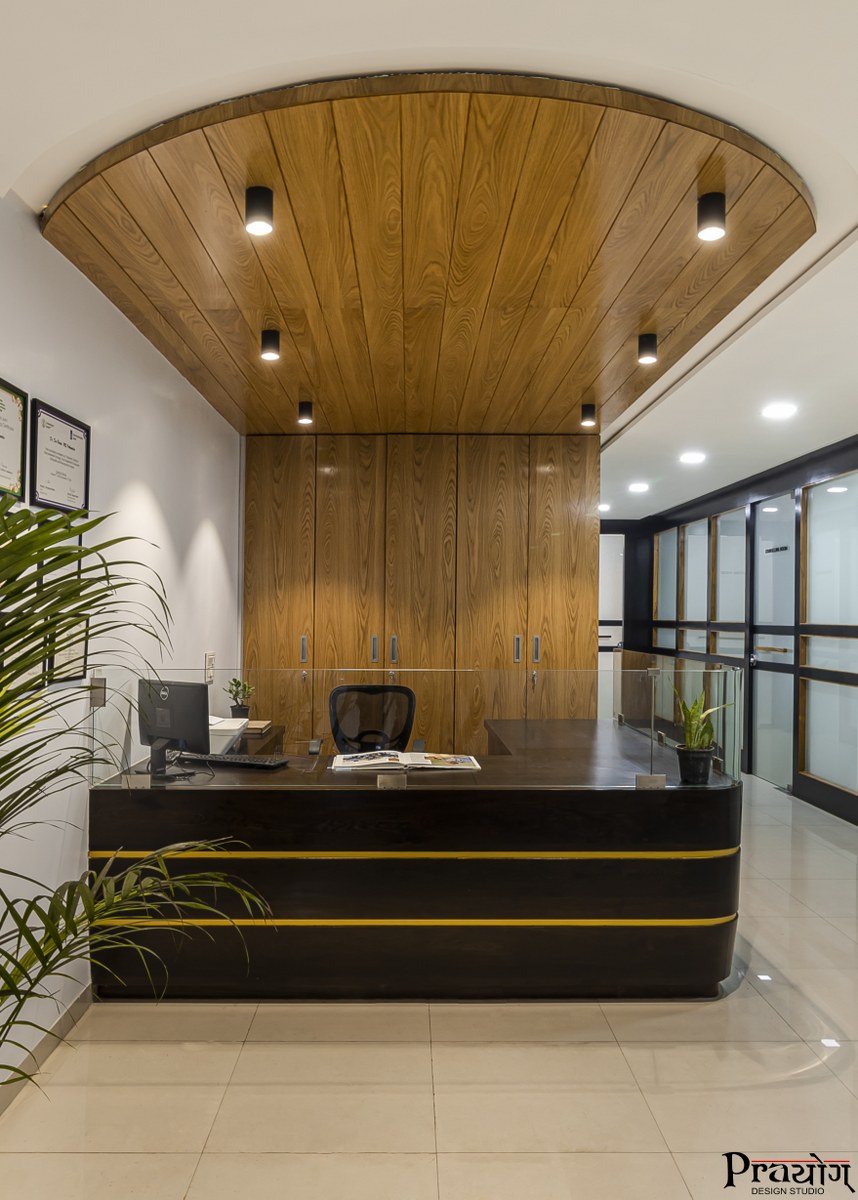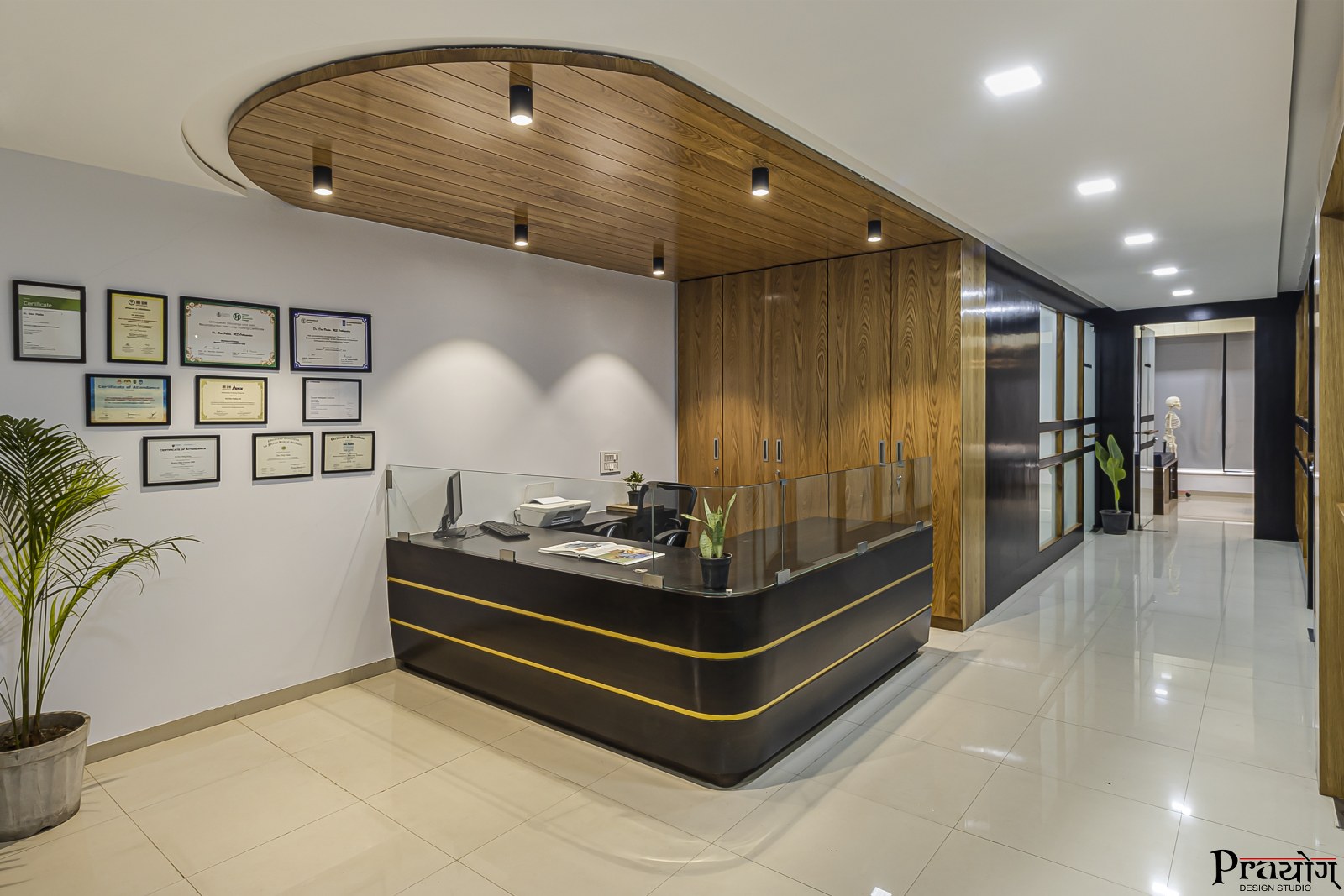 The concept revolved programmatically around the creation of three suites, which are consulting room 1, consulting room 2, procedure room and lounge area."As these spaces had the most intense requirements technically the design response proposed to elevate these areas."Private and open spaces also occupy the interior outside of the black frame.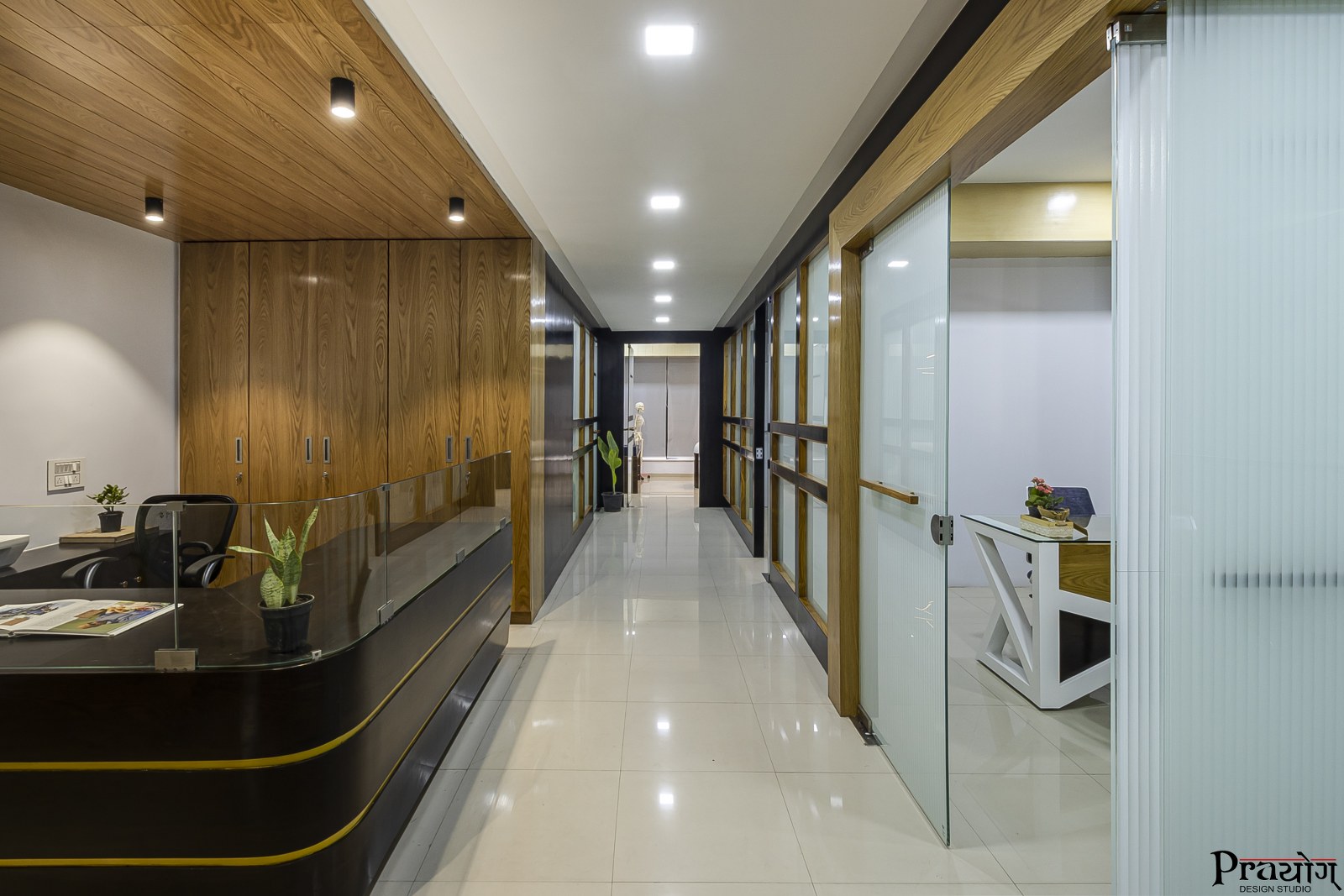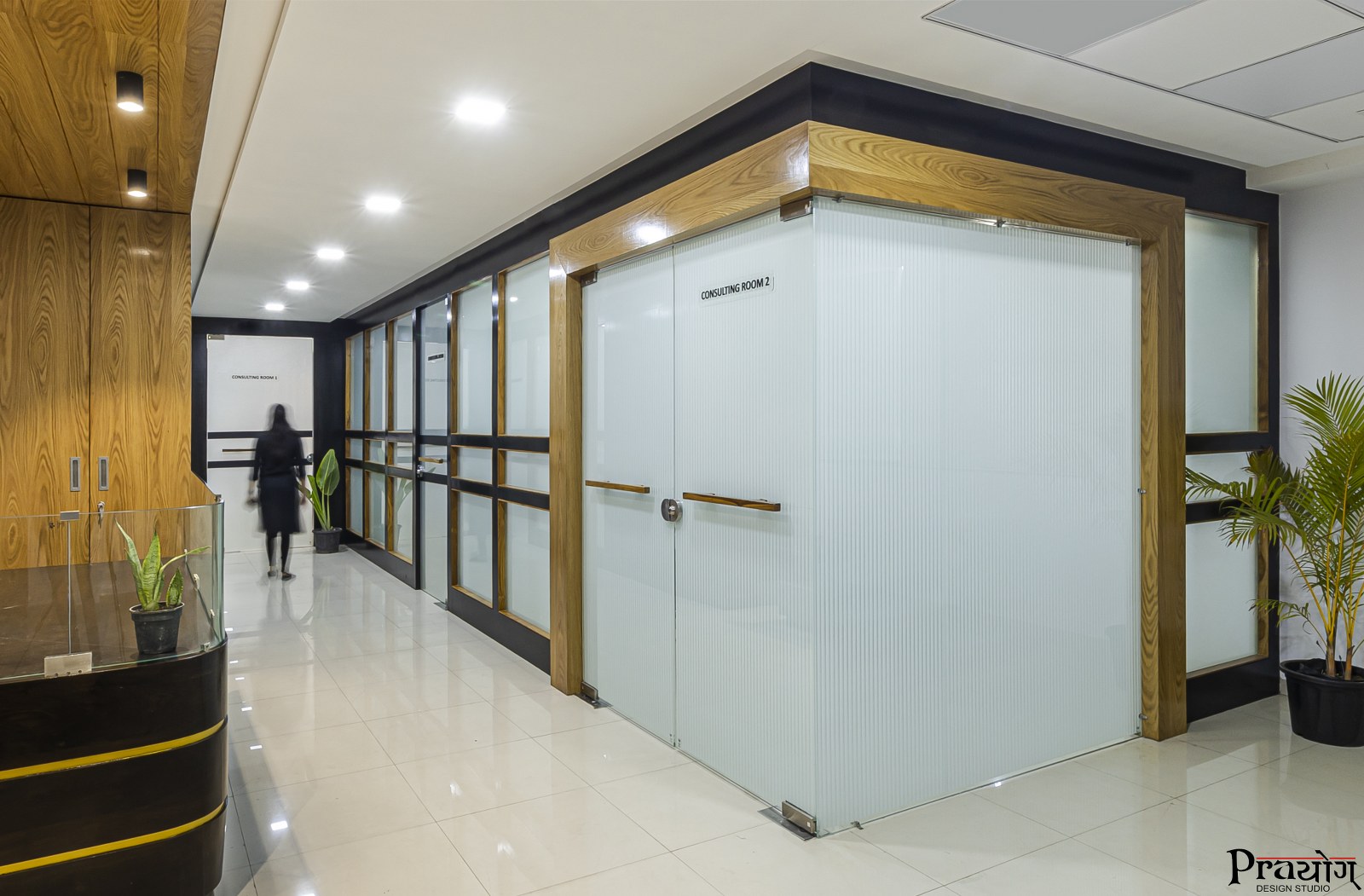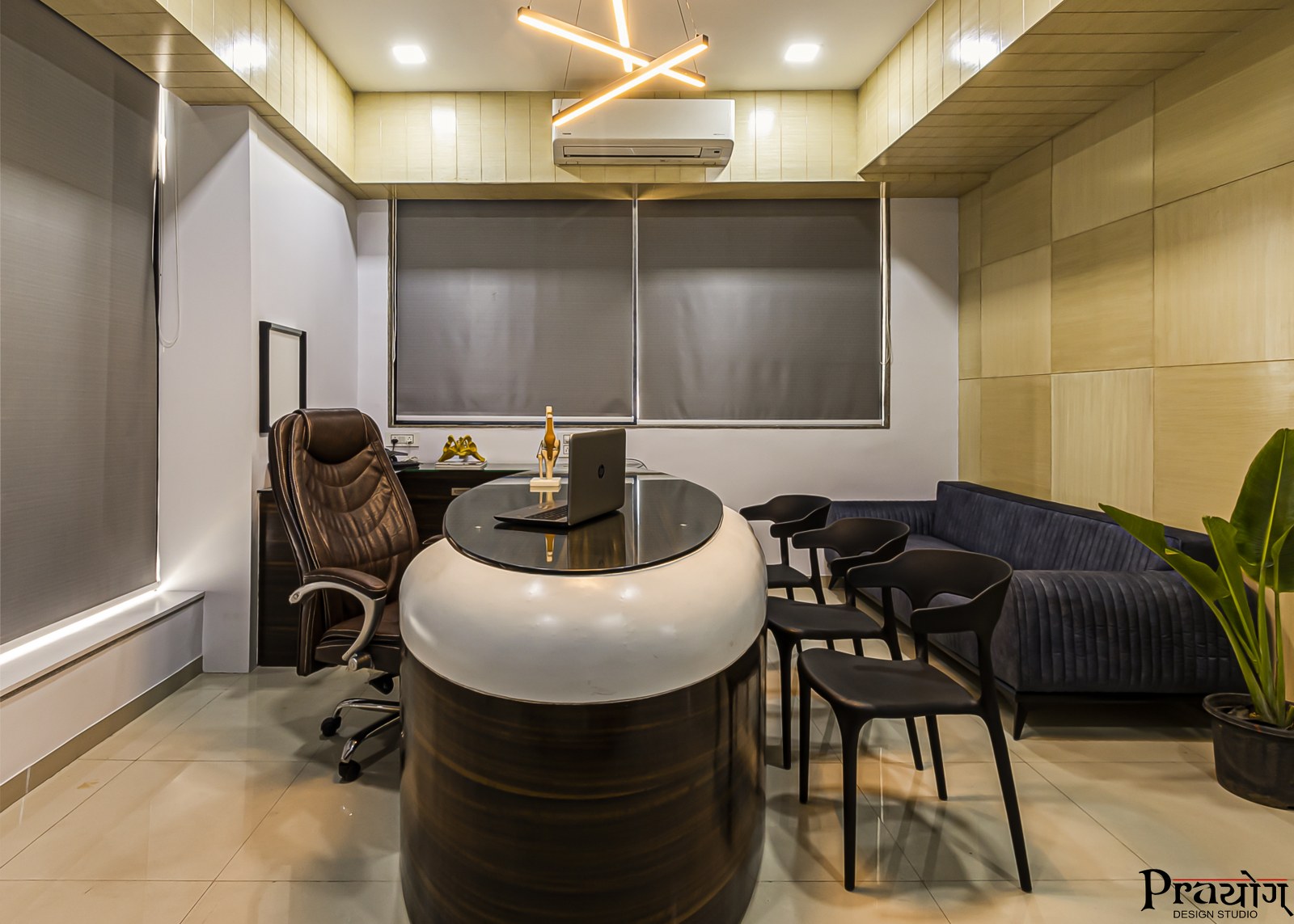 At the office's entrance, plywood that is painted black was used to construct a rectangular reception desk."This element presents itself immediately when guests and staff enter the space acting as the functional and visual identity of the space."Black panels run on the wall that divides the two volumes. Inside, the shorter walls are covered with plywood panels that are the hues of the wood."The black elements are then infilled with plywood panels to warm up the interiors and express the difference between 'frame' and 'wall'.
FACT FILE:
Firm: Prayog Design Studio
Location: Khatodra, Surat.
Design Team: Nikunj Dakoria, Nirav Jariwala, 
Sonali Dakoria, Charmy Jariwala
Area: 1300 Sq. Ft.
Project Year: 2019
Photography & Text credit: Prayog Design Studio
ABOUT FIRM:
Prayog Design Studio started its journey in 2014 with the ambition to achieve a healthier and more aesthetically pleasing environment for the end-user. Every project is treated with the fervor of exploration, innovation and tested for relevance in physical and social contexts. Interior Designers ID Nirav Jariwala and ID Nikunj Dakoria, partners are heading the firm with Interior Designers ID Charmy Sarvaiya and ID Sonali Dakoria.
'PRAYOG' -a Hindi word, the word itself means 'Experiment'. The design philosophy of the firm allegorically represents the word 'PRAYOG' where it gives an open door to the client to experiment and create a better living. The methodology of Prayog Design Studio ventures to promote innovatively and out of the box thinking amongst all involved in the design and promote sustainable practice from the conceptual stage. Presently the firm is dealing with projects related to residential and commercial, interior architecture.
Instagram: https://www.instagram.com/prayogdesign/
Facebook: https://www.facebook.com/prayogdesign/
Gmail : [email protected]