An Office Interior Bringing In Transparency Through Its Open Plan | The Crossboundaries
In today's world of precise brand creation, the company's workspace must embody the brand's values and ethos. As the head office for Avid Organics, The Crossboundaries has designed a workspace that personifies the clean, sensitive, and fluid approach of the company through a unique expression. Avid Organics is a Vadodara-based developer and manufacturer of value-added chemicals for various consumables, with a focus on plant-based products. The compact 1200 sq. ft. office for 6 employees is designed to keep an understated palette and smooth functionality as its soul. The office currently has 3 directors' workspaces, a common employee's table, and a conference room, with common light recreation areas blending into these spaces.
Visit: The Crossboundaries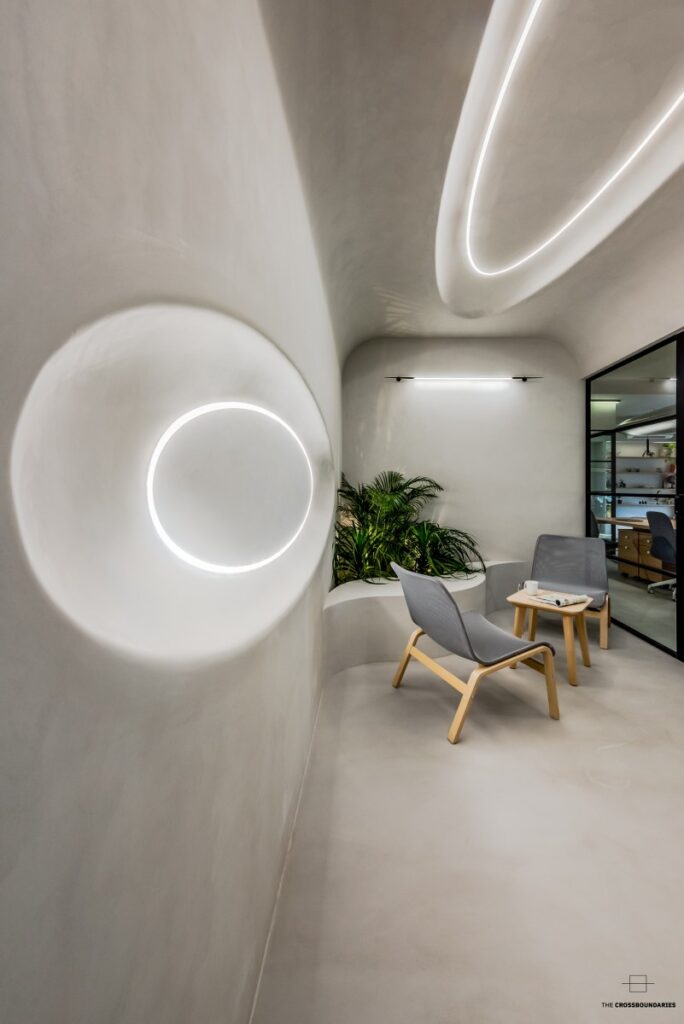 Design Brief

&nbsp
A tone of effortless and fuss-free utility is set beginning from the reception area. Entered through a powder-coated black metal grill door, the reception and lobby are monochromatic and minimal, with a reception table and cast-in-situ seating. Reminiscent of traditional 'otla' seatings, this curved seating bench becomes both an embedded furniture piece and a planter box, where greens thrive. A gesture of wonder, the veneered reception table appears to be a floating element in mid-air, enhanced by a glow of LED lighting under it!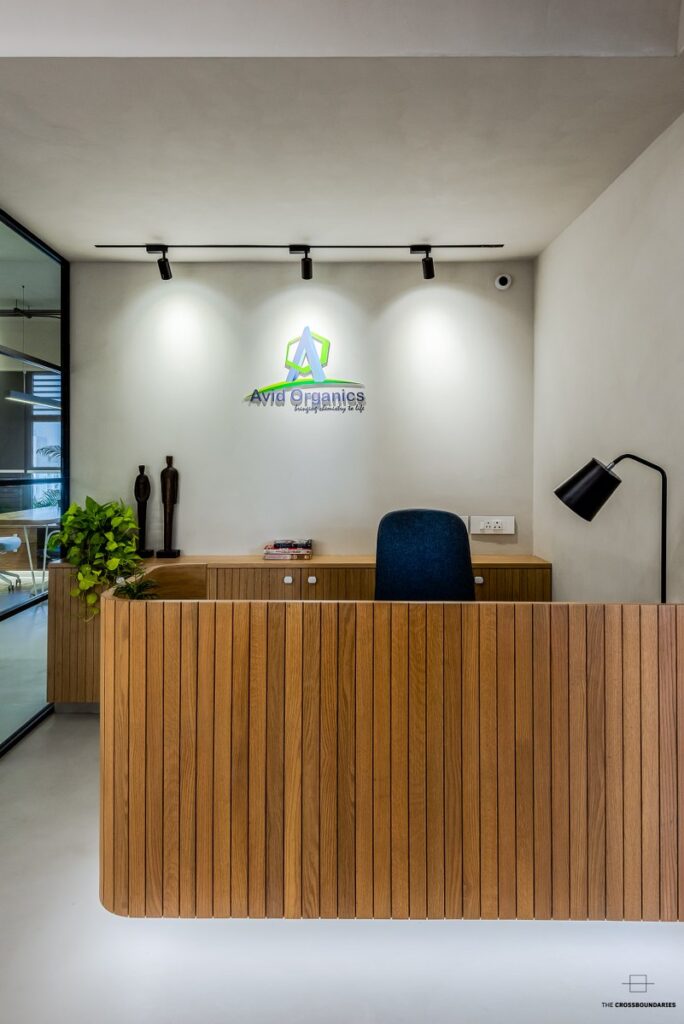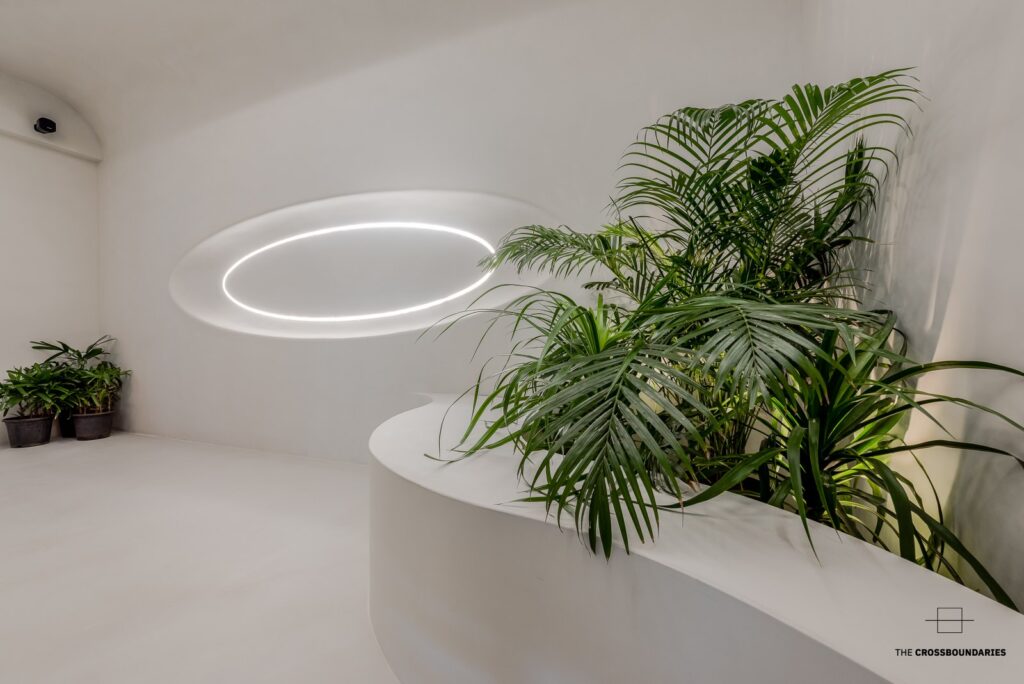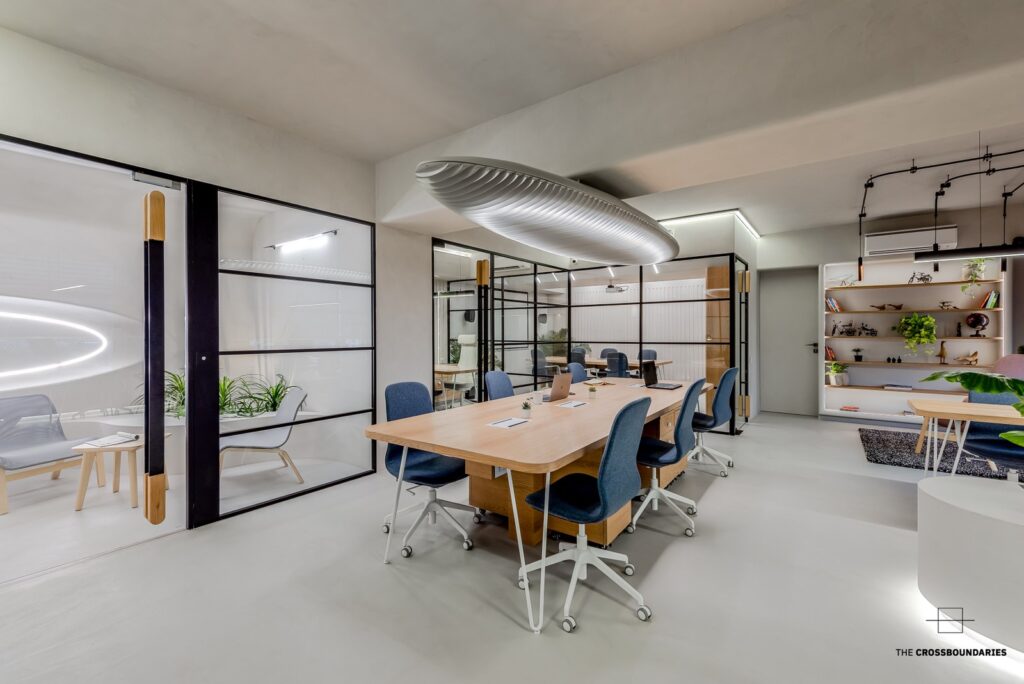 The seamless light grey pigmented concrete finish across the walls and ceiling merges with the 3mm microcrete flooring as a single, curved surface. This renders a smooth, uninterrupted quality of built surfaces that is carried forward throughout the office. Also, the theme of soft, curved edges and an affinity for fluidic form is exhibited in two identical elliptical lighting 'blobs', centered on the wall and ceiling. This lighting fixture is a customized art piece, fabricated in metal and LED strip lighting.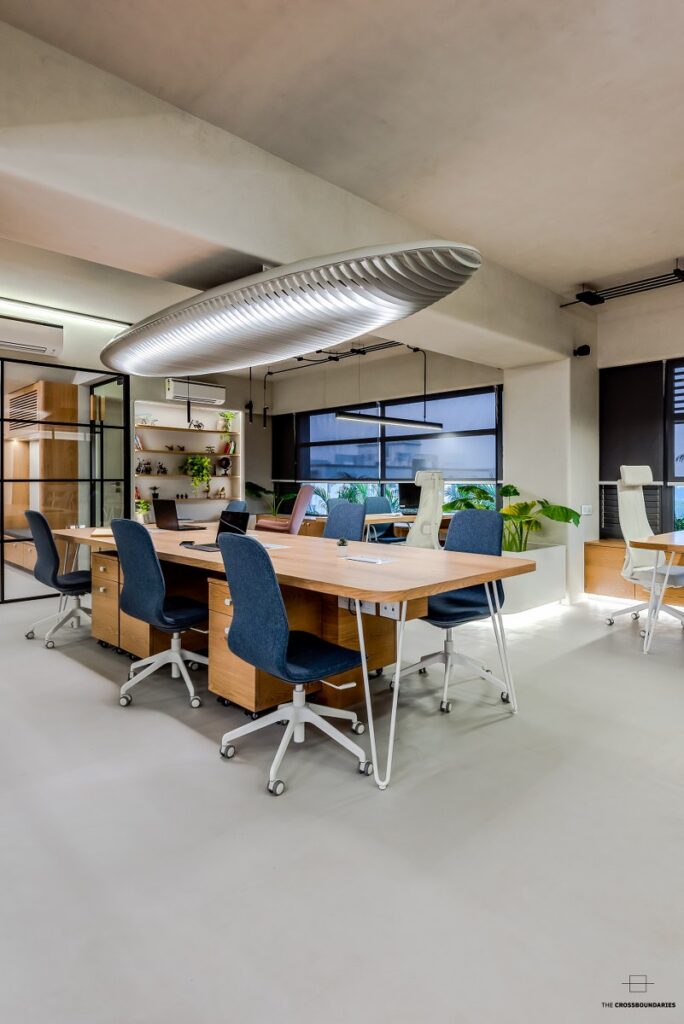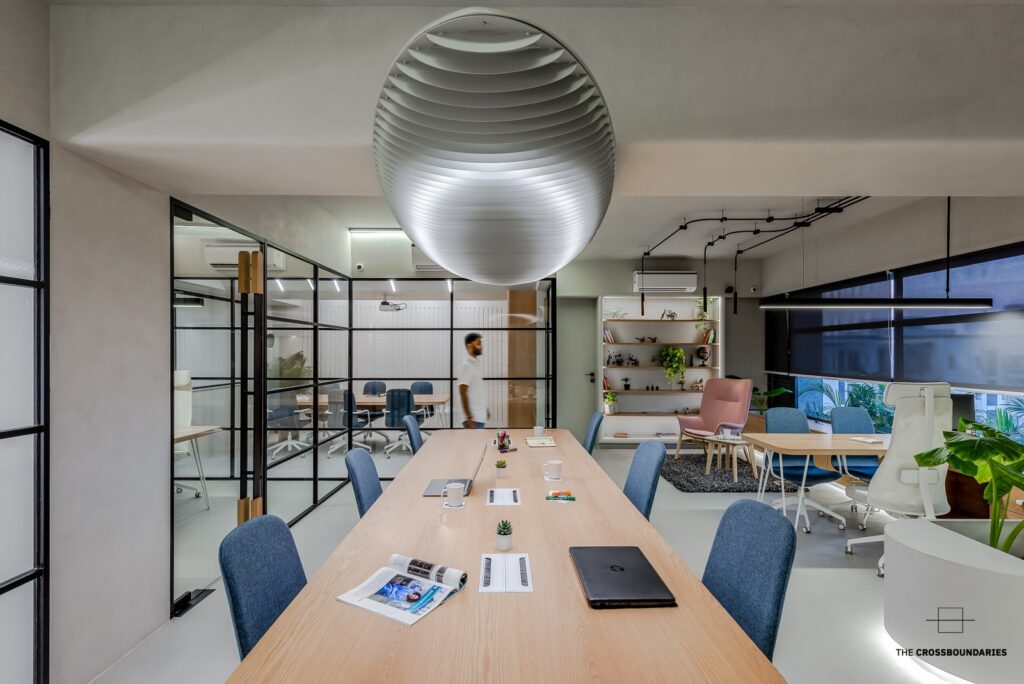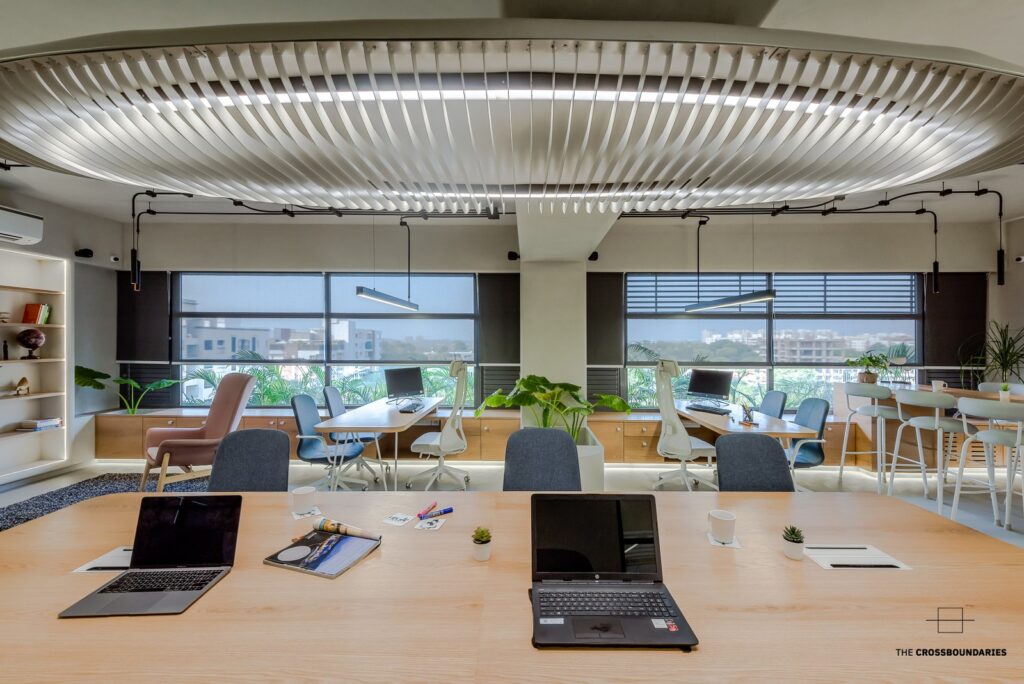 Scandinavian chairs and a small coffee table, curated from the IKEA furniture catalog provide extra seating options and enliven the space. The office floor has a singular and straightforward material palette, of metal fabricated door frames and clear glass, set within a neutral, seamless light grey scape. Essentially a compact open-plan workspace, only one director's cabin, and conference room are segregated through transparent enclosures.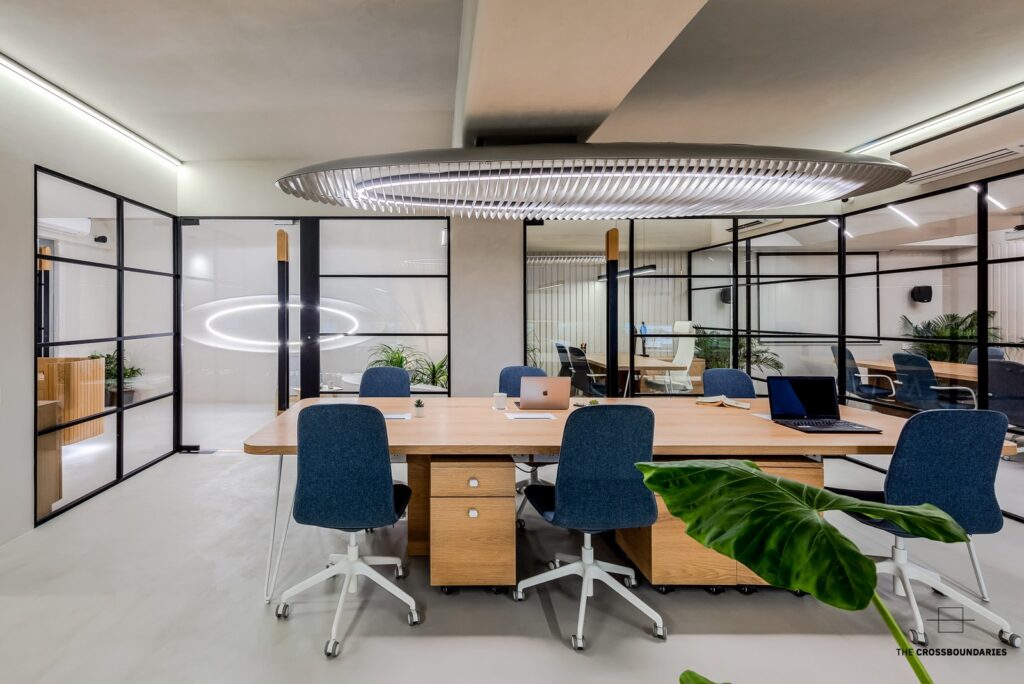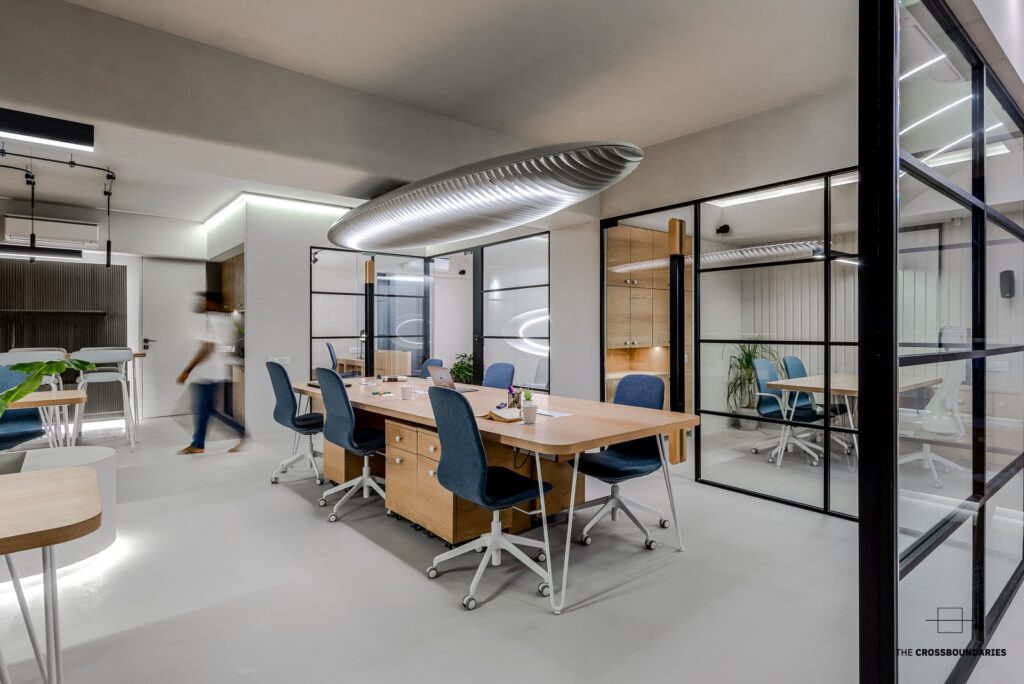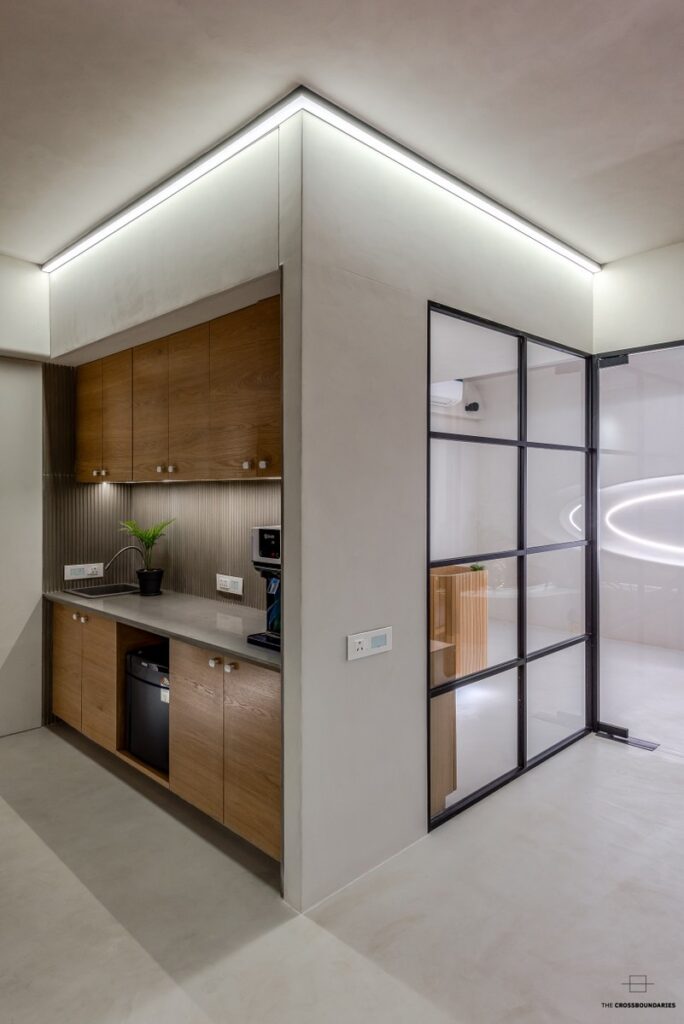 In keeping with the company's open and stress-free work ethic, a common employee table becomes a central island that other spaces flow into. Low-maintenance, custom-designed tabletops in veneered wood with specially bent metal legs become the central work surface. Further enhancing this is an overhead sculptural lighting fixture, as an attractive element. This grew from the constraint of an off-centered overhead beam, and the need for even lighting over the 6 seater employee table. The Elliptical light EllipLitis a three-dimensional composition of individually fabricated contoured metal sections, each anchored together to create a large-scale diffused light effect. Due to its ellipsoid form, the element seems different when viewed from various angles!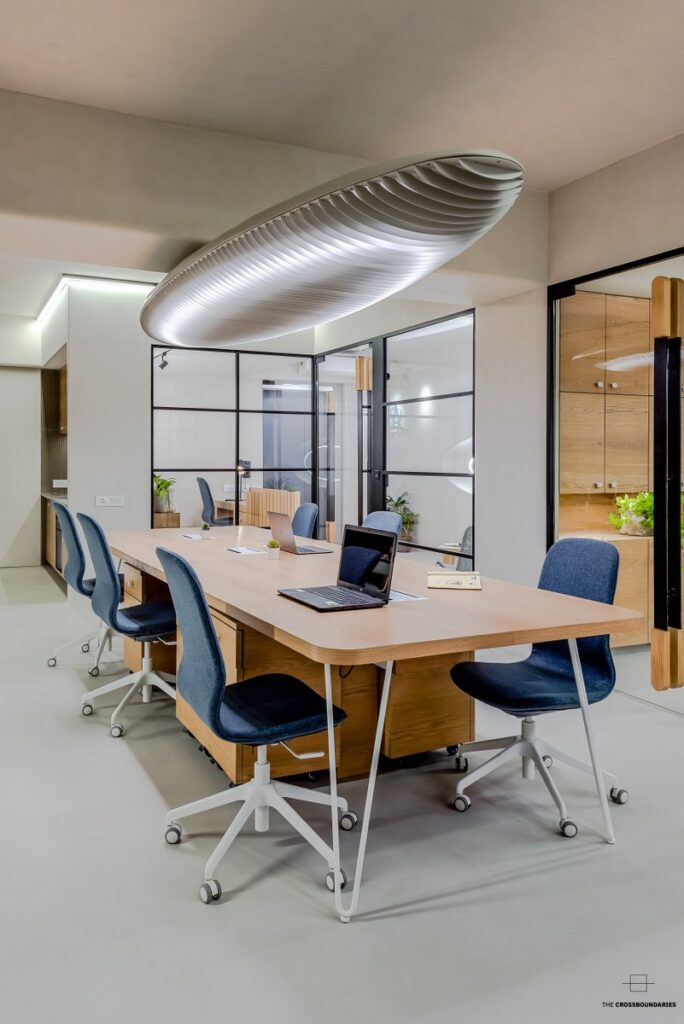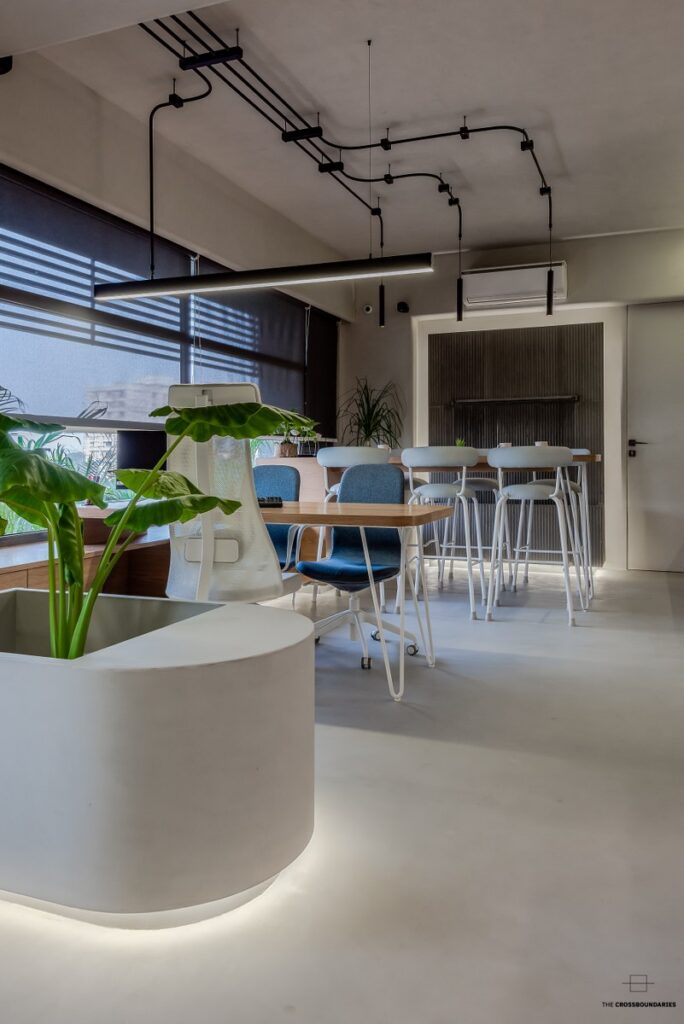 Towards the bay window side of the central table are two directors' work areas, separated delicately by a curved planter box, appearing to be a floating element. The embedded lighting under the planter, similar to the reception table, renders it to be an ethereal, white plant-holder, washing the overall space in lightness. As per the clients' requests, the two directors' desks face in opposite directions, one as part of a common reading lounge, and the other towards a pantry and discussion area. Thus, even while the designations demand a certain astute formality, the designers have complemented the work culture with a break in the hierarchy to bring in freedom of expression. The common library or reading nook is designed not only as a soft recreation area, but also a zone for research and contemplation. The custom-designed wooden bookshelf is flexible to hold books, objects, and other office accessories, and is paired with a plush onion-pink reading chair from IKEA.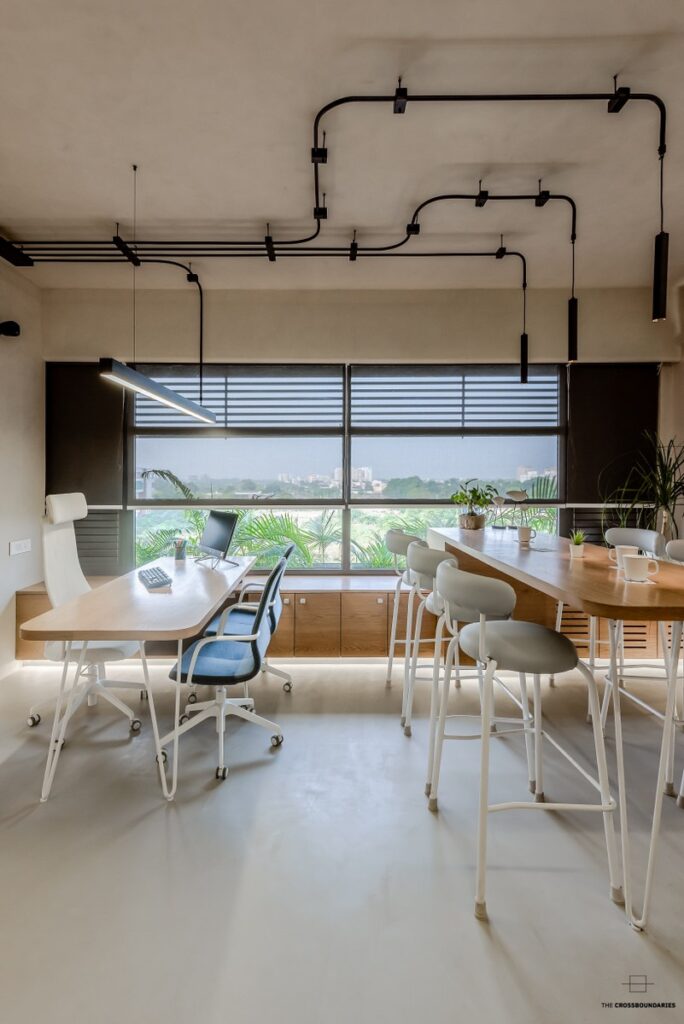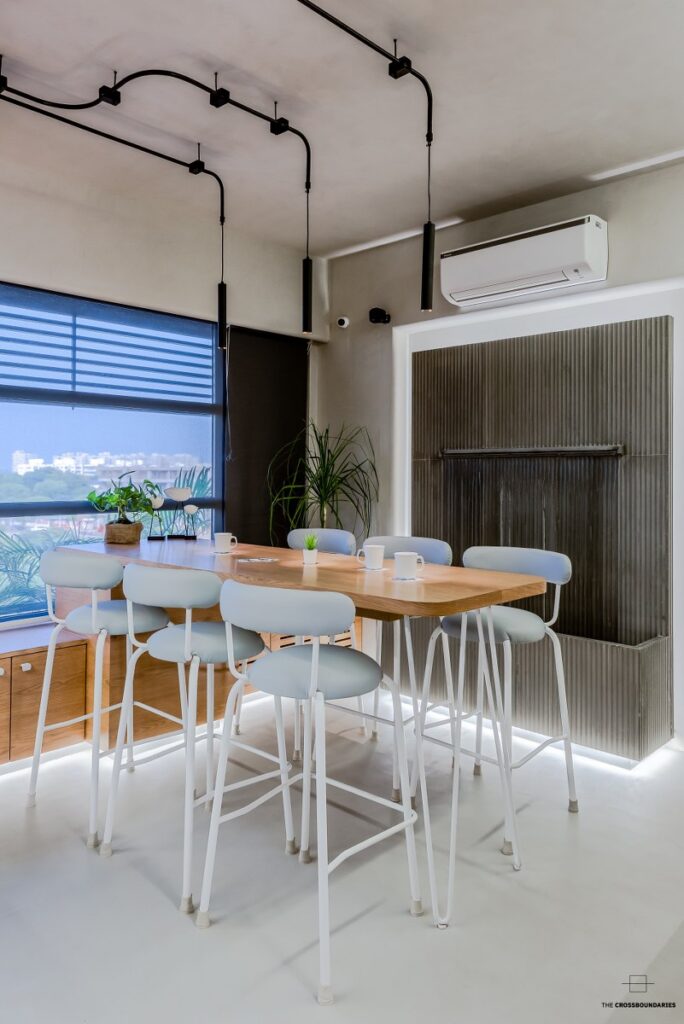 Along with the adjoining long window, a series of low-height storage cabinets makes a clutter-free and efficient backdrop. This continues into the next bay, the other director's workspace, which also contains a raised table meant for discussions and lunchtime. This raised table is finished with a similar veneer and bent metal legs. A soothing cascade of a water wall becomes a backdrop to the table and barstool arrangement. This custom-designed feature is essentially a raised short vertical fountain, cladded with grooved Kandla grey stone, meant for a calming water cascade. As a unique feature for an office devoted to organics, this water feature adds both design and wellness value to space! Adjacent to this zone, a compact pantry, wash, and service area is tucked away discreetly.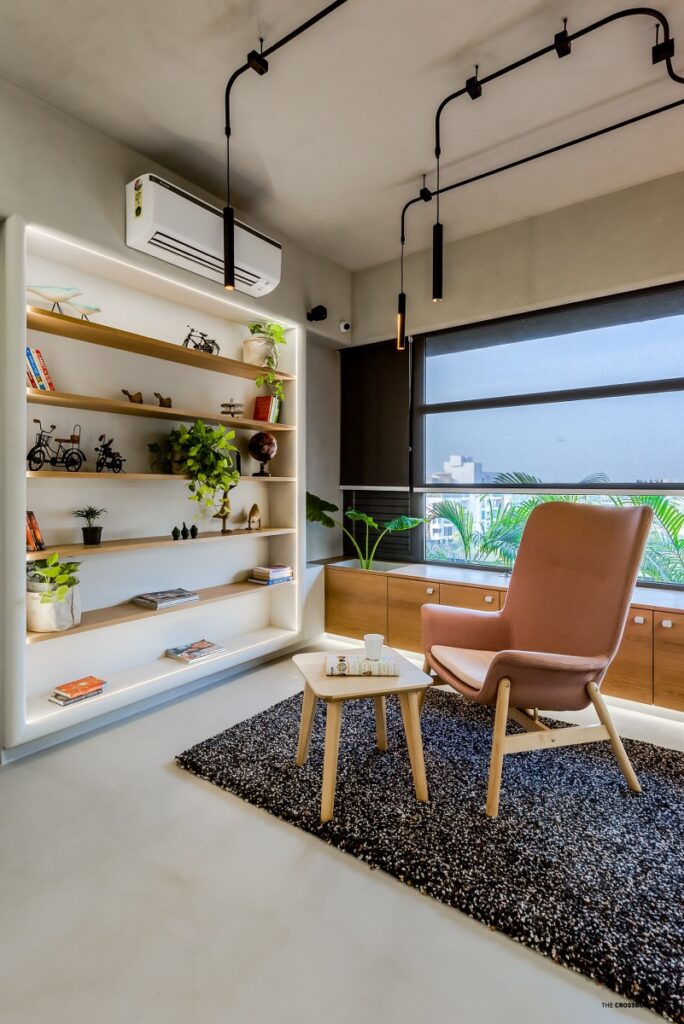 Even though the functions are distinct, both these "open cabins" for the company heads are held together by a common overhead lighting system. Precisely bent metal pipes terminate into an array of black cylindrical pendant lights or into suspended profile lighting above the work desks. This allows for a hassle-free, efficient, and interesting lighting design, incorporating both linear and curved geometries.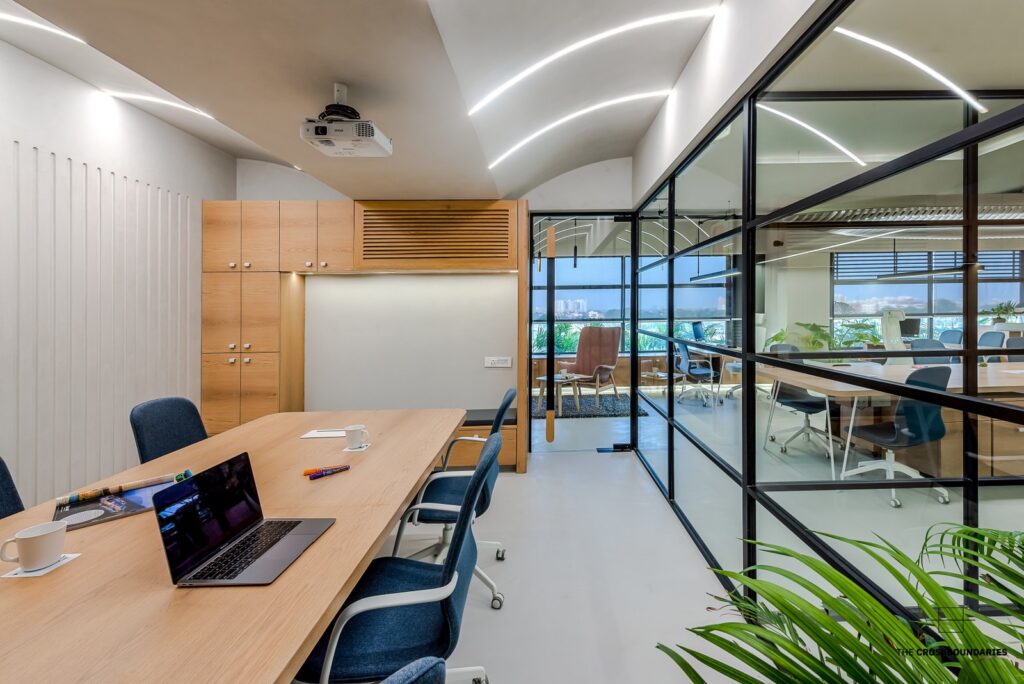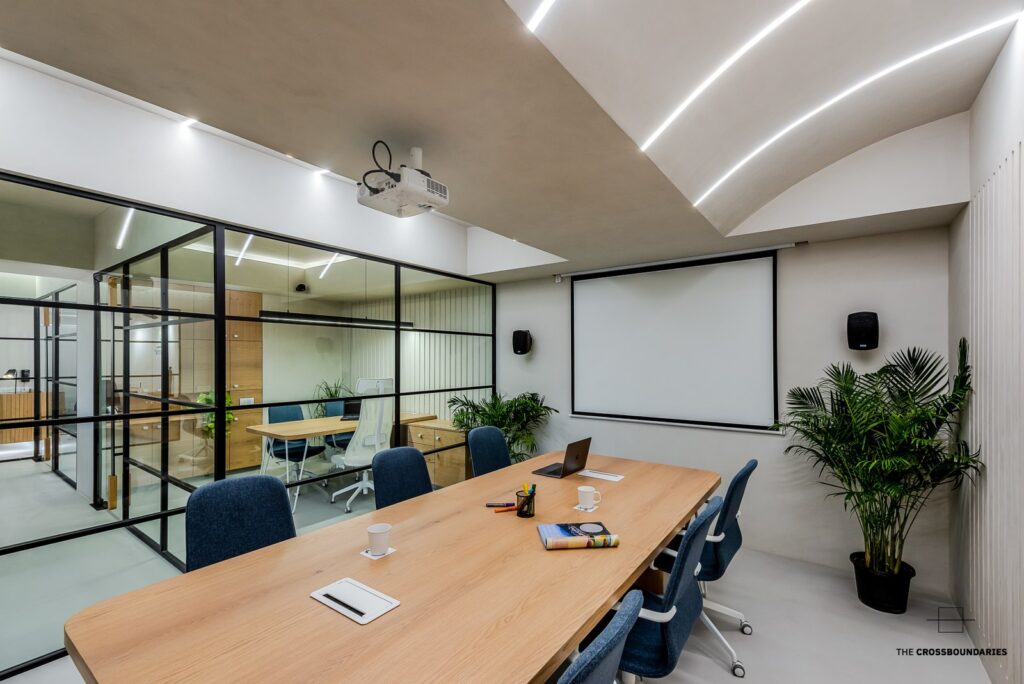 On the other side of the central common employee island, the conference room and directors cabin are encased in transparent glass, framed by black painted metal sections. The director's cabin is minimal, bathed in a wash of light grey stucco, and furnished with similar furniture as the rest of the office. The conference room also follows a neat, clutterless design principle, with the overhead lighting feature designed as a highlight. Bent arcs of LED lighting on either side of the central linear beam overhead create an interesting play of scale, geometry, and reflection! An interesting feature of lighting design across the office lies in the use of LED strip lighting to accentuate edges, create an illusion of suspended gravity and also free the ceiling of complex lighting contraptions through the conscious decision of either wall or suspended lighting.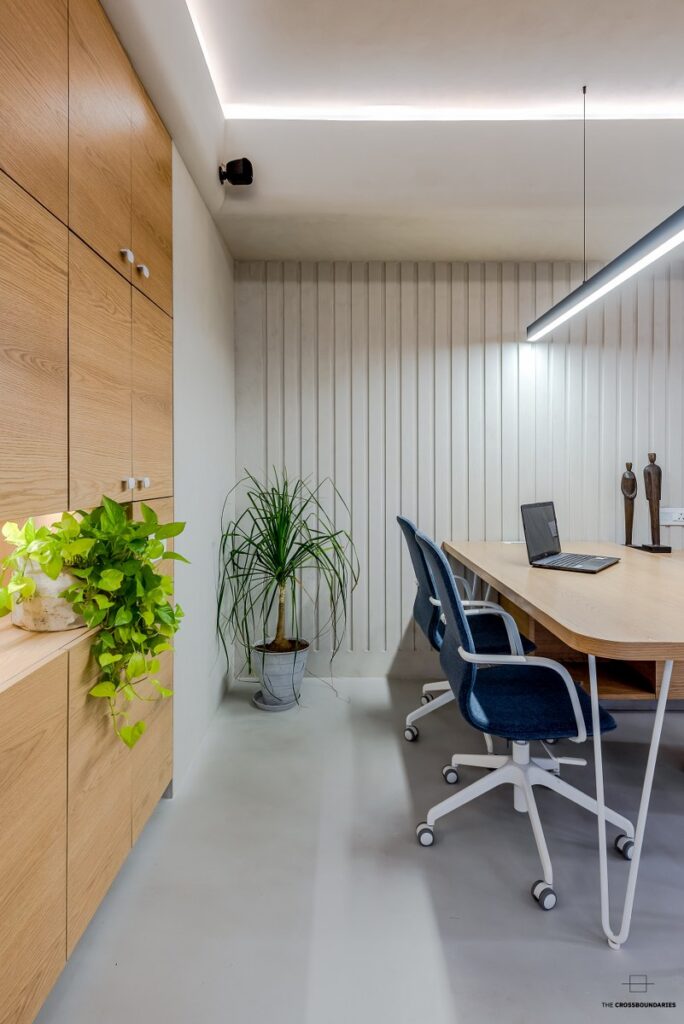 A generous sprinkling of fresh greens inside the office and neat rows of plants just outside the shaded long bay windows truly express the spirit of the workspace, i.e an avid interest in minimal, efficient, and alive living!
Fact File:
Designed by: The Crossboundaries
Project: Avid Organics Pvt. Ltd.
Project Type: Office Interiors
Year of Completion: 2021
Area: 1200 sq.ft.
Location: Vadodara, Gujarat
Client: Dheeraj Jain
Design Team: Rishabh Prajapati, Forum Jariwala, Neel Patel, Dhruv Prajapati, Khushboo Gunjal, Vijay Dabhi, Harsh Boghani & Shailesh Boghani
PMC Team: Atman Patel
Photography: Cross Clicks (Ashish Chokroborty)
Text: Niharika Joshi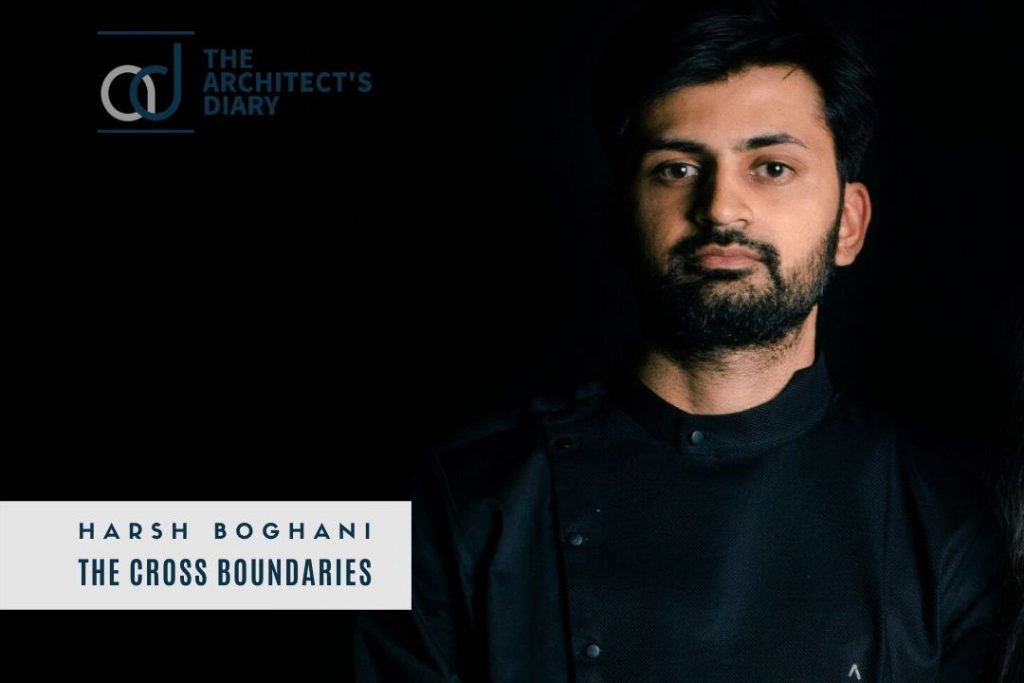 Website: http://www.thecrossboundaries.com/
Facebook: https://www.facebook.com/thecrossboundaries/
Instagram: https://www.instagram.com/the_crossboundaries/

&nbsp