Airbnb Offices Designed By Space matrix.
Space Matrix and Airbnb Environments Team have collaborated to create an innovative design for the offices of Airbnb located in Gurgaon, India.
An industrial warehouse was the chosen location for Airbnb's new global facility in Gurgaon, India.
They wanted to retain the industrial look and feel of the warehouse while assimilating the company's values and philosophy into space.
Using Airbnb's core identity and "Belong Anywhere" brand philosophy, Space Matrix design partners and Airbnb's Environment's team successfully transformed this warehouse into an astounding workplace.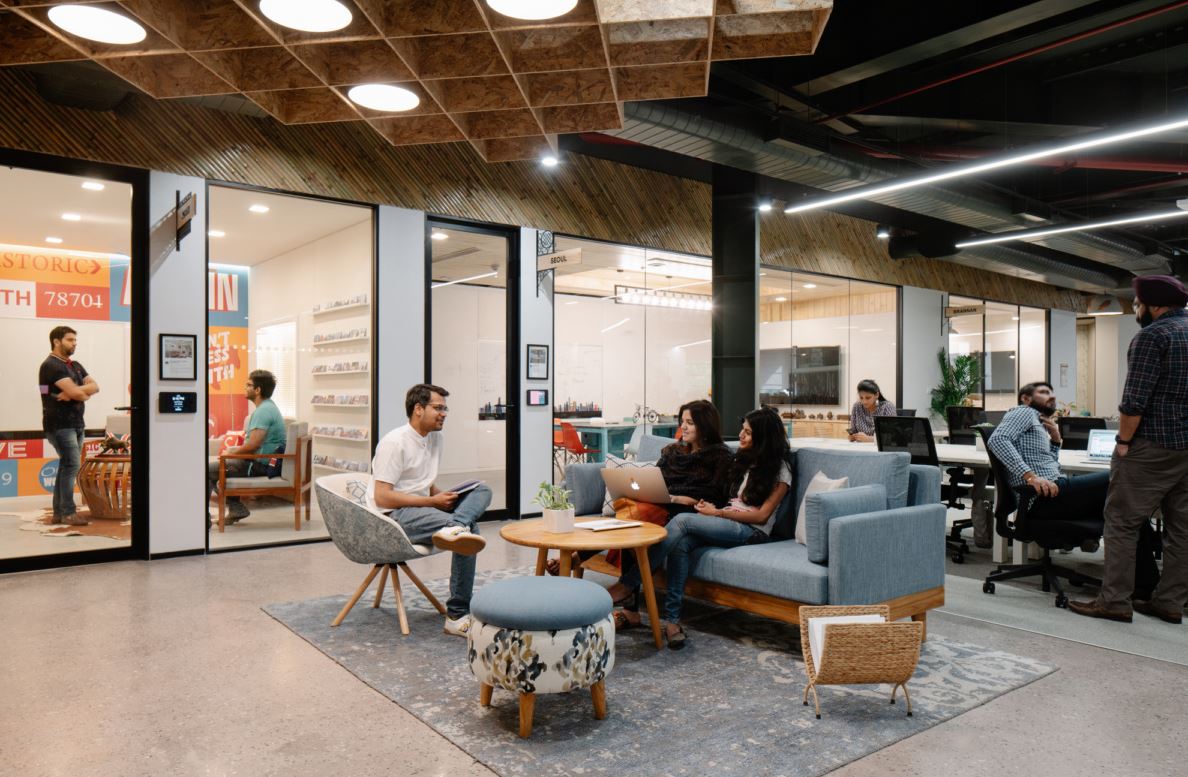 Reflecting the company's global image – Airbnb wanted a quirky yet functional workspace in line with its international design standards.
Their global offices tend to use neutral and subtle schemes with minimal and clean finishes. However, this space had to speak for itself, as well as defy functional workspace planning to reflect a unique brand experience.
The biggest challenge was developing a sophisticated and free flow design that exhibited the same language as other Airbnb offices across the globe while incorporating elements of local culture into the design features.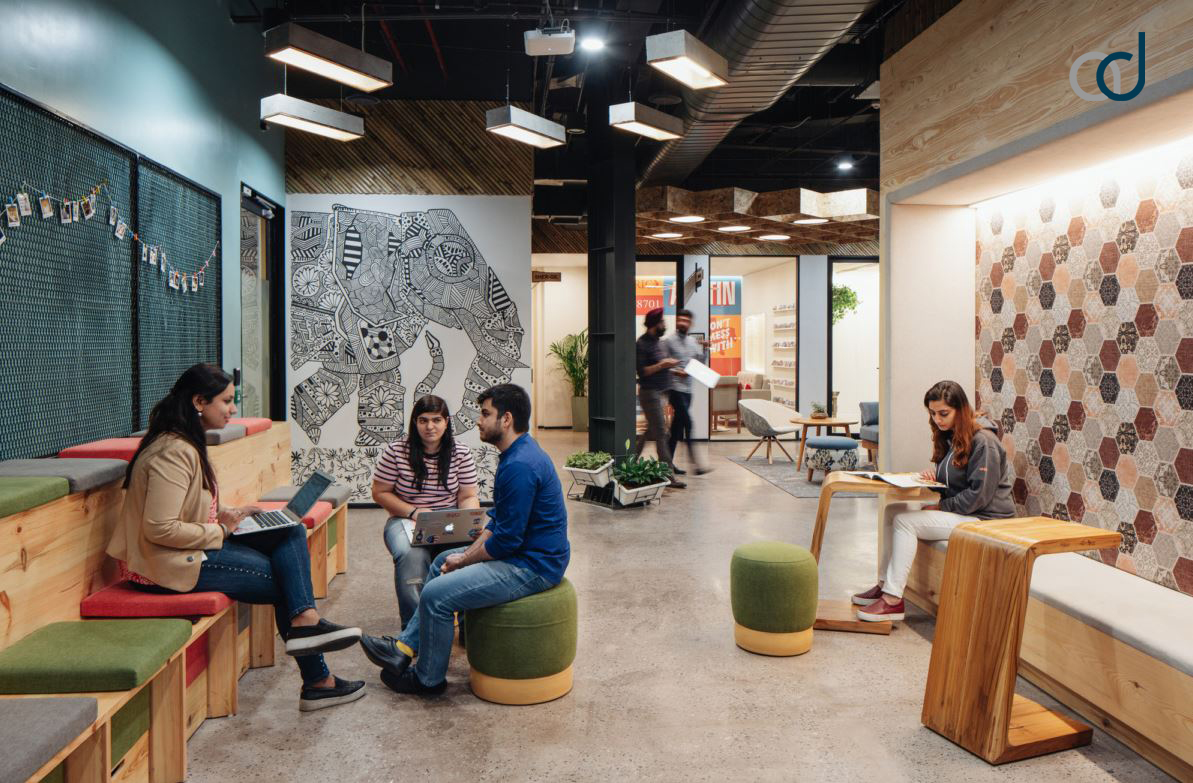 This was because the warehouse had robust column beam structures. Capacity, area, and location were also important considerations in the planning process.
The Space Matrix solution was to co-work with the Airbnb Environments team on the design and address and resolve challenges at every stage. This included stringent quality control and health and safety checks.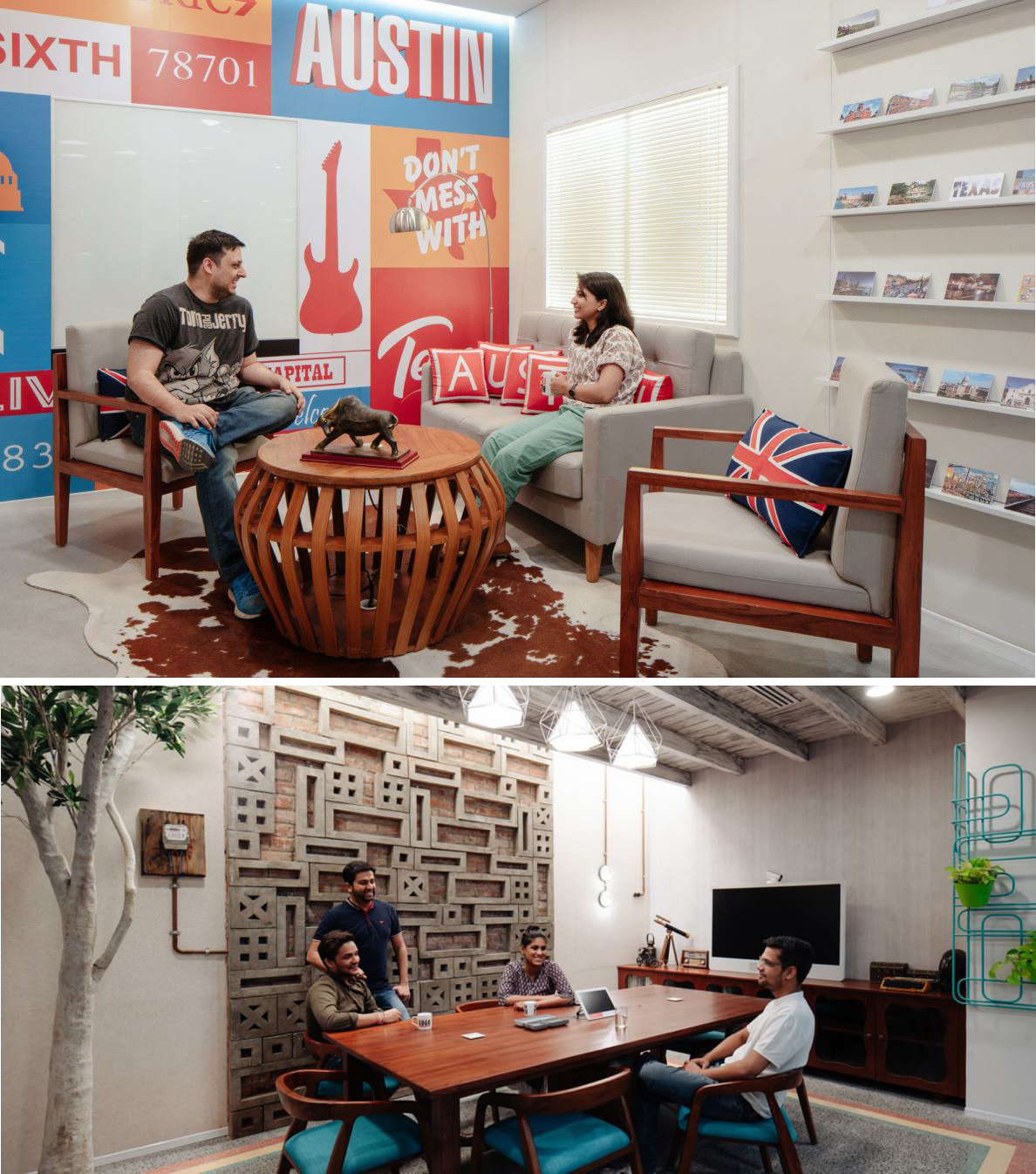 A common element in Airbnb offices is to have themed meeting rooms that are modelled after prominent listings.
These meeting zones are an opportunity to provide an experiential, design-oriented representation of Airbnb listings across the world. Innovative styling and props that represent the essence of each location were hence essential. Although each listing provides a unique experience, the Goa and Kuala Lumpur listings have received particularly amazing responses from the happy users.
Being in a country rich with culture, it was also important to infuse local essence into the design.
Some design elements that incorporate an Indian flavor include intricate hand-painted artwork with ornate floral and geometrical intermixing of patterns and lattice patterns reminiscent of Indian art forms. Additionally, handmade ceramic tiles, terrazzo flooring, bamboo cladding and handpainted local motifs have been used.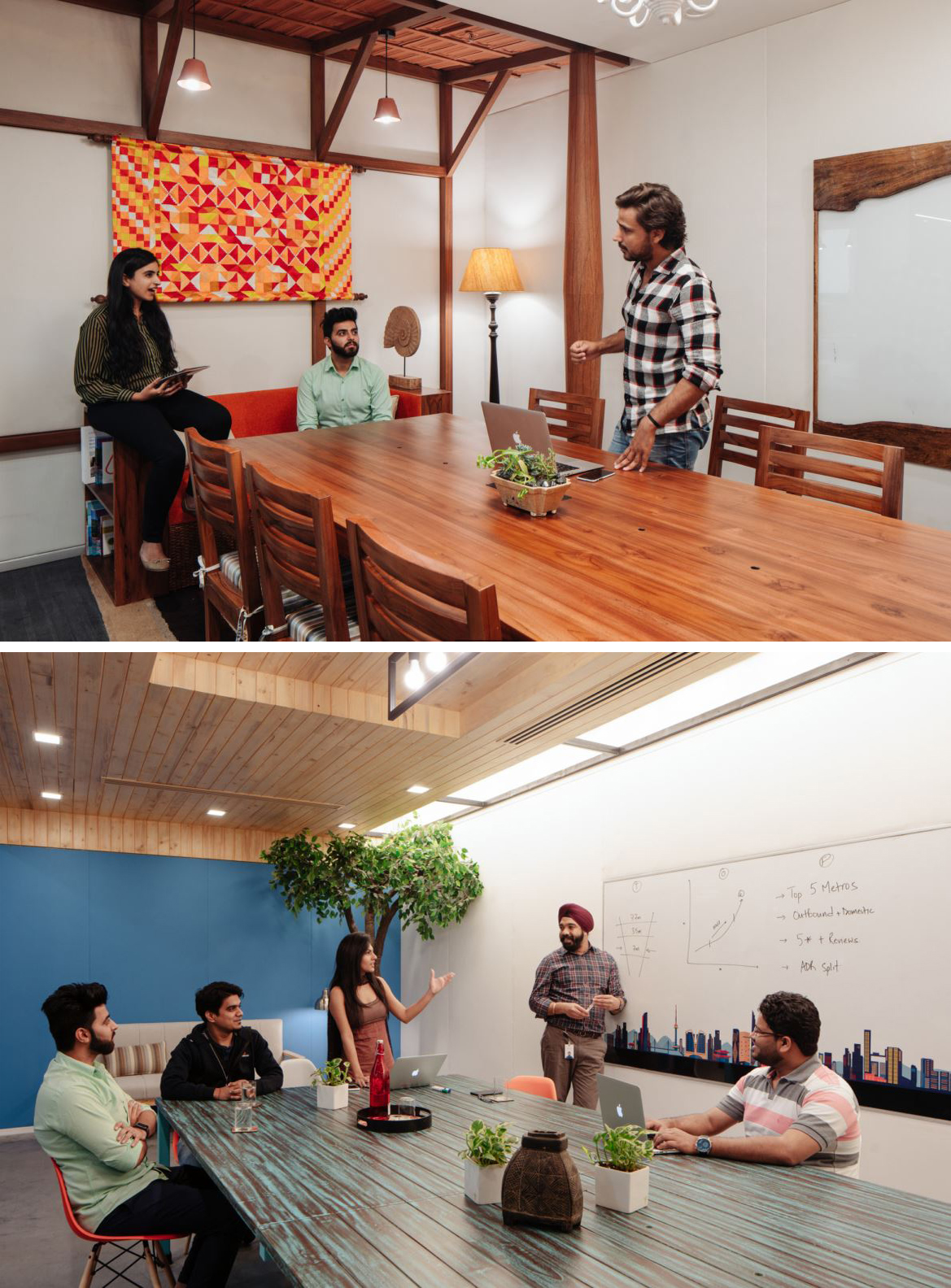 Fostering a sense of community – It was important to have a defined space typology that was specific to function. Yet it was also necessary to ensure interaction and build a sense of community amongst employees. Space Matrix has efficiently achieved this with open community spaces and exciting alcoves like the "Chai Bar", caves and duck-ins.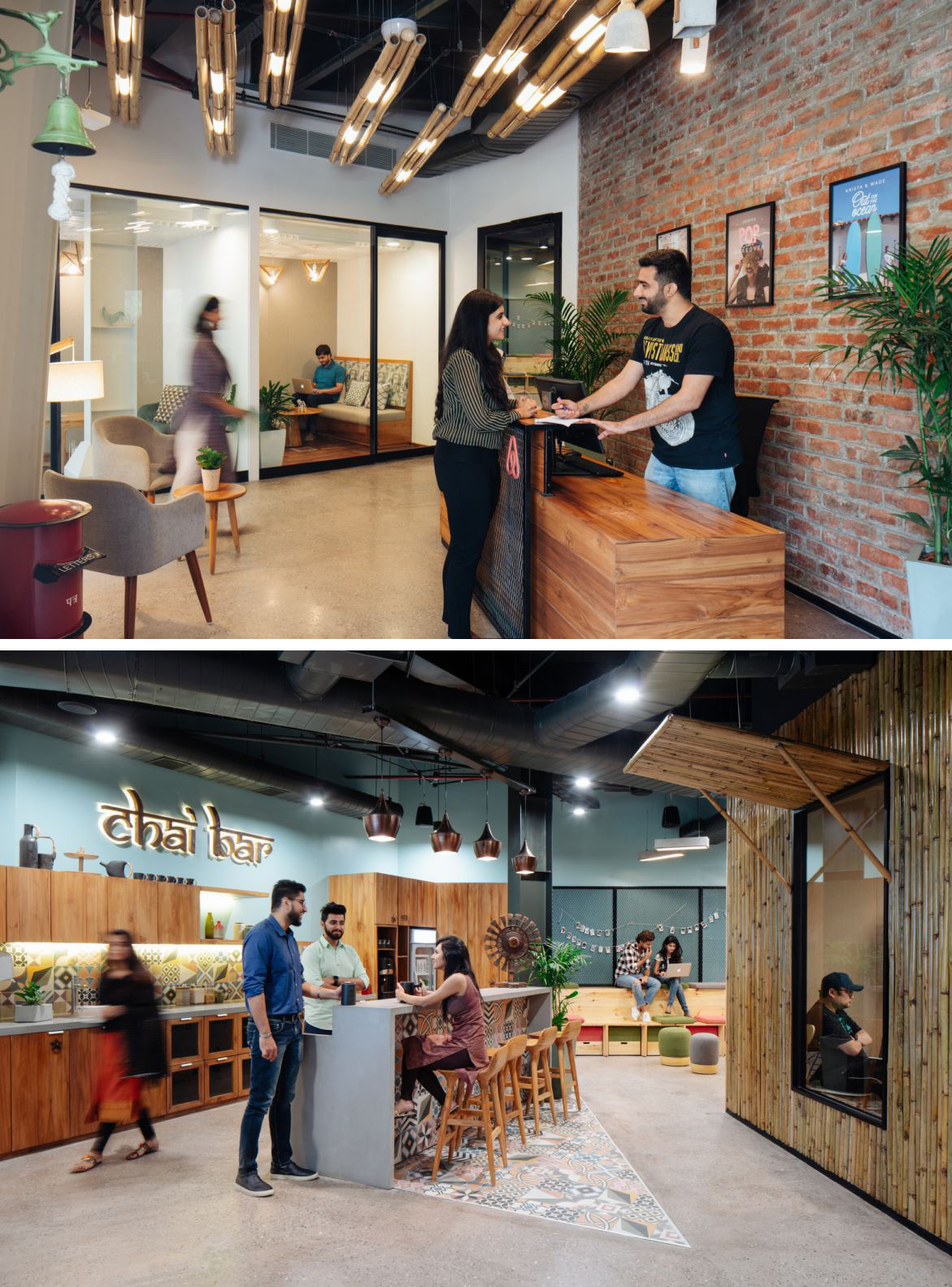 Nature was also extensively incorporated into the workspace. This was achieved with extensive usage of bamboo cladding on the walls and bulkhead.
This created an outside-in effect whilst maintaining the sophistication of the design. Innovative light fixtures carved out of natural bamboo were also installed and seasoned natural wood was used for furniture and the chai bar counter. Reclaimed wood was used to frame writing surfaces and add more definition to the context.
The mix of various elements and the use of cushions, plants and various props make the collaborative zones more welcoming and warm.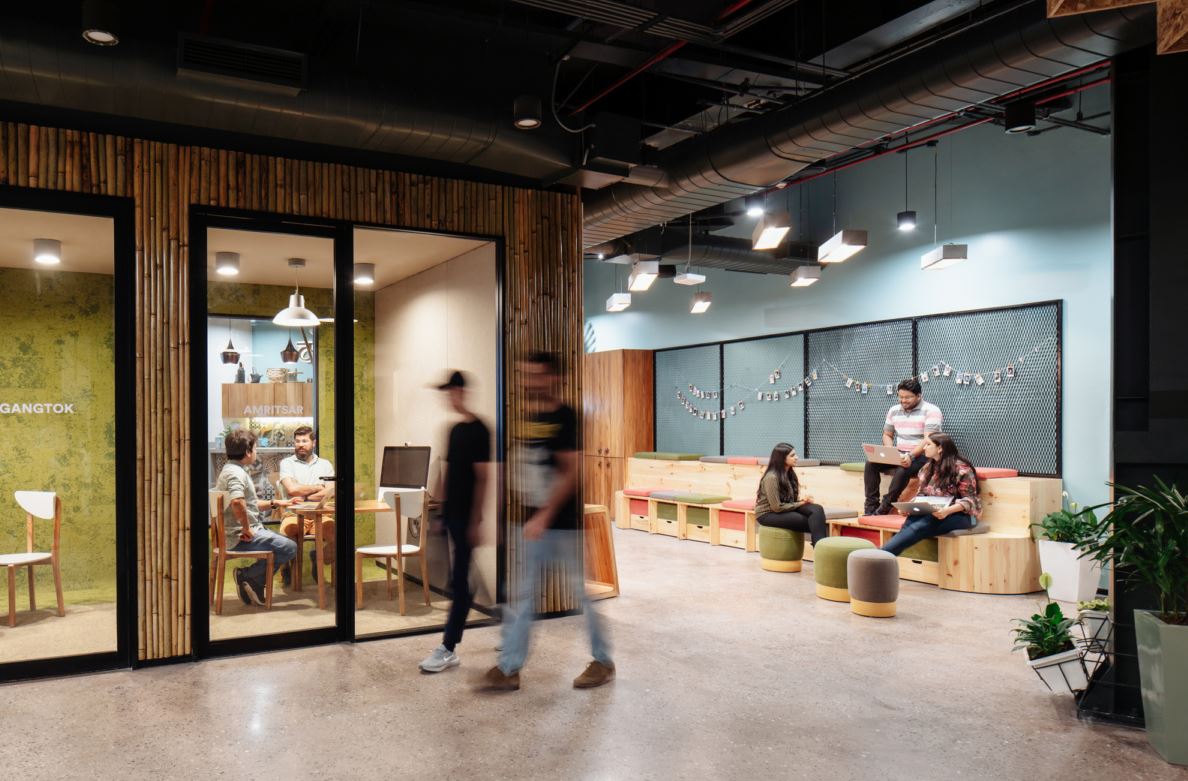 Through this amalgamation of design concepts, Space Matrix was able to transform the industrial space into a unique collaborative workspace for an innovative company.
Providing flexibility in space utilization – Warehouses can have immense potential for refurbishment as they offer lots of space.
Having ample space and volume allowed the design team to ensure that the workspace planning was flexible and versatile. Airbnb is a large community and it was important to infuse diversity in design and create a synthesis between spaces. This was done by first analyzing the work culture and functional demands of the end users.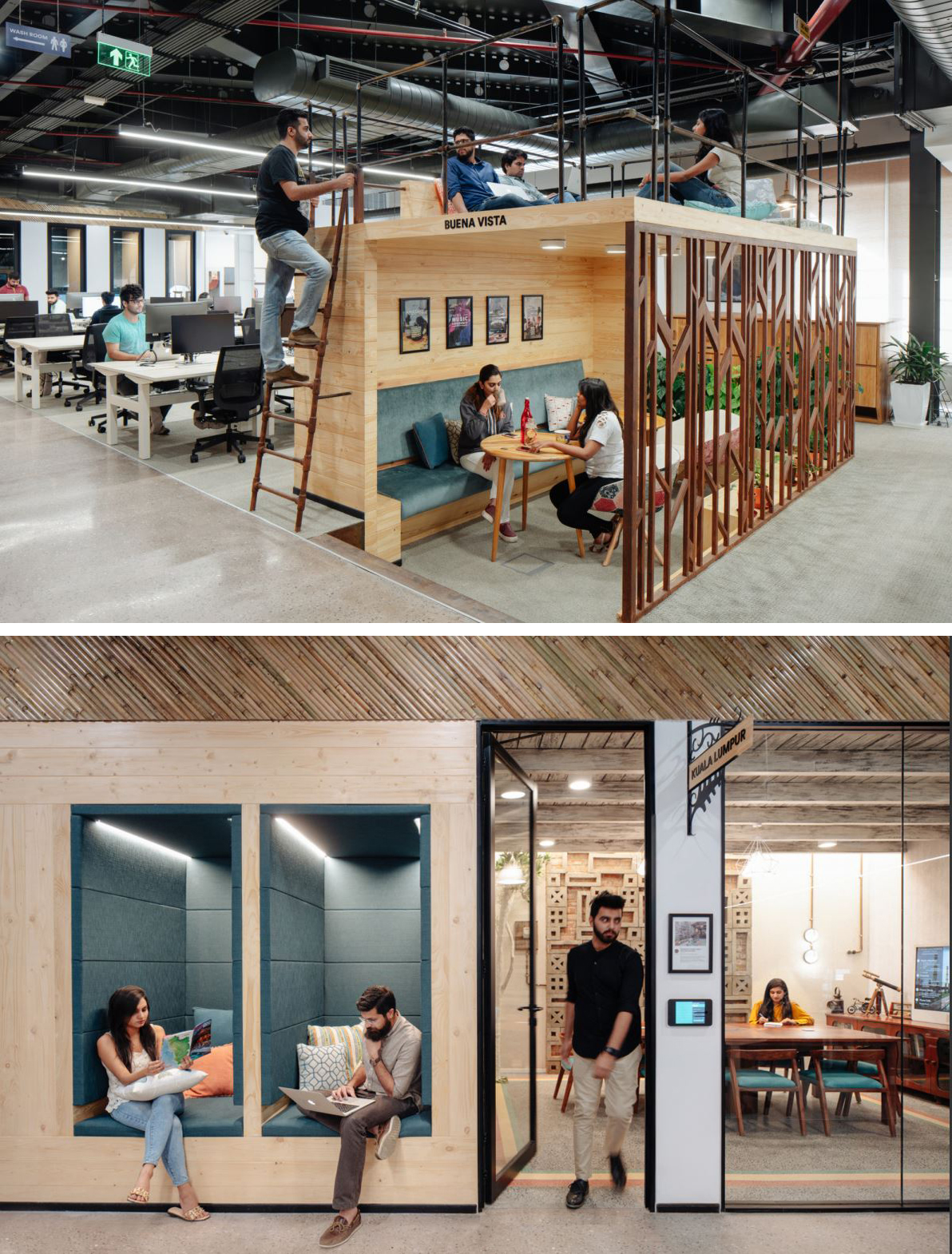 After gaining a better understanding of the cultural aspects, ethos, and attributes of Airbnb, the main task was to incorporate these into the space planning. Space Matrix was able to utilize each nook and corner of the site and present an amazing choice of spaces.
These include a sunken collaboration area beneath a rooftop multi-functional zone and a vibrant stepped seating events area.
Each collaborative area sees fresh elements such as different seating types. Other interesting spaces include distinct types of duck-ins for individual focused work. The obvious exposed structure of the warehouse gives bold character to the overall space.
Additionally, smart utilization of space allows for smooth transitions from one area to the next. Though it was a challenge to incorporate an elite feel into this unique location, careful planning has culminated in a balanced space that stirs the senses of anyone who steps into the office.
Designer: Space Matrix and Airbnb Environments Team
Design Team: Vernika Rawat, Swaviman Das
Photography: Khoo Guo Jie – Studio Periphery