"Simplicity is all about Subtracting the Obvious and adding the Meaningful"
Designers Dhruti Hamlai and Arwa Dholkawala were inspired by the name of this new project 'Boundless'- which translates to having no boundaries; infinite or vast; unlimited, and decided that the very definition of the name should inform the interiors of this multidisciplinary studio located in the heart of the city in Bandra, Mumbai.
A Studio Without Any Boundaries | Dhruti Hamlai & Arwa Lokhandwala Designs
visit : Dhruti Hamlai & Arwa Lokhandwala Designs
The large glass windows that envelop the studio have been emphasised using gridded framework and arches in matte black to create a contrasting design element, also bringing in an uninterrupted flow of natural light.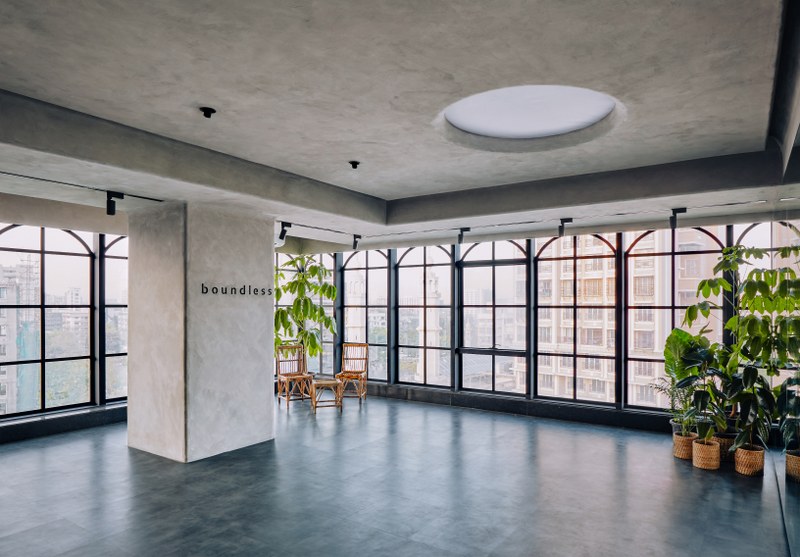 Personal belongings and yoga equipment are stored in the open shelving unit and storage cabinets in the pantry area. The fluted back panels in the open shelves and veneer shutters in the pantry bring in a sense of warmth and visual interest, when set against a cold concrete background.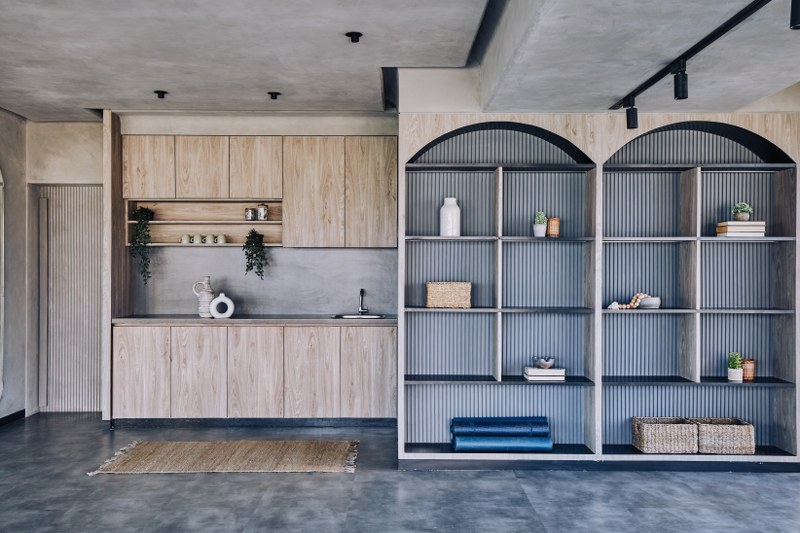 The idea was to tear down the walls of confinement and broaden the spectrum, by challenging both material and conceptual boundaries that, almost always determine the identity of a space. The designers aimed to create a versatile yet spiritually engaging space that would draw in both yoga and fitness enthusiasts, and those visiting for dance workshops, talks, screenings etc.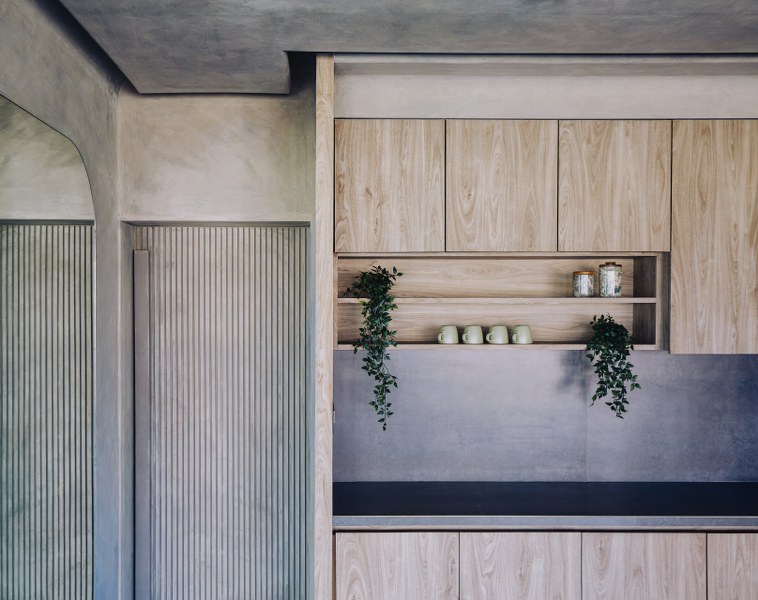 The design focuses on texture rather than colour, with no clear distinction between floors, walls and the ceiling- celebrating fluidity and tactility throughout. Making it a studio without any boundaries- literally and figuratively.
Concrete finished vinyl is used across the floor, with an internal wooden framework and springboard floor, engineered to create a structurally sound floor for ballet and dance workshops. Rounded walls and columns soften the space, giving a cave-like feeling that invokes a sense of calm. With a material tone that ebbs and flows through the space, the grey limewash paint ties in beautifully with the flooring that lends a depth and luminosity to the studio.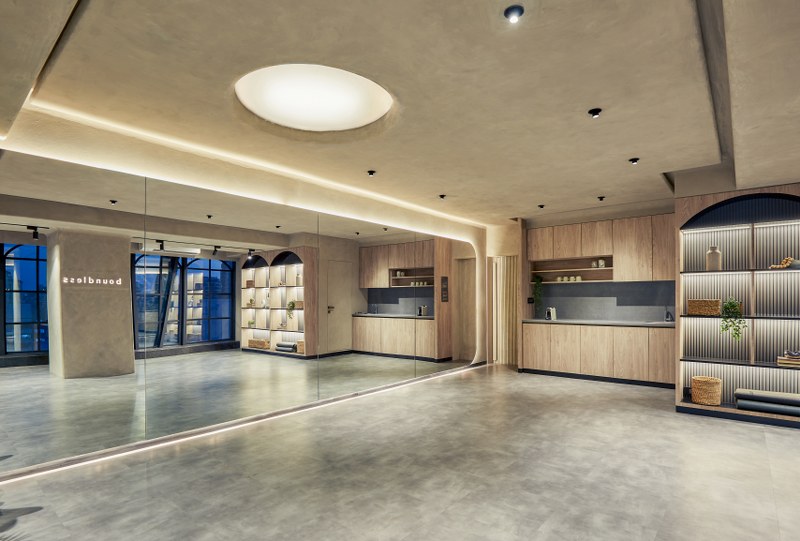 With the floor, ceiling and walls in the same colour, it gives the studio a limitless and vast feeling. A round cut-out in the ceiling further emphasizes the design concept as circle is a symbol of infinity and functionally adds. A lot of indirect lighting to the space when the studio is holding yoga and meditation sessions.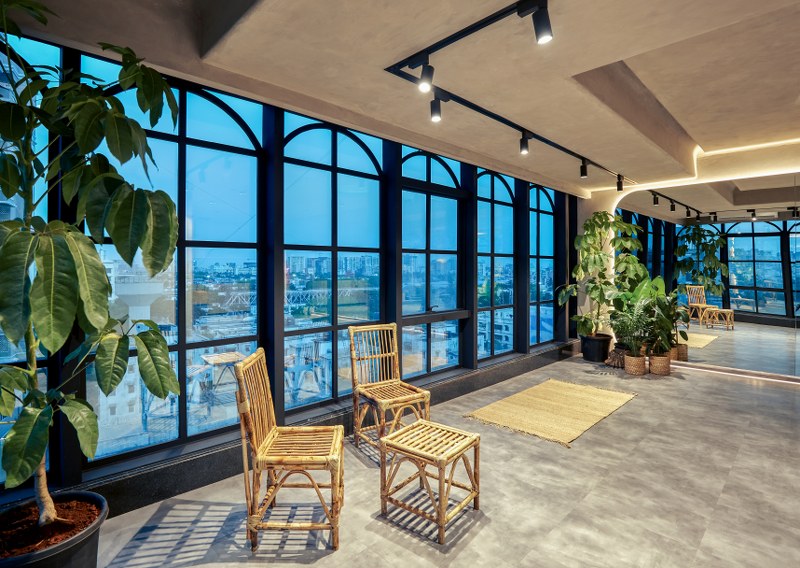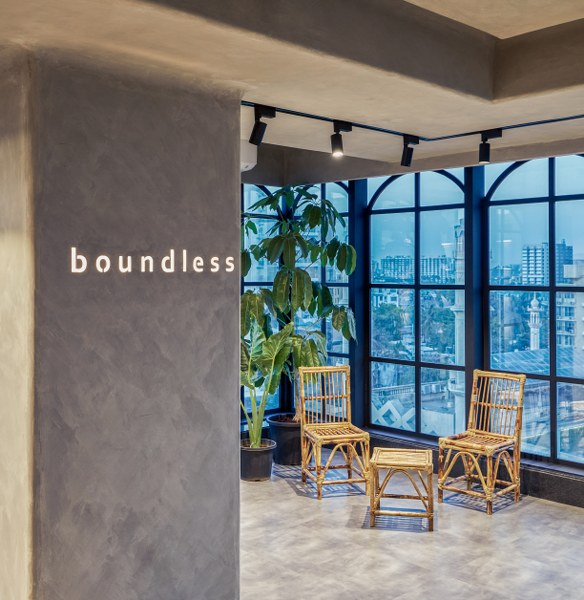 Boundless has a slow, intentional spirit, almost meditative that inadvertently nourishes those who visit the space. A respite from the outside world, evoking a sense of calm and tranquillity the minute anybody steps into the studio.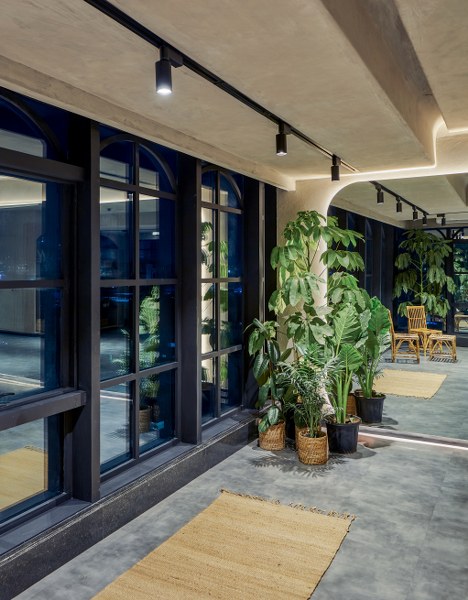 FACT FILE
Designed by : Dhruti Hamlai & Arwa Lokhandwala Designs
Project Type : Commercial- Wellness studio
Project Name : Boundless
Location : Bandra, Mumbai
Year Built : 2022
Duration of project : 6 months
Project Size :  600 square feet
Project Cost Appx : 15L
Principal Architects : Dhruti Hamlai & Arwa Lokhandwala
Photograph Courtesy : Aspire studios
Firm's Instagram Link : Dhruti Hamlai & Arwa Lokhandwala Designs
For Similar Project>> OFFICE SPACE HAVING AMALGAMATION OF CLASSICAL AND MODERN DESIGN WITH A TOUCH OF VINTAGE