This residence is designed to flow with how the family functions in their routine life, breaking down to a simple formula. Hence the arrangement has been divided into two floors. It was bit challenging for us to design the entire project in a limited time period. After almost a year and a half's planning, design process and execution, it turned out to be quite a simple and elegant residential interior design.
A Simple And Elegant Residential Interior Design | THEME INTERIORS
VISIT : THEME INTERIORS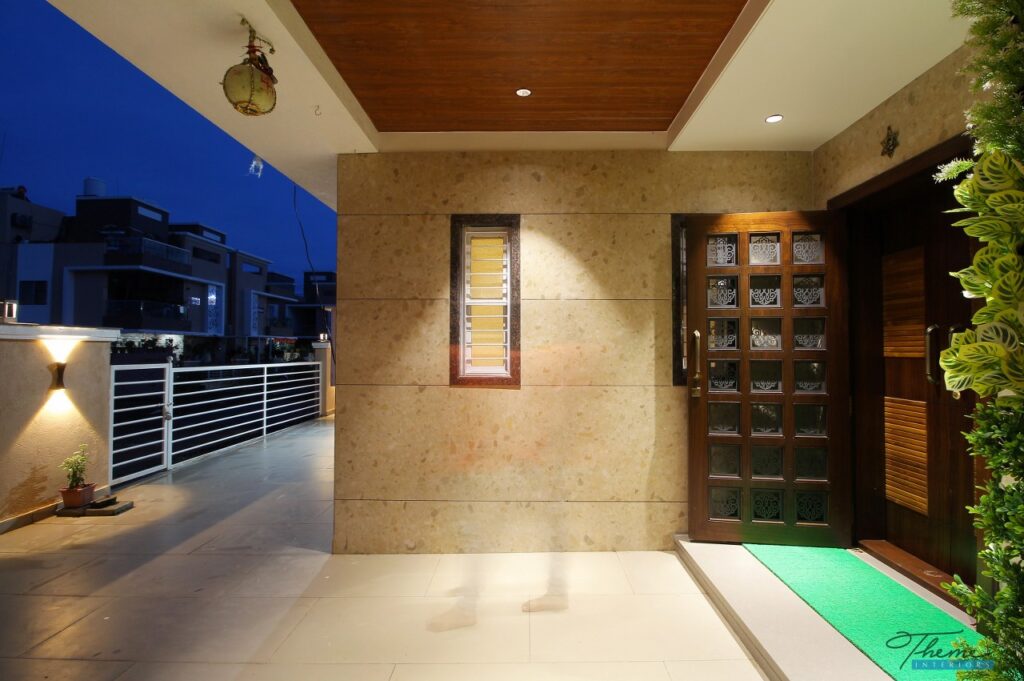 We used light brown marble finished tiles throughout the area. We designed a simple false ceiling. We used dark & light colour veneer for TV unit which made the TV unit pop up. We added light rose coloured soft fabric sofas & light cream coloured fabric for chair.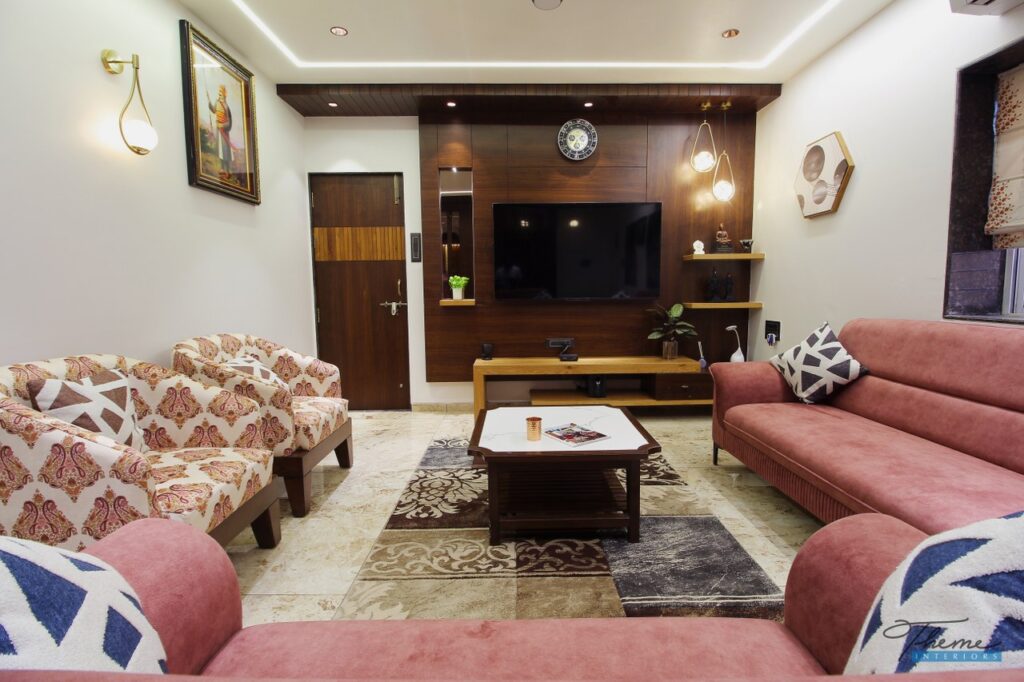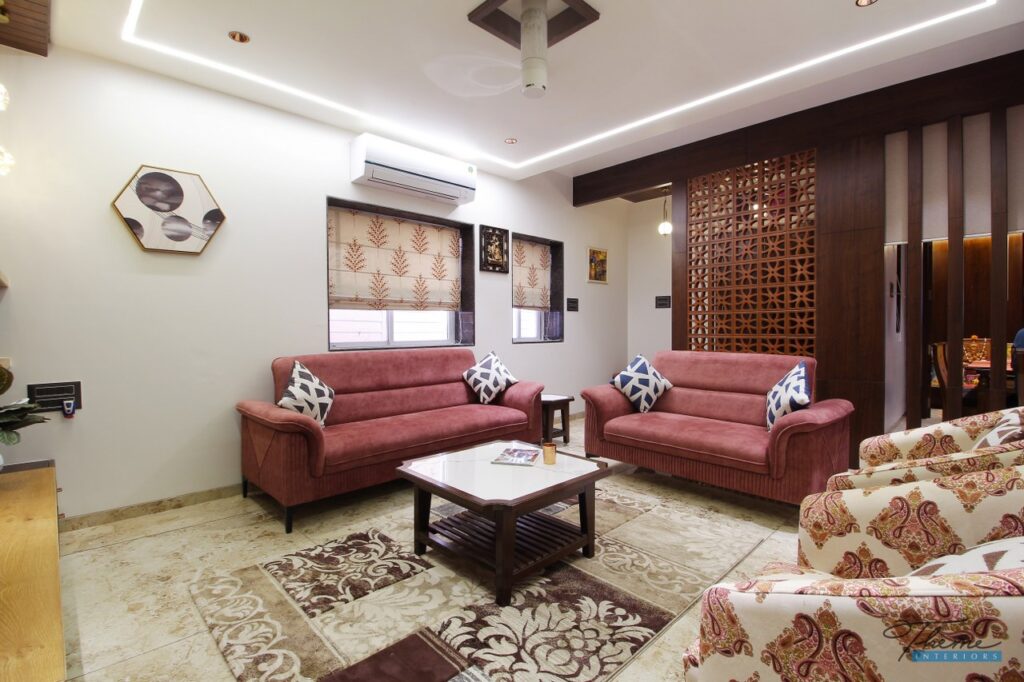 While designing a residence, we always make sure that client's personality is showcased & reflects throughout the design. In order to maintain that, we decided to compose a neutral shell for the space and use pops & burst of colours through art & accessories. The living room and foyer is divided with a combination of wood and terracotta jali.
Following the same theme we used pastel colour palette for kitchen storage. The kitchen has plenty of storage which caters to the need of the family. Small Pooja room has been placed between kitchen & dinning. The adjacent dining space is grand with it's luxury elements complimented by ample amount of natural light.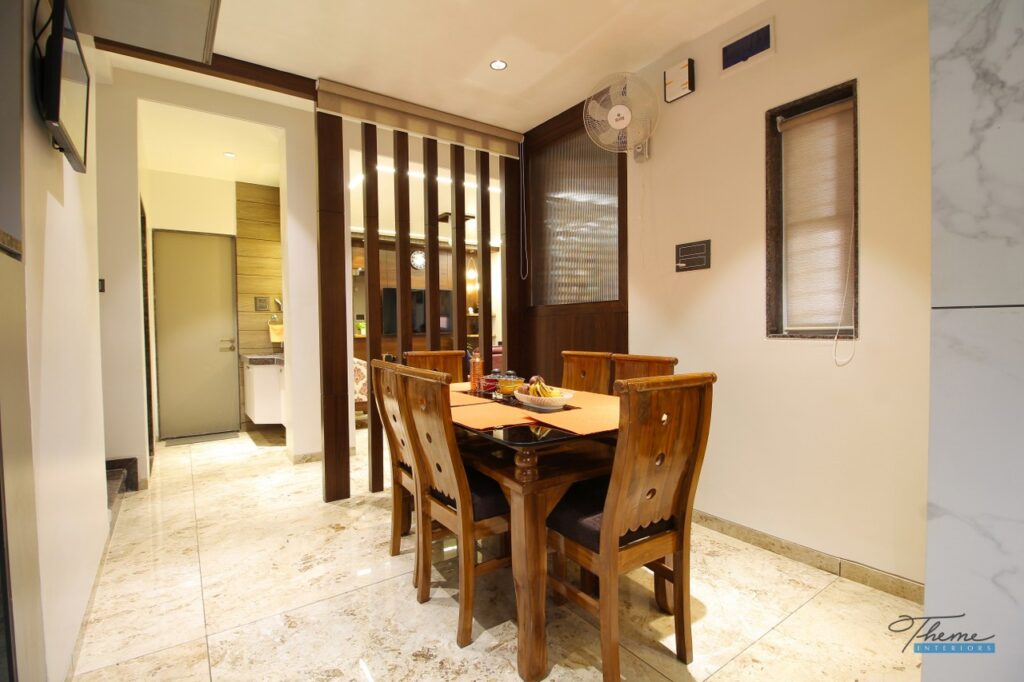 All bedrooms have been designed according to each end-user's requirements, yet in a harmony with the overall theme of the house. The blue-coloured sofa with black metal legs sit over the neutral backdrop of lime and wood.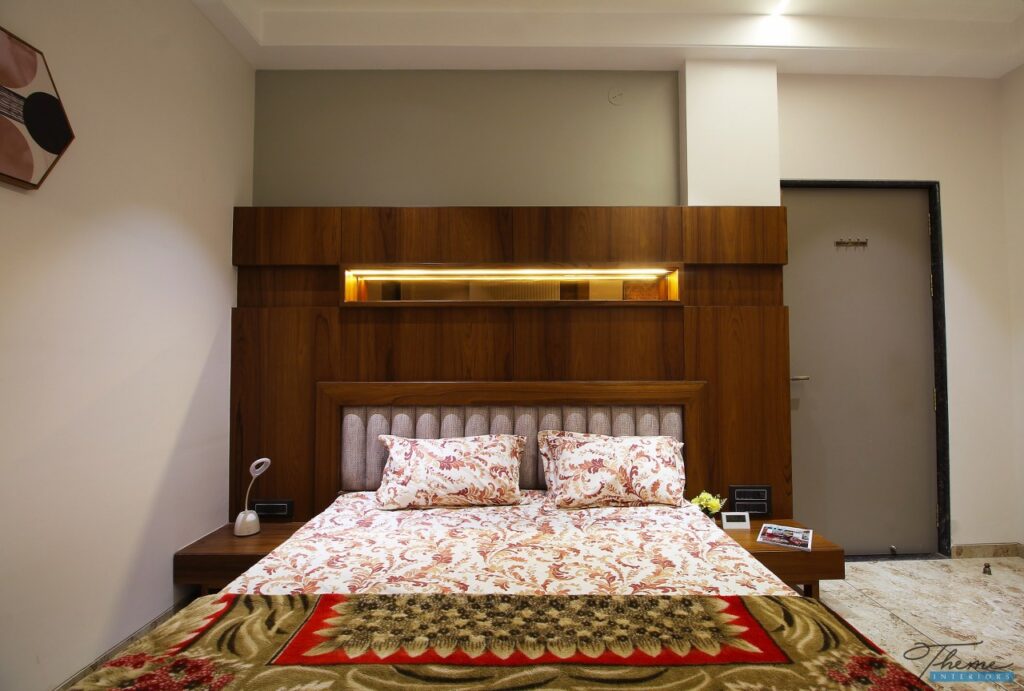 Master bedrooms has been designed by keeping wooden tones in mind & giving extra luxurious touch by adding leather head board & niche with mirror at the back.
Indian décor is often rich in colors, pattern & texture where just a few elements are enough to fill a room. With an exotic flair, bed back panel is finished with light blue PVC planks. The sliding wardrobe shutters are finished with venner & designer mdf. The ornamental lighting punctuate the bedside, creating a cohesive experience along with the muted colour palettte and the wooden textures repeated across the entire space.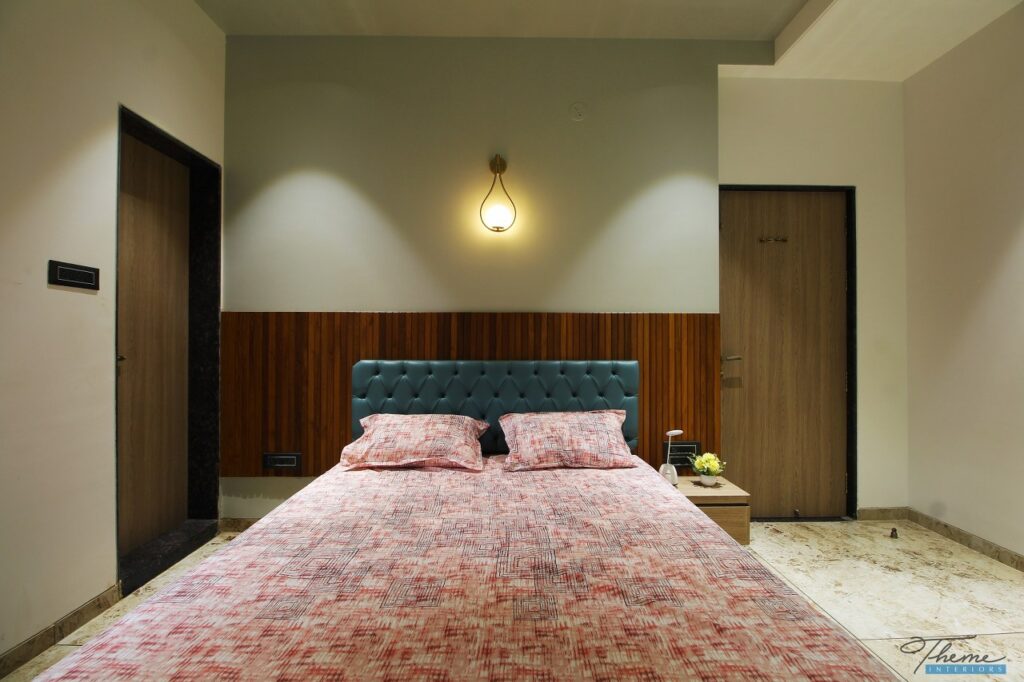 Re-imaging all these spaces to be tied-up into one with a string that elegantly blended into each other functionally and aesthetically was very exciting. We realized that this was beyond just an Interior Design!
We used light coloured veneer with plain laminate. The sliding wardrobe shutters are finished with black mirror and the light coloured veneer keeps the wardrobe more pleasant.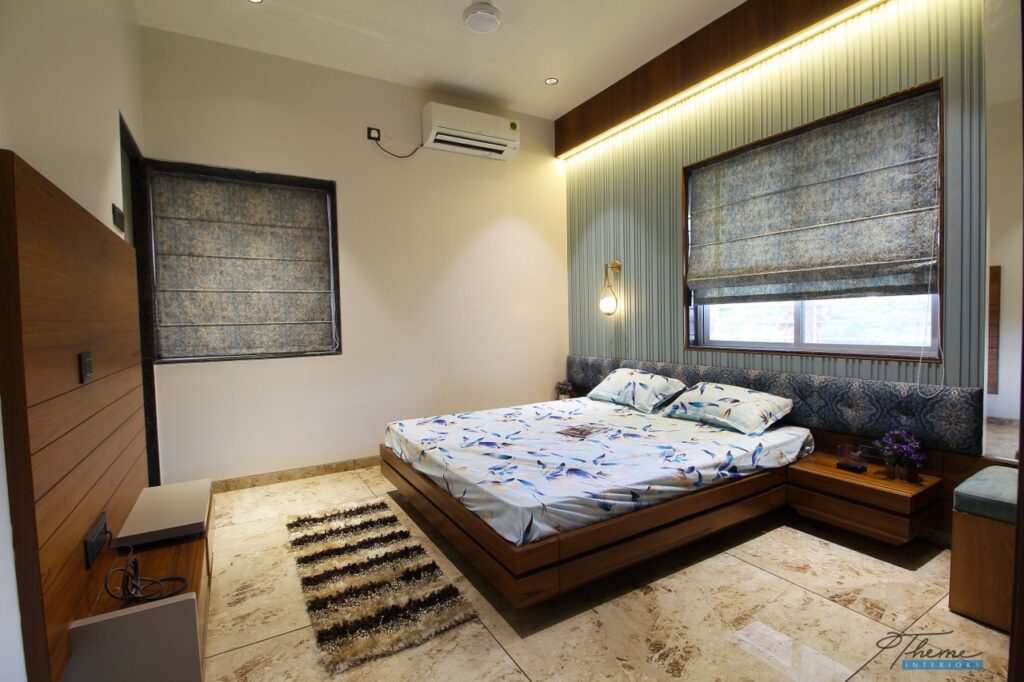 Terrace loacted on first floor connecting to the family-sit-out-area, which command an exhilarating view of the charming city. We kept the small balcony pleasant and simple. Adding phomi clay bricks on wall keeps the balcony view more pleasant.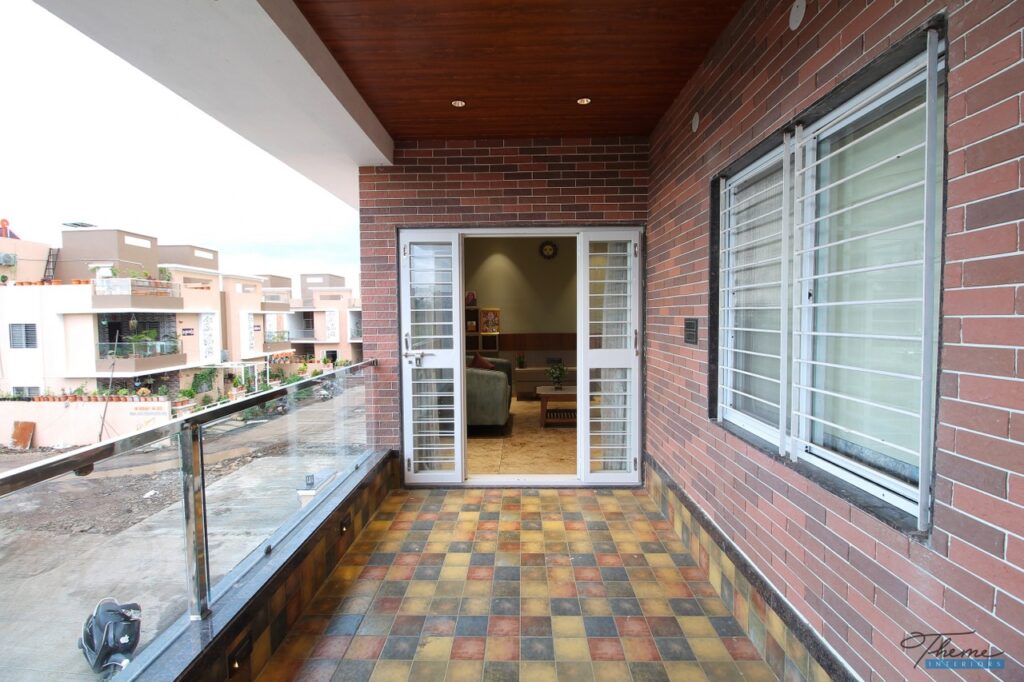 FACT FILE
Designed by : THEME INTERIORS
Project Type : Residential Interior
Location : Park Street, Ring Road, Opp. Mount Litera Zee School, Latur (Maharashtra)
Year Built : 2021
Duration of the project : 14 months
Plot Area : 2200 sq.ft
Built-up Area : 2500 sq.ft
Principal Designer : Vikas Bhutada
Team Design Credits : Kishan, Soniya & Ahetesham
Products / Materials / Vendors : Wallcovering / Cladding – MCM PHOMI / Lighting – HYBEC / Doors and Partitions – ply partition finished with veener / Sanitaryware – jaquar / Windows – jindal powder coating windows / Flooring – varmora, nexion, motto / Kitchen – hettich / Paint – aisan paint water base luster internally / Artefacts – mastan / Hardware – ozone / hafele / furnishings – shilp.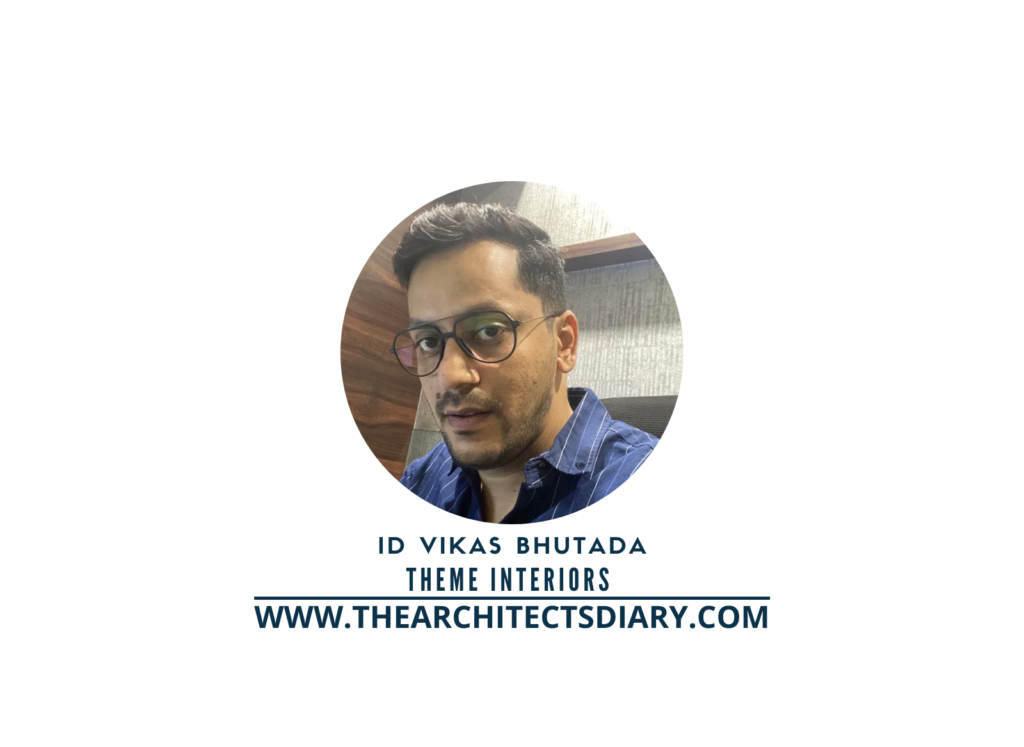 Firm's Instagram Link : THEME INTERIORS
Firm's Facebook Link : THEME INTERIORS
For Similar Project > A FUSION HOME OF MINIMALISTIC TENDENCIES AND UNFETTERED DESIGN PRINCIPLES