A Restaurant Interior with Essence of Rajasthan | Minnie Bhatt Designs
When the client approached me for the project what excited me was the name..it would mean creating a quirky yet classy ambiance with exciting possibilities.
Designer: Minnie Bhatt Designs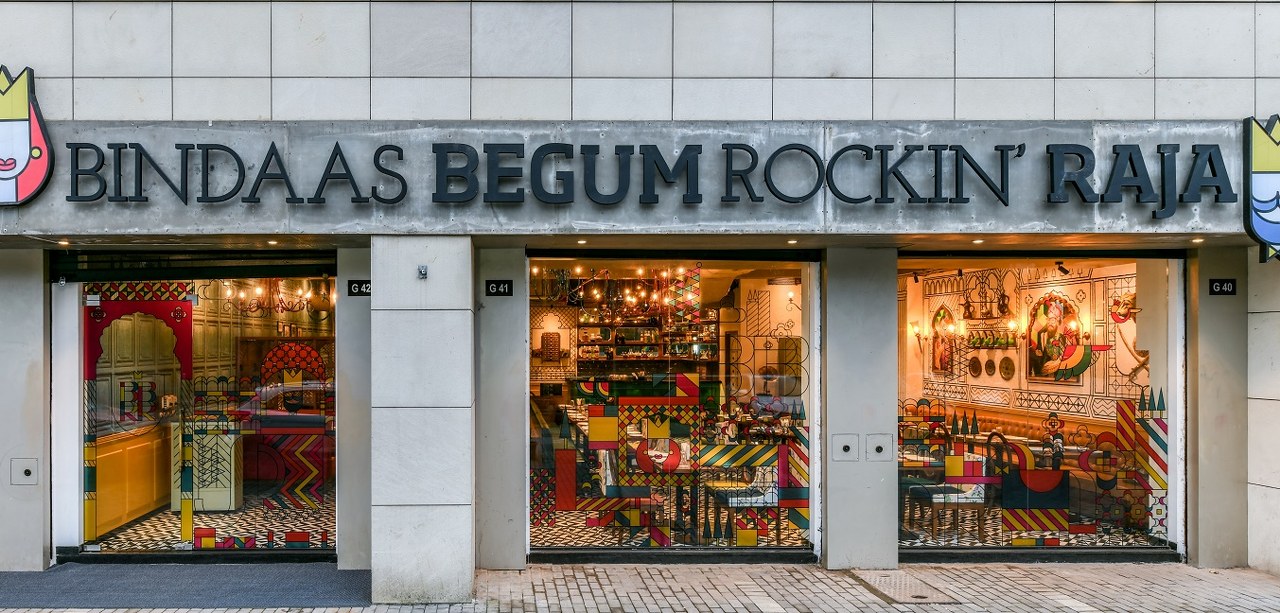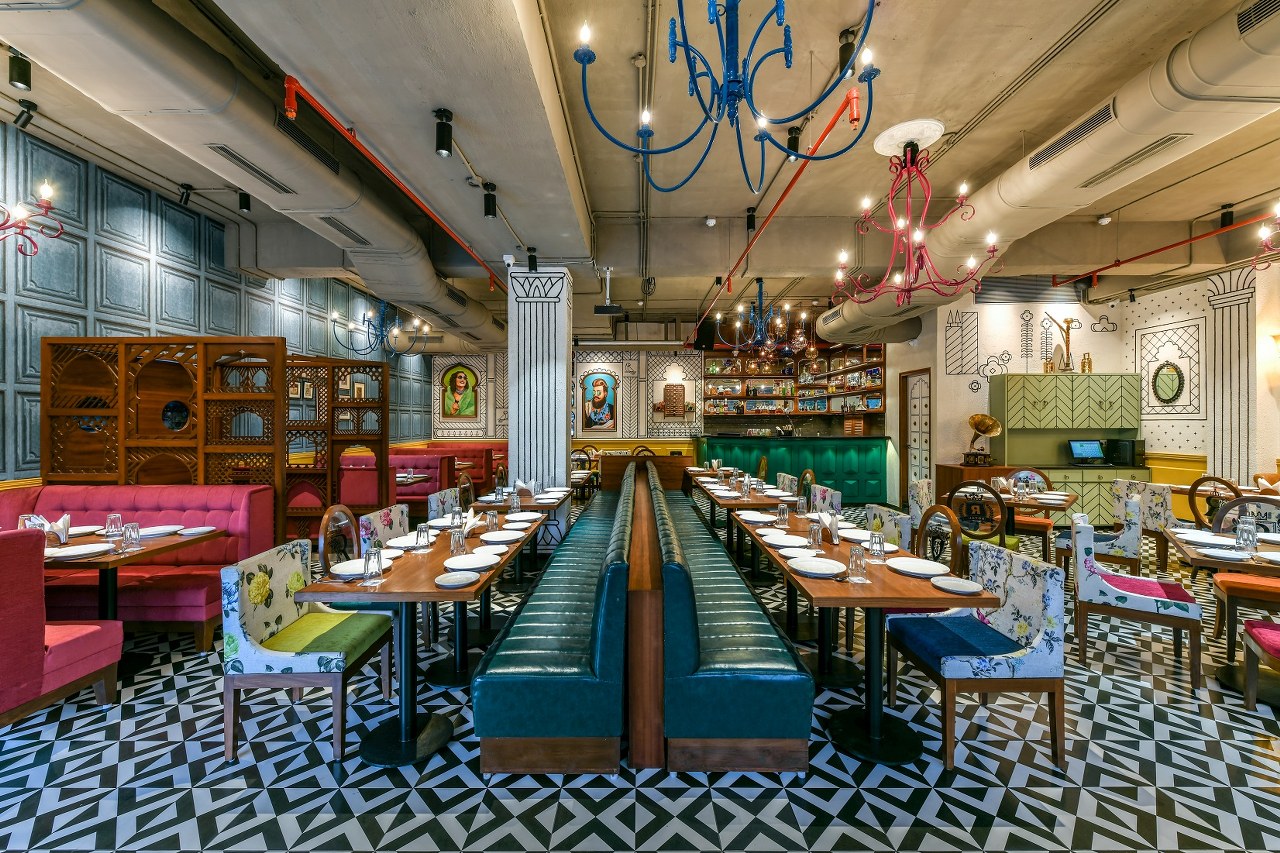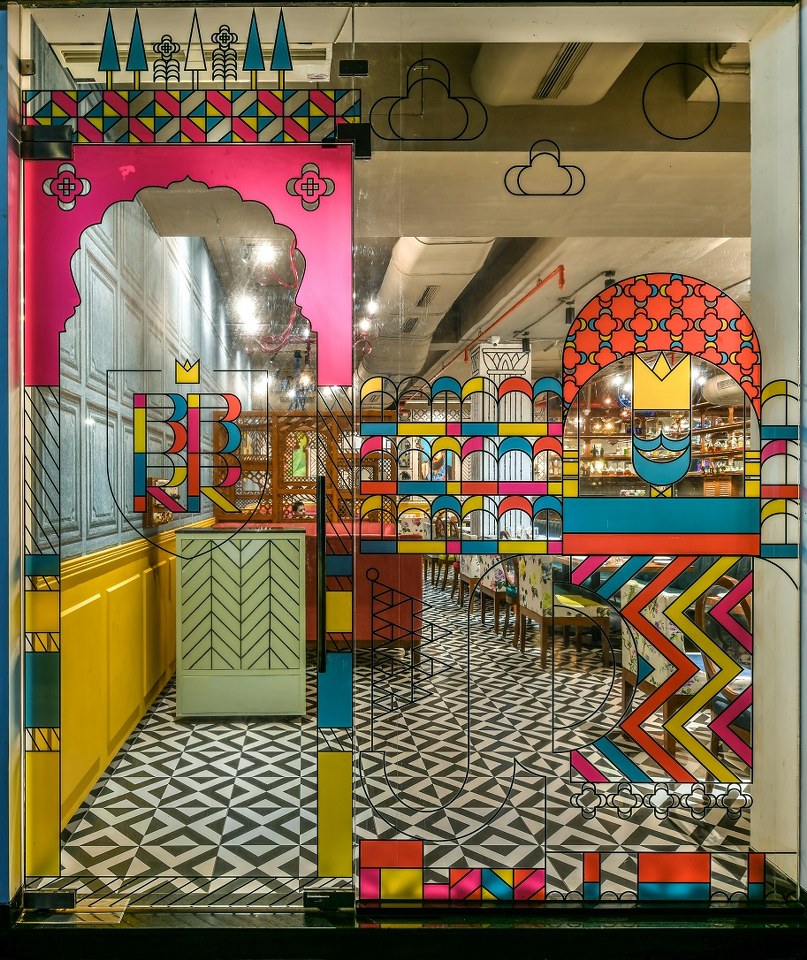 The restaurant was previously being done by another designer and when I got on board I had the entire layout and floor tiles changed to work towards what I had conceptualized for space.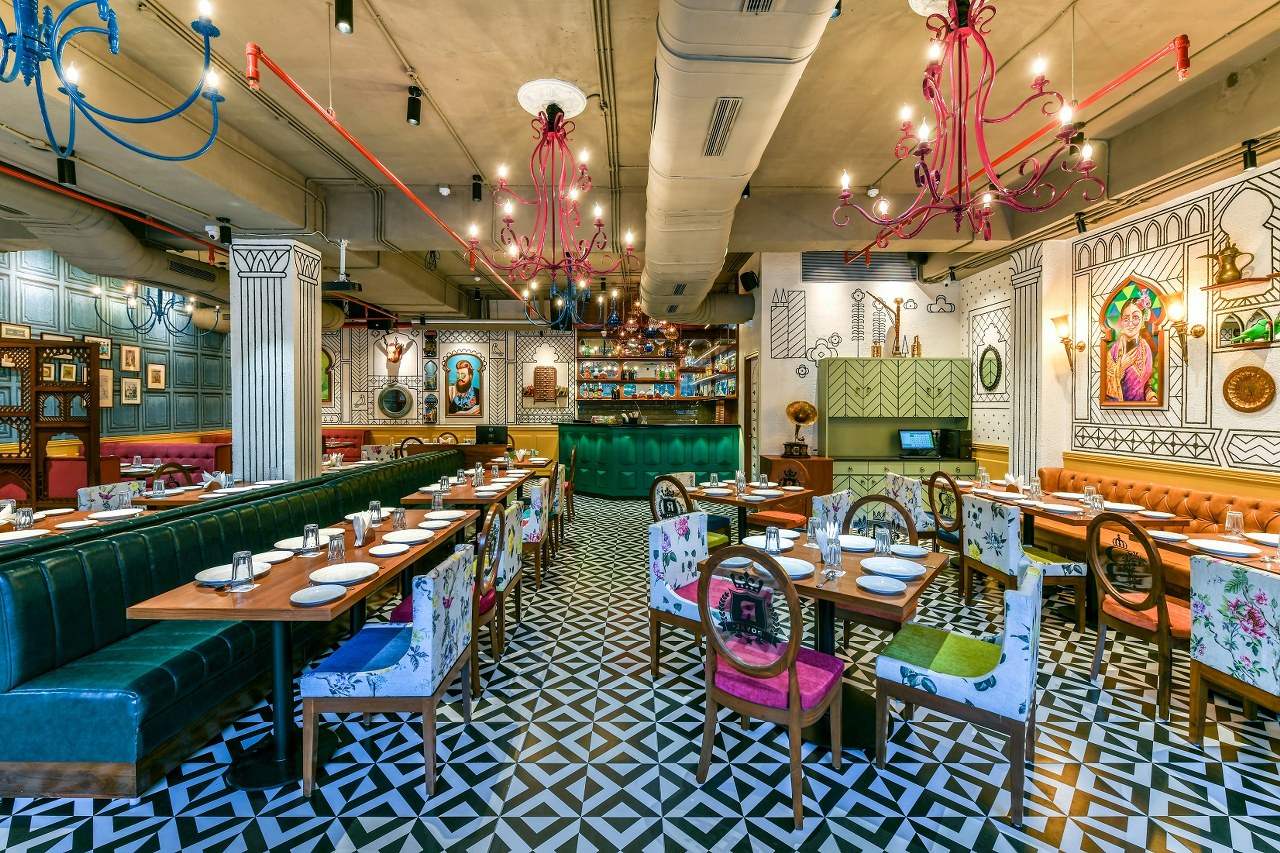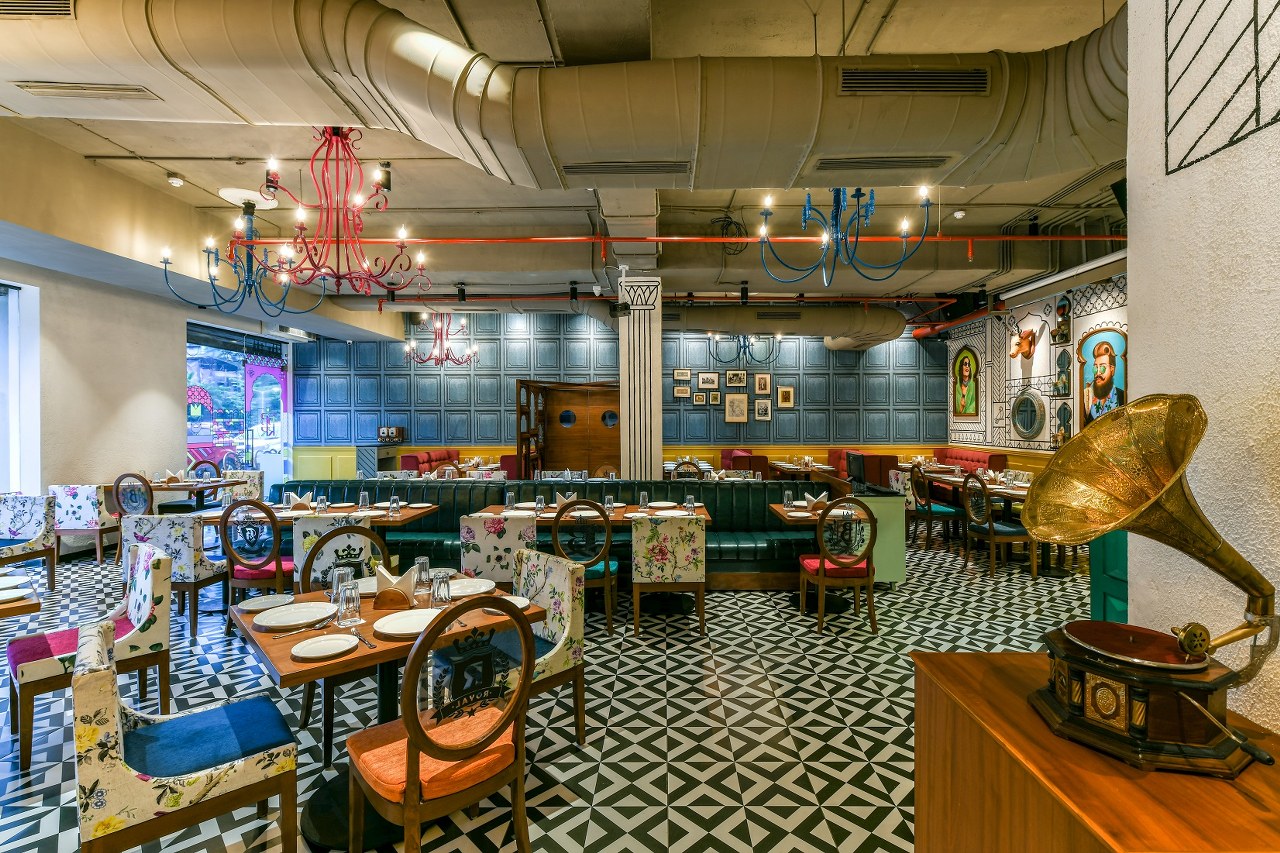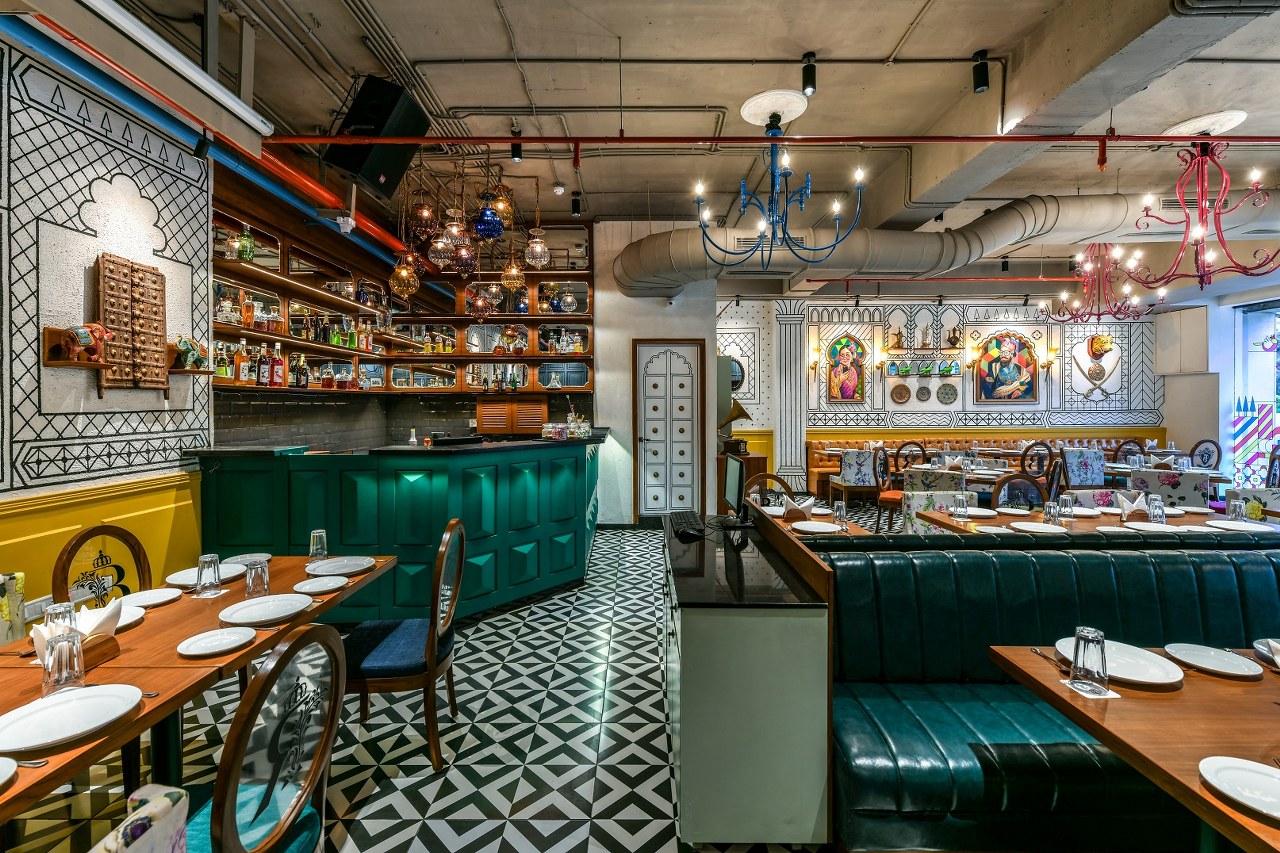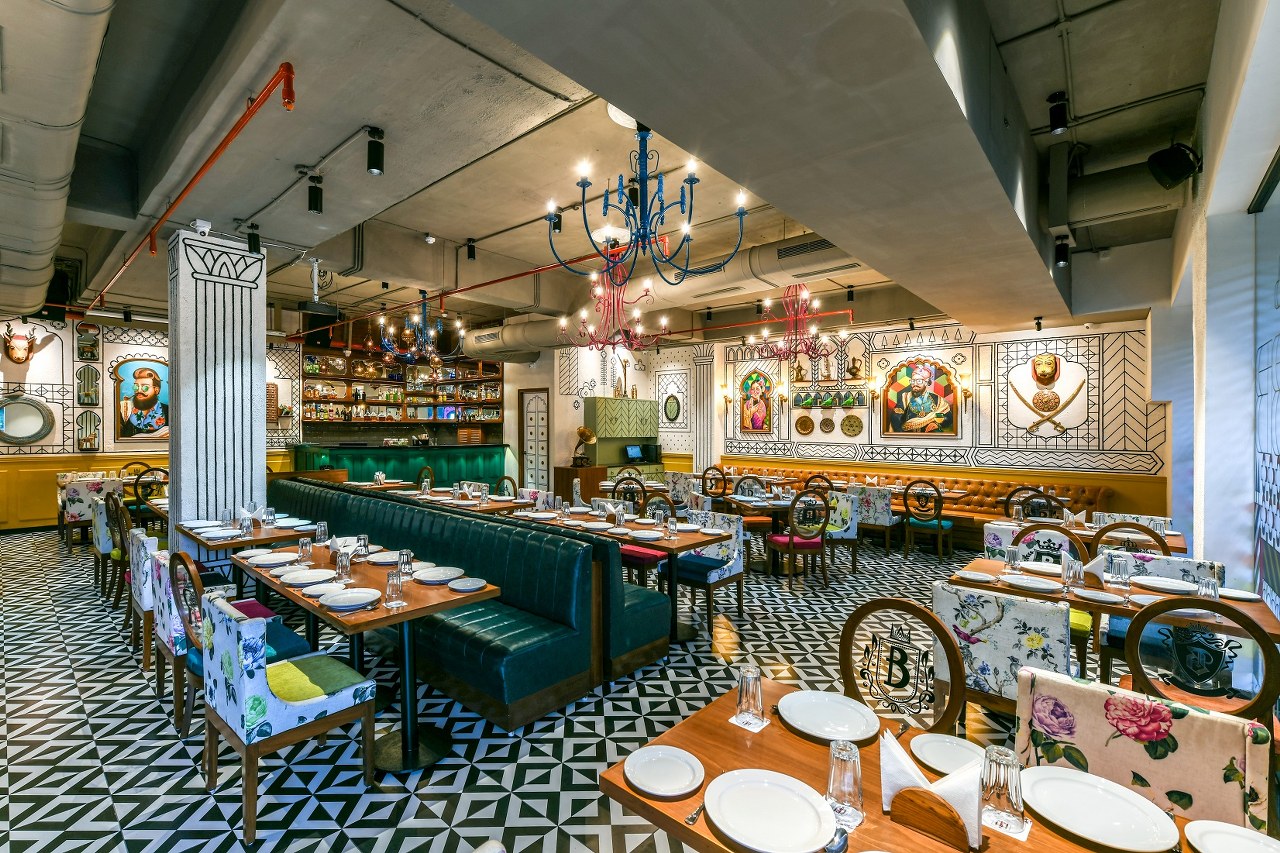 The flooring tiles we selected drawing inspiration from black and white marble used on old palace floors. The idea was to create a concept that translates old palace walls decor into its contemporary version. This thought runs through the design of the space right from the facade to the wall art and the quirky portraits of kings and queens.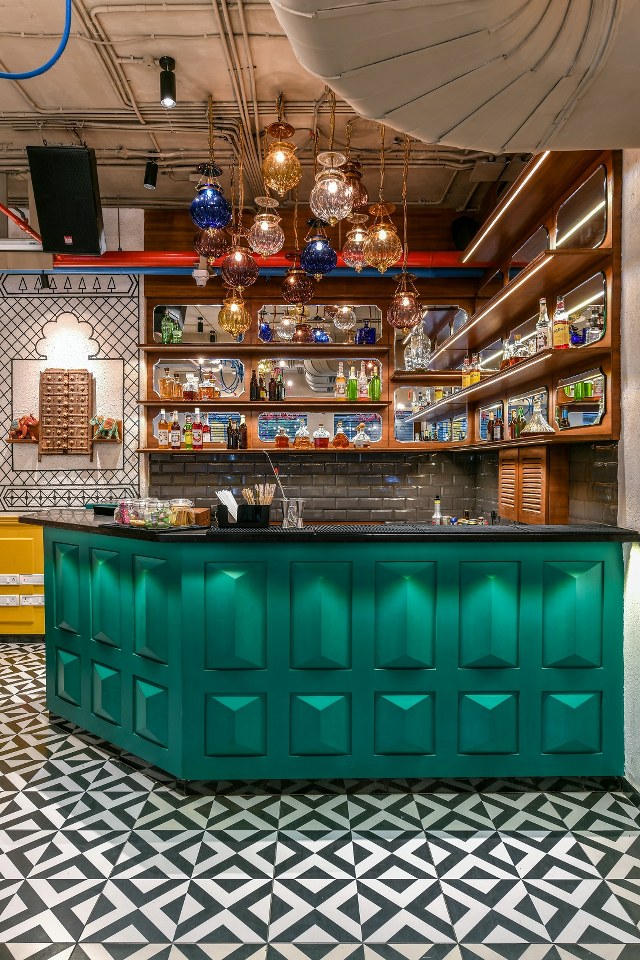 We worked in sync with brand designer Arti Agarwal to create the wall graphics which are hand-drawn and the graphics for the facade sticker. while the facade is vibrant and colorful the wall art is done in black lines only as we wanted to integrate vintage artifacts into it, like souvenirs from a royal hunting expedition, swords and shields, and Vintage wine jars.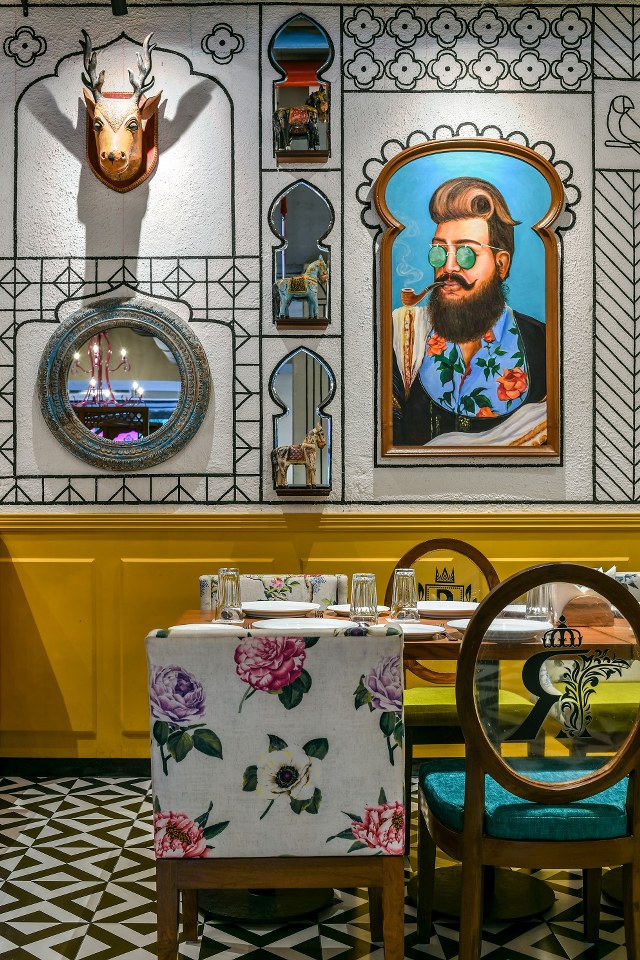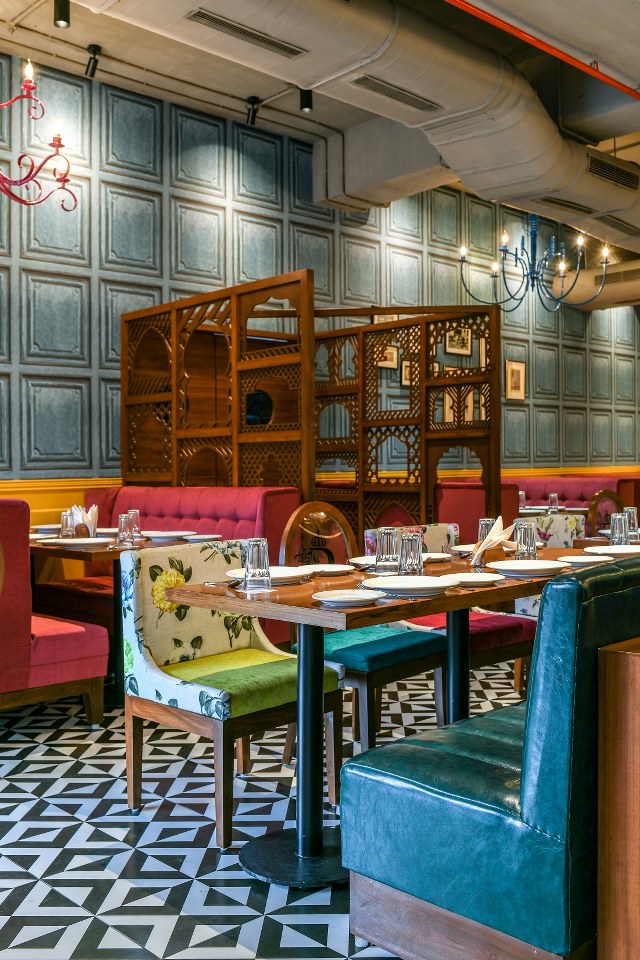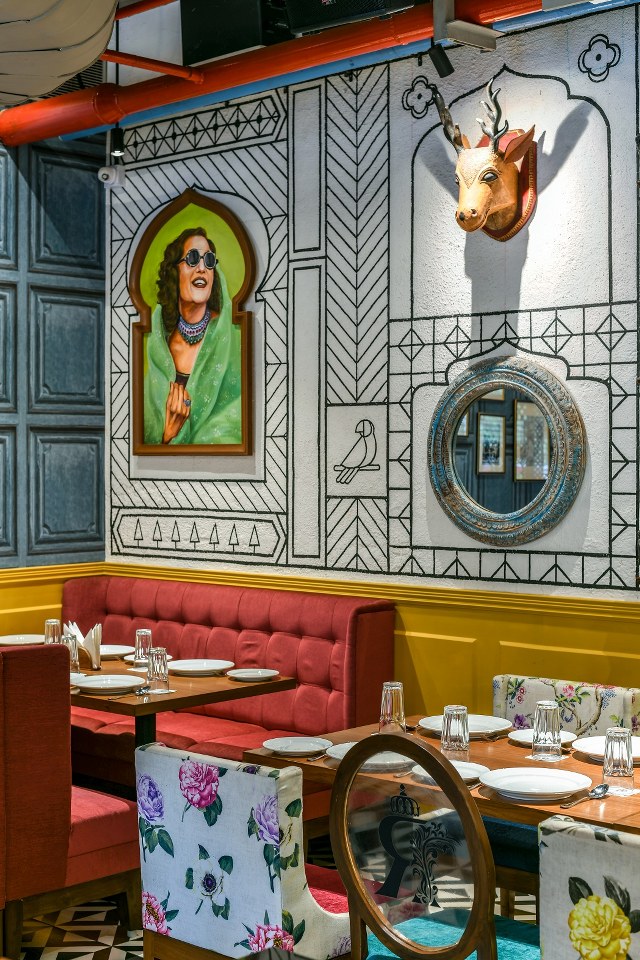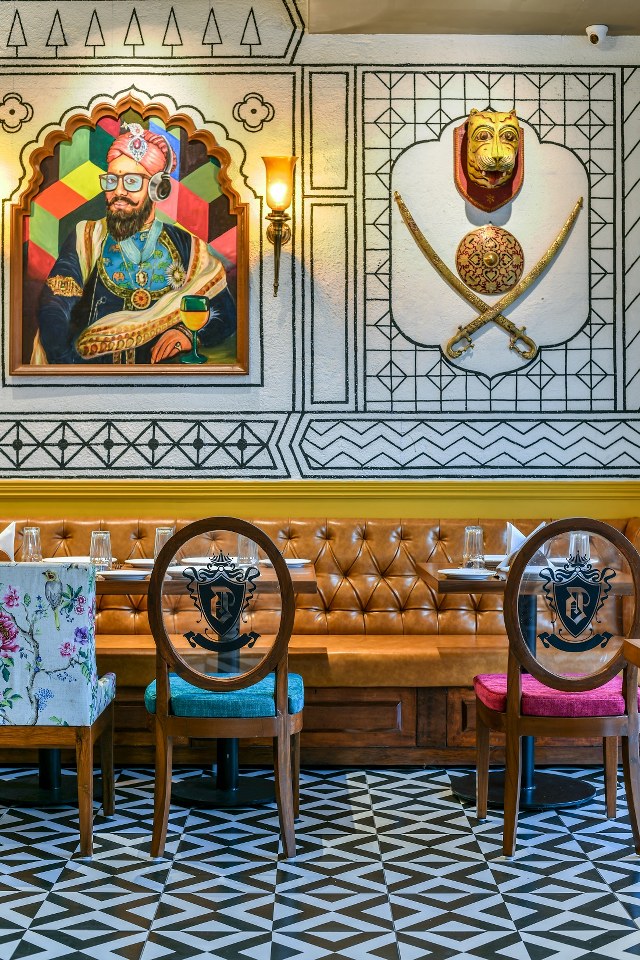 We had artist Arnalay Chinchpure paints quirky portraits of a king with headphones and a queen taking a selfie in vibrant colors. On the wall towards the kitchen, we used wallpaper in a shade of blue inspired by the palaces in Rajasthan and put up vintage photos of kings and queens on it.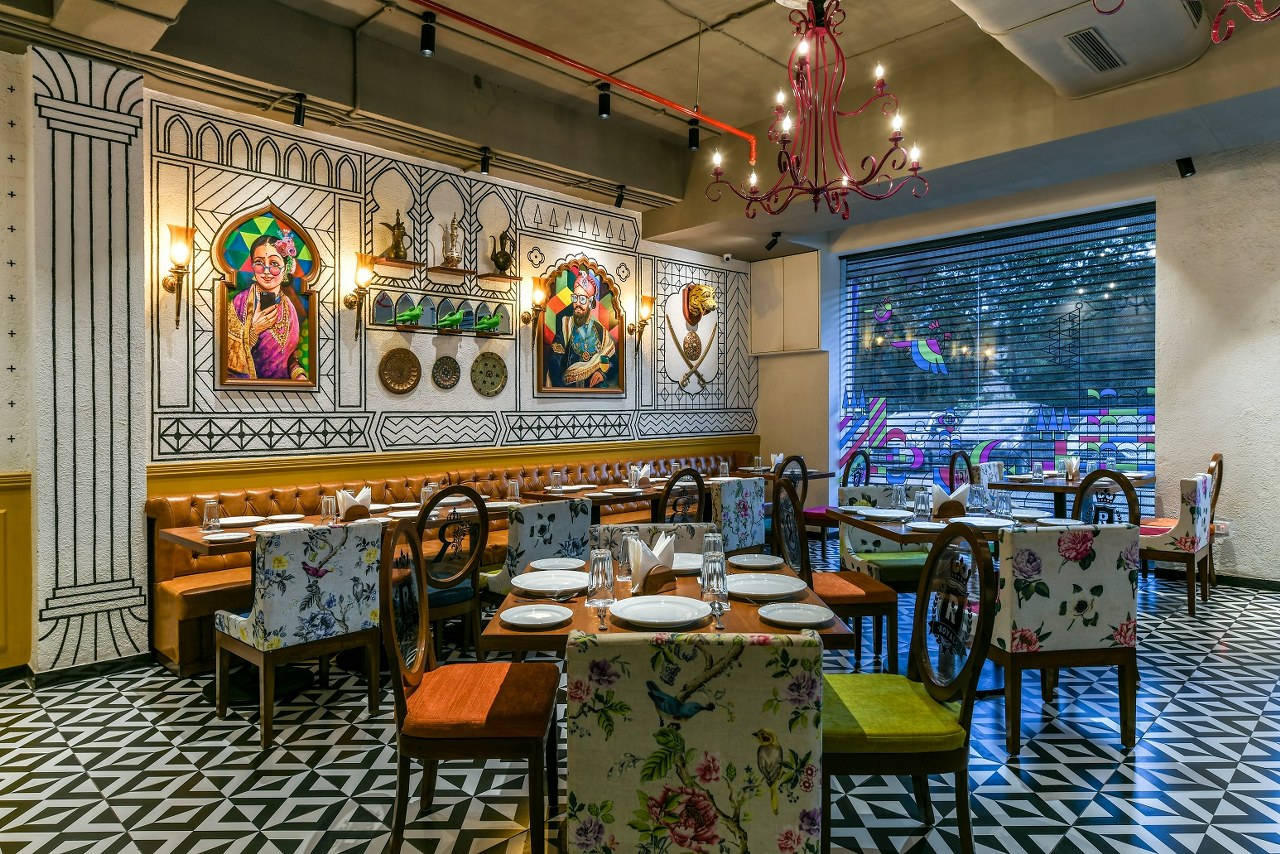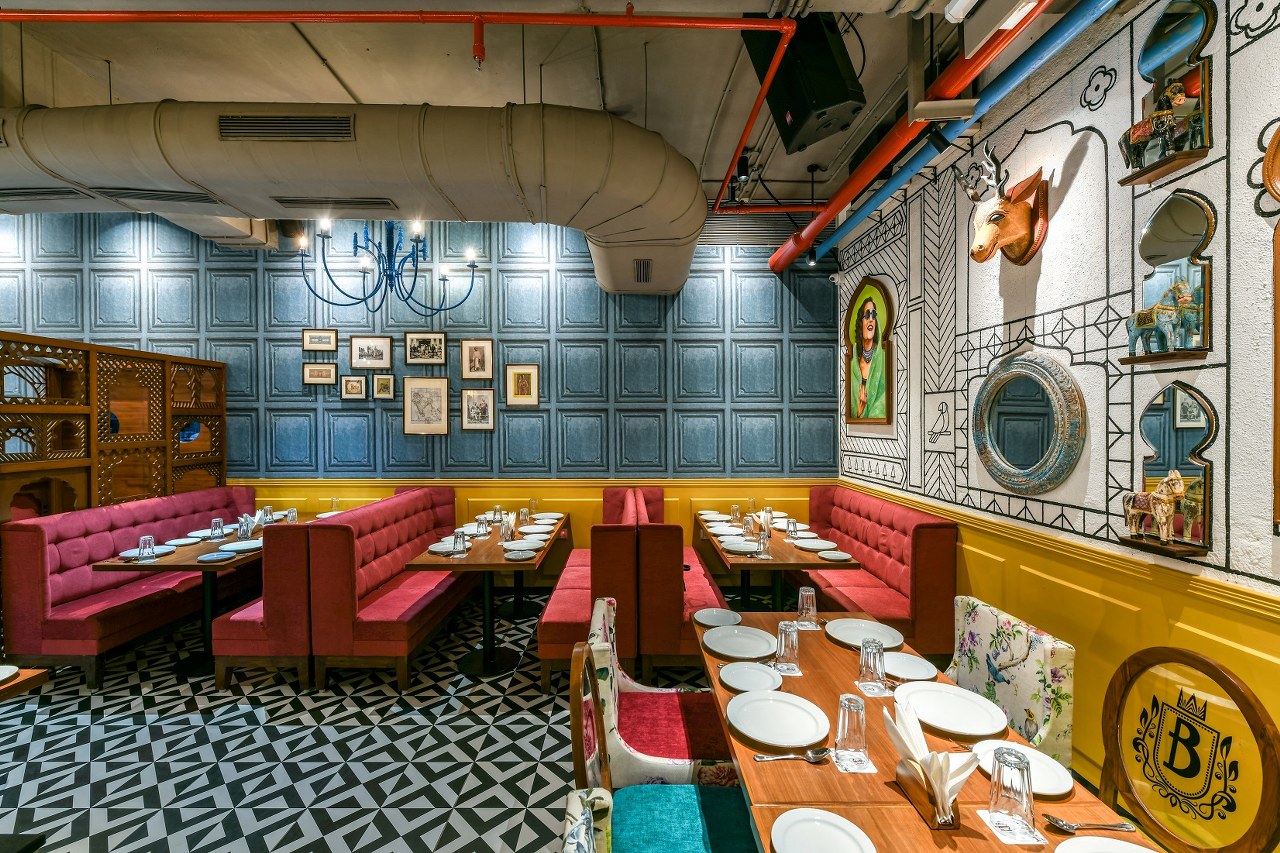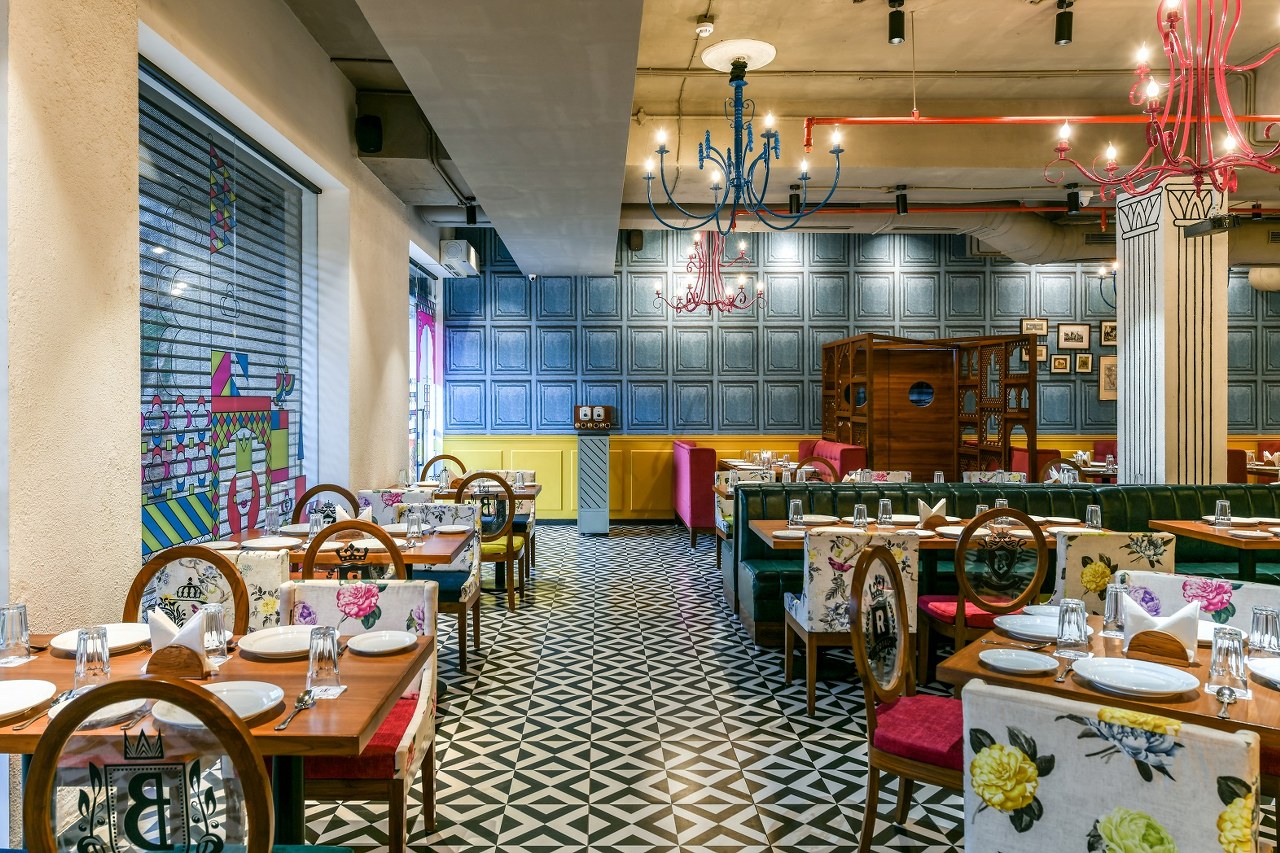 We custom created metal chandeliers with plaster of Paris rosettes. The bar front is in emerald green and the display of alcohol bottles is against a panel of the mirror. To highlight the bar area we sourced colorful pendant lights from Chor bazaar and hung them over the bar.
Materials
Floor: ceramic tiles
Walls: textured cement plaster and paint
Ceiling: exposed ceiling
Display & Artefacts- sourced from chor bazaar
Furniture: custom created as per design in teak wood
Fact File
Firm: Minnie Bhatt Designs
Project: Bindaas Begum Rockin' Raja
Client: Mr. Jeetendra Sonar and Mr. Prasad Gupte
Location: Runwal Greens, Mulund West
Area:2,600 sqft
Chief  Architect: Minnie Bhatt
Design team: Anchal Agarwal
photo credit: Prashant Bhat