Client brief : The Directors of "Manubhai Jewellers" said they want a store that is never seen before in the jewelry business. A space that looks like a dream with an ultimate experience of purchasing jewelry.
Right from branding to execution time was crucial since the date of opening the store was decided even before the demolition work started hence, we had to work reverse calculate in terms of deliveries,etc.
But its unbelievable how it all came together with the freedom bestowed upon us by the clients.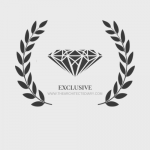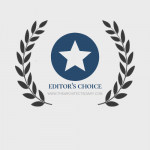 !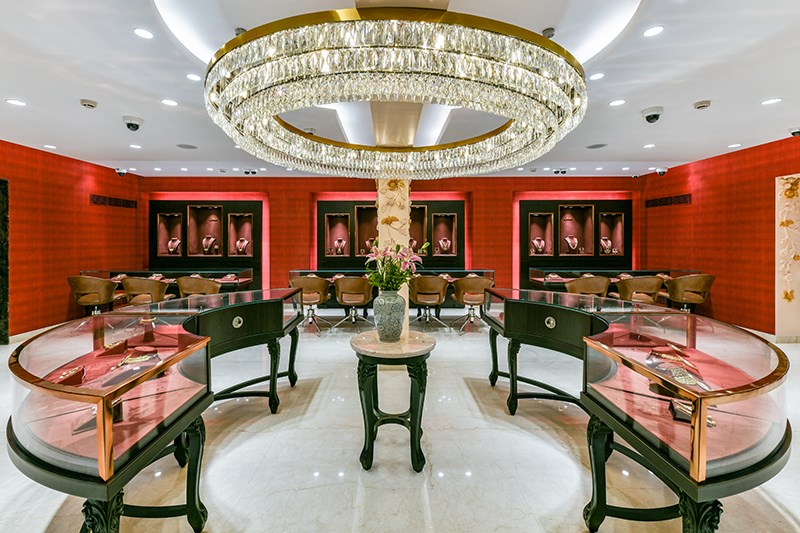 !
Jewelry Boutique with a unique concept where the client can try their apparels to match with the jewelry they would like to purchase. We envisaged the store on the eye level to look subtle hence accentuating the jewelry. This opulent Boutique in Dashing Red on the walls (wallpaper imported from Germany) accentuates the jewelry products with tan leather chairs to compliment the look and feel.
The monochrome flowers with a hint of gold bling on the columns are handmade in house by our in house karigars.
!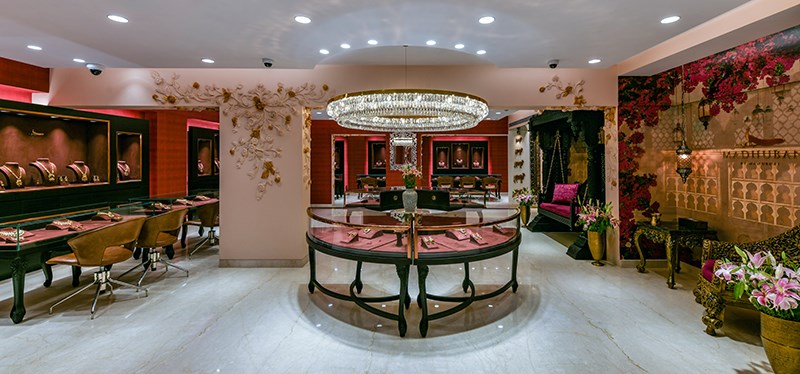 !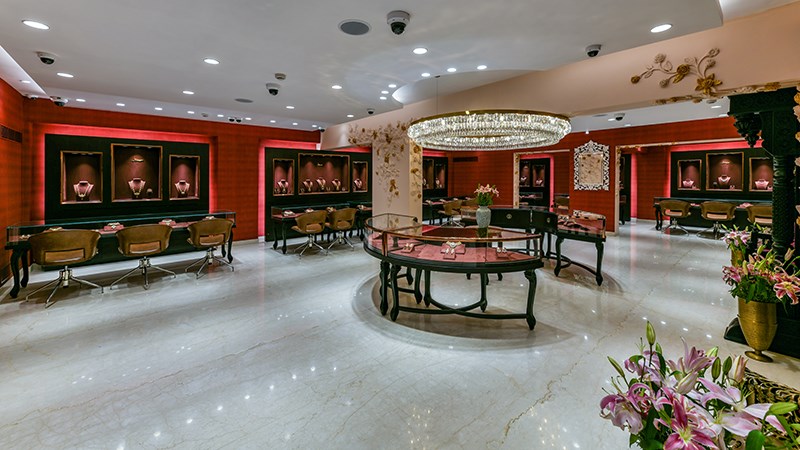 !
Royal Opulent Entrance with a top to bottom, floor-height pichwai in hand carved wooden frame in house dipped in gold reflects in the hand made moldings in wood in the ceiling.
The huge customized (in house) chandelier, 7 ft in dia with baguette cut glass is reflection to the 
Round Central counters edged with rose gold border highlight for the new arrivals.
!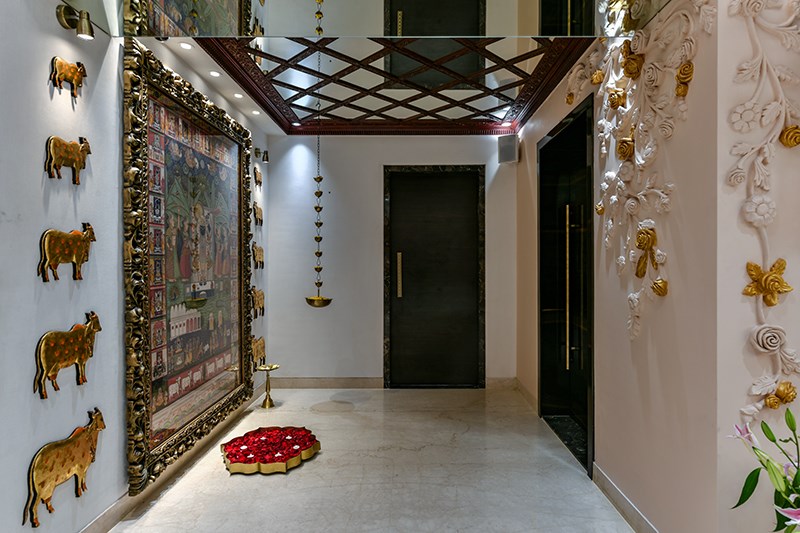 !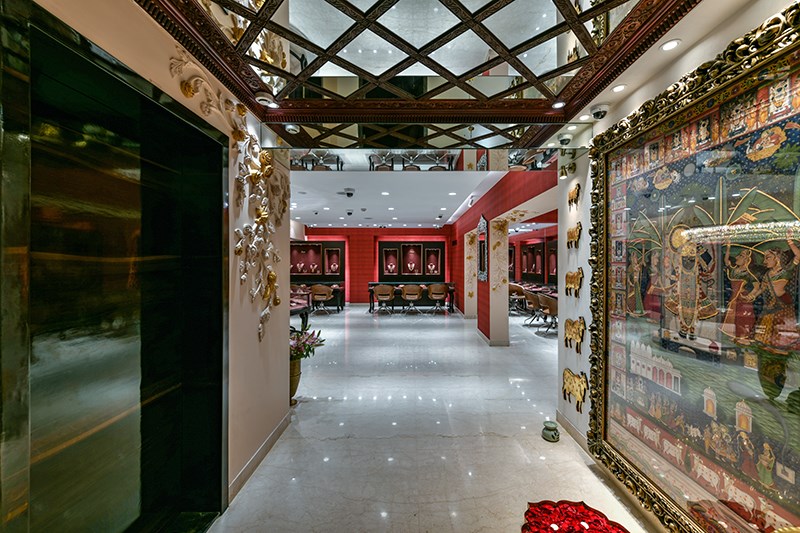 !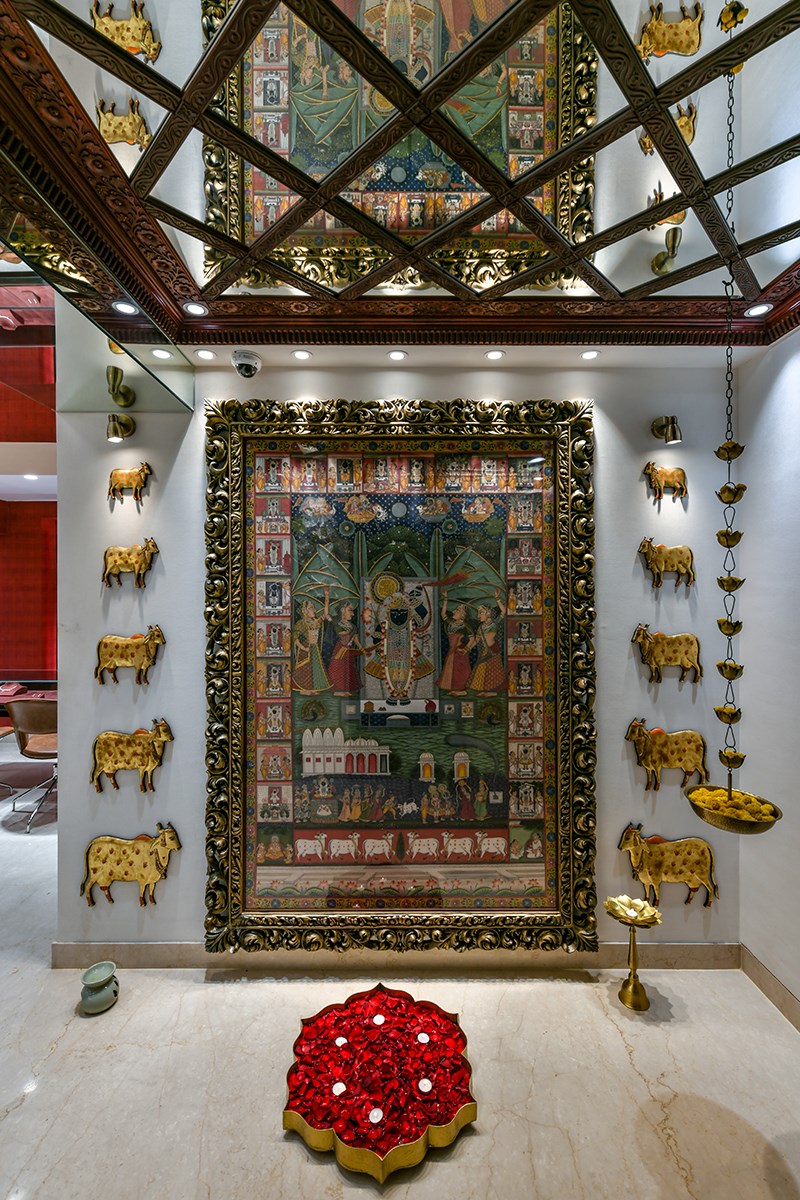 !
Bhakti Bhojwani (Partner Of Ornate Projects LLP) quotes " I am driven by material, colour and the amazing craftsmen around the world. Inspiration is actually everywhere, what you need is a strong intuition and instinct to create unique ideas and products in a responsible way." 
!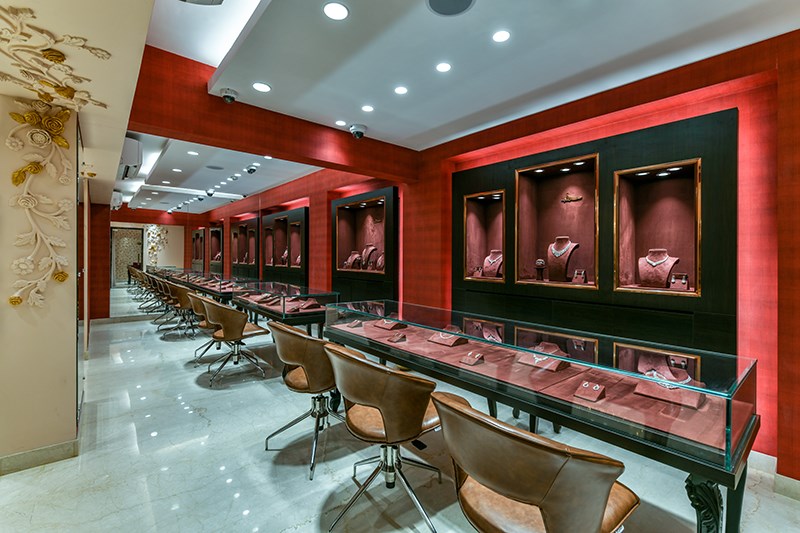 !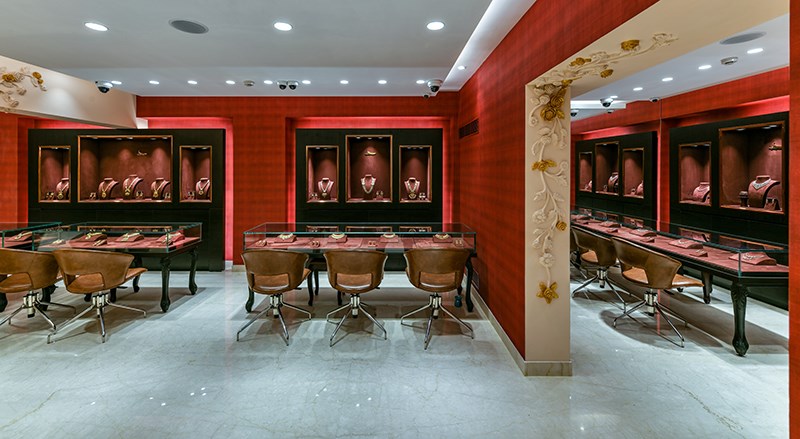 !
Boutique Suites Padmaja,Padminiand Pushti named after the goodness of wealth "Laxmi" – a private space for HNI clients laid with limited edition Rose marble wrapped with floral wallpaper and a wall display of rose wood with rose gold edging. The chairs complimented in millennial pink for the ultimate experience.
!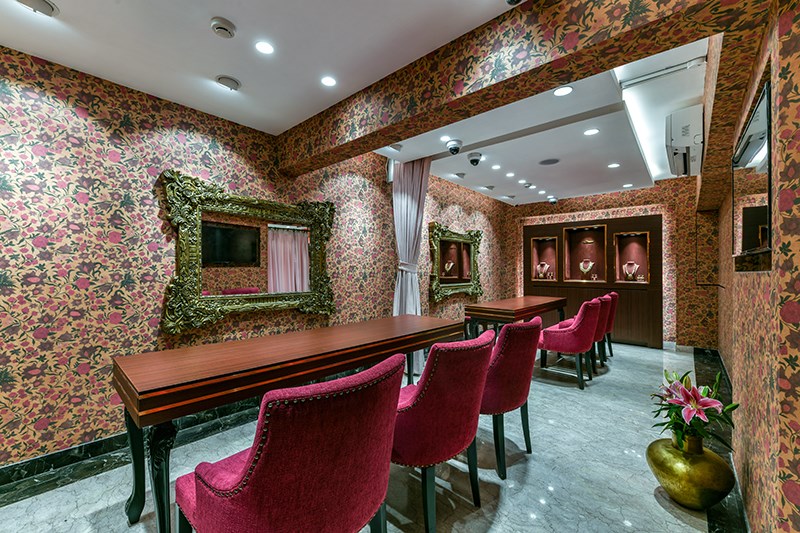 !
!
Selfie corner for branding the one of its kind boutique with the in-house carved wooden "julla" also serves as a waiting with wooden hand carved chairs by in house karigars complimented with lamps that reflect in the wallpaper and handmade flowers by the side makes a frame just apt for all the visitors.
!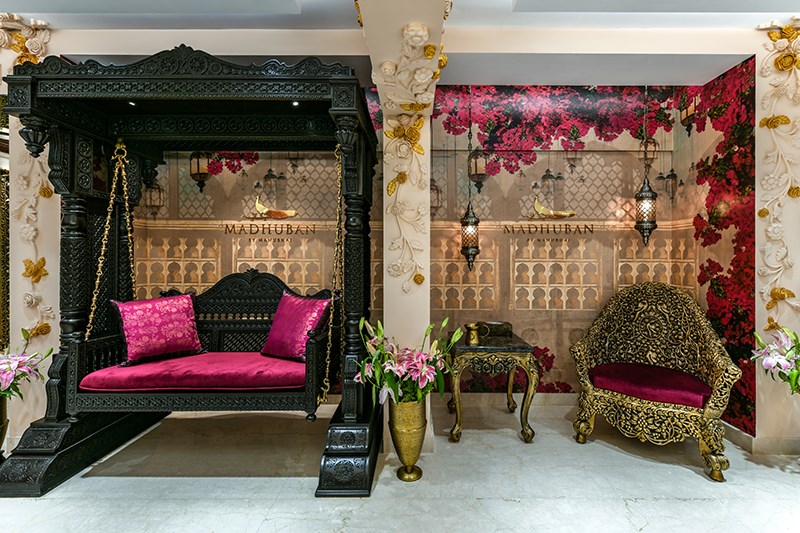 !
Powder Room each different in their way for a whole new experience with marble molding and feminine wallpaper.\
!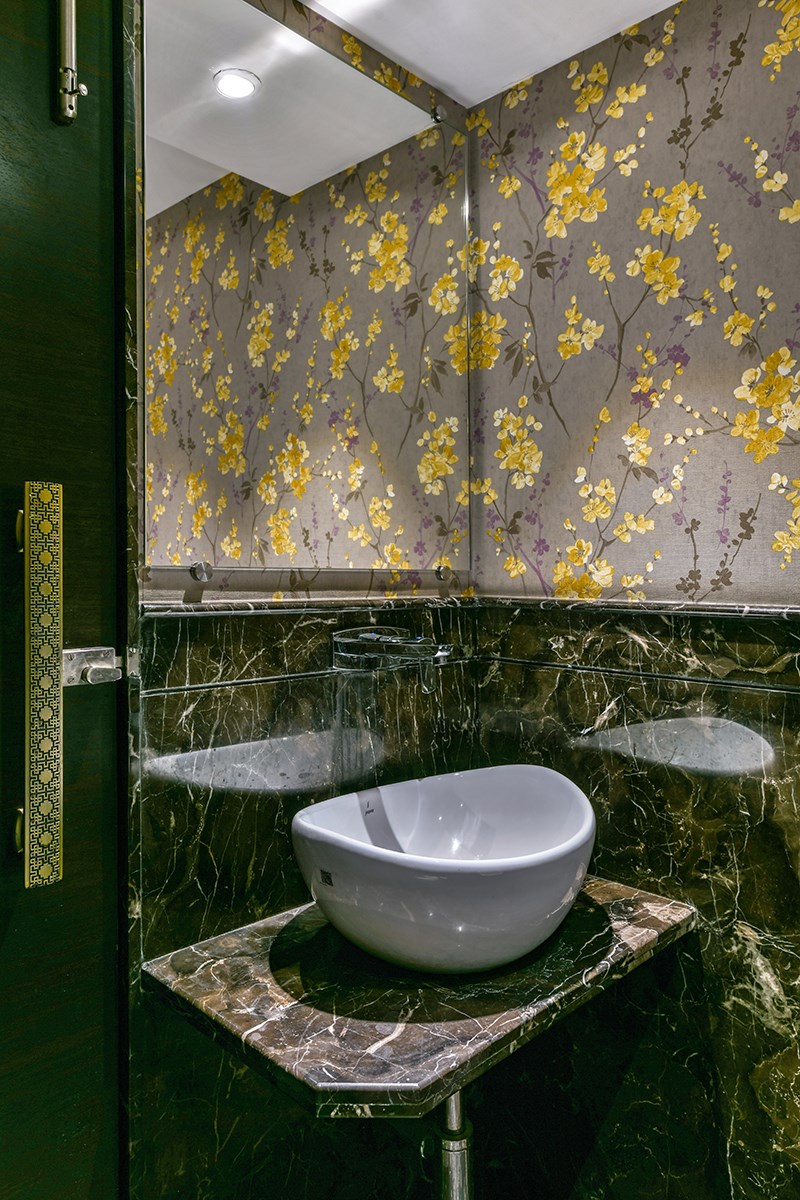 !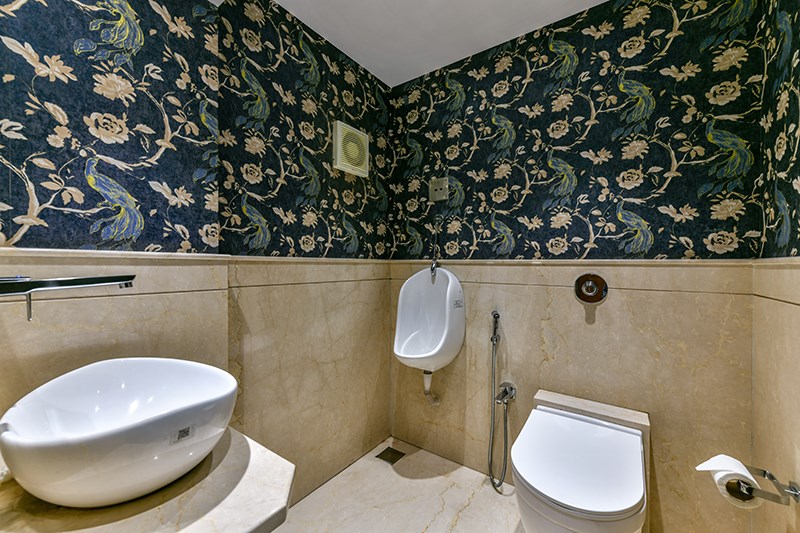 !
Material credits:
Rose marble and other marble from CMC (classic Marble company)
Boutique rooms – Sabyasachi x asian paints wallpaper; hand carved wooden frames; D'decor linen furnishings; Marvel decor automatized curtains.
Selfie corner wallpaper from India Circus; handmade in house flowers on the columns
Powder room wallpaper from Marshall.
!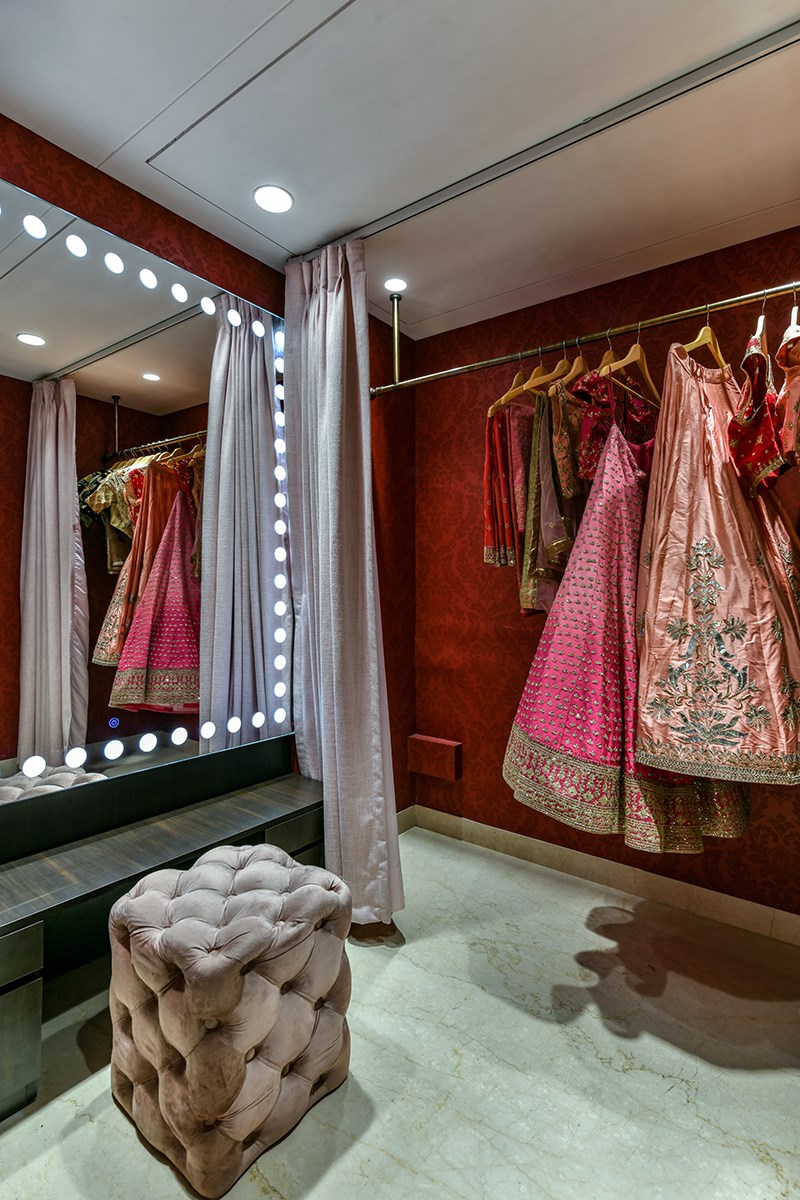 !
In the portrait the father daughter duo Principle designer Pankaj Popat with Bhakti Bhojwani
!