Ilika creates a contemporary, clean and crisp workspace fusing comfort and function, that reflects the client's personality. When you love the space you work in, you end up endearing your work even more. This is the statement that Interior Designer Jaimini Mahida believes in when she curates any office spaces. Her recent project, the work space for CKT, a trading and pharmaceutical firm housed in the elevated Aaron Spectra at the Rajpath Rangoli Road in Ahmedabad is designed to create a modern, comfortable yet functional work environment. Jaimini, the Entrepreneur Designer believes that understanding the client's needs, character and personality is key to creating any space that is not only adored but sustains the test of time for the client.
A Contemporary, Clean And Crisp Workspace Fusing Comfort And Function | Ilika Interior Design Studio
VISIT : Ilika Interior Design Studio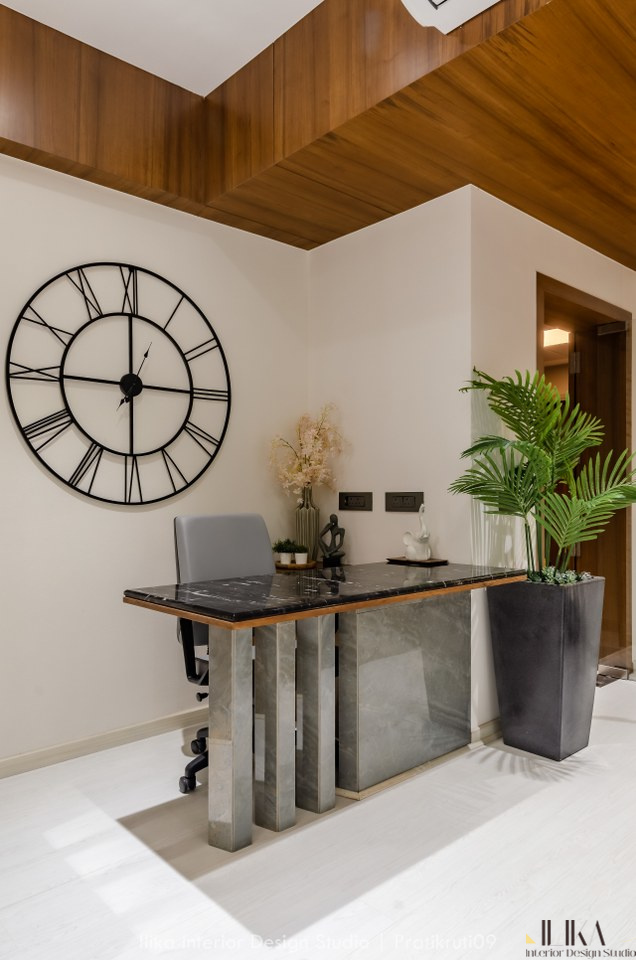 The future office space was handed over to Ilika as a blank slate with only the structural framework in place. Creating the entryway, the firm's welcoming nature was kept in mind. The entryway has a beautiful sitting space that also doubles as a waiting area, welcoming customers with a reception that is completed with a stone finish.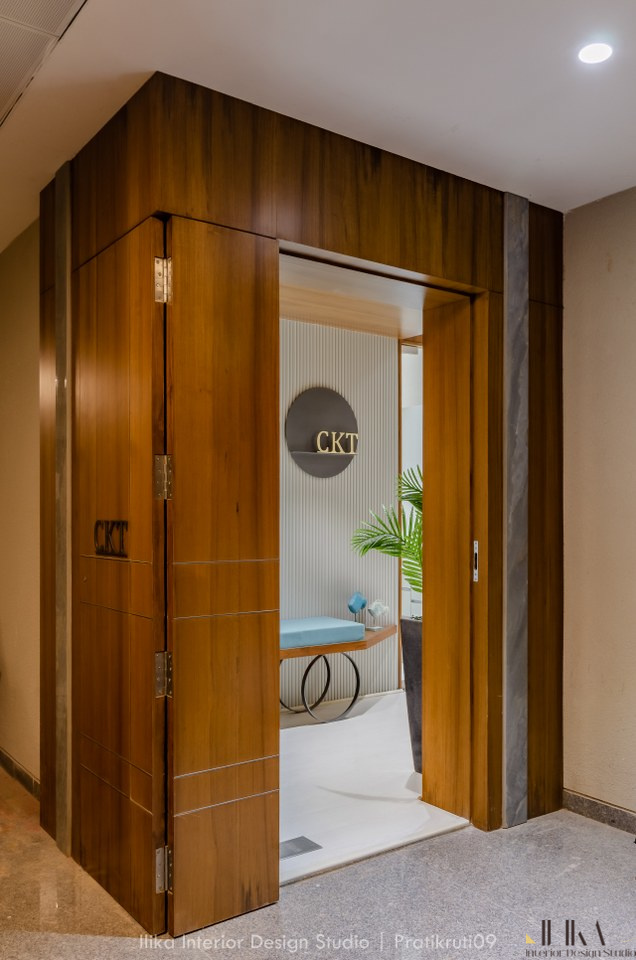 This designing style has been incorporated due to the narrow entryway. In the corridor, a bench has been designed with the logo placed above it for easy navigation for new and old customers. The heavy fluted panel backdrop and minimal sitting create for two contrasting elements that strike a perfect balance. A planter has been designed in the corner of the bench to bring the green inside creating a calming effect.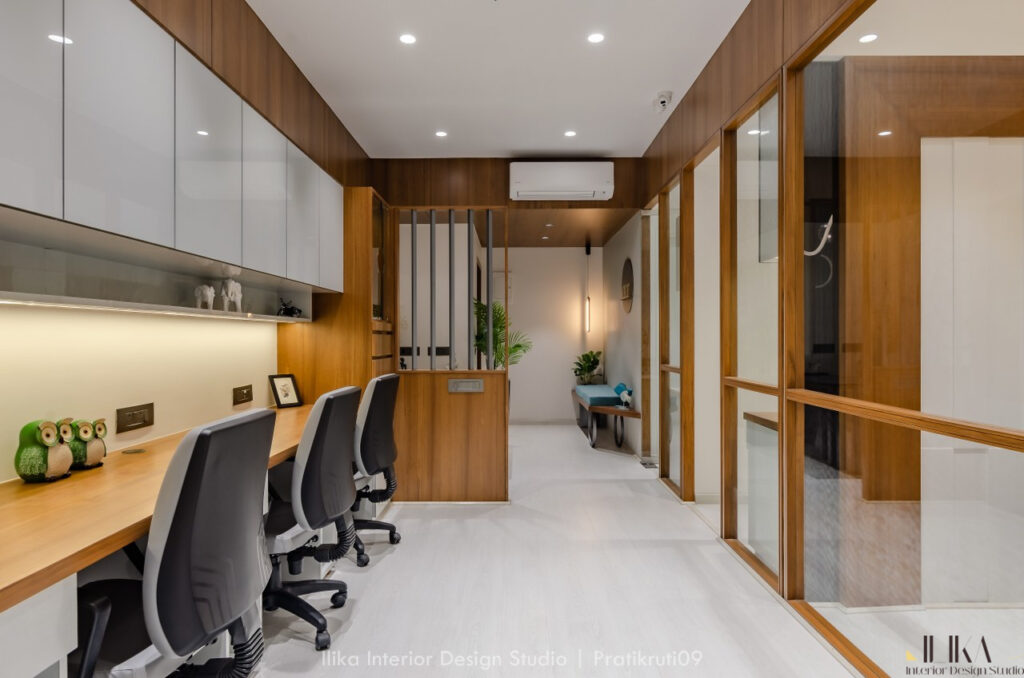 The workspaces are private, yet cohesive. Other than these cabins, the office has workstations for the staff and a pantry that is easily accessible. The colour palette for the office has been blended yet enhanced and nuanced according to spaces.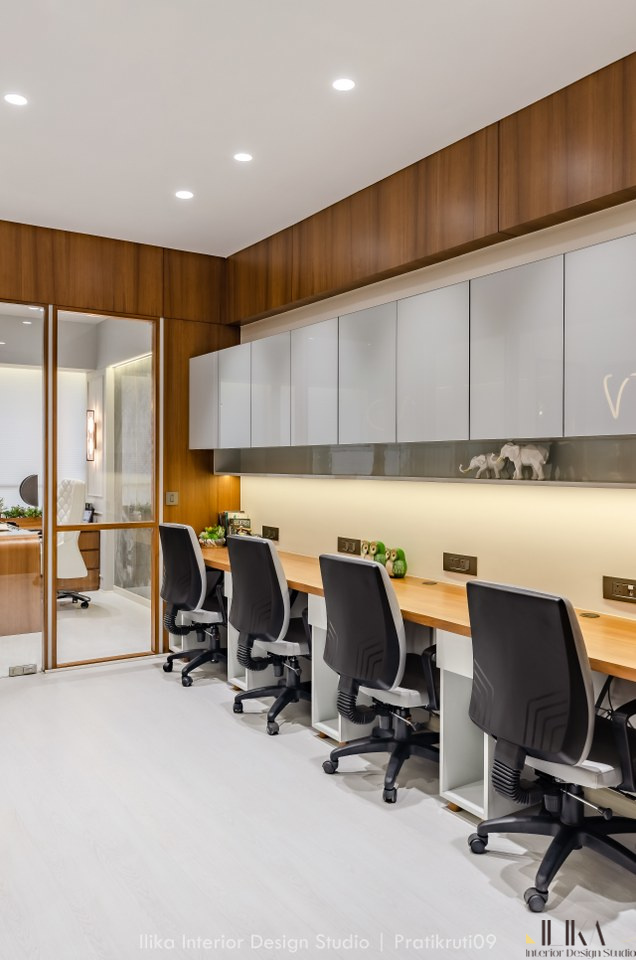 The founder of CKT had put complete trust in Jaimini and her abilities to create a space of his dreams. The modern, opulent space was created with two separate cabins, one for the client himself and another for his son.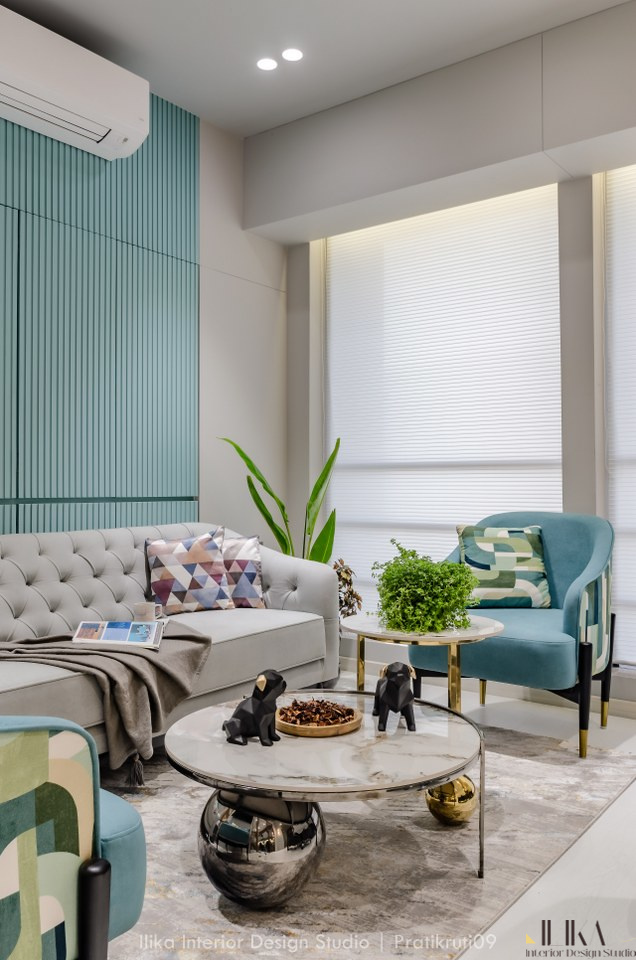 The owner's cabin has an artificial marble finished backdrop with veneer finished director's table in front as natural decorative veneers have the ability to liven up any modest interior. When you balance a dark wood veneer with any lighter shade such as white surface, it adds depth to the interiors.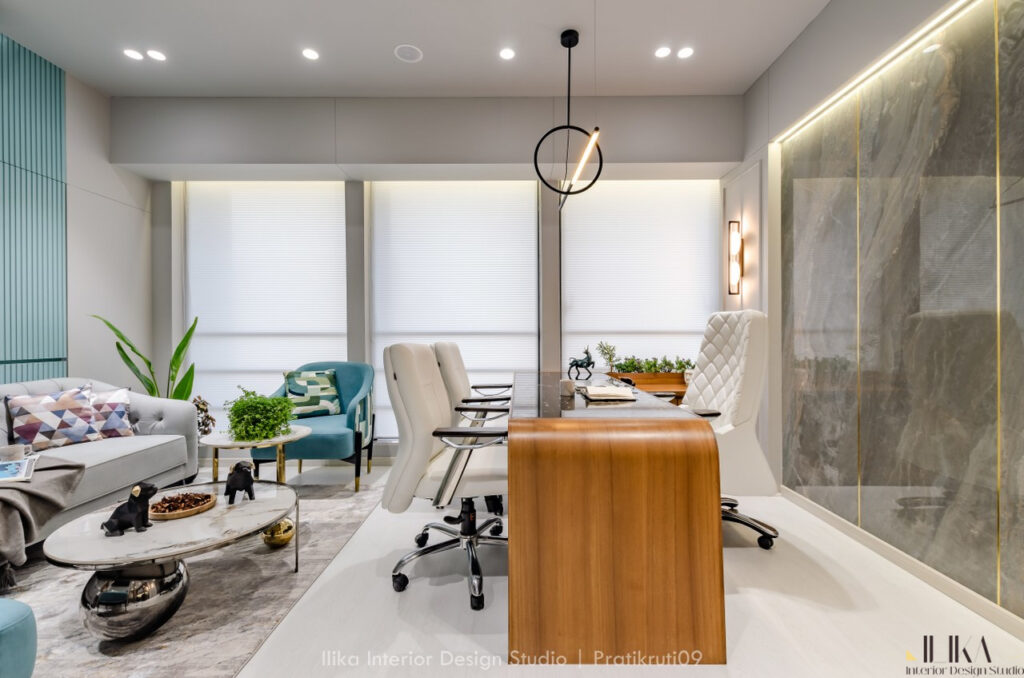 When it is blended with another decorative material like marble, glass or steel, it creates a very beautiful contrasting look. Along with the tables, there is a beautiful lounge set-up that provides extra storage through hidden compartments.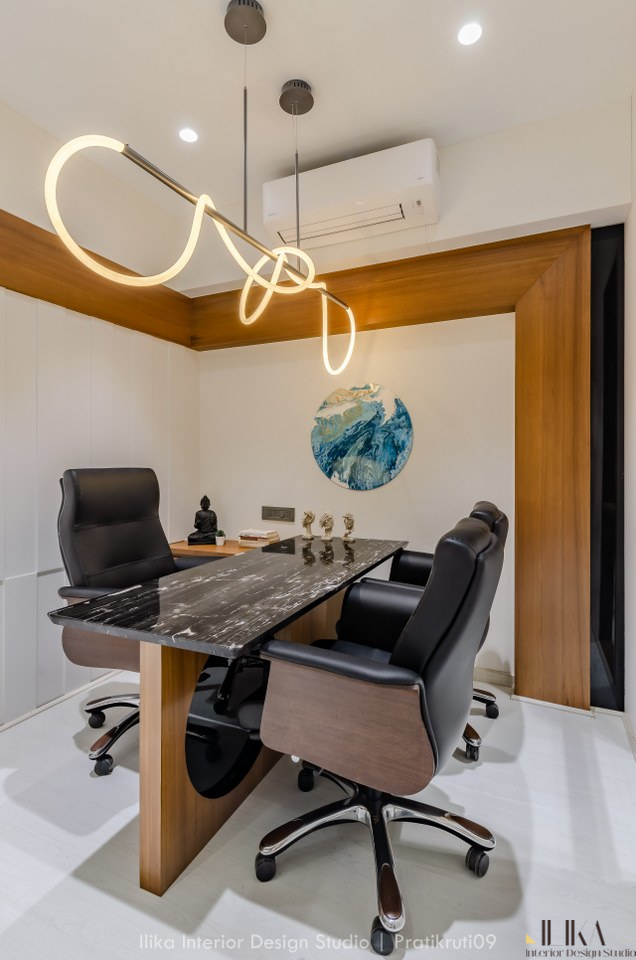 Spread over 546 square feet, the office space is designed with the utility at mind while aesthetic as its backdrop. While the firm sees a lot of walk-ins and satisfied returning customers, the office space was created with the idea of privacy and warmth in mind.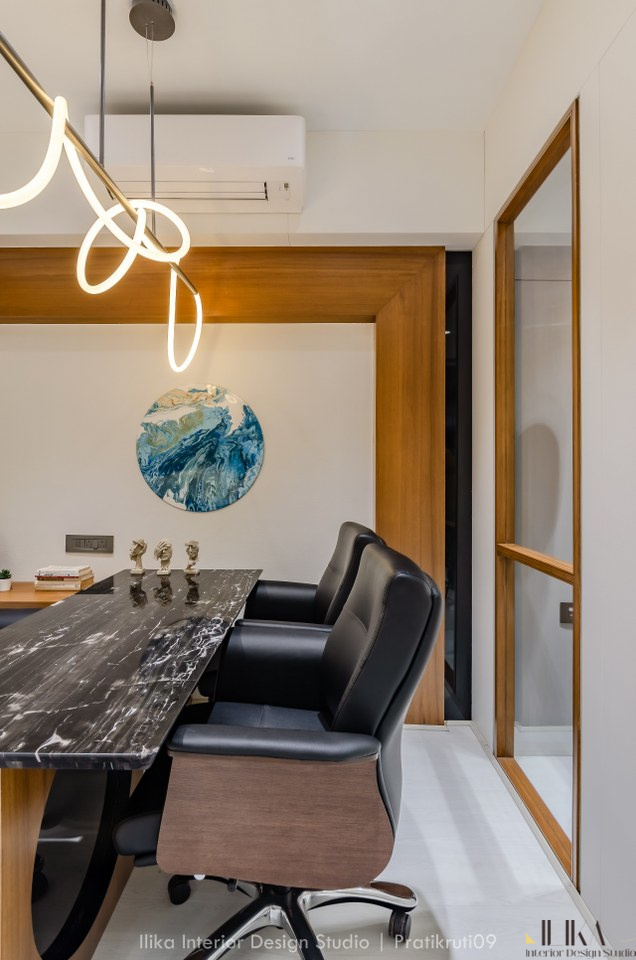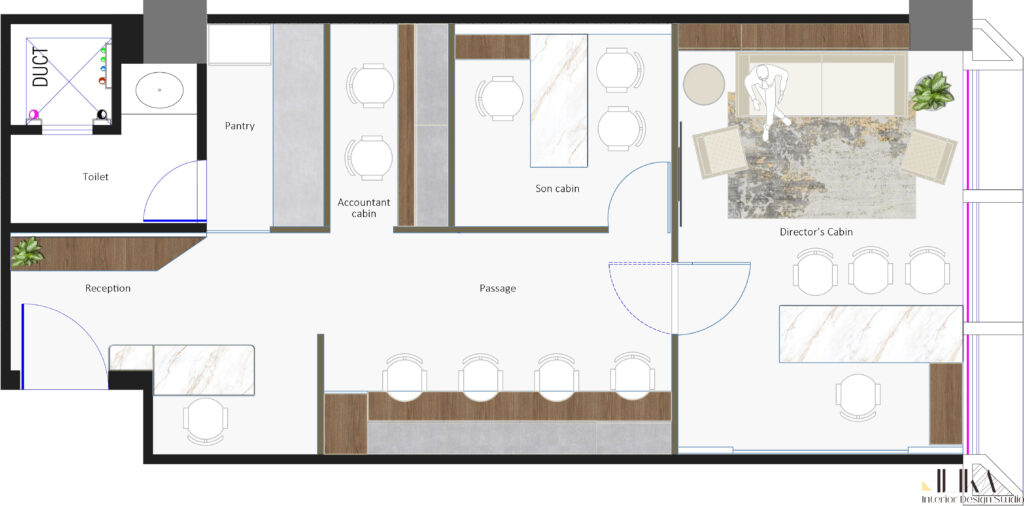 Designed by : Ilika Interior Design Studio
Project Type : Office Interiors
Project Name : CKT
Location : Ahmedabad, Gujarat
Year Built : 2022
Duration of project : 3 months
Project Size : 546 sq.ft
Project Cost : 23 lakh
Principal Designer : Jaimini Mahida
Photograph Courtesy : pratikruti09
Products / Materials / Vendors : Wallcovering / Cladding – Camrola Marble / Construction Materials – Veneer and Glass partitions / Lighting – Art light, Neptune lights / Doors and Partitions – Saint Gobain Glass / Furniture – HOF / Flooring – Wooden flooring / Paint – Asian paints / Wall Resin art painting – workshop.diaries.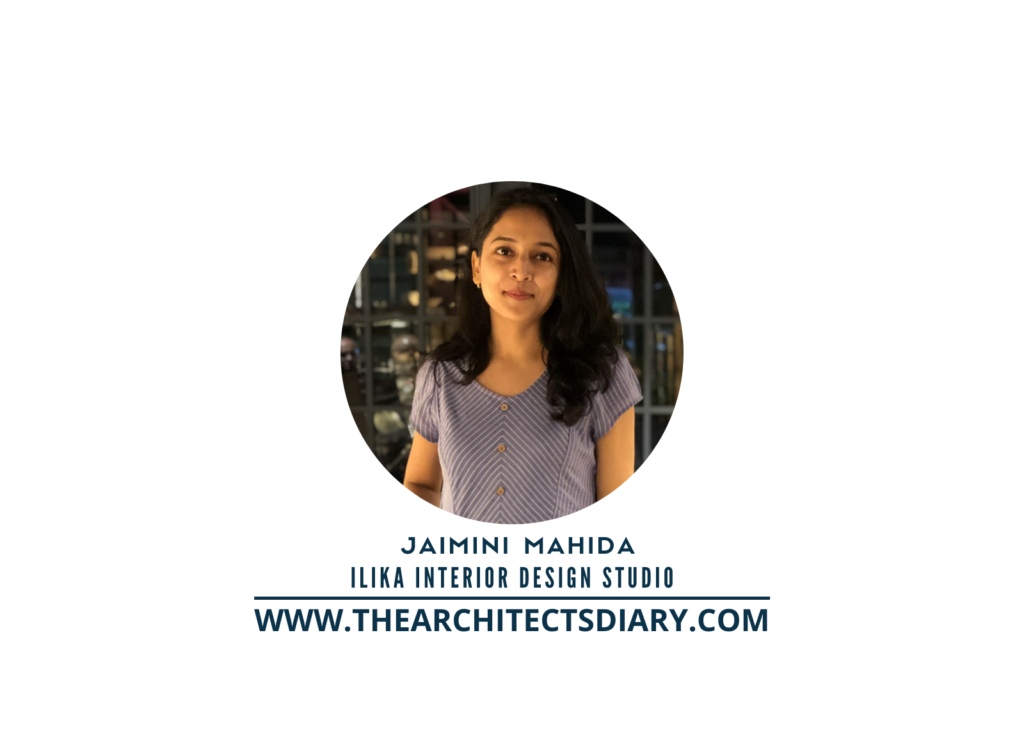 Firm's Instagram Link : Ilika Interior Design Studio
For Similar Projects >> OPEN INTERACTIVE SPACES DESIGNED IN THE OFFICE INTERIORS