A Buoyant IT Office Interior Inculcating True Work Spirit | Ankil Desai Architects
Here is an IT office by the young, for the Youngs! This eloquent workspace is a configuration by the firm, Ankil Desai Architects based in Ahmedabad. The owners wanted a space with its vibrancy and receptivity emitting zestful and motivating vibes into its Mein. A space with its liveliness to boost the motif and energy for spending long working hours tirelessly. Hence, the choice of bright and vivid colors weaving in the culture of dedication in this spacious expanse.
Visit: Ankil Desai Architects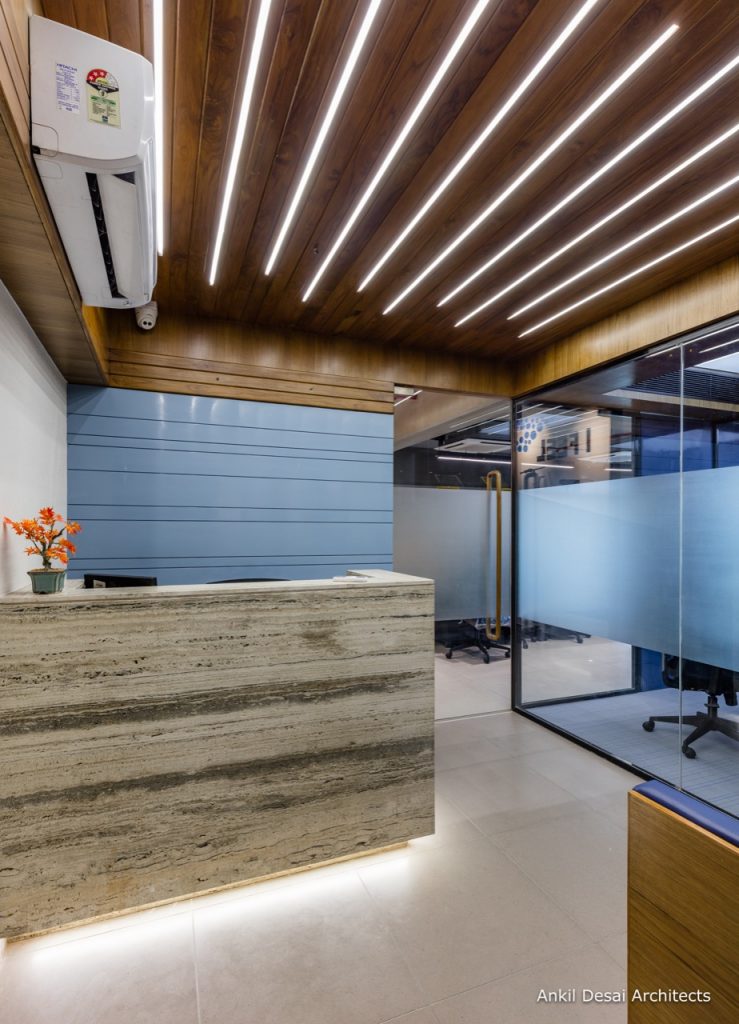 Apart from the reception, the office was designed with three core spaces- a working area, a conference room, and a meeting space. The client's cum users have work experience from the west and thus, wanted to recreate the same work environment. Hence, the westernized approach was seized with one spacious working area and small cabins for utilitarian purposes. Also, the intended absence of the boss' cabin promotes co-working in the same space with enhanced team spirit. The design restricts itself to a smaller material palette to supervene the same design language throughout.

&nbsp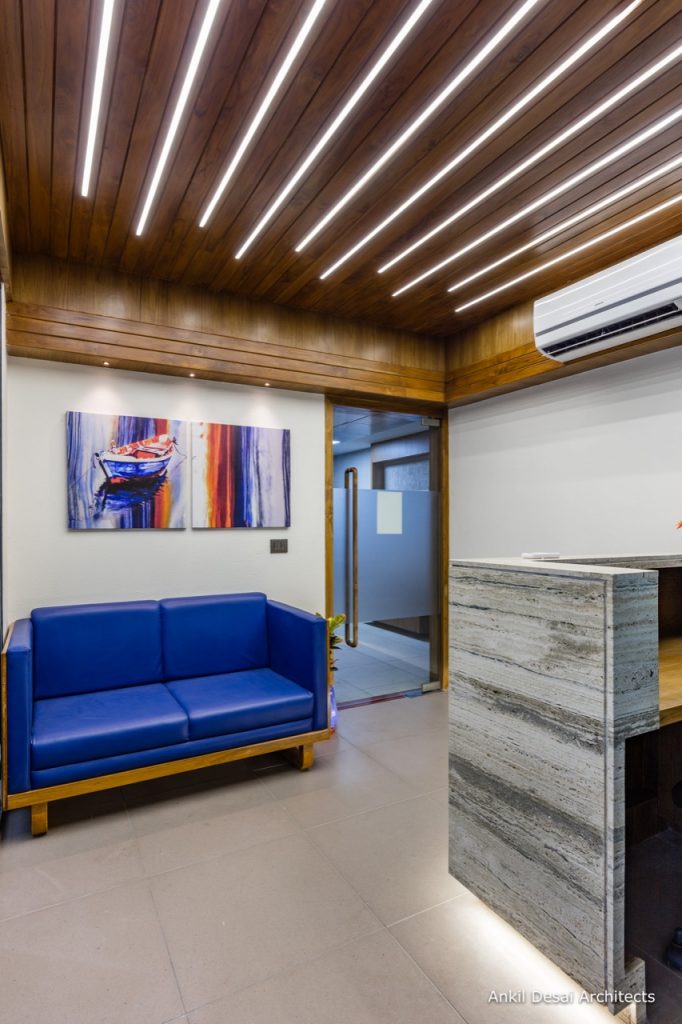 The reception emits a sense of enclosure and sophistication with its profile light laden wooden ceiling. This setup deciphers every purpose with its planned logo wall and welcome desk in classic Italian marble. A commodious blue seating efficiently plays its part in dissolving the room in its enigma and delight. This space permits transparency with the other spaces through glass partitions, laying down a conversation in itself.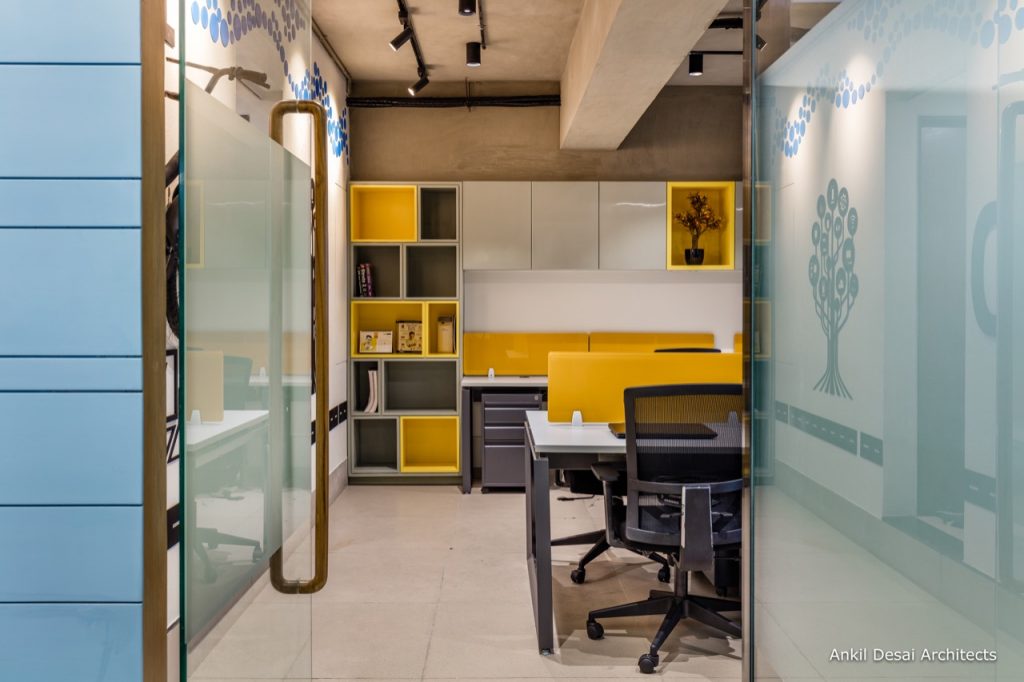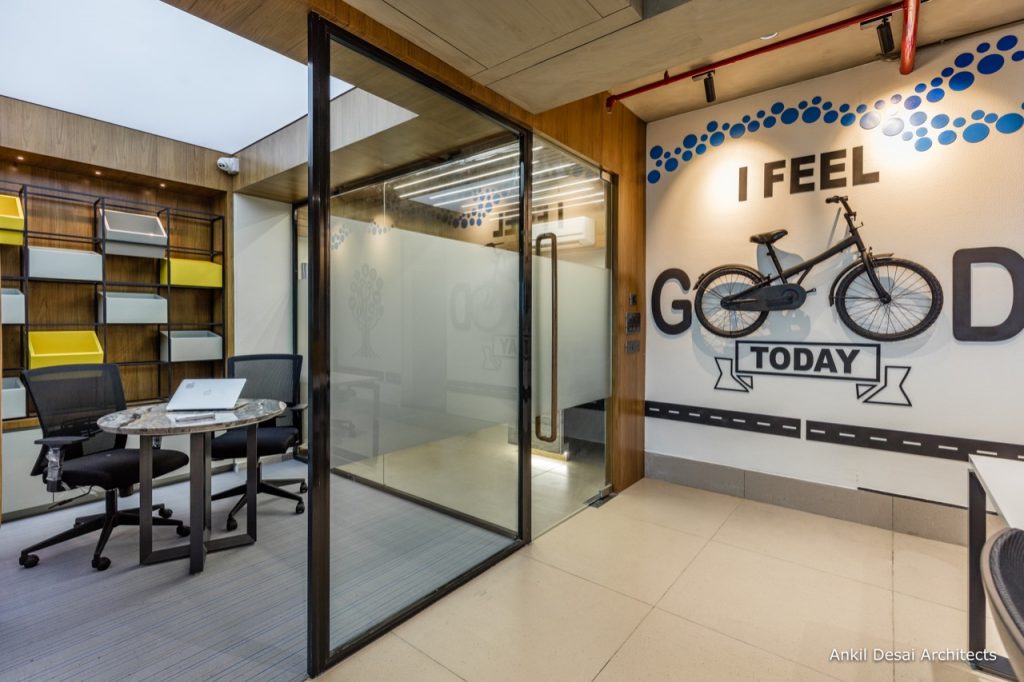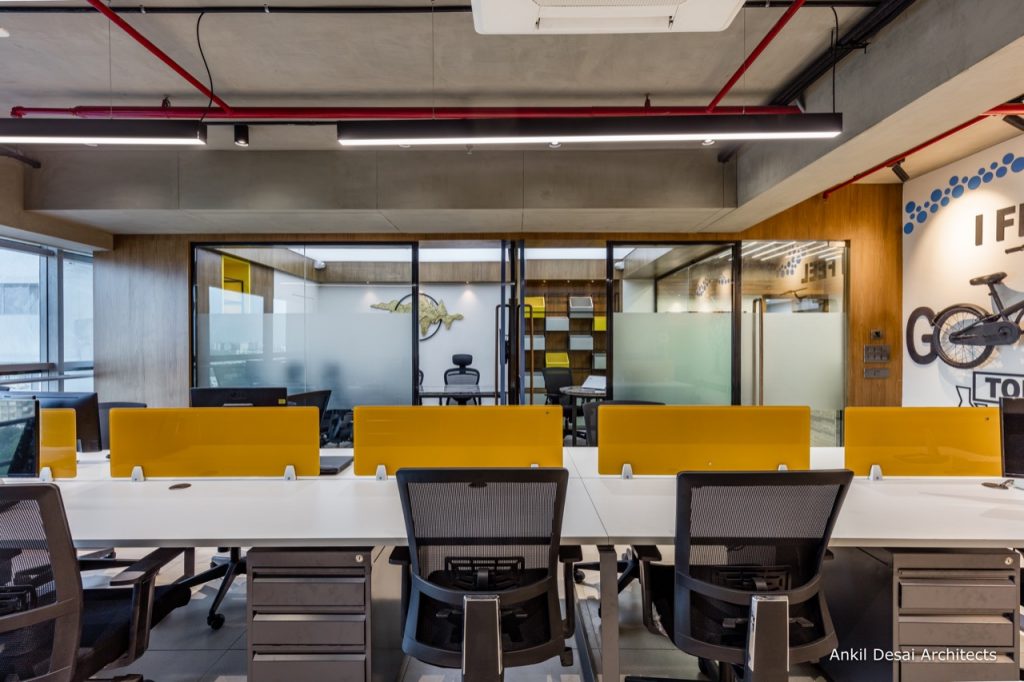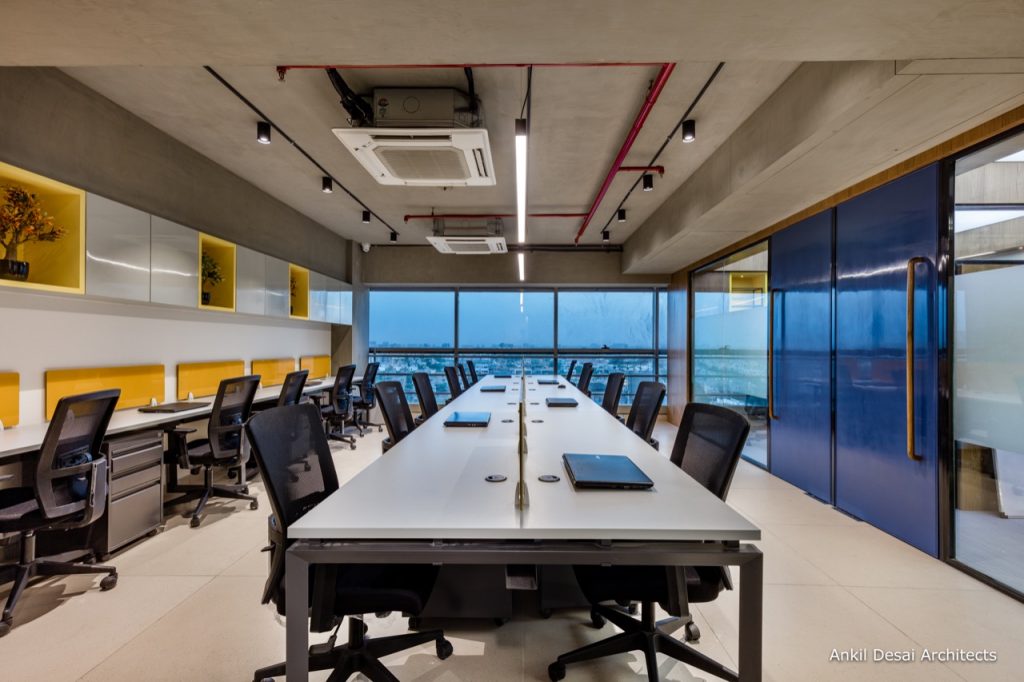 The reception leads one to the working zone which is an assemblage of linear work desks, restfully stationed amidst the ambient natural light- from the window panes across the room.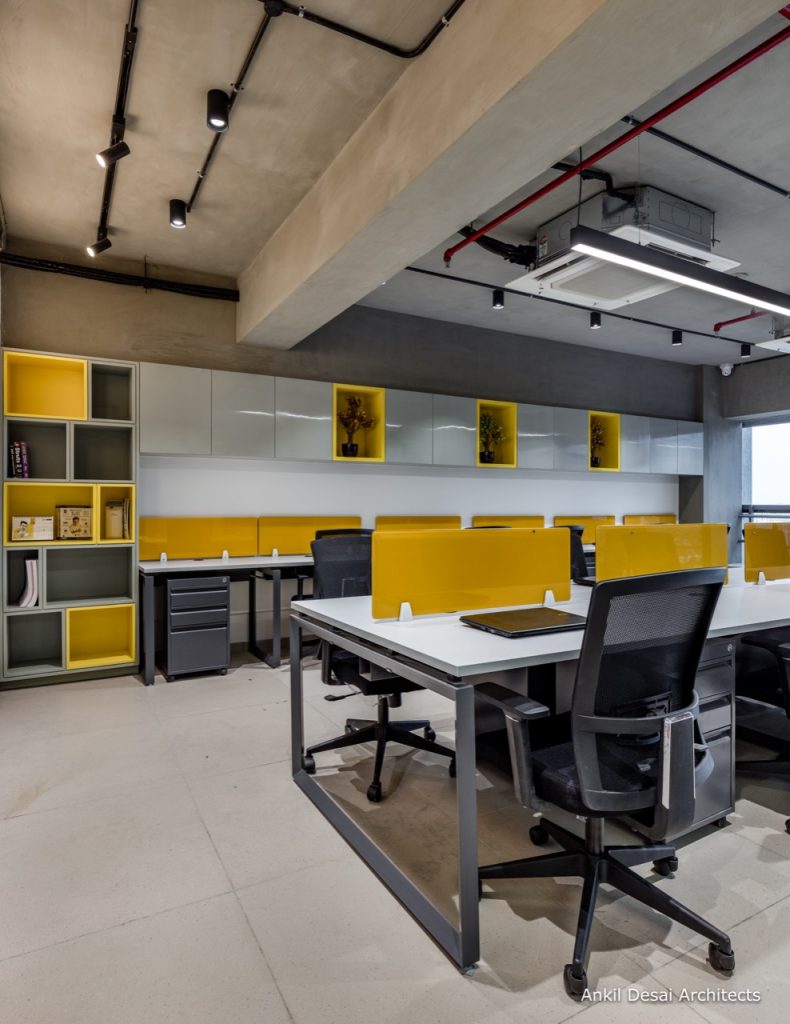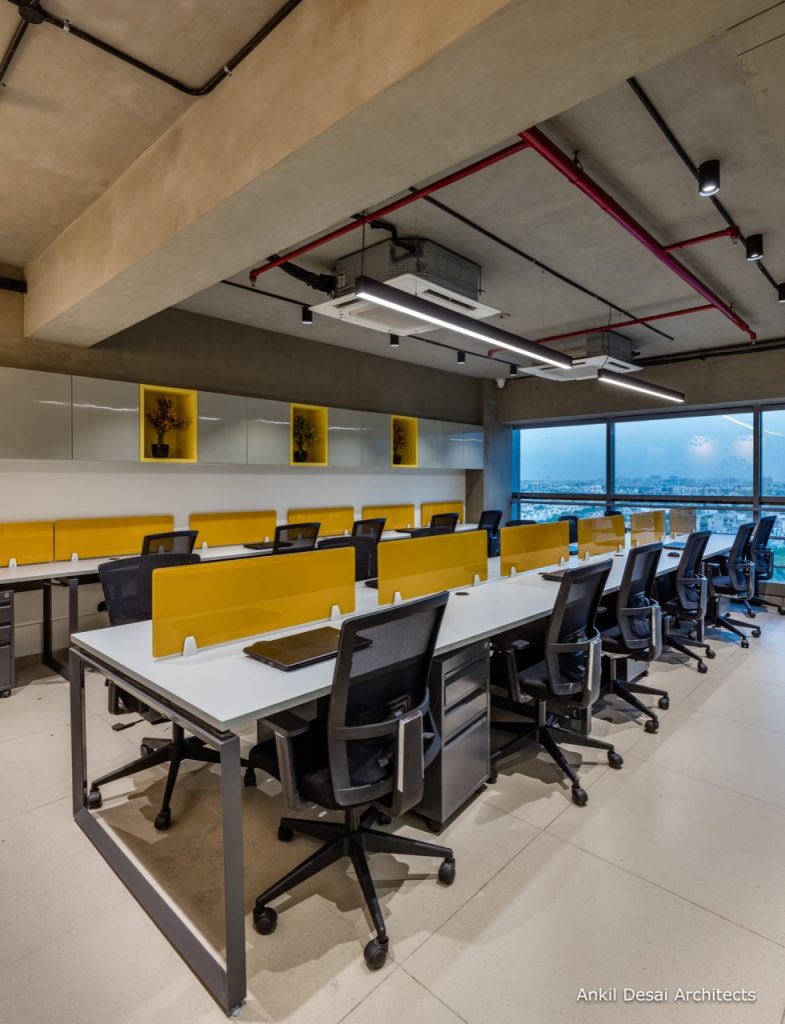 With their distinct persona, each material here is chosen to emit a peculiar vibrancy and ardor against the exposed concrete ceiling and services. Even the floor clings to ivory vitrified tiles considering its ability to add a premeditated briskness. Modular tables were opted, with M.S. legs for their sleek characteristics, topped with a laminated grey surface.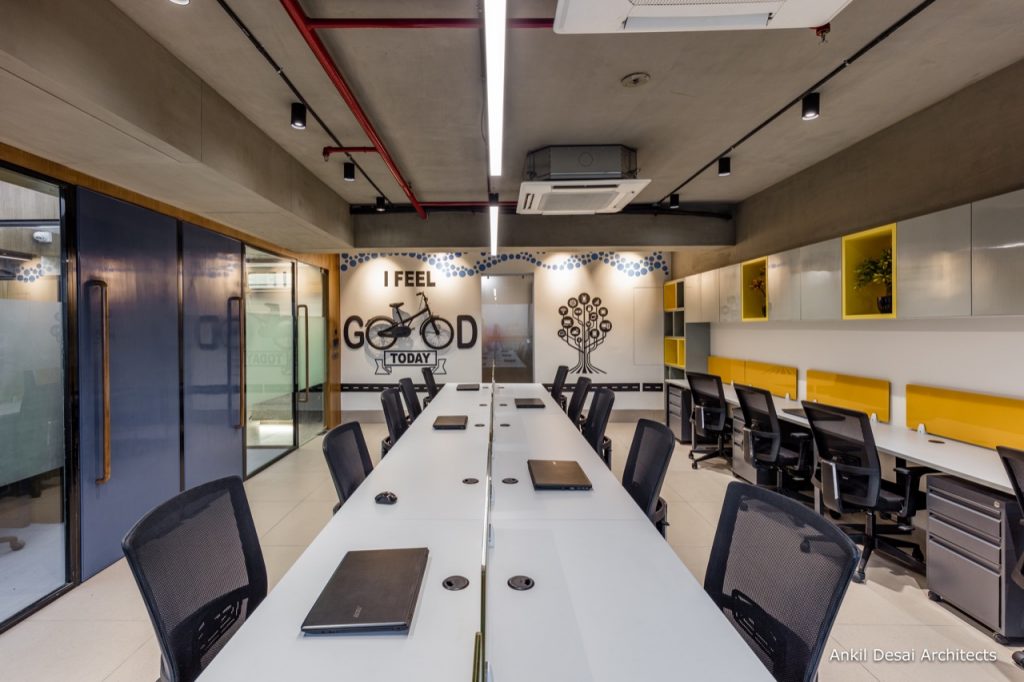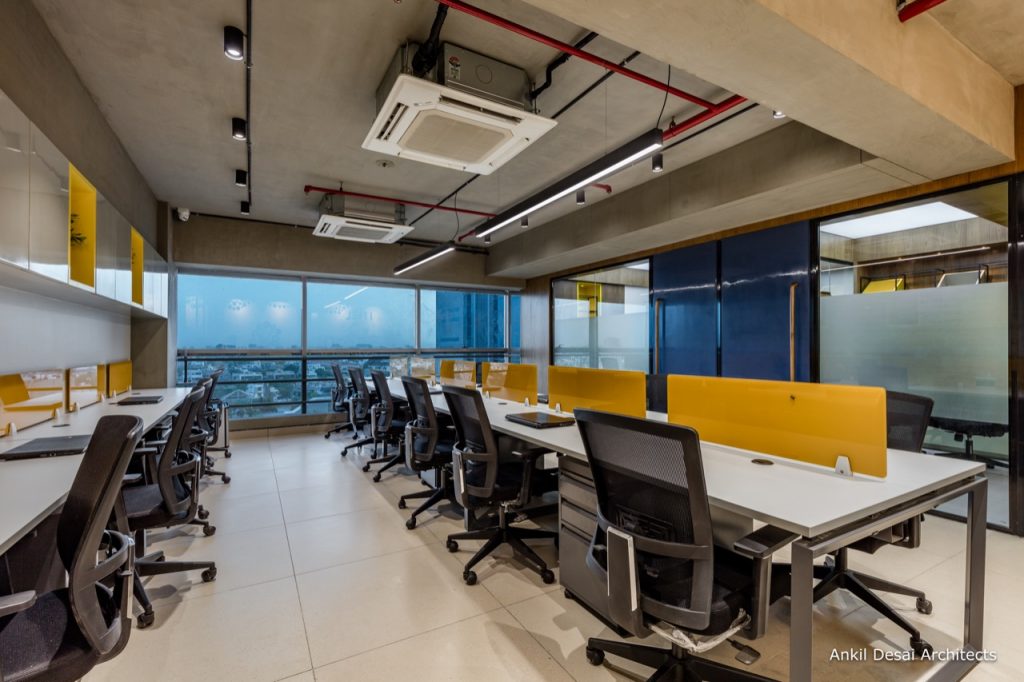 The walls are paneled with reflective back painted glass with buoyant yellow niches breaking the humdrum. The partition boards are magnetized in the same yellow hue with its multifunctionality to also work as a pinboard. A bookshelf is also designed to add an element of interest in here. Such a composition in this spacious arena generates a motive, infusing the qualities of team spirit and thus, ensuring a better bond.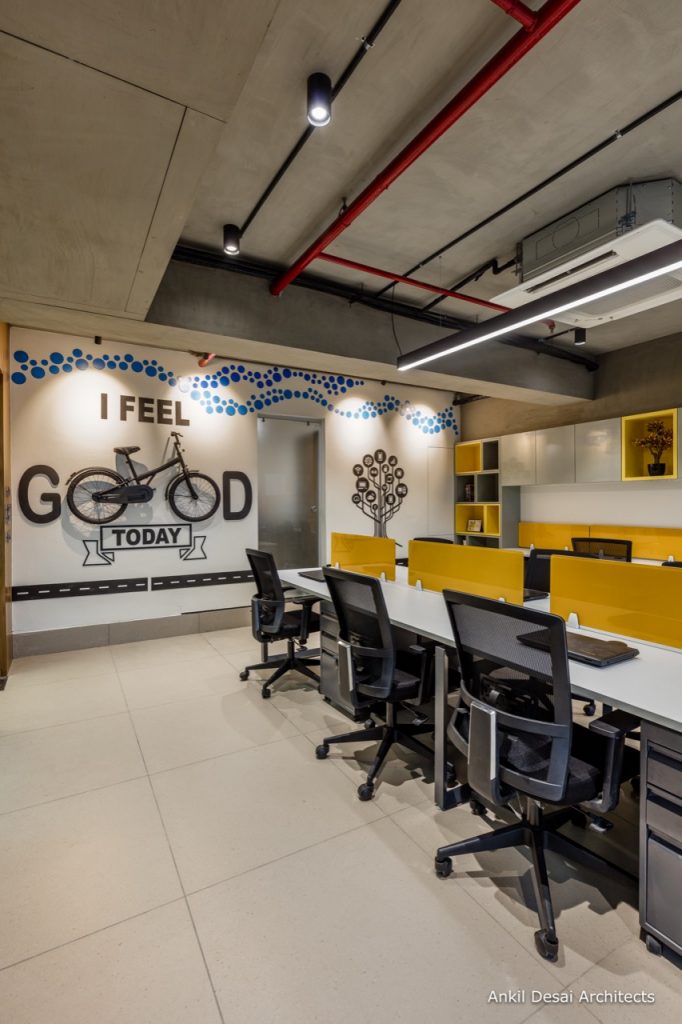 The clients' inclination towards art calls for a motivational highlight wall charging in the quote 'I feel good today', exemplified by a wall hung bicycle. A branched cable tree with technical and geeky characters is totally symbolic of the work that these ITians are adept at. The spotlights powerfully emphasize this wall with a warm yellow tone.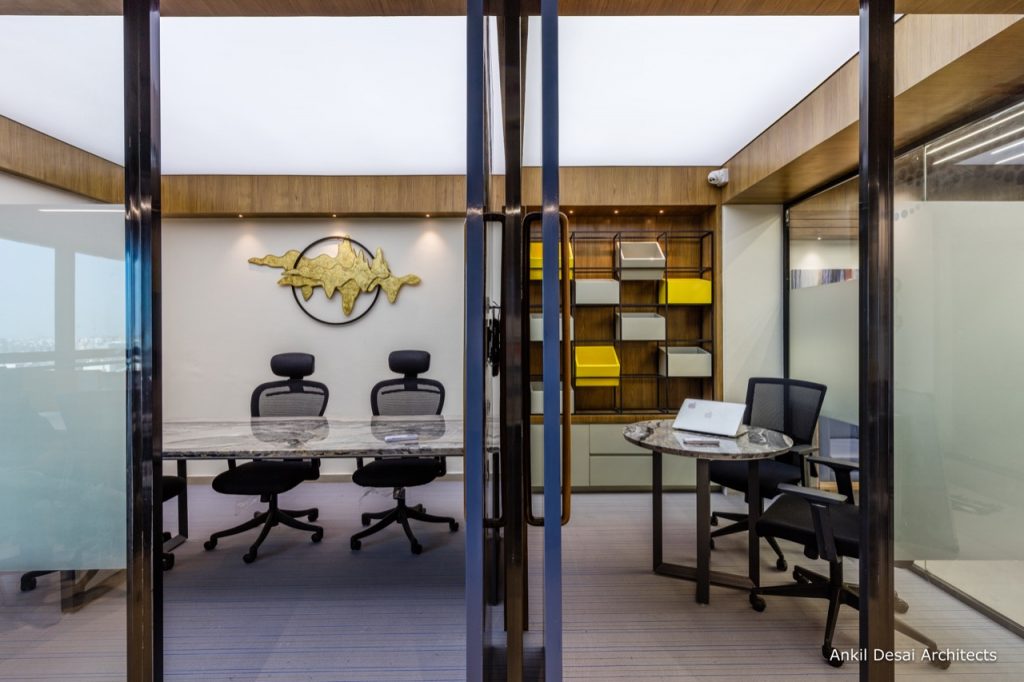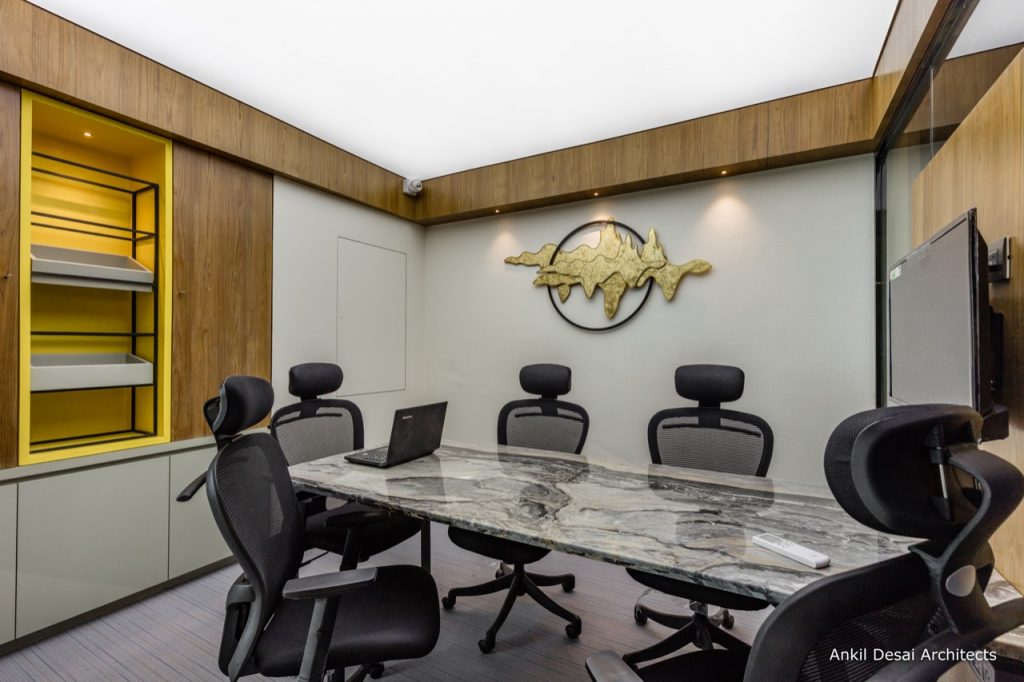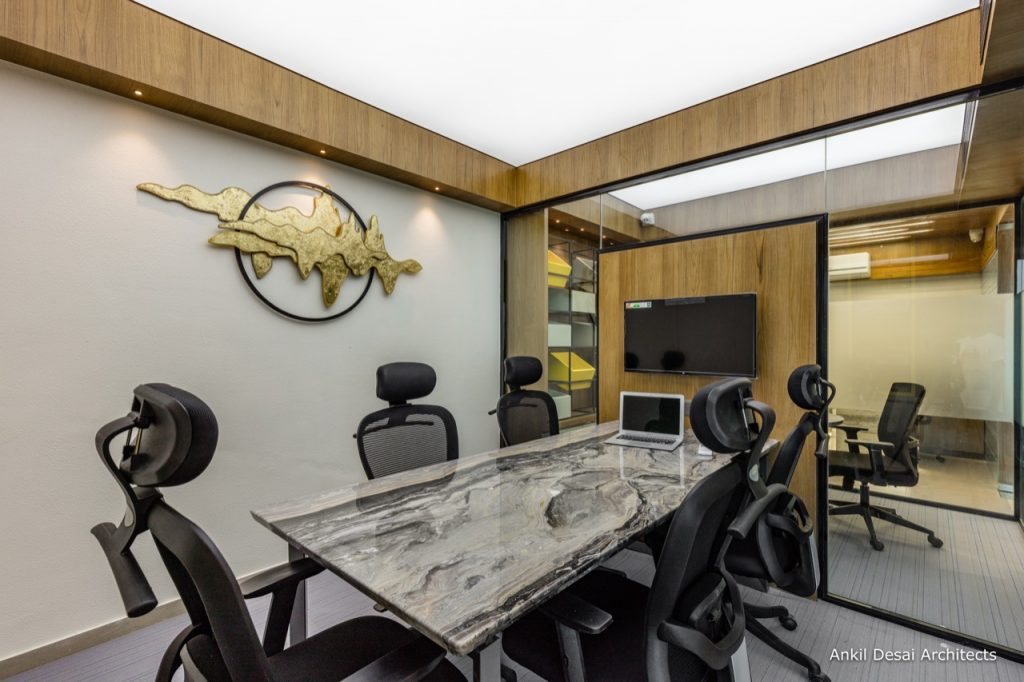 Two large pivot doors open up into adjacent glass chambers- the conference area and the meeting area. They extend themselves till the ceiling in vibrant blue to empower the workspace with its purposive hue. Both these spaces are well-lit with a thoughtful diffused light coming through the innovative stretch ceiling. The diffused light is mandatory to aid appropriate view of the screens during meetings and international conference calls.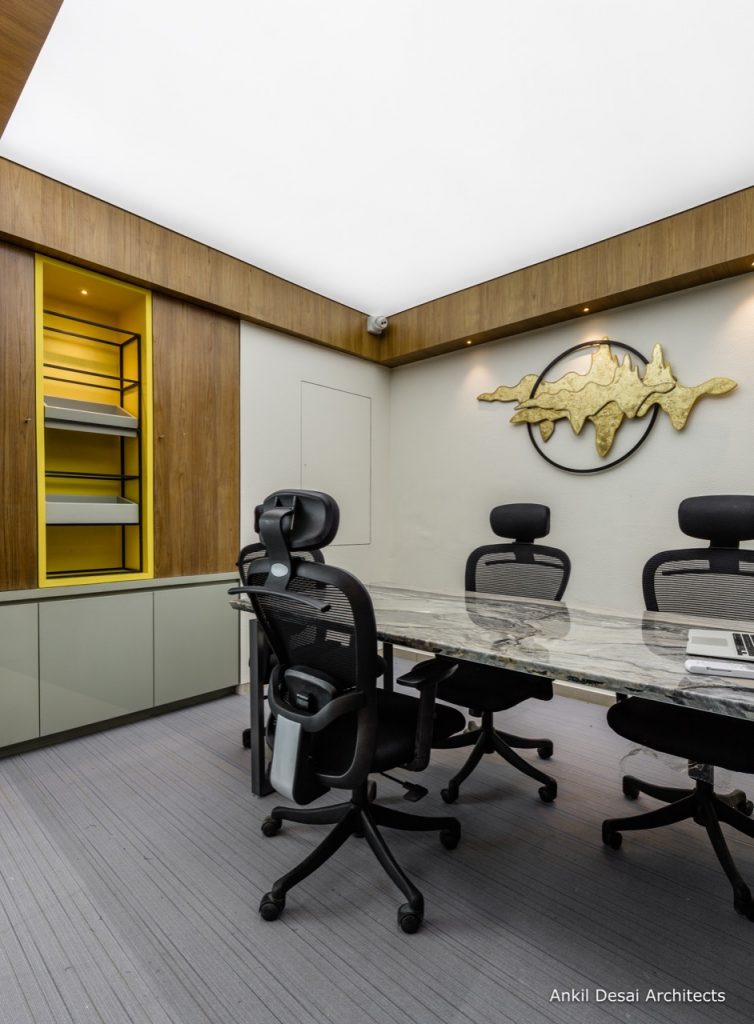 The conference centers a rectangular table with an Italian marble top. It is furnished with veneer wall paneling and yet again, a buoyant yellow for the niche. This well-lit niche accommodates a fabricated cuboid partitioned to station painted MDF boxes (previously intended as planters). The clients' interest for artworks is addressed here as well with a customized wall piece in gold leafing.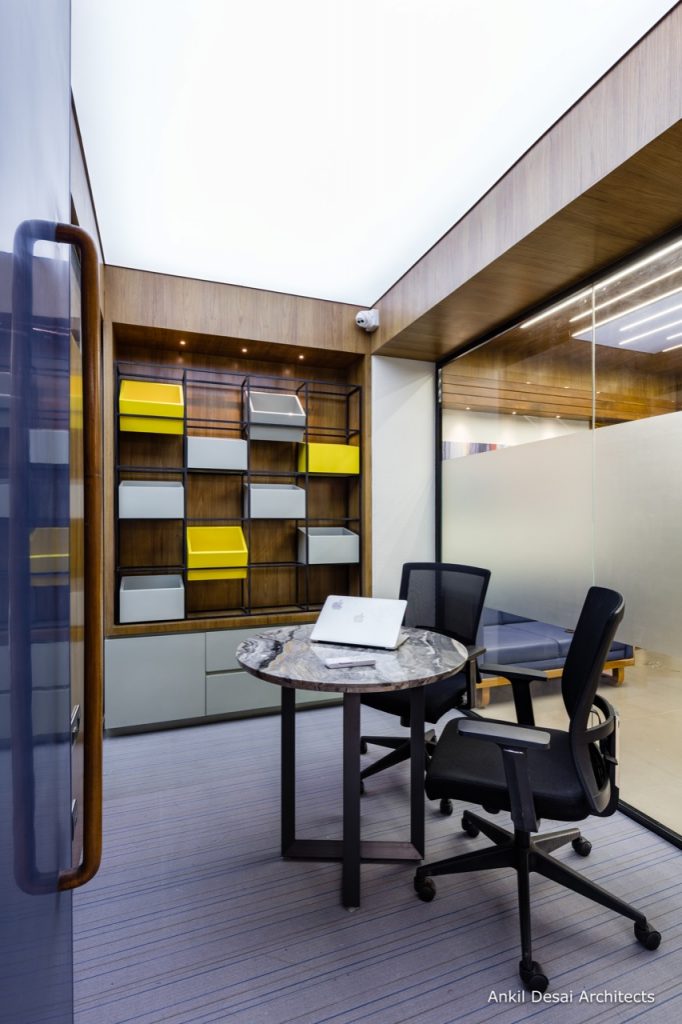 The meeting chamber share the glass partition with the reception area. These partitions are framed in slender M.S. frames to attain a clean and sleek look, thus fostering the feeling of openness. Here again, the floor carpet and stretch ceiling perceptually hold the furnishings and wall paneling. The concept of installing an M.S. structure in the niche extends here as well. A circular table is conveniently put for small interactions and in cases of meeting with the salesperson.
Overall, this workspace for the new-gen ITians is aptly revitalizing and downright congestion-free; bound in a capacious volume. It truly addresses all the client stipulations while imbibing core work ethics into space.
FACT FILE:
Designer firm – Ankil Desai Architects
Project type – commercial office
Location – Ahmedabad
Principal designer – Ar.Ankil Desai
Project size – 1000 sq feet
Year: 2019
Project cost – 25 lacks
Completion time – 1 month
Art work – art_by_rishi
Photo credit – Inclined studio
Text Credit: Megha Hirani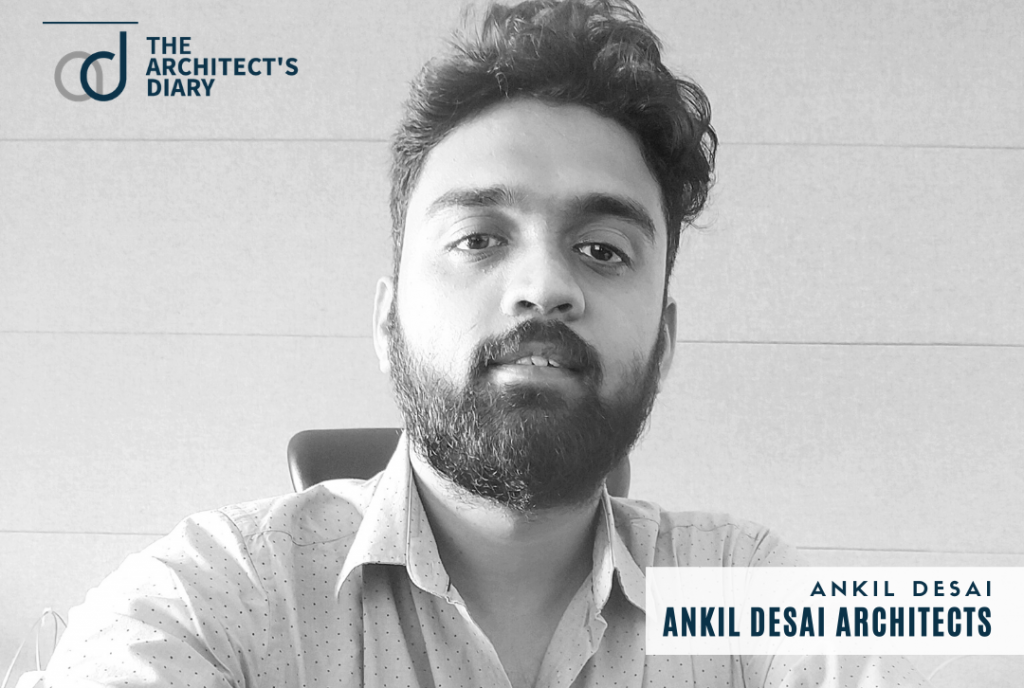 ABOUT FIRM:
Ankil Desai architects is a design studio seamlessly integrating architecture, interiors, landscape to create holistic spatial experiences. Established in 2012 by Ankil Desai.firm's work strives for tranquility and calmness qualified by space, light, and structural order. the firm is dedicated to innovation and creativity and is continuously looking at ways of experimenting with materials in our designs.
Our small size enables us to service our clients closely and gives us the flexibility to adapt to changing scenarios in the design world. We do not believe in the separation or specialization of skills.Our focus is to create spaces that enhance our clients business". Working in close collaboration with their clients, the long-term corporate goals of each individual client are considered in providing flexible and functional solutions.
Instagram: https://www.instagram.com/ar.ankil_desai/
Facebook: https://www.facebook.com/ankil.desai