&nbsp
At one point in your life, you'd perhaps realise you want to be able to showcase a trendy, elegant, classic, and elegant-looking home without spending a luxurious budget on it. After all, it's your style choices that can make a significant impact on how well designed your home's going to be.
Of course, you can never be without ways to upscale to a trendy home. You can begin by adding a touch of elegance where it's needed the most. You can try to walk your way through every single area of your home to find which areas need the most work.
The secrets of design experts have been spilled, and this article shares some of them below. Take the time to read through this list of best tips and tricks.
1. Add A Splash Of Colour
You can never go wrong with a splash of fresh coloured paint. Adding a splash of colour doesn't have to mean having bright and loud colours. It simply means creating a change from a plain and simple white wall to something with a little bit of colour. Even as light as beige or cream is more than enough to strike a difference. If you're not sure where to start, you can check out this Pantone colour of the year 2021.
There are many reasons you shouldn't shy away from repainting your home. Among the range of changes and renovations you can do, painting is one of the least expensive. Aside from that, it's a project you can easily do by yourself. Even this small change can make a difference in bringing life to a plain and monochromatic home.
2. Freshen Up The Linens
Outdated linens can easily age a home. This includes the style, colour, and fabric type of the linens. If it's been too long since you last bought new linens, you may want to shop for new ones quite soon.
For a new set of home linens, consider changing your curtains, sheets, duvet covers, pillowcases, throw pillow covers, and even your table cloths and placemats. As home trends come and go, this means linens that are stylish in this season may no longer be trendy in the next. Surely, you wouldn't want to be dressing up your home in an old and outdated fashion.
3. Install Crown Mouldings
This next trick applies to homes that don't have mouldings. Even the tiniest of details matter when you want to upscale your home. And certainly, you could never go wrong with installing crown mouldings. You can think of mouldings as icings on top of the cake. They put together your home to make it look more finished and well done.
But what's the secret to getting crown mouldings the right way? Choose the widest moulding that suits your home's style and budget.
4. Light Up Your Home
Like linen, another home element that easily flies by according to home trends and season is lighting. If you have a classic-themed home, you won't have to worry too much about your lighting elements going out of style. But if what you have is a modern-themed home and you're keen on following trends, you may need to update to keep up.
Apart from the style of the light fixtures itself, another feature you can change is the light's colour hue. Bright white lights may not be that appealing as they don't create a dramatic feel. To upscale, consider having warm white or yellow tone lights. These hues can create a calm and relaxing atmosphere in your home.
5. Get New Throw Pillows
Throw pillows across different seating fixtures are there for two reasons: aesthetics and comfort. A trendy home would have throw pillows that meet these two standards. So if your throw pillows are anything but comfortable and stylish, consider shopping for new throw pillows as well.
There's no reason not to rush to your favourite home depot as throw pillows aren't generally that expensive. By placing stylish throw pillows in certain areas of your home, you can instantly level up the overall style and feel of those areas. Just remember, however, less is more. So try not to have too many pillows on a single sofa. Otherwise, this would only make it look cluttered.
6. Go Green
When it comes to upscaling to a trendy home, going green means bringing indoor plants into your home. By doing so, you can bring more life to your home while also making it look more relaxing and serene. Adding indoor plants is one of the most affordable ways to make your home look trendier and more aesthetically pleasing.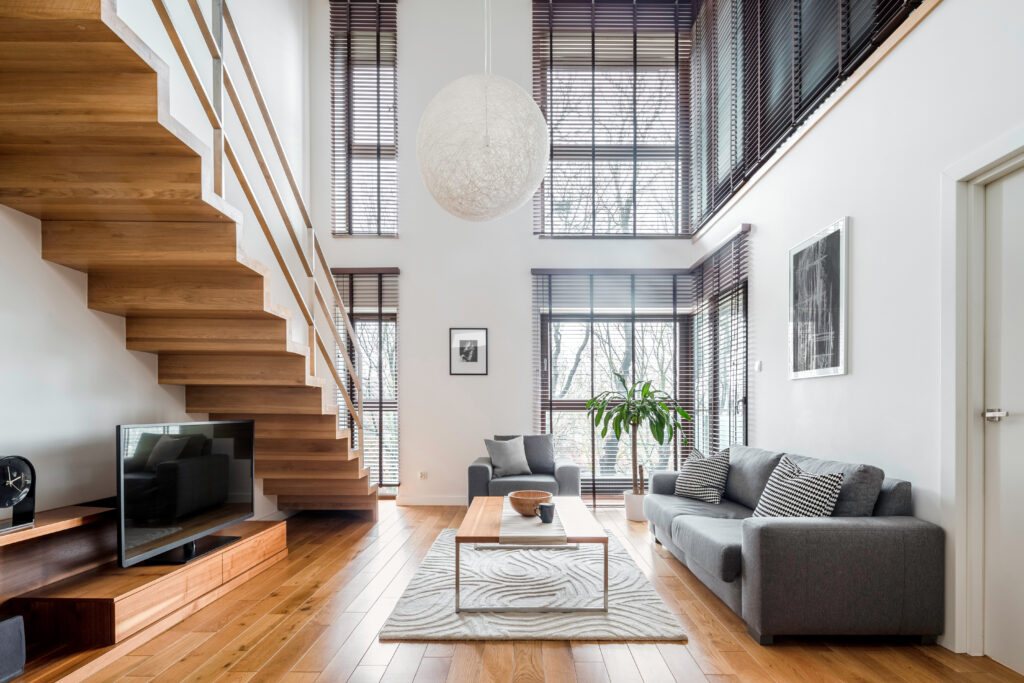 You might say you aren't exactly a green person or the best plant parent. But this isn't something you should worry about. You can just go through several options of indoor plants, and you'd find so many of those that are easy to maintain.
Some of these indoor plants are as follows:
Aloe vera,
Snake plant,
Peace lily,
Cactus,
Pothos.
7. Go Big With Mirrors
Mirrors on the wall are representative of a trendy home. Apart from adding style to your home, they can also make a space look bigger than it really is. So if you only have limited space in your home, having big mirrors to dress up your blank walls would be a great idea.
There are mirrors of different shapes, styles, and sizes you can choose from, so you're never going to be without options. It's up to you to select according to the style and theme preference you're trying to create for your home.
Conclusion
With a wide list of options you can now try out, all that's left for you to do is to take it one room at a time. You don't need to apply all the hacks above in one go. You can just select according to your personality, the trendy look you wish to achieve, and of course your budget. It takes but a few simple steps to spruce up your home, and now you're finally a few steps closer to upscaling to a trendy home.