Carpets have a great range of benefits. At home, they provide a slip-free space where kids can play. Carpets can also improve a room's thermal resistance and insulation. This way, they could retain the heat when the room's temperature is cold and cool it down when hot. In addition, carpets have soundproofing qualities that enhance privacy.
Generally, the most sought-after carpet products today are tiles and rolls. Each has its strength and weaknesses. Yet, in most cases, property owners prefer carpet tiles over rolls. To know more about why this has become possible, here's a list that could explain further. Read on!
Tiles Vs Rolls
Carpet tiles are square carpets cut from traditional rolls. Typically, their sizes include 48×48 and 96×96. Many property owners use carpet tiles in various commercial spaces. On the other hand, carpet rolls are the traditional carpets that you know. Others also refer to them as wall-to-wall carpets because they cover the entire floor area from one wall to another.

&nbsp
In choosing between these two types, there are a lot of points to consider. Buying from a carpet tile supplier may provide you with better ideas about the comparison between tiles and rolls. 
But before that, here are some advantages which make carpet tiles a lot better than the rolls:
1. Easy Installation And Removal
Carpet tiles aren't hard to install compared to traditional carpets. Since modular mats are smaller, they can be simply placed in various areas. Even inexperienced do-it-yourselfers could install modular carpets in their rooms. Yet, to ensure better placement, professional carpet installers need to be hired.
Apart from quick installation, carpet tiles detach easily. This way, repairs and replacements take less time and effort. In addition, their minor cuts make it even easier. Repairs could be done piece by piece, so replacements are easy and quick. Carpet rolls are also easy to repair, but since they take longer to unroll, their complete removal and replacement take more time.
2. Cost-Efficiency
Money is always a factor for home improvement and aesthetic enhancements. In the case of carpet tiles, buyers could save more. Since pieces do repairs, there's no need to spend a lot for large-scale replacements. In addition, labour costs are also reduced. Yet, the most essential points that make carpet tiles super-efficient are their flexibility and sturdiness.
In the sense of flexibility, carpet tiles can have customized cuts. Because of this, they could fit even the tiniest of all spaces. Furthermore, they can cover more expansive areas by just combining more tiles. Carpet tile's durability also makes it long-lasting. This quality relies on many factors such as high-strength and low pile fibres that comprise the carpets. Because of these properties, carpets tiles could hold daily foot traffic. Also, they prevent damages such as packing and abrasion.
3. Openness To Design And Style
Apart from their different sizes, carpet tiles offer a vast array of designs. These could be standards designs or customized. In most cases, carpet installers use the idea of mixing and matching. This enables floors to have different designs. And because the carpet tile removal is quicker than rolls, the owners can change the carpet design regularly.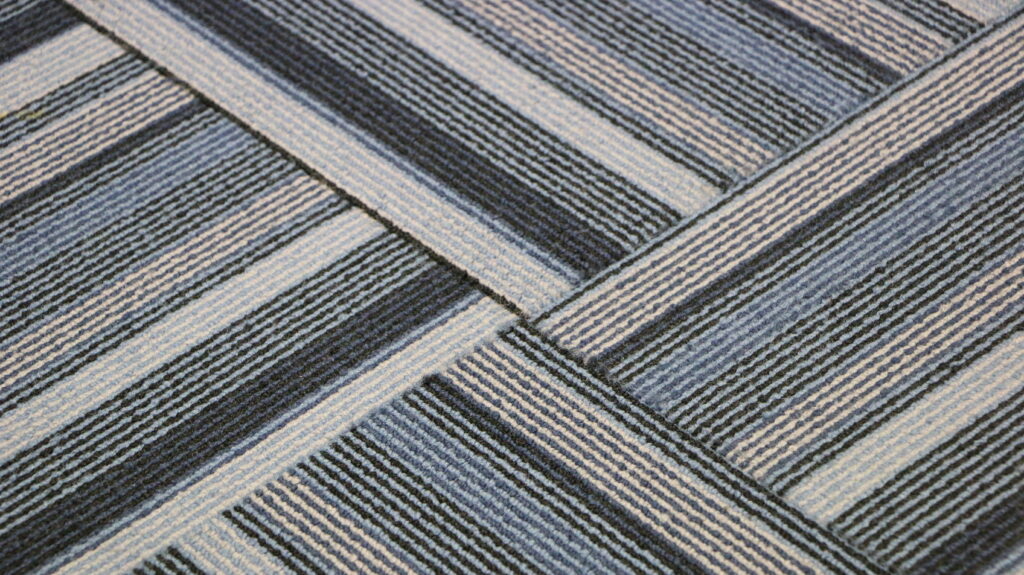 If you're creating the carpet design of a room, you may consider the following styles as they're the typical bases of how the tiles will work and look with each other:
Loop pile: made of loped yarns, contains loops that are ideal for texture and patterns
Cut pile: vertical pile appearance by cutting loops, perfect for a formal look
Cut and loop pile: cut and looped yarn combo, ideal for more expressive and post-modern designs

Aside from the styles, you may also consider the carpet's material composition. Paying attention to the following types help in mixing and matching the types that work, especially for texture:
Wool: stain-resistant, hard-wearing, compact, and has a natural colour
Nylon: cheap, soft, durable, stain-resistant, glossy
Polypropylene: strong resistance against fading, not as durable as wool
Polyester: affordable yet versatile
4. Low Maintenance
Carpet tiles are easy to clean and maintain. When a fluid is spilt on it, the affected part can be removed. The stained tile can be cleaned thoroughly through washing and returned as usual. Aside from this, the tiles could have quick replacements if stains and other damages are beyond repair.
For the general cleaning tips of carpet tiles, here are some tips you may follow:
Use appropriate cleaners as using abrasive ones may cause brown staining and other damages
Apply the cleaning solution which you'd use in cleaning the tile
Don't rub blots
In spot cleaning, start from the outward area toward the centre
Immediately dry the cleaned tiles. You may use a blow dryer to make it faster
Use soap only to the tiles that are soap-compatible
Vacuum the tiles regularly, yet consider if the tiles were used by heavy foot traffic. In this case, vacuuming is necessary
5. High Sustainability
Carpet rolls produce more waste than carpet tiles from installation to maintenance. During trimming, carpets tiles can produce minimal waste. Even mixing and matching with other types only create a few strips and rips. More so, since most carpet tiles are durable, they're less likely to produced damaged parts.
In addition, carpet tile disposal contributes less waste because the damage doesn't generally cover all the tiles. In short, there are fewer parts to be thrown, unlike other carpet products, which need to be disposed of completely.
Wrapping Up
Carpets have come a long way from the years when they're first used. Today, carpet tiles have been installed in different residential and commercial spaces. Primarily, they serve their purpose by preventing floors from getting damaged because of long hours of foot traffic. In addition, they improve the interior look of the place.
Because of these advantages, many homeowners prefer carpet tiles over traditional ones. Suppose you're planning for a carpet placement at your place. In that case, you may go back to the reasons why you need to buy carpet tiles over the rolls. Think about each point and how it'd benefit you and your property in the long run.

&nbsp