&nbsp
When you start welding something, it produces a high temperature that is harmful to you, especially for your eyes. To protect your eyes from the high heat, a welder needs a welding helmet. It is one of the most important tools for the welder to pursue their welding work without disruption. Therefore, a cheap welding helmet may not provide you with the best protection while welding.
Different types of welding helmets are available out there in the market. Each of them has specific features and advantages for welders. Among them, you have to select one depending on your needs, preferences, budget, and features. Most importantly, you have to ensure that the welding helmet you are going to purchase meets the National Safety Standards.
What happens if you look into a welder
The front of your eyes is covered by a clean tissue that can be affected by a flash burn. Welding is one of the primary sources to produce flash burns, which is also called welder's flash or arc eye. Bright ultraviolet (UV) light is the potential cause of a flash burn. At the time of work, a welder machine emits high heat and ultraviolet light that can be dangerous for your eyes.
These flash burns can be harmful to both your eyes. Therefore, you need to wear a welder helmet while working on a job site. Otherwise, you might have to pay the price. However, if you are exposed to a flash burn, your cornea repairs itself without leaving a scar in most cases. But you should consult your doctor if you realize any infection to your eyes. It might lead you to a severe vision loss.
6 Different Types of Welding Helmets Explained
As your eyes are vulnerable as a welder while working on a job site, you should not start or continue your welding without wearing a good welding helmet. Also, the eyes are one of the essential organs to us. So, it would be best if you took care of them before you head over to appear on a welding machine.
The competitive market for welding helmets is full of so many products and brands with different features and advantages. You might pick anyone in the market, but you should not do it. Considering the best protection, durability, viewing area, controls, and more, you have to make the purchase decision. Therefore, you can keep on the safe side and pursue your welding work comfortably.
Passive welding helmets
It is the most basic and affordable welding helmet in the market. If you are on a tight budget and find a welding helmet, it should be an ideal option for you to choose from. Though it does not offer fancy features, it can prevent your eyes from emitting ultraviolet rays, flying objects, and high heat from the welding machine. It is a sturdy welding helmet and has a fixed lens.
Auto-darkening welding helmets
An auto-darkening welding helmet comes with an auto-adjustable lens that responds according to the emitted light and heat. Unlike a passive welding helmet, you don't need to adjust the lens depending on the heat and ultraviolet rays produced from the welding machine.
Its work process is a bit advanced. When you start welding, wearing the welding helmet can detect the heat and light and adjust its lens accordingly. Therefore, you do not need to change the lens manually. Welders find it useful because it does not distract them from work. Also, it does not reduce their productivity on the job site.
The solar-powered lens helmets
As the name suggests, it runs on solar energy. There is a battery, but solar power is needed to run the welding helmet as long as you use it on the job site. If you forget to keep it in the sun the day before, you might not be able to use it on your job site the next day. The battery helps to power start the helmet, but solar power runs it.
It is also economical because the battery does not need to do the work. Also, it switches off itself if you don't use the welding helmet anymore. If you don't waste your tomorrow's work on the project, you must recharge the battery in the sun.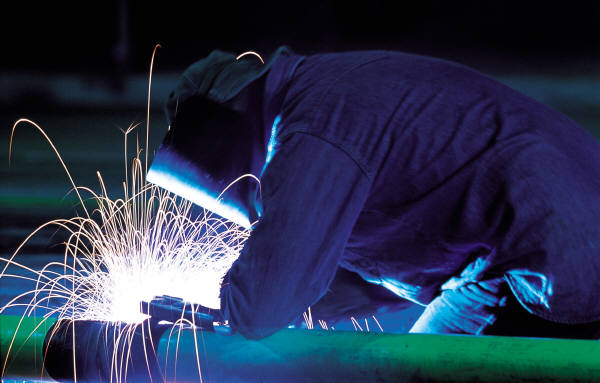 The battery-powered helmet
The battery that is used in battery-powered welding helmets is made of Lithium. It can hold a charge to run the helmet. Though it is rechargeable and replaceable, it does most for you as you don't need to frequently adjust the lens manually, which is a potential drawback of your project.
A solar-powered helmet may be cheap, but a battery-powered helmet does the real job for most welders. They tend to spend a bit but do not want any disruption adjusting the lens according to the welding machine's radiation while working.
The fixed-shade lens welding helmets
A fixed-shade lens welding helmet is mostly suitable for regular welding work that uses only one type of welding material. You can also use it at home to repair your iron gate or your kid's bicycle frame. It comes with a conventional shade level of 10, which provides enough protection for DIY-ers.
Some projects use only one type of welding material. Therefore, as a welder, you are not required to adjust the lens accordingly. Because it does not produce different arc brightness that needs variable lens adjustment.
The variable-shade lens welding helmets
Whatever the heat, light, and brightness are, the variable-shade lens welding helmet is a go-to option for a welder. It changes its lens adjustability according to the types of the arc of illumination. So, it is mostly suitable for all sorts of welding work.
It increases the welder's visibility field in many folds as it can adjust the darkness. If you want to pursue your welding work on your project without any disruption, you should consider a variable-shade welding helmet. It also improves your productivity as you don't have to adjust the lens, stopping your welding work manually.
Final thought
Comfortable and disruption-free welding work is only possible if you have the right welding helmet at hand. In this article, I have shared different types of welding helmets with a detailed description so that you can find the best one for you. I do hope and believe that it will help you in your welding work. Before purchasing any, make sure the welding helmet fulfills your requirements.