The home backyard is a place where you can create your own fun world. When kids are at home, they want to play indoor and outdoor games. You have to add some interesting game kits to your backyard to get your kids engaged there.
There are many outdoor games for kids available at present time. It can be basketball, football, cricket, volleyball, and many others. Actually, you should select the game kit based on your kids' game choices and the space available in your backyard.
Top 5 Kid-Friendly Ideas to Make Your Backyard Playful
The backyard is a useful place to create your own playground or garden. You can add many outdoor game sets to your backyard so that your kids can get a lot of fun and some physical exercise. Here we provide some interesting game ideas that make turn your backyard into a kid-friendly playground.
1. Cornhole Game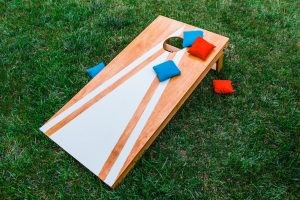 A cornhole set can add so much fun to your kids' gaming time. Almost all kids and adults love to play cornhole game with their friends. The best part of this game is it improves your target hitting skills and it does not have a risk of accidents or injuries while playing.
The cornhole game is very easy to play. Its set includes 2 slightly elevated cornhole boards and several bean bags. Both the boards have a hole which is target for the players. It can be played as two teams in an open space of your backyard.
In the Cornhole game, the player of the 1st team has to throw a bean bag on the opposite team's board. The bean bag must enter into the target hole. If a player succeeds in it, 1 score is added to his/her team. It seems simple but when you actually start playing, you have to throw the bean bag so perfectly to make a score.
2. Giant Jenga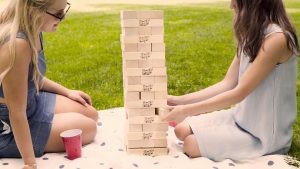 Jenga is a mind blowing game designed for indoor as well as outdoor places. The Jenga game set is available in small size for indoor laying and the Giant Jenga is suitable for the outdoor places such as your home backyard.
If you get back a few years in your mind, you can see yourself playing Jenga with your friends. Now, the era has changed and you should give your kids all the Jenga fun right in your backyard. For that, you need to buy a Giant Jenga Set from nearby or online store.
Basically, Jenga includes a few number of wood blocks that you need to arrange in 3×3 straight & perpendicular order to create a building. Thereafter, each player has to remove one block (except top 3 rows) and put it on the top of the building.
Playing Jenga is so simple but you have to play it carefully as the building must not collapse by your move. The player whose move causes the Jenga building to collapse will lose the game.
3. Basketball Hoop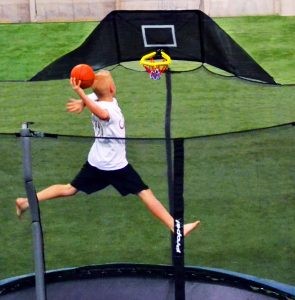 At present, many people have a trampoline in their backyard. Because their kids want to jump almost everyday on the trampoline. Now, you can make your backyard trampoline more interesting by adding a trampoline basketball hoop to it.
In order to add it, you should check the best basketball hoops for trampolines here and choose a suitable one. The basketball hoop allows your kids to play basketball while jumping on the trampoline. It is safer than an actual basketball game because the kids will fall on the trampoline mat and not on the hard surface/ground.
4. Badminton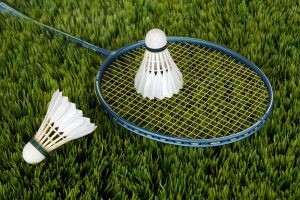 Some kids love playing badminton as it is a fun game to play with friends. You can get a portable badminton set and install the same in your backyard. Before your kids start playing badminton, you need to check the play area has a flat surface and it is safe for the kids.
After the badminton net is installed in the middle, the kids can hold the rackets in their hands and start playing as two teams. One team will stand on one side of the net and the other team stand on the other side. The players have to hit the shuttlecock with their badminton racket and keep playing until one of them misses the shot.
5. Bucketball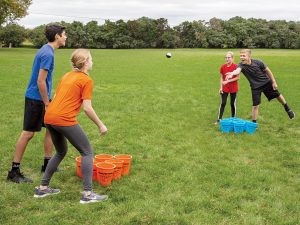 Playing bucketball is very enjoyable at beach, near the pool and also in the backyard. In this game, both the teams have 4 buckets e.g. 4 red buckets for team 1 and 4 green buckets for team 2. The players of team 1 will try to throw a ball from a distance into other team's bucket.
If the player succeeds in throwing ball into bucket, that bucket will be removed from the game. In this way, both the teams have to try their best to remove all buckets of the opposite team. The team who can eliminate other team's all buckets will win the game.
Final Verdict:
When you have a backyard, you can arrange plenty of interesting games there. We hope our suggested games have helped you to make your home backyard kid-friendly and more playful.