&nbsp
If your office looks unappealing and seems to be affecting your employees' productivity, try looking around your office interior. Does it boost your productivity, and make you comfortable and calm, or the other way around?
When your office design doesn't give you a positive feeling, you may need to change it. You don't have to spend thousands of dollars to redesign your office. The key is to repurpose your resources or add new features.
Here are some unique office designs you can choose from:
1. Light-Filled Office
A well-lit office has a positive effect on employees' productivity and concentration. It even has an impact on the body's built-in clock or circadian rhythm. Lighting also improves one's alertness, mood, and energy. All of which are essential to make your employees work better. Thus, whatever your office style is, like a shipping container office, you should have the proper lighting. 
Here are some tricks to fill your office with lights:
Choose The Right Brightness: When choosing lighting fixtures, you should consider your employees' tasks. While some areas of your office may require more brightness, some may only need a little of it. For instance, workspaces using laptops or desktops may need more controlled lighting. Hence, you may need to diffuse or block out some of the sun's intensity.
Have The Right Lighting Temperature And Color: Again, this will be based on your office space's function. You must consider the light spectrums' health implications on you and your employees' health. Generally, white and cooler blue lights are best for concentrating and working. Orange and white lights are suitable for relaxing. Thus, to keep your employees alert in the morning, use cooler and brighter lights. Then, use warmer lights as the day goes on to keep your employees relaxed.
Save Money Through LED Lights: While LED lights are more expensive than fluorescent lights, they can help you save money in the long run. This is because LED lights are energy-efficient, don't use excess energy, and have a longer lifespan than fluorescent ones.
Take Advantage Of Natural Light: Moreover, you can save your employees from getting the blurred vision, headaches, and eye strain by using more natural light in your office. Thus, you should consider your office's neighboring building obstructions, latitude, building orientation, and ceiling height. All of these will help maximize the impact of sunlight. You can also make your windows bigger so more natural light can come into your office.
2. Neoclassical Design
When creating a neoclassical office design, the key is refinement and beauty. You can also use traditionally inspired pieces to create elegant finesse and character.
Here are some elements to consider to make your office have a neoclassical touch:
Decor: Some typical decorations are statues, jugs, and urns. You can also add floral motifs, especially in wall designs, rugs, and pillows.
Furniture: Use the ones that are symmetrical and simple. To provide an outline of the shape typical in neoclassical furniture, choose those with exposed metal or wood structures. You can also choose the ones with ornamental ends. If you have an office lounge, you can also add a chaise lounge with a classical style.
Colors: If you have patterns to choose from, low-contrast palettes are popular for neoclassical design. For your accents, you can use gold, silver, red, or black. As for overall color, it should emit mildness. You can choose muted hues, like green, blue, yellow, gray, cream, and white.
Although neoclassical originated from thousands of years ago, it has remained to be a popular office design as it creates charm and elegance. Thus, if you want to have a classier and cozier office, try a neoclassical design.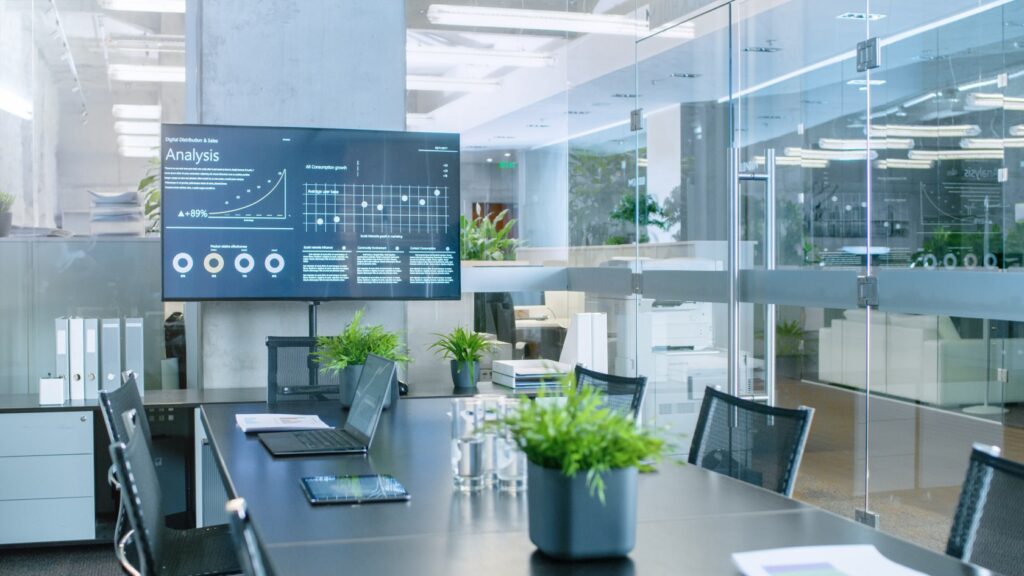 3. Minimalist Design
Another popular office design is the minimalist design. This is because it's conducive to work with its nature: stripped back and streamlined.
Here's how you can adopt a minimalist design for your office:
Keep It Clutter-Free: Instead of putting too many unnecessary things into your office, make it clutter-free. On the other hand, too many things around can distract your employees from working, aside from making your office messy. Thus, only keep things that bring joy to you and your employees. If need be, keep documents or things in a storage area. Or, don't fill your walls with too many pictures that you don't even value or bother looking at.
Use Space-Saving Furniture: If you have a small office space, avoid filling it with bulky or large furniture. Instead, use space-saving furniture; it will help you have more space. For instance, use modular shelves or extendable tables. These will help you utilize more space when they're not in use.
Keep Things Simple: Most importantly, minimalism's core element is simplicity. Thus, your office space should have a simple aesthetic. It includes your lighting, chairs, desks, and office layout. Avoid flashy ones. Instead of outlandish designs, go for more classic ones. Also, make sure that your office elements create harmony with the overall design to achieve a minimalist design.
4. Mid-Century Modern Design
Moreover, you may turn your office into a mid-century haven by incorporating modern and mid-century designs. You can create a comfortable and luxurious feeling through this design, plus it's timeless, like the neoclassical design.
Here are some factors you need to consider to achieve a mid-century design:
Abstract Art: Mid-century period is famous for abstract art. Thus, decorating your office with abstract art will help bring out a mid-century vibe. In this regard, you can opt for a conceptual painting.
Colors: As for the colors, choose the ones with warm brown tones. Then, add small doses of dark red, mustard yellow, and teal. You can create a sunny and warm palette for your office. A yellow table lamp or an orange office chair will create an attractive and welcoming vibe.
Wood Desk: This is key to achieving a mid-century office look. Choose simple ones with drawers for storage.
Conclusion
With so many office designs to choose from, you can make your office look appealing and boost your employees' productivity. Depending on the type of work they do, you can choose the most suitable office design from the mentioned ones above. Or, you can even make one room look like they're in the mid-century period, while the other spaces adopt a minimalist design. That way, they can go to areas in which they feel most comfortable when they feel exhausted from work or even while doing their duties.