3BHK Apartment Expressing Its Roots And Traditions In Details | ISM Architects
The urge to keep traditions and roots alive while aspiring a contemporary lifestyle away from hometown finds its expression in this 3BHK home designed for the Bohra family. This sukoon – e- aashiyana is intended to pass on the family values and beliefs to the next generation in a subtle way. This has given rise to a delightful combination of modern houses expressing its roots and traditions in smaller details that neither overpowers nor is forgotten. The flavor of this modern house reminds you of its traditional bonding.
Visit: ISM Architects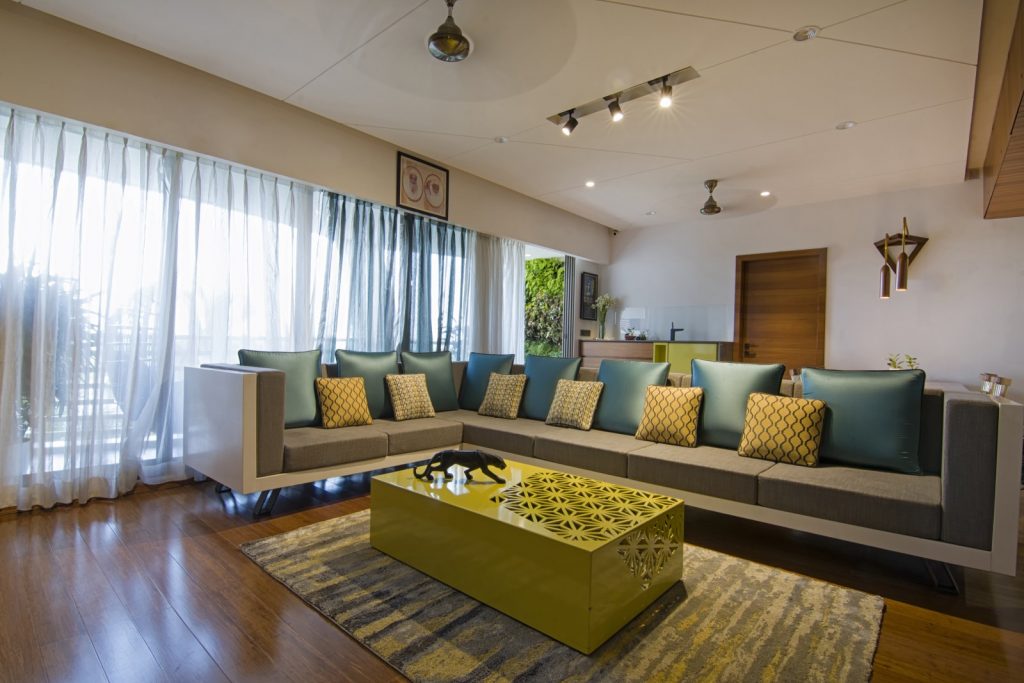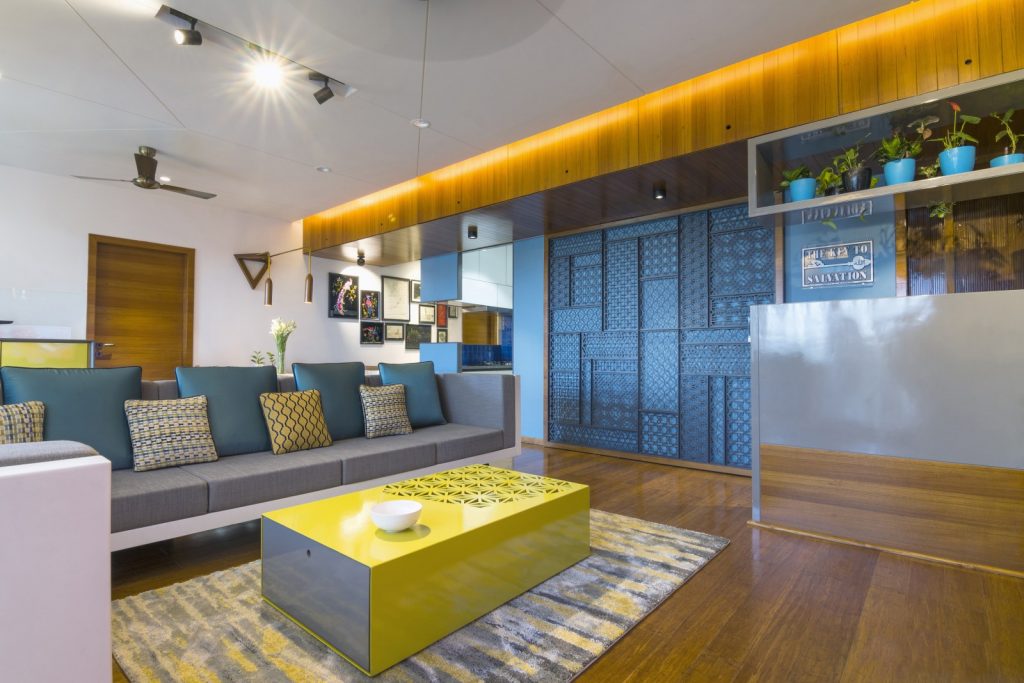 This naked flat 3BHK was taken over for a complete makeover to suit this rationale of the design. The Interior layout of the house, though largely remained unchanged, the treatment of the same differs radically to suit the aesthetic palate decided for this home.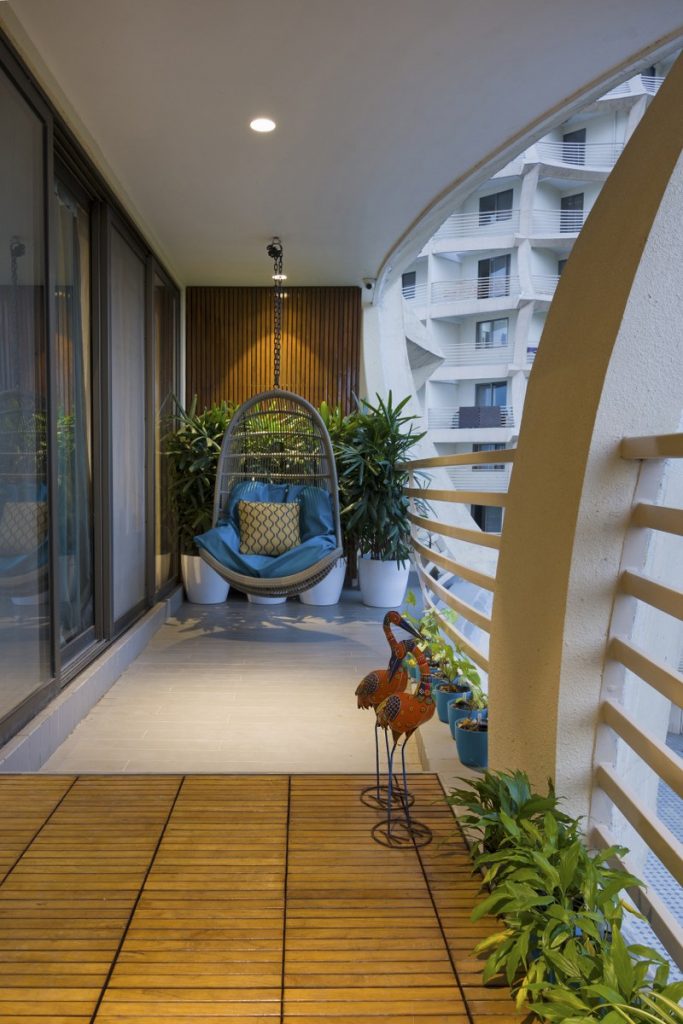 There is a 6 ft wide terrace running along the whole length of a living-dining area with large windows that provides a good extension to an equally large indoor space. The outdoors offers breathtaking river views and nature crawls inside the house through small pots and plants dotting the corners and tabletops of the house. The false ceiling design is kept minimal and seamless to enhance this grandness.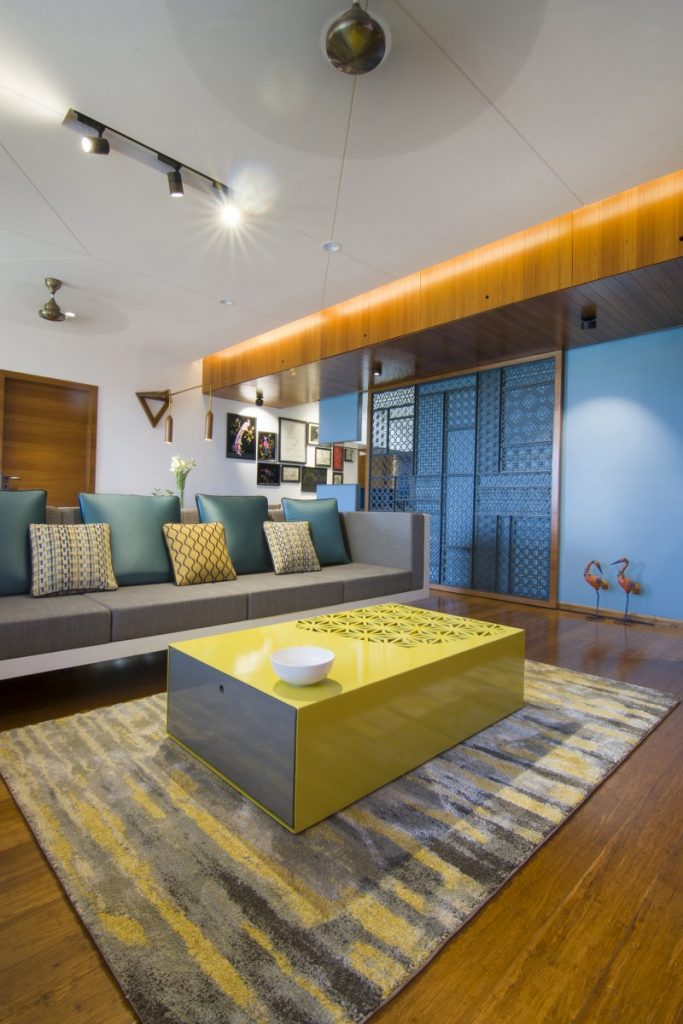 The monolith black Porto marble wall for the TV unit wall adds to the elegance and richness of the living room. The passage segregating this large living space from private spaces is treated with a low height wooden ceiling that defines circulation and habitable space. This has also allowed accommodating a reasonable storage capacity within a false ceiling.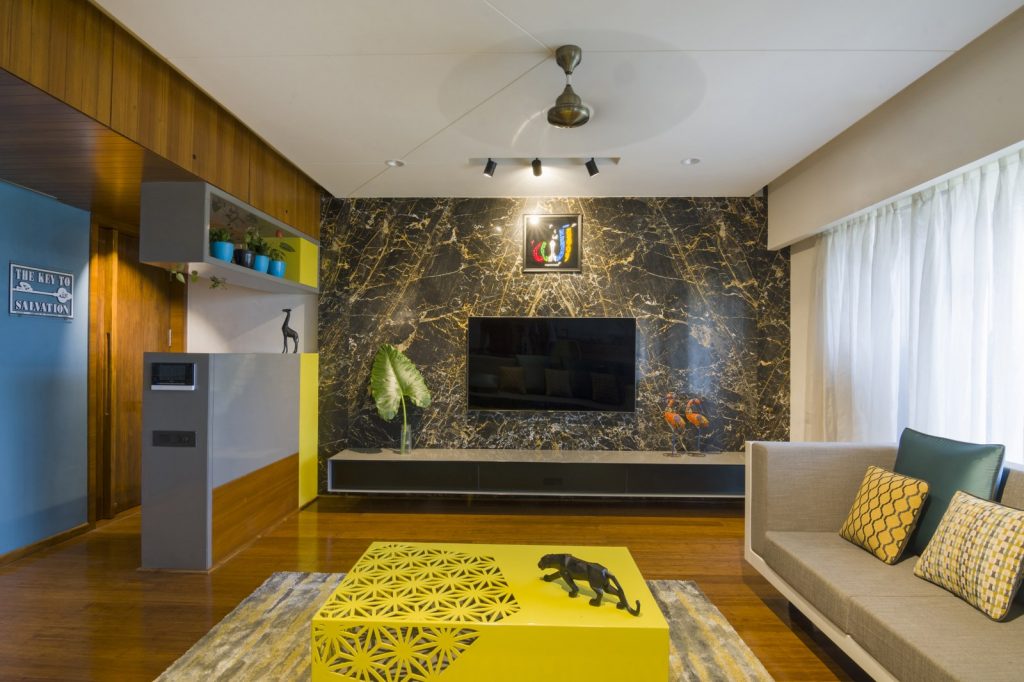 The formal living room is defined by an L-shaped sofa separating family and dining space. The informal sit out space next to the dining table is a raised wooden deck used for daily family dining in a thaal with the Indian seating system. This multipurpose space acts as a play area for their young toddler, a reading corner, or namaaz space for parents. The sofas are movable to accommodate bigger community meetings (majlis).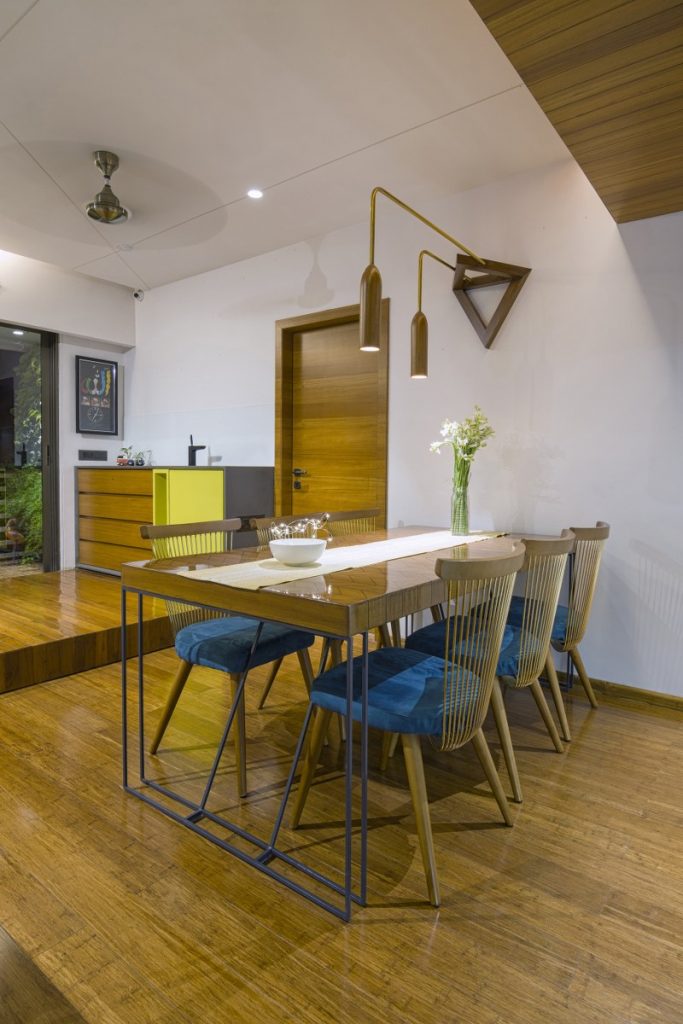 The storage below the deck accommodates these big thaals required on such occasions. The raised deck extends out on the terrace to create a varied experience with different levels and material treatment. The entire flooring is finished in solid teak wood, for thermal comfort during winters of Nashik.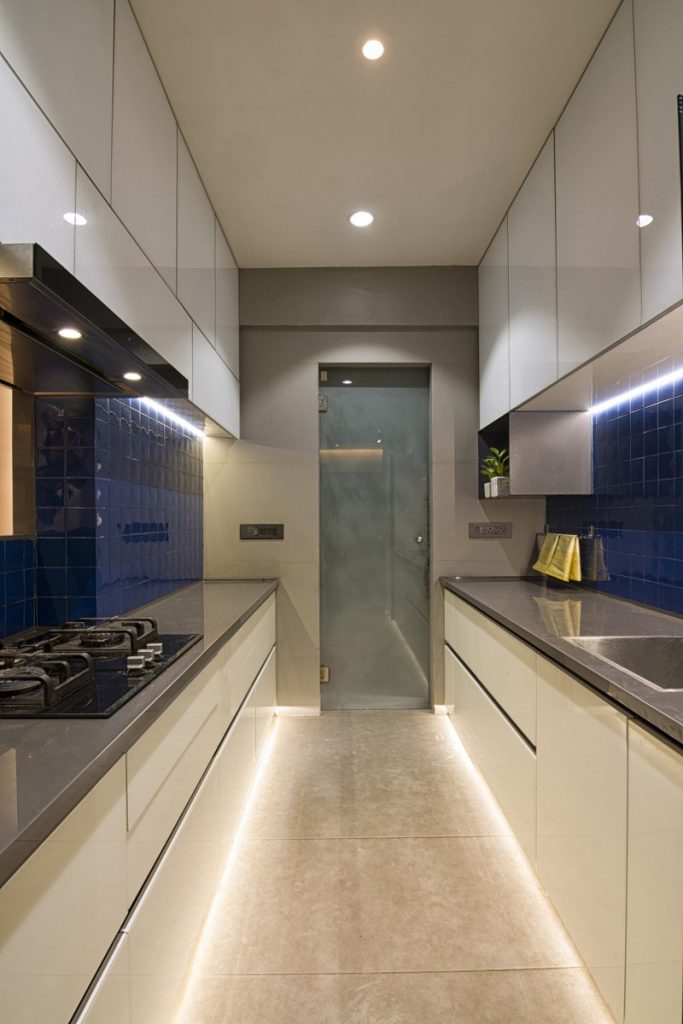 The kitchen works perfectly for the nuclear family and is designed as an open kitchen for daily use. However, during community gatherings (majlis), the kitchen can be closed off with a sliding jaali door that otherwise acts as a piece of art against a brightly painted wall of the living room. The Jaali design on this door is inspired by the Islamic geometric patterns derived by the process of tessellation.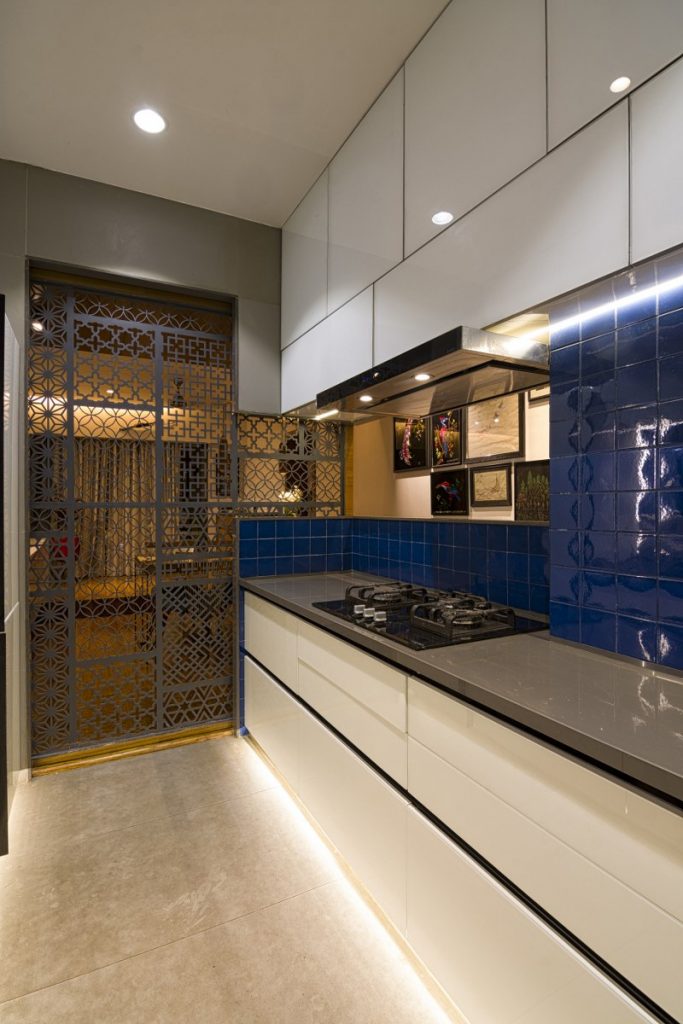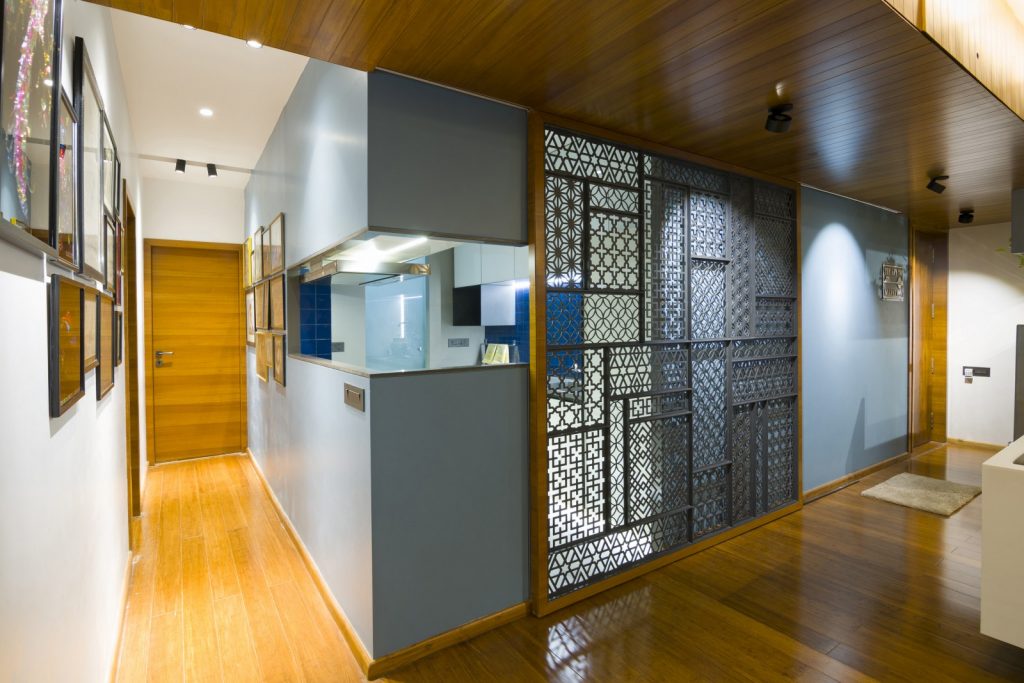 Divided into the modern asymmetric grid, the square jaali door does not fall into the trap of being too ethnic to overpower the modern aesthetics of the space yet make a statement. The same pattern echoes on the center table for the living room in an asymmetric way. The passage leading to bedrooms is treated as an art gallery and is adorned with hand paintings done by the artist's father.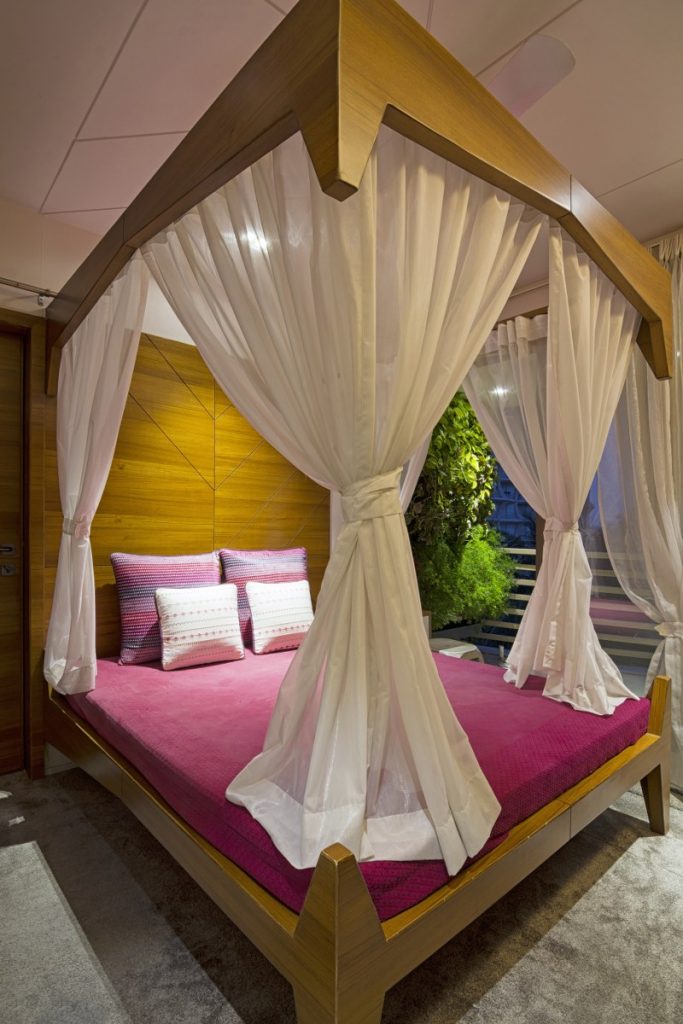 The parent's room flaunts traditional look with a post bed with sheer curtains and a wooden look. However, the corner posts of the bed have been re-imagined as a drop canopy with dynamic lines and form. This does not create a physical or visual barrier in this room and blends into a fine marriage of a traditional idea in a modern expression.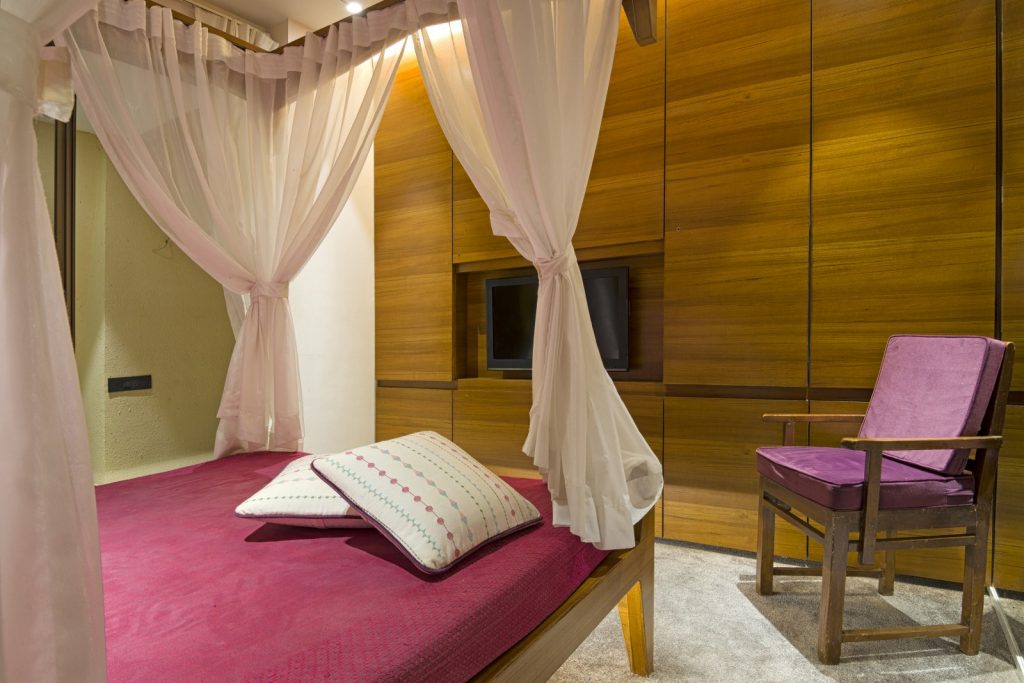 A rich palette of veneer and upholstery lives up to this language of interiors chosen. This bedroom extends out in the long terrace of a living room but is segregated by a vertical green wall that defines a sit-out area to be a quaint private outdoor corner which functions as a studio space for father who indulges in painting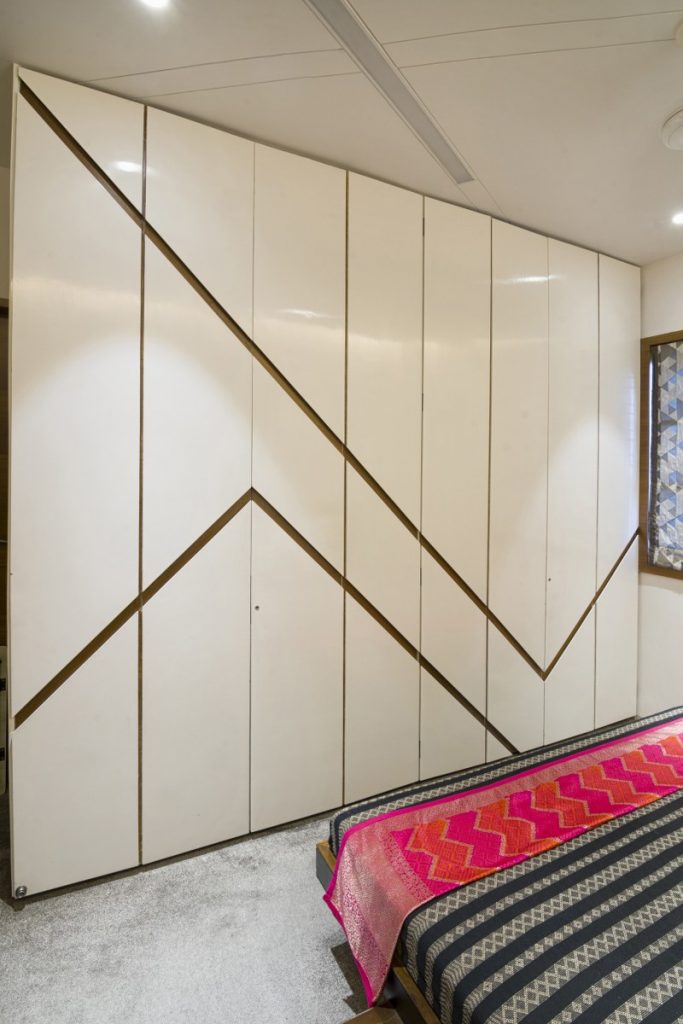 Son's bedroom has a full-length white wardrobe to fulfill the storage requirements. However, the white color of this wardrobe negates its humongous size. Strong diagonal lines treated in solid wood acts as wardrobe handles and are reflected in-ceiling design as well. Cantilevering platform bed acts as extended bed space for their toddler to save floor space and it reduces visual bulk while providing good storage space underneath.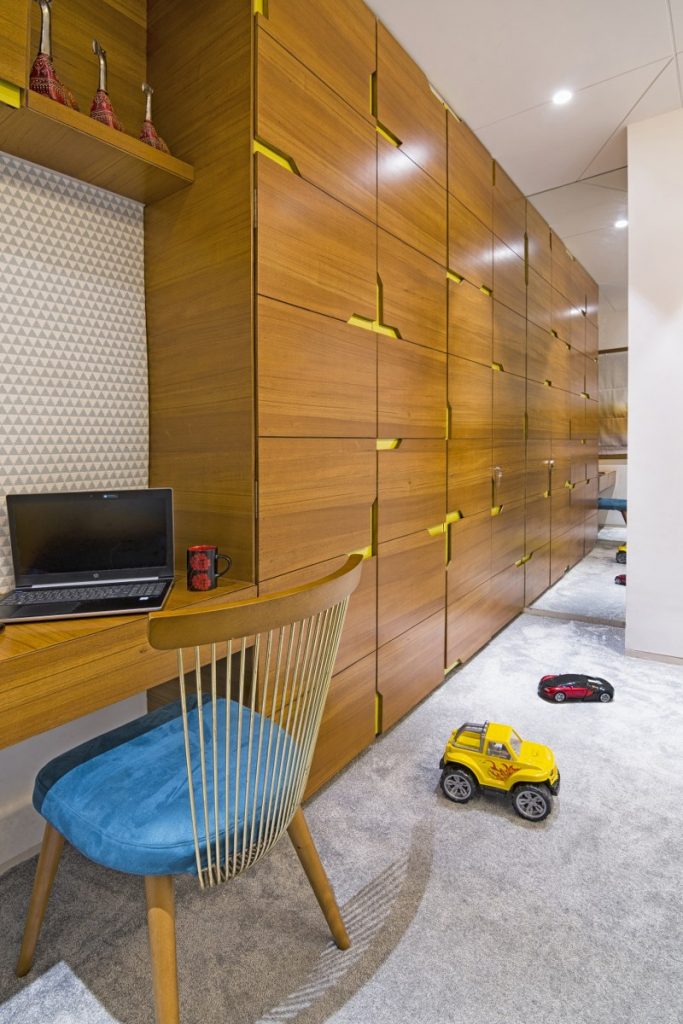 The simple ledge on this platform acts as a study table in baithak style and namaaz recital space. The children's bedroom has a basic wardrobe with an interesting composition of handle niches in a bright yellow colour. Otherwise, a study table and laid out floor bed are only pieces of furniture. This has been intentionally keeping it clear and minimal to accommodate kid's activities as he will grow. A wall of room adorns superhero theme frames and miniatures.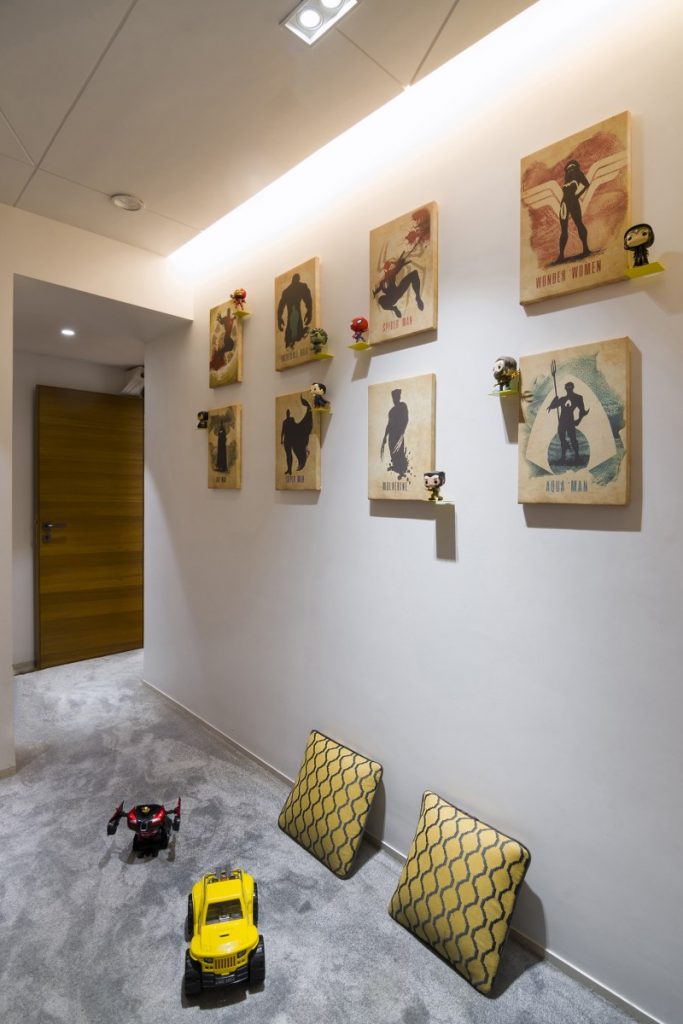 The house gives subtle messages about its roots through details like jaali work, that area and dedicated namaaz spaces, choice of veneers, and colour palette of upholstery while the overall aura of the house is very modern and urbane.
FACT FILE:
Architectural Firm – ISM Architects
Typology – Residential Apartment Interior
Client – Kaderi Family
Project Name –Sukoon – E – Aashiyana
Location – Nasik, Maharashtra
Area – 1850 sq.ft
Project Cost – 40 Lakhs
Completion – March 2018
Design Team – Ali Kaderi, Nandan Malani, Amol Suryawanshi
Execution Team – Prabhunath Sahni (Carpentry work), Sitaram Khatod (Tile work), Shakil Sheikh (Fabrication work), Vikas Kadam (Electrical Work), Vikas Salunkhe (Painting Work)
Photographs by – Sangram Goverdhane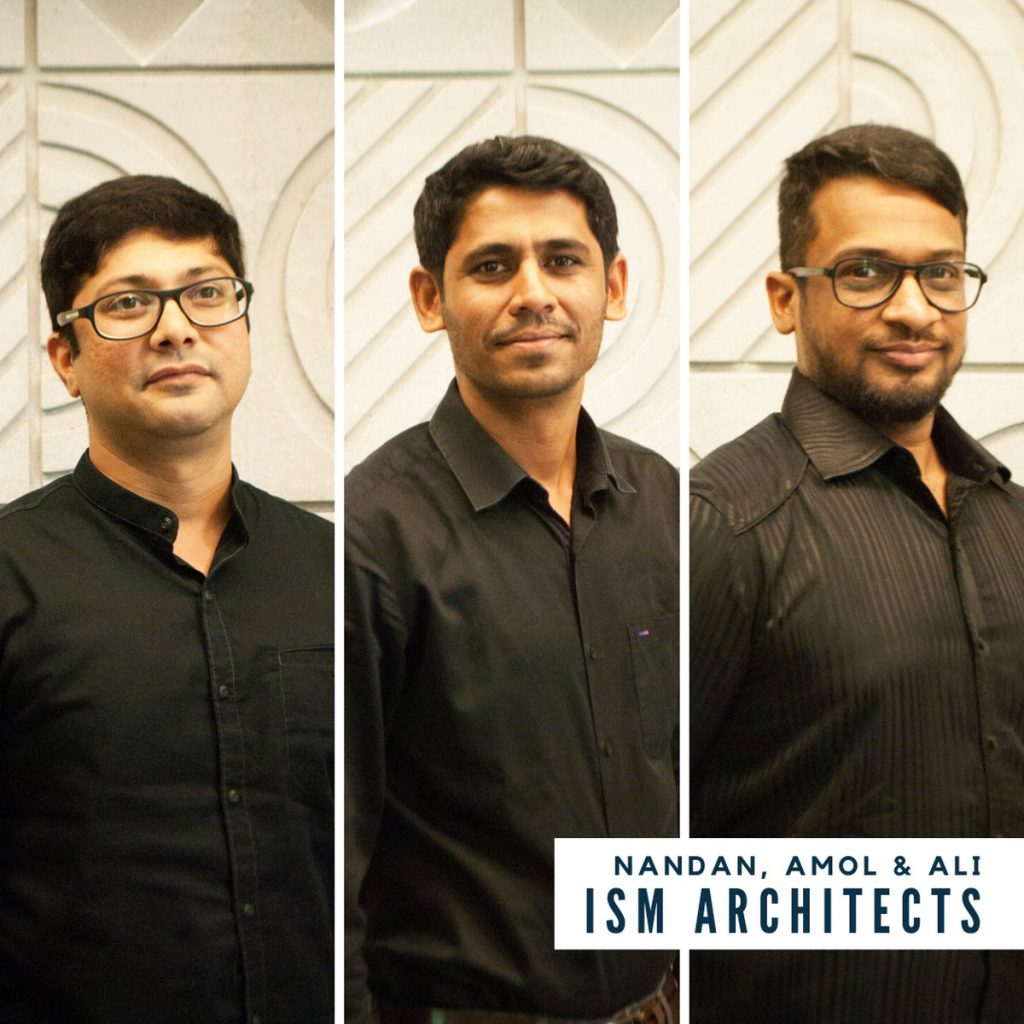 ABOUT FIRM:
Ism is an era, that the firm envisions defining with its approach towards their uniquely intertwined architectural practice. This reflects in the way they reciprocate to each project in their own way with their strong architectural beliefs while not compromising the client's needs. The firm was established in 2010 with a vision for a multidisciplinary approach towards projects.
With such complementing mix of expertise, the firm intends to provide a holistic vision and solution for their projects. In a short span of 10 years the firm boasts of projects ranging from plush bungalows, multi-family residences, landscape for in lavish farmhouses and resorts, commercial and residential interiors as well as factory projects.