&nbsp
Photoshop for architects is a powerful image editing software that allows transforming even bland photographs or illustrations into amazing architecture projects. You just need to learn the program's most useful drawing and photo editing features and establish an effective work cycle to maximize your productivity.
The primary reason why Photoshop is the most popular software used by architects for picture editing is its user-friendly interface and thousands of video tutorials. PS allows you to change and improve existing architecture renders as well as create new ones( but in the case of 3D product modeling, there are some obstacles to using PS tools). PS has  Even highly acclaimed visualization designers perform the majority of their work in Photoshop using rough 3D objects done in other programs as a foundation.
If you're only getting used to working with this software, here's a list of 10 tips that will help you perform Photoshop architectural rendering better and faster.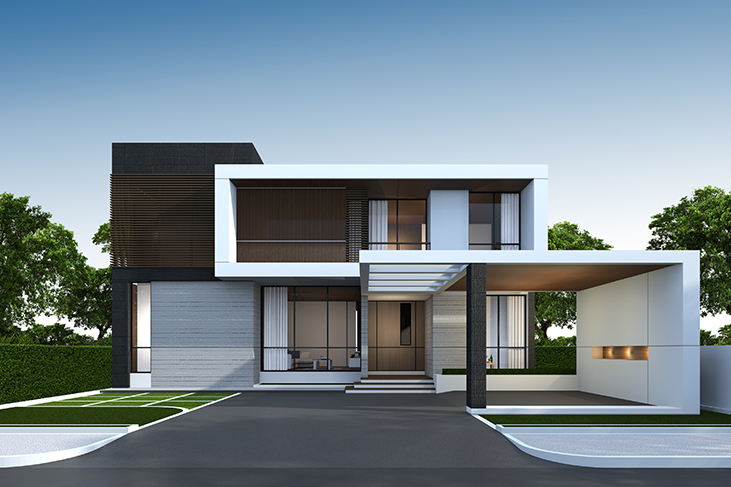 Tip 1. SystematicWorkflow
Like other image editing programs, using Photoshop for architecture rendering gives the best results when you remain in full control of your project's structure. When working, ensure that you can always move a couple of steps backward or forward without losing your progress. The key to maintaining such flexibility is employing masking and adjustment layers. Masking allows you to introduce small changes to specific areas of various layers rather than altering the entire picture.
Tip 2. Organize Your Project's Layers
While it's always better to have as few layers as possible, Photoshop architectural rendering files tend to end up complex and chaotic. The best way to organize them is to group them into folders based on their content. Typically, your file's layer folders should include:
Base Files (line work, base rendering, Alpha, etc.)
Sky
Background (surrounding structures, real landscapes, etc.)
Ground Plane (roads, pavement, grass territories, etc.)
Interiors
Plants, People, and Transport
Visual Effects (color overlays, lens flares, etc.)
HDR/Filters
Also, give unique names to each layer to avoid figuring out what "Layer 3 copy" has on it or which folder it belongs to.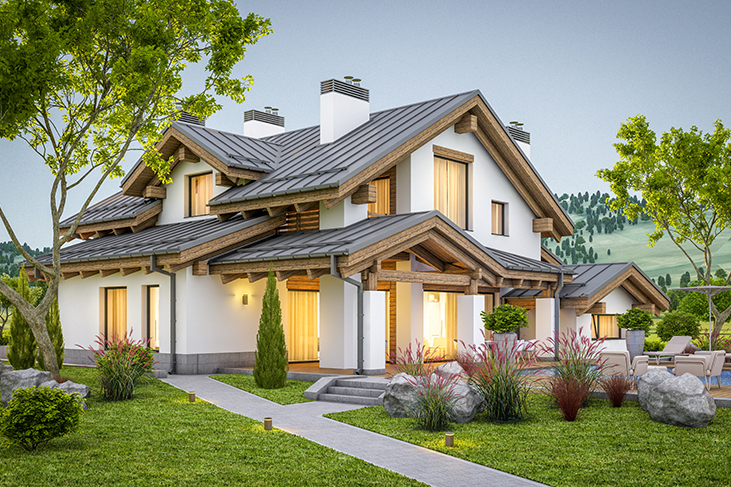 Tip 3. Make Use of Smart Objects
Did you ever experience the awkward feeling of adding a picture to the canvas only to have it pixelated after you have zoomed in? This problem is fixed by employing Smart Objects. They are perfect for Photoshop architecture projects since you can change their size, rotate or otherwise transform them without the quality loss, which is impossible to achieve with a rasterized picture. Smart Objects are also handy because they preserve any changes you make in Free Transform. This allows you to adjust or delete those changes at any stage of your project. You may create copies of Smart Objects and have them acting as instances. You can do that by selecting "New Smart Object" in the Copy menu of an existing one.
Tip 4. Hotkeys Can Save You Lots of Time
Photoshop rendering deals with a lot of clicking through menus, settings, and options. If you want to decrease the amount of time you spend on drop-down menus, it's recommended to memorize the essential hotkeys so that you can instantly select various functions and activate tools. Here's a list of hotkeys that are most frequently used for architectural renderings in Photoshop:
Flatten layers:
MAC: Cmd+Alt+Shift+E
WINDOWS: Ctrl+Alt+Shift+EInvert selection:
MAC: Cmd+Shift+I
WINDOWS: Ctrl+Shift+INew layer via cut:
MAC: Cmd+Shift+J
WINDOWS: Ctrl+Shift+J
Increase/decrease brush size:
MAC: ]/[
WINDOWS: ]/[Blending modes:
MAC: Shift+plus(+) or minus(-)
WINDOWS: Shift+plus(+) or minus(-)Change canvas size:
MAC: Cmd+Opt+C
WINDOWS: Ctrl+Alt+C

Tip 5. Save Time on Color Sampling
Beginning designers who haven't watched a single Photoshop architecture tutorial tend to waste their time by importing photographs into PS for the sole purpose of performing color sampling. A more efficient method of doing so is to simply choose the Eyedropper, click and hold the left mouse button, and move it to the color point of your item. It can be an opened picture, a web page, your desktop image, or anything else.
Tip 6. Protect Your Work
An important part of being a professional designer is sharing your work with potential clients. That's why it's important to protect the files so that they can't be used without your authorization. While adding a watermark is a viable way out and isn't the most elegant one. Instead, consider protecting your work with a password so that it can't be printed out or edited. Simply save your files in PDF format and type in a password in the Security, Permissions section of the menu.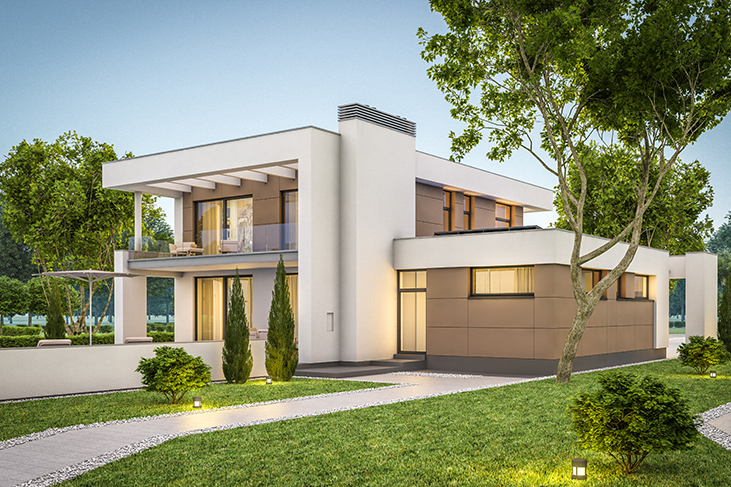 Tip 7. Search for Any Hidden Pixels
A large-scale architecture rendering Photoshop project usually deals with numerous layers, Smart Objects, and textures. With that much going around, it's easy to miss pixels located outside of the canvas. If you want to see hidden pixels on all layers, go to the "Image" menu and select "Reveal All." This will increase the size of the canvas to display all existing pixels.
Tips 8. Try Out Filters Before Applying Them
Adding a filter to a large picture is a memory-intensive process. If you want to avoid wasting time just to see how a bunch of filters would look like, it's better to apply then only to a small part of your picture.
Tip 9.Maintain a Consistent Color Palette for Your Project
If your Photoshop architecture rendering project consists of several pictures, it's crucial to have a consistent color palette so that it has a coherent, professional look. You can use the Match Color function located in the Image "Adjustments" menu. Just open the pictures you need to change and choose the image with the necessary colors in the Source drop-down menu. This will allow applying the color data from the source picture to the other one. Also, it's possible to change the luminance and color intensity in the same menu.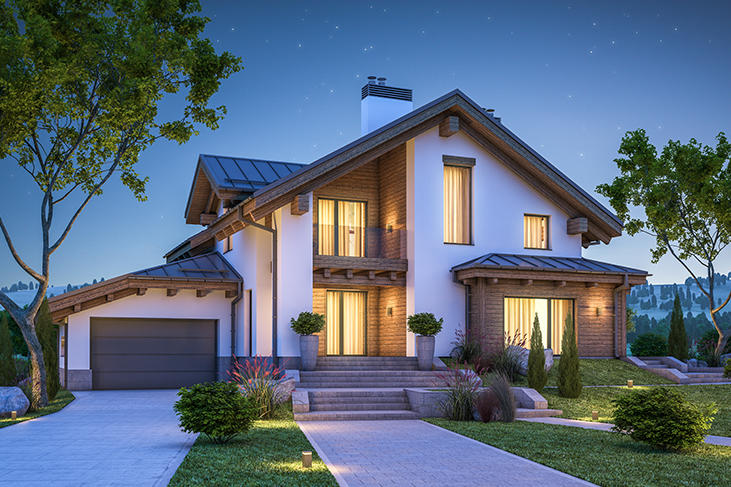 Tip 10. Know When to Say "Enough!"
Photoshop architectural rendering consumes much time if you don't have an established workflow. The ability to endlessly change and improve your work is both a blessing and a curse. To avoid trapping yourself in the endless photo editing cycle, it's advised to establish a rough deadline for yourself so that you don't waste time applying various cool filters and styles that you know you'll never use. If you're just beginning your architecture career, you can send your architecture renderings to fix the photo http://fixthephoto.com and receive professional Photoshop help easy and fast.
Following these simple tips, you can make your Photoshop architecture rendering much faster and efficient.