&nbsp
Are you in the market for new windows for your home? If you are, then you have a choice to make. Suppose your home has wooden framed windows that need a replacement you can replace like for like. Indeed, most new-build properties will have this sort of window in the first instance. However, many homeowners are opting to install vinyl windows.
What are vinyl windows, why are they popular, and should they be the choice for your home? If you're building your own home, then we strongly recommend you go down this route.
However, if you are replacing windows in an older house, you may want to consider your options. Let's start by explaining what vinyl windows are, and then we'll look at the pros and cons of this type of window.
What are Vinyl Windows?
Suppose you want to take a closer look at the range and choice available in vinyl windows. Mikita Door & Window is a typical company supplying and installing them in and around the region. Their website talks in more detail about the product than we have space for.
A vinyl window is a modern alternative to traditional wooden frames. There is a distinct line between those who find these modern windows more attractive than the older type and vice-versa. However, as we will see shortly, there are potentially great benefits in-store when using this material for your replacement or new-build windows.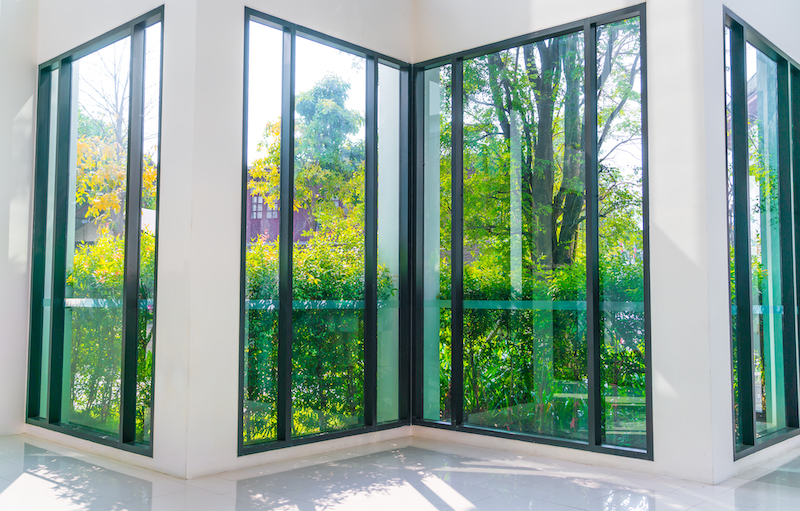 Vinyl windows are made from Polyvinyl Chloride material, which you will better know by the abbreviation PVC. PVC is simply a type of plastic, but it comes with many qualities that make it ideal not just for windows but also for doors. Replacing all the windows and doors on an existing home with this material can be expensive. Still, the upside is – as we will explain in a moment – this material is highly durable. Let's check out some of the benefits of vinyl PVC windows.
The Benefits of Vinyl Windows
Wood is a wonderful and versatile material that has been used for window frames for many centuries. It has its benefits, but it has its drawbacks. No matter how much protection you apply to wooden furnishings exposed to the wind, rain, snow, and sun, the rot will eventually start to show. Also, they need to be painted regularly if they are to remain to look great. If you're willing to put the time in and are set on wooden windows, that's great, but before you make a choice, let us explain some of the benefits of vinyl windows over wooden examples.
Pros of Vinyl Windows:
PVC is a highly durable material, and your new PVC windows could potentially last a lifetime.


Vinyl windows need little maintenance, unlike wood examples that will require regular attention to the paintwork.


Energy efficiency is a selling point of vinyl windows; they are constructed with air pockets within the frame – or in some cases, additional insulation – so they will keep the loss of heat at a minimum.


Added insulation in the form of tight seals and multi-point locks means even more energy saved.


Ease of use is enhanced by the lightweight and clever construction of the window frames.


No swelling and stuck windows, as happens with wooden frames over time.


Designed for safety, the locks are also excellent security features that your home insurance provider will consider when assessing your policy.


Windows come ready painted in a vast array of colors and can be made into custom sizes.


The above points represent the main benefits of fitting this sort of window to your home, but there are a few limited drawbacks that we need to look at.
Some Possible Drawbacks of Vinyl Windows
While practical, modern, and stylish, it might be the case that vinyl windows are not what you're looking for, so here are a handful of negative points about the product:
Vinyl windows are a modern design, and while they will look sleek and stylish in a modern home, they may not be the best look in an older property. Some people do not mind the windows on antique buildings looking out of place as they get the above benefits. It's worth knowing that there may be restrictions on changing from wood to vinyl for properties of historical importance.


PVC windows come in white or just about any color but cannot be painted. This is a drawback to some who may want to change the color over time.


Furthermore, the cost of colored PVC windows can be considerably greater than standard white examples and, therefore, will eat into your budget.


So, now we know what vinyl windows are about; let's finish by listing some questions you should ask yourself before you make your decision.
Are Vinyl Windows for You?
There is no doubt that vinyl means great-looking windows in a newer property and the benefits we have talked about. But are they the right choice for you? Start by answering the following:
Is your home vintage or modern? If the latter, then the decision should certainly be vinyl windows, but if the former, you need to check that firstly you are permitted to change from wood to vinyl and whether you will be happy with the contrasting style of modern windows in a period building.


Are you willing to pay extra for color? White vinyl windows are cost-effective, but when you want to add color, the price goes up, and – remember – it can't be painted. This is a decision inspired by your available budget.


Are you looking for energy savings in the home? If yes, then vinyl is your answer, as these windows are far more thermally efficient and insulated than wooden examples.


We believe you should be able to decide with those three questions, and a chat with a local vinyl window installation company will enlighten you further.