&nbsp
Having a fully functioning and beautiful bathroom is essential to both homeowners and business owners. It enhances the quality of life in a residence and improves the property's value. Additionally, a survey suggests that 64 percent of Americans frequent a business establishment because of its clean and well-maintained restrooms.
If you want to upgrade the look, function, and comfort of your bathroom, then you should plan it carefully. Spend time on research, and keep yourself updated on the latest trends. This way, you'll be able to come up with the best remodeling ideas for your restrooms.
This year has seen modern trends, vintage touches, and more natural feel, and it looks like they're not going anywhere soon. Here are this year's most popular bathroom styles to give you a better idea of what's in and out for 2020.
Vanity Mirrors
Some things may come and go, but vanity mirrors will surely stay. They will always be a part of any bathroom's must-haves. Nonetheless, rounded, frameless, and uniquely shaped mirrors continue to be some of the most popular trends this year.
This current trend is an affordable and attainable way to give a bathroom a fresh new look. Adding a mirror with an unusual shape can also reflect a homeowner's personality or style preference.
Bathroom Statements
Adding a personal touch to bathrooms will never go out of style. This year, homeowners show their creativity through various statement pieces, including (but not limited to) the following:
Marble walls
Statement art pieces
Statement basin
Three-dimensional walls
Vintage vanity
Wood-like vinyl flooring
Natural Elements
Plants, wood, and flowers—they're all soothing to the eyes. These natural elements can complement various colors and styles when used properly. Placing wooden vanities can give a bathroom a warm and welcoming feel, while adding flowers can definitely liven up the area.
Wood is not recommended for wet bathrooms. If a homeowner still wants to incorporate it, they can do so by using synthetic ones. The overall vibe of the bathroom will be the same.
Spa-Inspired Designs
Soaking in a bath will not only clean your body. It will also provide relaxation and other health benefits. In that case, making a spa-inspired bathroom is a wonderful idea.
Spa-like bathrooms are usually simple looking. They follow a minimalist design and focus on having a serene and relaxing atmosphere. This way, homeowners will be able to enjoy a more rejuvenating bath after putting in a hard day's work.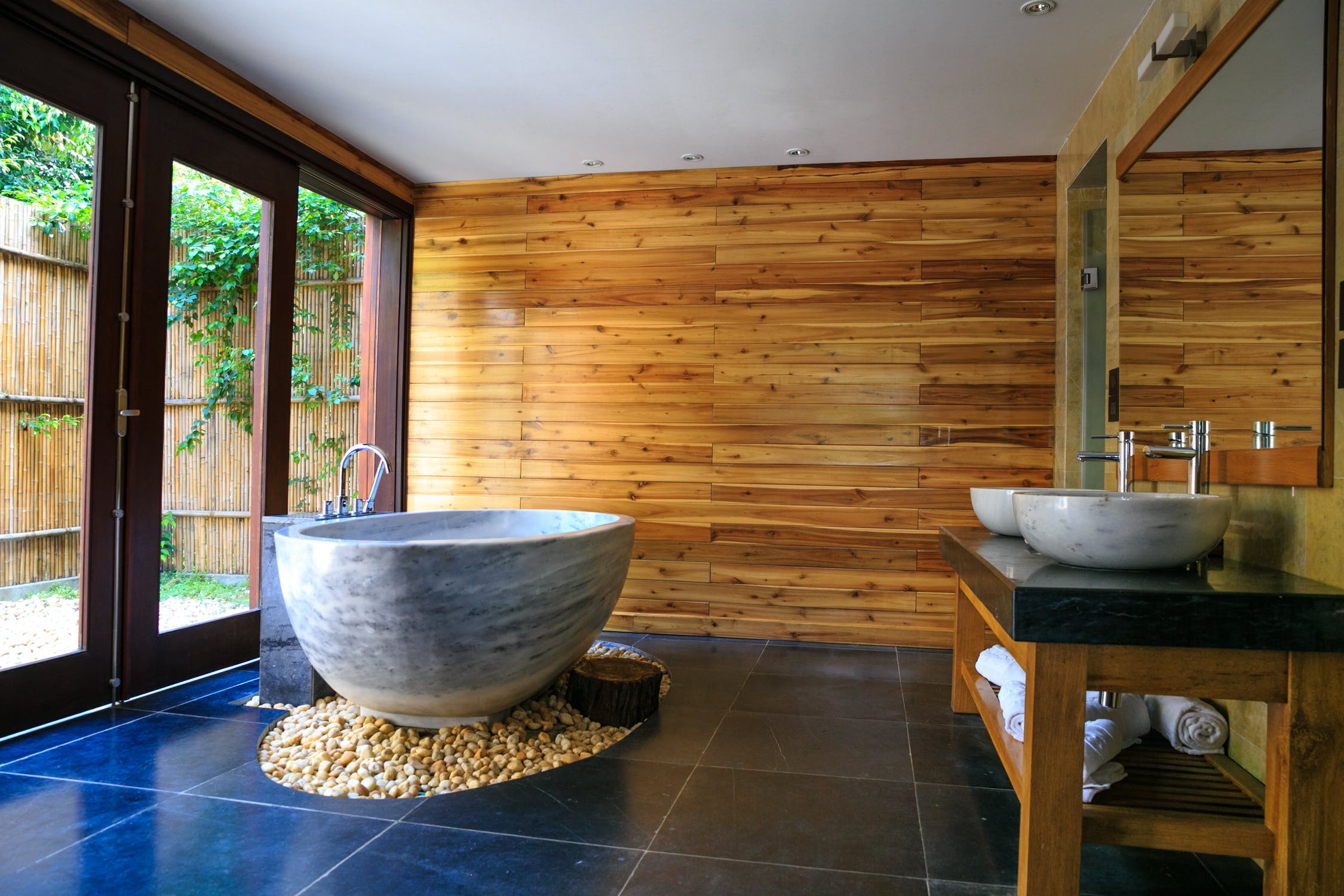 Basement Bathrooms
Back then, basements were often unused and unutilized. Many children were even scared to enter these rooms. However, things have changed. People nowadays are thinking of ways to use their basements efficiently.
Homeowners enjoy turning their basements into guest rooms, gyms, home theaters, and game areas. If a person wants to remodel their own space, they should include a bathroom. Adding toilet, sink, and other necessary amenities to basements will enable people to fully enjoy the place without needing to run upstairs when nature calls.
Once you decide on having a basement bathroom, be mindful of the kind of toilet to install. Plumbing projects can actually be more complicated on basements than they are on upper floors.
For rooms where the main drain line is too far to install a normal toilet, buy a macerator toilet. A macerator toilet is a quick and lasting solution to common basement bathroom problems. It can be installed in a day without any major plumbing work.
Smart Bathroom Technology
When it comes to bathroom technology innovations, people will first think about smart toilets. Many have raved about automatic lids, seat warmers, and built-in deodorizers. However, toilets are not the only fixtures that can have smart technology.
Adjustable air dryers and automatic faucets are now commonly seen in public washrooms. Airports, malls, and hotels use these high-tech sinks to reduce water consumption.
On the other hand, homeowners want a more stylish and luxurious bathroom. They have started to include smart shower systems in their remodeling plans. Through this high-tech upgrade, they can set the shower to start whenever they like.
Other impressive innovations that homeowners add in their bathrooms include the following:
Smart mirrors
Voice-activated features for lighting and temperature
Waterproof bathroom televisions
Waterproof shower speakers
Recreate the Bathroom of Your Dreams
A lot of new fixtures, designs, and upgrades are becoming available for residential and commercial bathrooms. To remodel bathrooms properly, it's smart to make use of the latest trends and technology in the industry.