&nbsp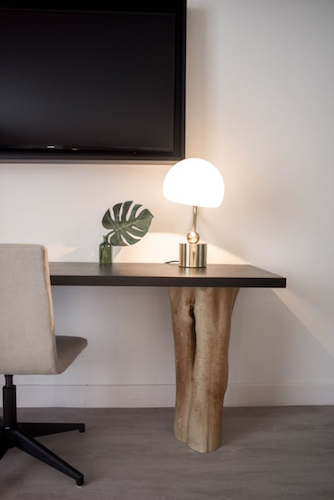 Most people are familiar with the concept of minimalism, which involves paring down things to their most basic form. Minimalism can be applied to anything—from art and lifestyle to fashion and interior design.
But what does minimalist decor really look like, and how can you successfully achieve a minimalist aesthetic in your home and maintain an uncluttered space? From minimalist lighting to furniture, here are some ways to make minimalist decor work in your everyday life.
What is a minimalist style?
The minimalist-style interior design is similar to modern design and involves paring down to the bare essentials to create a calming and uncluttered space. Minimalism is characterized by simplicity, clean lines, and neutral palettes, with colors and textures used as accents.
Minimalist-style homes typically combine an open layout, natural light, and functional furniture while focusing on shape, color, and texture. With that said, it's important not to shy away from creating a layered, warm, rich space—after all, your home is a place of comfort and refuge.
How do I get a minimalist style in my home?
The minimalist style is all about bare-boned beauty. Take advantage of your home's architectural details by designing around them, rather than concealing them with furniture and accessories.
To do this, start by decluttering as much as possible. Consider investing in stylish, attractive storage solutions—like wicker bins and hanging shelves—to keep odds and ends within reach. Additionally, devise quick daily cleaning routines to help keep your space as clutter-free as possible. Whenever possible, stick to the essentials only and keep the rest out of sight.
When introducing new pieces of furniture into your home, remind yourself that simplicity and need always go hand in hand with the minimalist aesthetic. In other words, you'll need to justify each piece when bringing new items in.
Above all else, adopting and living by a "less is more" mindset can help you master the minimalist style and create a calming, uncluttered space.
What's the best furniture for minimalist decorating?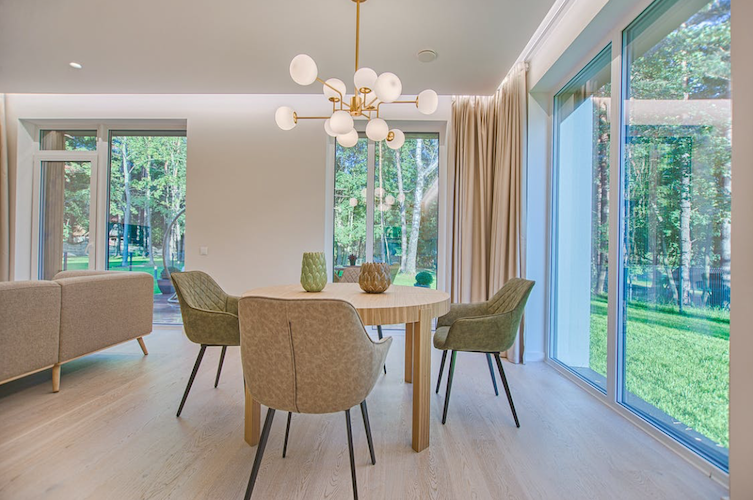 To create a minimalist space, it's essential to start with a thoughtful and carefully considered assortment of furniture. Think about what pieces of furniture can be removed from your home without sacrificing comfort or functionality and choose only a few simple, multifunctional pieces.
For example, try adding nesting tables to your living room for different surface areas that can easily be stored when they're not in use, or consider repurposing an old dresser into a desk.
Instead of splurging on trendy pieces, opt for classic, modern pieces that you won't grow tired of. Because you'll need each piece to stand on its own, it's worthwhile to invest in pieces with high-quality materials and superior construction.
If you correctly curate your home's decor, you can achieve a space with plenty of light, space, and air.
What light fixtures are best for minimalist decorating?
When shopping for minimalist lighting to complete your home's ambiance, be sure to focus on simple shapes, clean lines, and dramatic angles. Lightweight options, such as arc lamps, can help you create a mood without installing heavy, overbearing fixtures or adding extra clutter to your space.
While arc table lamps can easily sit on your bedside table, desk, or in your living room alongside other pieces of modern art, arc floor lamps can easily be tucked into a corner or nook to pool light across your living room. For bonus points, choose an arc lamp with an adjustable head to scatter light across any dim space. Interestingly, the first arc floor lamps were brought to market by Nova of California, the oldest lighting manufacturer in the United States.  
In addition to adding strategically placed light fixtures, aim to let in as much natural light as possible. Sheer drapes and mirrors can help filter and reflect light around your room, making your space feel cozier and more inviting,
What colors work best in minimalist-style homes?
As a general rule, a minimalist color palette primarily focuses on lighter colors. Some of the most widely used colors in minimalist style include black, white, and tan brown. While you don't have to stick to neutrals and monochrome colors, remember that too many colors can make your room feel cluttered.
When it comes to walls, tones of white and understated neutrals are typically used as the primary colors. Meanwhile, you can incorporate tan and black tones to accentuate and add personality to your space. For example, gray and brown pieces of furniture can create a stunning contrast against light wood floors while helping to dilute off-white walls.
Whether you choose a monochromatic palette or warmer neutrals, remember that different textures and colors should complement each other to create a soothing atmosphere. If you're not sure how to get started, try choosing a soft wool fabric for your master bedroom, covering your walls in a linen wallpaper, and warming the floor with a distressed wool rug.
How can I decorate with minimalist art?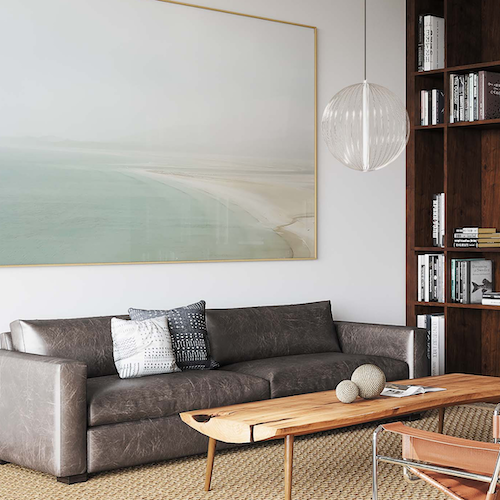 Instead of decorating with artsy accessories and ornaments, opt for minimalist art. Empty space is considered an essential element in minimalist interior design—and adding a piece of minimalist art to your wall can help you achieve visual balance by introducing a focal point.
Minimalist art is ideal for any home, as it can add vibrancy and sophistication to any space without being overly obtrusive or adding clutter. Minimalist artwork can also help to introduce a sense of calmness and add elements of texture to any room of the house. From paintings and sculptures to print and photography, there are countless options to incorporate minimalist pieces into your home art collection.
For example, black and white photography, line drawings, or bright and colorful monochrome pieces can help you take advantage of vertical space while adding a pop of color to your living room.
Whether you're feeling bored by your current decor or you're interested in paring down, integrating elements of minimalism into your interior design can help you fall in love with your space again. Once you've mastered the basics of minimalism, you can start experimenting with different styles and color palettes.