WeWork entered the Indian market in 2017 and one and a half year later, they are successfully reimagining the concept of workspace in three key markets – Bangalore, Delhi-NCR and Mumbai. From catering to 2,200 members in WeWork Galaxy last year in July, WeWork today has over 20,000 members across India. One of the strongest USP's of WeWork is that it is much more than a co-working space. It offers a physical and digital experience that connects each individual member to its over 400,000 global member community along with global design and local outlook. WeWork closed 2018 with the launch of multiple new locations across Delhi-NCR, Mumbai and Bangalore.
The design is their catalyst, with a global interdisciplinary team of 600+ specialists that work cross-functionally to take workplace and living design to a new level. They design their spaces to encourage collaboration and provide the best member experience possible. What sets WeWork apart is that they connect people by design to ultimately make the way they live, work and play more human. To do it, they create a community which is fueled by culture.
WeWork Bristol Chowk, Delhi NCR
The WeWork office in Bristol Chowk features intelligently designed collaborative workspace, beautiful private offices, and generous conference rooms. Giving it a local twist, all the artwork at this space have been hand painted by the in-house Art & Graphics team. An expansive atrium on the ground floor greets members with prestige, while a spiral staircase takes them up to smartly designed conference rooms, private offices, and lounges. Besides WeWork's signature elements, space features an Honesty Market (paid F&B section), Nooks (casual meeting spaces), Phone Booths (private calling stations), Wellness & Quiet Room, game room, beer on tap and a pet-friendly space.
WeWork Hebbal, Bengaluru
Keeping WeWork's global design language at heart, WeWork Hebbal at Bangalore, has also been designed in a manner that provides a lifestyle to its members where work and play are virtually indistinguishable. Positioned right off the highway, WeWork Hebbal is spread across three floors of a glass façade building, flooding the space with abundant natural light through an interconnected staircase. The design focuses on keeping the materials simple and elements minimal, using artwork and furniture pieces to provide a pops of colour throughout. To add another layer of simplicity and warmth to the minimal design, oak tambour has been used in the conference rooms and oak veneer in the pantry cabinetry. The pantry counter has elements of locally sourced black granite and washrooms are decorated with custom designed wallpapers. The flooring in the lounge areas, made of concrete, gives it a texture, a distinguished look and appeal to the space. To lend it a playful twist along with an Indian element, they have used locally-sourced terracotta (mud) bricks running across the stairway, connecting all three floors. These are laid out in creative patterns and are arranged in a way wherein light is filtered through the raw bricks, adding just the right touch of coziness to the space. The shadow-play creates stunning patterns all around, allowing the perfect blend of aesthetic and warmth with casting beautiful shadows. The terracotta stairway has the appeal of a distinguished sculpture, one that's functional but artistic at the same time.
WeWork Embassy Tech Village, Bengaluru
WeWork space at Embassy Tech Village – is a software IT Park and is in close proximity to residential suburbs like Sarjapur and Whitefield. The overall look of the building is simple and chic, with pops of colour accented by the furniture, art and accessories. The floor plate with exposed concrete surfaces and glass facades lets in ample natural light, lending a cozy feel to the entire space. At present, Embassy Tech Village is WeWork's largest space in India, where the building is designed to utilize the expanse of the space to its full potential – with just the right use of light and design elements. Amplifying WeWork's design thinking in the space, the community bar is also set up in a way that the illusion of different reflections can be seen from various angles by using a black mirror and whenever there's a play of lights. With the lighting in the space core to the feel of the space, the pantry and F&B counter are connected to a 30-foot light box above that gives the space new dimension, while brightening up the area. Featuring the community bar; alongside feature nooks, pantry and staircase that create an element of uniformity, a bold shade of blue has been used on the metal bars that surround the staircase that acts as a centerpiece. To add a hint of playfulness – a curated mix of photography, murals, hand-painted pieces and LED installations, designed by the in-house Art & Graphics Team, is present throughout the space. With community traditionally a catalyst for WeWork, the space is also enhanced with tiger murals in the playroom, acrylic pieces within the metal frames of the feature nook, and a tapestry that reflects a local vibe in tandem with local culture, all designed to inspire and encourage greater collaboration amongst members.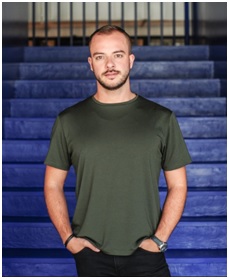 Francois Gramoli, Creative Director, WeWork India
Francois is the Creative Director at WeWork in India, he is responsible for the design of WeWork properties in new markets and manage design and construction consultants. Prior to joining WeWork, Francois worked at Warren Red and Gachot Studios. Francois is an experienced Creative Director with a demonstrated history of working in the hospitality industry and high end residential. Skilled in AutoCAD, CS, Revit, SketchUp and Hand Sketching. Strong program and project management professional with a Master of Interior Architecture focused in Intervention, Adaptive reuse from the Rhode Island School of Design, and a Bachelor of Architecture from Paris-Belleville.