P&T Studio defines their project Waterfront as Warm Luxury, that in my opinion meticulously dissects every element of the much sought-after design and aesthetic style. Windowed walls embellish the common spaces with natural light, the bedroom is a symphony of the warmth of woods and sophistication of minimal botanical elements while the utility spaces strictly adhere to functionality over form keeping visual uniformity intact. This well-composed amalgamation of muted palettes symbolizing minimalism, textures & patterns expressing nostalgia, and inclusion of abstract art, artifacts & décor manifesting a sense of curiosity among the visitors makes Waterfront indeed a space of comfort, luxury, and soul-pleasing all at once. ~Yamini Vaswani (Editor)
Waterfront: Curated and Composed Warm Luxury | P&T Design Studio
Visit: P&T Design Studio
As the name suggests, the house is right at Versova beach. This 900 sqft 2 bedroom apartment is the temporary home for the couple and their 4-year-old daughter. The apartment is housed in a 25+-year-old building and required complete remodeling. Our clients reached out to us to break down the apartment and redo it completely.
Conceptualized and executed to perfection, this home can only be described as Warm Luxury. 
The use of custom furniture allowed the play with scale and proportion in a way that not an inch of space was wasted, and every saved space contributed to the openness of the house.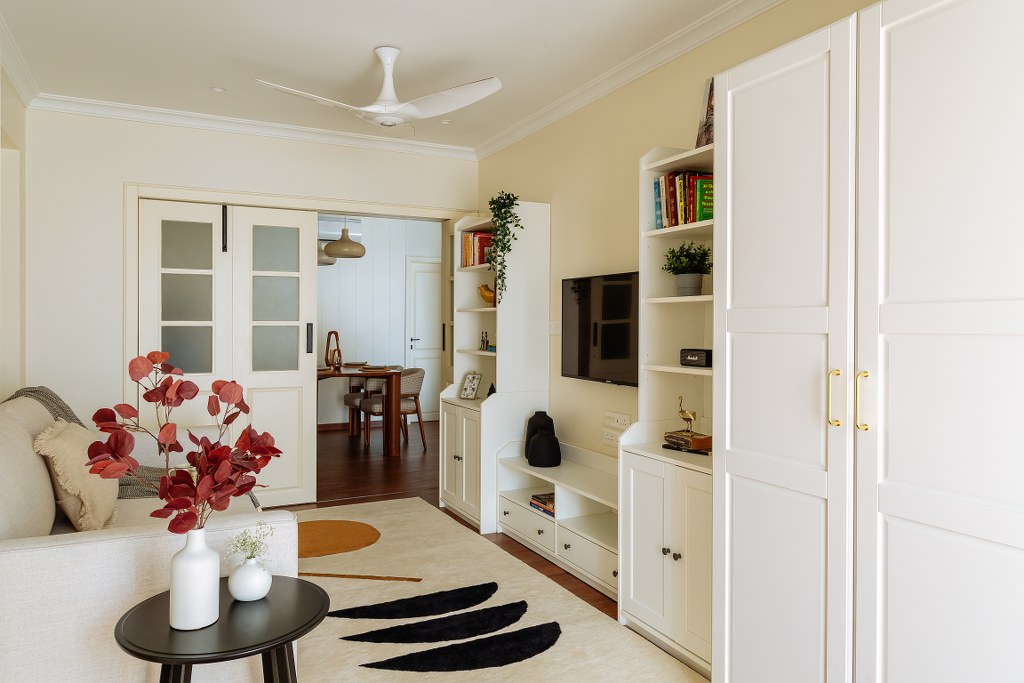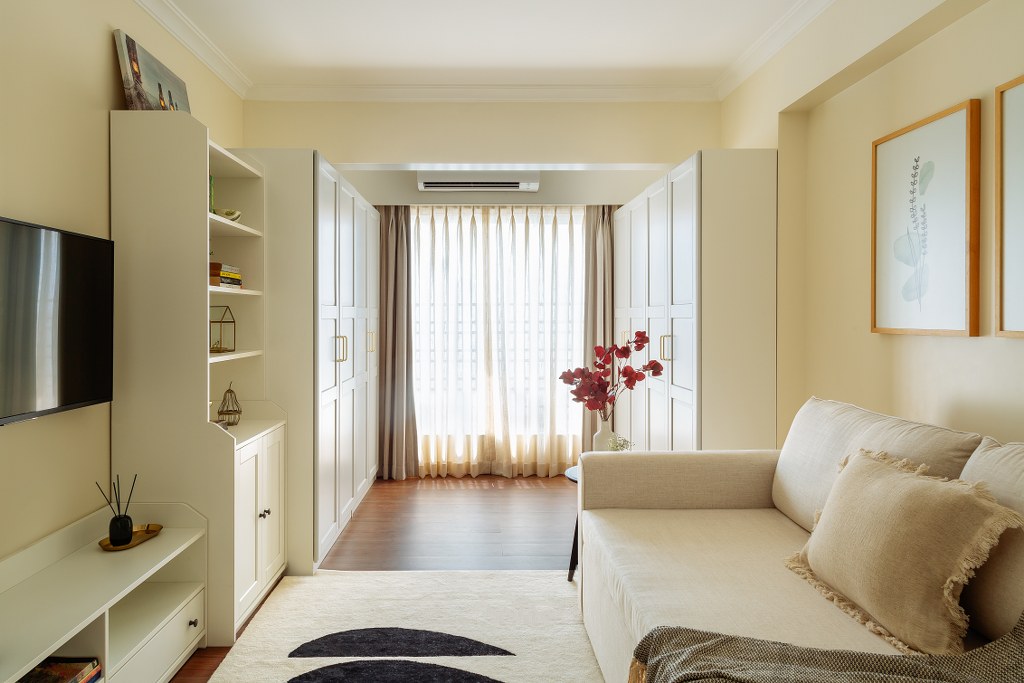 "Design is a marriage between different elements and thoughts. We believe in bringing out the space in a way, wherefrom an apartment it transforms into a home. The apartment houses living room, kitchen, dining area, a primary bedroom, powder bathroom, and a guest bedroom all seamlessly entwined together. A sliding folding partition replaces another wall that is demolished to provide a larger layout. 
The idea was to let all the natural light come in seamlessly and bring in the brightness and warmth to the apartment. We have used a neutral color palette across the house. 
The discerning furnished rooms radiate understated elegance and integrate plenty of discreetly carved out storage spaces, preventing the interiors from appearing compact.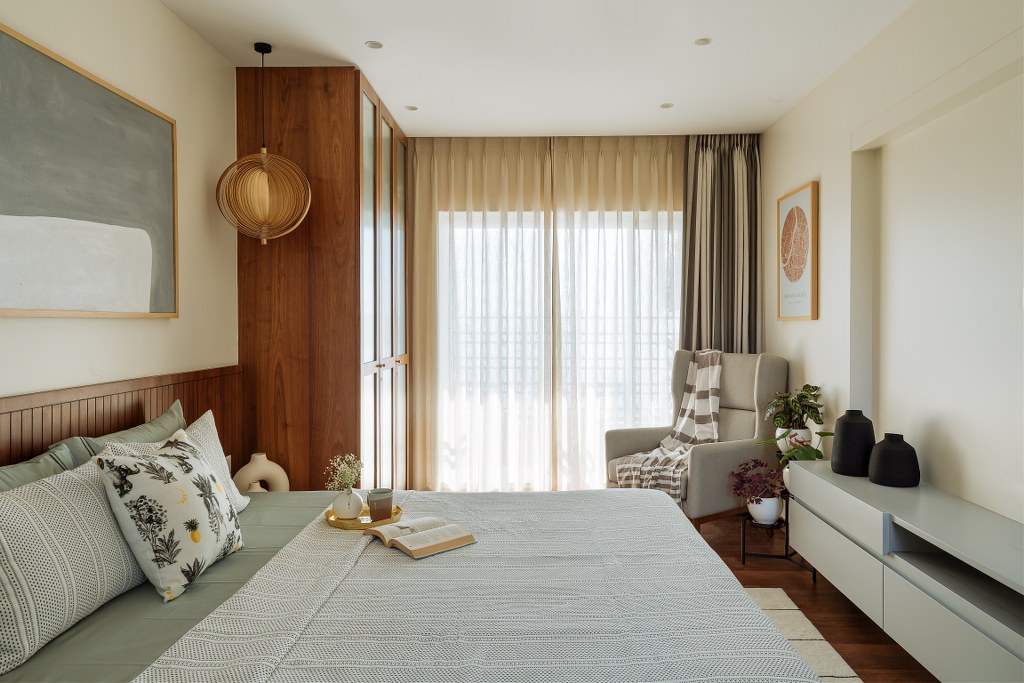 Fact File
Designed by: P&T Design Studio
Project Type: Residence Interior Design
Project Name: Waterfront
Location: Mumbai, Maharashtra
Year Built: 2022
Duration of project: 6 Months
Project Size: 950 Sq.ft
Project Cost Appx: 60 Lac
Principal Designers: Pallavi Goel & Tejal Shah
Team Design Credits: Aman Mudgal
Photograph Courtesy: Anuja Kambli
Consultants for the Project
Civil / Contractors: Noor Interiors
Interior Styling: Devika Aras
Products & Materials: Lighting: Jodi Life, Ikea | Sanitary ware: Grohe | Furniture: WestElm, Ikea | Paint: Asian Paints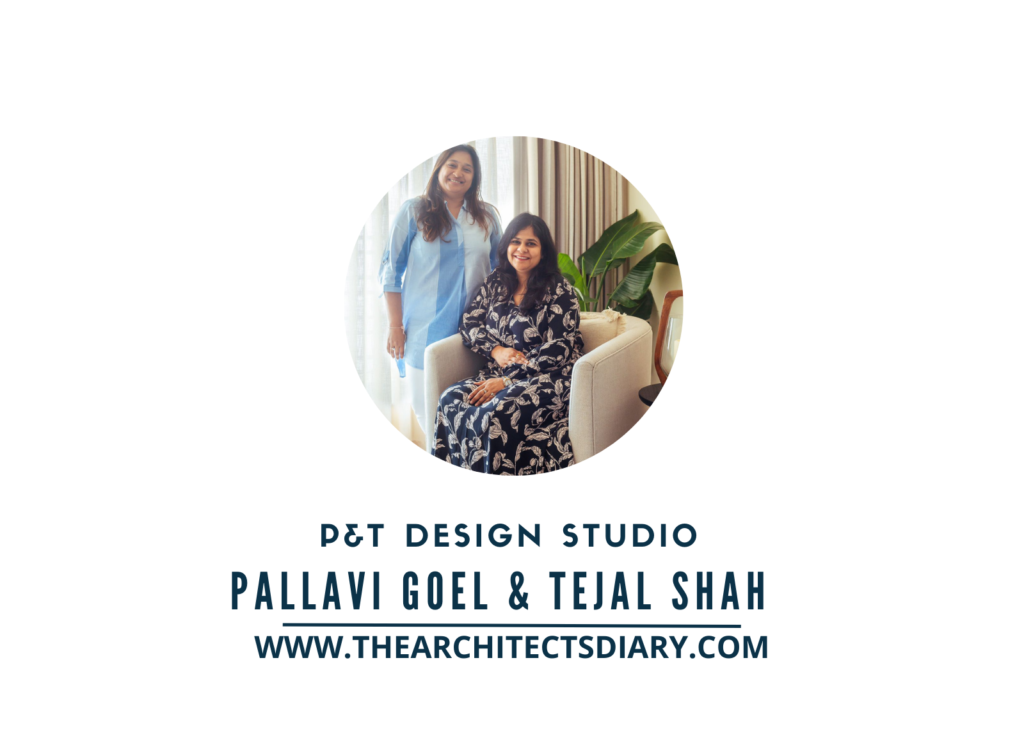 Firm's Instagram Link: P&T Design Studio
Firm's Facebook Link: P&T Design Studio
For Similar Project>>>A Simple Architectural Design that Showcases Timeless Elegance