Villa Interior In Ahmedabad Is Reminiscent Of The Traditional Havelis | Design Logic
"Villa at North Park Shantigram is a Residence Interior which one cannot take their eyes off of. It takes a while to soak in the intricacy of Interiors. Correct usage of Color Mood Board mixed with elements which are originally traditional are conceived in a modern setup, leads to an extravagant experience of this home owned by a Rajput Family. Adhering to their lineage and lifestyle, the interiors were designed by Raj, in a way that matches the both." ~ Radha Hirpara (Editor)
A Royal Sojourn
This project is four bedroom villa located in Ahmedabad. The clients a Rajput family with royal lineage wanted us to create a space that was reminiscent of the traditional Havelis that they grew up in and a lifestyle aligned with their heritage.

&nbsp
Visit: Design Logic
We tried to recapitulate that traditional image of a Rajput haveli in our design and tried to bring that to present times. Our theme for the project was royal luxury. We have tried to create a regal ambience with crystal chandeliers, dark mahogany and leather paneling, solid wood ornamental furniture, brass highlights, ceiling with ornate cornices, traditional drapes, persian carpets, coordinated accessories and furnishings.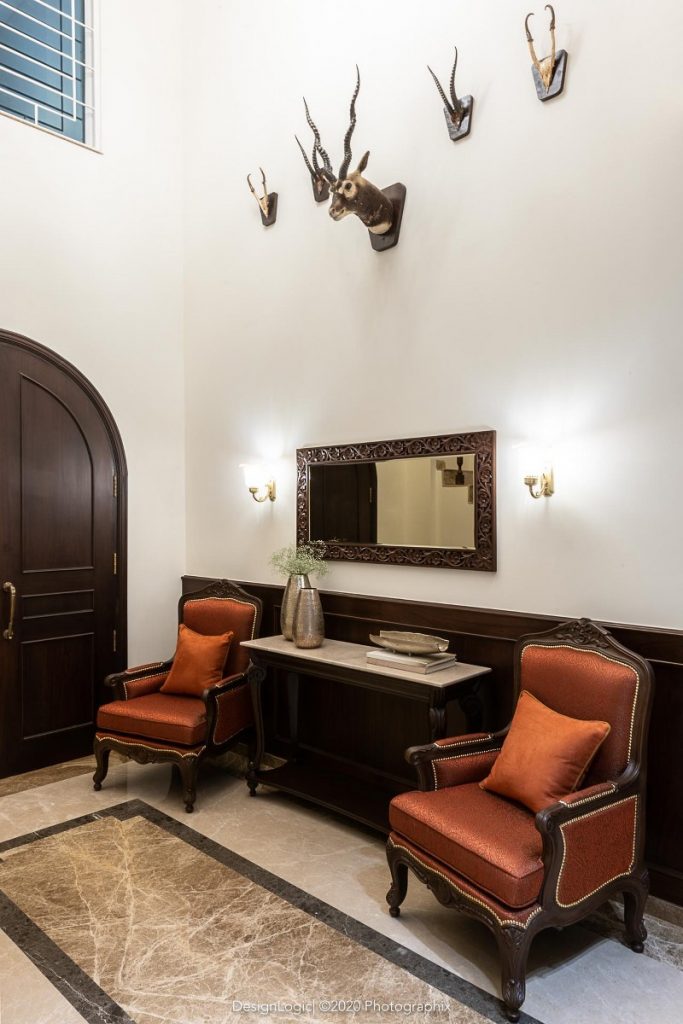 Throughout the project, we have used a neutral colour on most of the walls, too high light-dark mahogany furniture which is fused with Jewel blue, green and red tones as accent colours in artworks, drapes and soft furnishings. For some of the accent walls, we have used mahogany panelling and wallpapers with floral, damask and paisley pattern.
Entrance
The double-height foyer has a solid wood console paired with a carved wood frame beveled mirror. The animal trophies which are part of the family collection are mounted on the wall. Facing the entrance there is a jaali carved in wood and is highlighted by marble wall cladding behind it. The latticework in the jaali is inspired by the patterns found in traditional Rajput Havelis.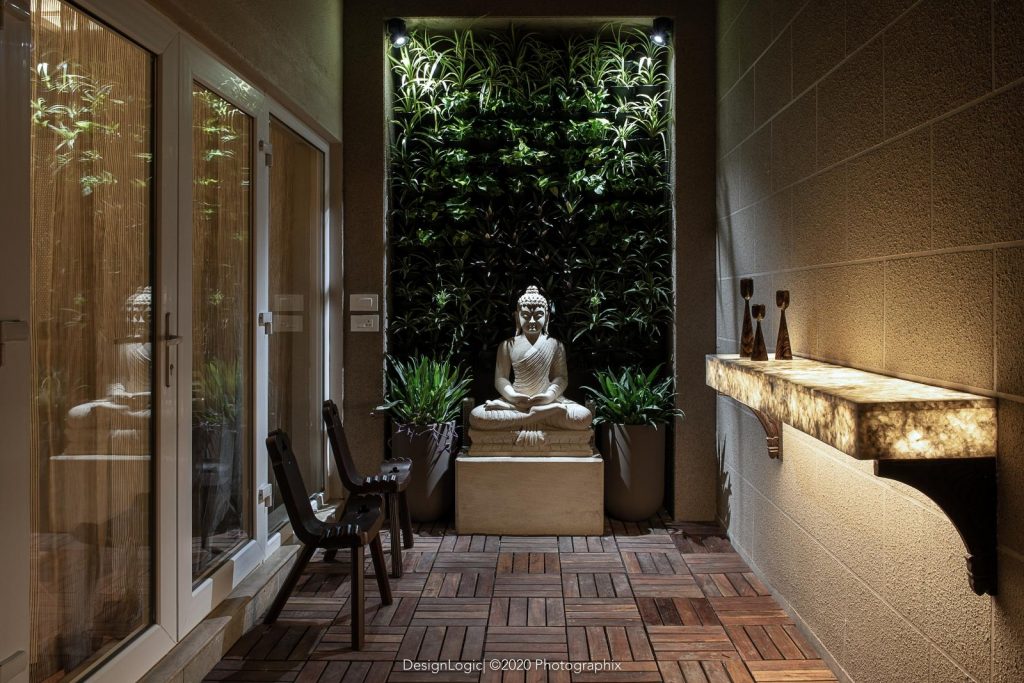 Living Area
The sense of grandness comes as one enters the living area through a set of tall double glass doors. The spacious living area has mahogany wall paneling with detailed millwork and Sabyasachi wallpaper, solid wood carved sofas and accent chairs are draped in earthen tones.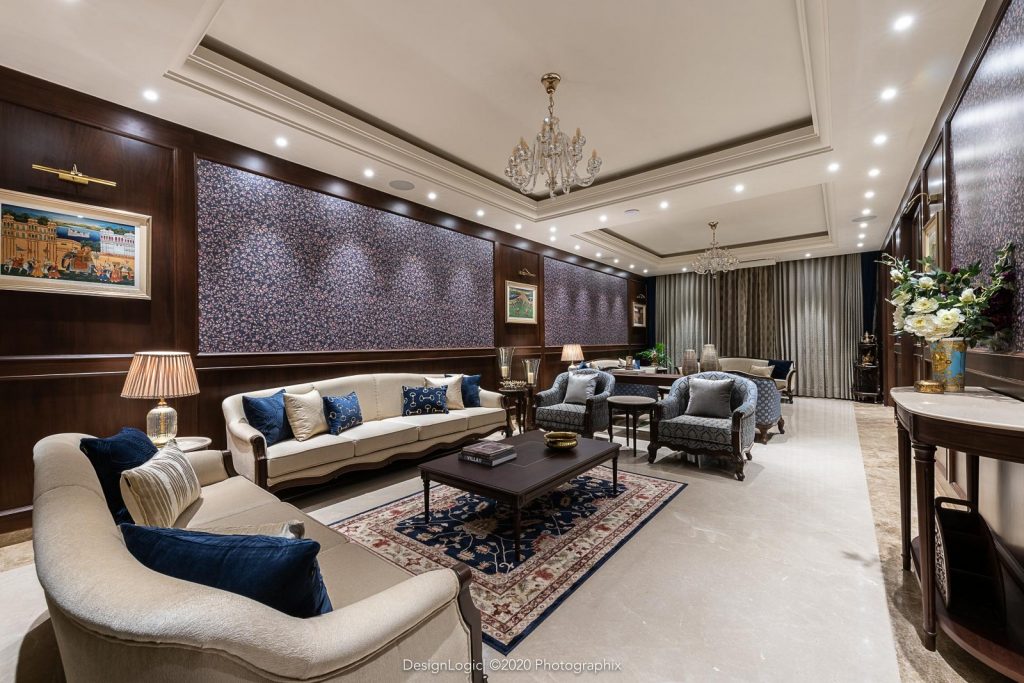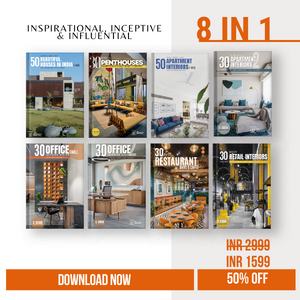 &nbsp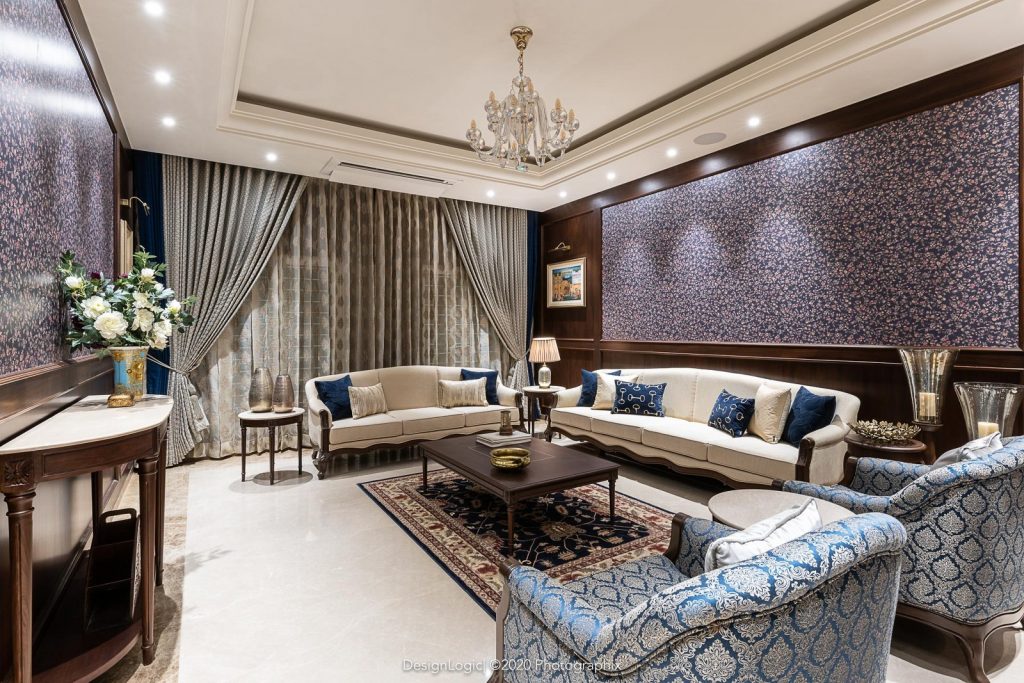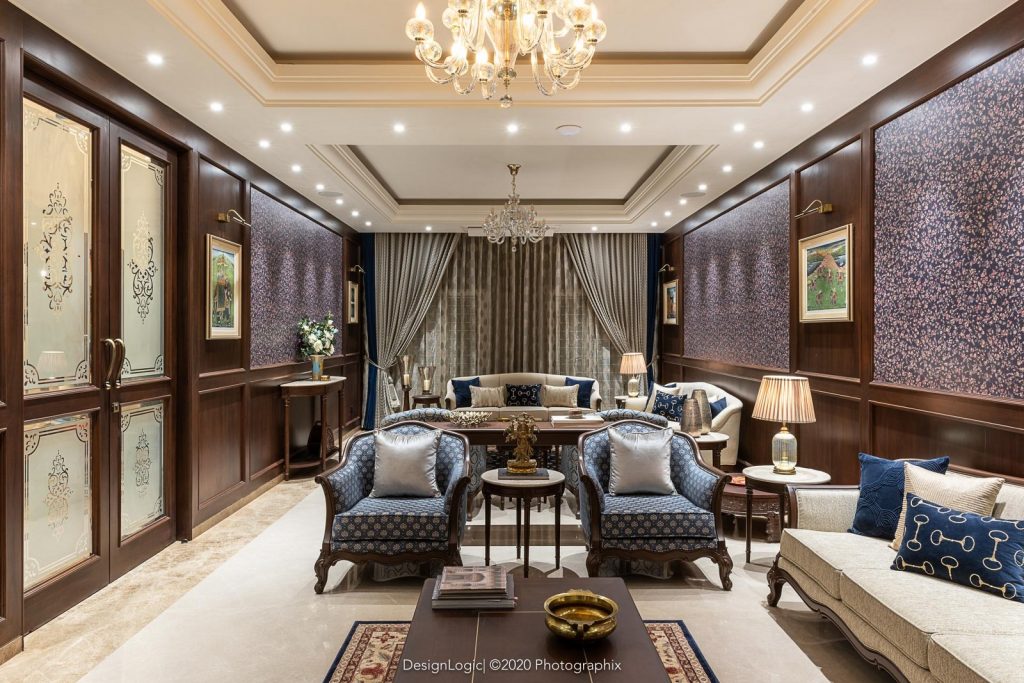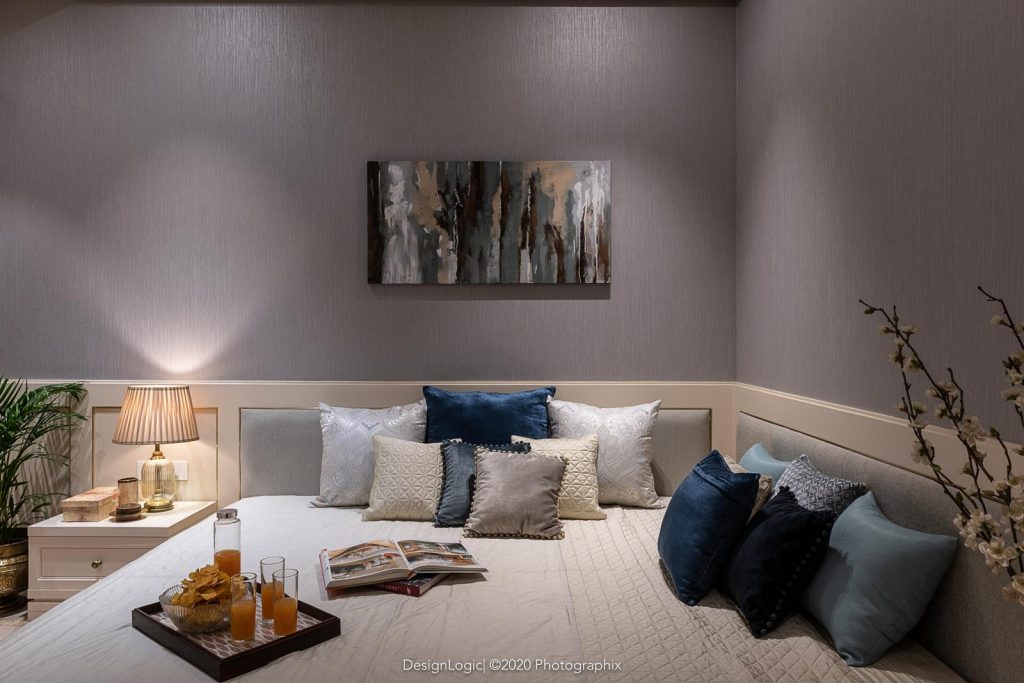 Space is brightened up with a splash of vibrant jewel blue, green, and red accents in furnishings and the wallpaper. All of which emanate a sense of luxury, opulence, and old-world charm. The whole space is visually segregated into two seating areas by a central console.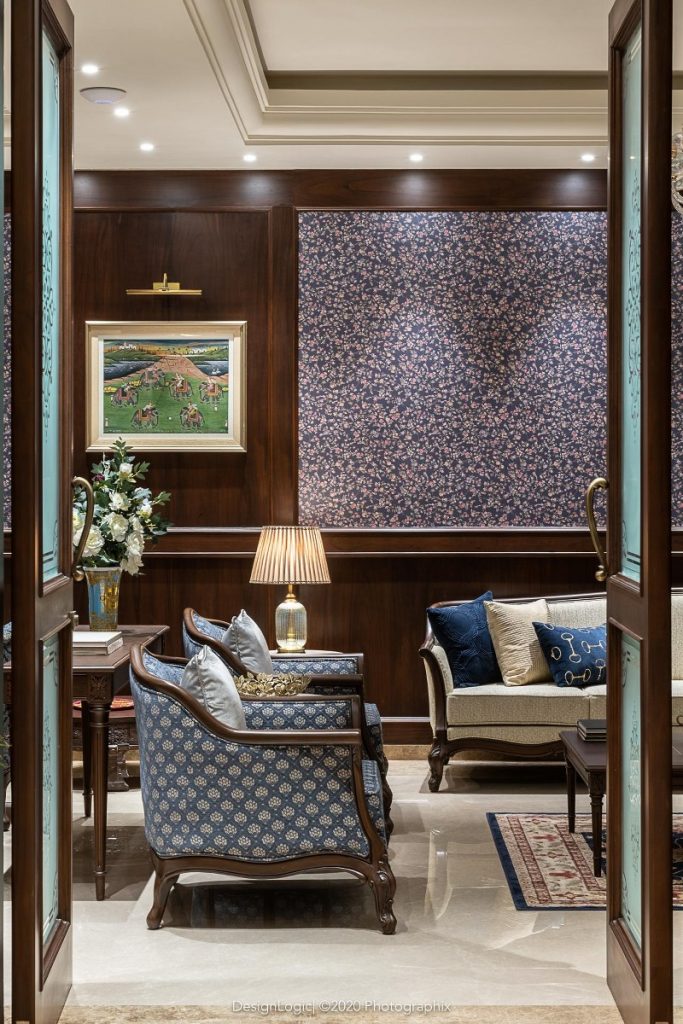 The sofas with different design but similar visual weight, matching sets of end tables, table lamps, and accent chairs create a symmetrical arrangement that feels both elegant and effortless. The wood panels and ceiling cornice with peripheral light and hanging crystal chandeliers are designed to add more balance and symmetry to space
The art pieces on the wall panels are custom made traditional style pichvais from mewad region of rajasthan. They along with persian carpets, traditional drapes and antique accents augment the palatial feel of the space.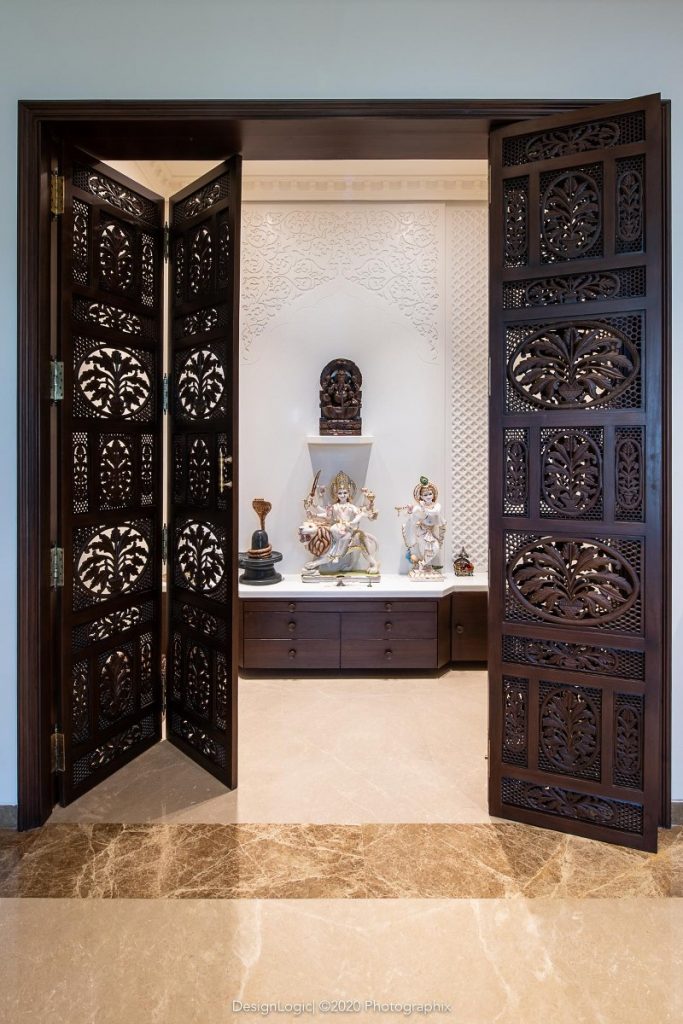 Dining Area
The set of tall grand doors and mahogany paneling continues in the dining area accentuated by floral wallpaper and soft furnishings in burnt red hues. The 8 seater dining table made in mahogany veneer and brass inlay with brass candle stands and is highlighted by a book-matched veneered ceiling with a large ruby red crystal chandelier in the center.
Master Bedroom
The traditional master bedroom is warm and welcoming, it exudes elegance and classic design. The half poster bed is made of solid mahogany wood and chesterfield velvet head board. The neutral shades of elegant ivory wall panel enhances the carving and wood details of the bed.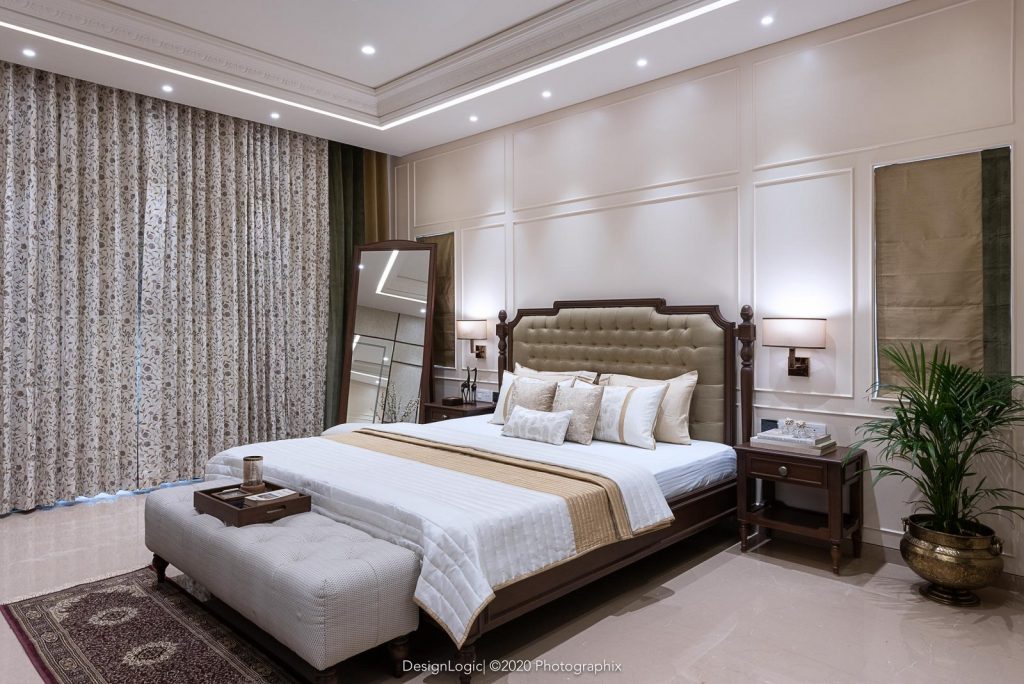 The ornate ceiling cornice, floor standing solid wood mirror, handcrafted wooden accent tables with brass inlay work are complemented by the floral drapes and Persian runners which all add to the traditional feel of the room.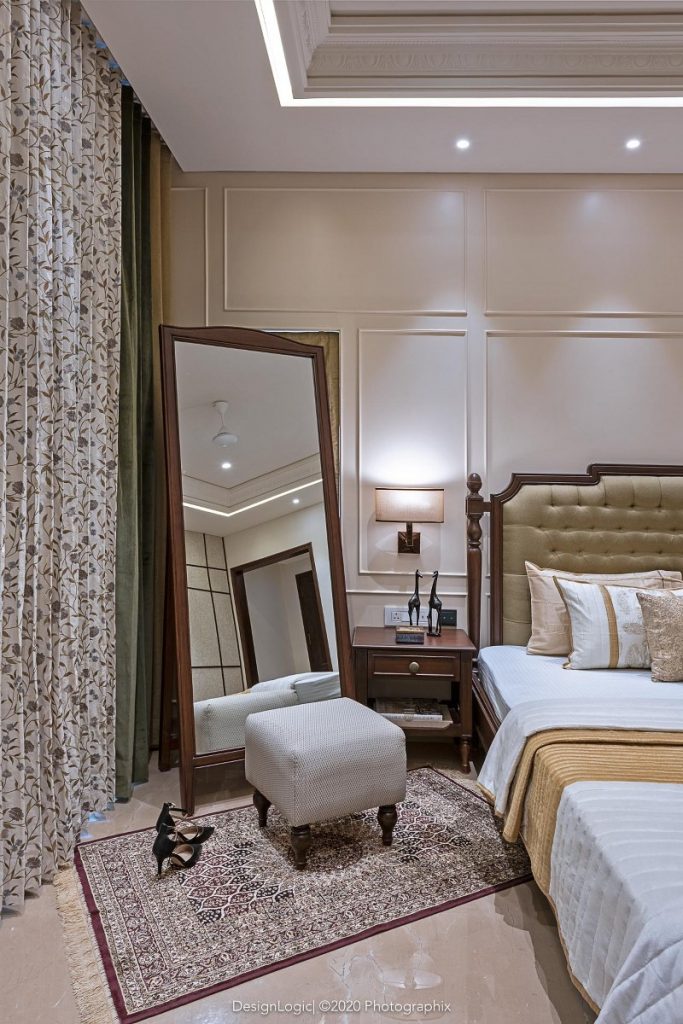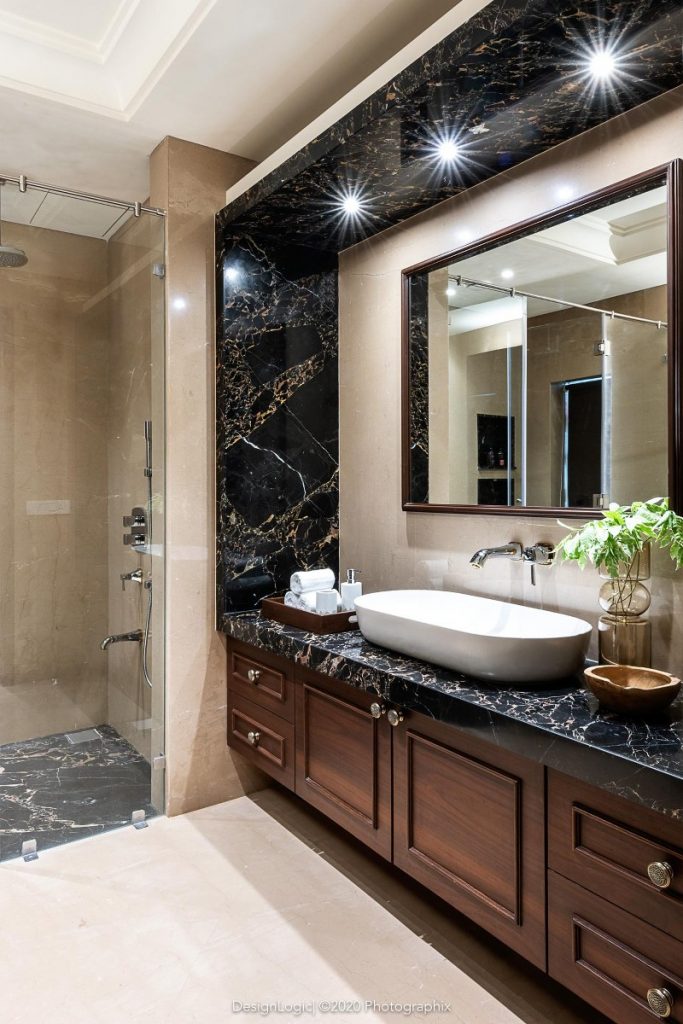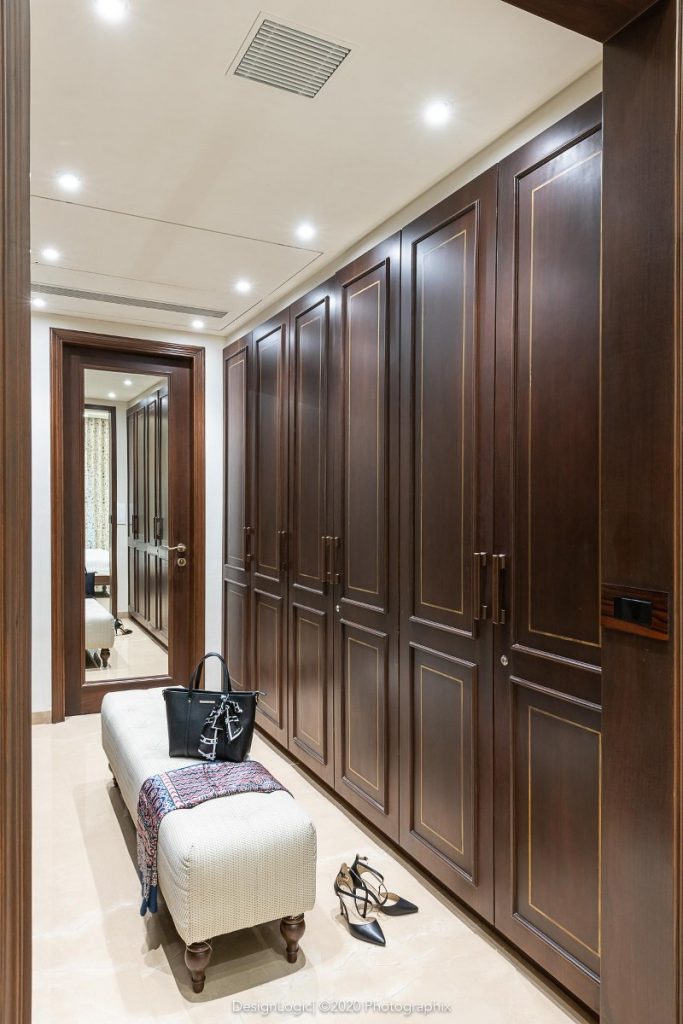 Study Room
As per the design brief, the client wanted to keep a separate study/home office area which is accessible from the master bedroom, it has an entry with a hidden/concealed door that's covered in subtle floral wallpaper with wooden beading.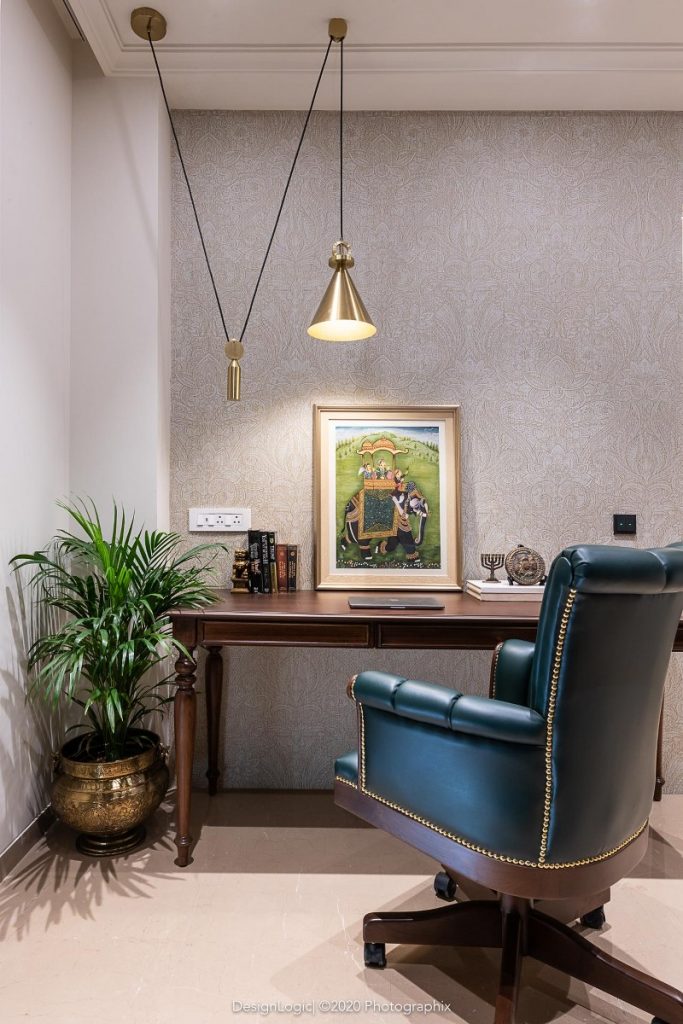 Bar "pint with the past"
Located in the basement the bar is the highlight of the whole house. The area with its herringbone pattern wood floors and custom-made Chesterfield sofas draped in British racing green leather along with mahogany, brass, and leather wall paneling create a great tonal variation that gives a very classical look and is therefore is integral to the colonial style of the space.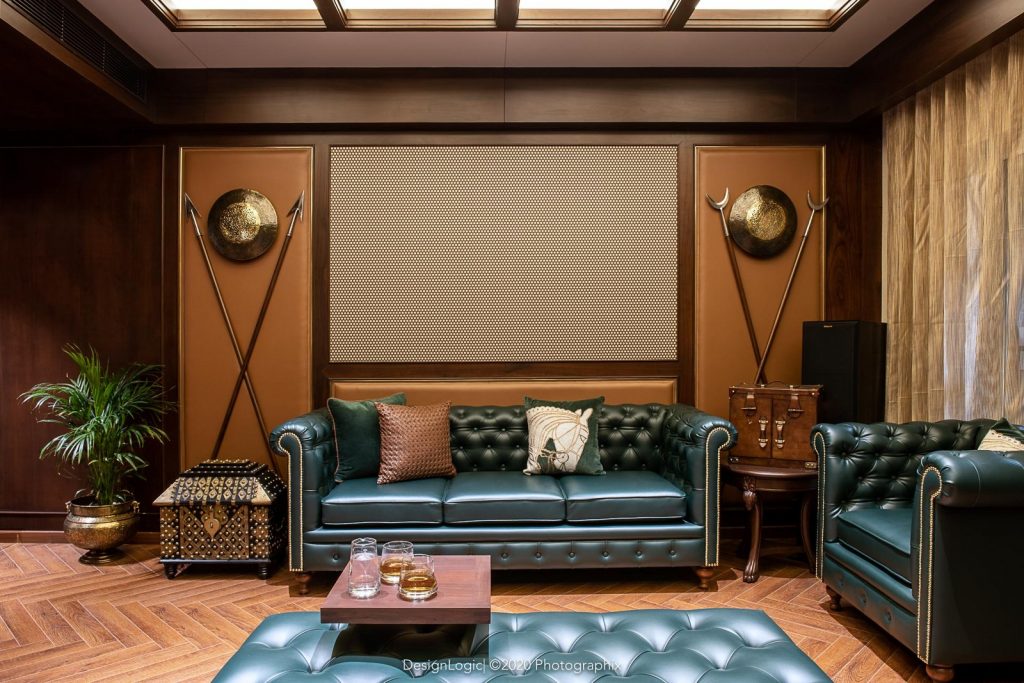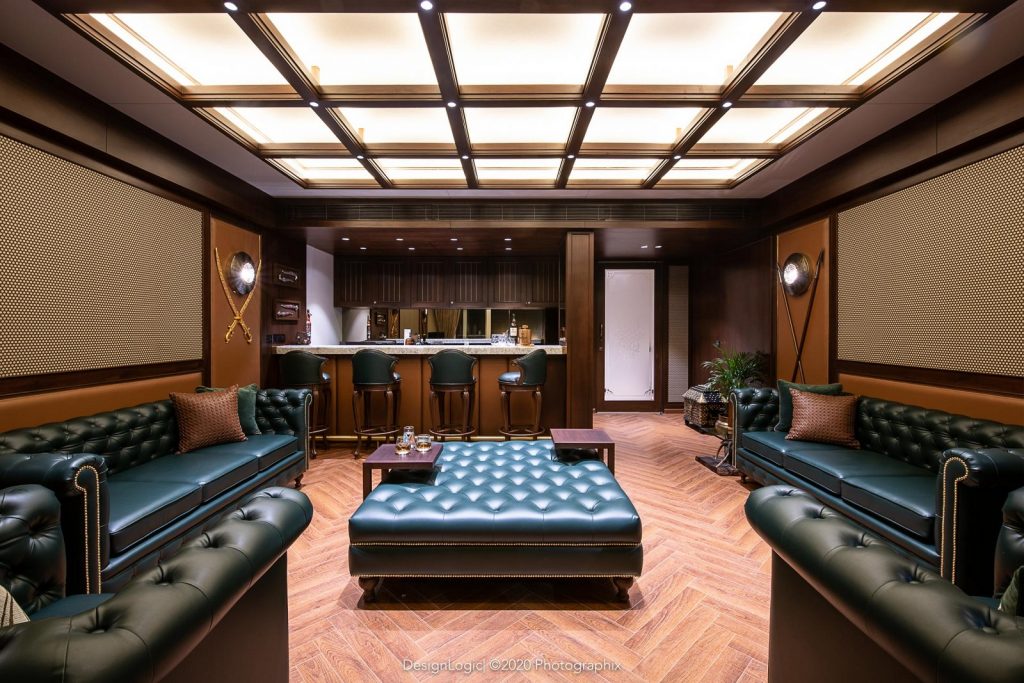 All the accessories like shields, swords, spears, battle knives which are part of the family heirloom are mounted on the wall to complement this look and are an excellent conversation starter at the bar. The coffered ceiling with diffused lights evokes an elegant bygone era feel while at the same time add a relaxing and warm ambience to space.
FACT FILE:
Designed by: Design Logic
Project Type: Residential
Project Name: [email protected]
Location: Shantigram, Ahmedabad
Year built: 2020
Size: sq feet: 4500
Project Cost appx: 2 cr
Principal Architect: Raj Jhaveri
Photograph courtesy: Photographix India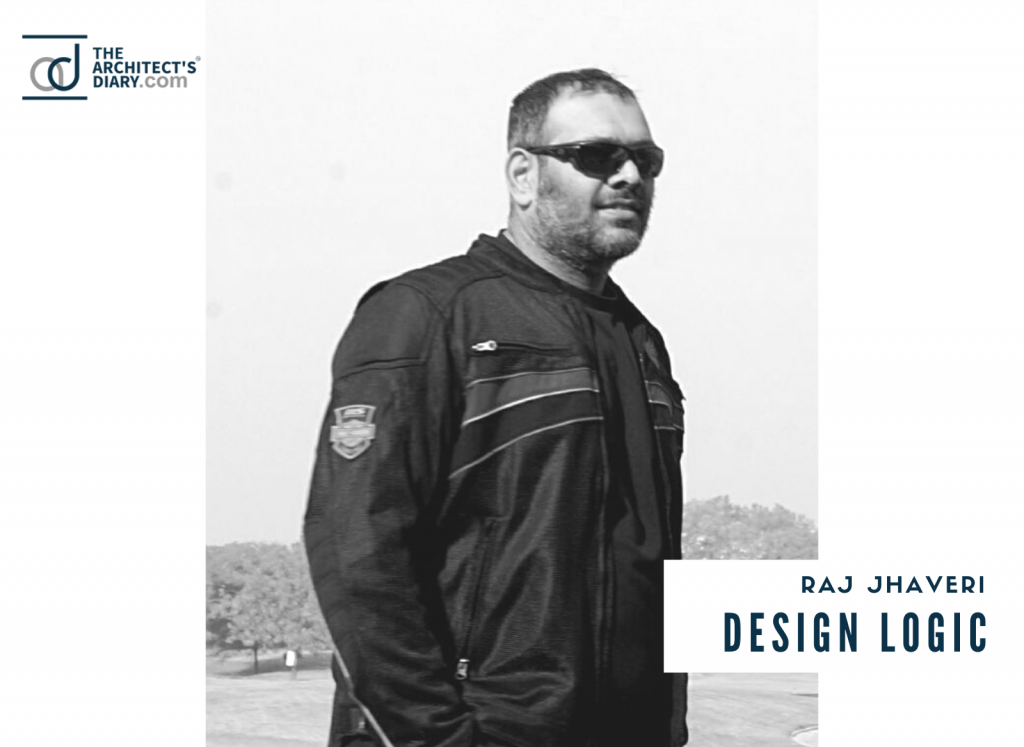 Website: http://www.designlogic.co.in/
Instagram: https://www.instagram.com/designlogic.in/
Facebook: https://www.facebook.com/Design-LOGIC/

&nbsp