&nbsp
Vibrant Interiors Working  Efficiently For The Dramatic Apartment | Moksh Interiors
It's rightly said Home is where the heart is, we have thereby taken up the opportunity to make your dream home look no less than a luxurious abode with the use of latest amenities, designs & accessories. We got an inquiry for designing Mr. Desai's Home which is of 1938 Sqft and this is how we built this Beauty.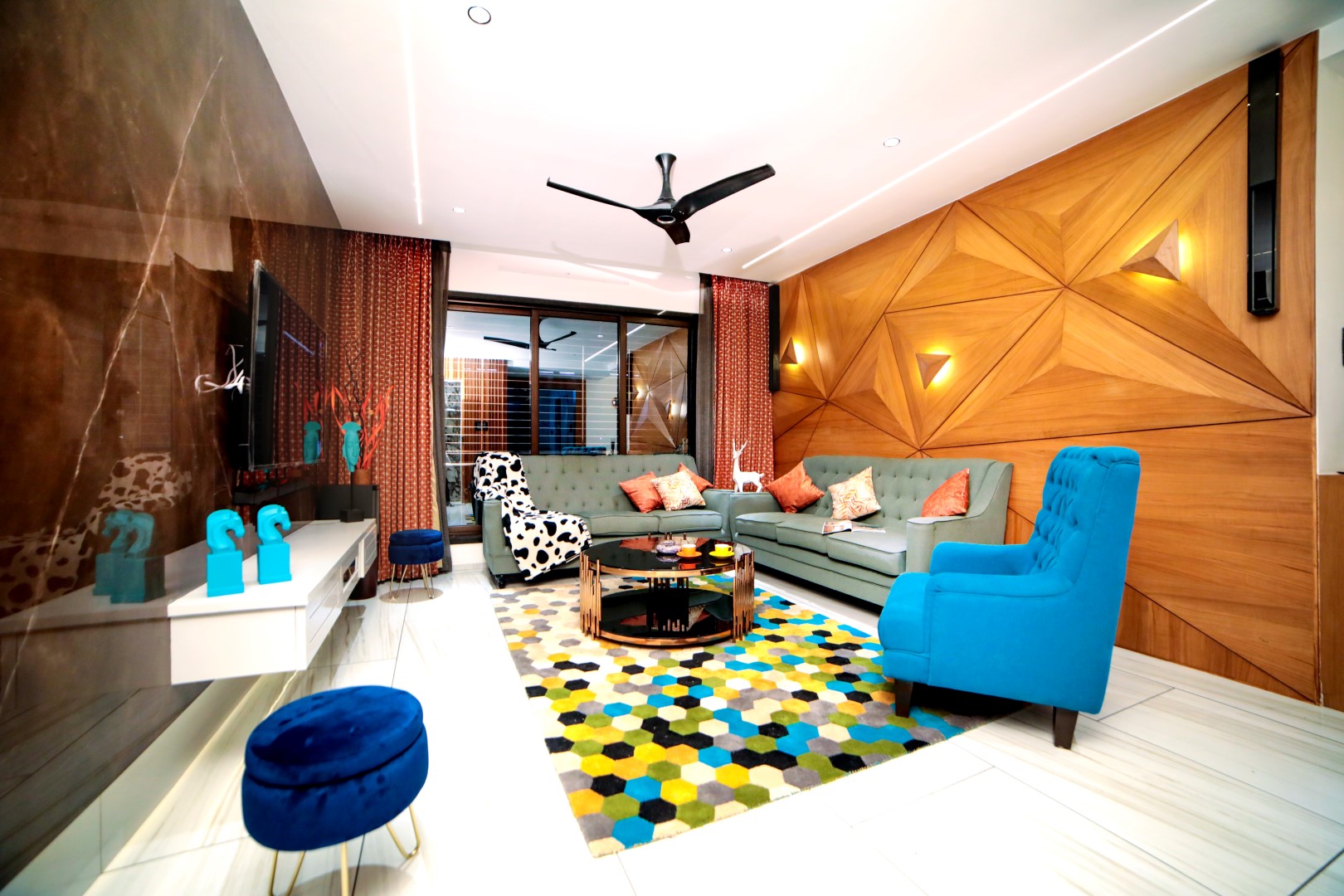 Entrance:
The first impression of a house is inferred from its entrance. We have used wrought iron metal in the main Jali Door with a combination of White Color Entrance, further we have used 8' X 4' used tile in the background of sitting Buddha under the shade of warm light.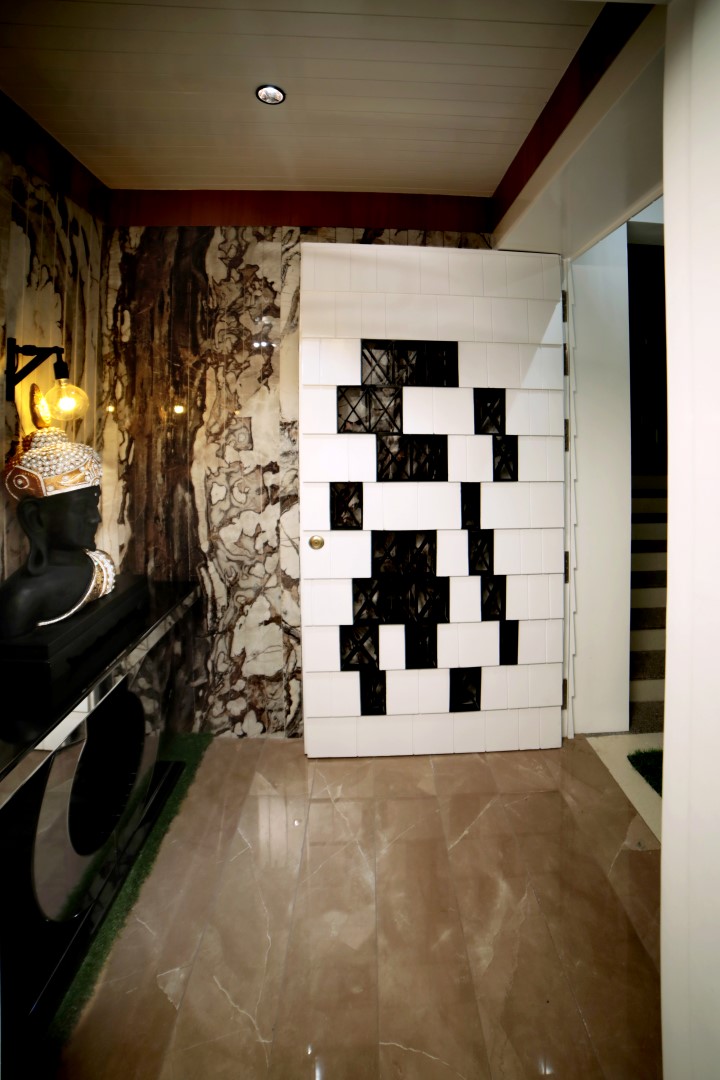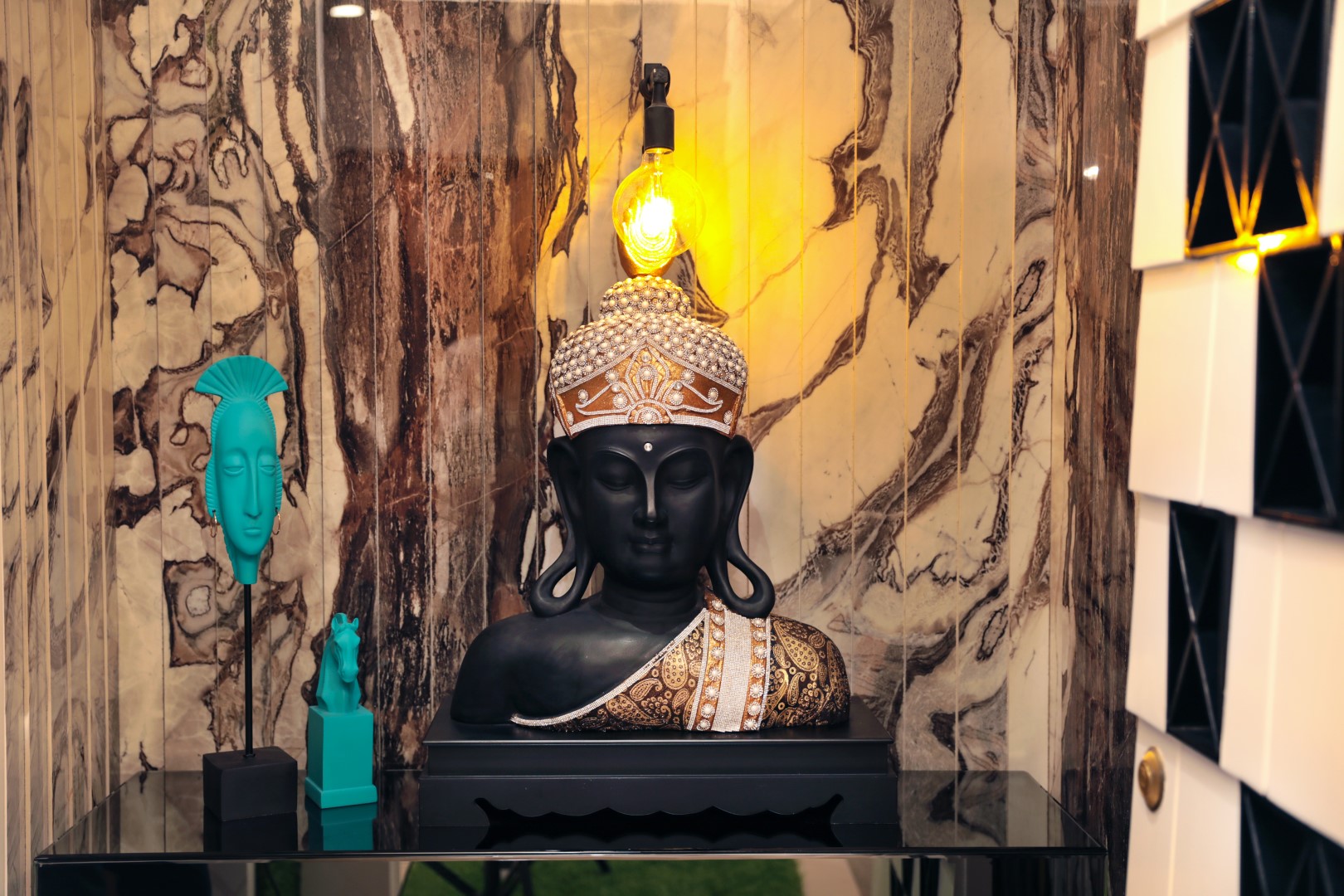 Living hall:
To enhance the beauty of the living hall, we have used teak veneer as a sofa background. We have played with the veneer figures from a different angle. Finely designed curtains with the vibrant color which amps up the look of the hall. In the TV unit, we have used 8'x4' glossy Italian finished tile. Round Center table is made up of coated MS pipes.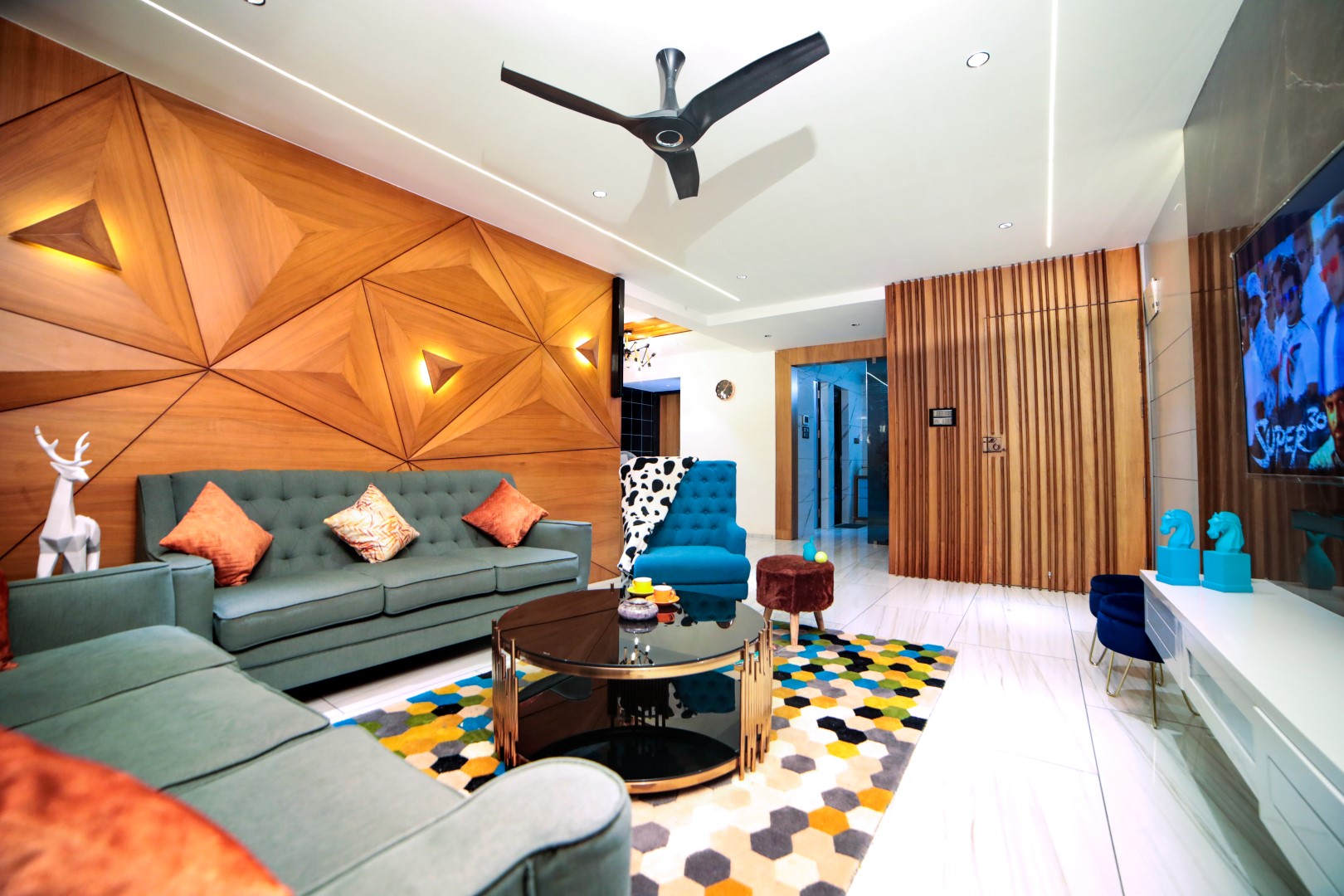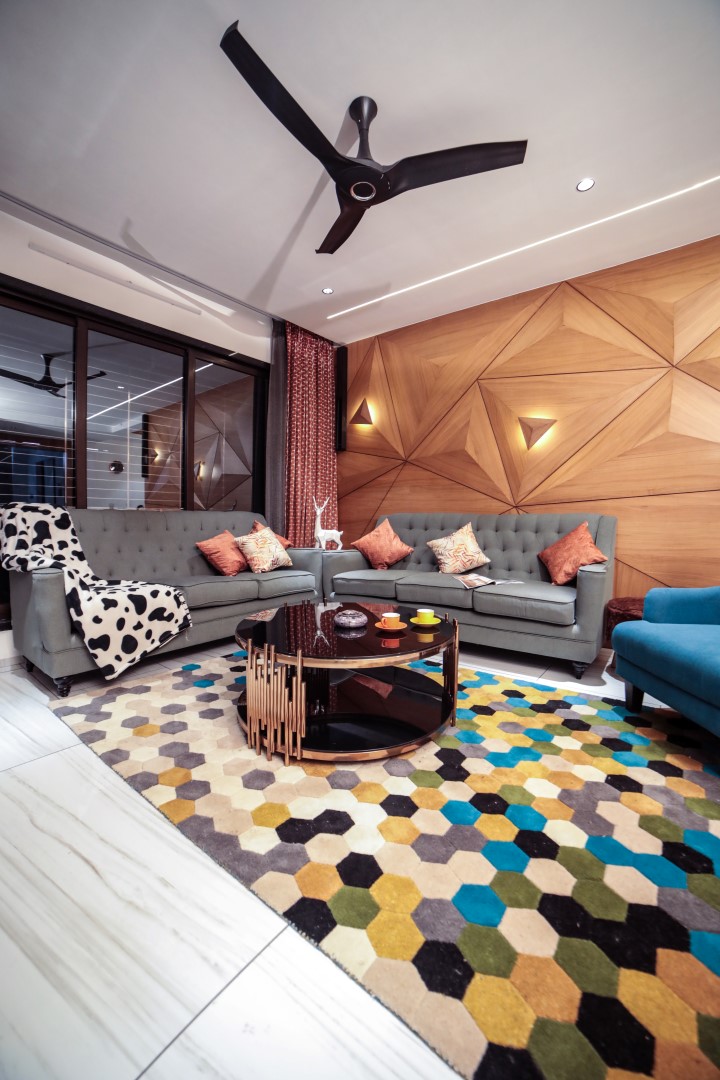 Kitchen:
The kitchen is the heart of any home. We have aptly utilized the space with subtle Blue Colour in the kitchen interiors and have used Mud Pie Quartz as a kitchen platform top. Classy yet sober White Coloured Tiles are used to make the kitchen look elegant and Smart.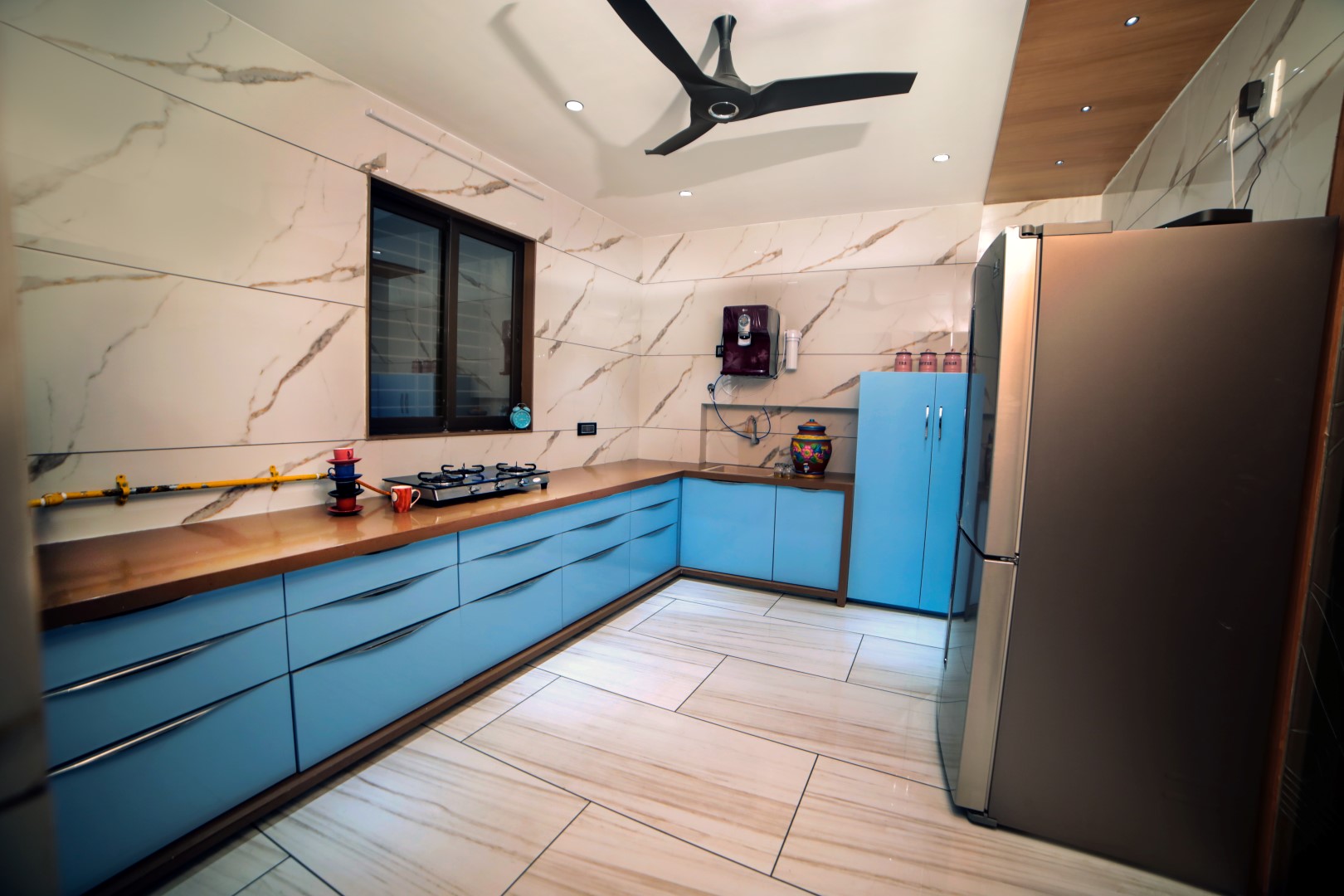 Dining Area:
Adapting Quirky design with a combination of Black, White & Grey stripes, we have given the doors a classy look. A black Kadapa in 11" X 11" has been used here. A class apart piece of Metal Wall Art has been put up near the Table to escalate the charm of the space.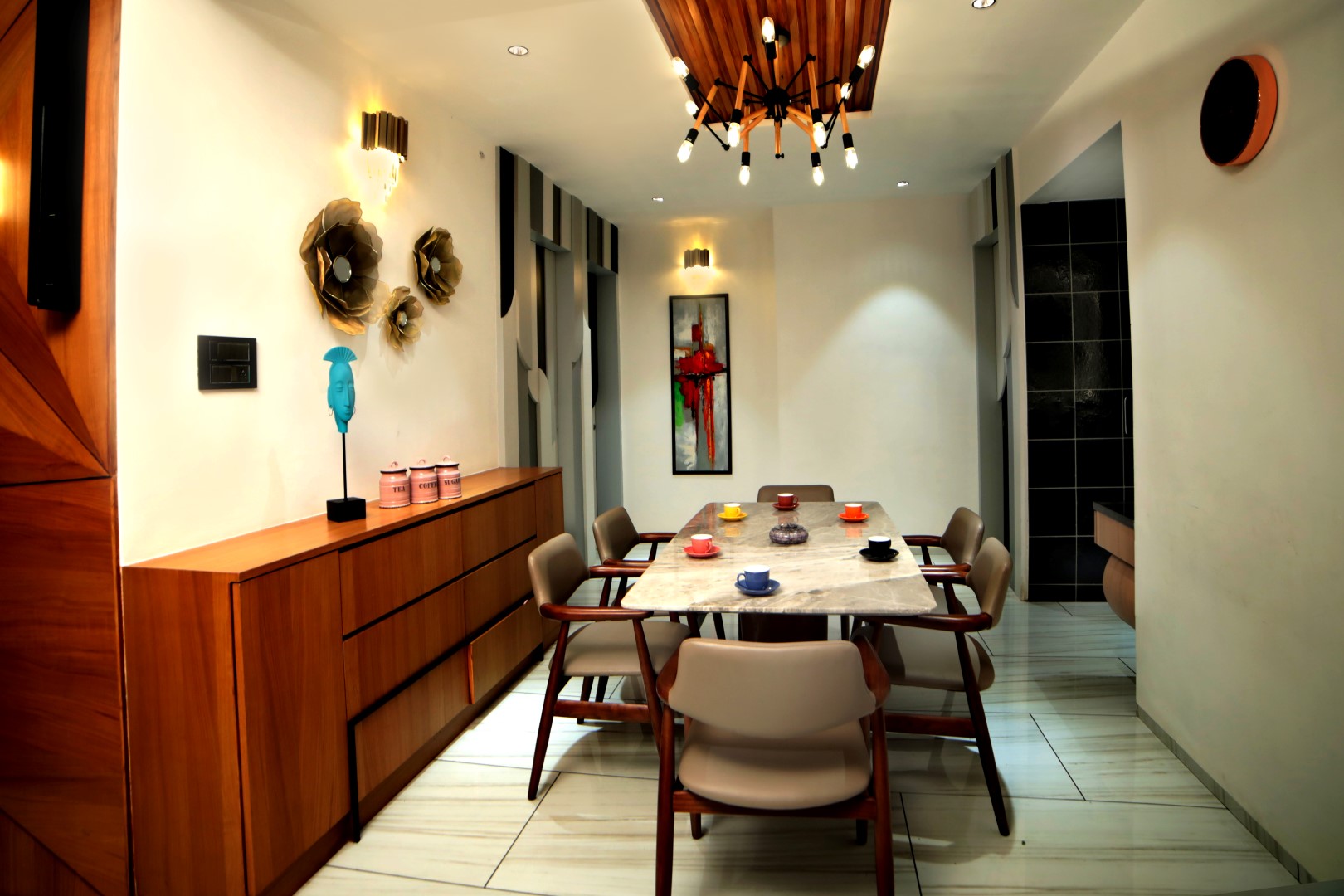 Master Bedroom:
As the client belongs to the textile industry, we have used different types of the motif in MDF to syncing with the background of his working lifestyle. We have used MDF in a different pattern on the TV sidewall and this pattern is continued to the ceiling. Behind the bed, we have used leather and MDF Patti in a different manner. In the wardrobe, we have used Teak Veneer with a groove pattern. Beautifully designed crystal worked mirror cladding is used in its bathroom also.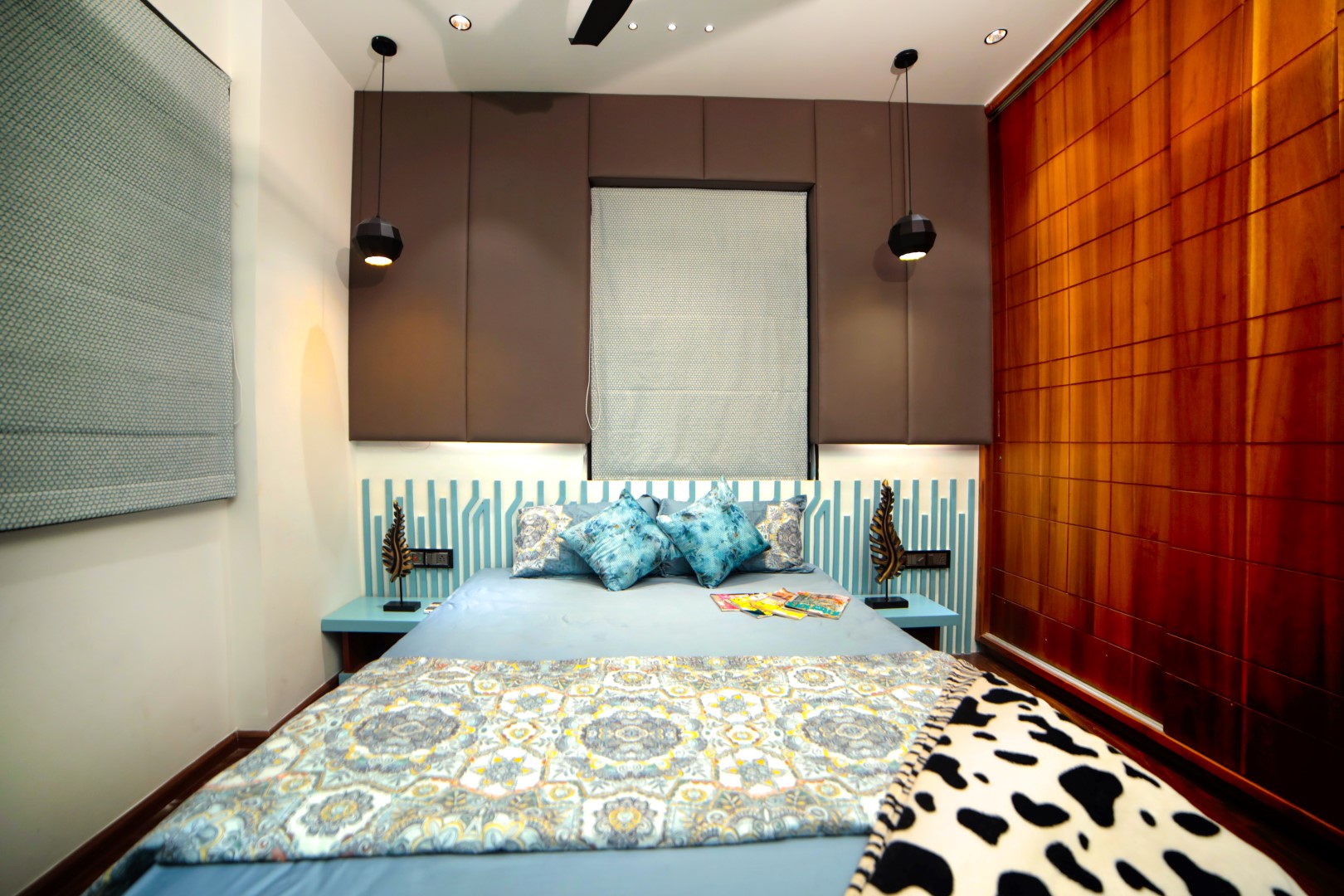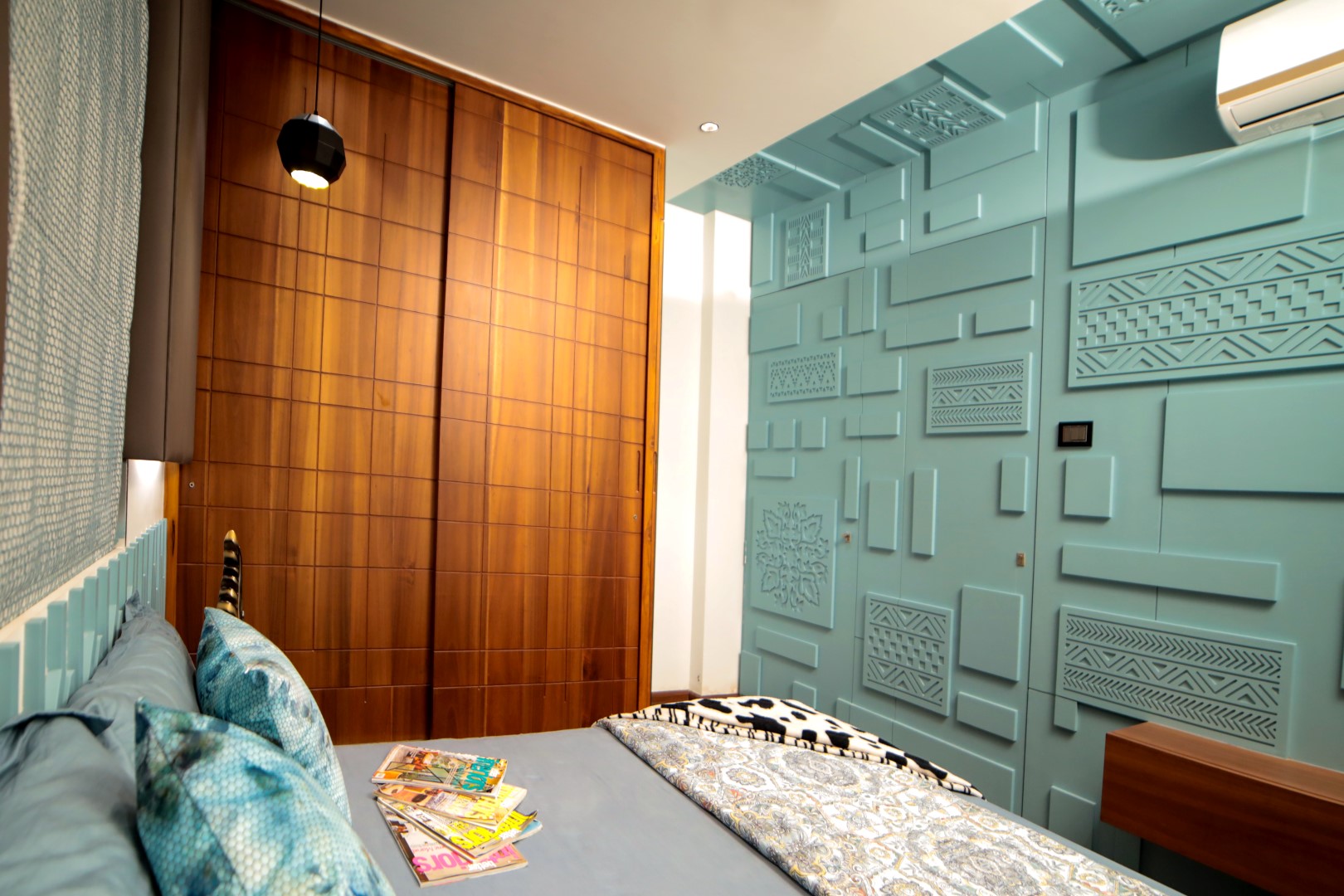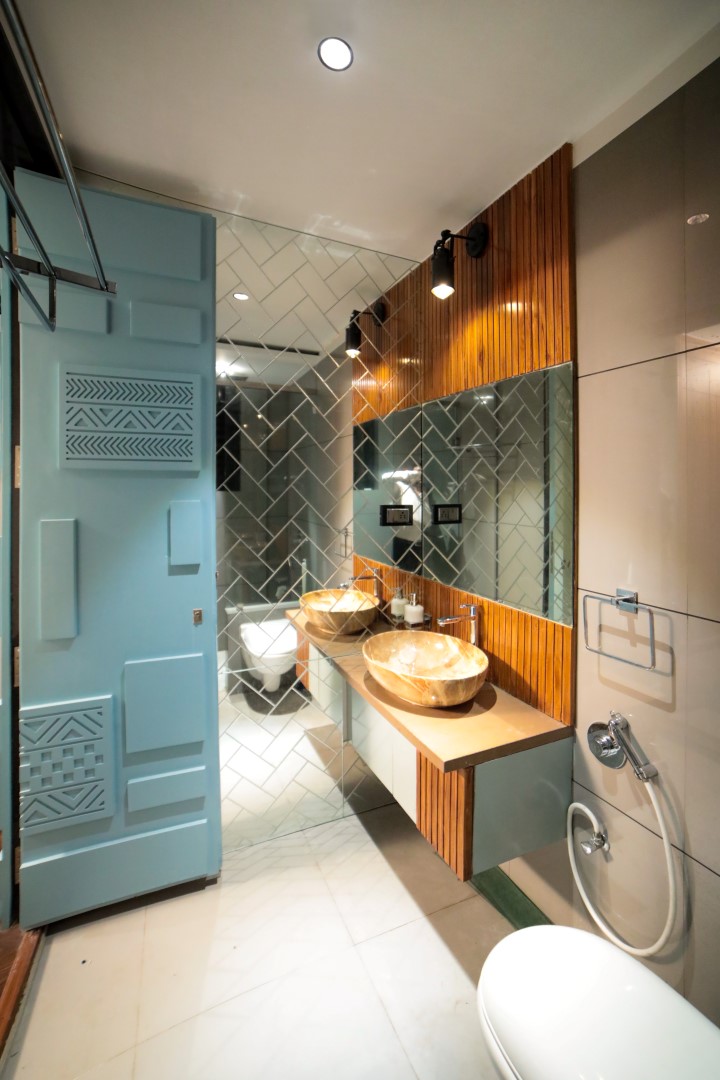 Parent's Bedroom:
For a chic, sober & peaceful vibe in the room, we have opted for Peach Color, which gives a surreal look. Behind the bed, we have used MDF in half round vertical manner. On wardrobe have we used soothing BPG Glass which is giving a Royal Effect matching the theme of the room. In the TV Unit again we have used 4'x8' Italian Finished Tile.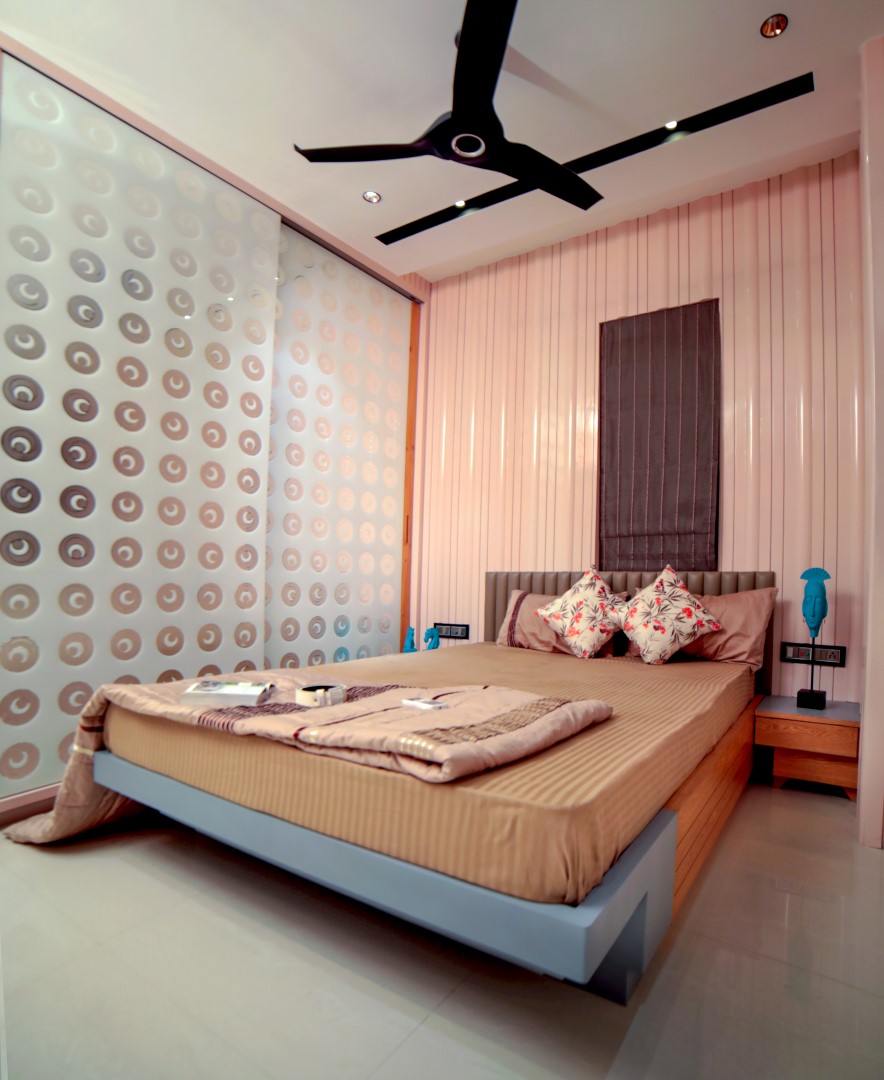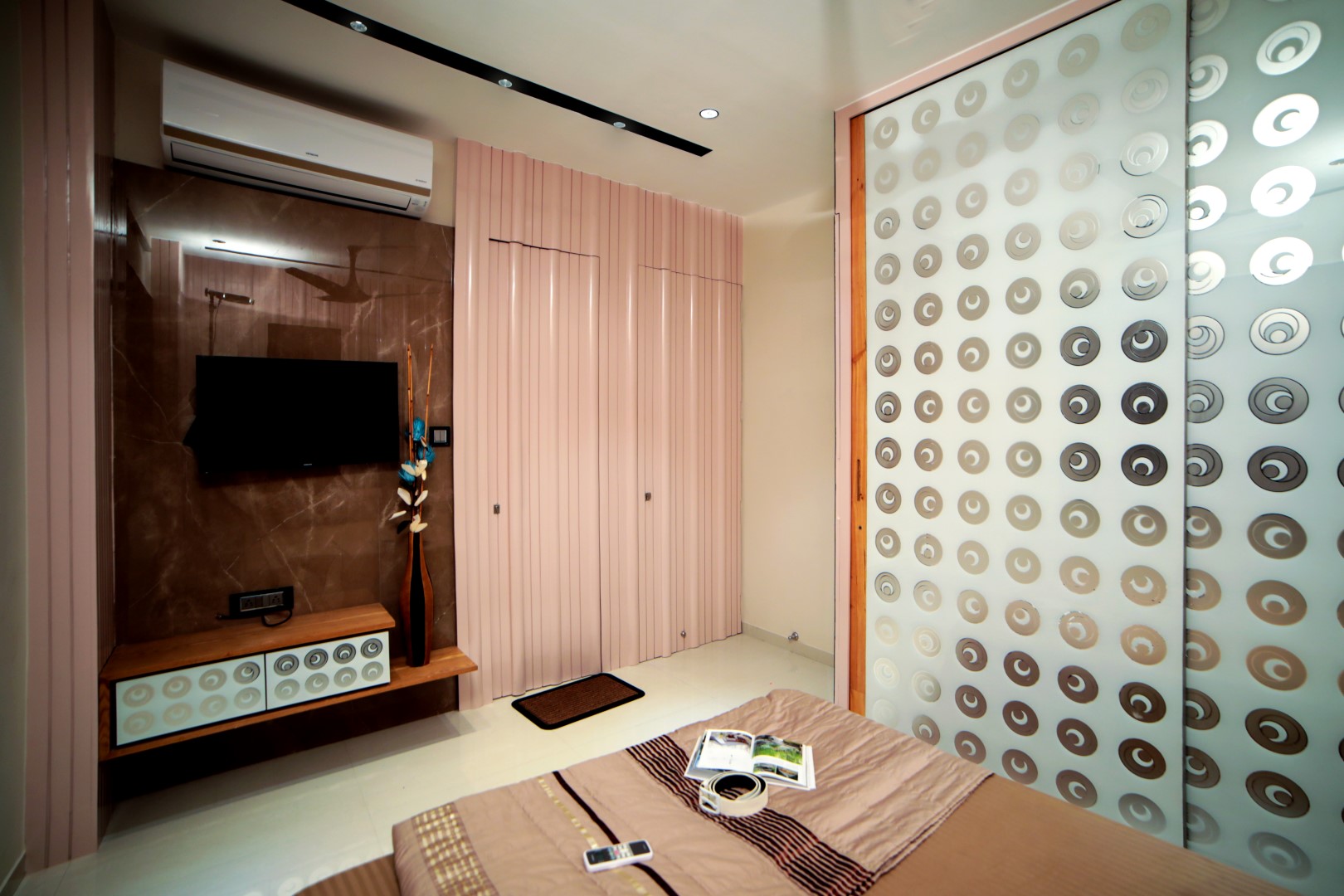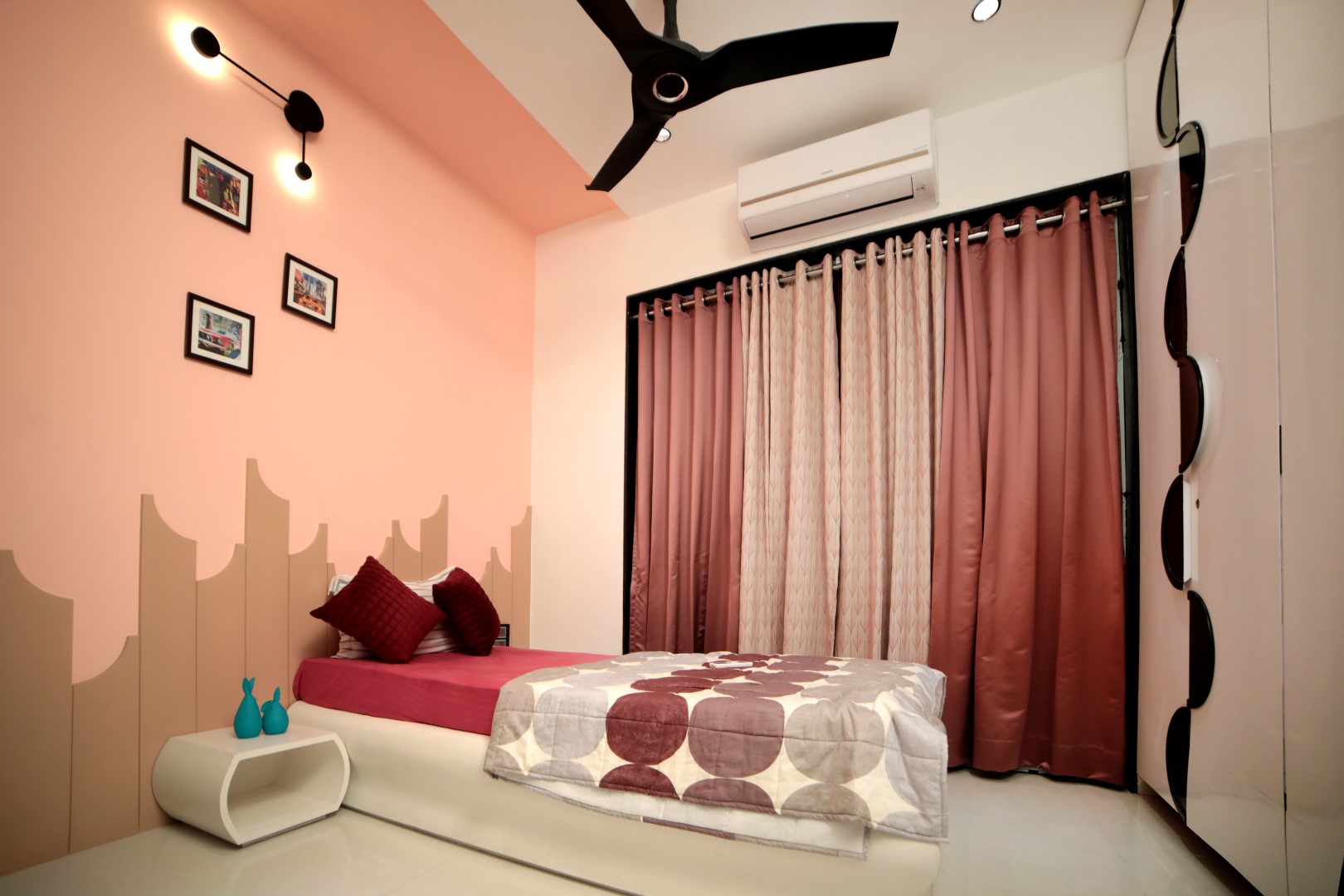 Children's Bedroom:
For the children's room, we have chosen Round Spherical Theme. Bed and its back are made of MDF on bed surface. We have highlighted its back wall with a sober color theme and small paintings to compliment the Interior. And its wardrobe shutter is made up of Nickel Mirror and White Acrylic Sheet. Thus, Moksh Interiors concludes with one more Satisfied Client in our Feather.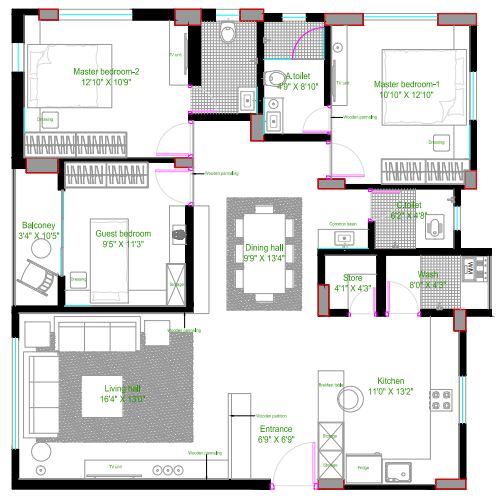 Materials Used:
Flooring: Wooden Flooring and 2'X4' White Tiles
Furniture: MDF, glass, veneer
Color: PU Color, Royal Velvet Color, PU Polish
Facts File:
Project Name: Desai Home
Project Type: Apartment Interior
Area: 1938 Sqft
Firm: Moksh interiors
Location: Surat
Principal Designers: Smit Shah
Photography Credits: Kum Kum Photo