Vibrant Ambiance With Elegance -Apartment Interiors | Ghoricha Associates
This beautiful home belongs to Mr. and Mrs. Ronak Brahmbhatt designed by Ghoricha associate, (architects and interior designer), Ahmedabad. The house is designed considering the client's requirements and lifestyle. Mr. Ronakbhai and his wife envisioned their new house to be a shelter of comfort. the couple desired to have a cozy, comfortable interior with simple, elegant yet bold ambiance.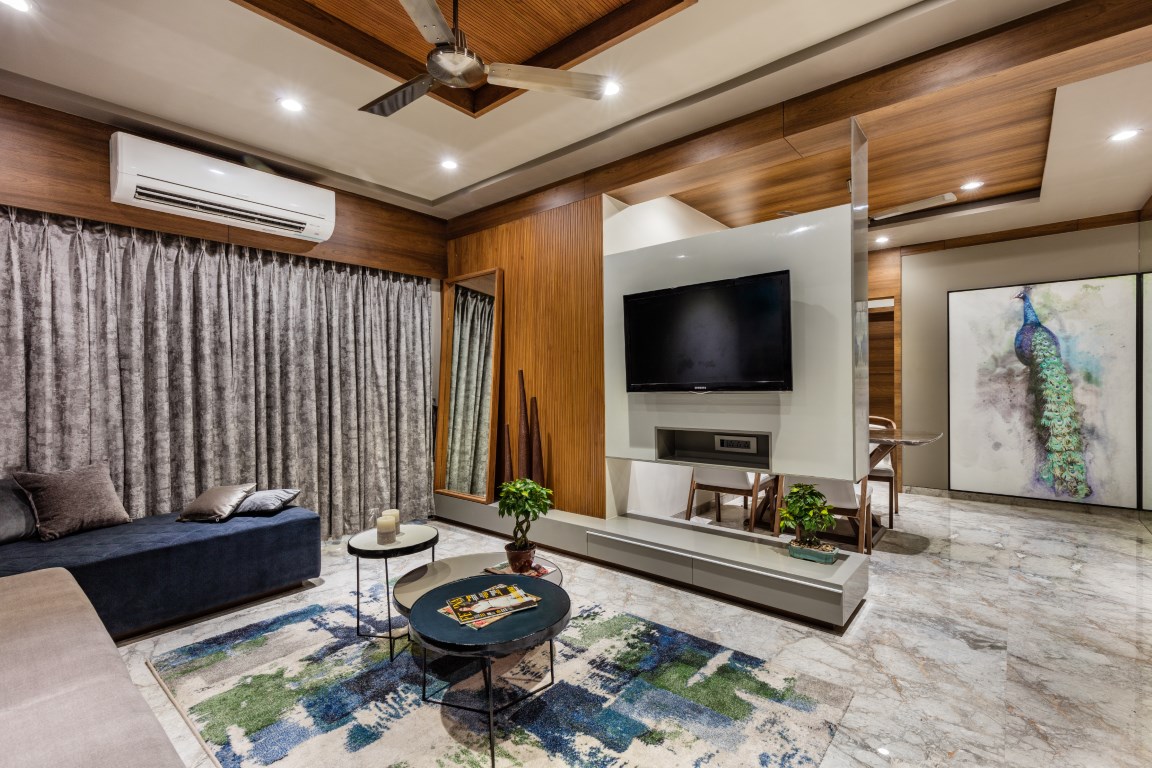 A step inside the apartment interiors invites to the vibrant ambiance with elegant and spacious drawing room having a modern interior with shades of royal blue, bronze, and grey complementing each other well. beautiful painting on concrete finish wall and aqua blue tapastry on wall panel enhance the beauty of the drawing room.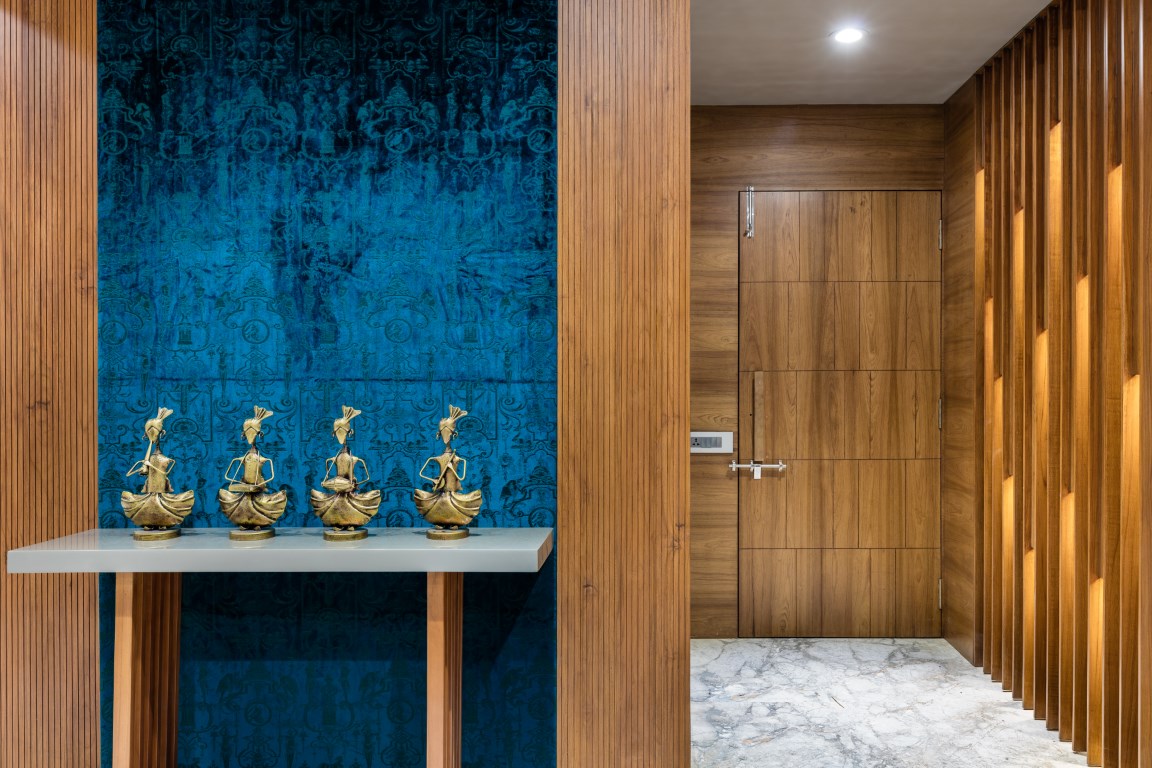 Puja room design is highlighted by Diya wall with glowing Swastik creating a positive, bright and serene ambiance.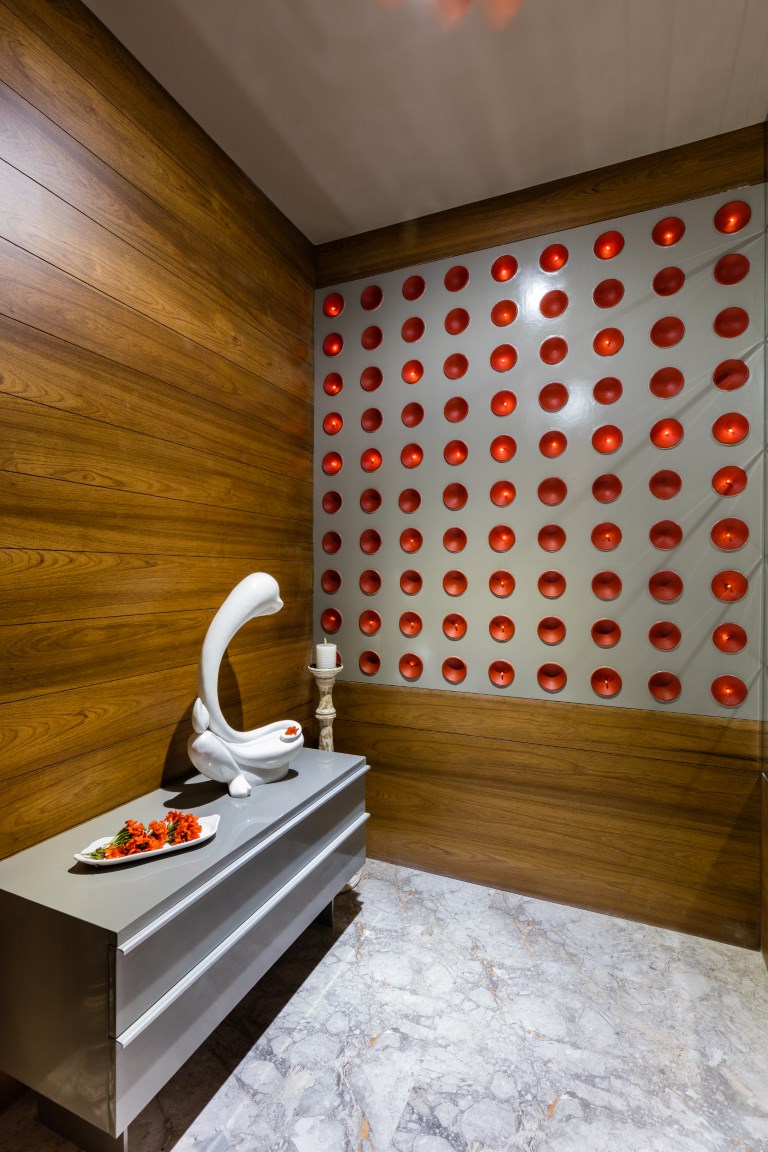 Dining space offers ample flexible space linking to kitchen and drawing room mirrors creates a spacious ambiance and contrasts of grey and wooden shades and beautiful peacock painting adds to the charm of dining space.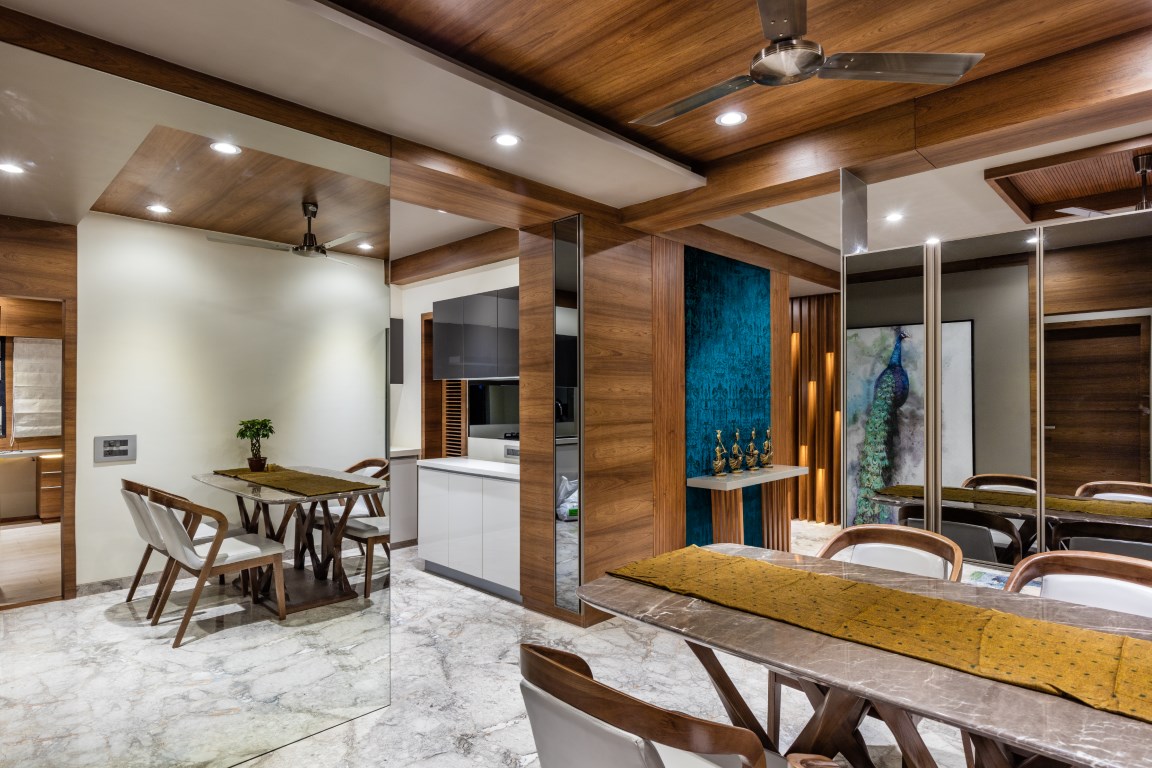 Children's Bedroom
children's bedroom is vibrant, cozy and comfortable space with intelligent use of grey and wooden interior and flooring.A wise selection of materials, wall painting, artifacts, mirror, and minimal furniture imparts the feeling of elegance and creates a playful yet cozy ambiance.
Master  Bedroom
Master bedroom is a cozy, comfortable space with a material palette of grey, lavender and wooden interior creating an elegant yet sophisticated ambiance and beautiful wall paintings and artifacts are add-ons to its rich ambiance.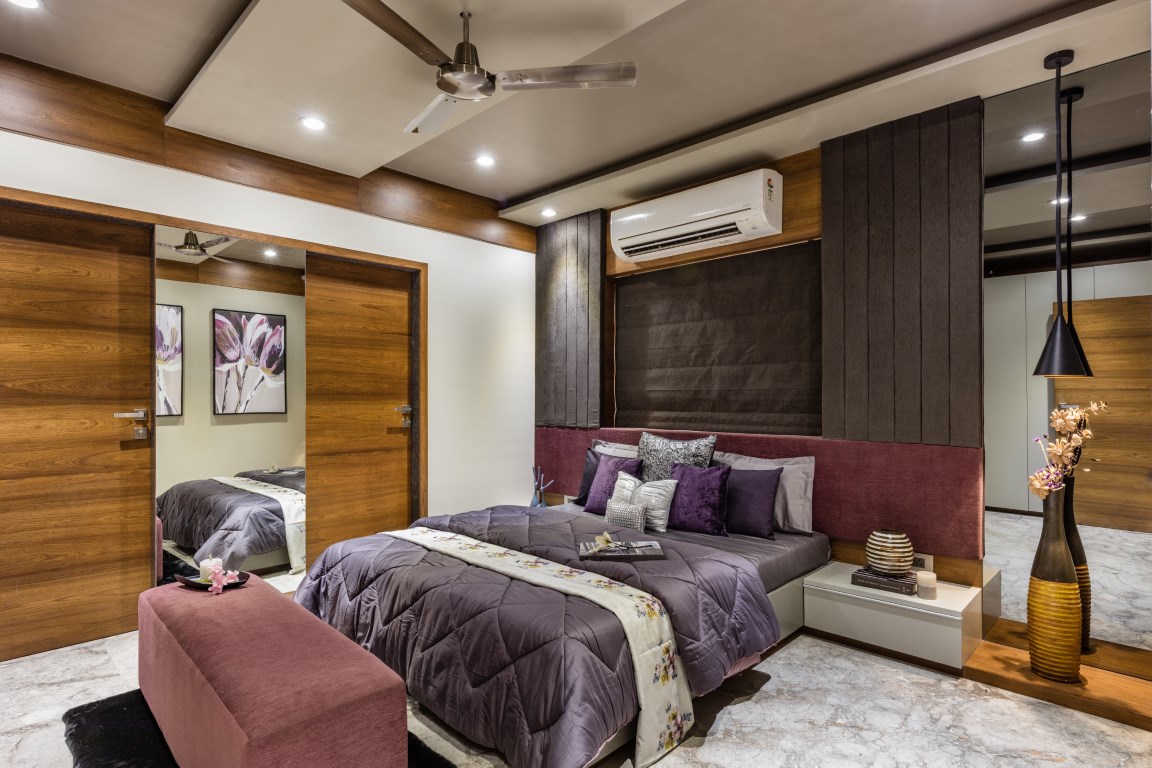 Parents Bedroom
Parents bedroom is a cozy, comfortable space with minimal furniture keeping it a simple and material palette of nature with shades of green, grey and wood creating subtle, tranquil and elegant interior space.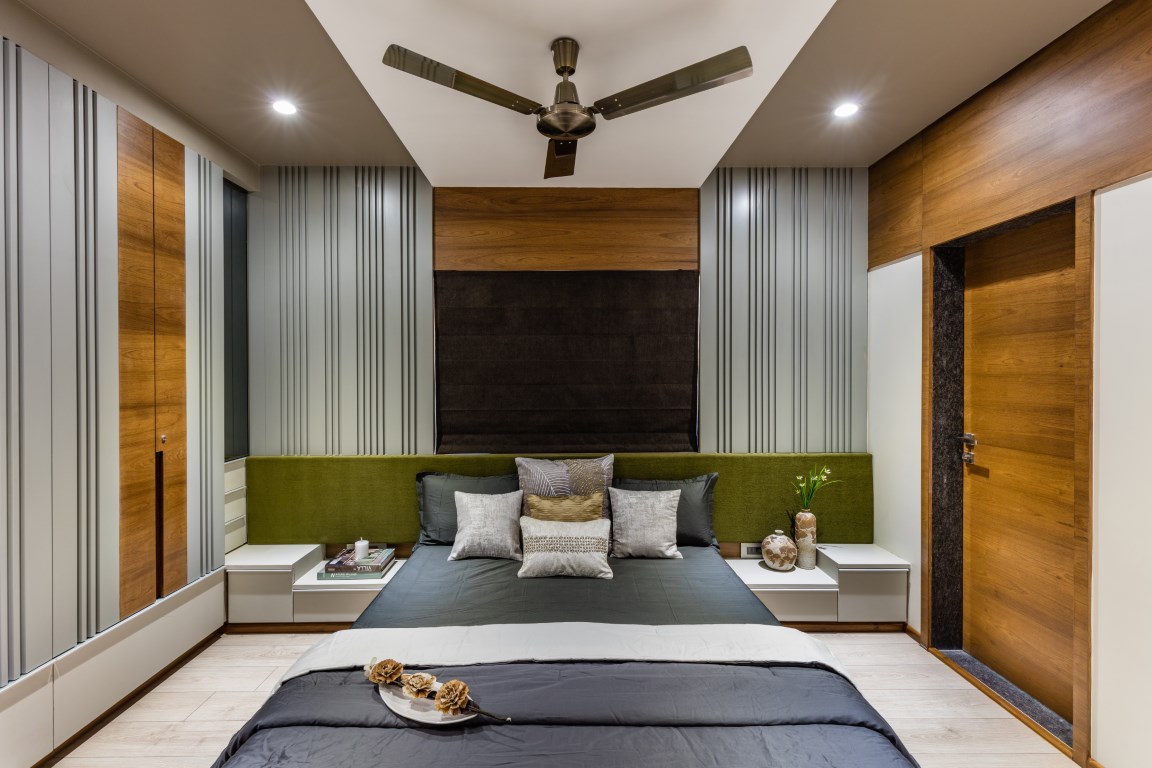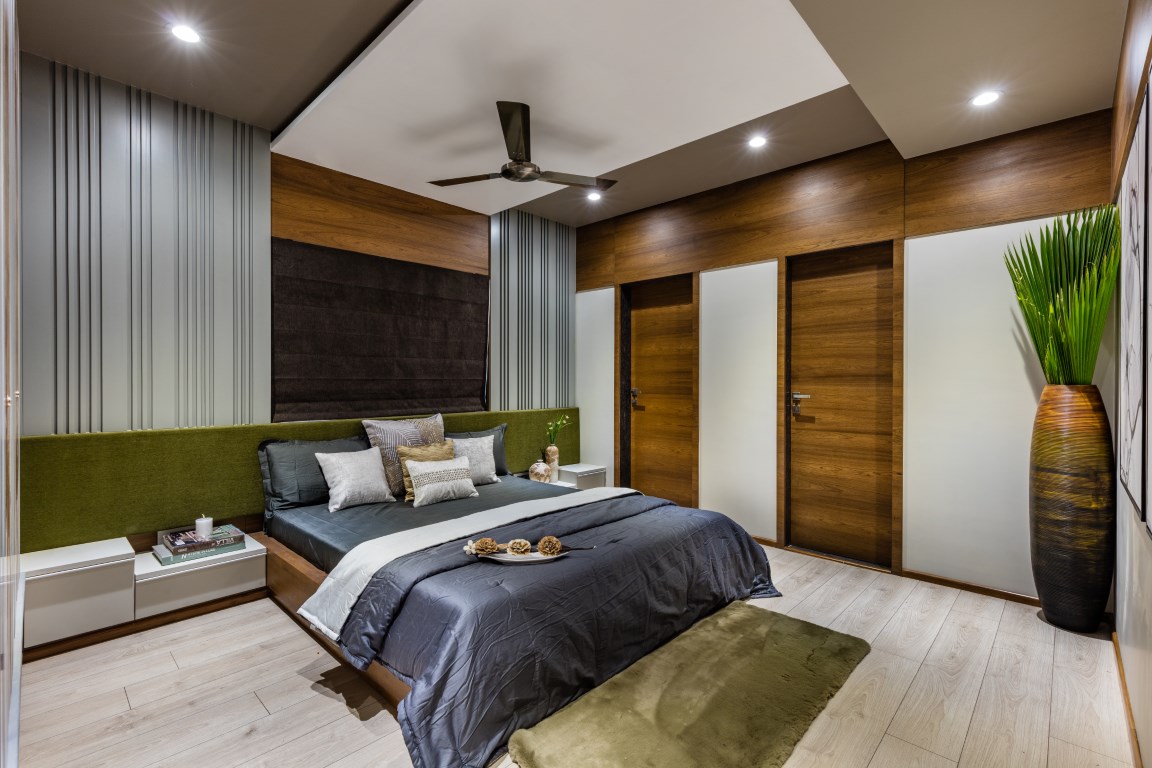 FACT FILE:
Our clients: Ronakbhai and Jalpaben
Architectural firm: Ghoricha Associate
Home size: 1210.35 Sqft
Location: Satellite, Ahmedabad
Budget: Between 20 Lakh to 25 Lakh
Photography: Inclined Studio (Maulik Patel)