'How does one live?' The question we asked ourselves as the client approached us with a unique requirement of a residence for a joint family in a farm-land in a village. More so as this was to be designed and built in a non-urban context but with all the modern amenities and was to be a permanent residence celebrating Indian architecture.
Unifying Modern Practicality with Indian Architecture | Rajnikant Machhar + Nishant Machhar Architects
Visit: Rajnikant Machhar + Nishant Machhar Architects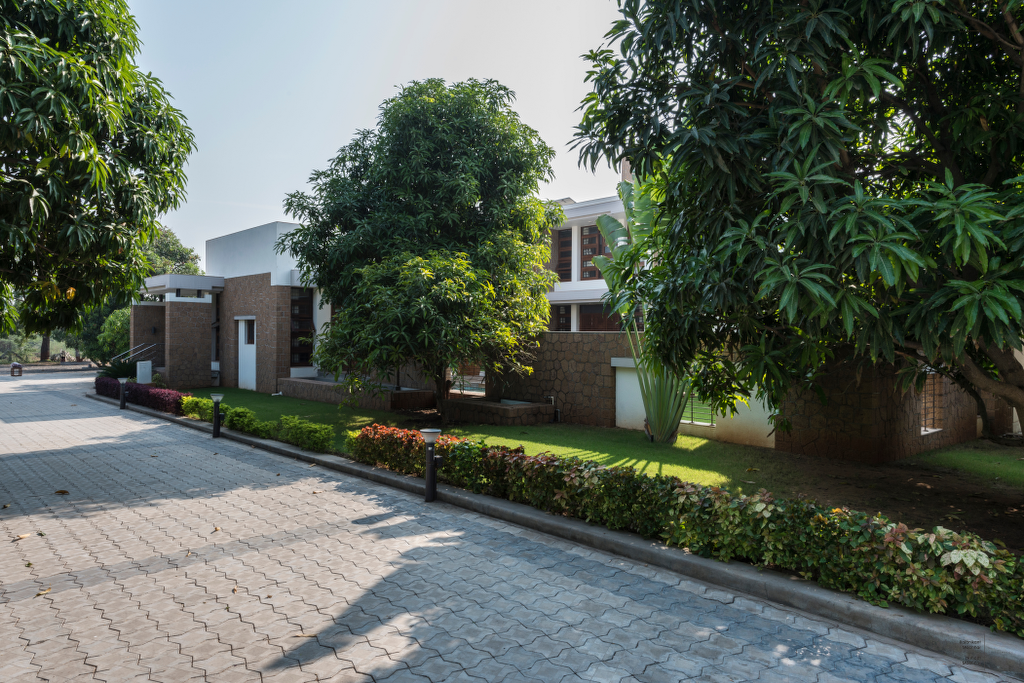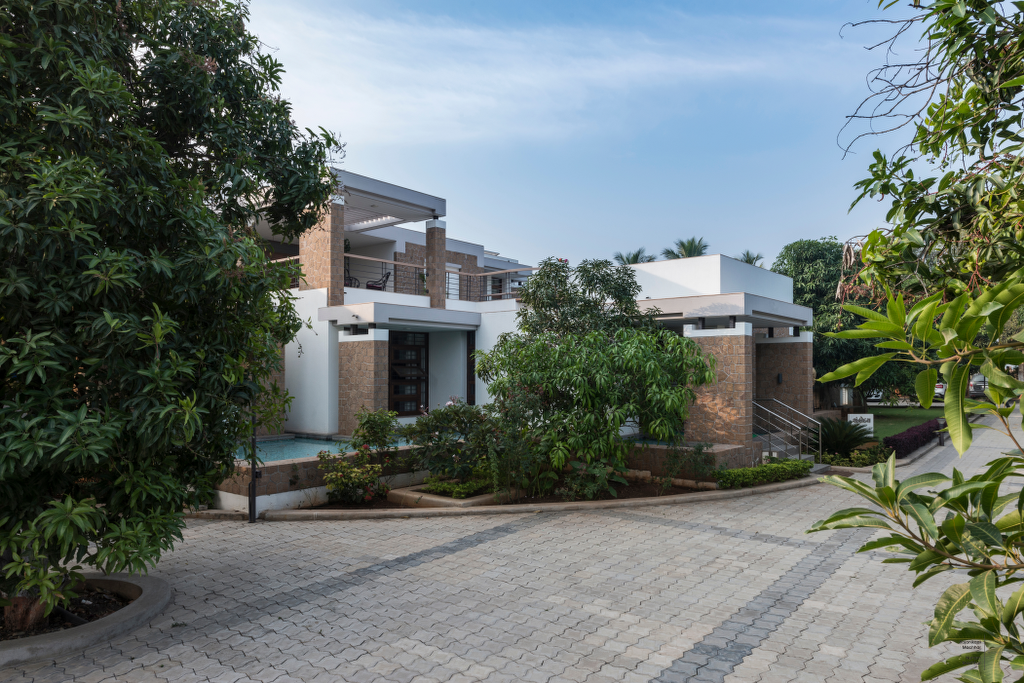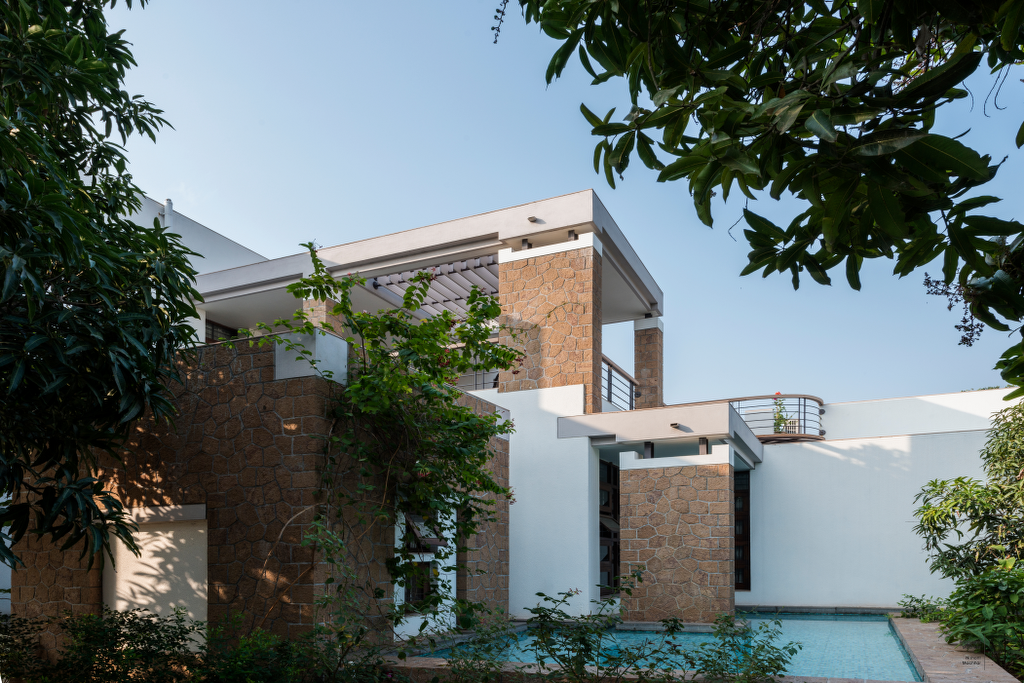 Surrounded by farm lands this site is located half a kilometer off Vartej-Sidsar Highway, near Sidsar Village approximately 11 Kilometers from the city of Bhavnagar – Gujarat. Site land was acquired 27 years ago by owner which was eventually developed into a mango orchard taking up most of the land, with a few patches where seasonal vegetables, legumes and few spices are cultivated. A rather oddly shaped farmland admeasuring 26,200 sq mts faces North and a strikingly large high grassy knoll right at the entry after a short driveway is a defining site feature as the rest of flat land gently slopes towards South contoured over the years for water runoff and harvesting. A patch of open land in the orchard was earmarked by the owner where he wanted the house to be built, almost at the centre of the site.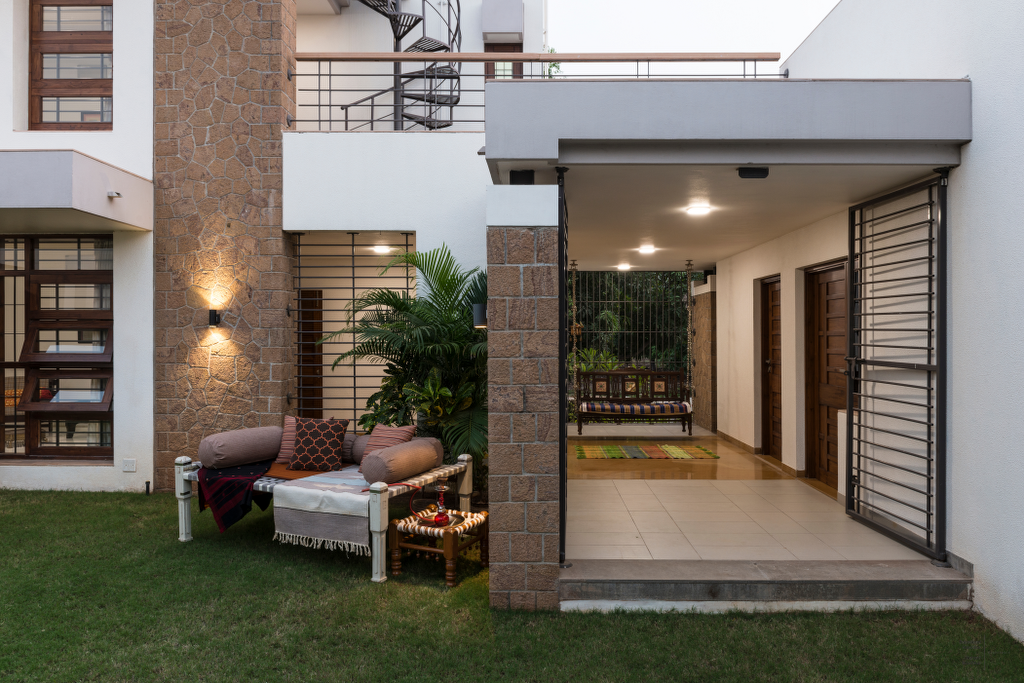 An immediate approach to designing a large home in the hot semi-arid Bhavnagar weather for a joint family of Rajputs where the traditional customs of privacy still impact day today lives would be to build an inward-looking courtyard house. We reinterpreted this idea of a central courtyard with a modern idiom which would be an exemplar of fusion between the tradition and modern values of architecture, lifestyle and at the same time keeping in mind realities of local climate.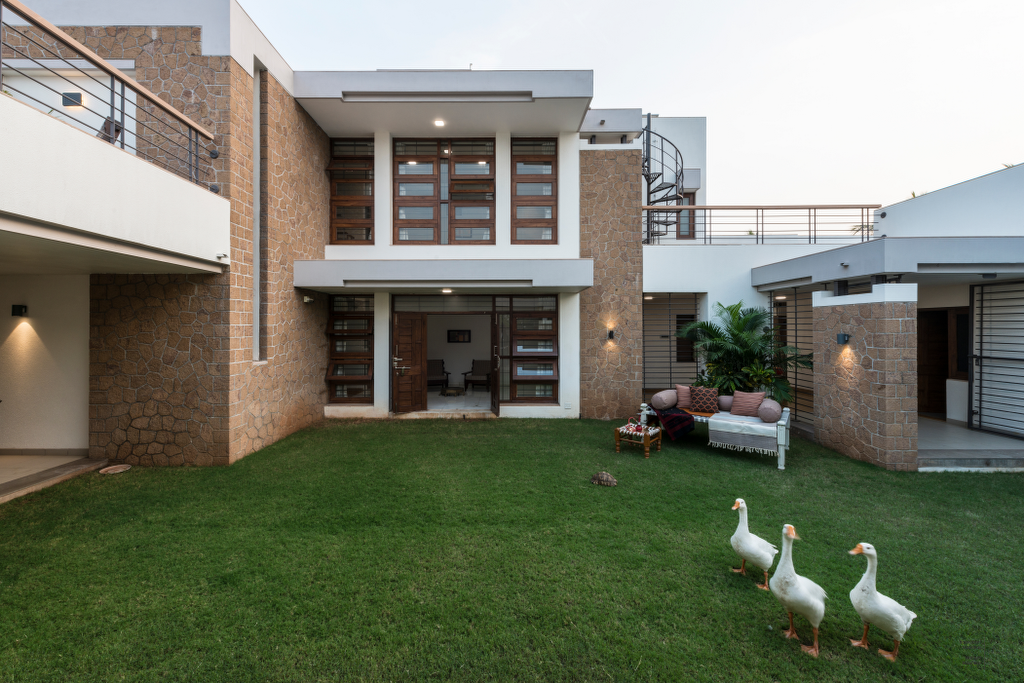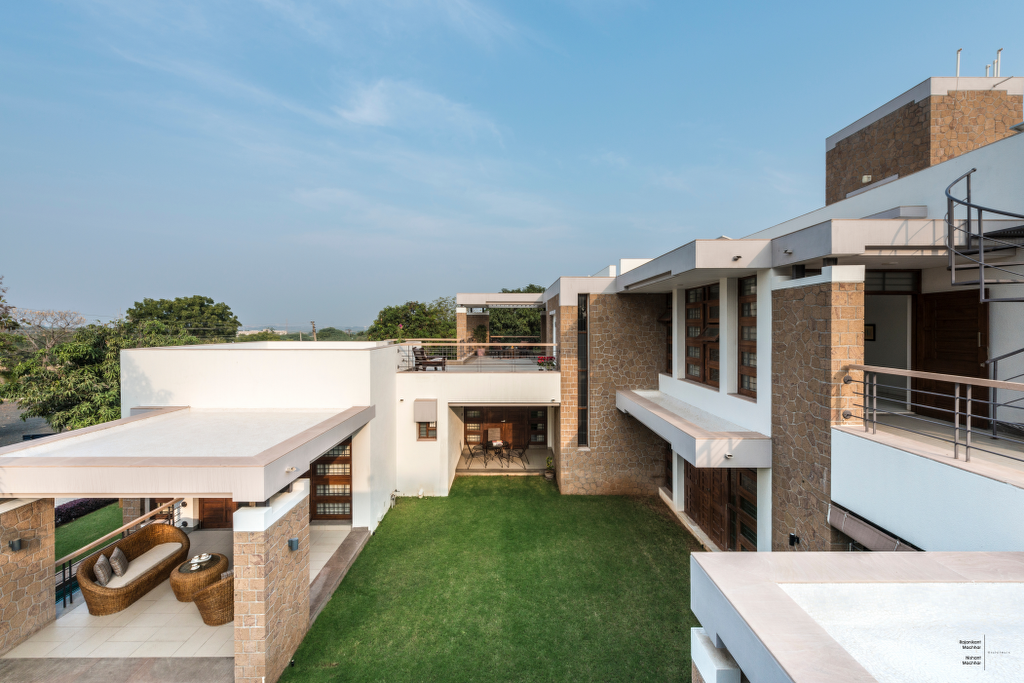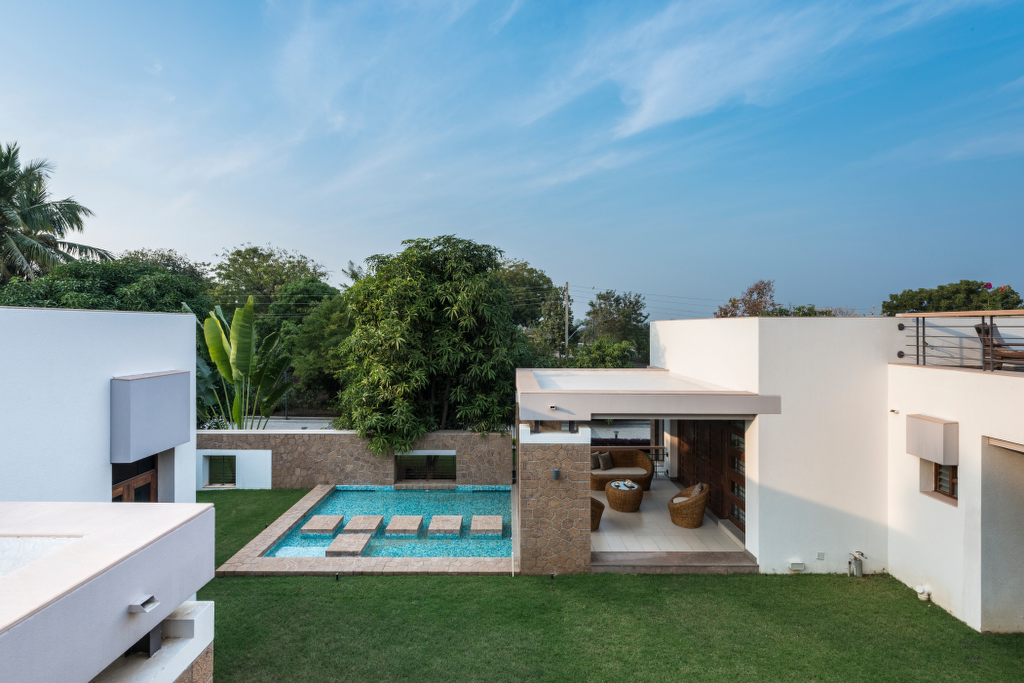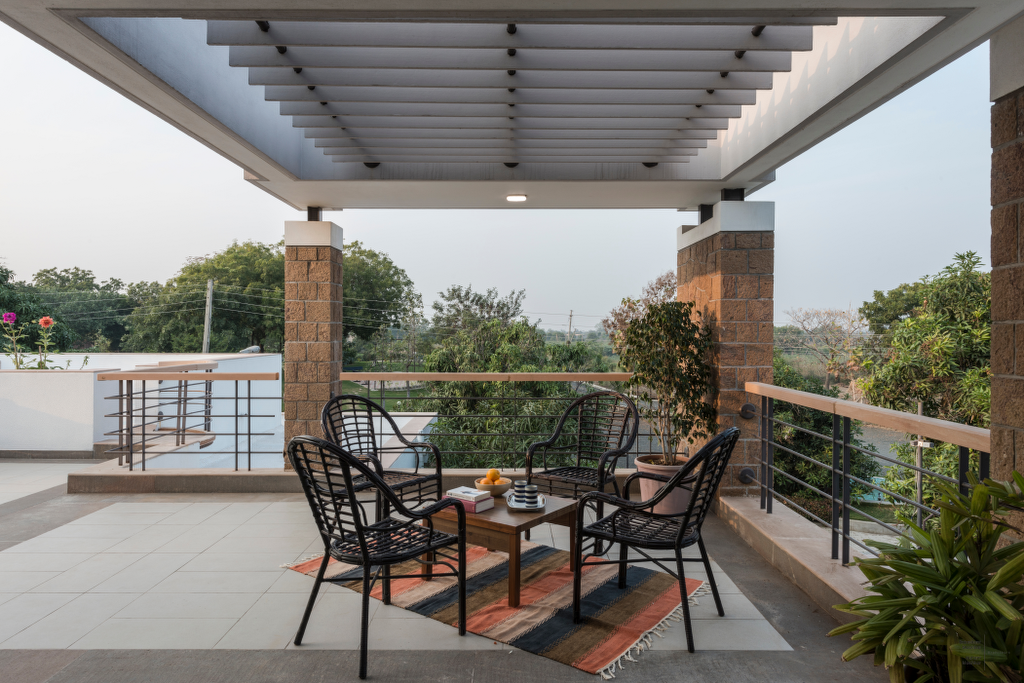 The grassy knoll upon site entry is exploited and used as a roundabout as a driveway circumvents it and the road following its contours, rises first and then lowers itself 'revealing' the house. Following a hierarchy of public to semi-public to private spaces the built form is essentially an ensemble of parallel walls that respectively start from the vestibule at North opening into a formal living that has a generous west facing verandah followed by a family living connecting to North-East placed Pooja opposed by a sunken West facing verandah, followed by dining towards South.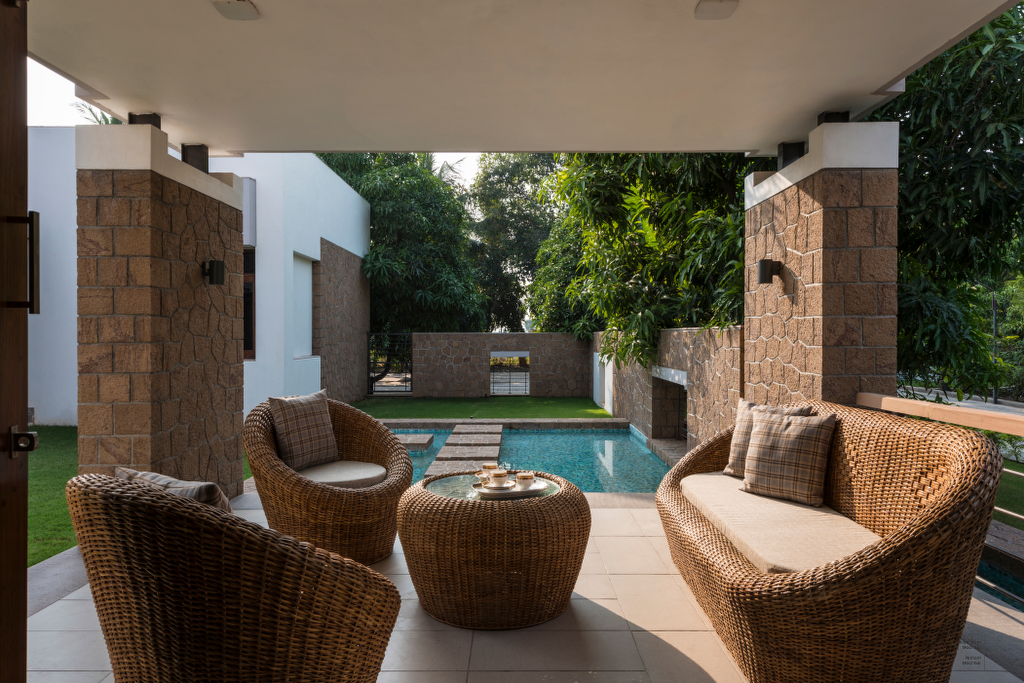 The Dining connects to Kitchen towards East, opens to a large verandah at South providing with an uninterrupted view of the orchard.  A large quarter-turn folded plate staircase from Dining towards West connecting to a passage brings about the shift from semi-public to private spaces. This passage leads to two bedrooms widening itself to 12 feet at their entry of those bedrooms forming a generous private sit-out overlooking the courtyard. This passage further leads towards West punctuates entry to a library and a Home heater. This stair vertically connects to three bedrooms via a lounge that opens to a terrace at North, to a bedroom above Kitchen at East and two bedrooms that repeat themselves over the ones at ground floor. All the bedrooms face South to exploit the prevailing southwest breeze aiding cross ventilation. Each bathroom also gets its own private sky garden / landscaped courtyard filling the whole volume with ample light bringing the landscape inside without compromising with privacy.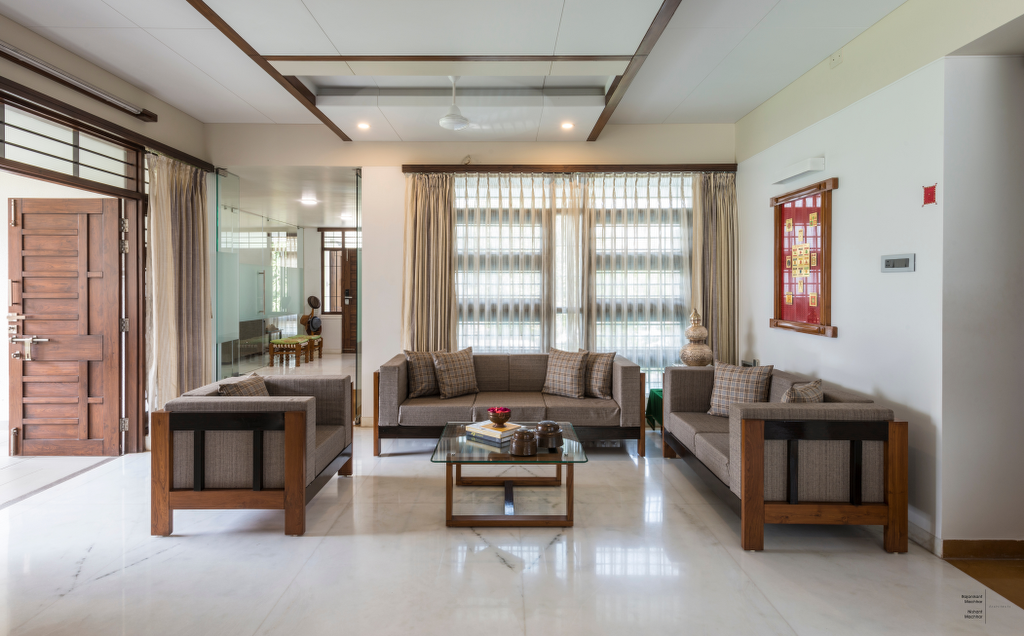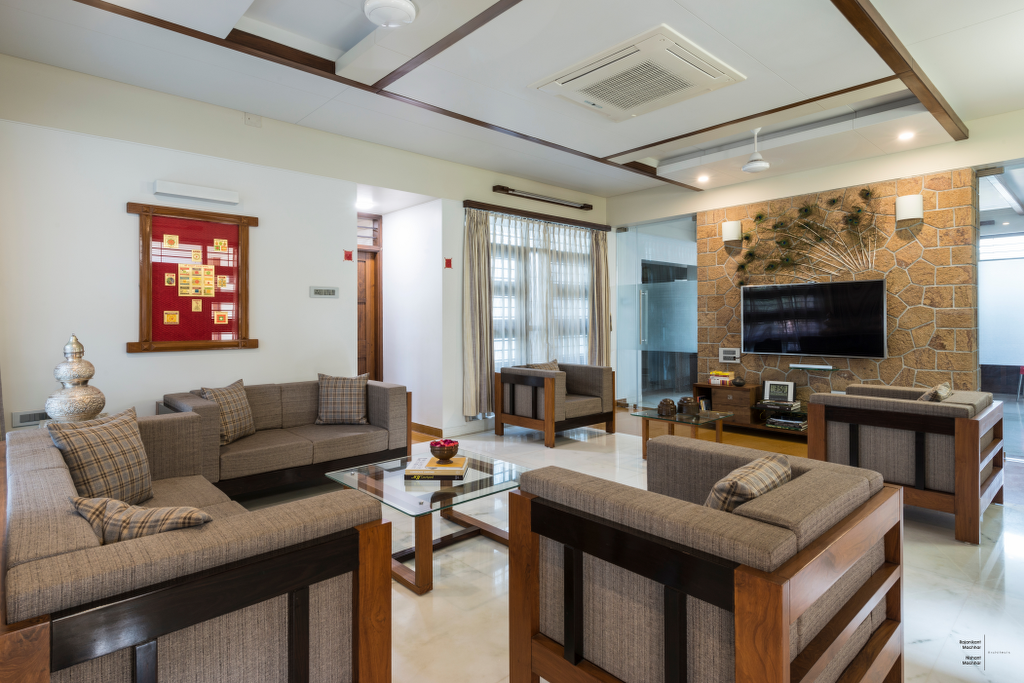 A 'Toe-Wall' starts from verandah of formal living and ends into the home theatre thus completing the courtyard. Also, a kund wraps itself around from the Pooja all the way to entry of vestibule and continues to envelope verandah of formal living bringing about the element of water in landscape.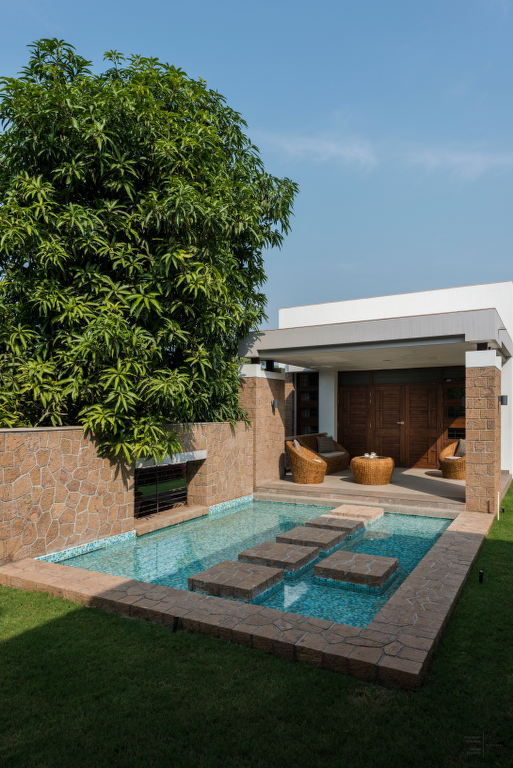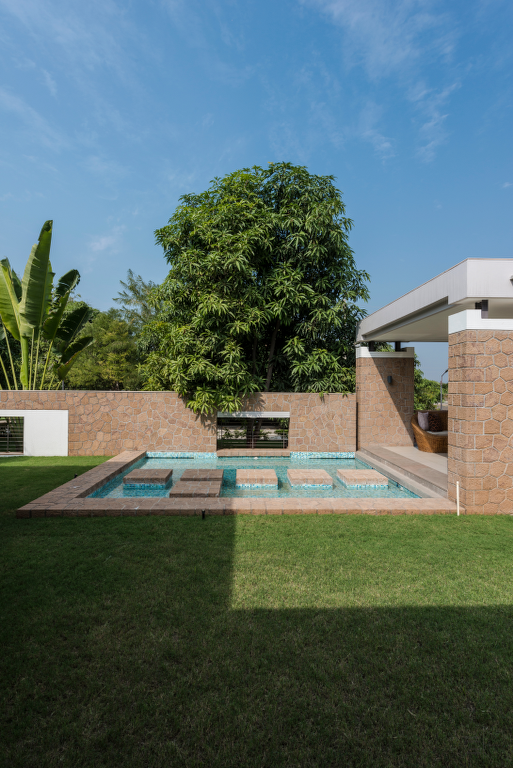 The house employs a hybrid system of construction, that is load bearing walls built out of brick and locally available Shihor stone along with reinforced cement concrete structural members at regular intervals. Considering the soil type (black cotton being agricultural land) foundation has been done in random rubble masonry with lime mortar.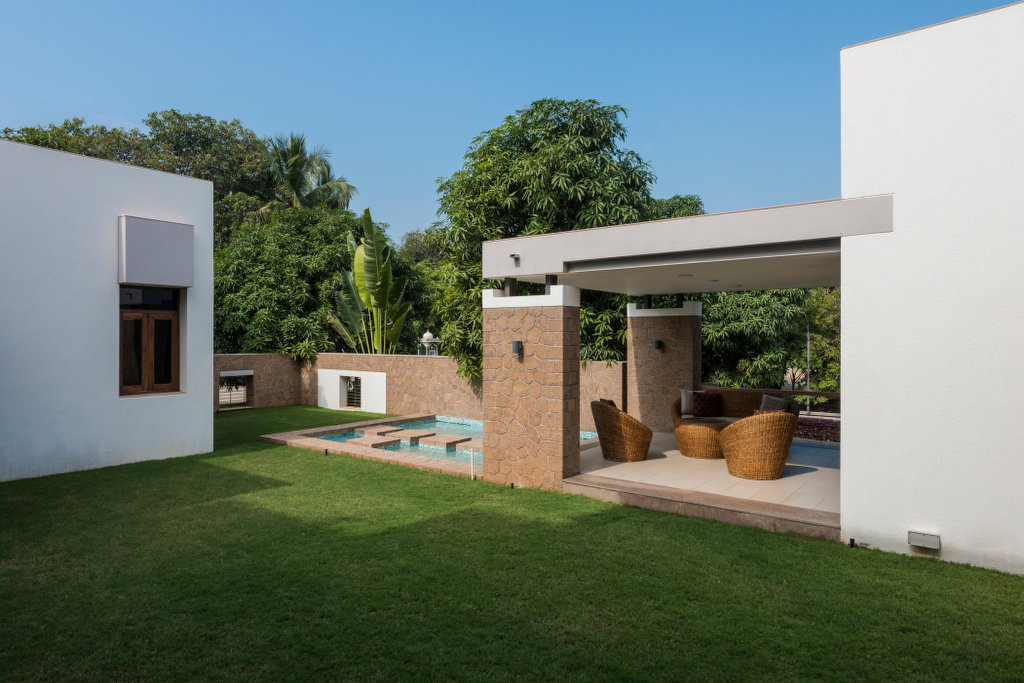 The House manifests itself inside out connecting to the generous expanse around and the spaces within, maintaining individual ambient character of every space, keeping in mind the realities of local climate, responding to the aspirations of the Client and above all belonging to a place.
Designed By: Rajnikant Machhar + Nishant Machhar Architects
Typology: Residence Architecture and Design
Project Name: Chandroday
Location: Bhavnagar
Duration: 2 Years
Size: 7500 sq.ft.
Project Cost Appx: 4500 per sq.ft.
Principal Architects: Rajanikant Machhar, Nishant Machhar
Design Team: Rakesh Khambhaita
Photography Credits: PHX India
Consultants of the Project
Civil: Ashish Dodia
Structural Engineer: Bhavesh Vyas
Products and Materials: Wallcovering/Cladding: Shihor Stone Masonry | Lighting: Philip Lighting, Corvi Lighting, Abba Lighting | Sanitary ware: Jaquar, Hindware | Paint: Dulux Akzonoble
Firm's Facebook Link: Rajnikant Machhar + Nishant Machhar Architects
Firm's Instagram Link: Rajnikant Machhar + Nishant Machhar Architects
For Similar Projects >> A State of Calm and Closure, this Residence redefining Indian Architecture in Kerala