With the sun shining down and people starting to deck their gardens out for summer shindigs, attention turns to choosing the right outdoor furniture. Surprisingly, there is a lot to consider when choosing the correct furniture. You need to decide on the look, the shape, the weight, and the weather resistance – all of which boils down to the material. There are lots of materials that can be used for outdoor furniture but through this article, we will give an overview of each material to help you choose the right one for you.
Criteria for Choosing
When it comes to choosing your outdoor furniture, there are some basic criteria you need to think about:
Is it fit for purpose?
Does it look good?
Is it durable?
Is it weather resistant?
Is it fit for purpose?
If you're actively looking for new furniture, keep the above bullet points in mind whilst reading through this article.
Metal Furniture
If you're after something durable, hardwearing, and long-lasting, then looking no further than a metal frame. You don't need to maintain the table; all you need to do is treat it for rust and keep it covered in adverse weather. There is a magnitude of styles to choose from, and the features are extremely flexible, so there will be something to suit everyone's taste.
Of course, the weight can be a bit of a problem depending on the metal – an aluminium frame would be a fantastic lightweight and sturdy choice. Alternatively, if you don't plan on moving your furniture around, go for steel as it's the strongest. Finally, you could also opt for wrought iron.
Metal will offer you durability and plenty of designs – if you don't want to give much TLC to your furniture then this is a great choice for you.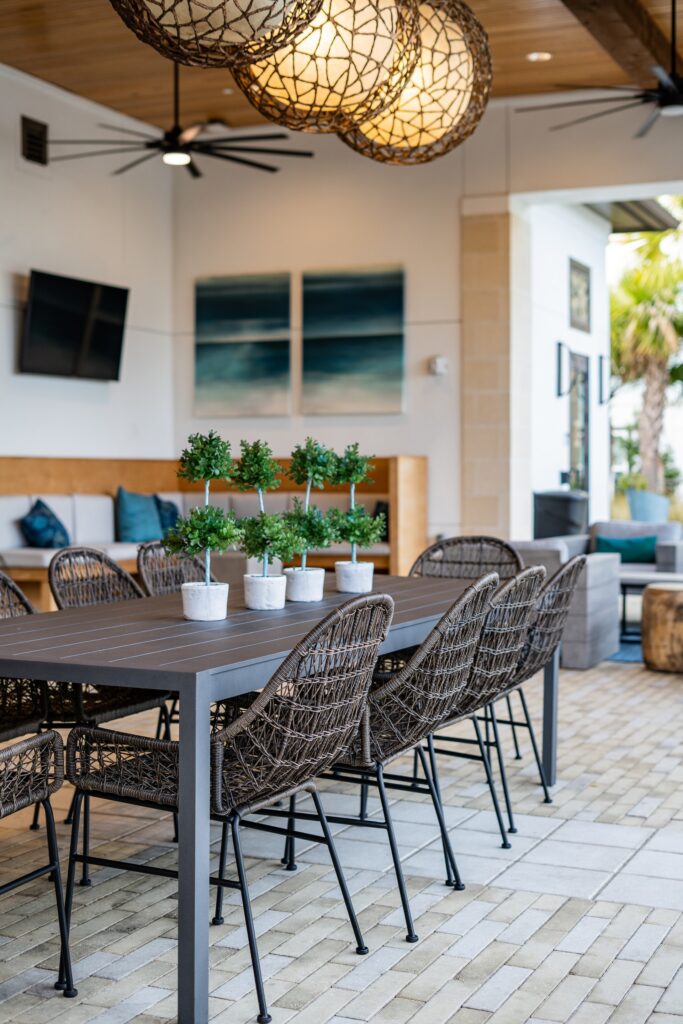 Timber Furniture
The classic garden furniture look of timber is timeless, in the right setting. Timber is durable and will withstand the wind. Further, it won't get scorching hot if left out in the sun all day – unlike some metal options.
Timber is quite weighty and will come in heavier than the aluminium option mentioned before. Also, you will need to treat your timber at least once a year to protect it from the sun and rain – but this shouldn't take more than an hour. 
If you've got your heart set on a timber furniture set, be mindful of the environment and make sure your retailer follows a positive forest management scheme, like the Forest Stewardship Council (FSC). 
PVC Furniture
When thinking about PVC, you most likely think about the cheap and tacky white furniture sets, but PVC has come a long way in terms of style. Advancements in resin and technology mean that PVC furniture doesn't necessarily look plastic.
With plastic furniture, you don't need to worry about rust and it's extremely lightweight. Further, the cost of PVC furniture is lower than other options. However, if you're looking for something that looks visually trendy and is comfortable as well, you'd be better off with one of the alternatives.
Synthetic Rattan
This material could easily be grouped with PVC, but it's extremely popular at the moment. It has all the qualities of plastic, but it is much more durable and aesthetically pleasing. Further, it's lightweight, easy to clean, and requires very little maintenance.
You can find out more here. 
Synthetic Eco Timber
Keeping the environment in mind, this is a relatively new material to the world of outdoor furniture (depending on whereabouts you live). There are a lot of designs available so you should find something to suit your taste. 
Synthetic Eco Timber is essentially a plastic effect timber that is made from recycled bottles and other materials. It is lightweight and doesn't take much maintenance. If you're looking for something that is removed from the norm, then this material is the ideal choice.
That brings us to the end of this overview. Hopefully, by now you are equipped to choose the correct material for your furniture. There is no right answer, the most important thing to remember is that it's all down to personal preference. Start your decision-making process by considering the bullet points above – if you have any issues, you can always consult a designer for a push in the right direction. Summer is almost here, so what are you waiting for, get yourself to your local store and treat yourself to some fancy new outdoor furniture.