Whether they have their own home or renting, many people want to maximize what small space they have. If you have a small home, space is crucial when you want to have a well-organized home. It can also be a challenge to achieve this.
Fortunately, you can start looking at these interior design tips for small homes and use these as a guide to making your home more spacious.
Display the Essentials
When it comes to limited spaces, less is more. You'll be amazed at the numerous elements that you want to include in your space. Although this doesn't mean that you have to strip down your home or apartment to the most basic things, the idea is to limit your décor to what's necessary and what makes you inspired every day.

&nbsp
If a piece of pottery makes you feel happy every time you see it, then keep it. If you love indoor plants but fear the mess of soil, you can learn what is aquaponics and grow plants without the use of soil.
Capitalize on Small Furniture
If you're living in the city, it's no wonder if you have a small space in your home or apartment. Because of the small living trend, many furniture makers are creative enough to design small furniture for such spaces.
You should have plenty of designs to choose from, which you can match your current design theme to ensure that everything will look harmonious instead of looking random.
Use a Neutral Wall Color
You can choose from beige, gray, or white to give you the greatest flexibility when it comes to interior decorating.
With neutral wall colors, you can easily modify your décors quickly without any fuss. You should also paint small adjacent rooms a similar color to provide the illusion of a larger space.
Get a Settee
A bench or a settee is perfect for your small apartment or home as it allows you to entertain with a style without needing a heavy sofa that's going to consume most of your floor space and leave only a tiny room for other things. Settees are also more affordable than a conventional sofa since it's lighter and comes in various pretty designs.
Consider Wall-Mounted Lights
In designing an interior with limited space, every inch is important. You should make careful use of space.
You can do this by using wall-mounted lighting instead of tabletop lighting fixtures. This frees up space on your tables while also adding a little drama.
Use Collapsible Desks or Tables
To maximize your small space, consider getting collapsible wall-mounted desks and tables. You can also get foldable tables that you can easily store and fold after every use.
These furniture pieces are great for additional floor space for games, guests, or for keeping things you don't always use out of sight.
Consider Built-in Seats with Additional Storage
Another simple way to maximize limited living space is by using built-in lining walls that also serve as concealed storage. This idea will take up less space while giving your home more storage options.
Think about how organized it would be if you used this idea instead of having chairs and tables in the middle of your room.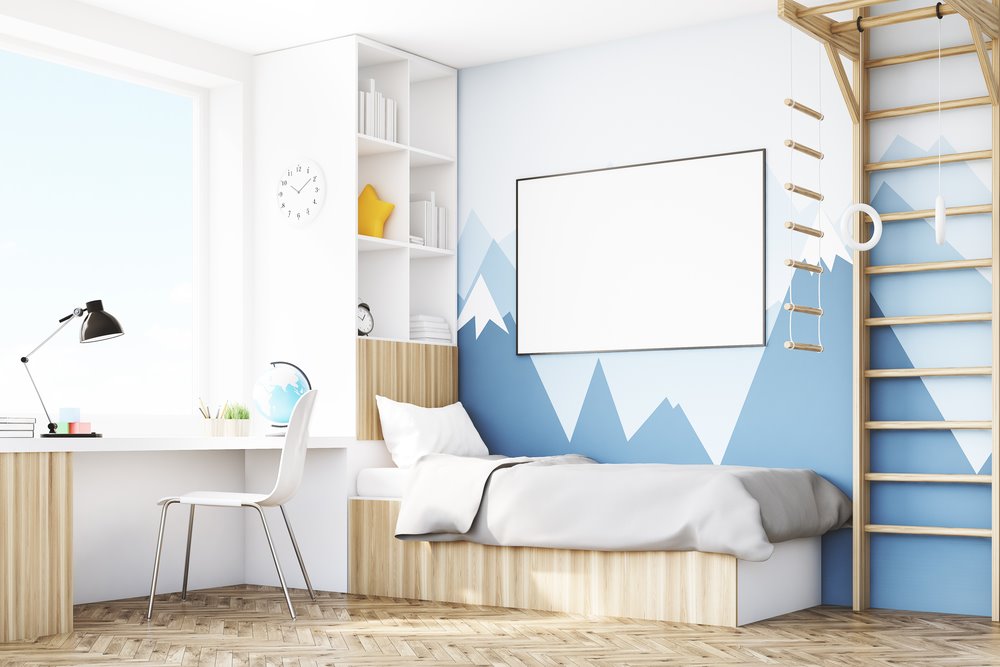 Use Mirrors
Using mirrors is an ancient and effective trick to giving your home the illusion of more space. Mirrors trick our eyes into thinking that space is actually bigger than it looks like by reflecting light.
Place a mirror next to a window to reflect light from outside and make it appear like you have another window in the room. The more windows inside the room, the bigger the room appears. You can easily find an inexpensive mirror that can easily blend with your design theme.
Good Lighting
Great lighting can make a small space look bright and large. Dark places in a room cut itself from the room and shrink the available area.
Ensure that your rooms are well illuminated. Consider having hidden lighting fixtures on the top and under the cabinets to eliminate dark areas.
Hang Your Drapes High
Choose functional and elegant curtains for your rooms. If the room is expected to get abundant sunlight, choose light colors in curtains that won't easily fade. Hang the curtains high to trick the eyes into thinking that you have high ceilings and therefore greater space.
Choose linen, silk blends, and cotton fabrics since these drapes beautifully.
Go for Pocket Doors
Pocket doors are perfect for small spaces because you can easily slide them into your wall when they're not in use. They also enable light inside your space while providing separation when needed.
Hang Plants
Having plants inside your home adds life and lush greens, which can be relaxing to tired eyes. But, plants usually take up space. To solve this, try hanging your plants from the ceilingor use DIY aquaponics system for planting on a small fish tank.
Consider Using a Wall Desk
Setting up a home office space in your small apartment or home can be a challenge. With a little creativity, you can do this using a wall-mounted desk. This way, you have space for your laptop and other things without taking up precious floor space.
You can even opt for additional shelves above your workspace for more storage space.
Choose Multi-Functional Furniture
Consider investing in furniture pieces that can be used for more than its primary purpose. Multifunctional furniture, such as a sofa that can be transformed into a bed or nesting tables that can serve as a coffee table.
Go Vertical
Utilize the space from the ceiling and furniture tops by adding hanging or high-mounted elements. Add cabinets or bookcases all the way to the ceiling to make the room look taller.
Take Advantage of All Available Space
Use spaces under the bed or table. You can even use a windowsill to provide additional storage for lighting, décor, and other things when you're short of space for another table.
Final Thoughts
Small homes or apartments doesn't have to sacrifice style; you can still have a beautifully decorated and fully maximized small space.
Although living less could give you more space, there are also many ways that you can augment the limited space you own.

&nbsp