A medley of unprecedented craftsmanship and meticulous attention to detail, this ritzy abode has carved a niche in luxury interiors. To begin with, this apartment is perched on a higher floor and has an undisputed view of green hills of Powai. Emboldened by the client's exuberant personality, a collaborative choice was made to create this house a style cracker! First of all, we began with laying a foundation of rich textures and jewel tones together. This luscious palette was taken even further into transporting realms with walls covered in classical mouldings.
This Ritzy Abode Has Carved A Niche In Luxury Interiors | deSigneR
VISIT: deSigneR
The Living room embodies a remarkable balance between neutral hues and bold colours and patterns. The elegance of ivory and beige is met with the bold sophistication of sensual reds tones in the furniture the coming together of which yields a pioneering colour palette that is hard for interior enthusiasts to resist.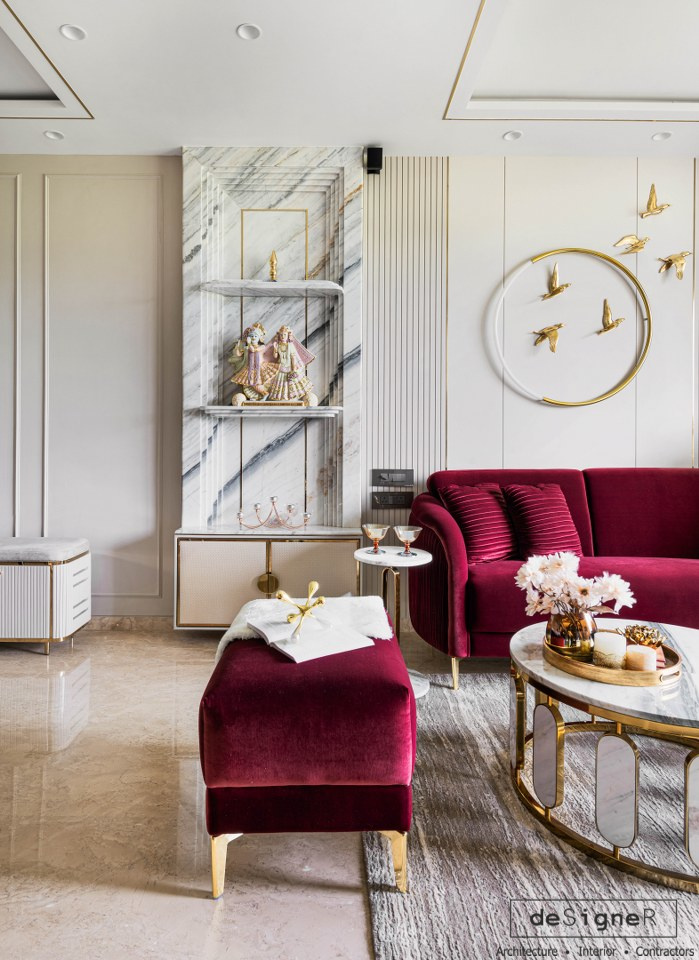 While the carefully selected materials, colours and designs lend undeniable opulence to the living room, thearabesques marble shines the brightest with its luminous appeal and timeless charm.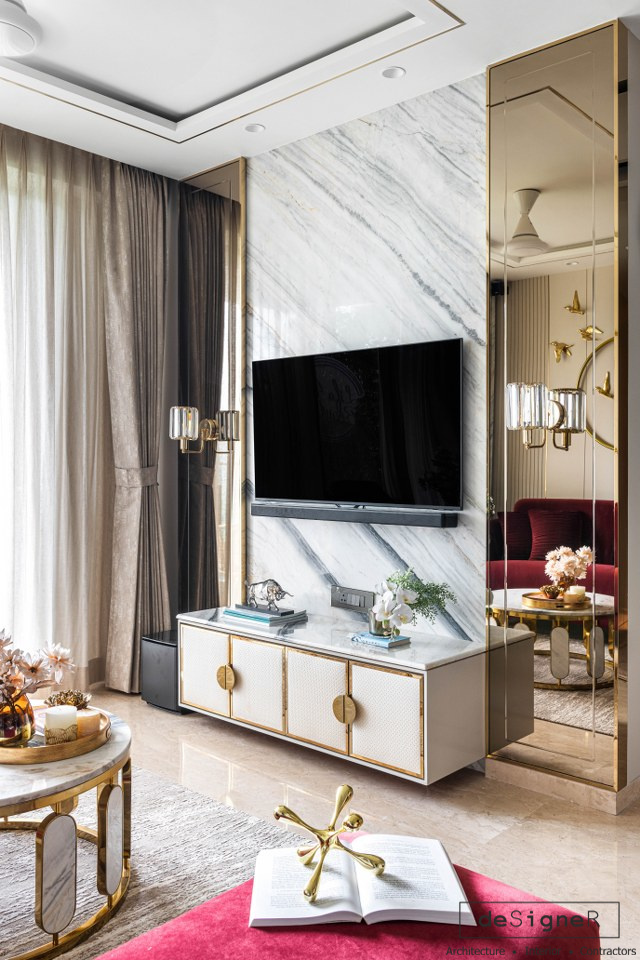 This state-of-the-art marble cladded on the mandir and TV back wall boasts a delicate mix of light greys which are naturally blended. The Sultana center tables by pont des arts exhibiting the arabesques marble finish promise to spruce up your living room further.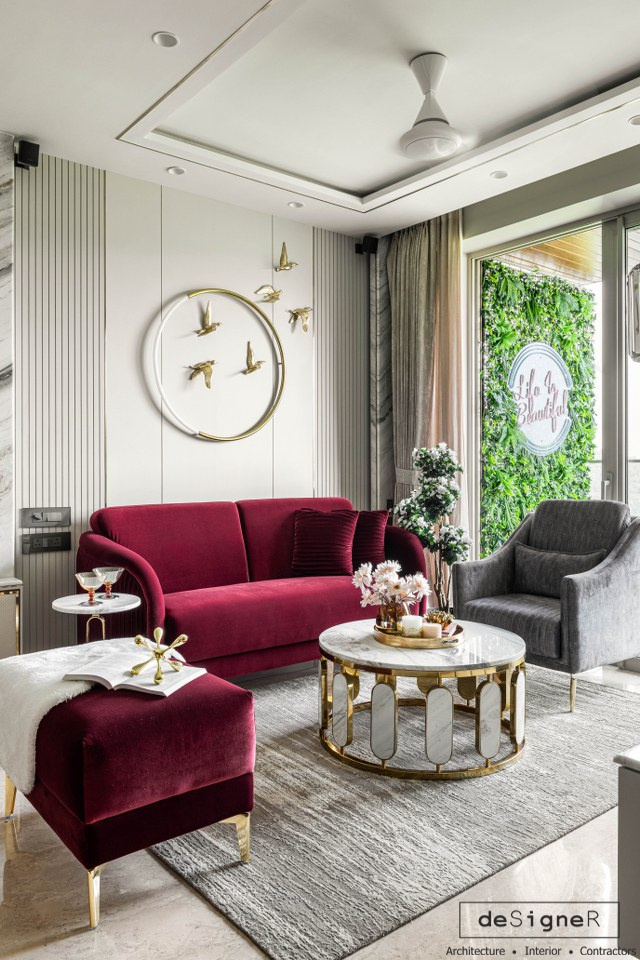 The dining area with its bold appeal promises to be the showstopper of the living room. The dining area is adorned with an extravagant round mirror which reflects 'lady in red' artwork. The Gordon dining table by mezzo collection commands immediate attention.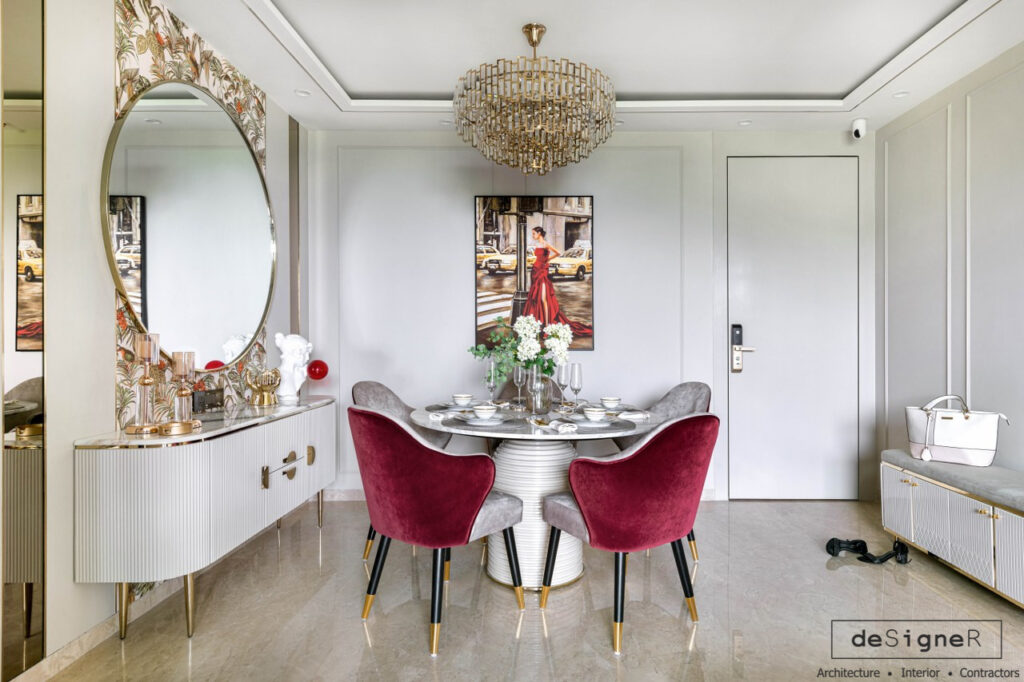 Gates to heaven chandelier by white teak company shimmers to its full glory and illuminate the dining area. Finishing touches in the form of gold bandsin tempered tones truly seal the deal for living room aesthetics.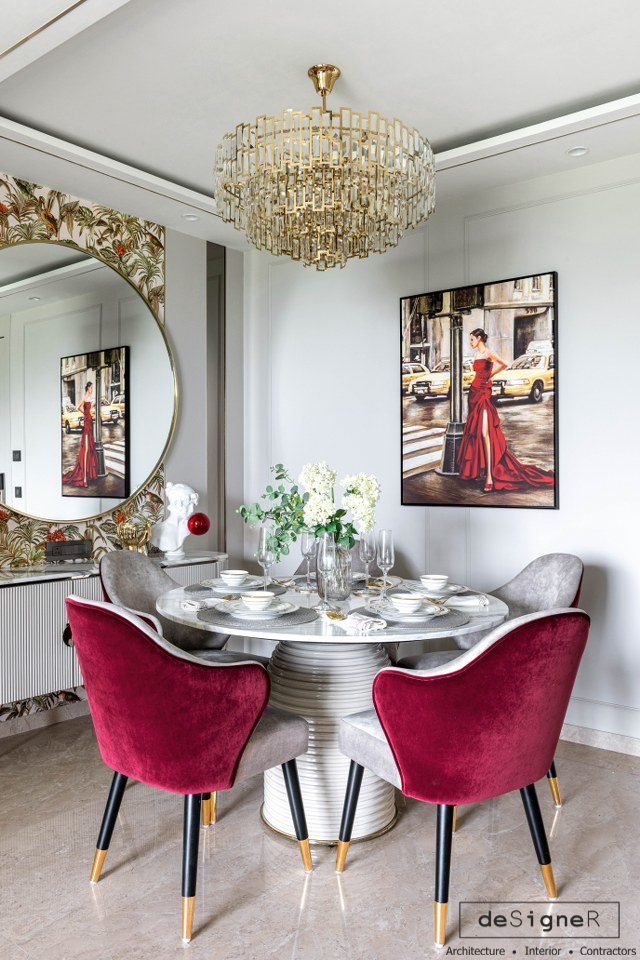 Instead of choosing a muted palette, both the homeowners and studio deSigneR agreed on creating reflective surfaces as the prime focus of the Master bedroom. A chesterfield curved headboard paired with two stunning side tables adorn the master bedroom, which is accessorized with luxurious elements like a swanky photo frame, sleek table clock and beautiful flower vase.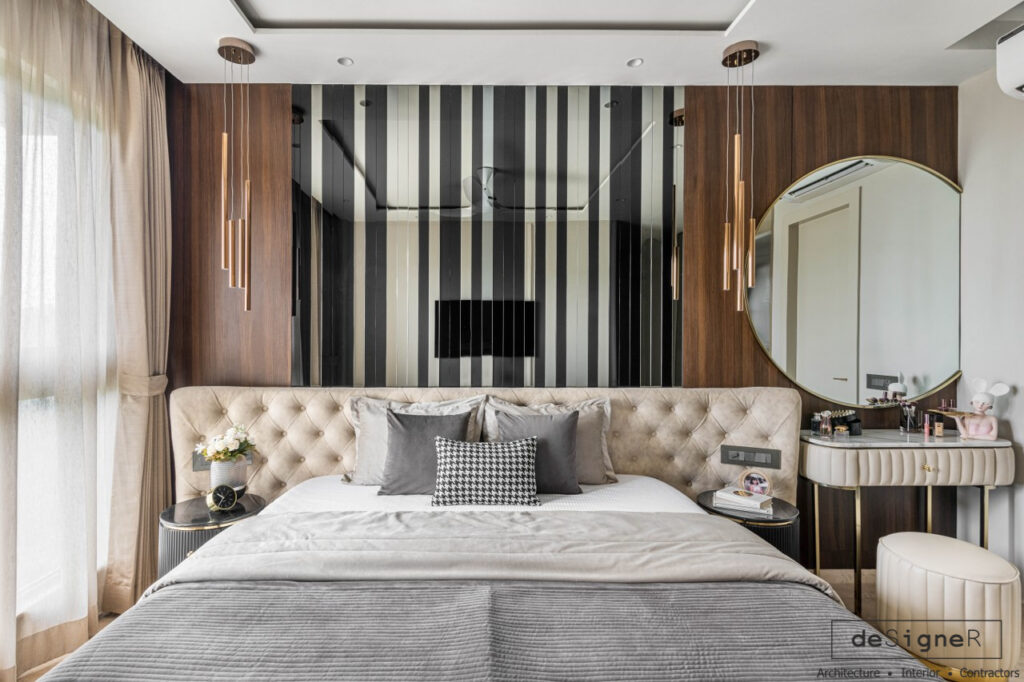 Most aesthetically pleasing aspect of this transitional design style is the mix of masculine and feminine elements – A series of black and grey tinted mirrors that are delicate and sophisticated in nature and wood veneers that are prominent, bold and warm.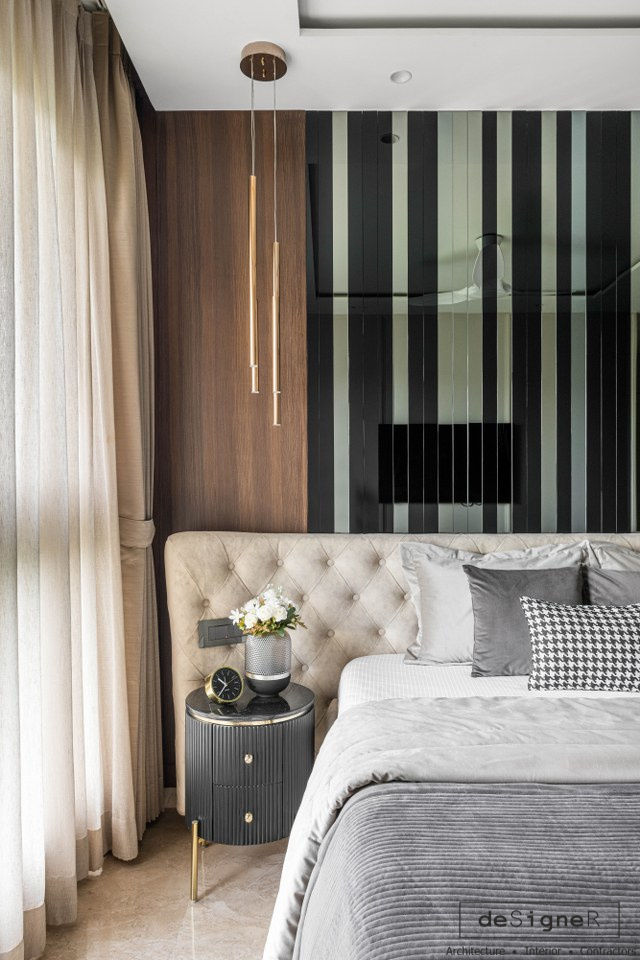 Almost a semi-circular mirror that protrudes from corner of the wall forms the dresser with leather cladded plush and soft dressing table and pouf. Ribbed glass shutters of the wardrobe with minimalistic gold profile looks chic and elegant.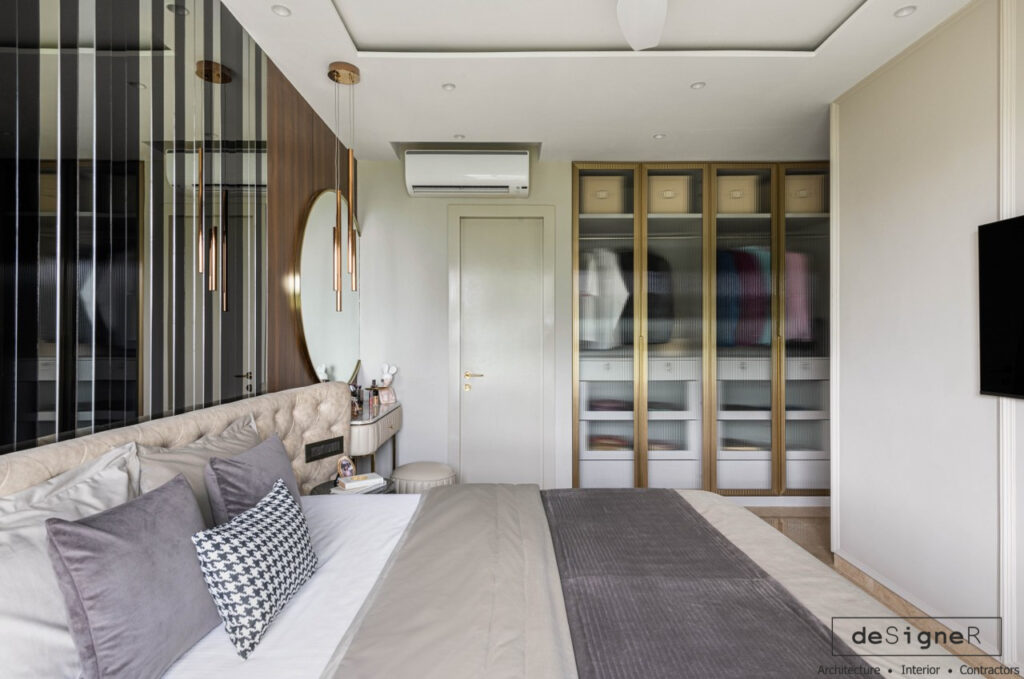 The Parents' bedroom borrows unparalleled splendour from the bed, with a large, imaginative headboard crafted using the stitching technique—combination of parallel and criss crossed patterns. Additionally, the refined decorations of dazzling mirrors and crystal lights flank both sides of the headboard.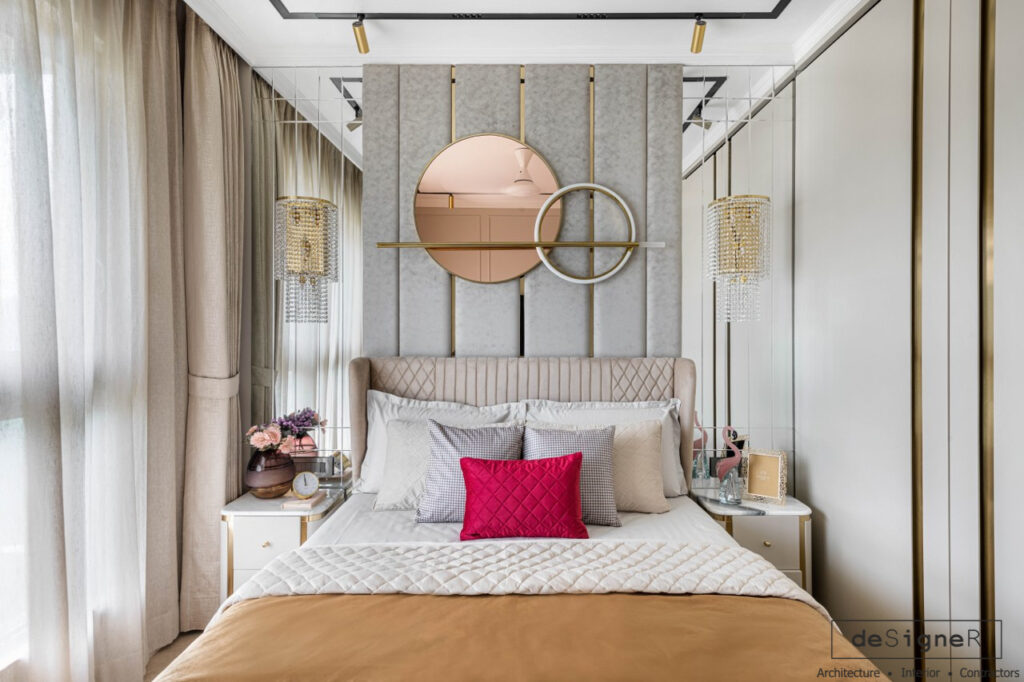 The bed setup is inviting and Lucious. The right illumination adds depth and a luxurious sense of comfort to this room. Multiple layered lighting – starting from track lights on the ceiling to decorative lights mid-way significantly affects the overall atmosphere.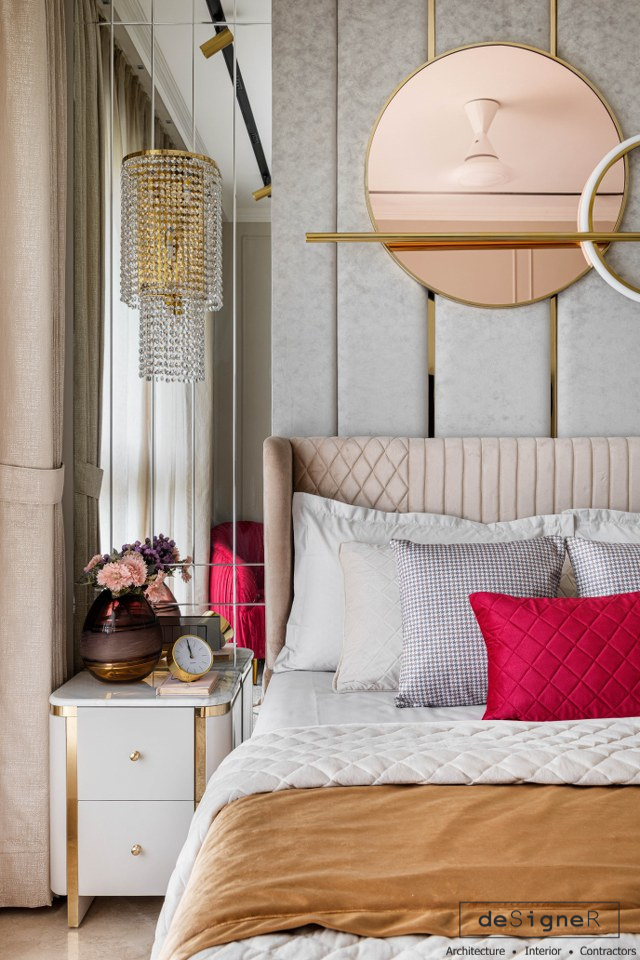 Accentuated decorative light in the centre of the headboard has its own moment in the spotlight. The inline sliding wardrobe is smooth on operating and flushes perfectly for a seamless experience.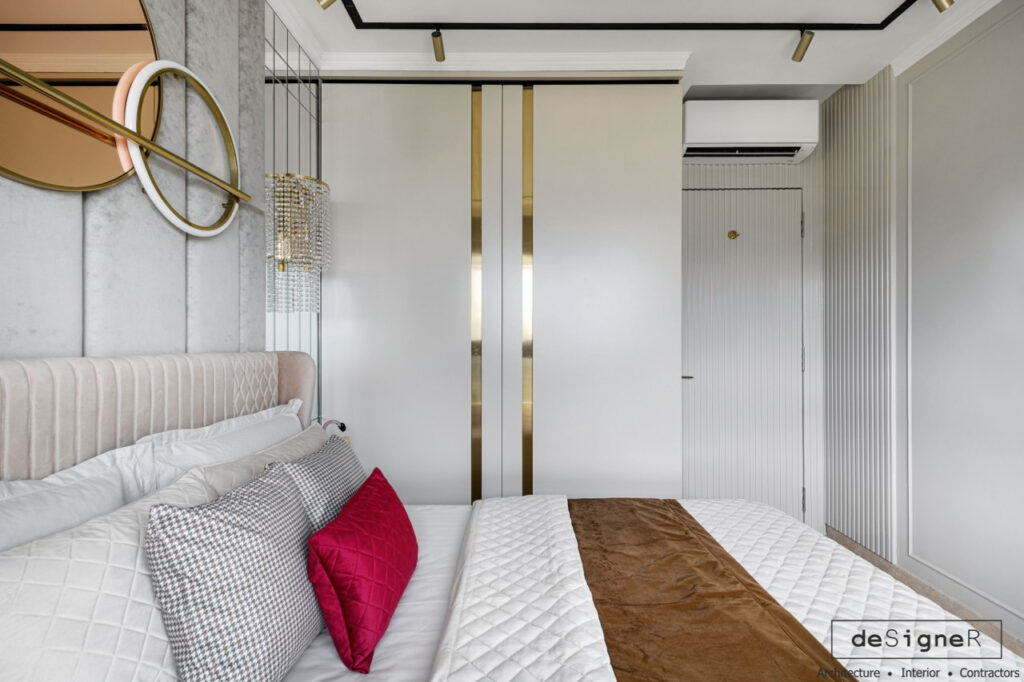 Home offices have grown in popularity with the fast growth of home personal computers and home working. Nowadays, home offices have different sizes, layouts, features, colour schemes, budgets, and purposes.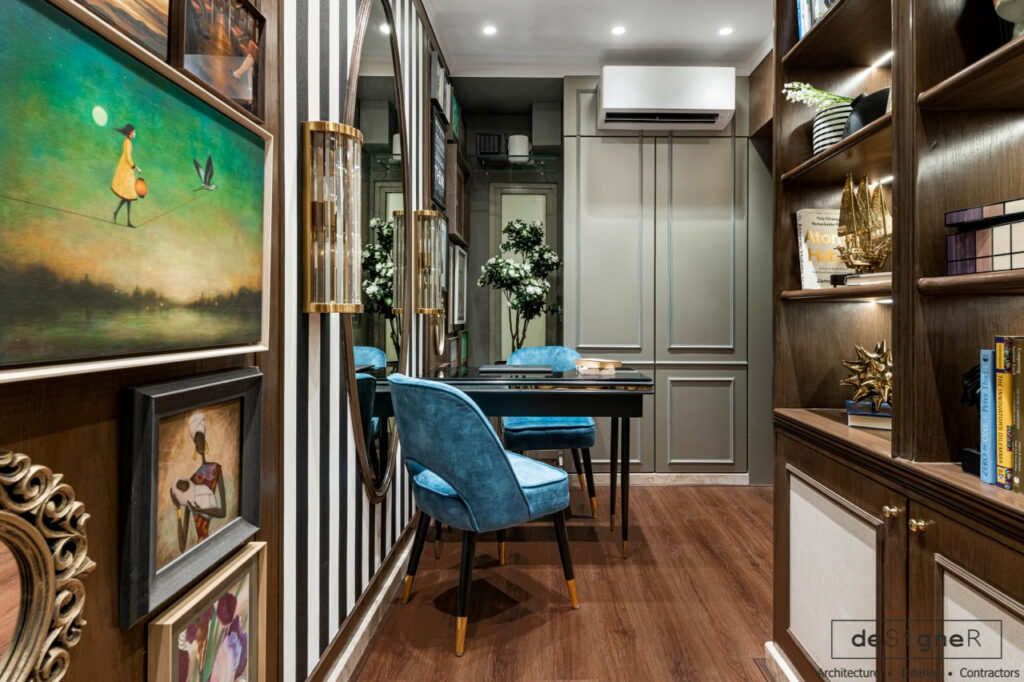 While in today's modern world, most computer-centric, some are still used as a library or a place to meet with clients. Creating a home office or den is as simple as converting a bedroom or section of the duct area into such a space. This retro themed home office went wild with artworks, décor pieces,texture, and more. The veneer cladded wall with classical mouldings asserts a timeless lookwhile the blue velvet chairs and black glass table feel decidedly modern.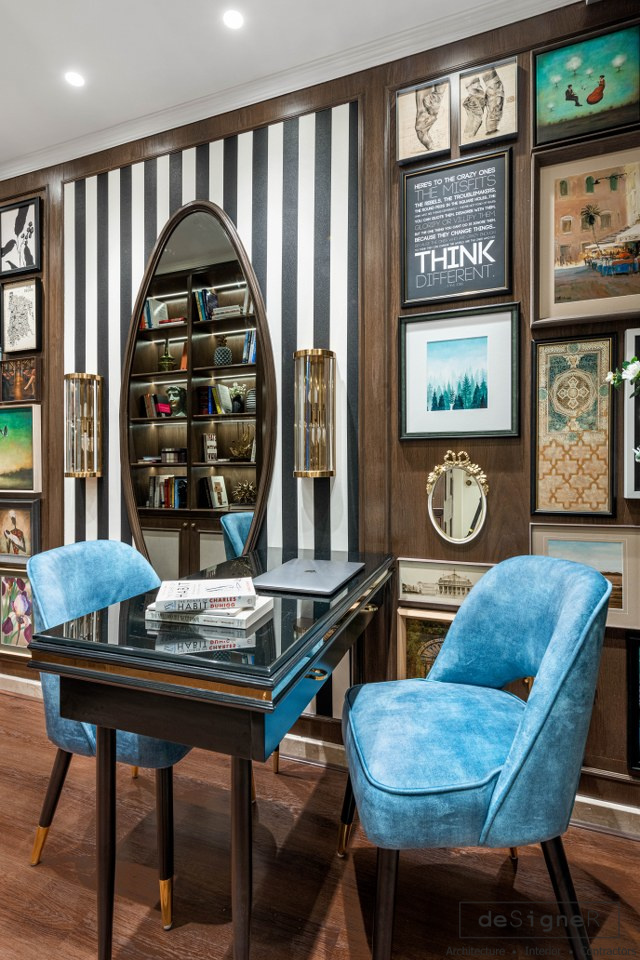 One side of the wall is adorned with homeowner's favourite quotes, portraits and artworks which the parallel wall is cluttered with his most beloved possession – books. Adequate storage and shelf space has been provided to this book infested haven.
The black and white wallpaper marks the symbol of old-school element. The grey mirror creates a mirage of portal which takes you back in time. A laid-back chair is tucked in a corner where one can sit, relax and read a good book.
FACT FILE
Designed by : deSigneR
Project Type : Residential
Project Name : The Style Cracker
Location : Castle Rock, Powai, Mumbai.
Year Built : 2022
Duration of project : 9 months
Project Size: sq feet : 750 sq. ft.
Project Cost Appx : 1.2 crore
Principal Architect(s) : Ar. Smit Bhagat & Rajvi Mehta
Team Design Credits : Studio deSigneR
Photograph Courtesy : PHX India
Products/Materials/Vendors : Wallcovering / Cladding – Marshalls wall coverings / Lighting – Ace Lighting and Artimis,Andheri / Doors and Partitions – Saint Gobain / Sanitaryware – Kohler / Windows – Fennesta / Furniture – Pont de arts, mezzo collection / Flooring – Classic Marble Company / Rugs – Jaipur rugs / Paint – Asian paints through a local painter / Artefacts – Golden Triangle,Address Home,Oma,Project Blue, / Hardware – Yale and Godrej
Firm's Website Link : deSigneR
Firm's Instagram Link : deSigneR
Firm's Facebook Link : deSigneR
For Similar Projects >>>CONTEMPORARY INDIAN HOUSE IN INDORE | AARAMBH DESIGN STUDIO