&nbsp
If you are lucky enough, your home includes a garden, a balcony or a terrace. According to interior designer Annette Frommer, "this space can act as an oasis that provides you with fresh air, maybe a stunning view, some calm and a sense of well-being. A terrace is a small space, but nevertheless it is definitely a large treasure!".
For your terrace to be just what you envision it to be, you need to think out all the details before getting to work on it: what plants, furniture, floors, lights, etc. you are going for. And since the terrace is part of the home, it is important to match the terrace level to its adjacent space, be it the living room, kitchen, or bedroom. Both materials and function need to be considered.
North, South, East, or West
This is the first thing Annette Frommer assesses – the direction of the terrace. Is it sunny most of the time, or is there mostly shade? Is it windy? In order to enjoy your terrace most of the year, these elements need to be taken into account when planting the greenery, arranging irrigation, setting up the barbeque area, and arranging seating.
An open terrace with an urban view. Cheery, bright, and colorful throw pillows dress the light comfy grey sofa, alongside a large eating table. Furniture is of aluminum.
The Green and Colorful Outdoors
Designing the garden part of your terrace is the most fun. It is here that you can make nature the definite focus. You can create a small tropical forest, or a stunning flower retreat. Carefully arrange the colors, scents, and sizes, and take good care of them. Nurture them with love, which they will repay with their romantic fragrances and healthy beauty.
Sitting Arrangement
Are you looking for a casual look with furniture made of ratan or natural wood, or a more sophisticated look with furniture made of wrought iron or aluminum? Sun loungers, benches, hammocks, patio daybeds, one-tones, there are so many fantastic options out there to choose from.
Different materials have different advantages and disadvantages that must be considered. These factors can be just as crucial as the size of the available space and the size of the furniture in comparison. There must be balance and harmony.  The arrangement of the furniture, the placing of the barbecue, the grill, the pool, and all the rest affects the look, the feel, and the function of your terrace.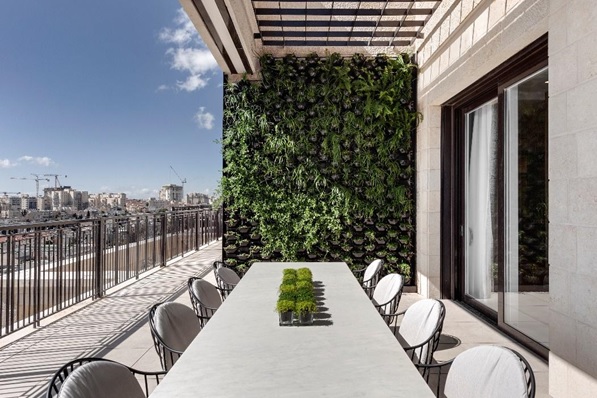 The furniture exudes elegance. Wrought iron with removable and washable cushions.
The green wall is there for a minimalistic, sophisticated, and clean look.
Tread steadily upon this floor
Frommer believes that floors in a terrace should be both beautiful and functional. It is important to use weatherproof floors that are non-slip – such as stone, porcelain, or treated wood. The styles are endless: modern, country, or more contemporary. What is most important however is that the flooring be safe and that it provides the style and ambience that you are looking for.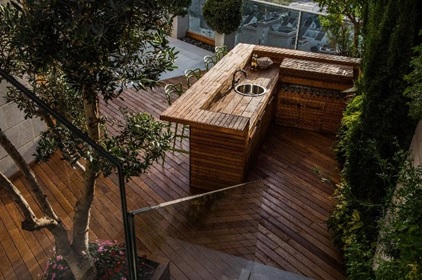 A terrace decked out in wooden, non-slippery parquet, which goes along beautifully with the greenery, and a fun bar to enjoy drinks in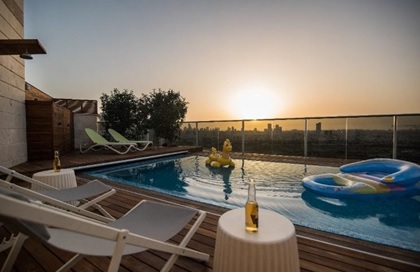 An inviting pool for those hot summer days, with functional plastic white side tables, and sunning lounge chairs for getting that perfect tan.
Light the way
To fully enjoy your flowered haven both during the day and in the evenings, a good lighting system is a must. The lighting should never be overwhelmingly strong. On the contrary, it should be low-intensity, thus creating a calming and intimate setting for outdoor enjoyment. Nowadays, LED lighting is popular. When integrated within the structure it offers an elegant effect. Another option is to use lanterns; these provide an Asian allure. The options are endless.
Annette Frommer concludes "designing a terrace offers you the ability to choose from a variety of trends. You can create the perfect setting for unforgettable moments with family and friends. What could be better than that?"