Office transformations are arguably much more intimidating than a home renovation. Although you don't live in the office (even though some of you might feel like you do), you do spend majority of your time there. An office space is also typically fairly large and the project is costly. You'll want this particular redesign to be something that you can cope with for the next ten years.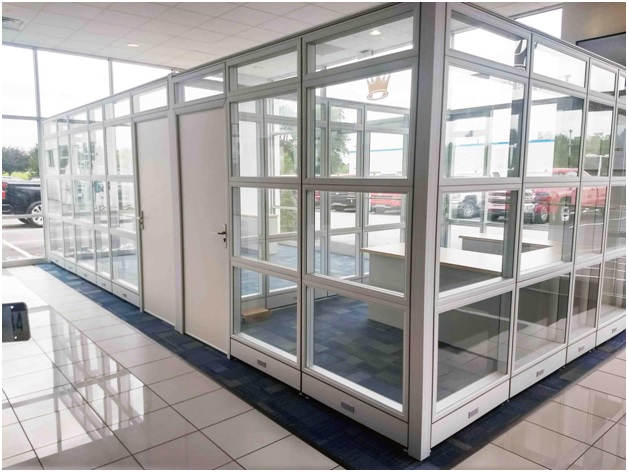 However, with proper planning, some of the weight can be lifted off your shoulders. I understand that there are what seems to be an infinite number of elements to consider when planning for this type of project. After all, this is more than just slapping a few additional cubicle systems into excess space. We're talking about a complete renovation. Everything from flooring to paint colors to reception furniture to cubicles and workstations, and you've got to start somewhere.
PLANNING

&nbsp
This process is probably much easier said than done. You'll meet with a number of contractors, architects, interior designers, manufacturers and distributors, installers, etc. I recommend organizing this into a spreadsheet and listing likes and dislikes (including price, quality, customizability, products, etc.) to help keep everything categorized and easy to follow and remember. You'll have to decide what image you've created for your space or hope to achieve for your workspace.
Workspace
First, we'll decide what type of workspace you desire. Your options include:
Open – The space would be composed mostly of tables, desking systems, or low-paneled teaming cubicles. Your goal is to promote teamwork and collaboration between your employees.
Private – This layout would include office cubicles and private offices and offer plenty of privacy for each employee. In this case, your employees typically work individually and their work requires concentration and focus. You also prefer an environment that reduces noise levels and improves efficiency.
Flexible – A flexible workspace incorporates both private workstations and open, teaming areas. You have a large space to fill and a variety of employees filling diverse job positions and roles. Some work independently, while others work in teams or small groups. Employees are free to choose their workstation each day.

Of course, choosing one of the above office layouts depends on much more than what you think might look best or what you prefer. You'll also have to consider:
Employees (number of employees and what their preferences are in work environments)
Size of your office space
Budget
Corporate culture
Design theme
Choosing the most efficient office layout is the most difficult step of the process and will determine a few design decisions later on.
Design
The overall office design begins with choosing a theme to center your design around. Do you want to demonstrate a modern and professional appearance? Maybe you'd like to take this opportunity to express your brand and corporate culture. Or, perhaps you'd like to create a minimalist office environment with a sleek, clean look. There is no right or wrong or best or worst design theme. So, be creative.
Next, you'll want to select the best flooring for your space. Which requires plenty of considerations alone. Choose colors for your walls, cubicle panels, and decorative elements. Lastly, add decor to brighten up your space and give the office a homey, welcoming feel. Create a comfortable environment for your employees, customers, clients, and guests.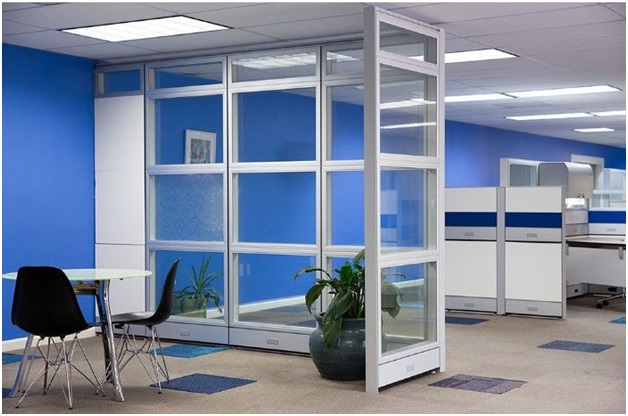 Budget
Of course, your budget is the basis of every design and layout decision you make. If you have a lower budget, you may have to go with a more open workspace or use pre-existing walls to replace a few cubicle panels. You may also have to limit the number of amenities or upgrades you include in your redesign.
A larger budget offers room for a more flexible layout. The more money allocated, the larger variety of workspaces you're able to provide. You may have the option to include amenities such as a coffee lounge, a gym, game room, etc. Of course, this is everyone's dream office space, however, it's not always possible. Make use of what your space already provides.
If you expect growth for your company or another renovation or relocation in the future, it would be in your best interest to incorporate modular office systems into your space. For example, a demountable wall system which can be unmounted and reinstalled as many times and in as many configurations as necessary. This customizable, versatile, and mobile wall system is the perfect solution for businesses expecting change in their future.

The perfect office environment has the potential to attract new employees, retain employees, and increase employee morale and well-being. A lot goes into an office transformation project, but what you get in return is well worth the extensive process and planning. The more and better you plan for the renovations, the smoother this transformation will go; which is all we can really ask for. Put in the necessary work and research when making every design decision to ensure that your new office design is one that everyone will appreciate and enjoy working in.