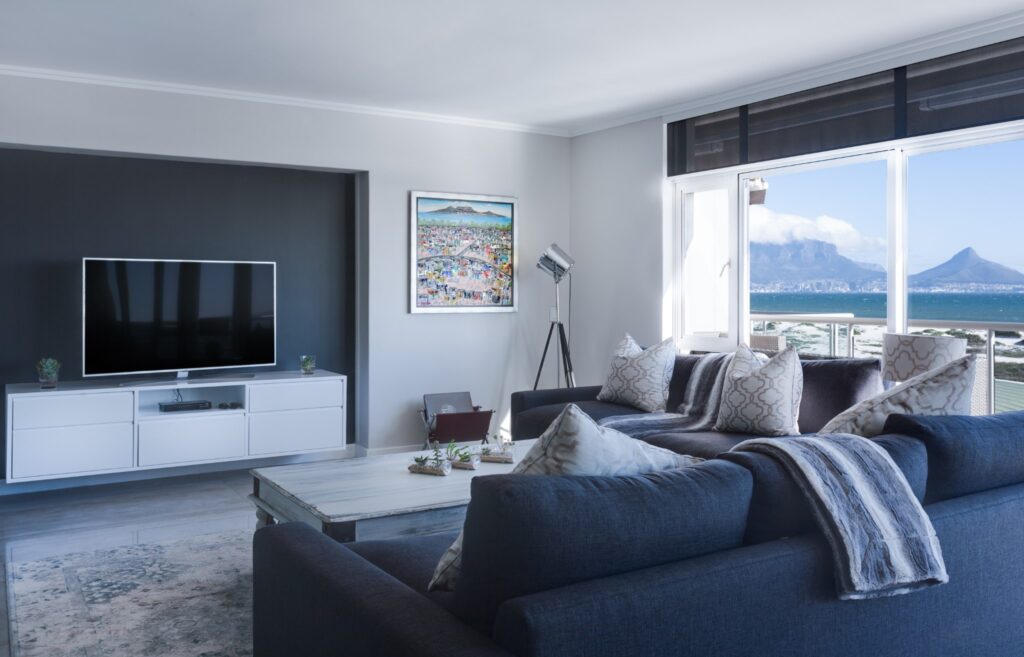 The living room is more than just another space in the house. It is where you will welcome people in and entertain them. It is also the space where you engage in family activities and converse with each other. The living room is a very important space which is why many homeowners keep in mind to decorate the place to make it feel nice and inviting. Here are some things you will need in your living room to make it a cosy and warm space that is perfect to unwind and relax in.
Proper lighting
A good living area would not be complete without proper lighting. Having a well-lit area is important because it helps to bring the room together and create an inviting feel to the room. Natural lighting is the best so if you have large windows, use them to your advantage and allow some natural daylight into the living space. Sheer curtains are great if you want the light but still want to keep your privacy.
You will also need to consider the light fixtures for your living room because you will not get natural light all day long. Downlights are a great option if you want brightness throughout the entire room and you can even change the bulb from white to yellow if you want a warmer glow. Try arranging additional lighting like floor lamps and table lamps around the living room to create a sense of balance. Dimmable lamps are great for when you want to adjust the brightness to achieve extra cosiness.
Comfortable seating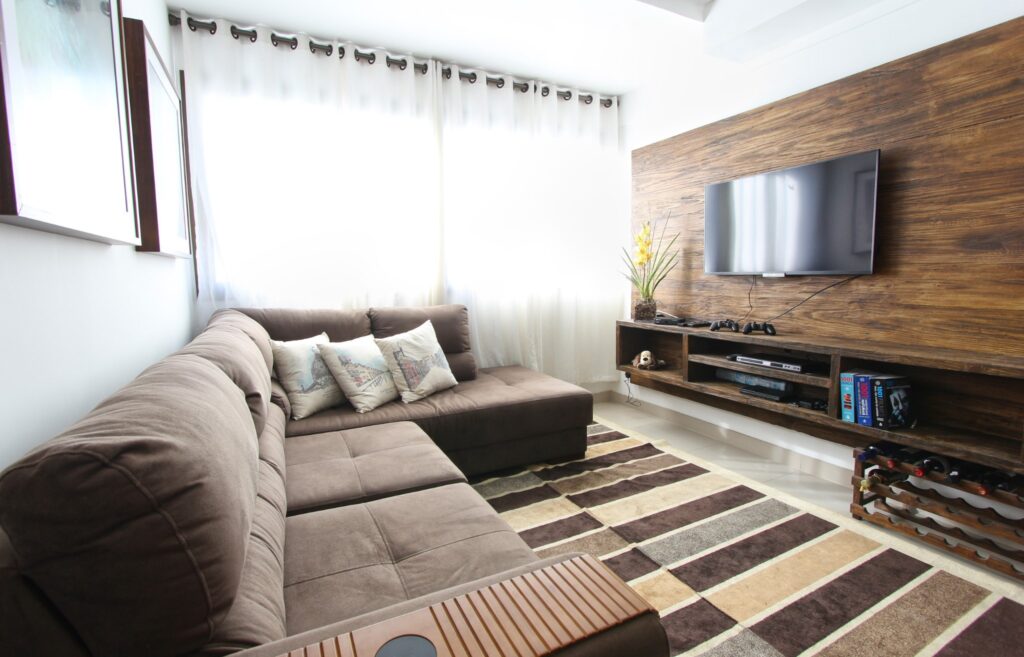 When you think of the living room, you think of entertaining, conversing, and spending time with loved ones. That is why comfortable seating is very important because you want to invite people in and have them stay. Awkward chairs and stiff sofas are not pleasant, and it will not make you want to sit down and enjoy the company.
The seating that you get and the arrangement of them in your living room will depend on the size and layout of your space. If you have a larger living room, get a larger piece of seating like a long sofa or multiple seating areas. Smaller spaces will only allow for a smaller couch but always remember to additional seats for extra guests. Arranging the seats can be tricky but a good tip is to have the seats close together to create a more intimate feel.
Rugs and textiles
Rugs and textiles may sound like extra decorations, but you will be surprised at how much of a difference they can make to your living room. A living room without rugs or curtains can feel cold and bare so if you want to add some warmth and comfort to your living space, try adding a rug and some textiles. It can also create a mood that just makes you want to sit down and relax.
Rugs are simple to add to a living room because all you need is to find one that fits the size of the room and the colour palette. Curtains might be a little harder because the wrong curtain can change the entire feel of the room. The best way is to go basic and get the curtain in one colour tone. Other textiles like pillows and throws are also great to add extra cosiness to the living room and are an absolute must for when you want to lounge around in front of the television.
Ceiling fans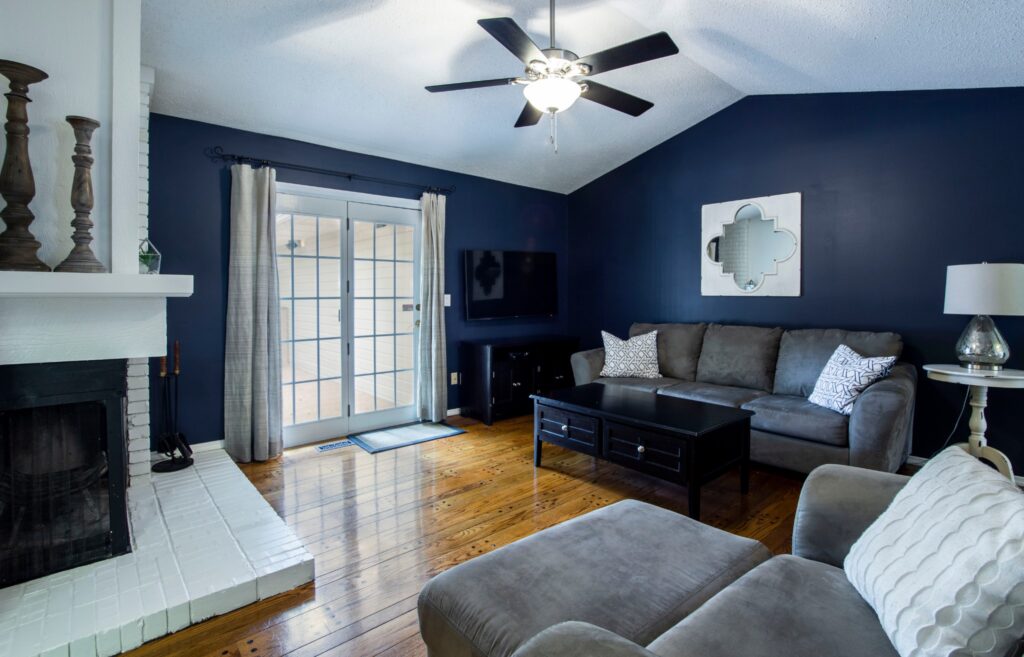 There is nothing worse than a stuffy living room so having proper air circulation is very important. You can just open the windows and let in the natural breeze but that may not be enough, especially if you live in a hot and humid area like Vietnam. That is why you should install ceiling fans in your living room.
Ceiling fans help to circulate air to keep the room cool and are also a more cost-efficient substitute for an air conditioning unit. If you do not already have a ceiling fan in your living room, it is recommended that you have one installed. In Vietnam, for example, every household is expected to have good ceiling fan to keep cool in the tropical weather, and it naturally becomes an essential appliance in the common area. So, if you are wondering which fans brands are the popular choice, in Vietnam or around the world, Mitsubishi fans, Crompton fans are good choices. You can also get the models that are combined with lights, so you do not have to get separate lighting.
Decorations – Pictures, plants and fragrances
Once you have all the larger pieces of furniture, it is time to think of the small details. Adding something personal to the living space is great when you want to create a cosy living space because it helps to add a sense of intimacy to the room that is unique to you and your loved ones. Pictures of your family and friends is one way to add a personal touch to the living room.
Another way to decorate a living space to make it cosier is to add plants. Some may think that it is too messy, but you can just add a small pot if you are not into the whole big plant look. A little bit of green in the house is also good for the mind and body because it is supposedly a calming colour that can heal fatigue in our eyes. You can also try home fragrances like candles to add more warmth and a nice, soothing aroma to the room.