Kitchens are quite an expensive project, regardless of its size. Whether you're thinking of doing a complete renovation or simply replacing a few features within the space, it can take a lot of preparation, effort and money in order to get it right.
If you're in the process of redesigning your kitchen or you've been thinking about updating the space for some time now, it's worth considering kitchen design software. Kitchen design software can be great to help with the process of creating a vision that you might have for the end result or to provide a more collaborative process with those involved.
Here are some of the very best in kitchen design software that are worth using when it comes to your next renovation project.

&nbsp
Foyr Neo
When it comes to the cream of the crop, Foyr Neo is one of the best kitchen design software out there. Thanks to the wonders of technology, you can use a software program like this that can provide end results where it looks like an actual photograph.
It's a great one for those who are beginners to design software and therefore need something simple that's easy to navigate and understand. Foyr has over 60,000 pre-modeled products that you can choose from when designing. This can be super helpful when you're stuck for inspiration and don't have the capability to design anything from scratch.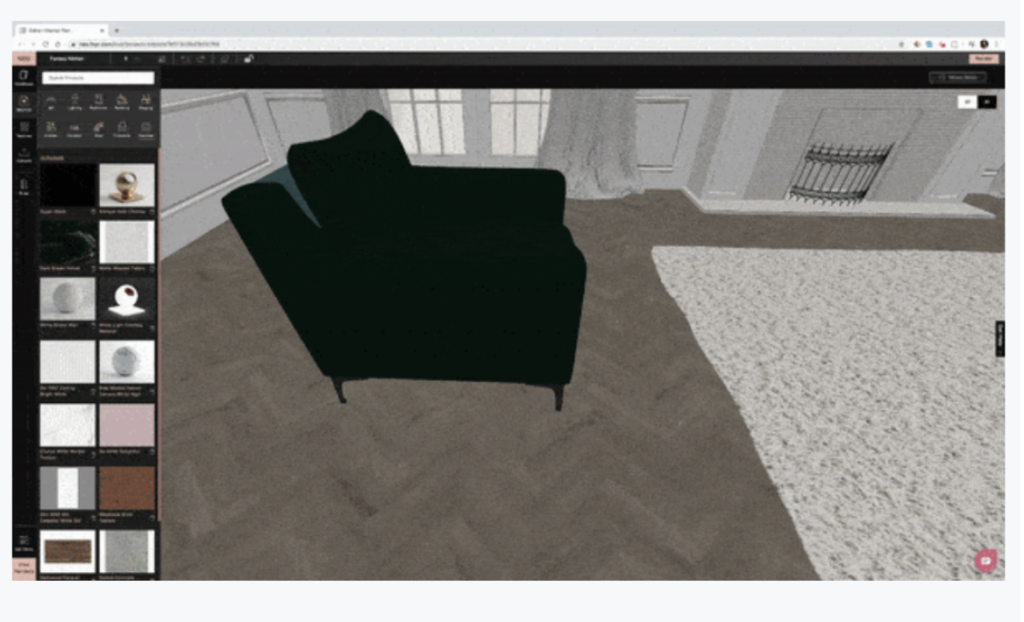 There are some fantastic benefits that come from using this software, so here are some to consider when choosing one.
Lots of pre-made templates
Just like the products available, there's plenty of ready-to-use kitchen design templates. This can be useful especially if you find one that's similar to your current layout. Alternatively, if you're starting a renovation that's ripping out the existing layout and starting from scratch, this can be a great feature also.
Easy to use
Design software can often be complex but with Foyr, it's basic enough that those with zero experience in designing can still benefit and use it properly. The drag and drop functionality is one of the most popular features.
Design in 3D
Being able to see the design in a 3D format can be very handy and whether it's a personal project or to deliver to your clients, the 4K renders and 3D walkthroughs that are available can make it impressive.
Homestyler
Homestyler is a free software that has garnered a lot of publicity when it comes to computer-aided design and 3D modeling services. It's one of the best in the industry to date and has simplified the efforts of home design for both businesses and individuals looking to renovate and transform spaces.
The software has its own dedicated section to the kitchen, with plenty of interior design features to choose from. Here are some of the great benefits to using Homestyler.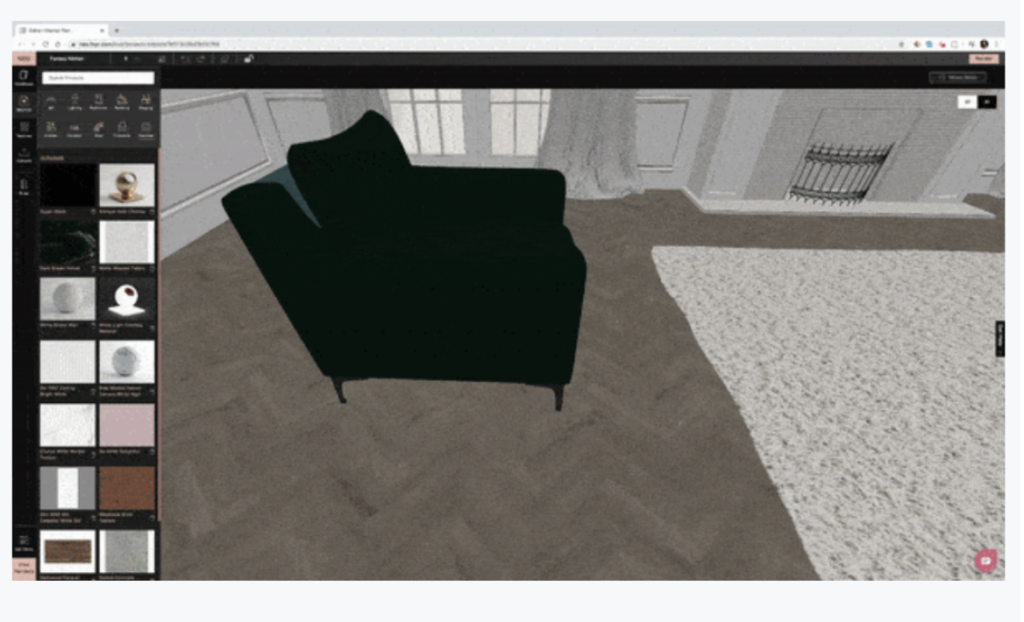 Great for collaborative design projects
In some scenarios, whether it's a project that involves other members of your family or friends to internal staff within your company, Homestyler is good for collaboration. You can share any of the designs you create with others in order to get feedback and input, which can be helpful.
Features lots of products from popular furniture stores
As well as being great for realistic visuals of the end project, there's plenty of products available to incorporate into the design. These products are from popular furniture stores such as IKEA and Target. This is helpful, especially if you're sourcing the furniture from companies like those that are featured in the software. From countertops to fridges and other white goods, this software has it all available.
Mobile version for remote use
A lot of businesses who provide design services to its clients, often operate outside of the office and whilst on the go. Homestyler comes as a mobile app too which can be really handy for designing on the go and remotely from wherever the user is. This is great for those who often find themselves in need of a mobile version of this type of software.
Home Hardware Kitchen Design Software
A lot of the design softwares is more broad in how much they cater to the entirety of the home or building type. With Home Hardware, it's much more specific to kitchen design and you can create designs from scratch or use one of the many templates that are available.
As a dedicated kitchen designer, there are plenty of options to choose from that make it a lot more interesting when designing the space. With more focus on just one room in the home, it offers plenty of variety.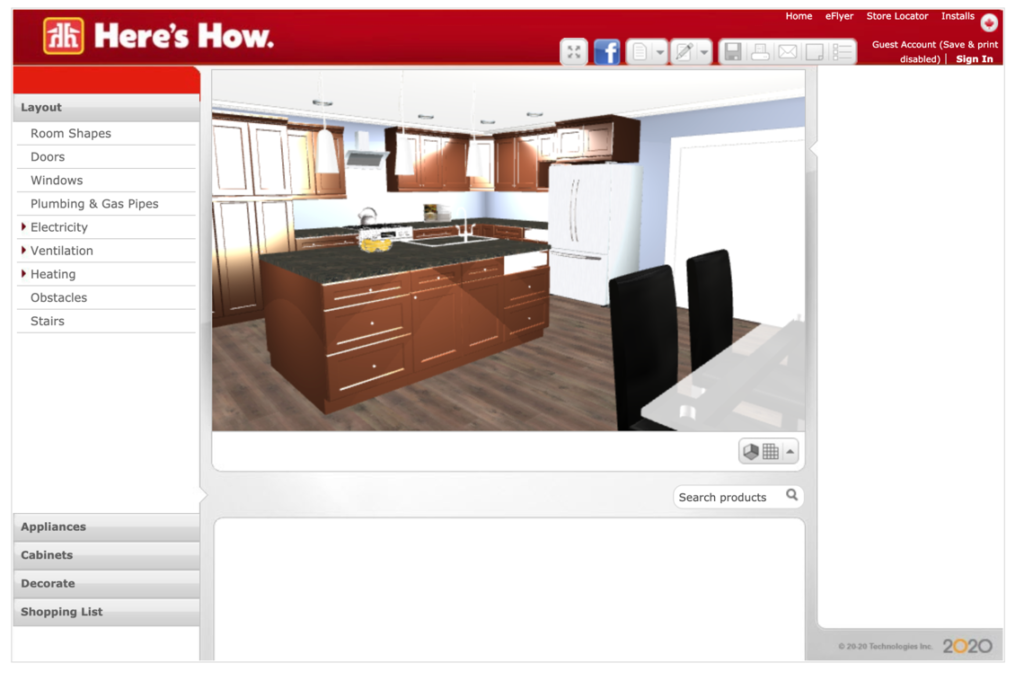 As a free, online tool, it's certainly one of the easiest to use. Here are a few more features that come with the Home Hardware software.
Available online
As mentioned, the software is available online, so there's no need to download anything to your computer which can sometimes take up more time and effort.
Remembers the details
Some of the design software out there doesn't always touch upon the finer details of a room like the outlets, vents, etc. However, with this software, all of that is included, which can certainly be handy when you want to have an accurate version of where everything would be in the space. It also helps to avoid anything clashing.
Creates a shopping list for you
When designing the space, the software may only provide you generic products that are simply being used for logistics and knowing what will go where. With Home Hardware, it's linked up to the store itself so you can choose to buy the items and create a shopping list for each project you design.
It helps to have this feature so that you can effectively kill two birds with one stone!
IKEA 3D Kitchen Planner
Seeing as IKEA is one of the leading companies providing functional and easy to assemble furniture, it makes sense that they have a kitchen design software. In relation to the other software on this list, the IKEA 3D Kitchen Planner does lack some of the tools and rendering features but it's still a great one for those who have limited budgets. Not every designer or architect has the freedom to pay for an expensive design kit and so this one offers all the basics an individual or business might need.
With a user-friendly interface, it helps to build the ideal kitchen layout whilst saving you some money in the process. Here are some of the features that come with this planner.
Controls your budget
For some, a budget will be limited and so having the basics can be enough. With this planner, it's simple compared to other design software but it can provide the inspiration and design elements that you need to still create a fantastic interior design for the kitchen.
Basic for beginners
For those just starting out in design or perhaps having little design experience, a basic program might be just the thing that they need. The IKEA 3D Kitchen Planner is easy to use for those who have no experience with design at all.
Helps find the right items for the space
Not everyone will go for IKEA furniture but it can certainly give you an idea of what items fit well in the space. All you need is the dimensions for the space itself and the software will help figure out the best layout for the room.
Planner 5D
For Planner 5D, it's a good option for those who are novices that are looking to design their own kitchen. It's available on both iOS and Android and as such, can be utilized whilst on the go. It's a software that's been created with amateurs in mind.
The software comes with a free version but a paid plan for those looking to create 3D photorealistic renderings. Some if it's features include the following:
Design modes
There are a number of design modes available from 2D mode for floor plans to 3D in order to explore the room from every angle when designing.
Lots of scope for furnishing and editing
There are lots of options when it comes to editing and furnishing with this program. From creating unique pieces of furniture to adding flooring and walls.
Share for collaboration
Another feature is that you can snapshot the creations as a realistic image so that you can share it with others where collaboration is part of the process.
Kitchen design software can be helpful in bringing your ideas to life, whether it's a personal project or one of the many as part of your interior design business. Thanks to computer-aided technology, we can see what rooms will look like before the project gets started. This helps iron out any issues and ensures the end result is as close to what was required as possible.
This means happier clients for your business and a happy household for those personal projects.
Author Bio: Natalie Redman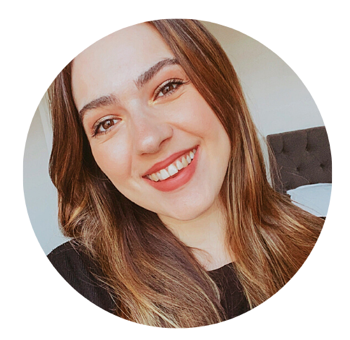 Email – [email protected]
Freelance writer for many clients including Skale, Natalie has two years of copywriting experience. Natalie has a wide range of experience copywriting for web pages for businesses across many industries. She's also an owner of two blog websites and a Youtube content creator.