The SWIRL – Interior Design of a Dessert Studio in Trichy | Architecture Interspace
Rock Cream, dubbed as 'theSWIRL' is the interior design of a dessert studio in Trichy. The young client requested an innovative and contemporary design that is cost-effective. The site is in one of the upcoming busy areas of the urban sprawl. Since the site is positioned in the first floor of the building, our intent was to grab the attention of the busy pedestrian and vehicular traffic attention through our design features. We wanted to make use of the 40' seamless glass façade on the exterior as a visual canvas for our design element to the onlookers.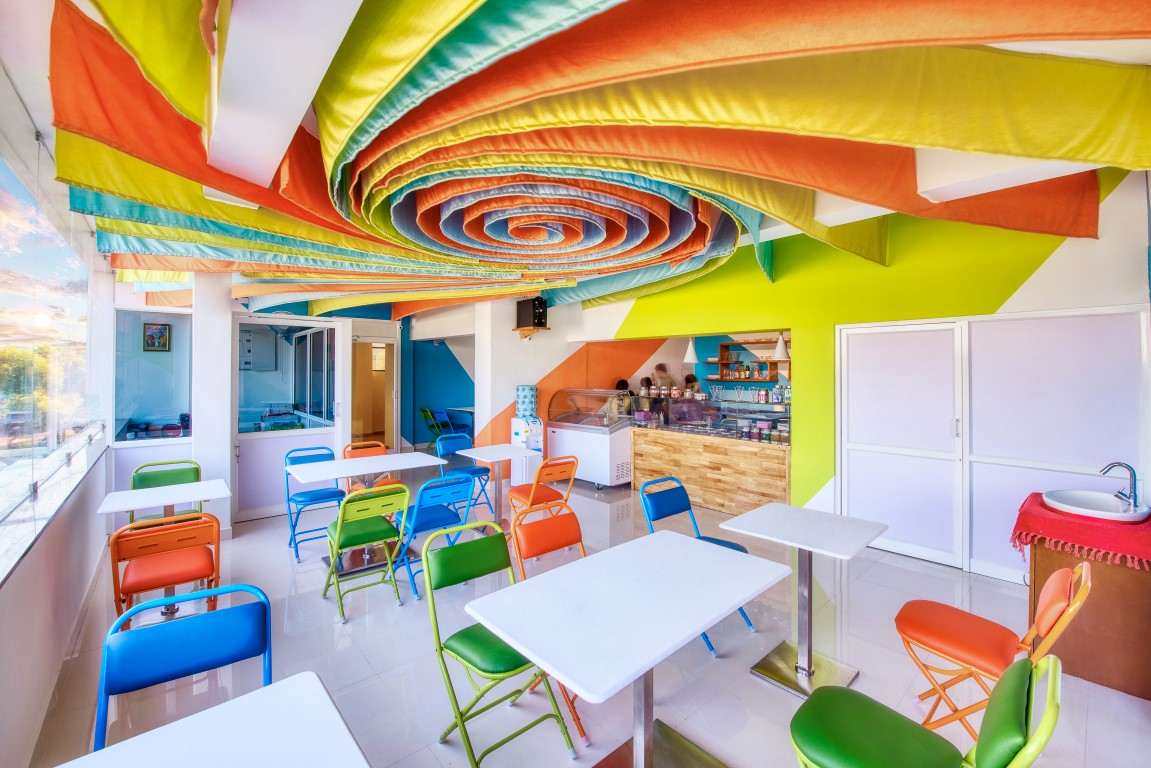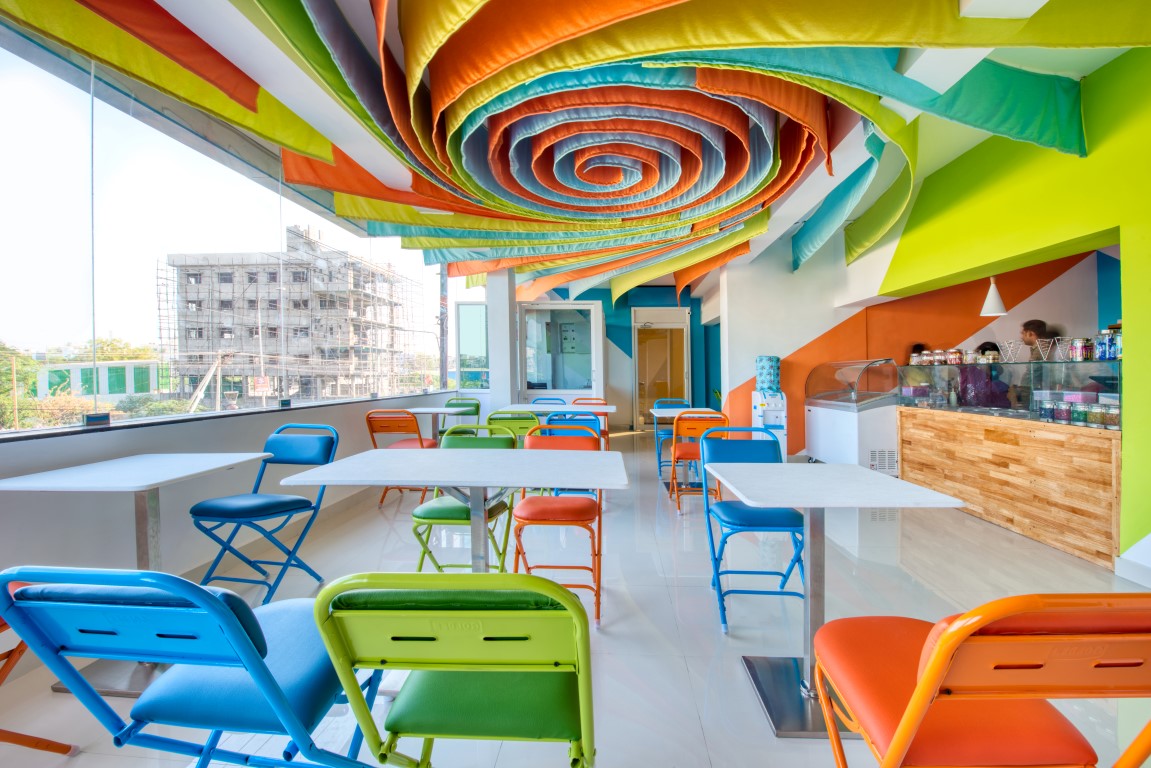 The design was inspired from the product itself i.e.: the swirl on the soft ice cream from the machine. We designed this as a central focal element on the ceiling thereby tying the spaces together in the interior and creating the desired attention seeking element that can be noticed from the road. 'theSWIRL' was made with fabric. To replicate the cool colours of ice creams, a pastel colour palette comprising of peach, blue and green is used for the dessert studio. The furniture was designed to be light weight and modular under the same palette. The place doubled up as a mini party hall for birthdays and other small events.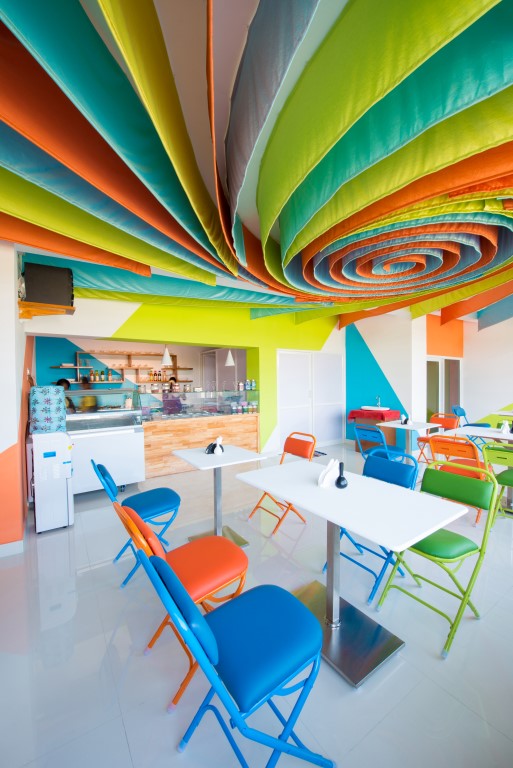 The walls were treated as a plain white canvas upon which the fabric that is running on the ceiling is continued. It was painted as ribbons of the same shades which ensures a seamless connectivity between the ceiling and wall. The lighting is designed to have minimum interference with the fabric element hence surface LED lights have been used to uniformly lit up the space during the evenings.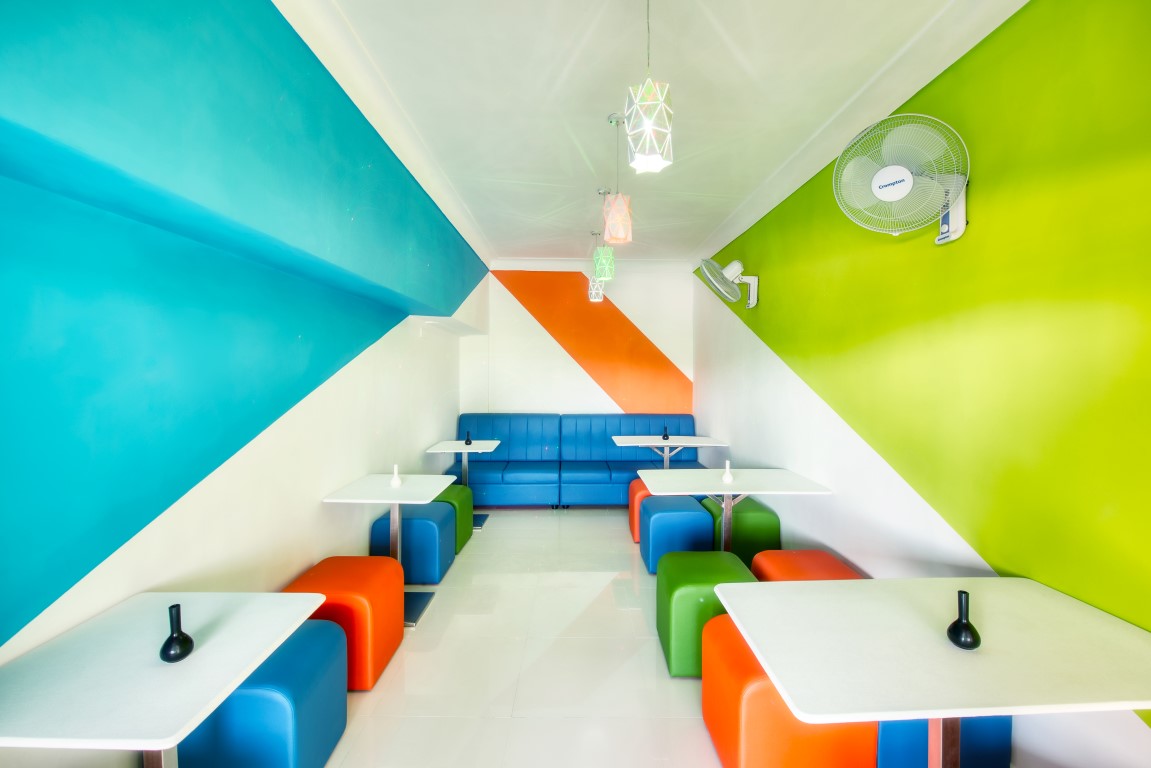 The dessert studio has opened to highly positive reviews and the interior design of the studio is playing a critical role in bringing in new customers.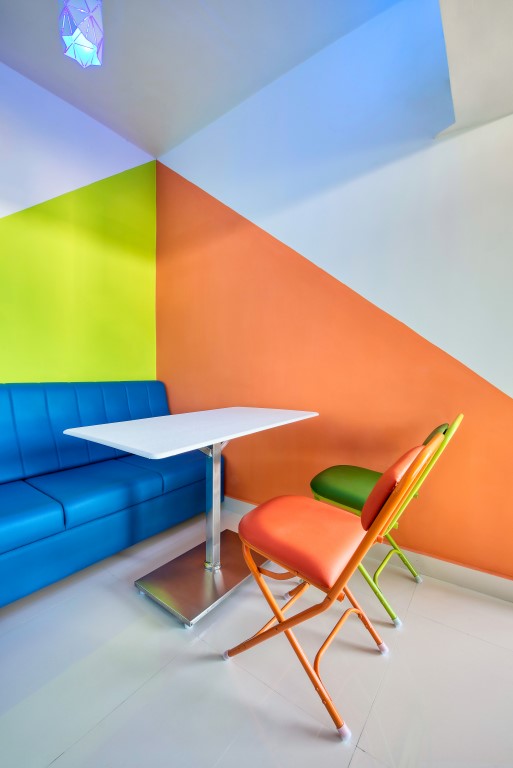 FACT FILES
Website: https://architectureinterspace.com/
Project Photo Courtesy: Mr. Felix Emmanuel [ http://lightat45degree.com]
Project Details: Rock Cream
Project type: Dessert Studio
Location: Tiruchirappalli, Tamil Nadu.
Design team: Ar Goutaman Prathaban, Ar Madhini Prathaban
Duration: 3 Weeks
Area: 1000 sq.ft (92.90 sq.m)
About Architecture Interspace :
The core philosophy of Architecture Interspace(a_Is) is to deliver holistic, sustainable and realistic solutions. We believe in an interdisciplinary approach to architecture and have a keen interest in exploring creative ways of engaging with related professions. We are passionate about combining innovative designs with timeless materials and fabrication techniques. We always strive to widen our knowledge base through out-of-comfort-zone experimentation.
Website: https://architectureinterspace.com/