The Spotlight Salon Interiors Designed With Neutral Palette And Nature-Inspired Shades | Designer's Circle
Pale surfaces meet arched doorways inside this grey-tinted beauty salon in Ahmedabad, India. Designed with pop-ups of rattan, and layered with a topping of wood, makes it a perfect warm space for your salon pamperings.
Visit: Designer's Circle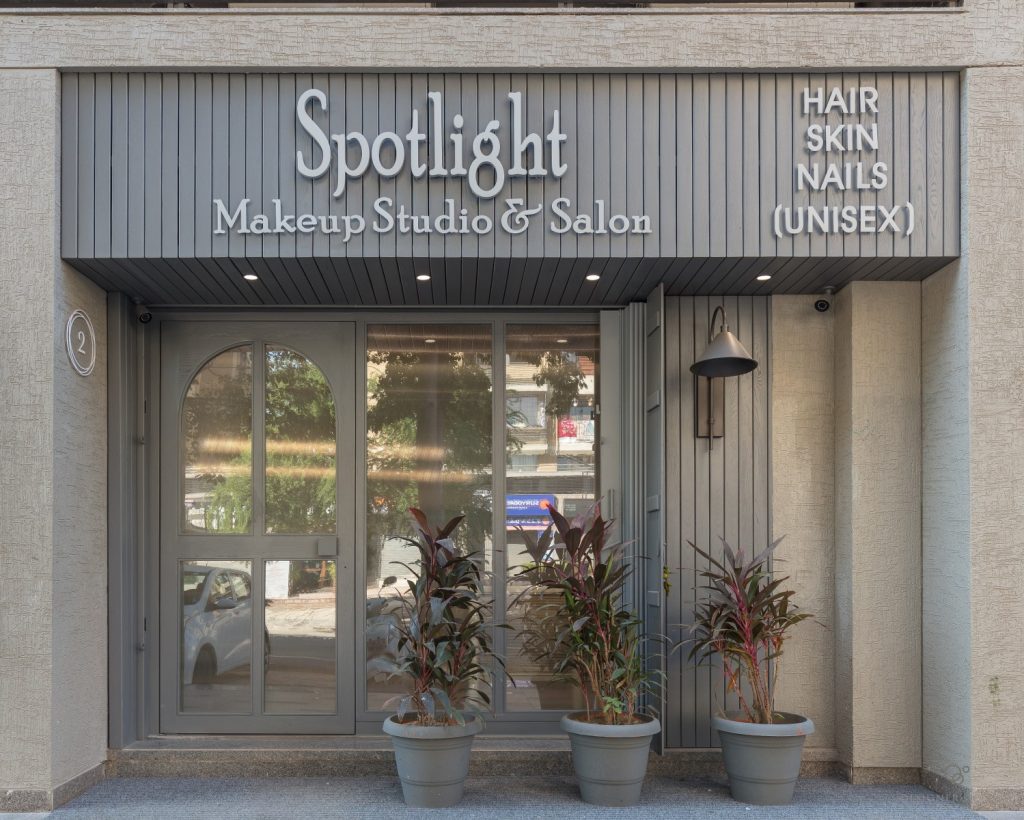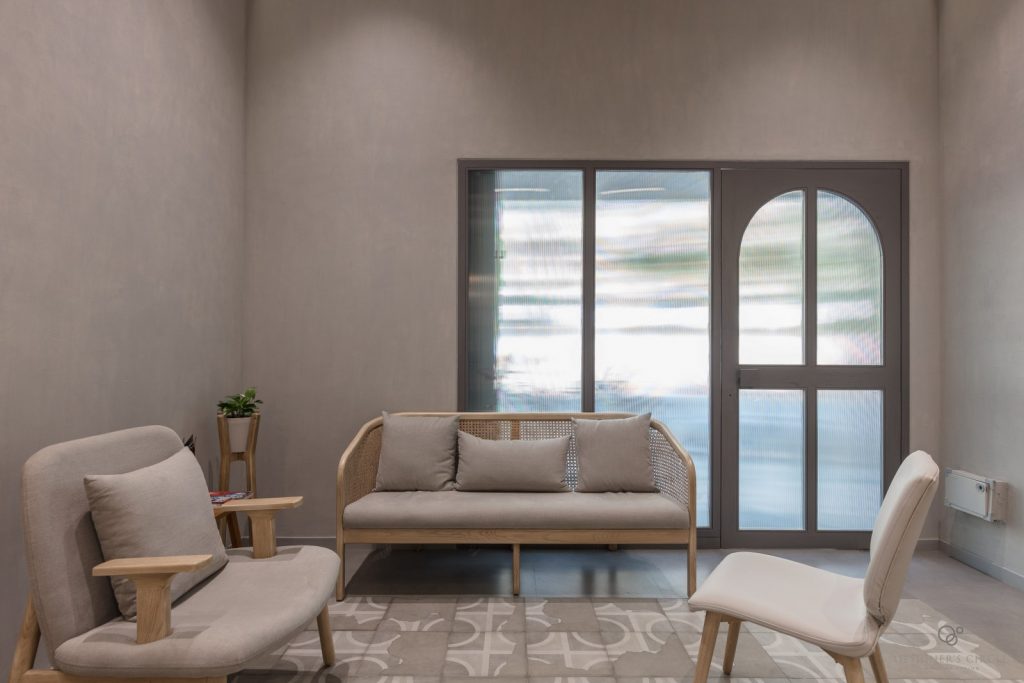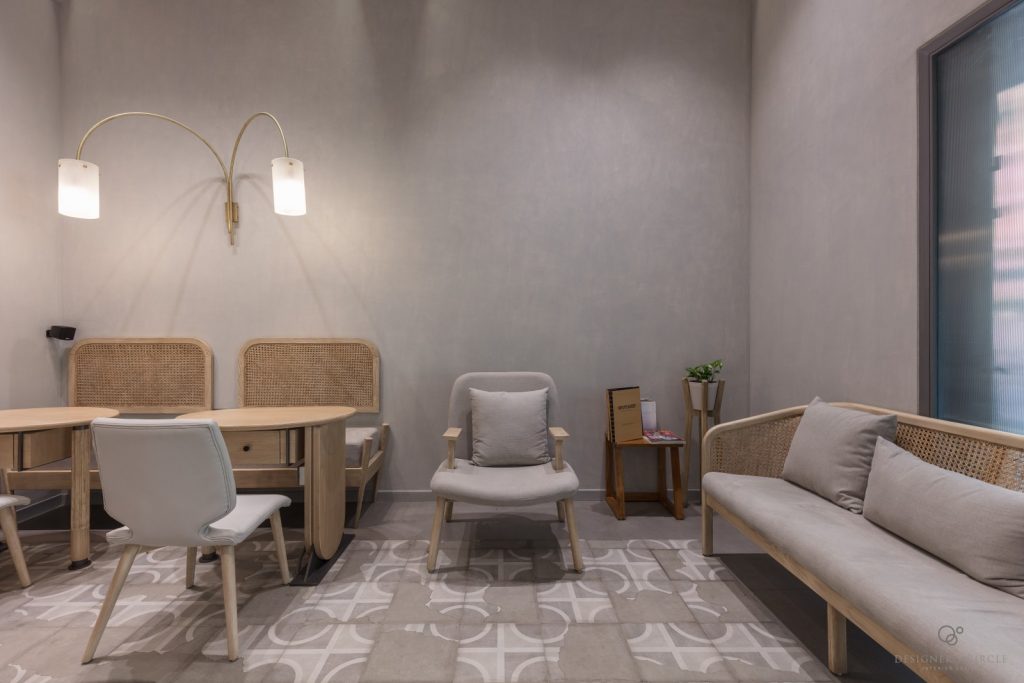 The Brief of the project
The sole purpose of this project is to serve as a beauty salon to its customers with the utmost pampering and luxury. The space is double-height which enhances the look and experience of a customer with a warm feel. Optimum utilization of this double-height space along with justifying the client's needs as our primary motto as designers. Neutral colour palette with nature-inspired shades that aid in creating a cocoon-like space i.e a warm and cozy atmosphere for its customers The colour palette with those rattan chairs created a perfect ambience for this salon.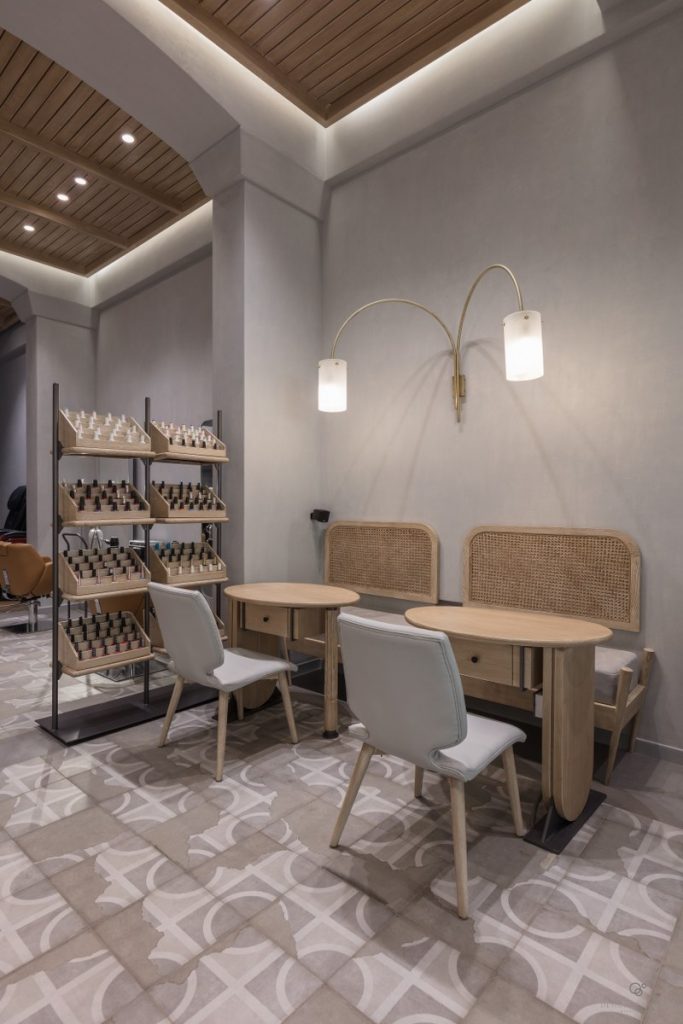 The Design intent :
The Spotlight Salon has been designed with the goal of facilitating connection and creating an oasis of positivity and comfort. Space is kept light and bright, making it look spacious but elegant. High ceilings with wooden warmth add a homely feeling to space while featuring rattan in seating areas and tan colors.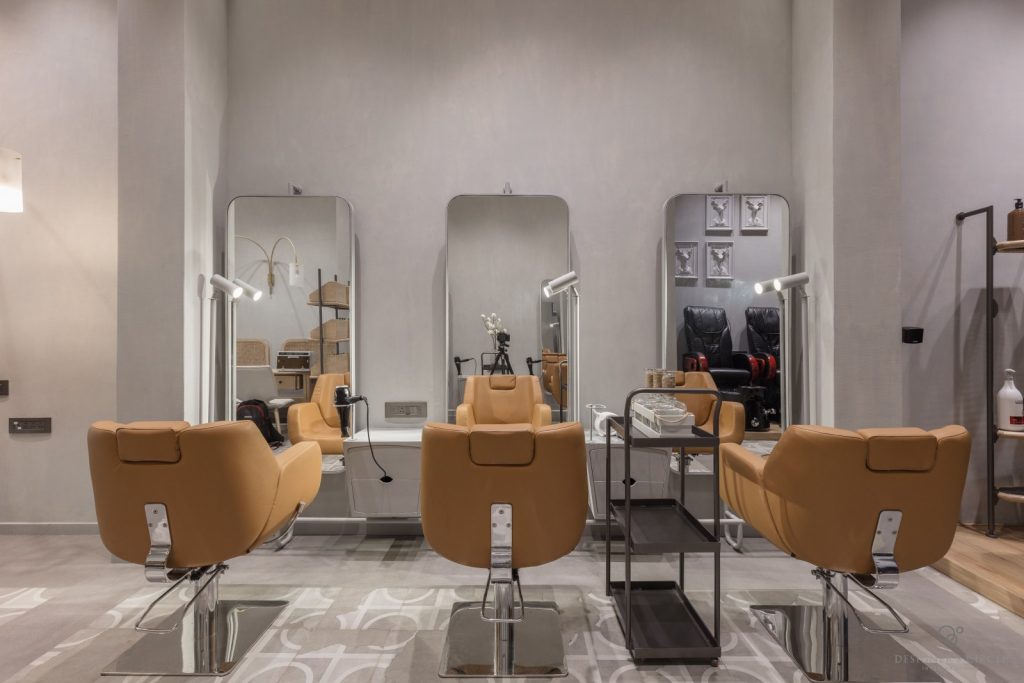 The site
Located at one of the prime areas of Ahmedabad , the structure of this 720 sq ft site is more in length typical to that of a straight forward rectangular layout along with a double heighted ceiling. Mezzanine floor in about 30 % of the area is further added for more functionality to the space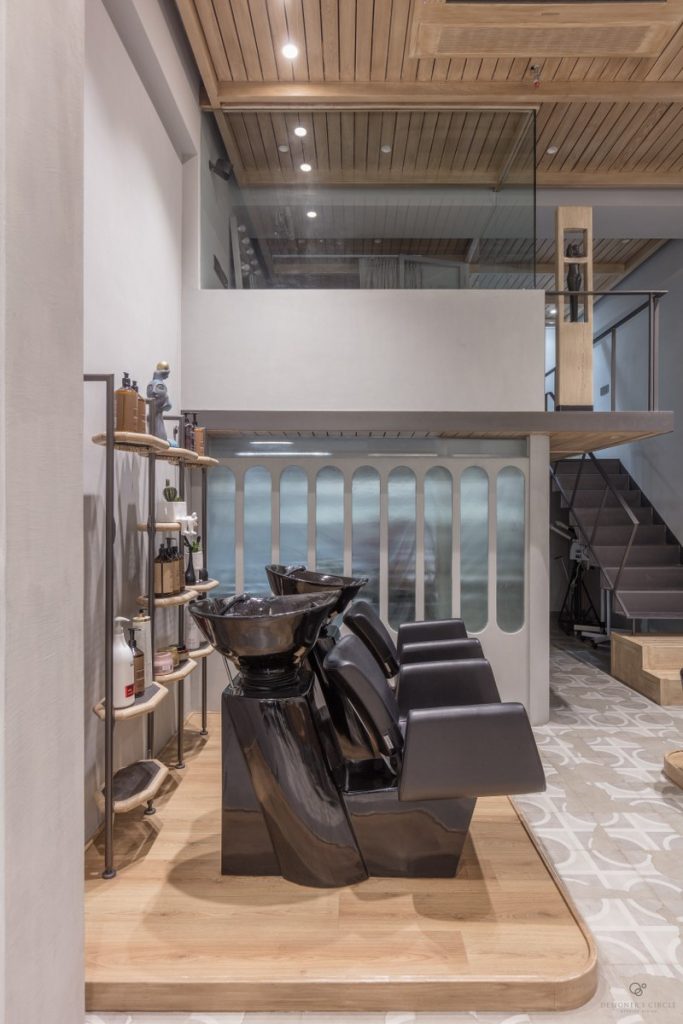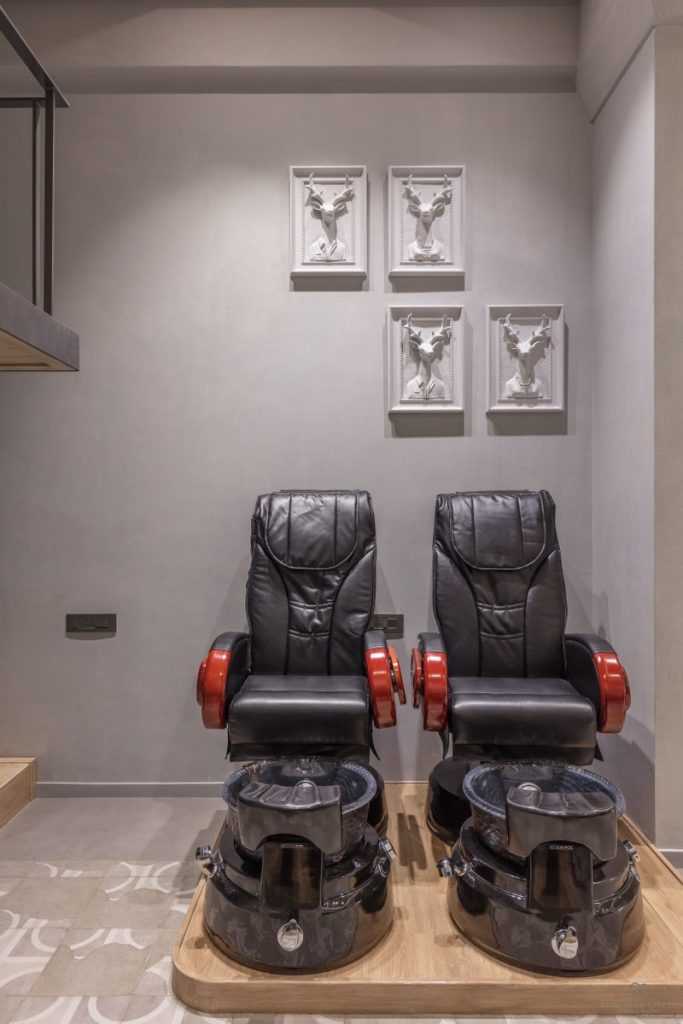 The material palette
Considering the style that we were following, we wanted materials that give a natural yet elegant look. Grey printed tile flooring, Textured lime wash walls, rattan for seating were all brought together by the warm wooden ceiling and its indirect lighting. This somehow satisfied our design urge as well as the client's needs.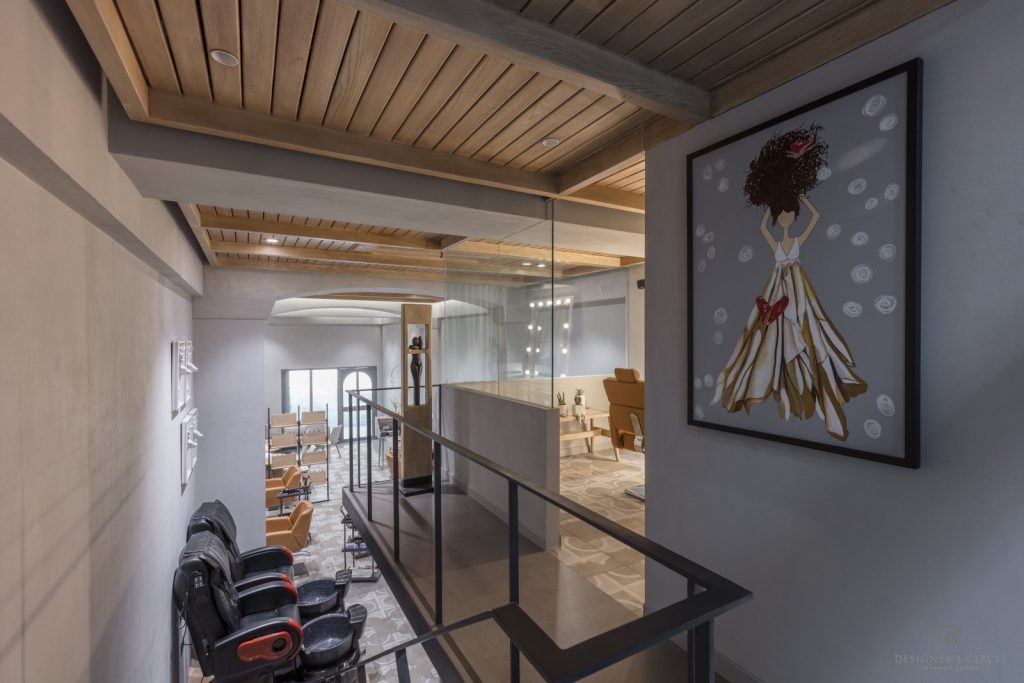 The challenges
The space was double height with beams at particular gaps in between. Treating the beams in such a manner that they are not hidden but act as elements of highlights to the overall interior was a task to consider. Having said that adjusting those bulky chairs of the salon in such that they don't take up much on the interior was another matter of concern.
The highlights
We believe that the flooring and ceiling of the salon is a standout feature of all. The flooring by itself creates a dramatic space through its printed patterns which enhance its play. To top this warm wooden ceiling with arched beams in between outlined and enhanced the feel of this double heightened space.
Fact File :
Interior Firm: Designer's Circle
Project Name: BeautySalon
Project Architect: Ar. Rajesh Sheth
Size: 720 sq ft
Location: Satellite, Ahmedabad
Design Team: Designer's Circle
Client: Spotlight
Photo Courtesy : Inclined Studio
Website : https://www.designerscircle.co.in/
Facebook : https://www.facebook.com/designers.circle.interior.design/
Instagram : https://www.instagram.com/designers_circle/