&nbsp
The Light House | CCOD
This Beautiful house shelters a family of advocates, located in a residential locality in the southwestern part of Bangalore. This house was planned in a linear fashion, meaning quick access to different spaces. This also meant that the movement area and the spaces had to be defined individually yet complement each other's characteristics.
Visit: CCOD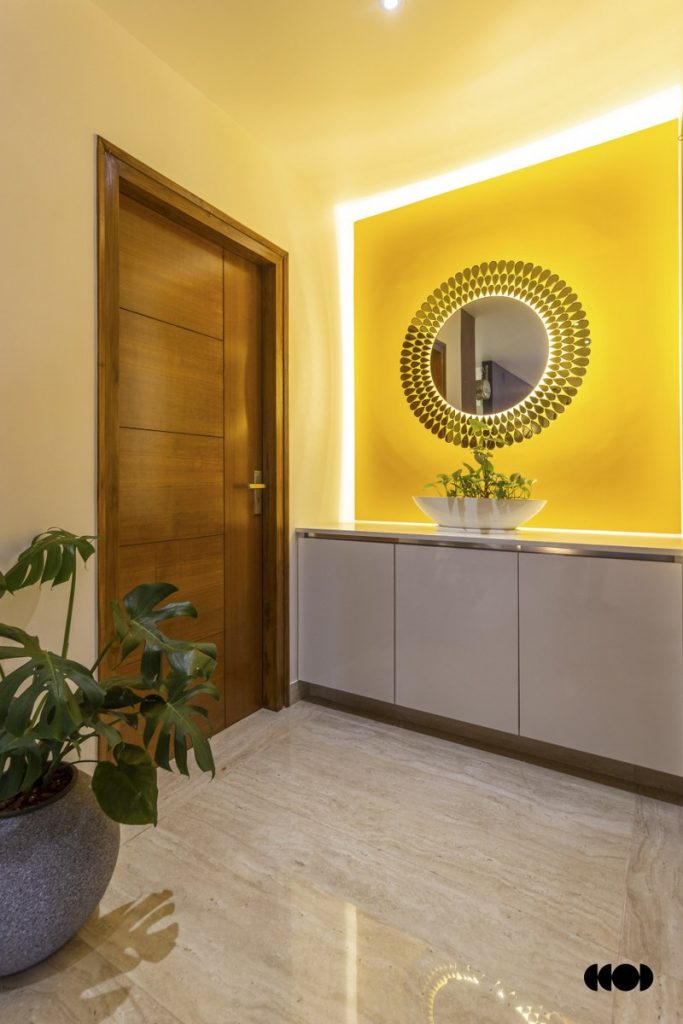 When you think of combining alignments, geometries, contrasting materials, and warm color pallet, you arrive at a design technique which brings simplicity, elegance, and modernism to living spaces. The living room exhibits teak wooden flooring, a teak wooden ceiling, and a matte grey TV unit to break this monotony.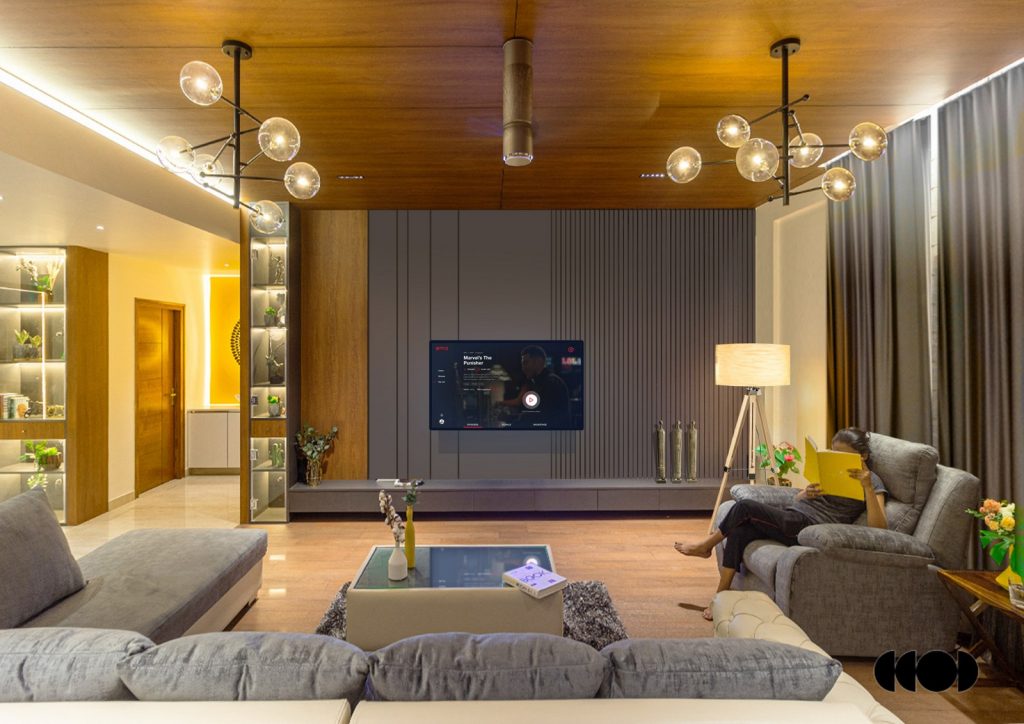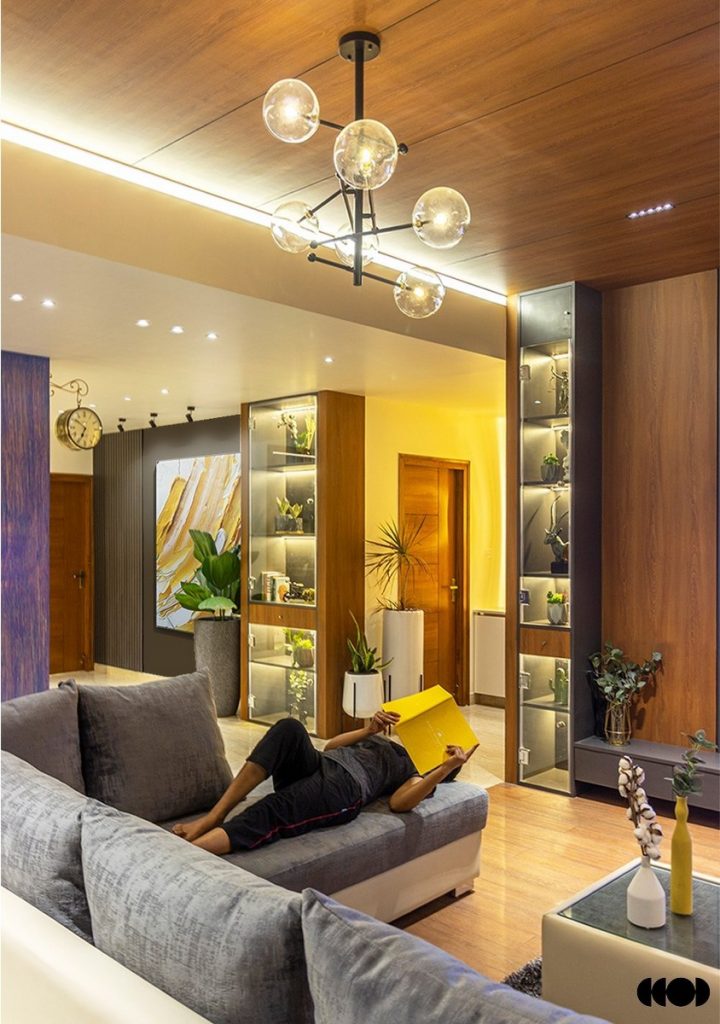 The white-painted gypsum fall ceiling was introduced to not only mirror or highlight the movement area but to also hide the horizontal structural members. This was a bold move in terms of design as the false ceiling dramatically reduced the height of the movement area creating the illusion of the wooden ceiling to be at a greater height and thus, giving the living room a greater volume.
The Lighting in this house is almost theatrical. It was designed to never keep one bored of the same mood. Many might not dwell on how different sources and intensity of light have consequential effects on the mind and body. One might question as to why the spherical shape of lighting?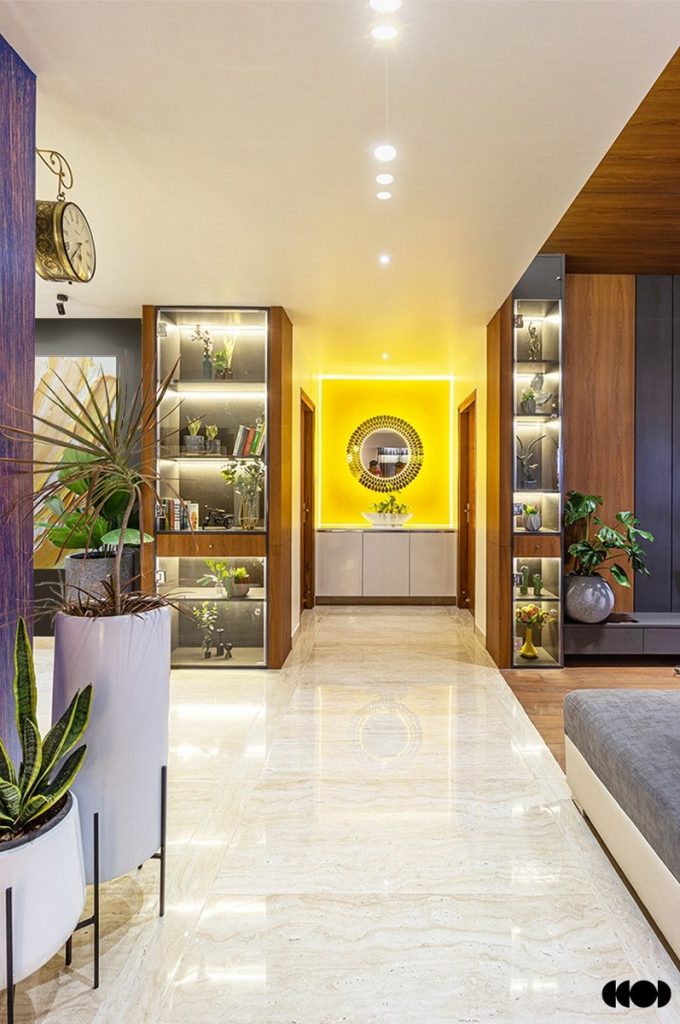 Well, the cabinets and paneling had a lot of vertical lines as a part of the design, hence the spherical chandeliers were introduced to break the geometry. Lighting is the most essential ingredient that makes or breaks a space. It has to be the most prioritized element which defines one's standard of living. While moving across the living room, one can focus on the wall between the two adjacent rooms. It exhibits a warm color pallet, an intricate designer mirror and a beautiful bonsai plant to complete its décor. We always suggest our clients have a corner in their home where they experience Zen. It's essential for one's physical and mental well-being.
Teak wood, pearl white, charcoal grey have now shown their significance on this color pallet. Not enhancing the dining area wall through a different color would bring back the chances of monotony. Hence, Royal blue was picked. This went extremely well with the color pallet. A bit of green was also added after which something magical happened. Nature always has a way of unfurling it's aura into spaces especially when it is complimented by contrasting wall color.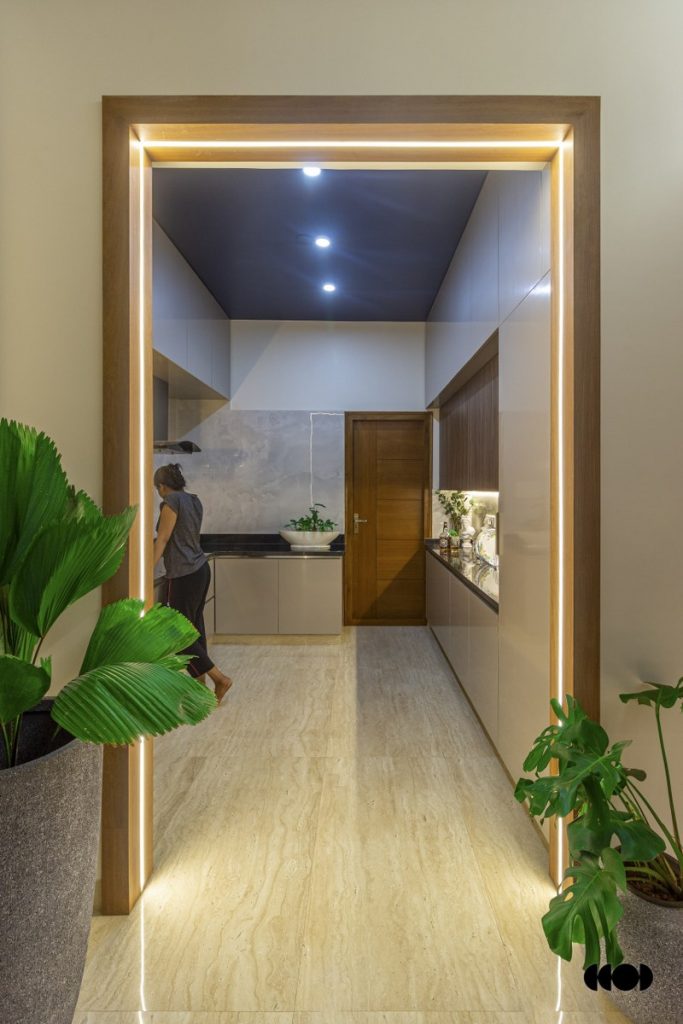 The concept of spaces being defined individually is also seen while one moves across the dining towards the kitchen space. The kitchen welcomes you with warm lighting. Yet again making it feel theatrical. Kitchen spaces are the heart of every home. They mimic our client's minimalistic and eccentric personality. If there's one space in our home where we strive for modern minimalism, it is our bedrooms. While we are all for the organized chaos that our lives are, we'd rather leave it at the door of our bedrooms.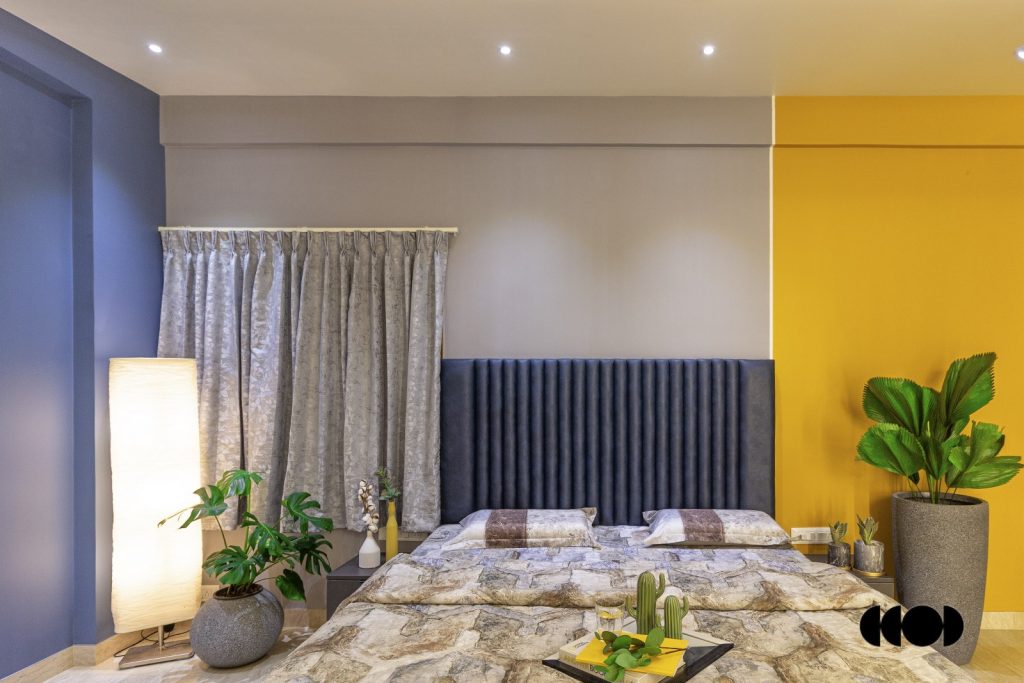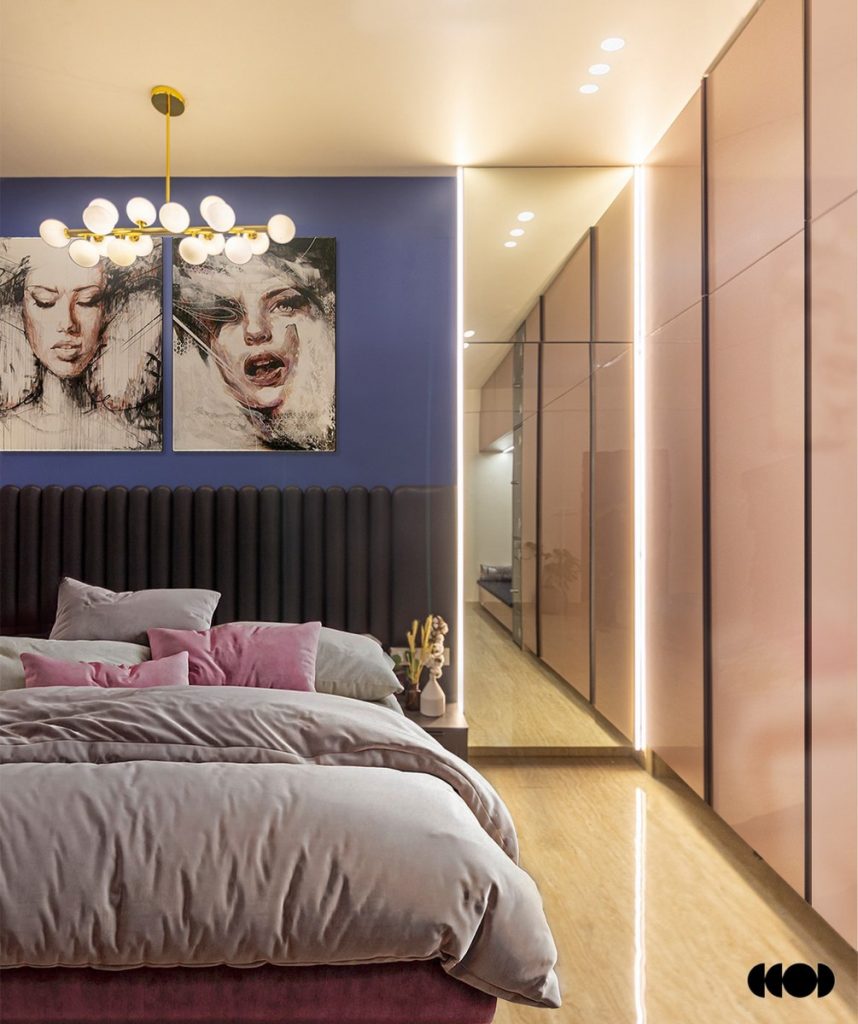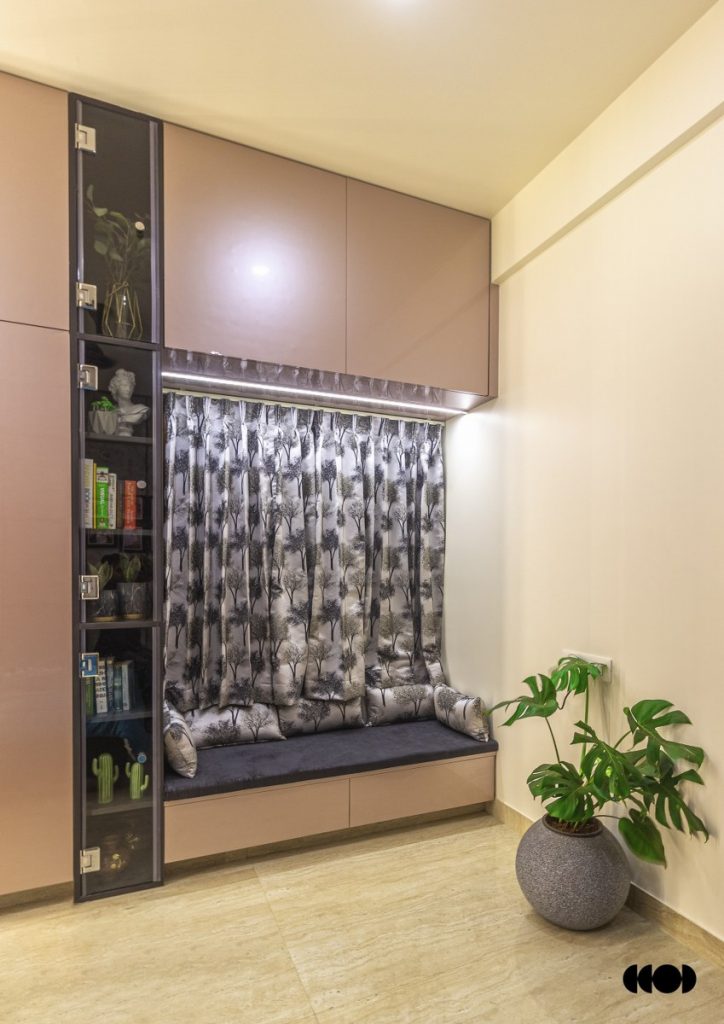 Hence, we vote for minimalist bedrooms with clean lines, muted pastel shades, and dim, diffused lighting. But that's not it; the style allows us enough flexibility to add a pop of color here or there. This bedroom displays a plush sensual style without having to drift away from the color pallet of this beautiful House.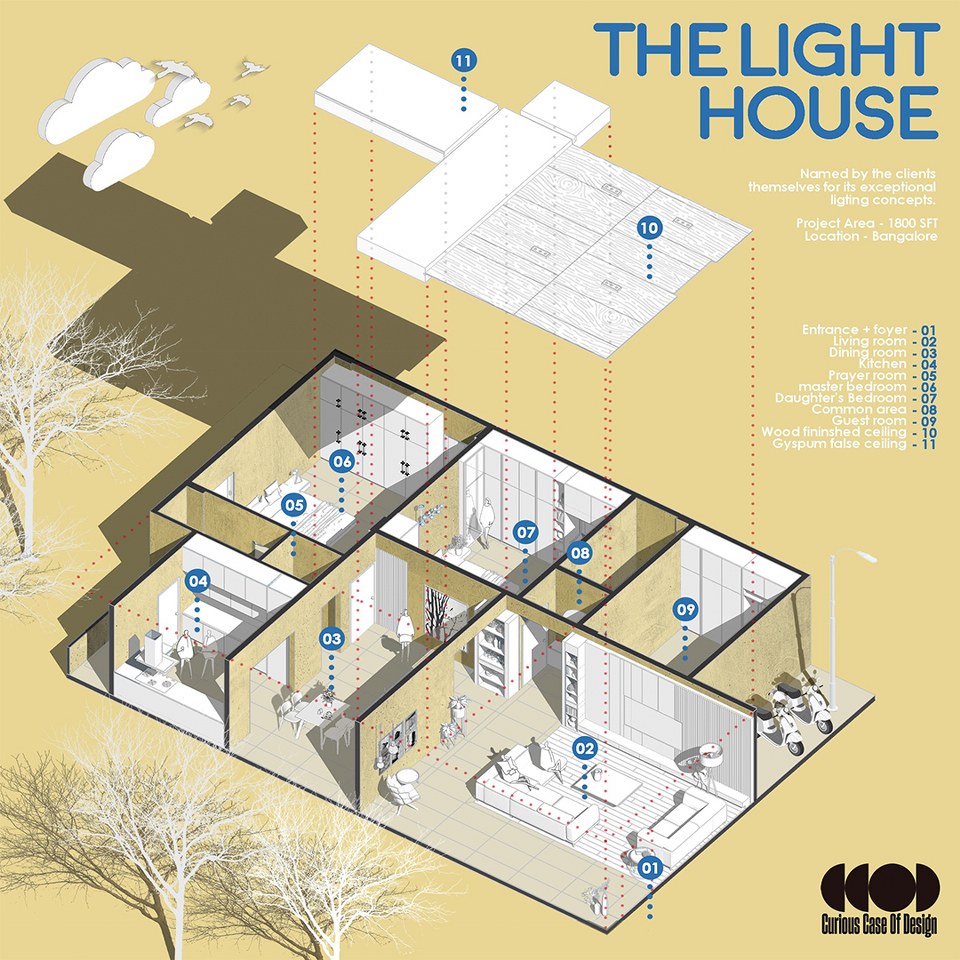 FACT FILE:
Architecture Firm: Curious Case Of Design (CCOD)
Project Name: The Light House
Project location: Bengaluru
Gross Built Area: 222.5sq.m/2400sq.ft
Completion Year: March, 2020
Principal Architects: Ankita Singh & Nandan Nagarad
Lead Architects: Suhas Lokesh
Photo credits:  Nandan Nagarad @CCOD & Suhas Lokesh
Facebook: https://www.facebook.com/curiouscaseofdesign/
Instagram: https://www.instagram.com/curiouscaseofdesign/